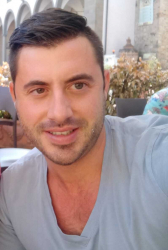 Latest posts by David Borgogni
(see all)
In this Ryobi 40v chainsaw review, we'll be taking a detailed look at one of the industry's most popular domestic saws. Designed and built with use at home in mind, this is an excellent choice for any homeowner needing an effective chainsaw to help them keep their land in order.
Ryobi is a brand that needs little introduction. It's a name long associated with quality and has been one of the most successful chainsaw manufacturers in the country for a while. They produce a range of quality domestic tools aimed at helping homeowners keep on top of their outdoor chores.
Ryobi 40v Chainsaw | Amazon
This Ryobi Chainsaw offers a brushless motor with gas-like power that provides increased torque and higher cutting speeds. Charged with a powerful 40-volt lithium-ion battery.
Buy at Amazon
We earn a commission if you make a purchase, at no additional cost to you.
06/10/2023 09:11 am GMT
In this article, we'll be examining the main features of the 40v chainsaw, assessing its pros and cons, answering some of the most frequently asked questions, and providing some alternatives for you to think about. Then, once we've had a look at those, we'll finish off with thoughts of our own about who this saw best suits.
But before we get into the details, let's look at an overview of the Ryobi 40v chainsaw.
Key Specifications of the Ryobi 40v Chainsaw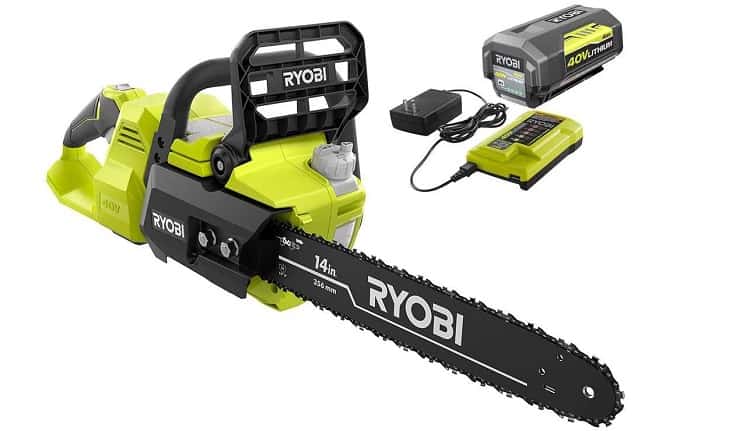 Ryobi has made some pretty impressive improvements to their 40v chainsaw lineup with the release of the new 14 and 18 inch versions. Today, we're focusing on the 14-inch model as this has proven to be the most popular. As an affordable option for most domestic users, plenty of features are packed into the 40v to get excited about.
The new brushless design that has been implemented means this should be one of the best affordable chainsaws on the market. Along with its good power level, it's also highly versatile as it benefits from Ryobi's 40v integrated options.
With over 50 products in their lineup, if you've already got a 40v tool, then this could prove to be a great addition.
Read also: How to Find the Best 14-Inch Chainsaws
Intelligent Brushless Motor
The real story behind the 40v's success is the redesigned motor at the center of it. The brushless tech has been incorporated with an intelligent monitoring system that allows the tool to regulate itself. This means that power is automatically adjusted, and consistent performance levels are delivered.
Variable Speed Trigger
Designed to allow for ultimate control, the variable speed trigger is highly accurate. This allows even inexperienced operators to get the most from the Ryobi, also allowing for easy starting procedures and simple seasonal maintenance.
Simple Adjustments
The 40v chainsaw includes side-mounted chain adjustment for easy adaptability on the go. This means that users can alter the cutting chain tension on the go so that they can react to ever-changing working environments. There is also the option to store tools onboard, making these changes even easier to do on the go.
High Capacity Battery
Along with the brushless motor, the battery is the star of the show. It's no wonder that Ryobi has built an arsenal of over fifty tools around their 40v battery as it holds up to twice the number of cuts per charge as its predecessor.
The battery is completely interchangeable with all other Ryobi 40v products, making it an excellent choice for anyone who already owns one or a homeowner looking to expand their tool collection.
5 Year Warranty
Another bonus of owning one of these is the extended five-year warranty that comes as standard. Unlike many gas-powered alternatives, the Ryobi 40v is covered with a 5-year warranty. This means that should anything go wrong with your new tool in that time, you'll be protected against any manufacturer defects.
Easy to Use
Thanks to it being battery-powered, the Ryobi 40v is incredibly easy to use. Simply charge it up, plug it in, and away you go. This is in stark contrast to gas chainsaws that require complicated operations and maintenance.
Safe to Use
Another benefit of being battery-powered is the 40v is much safer than a gas saw while still offering similar power levels. This makes it the perfect tool for anyone a bit nervous about using a gas saw or for anyone who feels they don't necessarily need a tool that substantial to get their work done well.
Related read: Gas Powered vs Electric Chainsaw.
How Does the Ryobi 40v Chainsaw Perform?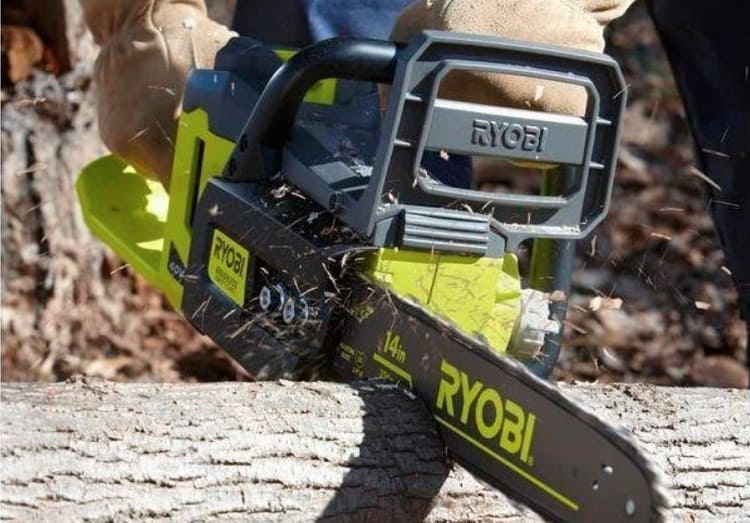 Trying to work out where the Ryobi 40v fits in is a tricky task. They market this saw as having 'gas-like power.' While this comes across as simply a marketing spiel to many, we decided to put it through its paces to see who it stacks up against the industry big boys like Husqvarna and Stihl.
When we first fired the Ryobi up, it didn't quite sound like we were getting the same power you usually get from a 14-inch chainsaw. Although this is on the smaller side of the chainsaw market, Ryobi also offers the 40v with an 18-inch blade, and we found the same issue to be present.
Despite the initial hesitations, when cutting commenced, we were pleasantly surprised. The power generated by the impressive 40v battery was present when we began to cut through varying thicknesses of wood.
Even when getting to the center of the tree where its wood is densest, the brushless motor continued to drive the 0.050 gauge chain well and outperformed several similar models we also tested. During testing, it quickly became evident that the Ryobi saw offers a higher level of torque than we were expecting.
If you had to compare this battery-powered saw to a gas one, we would say that with the 18-inch blade attached, the Ryobi felt just as powerful as a 40cc engine but would struggle with jobs that larger saws in the 50cc+ category would do light work of.
Despite not quite living up to those larger saws, it's still a very capable saw in the upper tier of battery-powered options.
When fully loaded and ready for use, this saw comes in at 9.9 lbs. Its 5Ah battery is usually included in the purchase price but make sure as some retailers leave it out. In terms of its weight, that's pretty similar to what you would expect from a gas saw when loaded with fuel and oil.
Although some tools suffer when using wide-entry battery ports, the 40v doesn't seem to have any issues with it- kudos to the design team there. We were even able to switch between smaller 4.0Ah and larger 6.0Ah batteries without any real issues.
The tool-free side tensioning feature is another great way in which useability has been maximized with the 40v. We also loved the additional chain security that comes with the dual studs and bar nuts included by Ryobi. There's also the added convenience of having a scrench stored onboard.
We also got our hands on the blow-molded case that often ships with this saw. When in position with the safety scabbard covering the bar and chain, it sits neatly down into some interior cushioning, keeping the tool safe and secure when not in use. It also prevents any oil or chain lubricant from spilling anywhere.
We would suggest that if you're not planning on using the saw for a while, it's probably a good idea to turn the automatic oiler right the way down. This minimizes the risk of leakage and prevents lubricant from building up before your next use. Just remember to turn it back up next time you need to use it!
The only real downside that we identified during our testing was that the bucking spikes were made out of plastic. While these are fine one smaller low powered saws, when the performance is increased, we'd prefer to see metal being used to provide better grip when cutting.
Pros of the Ryobi 40v Chainsaw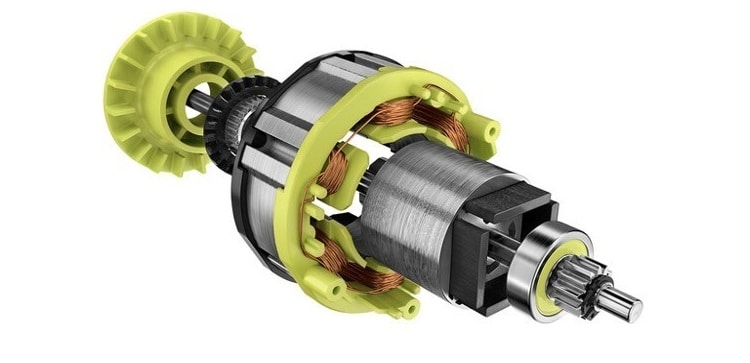 There are plenty of great positives to get excited about when looking at the Ryobi 40v chainsaw. Here are our favorites and the ones we think you should be most aware of.
Very Easy to Use
The major benefit of going for a cordless battery-powered chainsaw over a corded or gas-powered alternative is how easy they are to set up and use. There is no messing around with mixing fuel and 2-stroke oil or having to work around a power cord. Instead, you are free to roam your yard cutting down anything that gets in your way.
It's less intimidating for first-time users when compared to a gas saw, making it the perfect choice for many homeowners just looking for a saw that's easy to use and easy to store afterward.
Fast Cutting Speed
Despite being much easier to use and less powerful than a gas saw, the impact on performance is minimal. This saw cuts with power equivalent to a 40cc gas chainsaw, more than suitable for most domestic tasks. The cutting chain also rotates at great speed, thanks to the brushless technology included within its construction.
Great Value
For just a few hundred dollars, you're getting more than a competent tool. If you've also invested in other 40v Ryobi products in the past, then this chainsaw represents even better value as you may not have to buy a battery. At this price, the quality of this saw is hard to beat, and we recommend it for occasional domestic use.
Cons of the Ryobi 40v Chainsaw
As well as all the positives, there are some drawbacks to be aware of before purchasing one. Here are the most important that we think you should be mindful of.
Plastic Bucking Spikes
As we briefly mentioned earlier, the plastic bucking spikes were the only major downside we encountered while testing it. We felt that even though this is a battery-powered tool, the power generated by the brushless motor warrants metal spikes. This would make the overall cutting experience much smoother, in our opinion.
The Chain Dulls Quickly
Another thing that has been noticed when using the 40v saw is that the chain can dull quite quickly. Once you reach around 30 cuts, it's worth checking that the chain is still as sharp as it should be.
Having a blunt chain makes cutting anything incredibly hard! Make sure you know how to find the best chain files for your tool.
Are There Any Alternatives?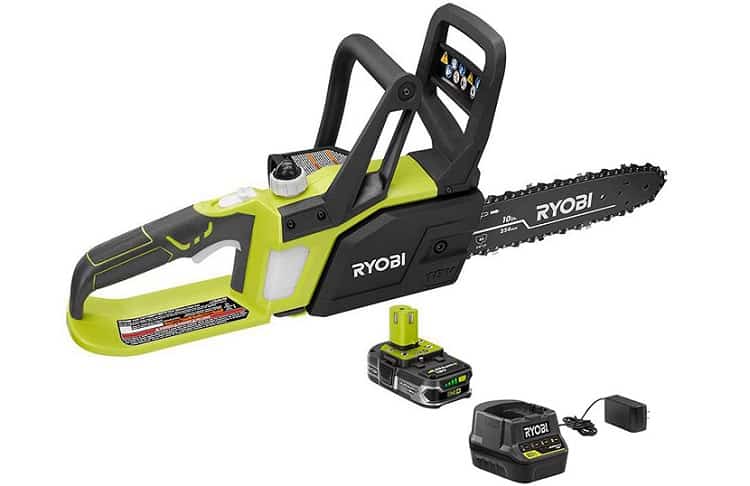 If you're looking for something a little cheaper than the 40v, then it's well worth checking its little brother out. Ryobi's 18v version is a slimmer model with less power but is perfectly well suited to many domestic situations.
Whether you don't need the power provided by the 40v brushless motor or you want to be able to store it more easily, the 18v is a solid choice. Check out our Ryobi 18v review and guide for more information.
Ryobi P547 Cordless Chainsaw Kit | Amazon
Featuring a motor designed specifically for power and speed, the saw cuts up to 2x faster than its predecessor, making it perfect for fast pruning, trimming, and limbing jobs.
Buy at Amazon
We earn a commission if you make a purchase, at no additional cost to you.
06/09/2023 05:34 pm GMT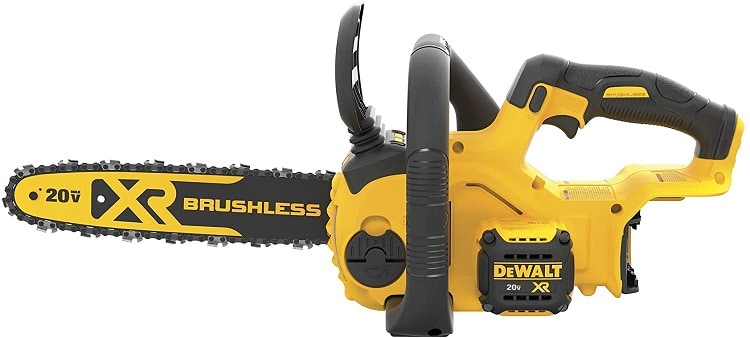 Another great option from an established power tool brand comes in the form of the DEWALT 20v MAX XR. It's a 14-inch model that comes with a powerful 20v battery and brushless motor. Although not as powerful as Ryobi's offering, its 20v capacity brings plenty to the table. This saw even made the top spot on our rundown of the best chainsaws around.
DEWALT 20V MAX XR Chainsaw | Amazon
This battery-operated chainsaw is designed to work hard. Use it for outdoor and heavy-duty construction work like beam cutting, demolition work, and tree limb management. The lightweight design maximizes user control. Brushless motor technology offers extreme operation and long motor life.
Buy at Amazon
We earn a commission if you make a purchase, at no additional cost to you.
FAQs
Question: Does a Ryobi Chainsaw Need Oil?
Answer: All Ryobi chainsaws need a constant supply of oil to lubricate the chain effectively while cutting. If you fail to administer enough, the unit may overheat and fail. Therefore, Ryobi recommends using its own bar and chain oil for optimum performance.
Question: What's the Warranty for a Ryobi Product?
Answer: All Ryobi outdoor products come with a 3-year warranty as standard. This represents a good deal for consumers as the industry standard is typically 1-2 years. Within this timeframe, the manufacturer will repair your tool if they are at fault for any defects.
Question: Can 40v Batteries be Purchased Separately?
Answer: Yes, all forms of Ryobi batteries can be bought independently from the tools themselves. This means that should yours fail for any reason; a replacement is easy to source.
The Bottom Line: Is The Ryobi 40v Chainsaw a Good Tool?
I think it's pretty clear to see that the Ryobi 40v chainsaw is most definitely a quality tool. It may not have the power and capabilities of some of the bigger gas-powered options out there, but there are few better when it comes to functionality and cutting power delivered by a battery.
It's simple to use, easy to store and makes completing occasional yard chores that require a chainsaw nice and straightforward. It's the perfect choice for the vast majority of homeowners and domestic users.
Ryobi 40v Chainsaw | Amazon
This Ryobi Chainsaw offers a brushless motor with gas-like power that provides increased torque and higher cutting speeds. Charged with a powerful 40-volt lithium-ion battery.
Buy at Amazon
We earn a commission if you make a purchase, at no additional cost to you.
06/10/2023 09:11 am GMT
There will be some who still feel the 40v option is more than they need. If ultimate useability and maneuverability are what you're after in your next chainsaw, then consider getting the smaller Ryobi 18v or the DEWALT 20v MAX.