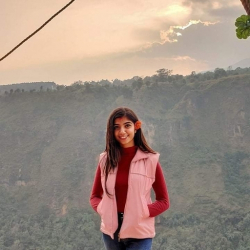 Latest posts by Rukmita Ghimire
(see all)
When it comes to chainsaws, the size and features vary with the working model. High-powered chainsaws are for professional work, while medium-powered chainsaws are for home woodworking chores. This is exactly what Husqvarna understands about chainsaws and brings Husqvarna 460 rancher to you – bridges the gap between consumers and arborists.
Convenience is the key in using chainsaws. In your mind's eye, you always picture the chainsaw, which has low vibration, is easy to operate, and gives maximum output. With anti-vibration technology and low kickback, Husqvarna 460 rancher fulfills the criteria to be the perfect chainsaw.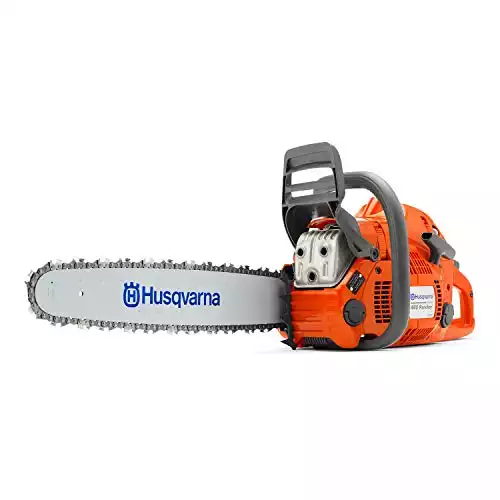 Husqvarna 20 Inch 460 Rancher Gas Chainsaw | Amazon
The ergonomic design of the Husqvarna 20-inch 460 Rancher gas chainsaw allows the homeowner to handle the power of the saw with ease. Powerful, yet easy to start thanks to SmartStart technology, this gas-powered chainsaw is ready to cut trees, whether you need to prune, limb or cut firewood.
Buy at Amazon
We earn a commission if you make a purchase, at no additional cost to you.
12/07/2023 02:05 pm GMT
In this Husqvarna 460 Rancher Review, we'll discuss different aspects of the Husqvarna 460 rancher – its pros and cons, specifications, and features. At last, we'll be concluding our insights by providing you with alternatives that can be considered and answering some of the most frequently asked questions.
Before diving deeper, let's take a look at the overview of Husqvarna 460 rancher.
Key Specification of Husqvarna 460 Rancher
| | |
| --- | --- |
| Engine Power | 60.3cc |
| Power output | 3.62 hp |
| Bar Length | Up to 24" |
| Power Source | Gas Powered |
| Color | Orange |
| Weight | 12.79 Pounds |
| Price | Check the latest price |
Core Features of Husqvarna 460 Rancher
For every business product, you end up looking at its features. Generally, the search begins from its power, then comes the bar and chain. However, there are often other aspects that should not be neglected and are deciding features for purchase.
We'll list out the main features of the Husqvarna 460 rancher and explain how it can become the perfect chainsaw.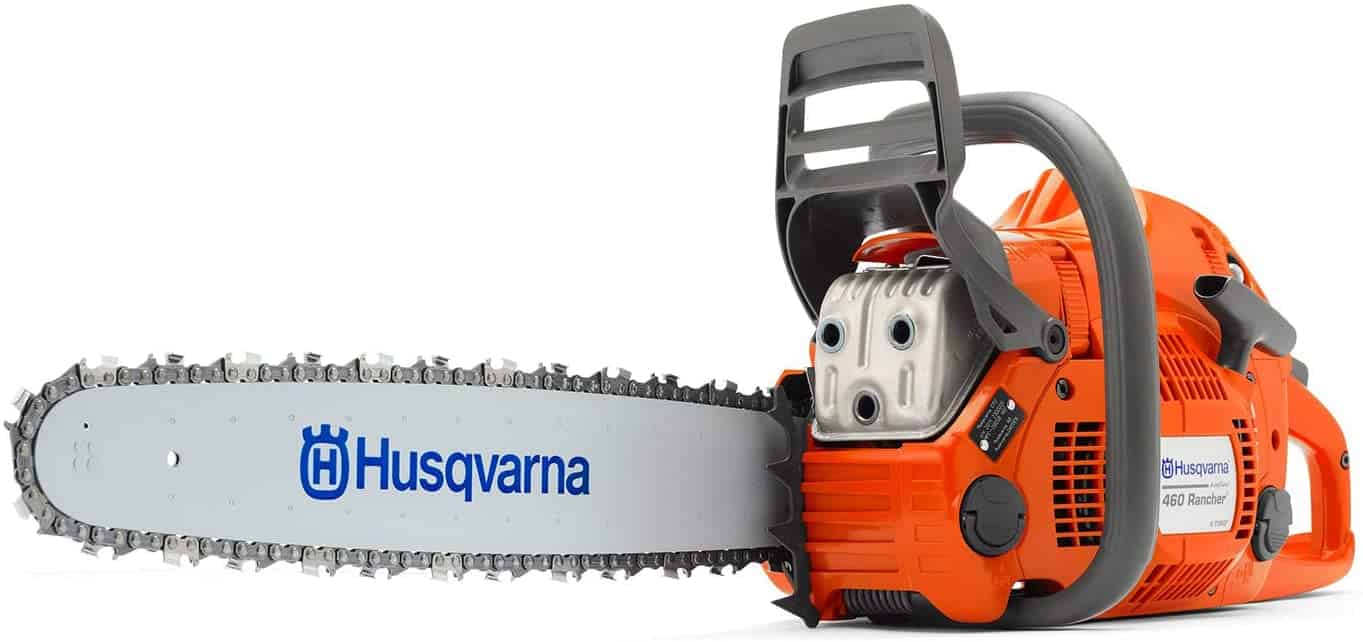 Technical Features
1. Power
Husqvarna 460 rancher is a working horse of power 60.3cc – running at the speed of 9000 rpm. Gas-powered chainsaws always leave a doubt about fuel emission. All thanks to the X-torque engine of Husqvarna 460 rancher, which lowers the fuel consumption and reduces emissions.
It is wrong to believe that high-powered tools are always the best, but they can handle a higher inches bar, which we are looking for in the chainsaw. The bigger size of the bar, the easier it is to trim the woods. That being said, consumers' feedback suggests this chainsaw is perfect for making cuts and trimming hardwoods.
2. Cutting Equipment
Another major feature to look at in any chainsaw is the bar. Husqvarna 460 Rancher comes with a detachable bar ranging from 13 to 24 inches. That means you can attach bigger bars for tough work and replace them with smaller ones for home chores. So far as the knowledge goes, the 20″ bar is considered the perfect spot for optimizing outcomes.
Working convenience in chainsaw depends upon durability, stretch resistance, cutting strength of chains – to a higher percentage. The cutting speed also somehow depends on how you treat the chainsaw. You must be careful with the lubrication and tension of the chains, make sure the teeth are sharp and at an optimum cutting angle.
3. Automatic Flow Oiling System
Another necessity for safe and effective use is the oiling system. Husqvarna 460 rancher features an automatic chain oiling system which means it continuously lubricates the machine even when in a run. This increases the working efficiency and mitigates the need to stop machinery for fuel refill.
4. Air Injection
Working with the woods means obviously there will be dust, dirt, and debris. With the centrifugal cleaning system of Husqvarna 460 rancher, you don't need to worry about this problem as well. It removes the dirt before reaching the air filter. This ultimately increases product longevity and reduces the maintenance burden to you.
5. Three-piece Crankshaft
Durability is another factor to look for in any chainsaw, which, to a higher level, depends on the crankshaft. Forged three-piece crankshaft in Husqvarna 460 rancher increases the durability for toughest applications.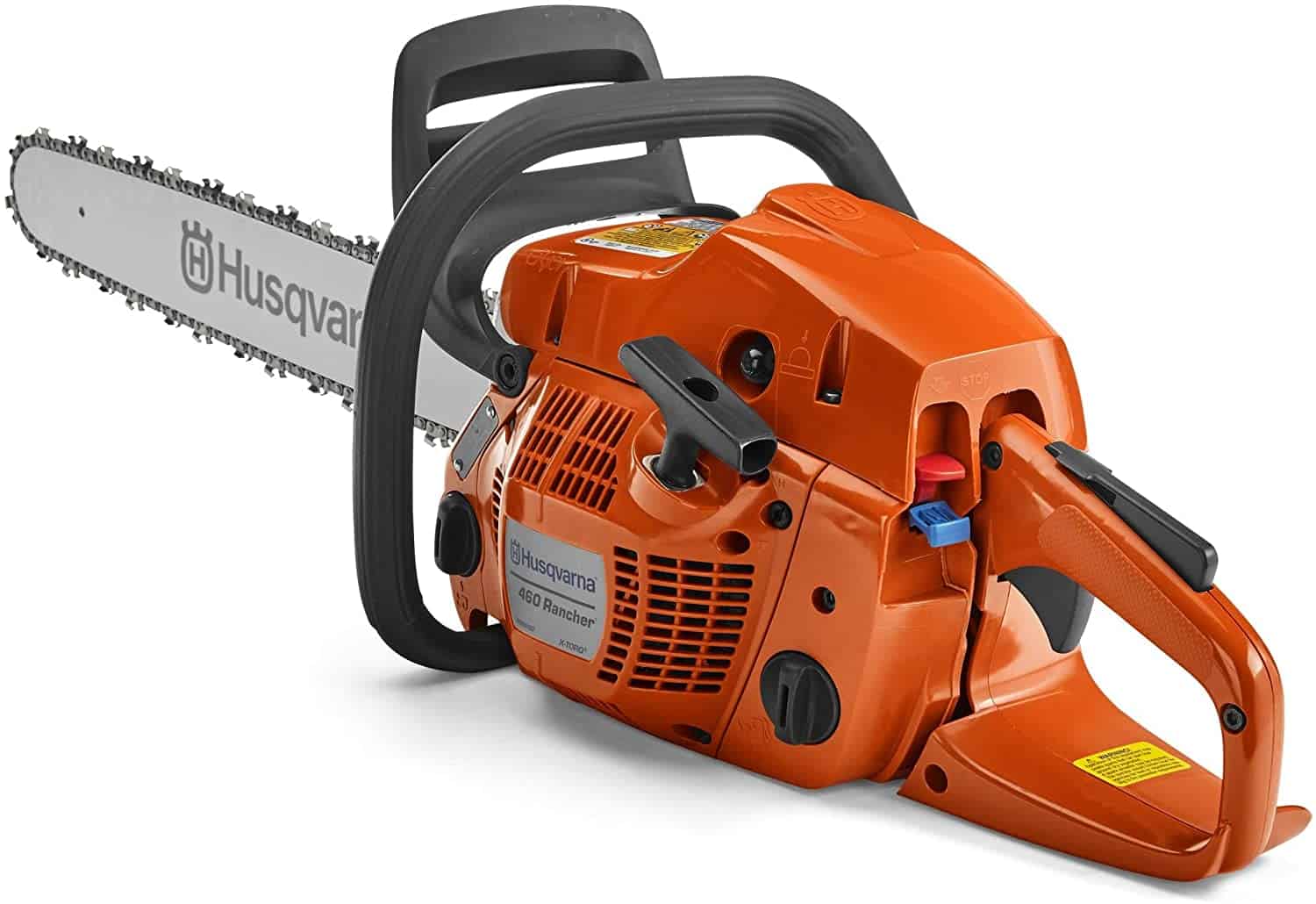 User Friendly
1. Low Vibration
Husqvarna is always concerned about the convenience of the consumers and hence the low vibration technology. This is present in almost every product in Husqvarna. Anti/Low vibration technology leaves you with no/less fatigue. Less fatigue means you can spend most of your time on the project.
2. Side-mounted Chain Tensioner
For safely operating the chainsaw, you must keep your eye on the chain. Too much slack, as well as too much tight chain, is risky. A side-mounted chain tensioner allows quick chain adjustments without being exposed to sharp and dangerous cutting chains. All you got to do is take a screwdriver and adjust the chain according to the project.
3. Smart Start Technology
Consumers using traditional chainsaws found it difficult to start the engine with the pull-to-start mechanism. Keeping this in mind, Husqvarna came up with smart-start technology where the machine starts quickly and easily. Since it reduces recoil cord resistance by some level, there is less chance of fatigue.
4. Cylinder Decompression Valve
During the starting procedure, pressing of decompression valve releases some compression from the combustion chamber, making the engine easier to turn over. The 460 Husqvarna – having this feature – helps in the easy start of the engine when pulled the recoil cord.
5. Snap-Lock Cylinder Cover
Those of you who have owned power tools know that maintenance is a must to keep the tool in top-notch condition. For this, 460 Husqvarna has a snap-lock cylinder cover for easy access to an air filter and spark plug. The easy-to-open feature in this model allows you to open the cylinder cover and check the air filter or spark plug without the need for extra tools.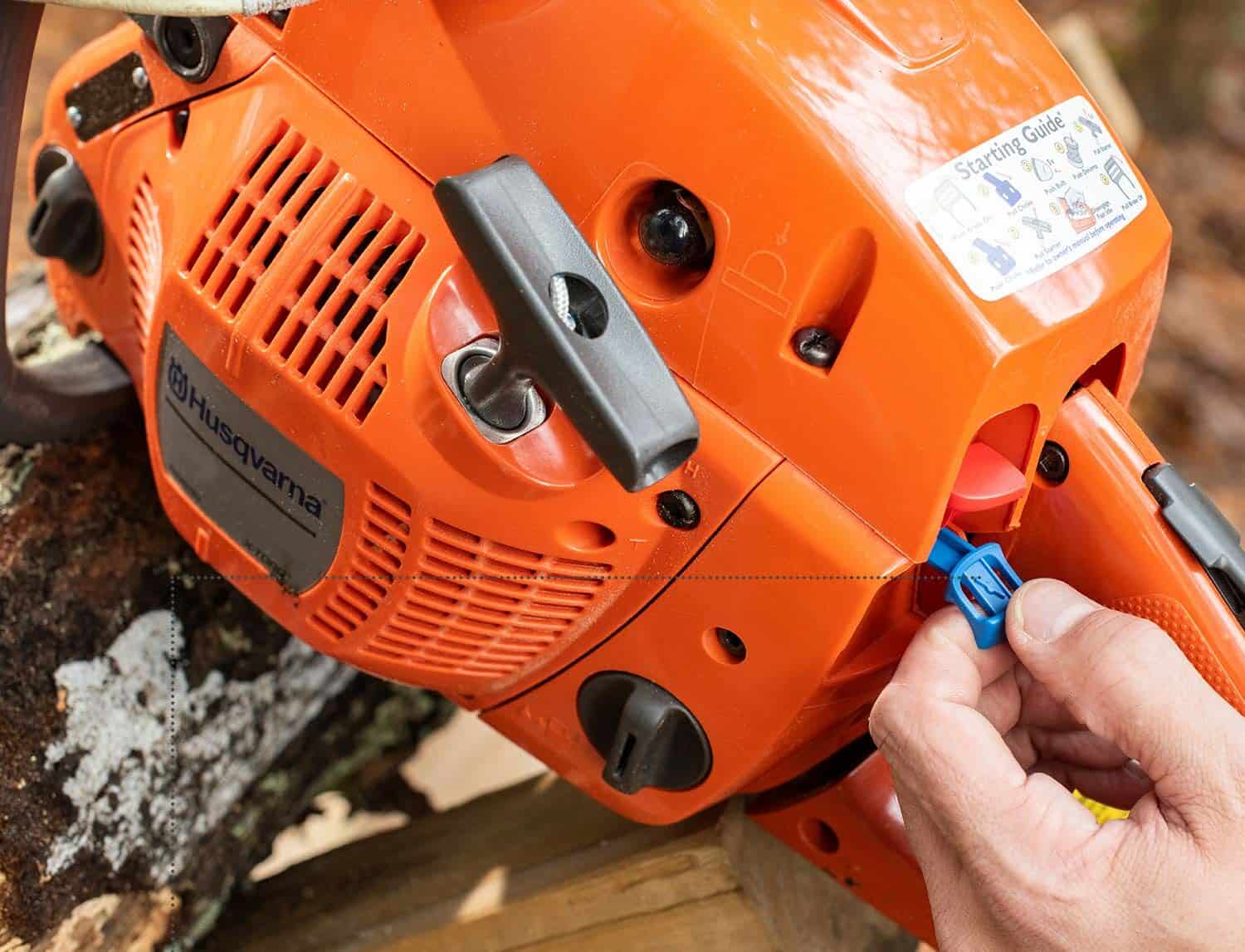 Safety Features
1. Inertia-activated Chain Brakes
There is a risk every second while using the chainsaw. Accidents are like uncalled guests – can happen anywhere, at any time. To reduce the chance of these immediate accidents, Husqvarna 460 comes with inertia-activated chain brakes.
In times when you experience a kickback, this feature activates and stops the driving chain – protecting you from a sudden injury.
2. Front Handle Ergonomics
Working with chainsaws means you need to lift them and work in their directions. The 460 Husqvarna is 12.79 pounds, meaning you're carrying this weight balancing the operating force it exerts. Another downside is you cannot rest it on the ground. That's quite a task – isn't it?
To overcome all these, 460 Husqvarna features a front handle angled at 7 degrees offset. It improves the grip and also reduces the fatigue from the work you'll be doing. Along with that, it gives stability if you experience sudden kickbacks.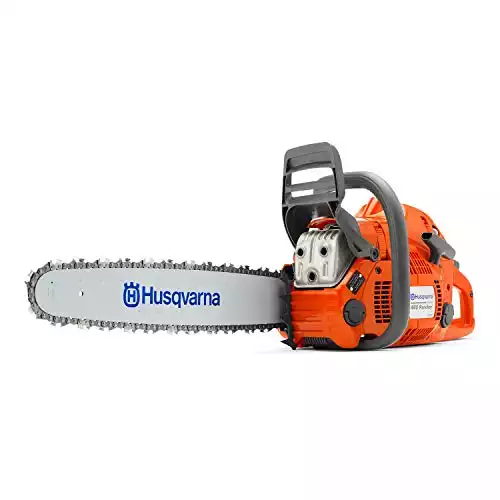 Husqvarna 20 Inch 460 Rancher Gas Chainsaw | Amazon
The ergonomic design of the Husqvarna 20-inch 460 Rancher gas chainsaw allows the homeowner to handle the power of the saw with ease. Powerful, yet easy to start thanks to SmartStart technology, this gas-powered chainsaw is ready to cut trees, whether you need to prune, limb or cut firewood.
Buy at Amazon
We earn a commission if you make a purchase, at no additional cost to you.
12/07/2023 02:05 pm GMT
How Does the Husqvarna 460 Rancher Perform?
Husqvarna 460 Rancher is one working beast to work with any of the hardwoods and softwoods. As mentioned above, it comes with 60.3 cc engine power running at the speed of 9000rpm – any domestic or professional work with it is no big deal.
This saw is versatile because you can easily detach the bar and replace it with your desired-sized bar. The automatic oiling system leaves no chance of overheating the chain due to friction and always keeps the chain lubricated.
On behalf of this chainsaw, we'd like to say – your hands will thank you. This is because of the low vibration feature. The 460 Husqvarna reduces the vibration to the barest minimum, allowing you to use it as long as you can.
Adding more to it is the working environment it creates for potential users. Since it has anti-vibe technology, you will bear less irritation comparative to its counterparts. All in all, this is safer, less annoying, and creates an excellent working environment.
The handling process is easy and comfortable due to the ergonomics handling design. It is made with a comfortable grip for you to carry properly. Moreover, chances of injuries are reduced due to its safety features like inertia-activated chain brakes, felling marks.
The X-torq feature reduces the obvious emission of fuel in this combustion engine. While working with this tool, you are not going against environmental safety. The maintenance process is sure to make you fall in love with this tool.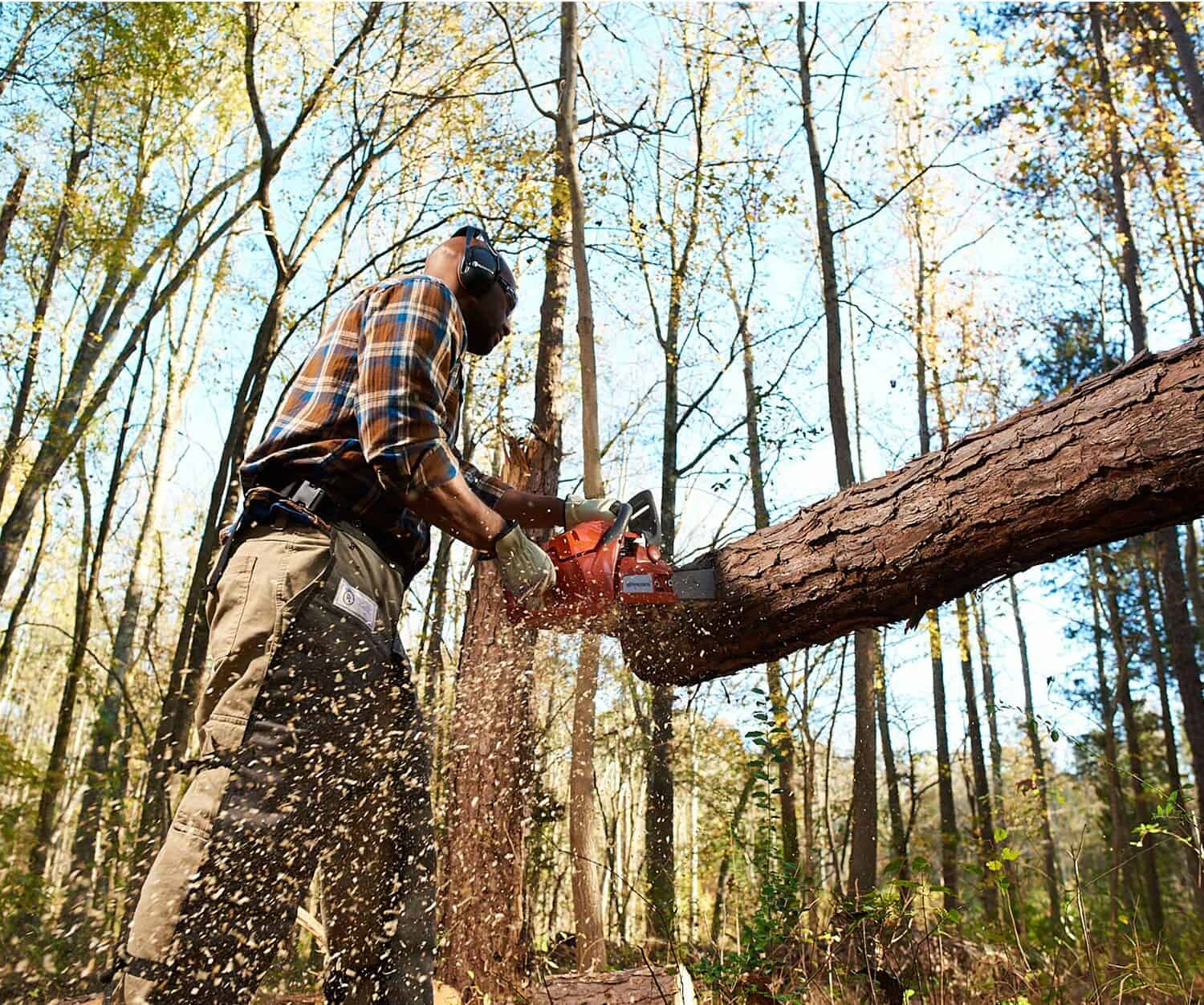 Pros of Husqvarna 460 Rancher
After explaining all these features, you are somewhat clear – whether to choose the 460 Husqvarna or not. To add more, we'll now be explaining the good points this chainsaw has that will attract potential users.
Excellent Build Quality
Build quality is what the product has put together to make it most preferable to the user. Husqvarna's brand is all about quality. It has successfully completed this for many years because of its quality products to the users. This is exactly what you'll receive in the Husqvarna 460 rancher as well.
Because of that – installation of X-torq engine or flexible bar length options, this chainsaw comes with excellent build quality.
Ergonomics
A perfect chainsaw is one that gives you comfort while working – leaves you less fatigue, and is easy to operate. Poor ergonomics is the last thing you want to deal with in any saw. The 460 Husqvarna comes with comfort grip, sturdy build, and perfect positioning.
From anti-vibration technology to easy-to-start technology, it offers you as much comfort as you need to use it throughout the day. In order to prevent an immediate accident, the on/off switch is provided within the thumb's reach. If this is not perfect for you, then we doubt what is?
Easy to Use
Besides the excellent quality, what makes the brand more reliable is the easy-to-start and easy-to-use feature. Husqvarna 460 comes with a smart start, combined choke/stop control options. All these start the engine with minimum effort.
Easy Cleaning and Maintenance
While seeking out power tools, we want to choose those which require low maintenance. For example, the quick-release feature in the chainsaw allows you to access and change the air filter in next to no time.
Moreover, the centrifugal air cleaning system overcomes the problem of clogging. This separates the dust and dirt before it reaches the engine, hence keeping it in perfect condition.
Powerful and Highly Effective
The heart of this chainsaw is a powerful X-torq engine that can cut through any wood. This powerful chainsaw, with a 60.3 cc engine, also comes with a long chain bar support. Since this power can handle the bar with variable length size, you can use this saw in any domestic or professional work.
Manufacturer Warranty
Like other Husqvarna chainsaws, this 460 rancher also comes with a two-year warranty. If anything goes wrong, Husqvarna has its back. The warranty can be upgraded – if you buy the oil from the manufacturer and register it. The deal is the warranty can be upgraded to four years if you fulfill the above-mentioned requirements. We must say, it is worth taking the deal.
Cons of Husqvarna 460 Rancher
Now that we discussed the positive side to this chainsaw, there are, of course, downsides to it. Some of them are as discussed below.
Noisy
If you're working with this bad boy, make sure you have protective gear, especially hand and ear protection. Also, as reported, this chainsaw produces loud noise – your neighbor won't like it.
Has Few Plastic Components
Another drawback to be noted is – it has few plastic components. There are also suggestions like the power to weight ratio could be better.
Not so Often Recommended to the Beginners
Since the 460 Husqvarna has some advanced features, more power is best suited for heavy-duty work. It's okay to use it if you are a professional. But,  we do not recommend this to any of the beginners.
Are There Any Alternatives?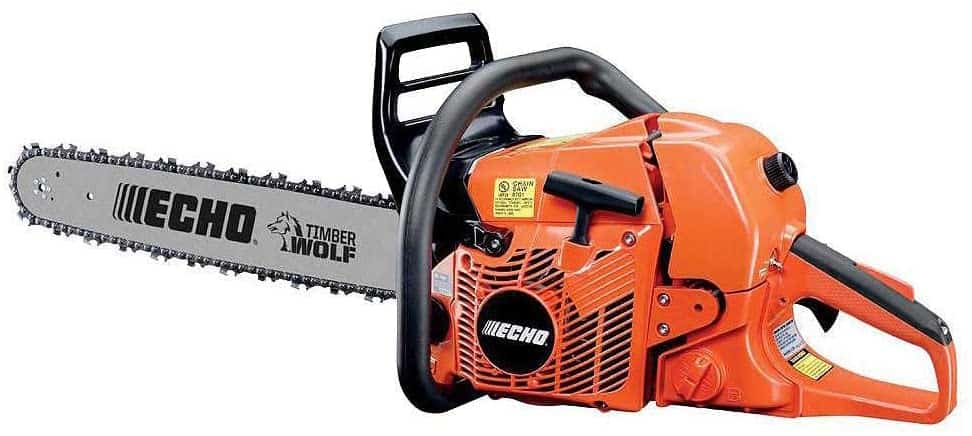 With 59.8cc power and a 2-stroke engine, Echo CS 590 becomes the best rival to Husqvarna 460 rancher. This machine has a fuel capacity of 57 liter that allows you to perform for long hours.
Like in the 460 ranchers, it bears the features like a 20″ bar, easy to start because of its decompression valve, and automatic oiling system. Along with that, it also comes with an extended 5 years warranty and is designed to minimize vibration as much as possible. So if the price tag does not matter to you, this chainsaw is the best option for you.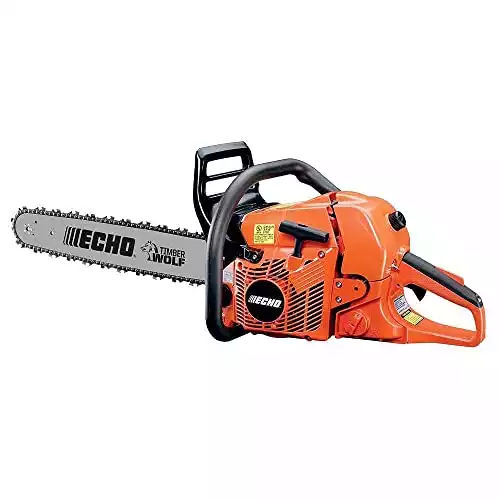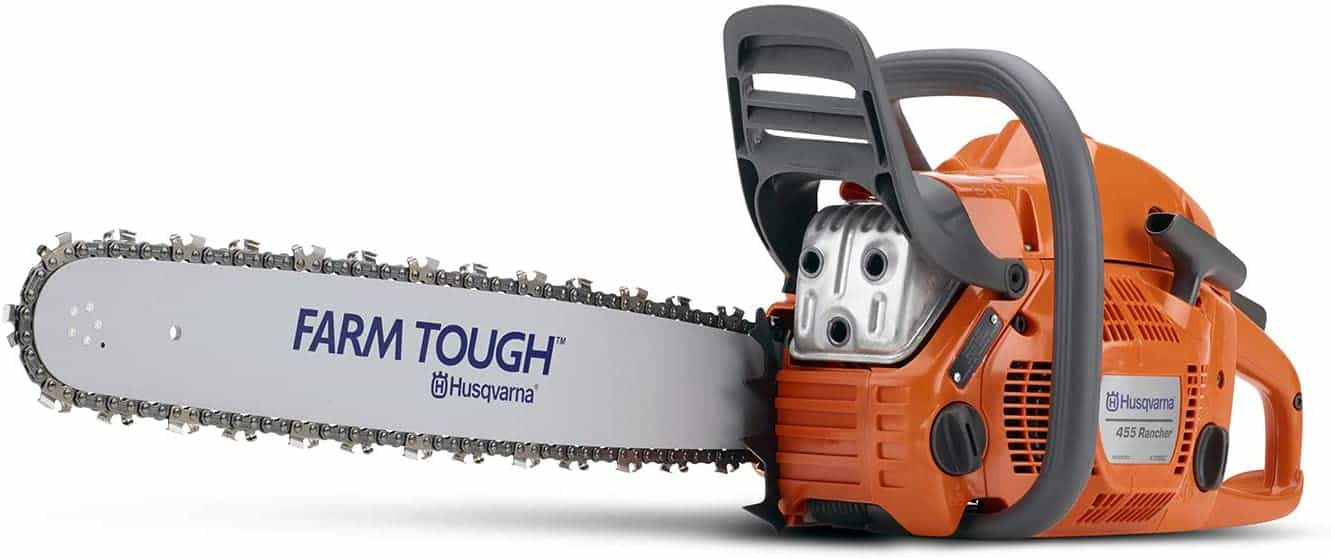 This world-renowned, outstanding saw is standard in heavy-duty and high-powered work. Reviews and feedbacks suggest this chainsaw is better in durability, usability, performance, and value.
Husqvarna 455 Rancher comes with similar features to the 460 ranchers. These include; inertia-activated chain brakes, automatic chain oiler, side-mounted chain tensioning system, quick release air filter.
If you are sold on the Husqvarna brand, but not with 60 ccs, then this chainsaw is perfect for you. Husqvarna 455 works with a power of 55.5cc that can handle a bar length of 20 inches. Not to forget, the powerful and efficient X-torq engine for reduced fuel emission.
Best Gas Powered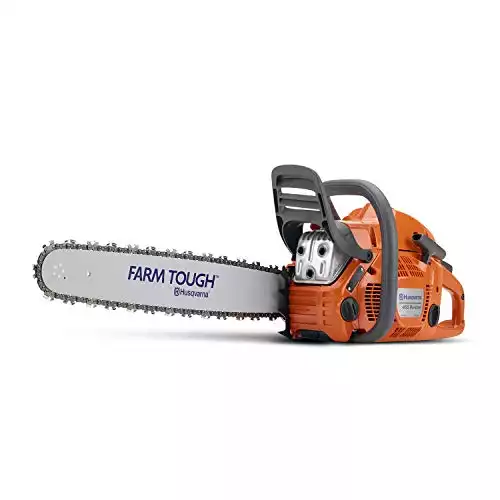 Husqvarna 20 Inch 455 Rancher Gas Chainsaw | Amazon
This gas powered chainsaw is ready to cut trees, whether you need to prune, limb or cut firewood. The ergonomic design of The Husqvarna 20" 455 Rancher gas chainsaw allows the homeowner to handle the power of the saw with ease.
Buy at Amazon
We earn a commission if you make a purchase, at no additional cost to you.
12/07/2023 12:41 pm GMT
Continue reading our full Husqvarna 455 Review.
STIHL MS 462
Stihl is another renowned brand in the world of power tools. Husqvarna and Stihl are rivals in the sense that both manufacturers have the best power tool. We suggest Stihl Ms 462 if you are not convinced with the Husqvarna brand.
Stihl claims Stihl MS 462 is the lightest-ever chainsaw produced in fuel-powered class. Designed for the pro-users, this chainsaw is 13 pounds weighted – perfect for daily forestry work. The most intriguing features of this include – auto-adjust for changes in the working environment, electrically controlled ignition timing, and fuel metering.
Unlike the 460 Husqvarna, it comes with ElastoStart, M-Tronic with calibration function, and master control features. This saw, with 72.2 cc-power, is a workhorse and one of the best alternatives to the 460.
Read also: The Most Common Stihl 462 Problems and How to Troubleshoot Them.
Frequently Asked Questions
Question: What Size of a Bar can you Use On a Husqvarna 460 Rancher?
Answer: As we mentioned beforehand, the 460 Husqvarna can operate any cutting arm ranging from 13 to 24 inches. However, most of the reviews and customers' feedback claim a 20″ bar does the perfect job. To optimize the result, it's better to use the cutting arm of this length.
Question: Is this a suitable chainsaw for beginners?
Answer: One of the downsides to this chainsaw is that it is not so beginner-friendly. This is because it comes with a high-power engine and is heavy for beginners. Except for these facts, this chainsaw has safety features for daily use. But for those who haven't started to work with any heavy saw, this can be a problem.
Question: How much output does a Husqvarna 460 have?
Answer: With a power of 60.3cc, a 460 Husqvarna has an output of 3.62 HP.
Conclusion
The Husqvarna 460 rancher works as a bridge between your light-duty as well as high-duty work. Anyone already working with this brand will know the actual merit of getting one.
I definitely recommend Husqvarna 460 Rancher to anyone seeking the purchase. The brand has always come with innovative features. Its impressive features include the 60.3cc powered motor with 9000 rpm speed, ease to start, and air injection. The average user also reviews it as a clear winner over its counterparts. So if you were skeptical about the Husqvarna 460 before, you shouldn't be anymore.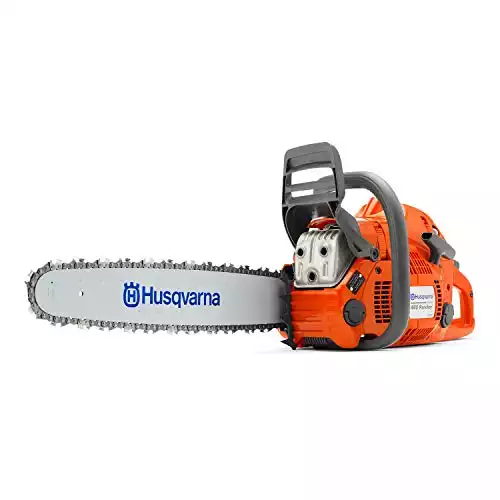 Husqvarna 20 Inch 460 Rancher Gas Chainsaw | Amazon
The ergonomic design of the Husqvarna 20-inch 460 Rancher gas chainsaw allows the homeowner to handle the power of the saw with ease. Powerful, yet easy to start thanks to SmartStart technology, this gas-powered chainsaw is ready to cut trees, whether you need to prune, limb or cut firewood.
Buy at Amazon
We earn a commission if you make a purchase, at no additional cost to you.
12/07/2023 02:05 pm GMT