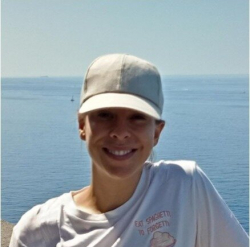 Latest posts by Maddy Chiffey
(see all)
You don't have to be hacking your way through the jungle on some daring adventure to find owning the best brush axe handy.
While they no doubt can be a very useful part of any survivalist's arsenal, they can also prove equally as useful for clearing away undergrowth, overgrown weeds, and the kind of thick brush that blights many an outdoor space.
Whether you're a homeowner looking for the perfect sharp forestry tool to keep your garden under control or a professional tasked with keeping trails clear or preparing large swaths of undeveloped land for work, these versatile axes will get the job done.
Still, deciding exactly which one to spend your hard-earned money on isn't always so easy, especially when you're faced with a whole range of options.
For this reason, I put together this comprehensive guide, not only offering you my top picks of the five very best brush axes around but also outlining everything you need to know to find the one that works best for you.
If you don't have time to read through all that right now, here's a quick overview of my favorite axes:
At a Glance
Fiskars 29 Inch Machete Axe | Amazon
Designed for fast, powerful performance, Fiskars Machete Axe offers a better way to tame the fast-growing vegetation in your yard and garden, especially when clearing large areas or chopping through tough materials.
Buy at Amazon
We earn a commission if you make a purchase, at no additional cost to you.
09/21/2023 10:46 am GMT
What is a Brush Axe?
A brush axe is a sharp, hand-held tool for gardening and landscaping which takes a large blade and combines it with a solid, sturdy handle.
Unlike a regular axe, brush axes tend to feature a curved blade which makes them better suited for hooking into a thick brush before dragging it up and out of the way.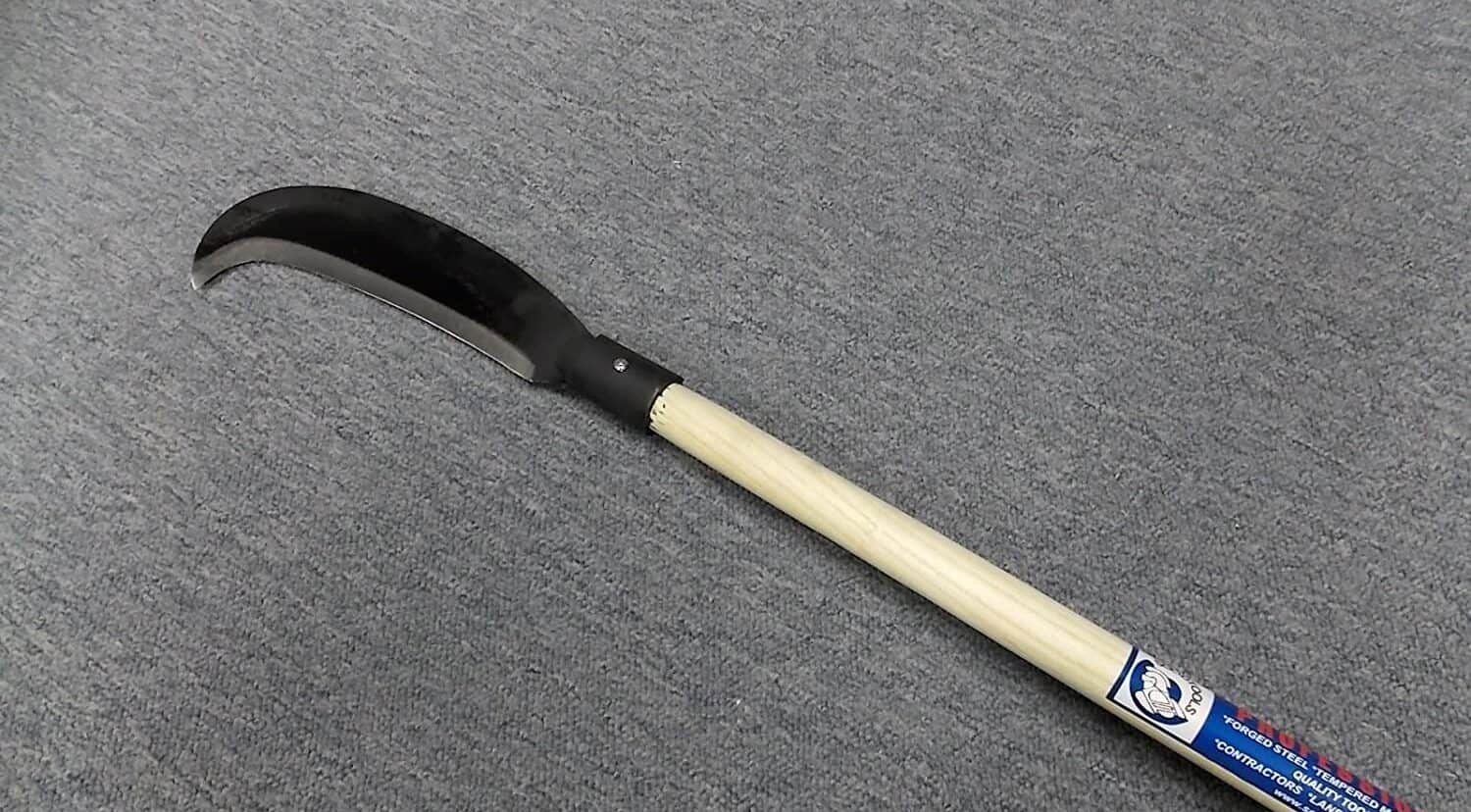 Since they're so well-known for this curved blade, you may also hear a brush axe referred to as a bush hook or billhook, while some people still call them a ditch blade or ditch blade axe.
Whichever name you know them by, you'll find that the extent to which the blade curves varies greatly from axe to axe, with some offering a slight curve which more closely resembles a machete, others boasting a large curve to form a sickle and, all shapes in between.
Later, in our buyer's guide, we'll discuss exactly how the blade shape -and other important factors- may play a big part in determining which one is right for you, but for now, let's talk about why you might need a brush axe in the first place.
Do You Need a Brush Axe?
For many homeowners, owning a brush axe may be a little excessive. However, if you do have brush, weeds, or overgrowth to tackle but find that a brush cutter tends to do the job without any issues, then you're probably better off saving your money and sticking to that approach.
Still, it's worth noting that even the best brush cutters aren't perfect.
There may be times when that overgrowth is so thick and tangled that it tends to play havoc with your brush cutter blades. In that case, it may be worthwhile breaking out the brush axe first and making a start by hand.
Alternatively, it may be that you've done as much as you can with your brush cutter and now need a manual tool for clearing away anything you've missed, especially in those small, hard-to-reach spaces that a large power tool simply can't get to.
Speaking of size, there may well also be those occasions when carrying a brush axe is simply more practical.
If your job is to clear a long trail, carrying a relatively lightweight brush axe is simply going to be less tiring and more convenient than lugging a huge motorized tool around with you.
If any of those scenarios ring true for you, a brush axe may well prove to be the perfect tool, so let's dive into our buyer's guide and help you find the one that's right for you.
How to Find the Best Brush Axe: A Buyer's Guide
Brush axes come in a huge range of sizes and styles, making picking the right one all the more difficult.
Below, I'll outline what mattered most to me when choosing my top five picks and explain how each of these factors may influence your final purchasing decision.
Blade Size
I ranked the Fiskars 29″ Machete Axe as my number one pick partly because it boasts the biggest blade of any around.

A large blade improves your ability to take out larger patches of vegetation with a single strike, helping to make those big jobs that much easier to handle.
Still, I've also included several smaller-bladed axes too because these also serve a good purpose.
If you're working on a smaller job, especially one that requires more precision than power, such as cutting away suckers and small branches, then a smaller axe will give you much more control.
Blade Style
As you'll see below, some axes have a sickle design in which the blade is mostly straight and then curves into a hook at the end.
Again, if you've got suckers to get rid of, this is a great choice, just as it is if you need something that can hook into the ground and uproot stubborn weeds.
Others have more in common with a standard machete which helps create sharp, deep cuts when you need to cut through particularly tough vegetation, while others are more or less straight, which can be very useful for creating neat, precise cuts.
Weight and Ease of Use
As you can probably imagine, the heavier a brush axe is, the sooner fatigue will set in if you're using it for long periods.
That's why I tended to go for lightweight models, as they're better equipped for those large-scale projects.
However, a lightweight axe isn't always ideal. If you need to put as much power as possible into your work, then opting for a heavier axe may work out better for you.
Handle and Grip
While it's the blade that does all the work, the handle and grip are every bit as important as it is this part of the axe that you'll be using to control your cutting.
It needs to be comfortable, non-slip, and just the right size for your particular hand size.
On the subject of handles, you may also want to consider whether you want a brush axe that you can hold with two hands to put more power into your work or one that's designed so that you can swing it deftly with one hand while keeping your other hand free for other tasks.
Top 5 Best Brush Axe 2021
To be perfectly honest with you, I could fill this entire top five with nothing but Fiskar axes.
The brand is well-known for its range of elite gardening tools, which combine incredible durability and construction quality with an expert design that ensures they get the job done every time.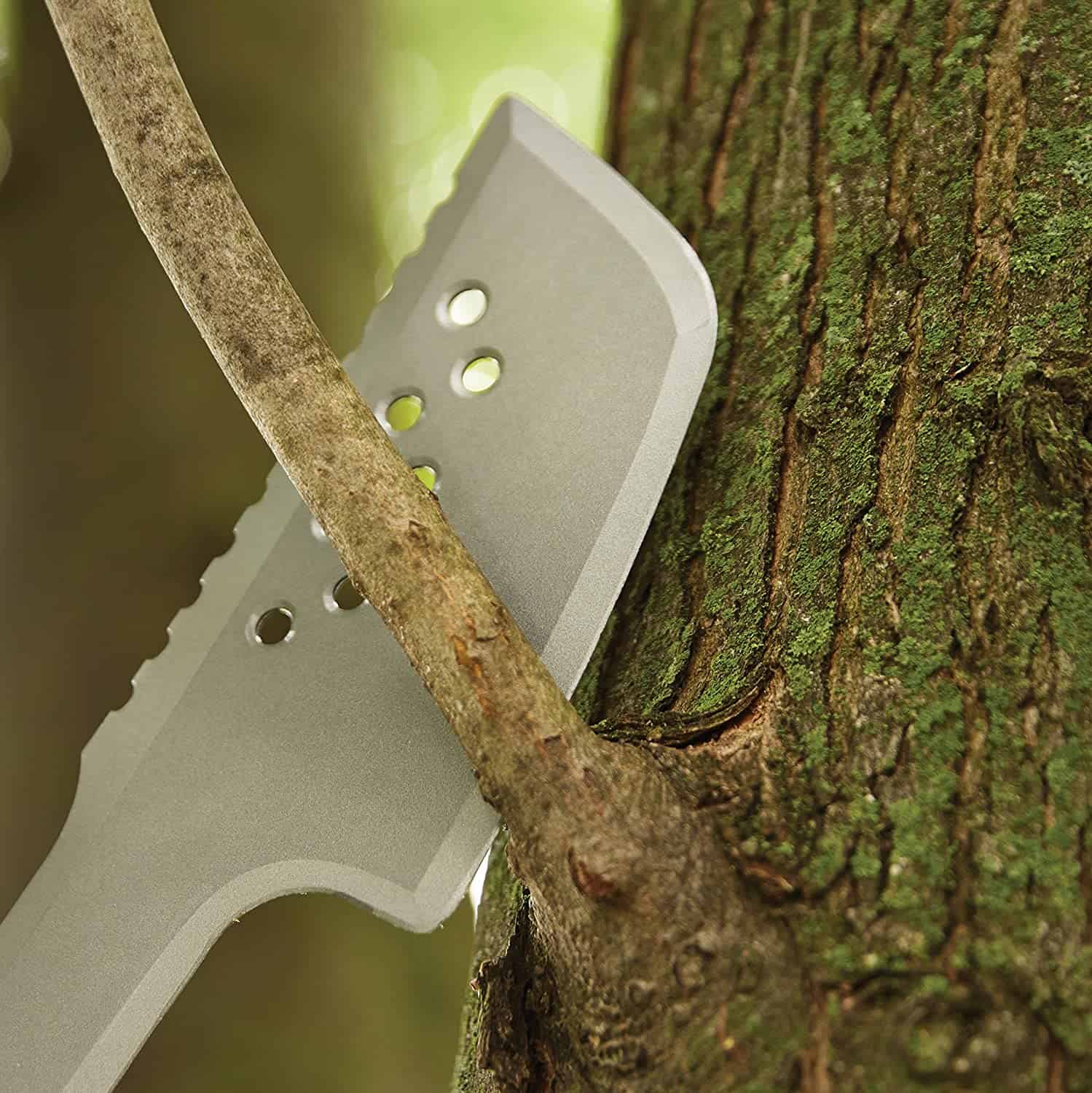 Ultimately, I opted to include just two Fiskar products, starting with the Fiskars 29″ Machete Axe, a high-caliber tool that outperformed every other option on the market.
The 18″ blade is uniquely designed to make it easy to hack through thick vegetation, bushes, and even small trees, while the small curve allows for the kind of pull-cutting action you need when ridding your land of vines and suckers.
At the head, the axe-like design ensures the Fiskars 29″ Machete axe packs a sizable punch when chopping.
Combine that with a tough, ergonomically designed handle, and what you've got here is the best brush axe money can buy right now.
Pros
It comes with a durable nylon carrying sheath
Includes finger guard for added safety
The blade is rust-resistant and has low friction to ensure no sticking when cutting through tough materials.
Cons
It May require plenty of sharpening before use
Heavier than other axes
Fiskars 29 Inch Machete Axe | Amazon
Designed for fast, powerful performance, Fiskars Machete Axe offers a better way to tame the fast-growing vegetation in your yard and garden, especially when clearing large areas or chopping through tough materials.
Buy at Amazon
We earn a commission if you make a purchase, at no additional cost to you.
09/21/2023 10:46 am GMT
Here's a confession:
The Z & G Brush Clearing Sickle is only the second least expensive option on this list.

Still, it earns my pick of the best budget brush axe on the list simply because it still comes with a very attractive price tag while offering superior quality to the cheapest option.
If you ask me, it's the quality that counts the most. Yes, you want to keep an eye on your wallet, but if doing so means you end up with an axe that just isn't fit for purpose or that breaks within a few, then that's only going to cost you more money.
With this one, that's simply not a concern.
The 14″ steel blade with a sickle-like curve is more than up to the task of hacking through weeds, overgrowth, and other tough-to-remove garden debris.
What I like best about it, however, is that it offers a construction quality which belies its low cost.
It's sturdy, tough, weather-resistant, built-to-last, and an all-around great value-for-money axe.
Pros
Sickle design is effective for hooking and pulling
Excellent grip makes for easy use
Requires minimal, if any, pre-sharpening
Cons
Size may be too small for some users
Doesn't come with a protective sheath.
Didn't I tell you we'd be looking at another Fiskars model before long?
The Fiskars 9″ Brush Axe may not be as big nor as mighty as the 29″ machete model we looked at earlier, but it's no less impressive for what it does.

The 9″ blade is fully rust-resistant and comes with Friskar's patented low-friction coating to ensure it slides easily through stubborn debris without sticking, while the insert-molded design means you never have to worry about the blade coming detached from the handle.
However, the real highlight is the billhook-style design, which helps to make it one of the more versatile brush axes around. The curved head proves every bit as effective at yanking well-rooted weeds out of the ground as it does for chopping down branches, gathering and cutting limbs, and any number of other heavy-duty landscaping tasks.
Pros
Lightweight design minimizes fatigue and ensures ease of use
Nylon/fiberglass composite provides almost unbreakable quality
Best multipurpose axe
Cons
Some users report that the handle can feel slippery
Requires pre-sharpening.
Fiskars 9″ Brush Axe | Amazon
A great choice for the outdoor enthusiast who has a lot of clearing to do, this brush axe features a precision-ground 10-inch steel blade with a rust-resistant, low-friction coating to rip through underbrush and wood with speed and ease.
Buy at Amazon
We earn a commission if you make a purchase, at no additional cost to you.
09/20/2023 04:02 pm GMT
Remember earlier when I told you there was actually a less expensive option than my top budget pick?
This, the Zenport K310 Brush Clearing Sickle is it.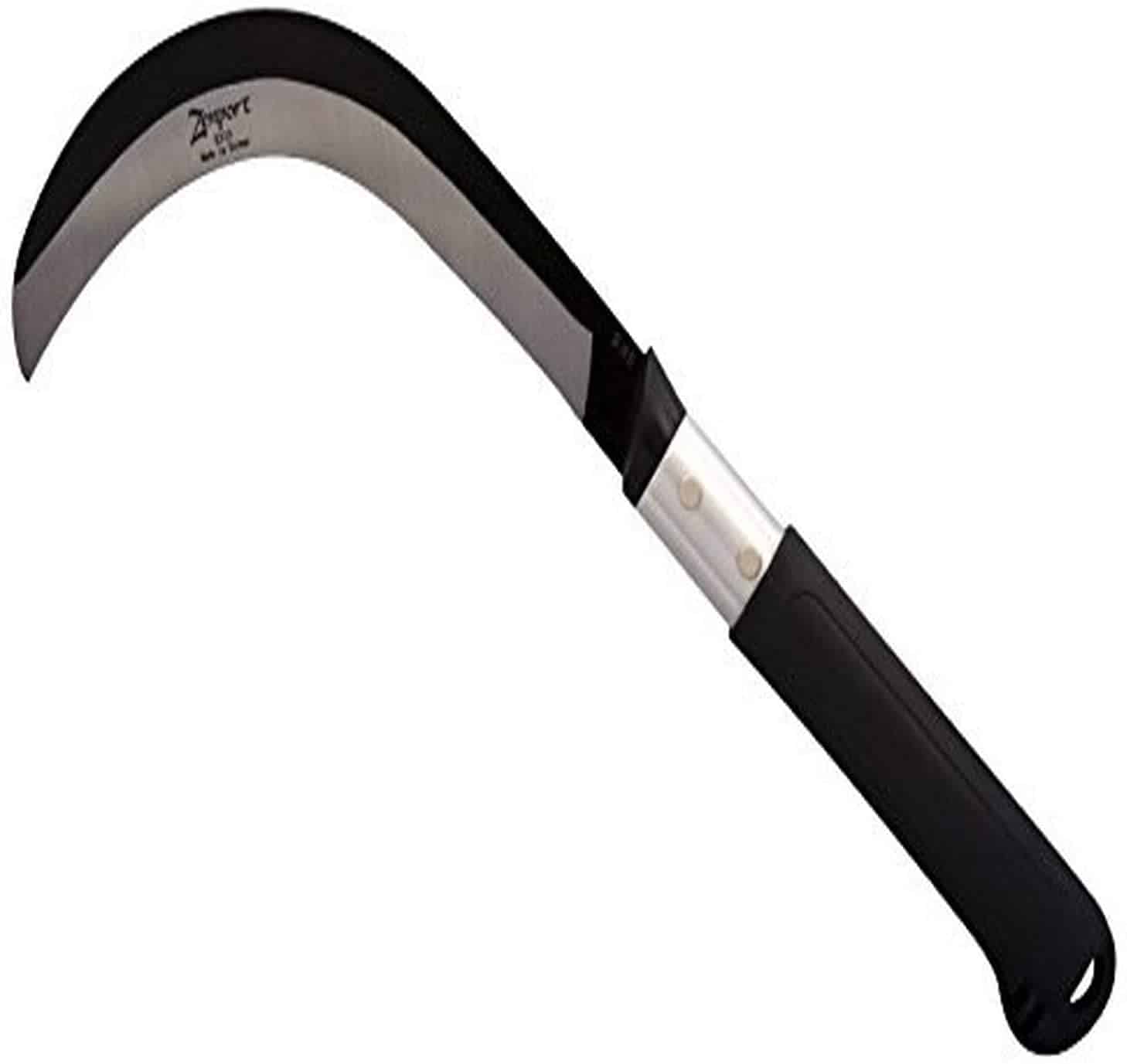 Make no mistake about it, this is undoubtedly the cheapest brush axe around, and if your only priority is saving as much money as possible, it may well prove to be an ideal purchase.
Granted, it's neither as big nor as durable as the Z & G axe (hence that one being my best budget recommendation), but it's still very good in its own right.
I'm a big fan of the 9″ soft rubber handle, which provides a remarkably comfortable grip.
Still, the best part is the 9″ blade which is exceptionally sharp. In fact, pouring through user reviews of the Zenport K310, you'll find plenty of reports from people who say it's so sharp that one wrong move led to them almost slicing their own finger off!
With that in mind, extra safety is definitely recommended, and you may want to take the same kind of precautions as you would if hacking at that growth with a pole saw or chainsaw.
Still, as long as you're incredibly careful, that sharpness can be a big advantage, giving you no problems at all at clearing out whatever's in your way.
Pros
Strong, sturdy handle
Low cost
Great axe for cutting branches from trees.
Cons
The blade isn't rust-resistant
It may not be big enough for larger projects
Zenport K310 Brush Clearing Sickle | Amazon
Zen port K310 Brush clearing sickle with 9" aluminum handle & 9" Sk5 Japanese high carbon steel blade. Designed for heavy-duty clearing & scrubbing of tough vines weeds undergrowth & small saplings.
Buy at Amazon
We earn a commission if you make a purchase, at no additional cost to you.
09/20/2023 04:53 pm GMT
Last but not least, we come to the Husqvarna OEM 26″ Hickory Brush Clearing Axe, a small but strong axe that makes light work out of clearing away brush and brambles.

The long, 26″ wooden handle and relatively low weight (2.27 lbs) make it easy to use this one with one hand, so you can swing at that pesky overgrowth with one hand and use a free hand (preferably gloved!) to pull things away as you move.
Combine that with a sharp, Swedish steel blade that strikes the offending debris at a 45-degree angle, and I'd say that makes this one of the best brush axes to use for clearing trails.
Pros
Sharp blade
The blade is easily replaceable
Good balance between blade and handle.
Cons
It doesn't come with a sheath
Not as well-made as other axes.
Frequently Asked Questions
Question: How do you use a brush axe?
Answer: The best way to use a brush axe is to grip the handle firmly with both hands, stand back to ensure your safety, and swing firmly downwards at whatever you're aiming to cut.
Question: What's the difference between a brush axe and a billhook?
Answer: A billhook is simply a type of brush axe, and you'll tend to find that while some brands prefer one name over the other, they're generally the same product.
Question: What is the best brush axe for gardening?
Answer: The Fiskars 9″ Brush Axe would be my pick for gardening as it comes with all the might of a larger machete axe with a lightweight design that's better suited for home use.
What is the Brush Axe to Buy?
So, you've read what I think are the top five very best brush axes on the market right now, but let's be honest:
You don't need five axes; you simply need one. So which one is it going to be?
If your budget is tight, but you still want the best quality and value-for-money that you can afford, then my budget pick, the Z & G Brush Clearing Sickle is definitely worth a look. Admittedly, the Zenport K310 Brush Clearing Sickle is a few dollars cheaper. Still, I stand by my verdict that the Z & G is a superior axe that offers a quality and durability that you just don't normally find at this price range.
If you're tasked with clearing a lengthy trail and need something lightweight, easy to carry, and well-designed for one-handed use, you can't go far wrong with the Husqvarna OEM 26″ Hickory Brush Clearing Axe, but if you're simply on the hunt for the best brush axe you can buy in 2021, Fiskars 29″ Machete Axe is the one to go.
Boasting a larger blade than any in this guide, a unique machete/axe hybrid design, and outstanding quality, there's no doubt that it's the hands-down winner.
Fiskars 29 Inch Machete Axe | Amazon
Designed for fast, powerful performance, Fiskars Machete Axe offers a better way to tame the fast-growing vegetation in your yard and garden, especially when clearing large areas or chopping through tough materials.
Buy at Amazon
We earn a commission if you make a purchase, at no additional cost to you.
09/21/2023 10:46 am GMT