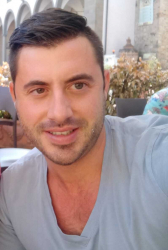 Latest posts by David Borgogni
(see all)
Are you in the market for a new cordless chainsaw? Perhaps your old one is past its best, or you've just acquired some land that needs your attention. Ryobi is a brand that offers an array of options when it comes to choosing a new saw, and today we're focusing on one of their most popular; the Ryobi 18v chainsaw.
In this Ryobi 18v chainsaw review, we're going to be diving deep into the world of the Ryobi 18v chainsaw and analyzing its core features. We'll then be looking at its pros and cons, answering some frequently asked questions, giving our own thoughts, and even letting you know some alternatives to consider.
But before we get into the details, let's familiarise ourselves with a product overview.
Key Specifications of the Ryobi 18v Chainsaw
Core Features of the Ryobi 18v Chainsaw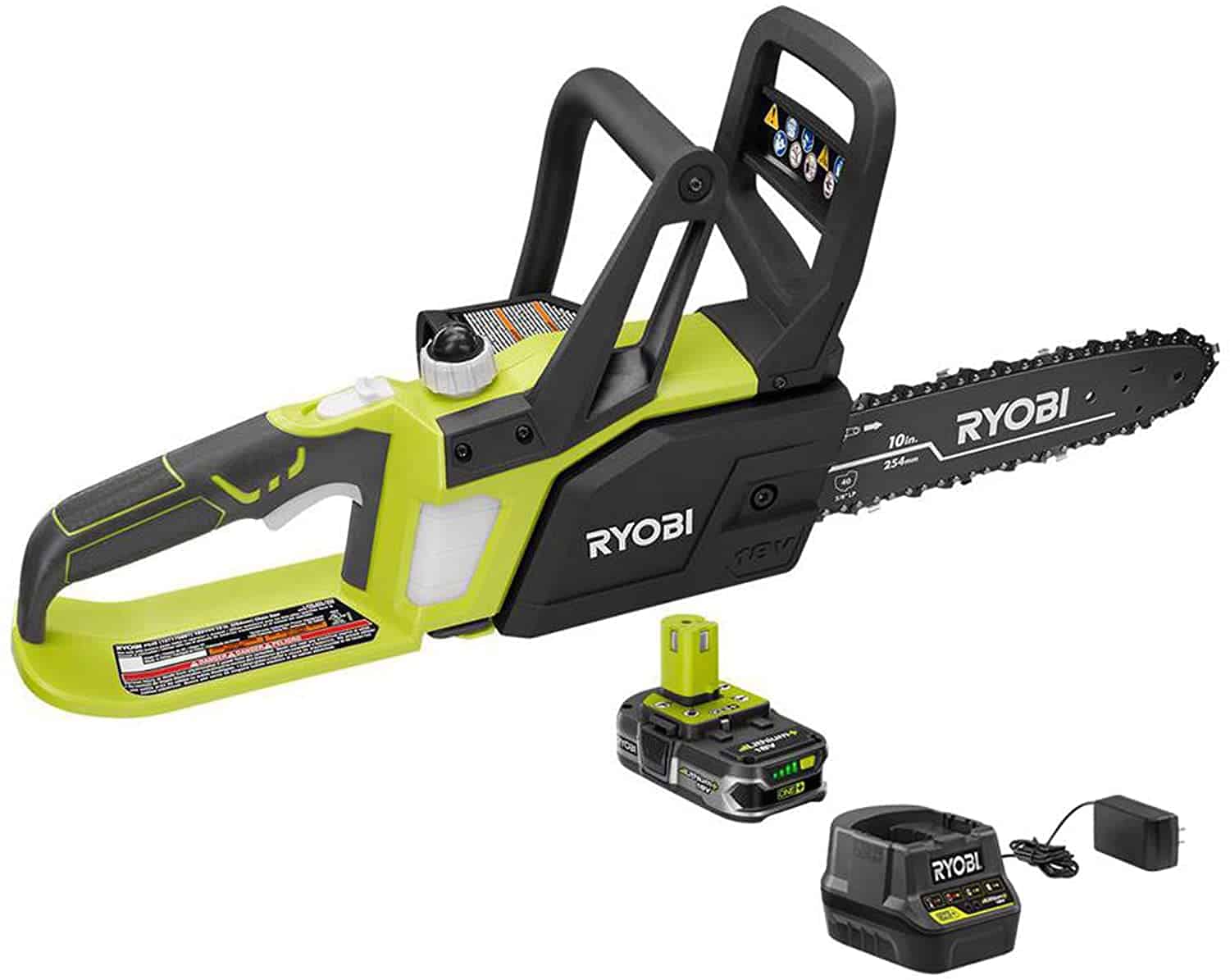 The core features of any product are what draw potential buyers in. Will it be suitable for you? Could it be too much for what you need? Or, could you do with a little more power? Identifying and understanding a chainsaw's strengths will allow you to make an informed decision before buying one.
The Ryobi 18v is a chainsaw with an established reputation. While not the biggest on the market, it has proven itself time and again to be more than up to most domestic jobs. The 18v battery means tasks can be completed over a long period with quick charging and multiple battery options available to help get your work done in record time. But aside from powerful batteries, what are some of the other core Ryobi features?
High-Performance Brushless Motor
The main feature of the Ryobi is its excellent motor. Arguably the most important element of any power tool, the motor gives the chainsaw its ability to cut. With the 18v model, you get a brushless system that comes with many benefits, including higher torque, increased reliability, lower noise output, and longer life when compared with a traditional DC motor. As a result, Brushless motors have become the gold standard in power tools over the last few years.
30cm Oregon® Bar & Chain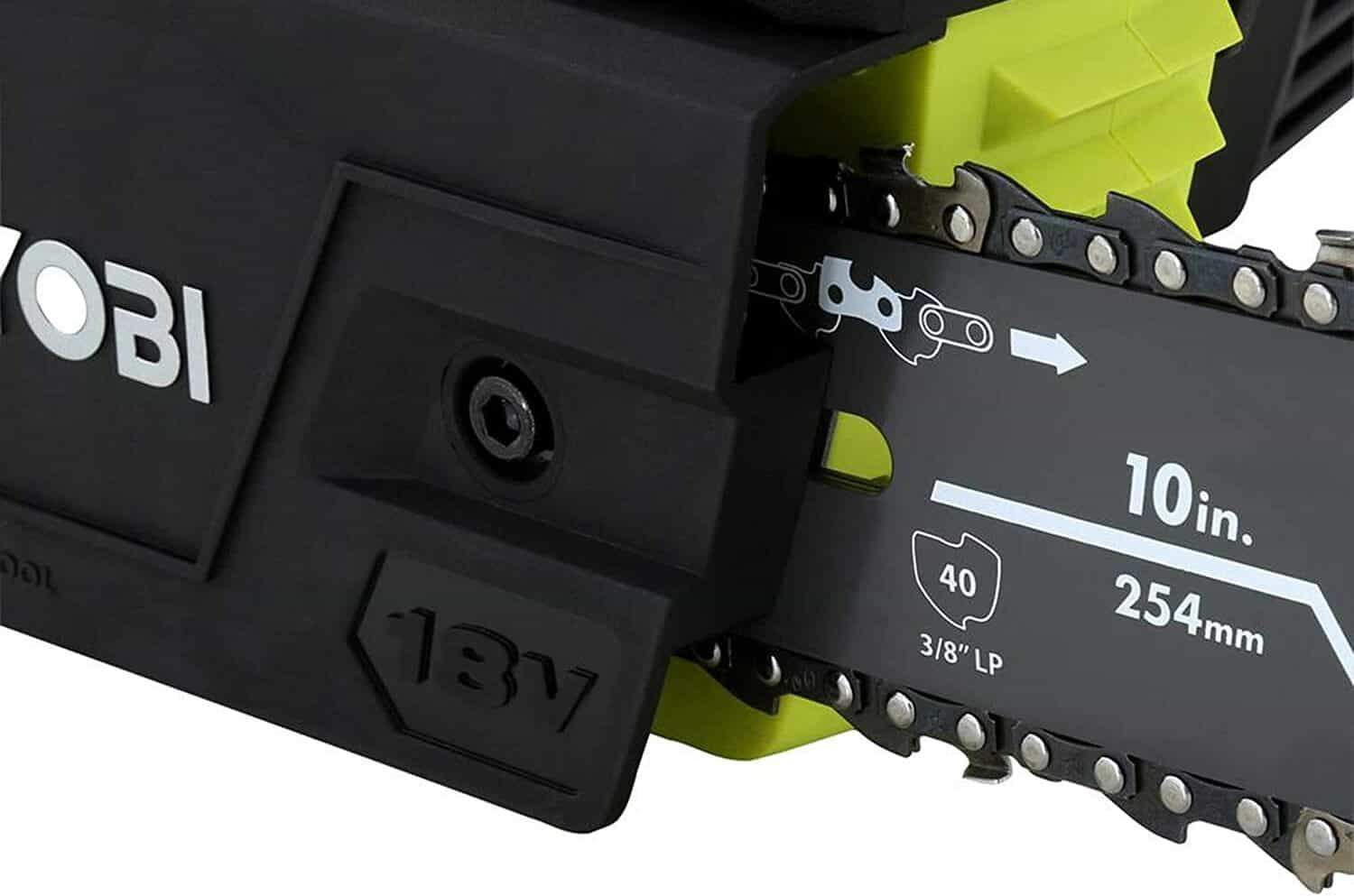 Guaranteed to help you cut through almost anything, the bar and chain have been designed and built by Oregon. With a reputation for developing some of the best cutting blades and chains around, the powerful motor combined with a versatile bar and razor-sharp chain helps the Ryboi be as effective as possible.
Automatic Oiling System
Designed to be as easy to use as possible, Ryobi's automatic oiling system makes some of the most important regular maintenance tasks straightforward. As the chain cuts, it will require plenty of lubrication to keep the chain turning without friction that may cause damage. The automatic oiling system ensures the chain stays properly oiled to ensure this doesn't happen, allowing you to keep working.
Tool-less Chain Tensioning
Another area in which the Ryobi excels is its tool-less chain tensioning system. Depending on the job at hand or whether you're looking to store your chainsaw for an extended period, you may need to adjust the tension the chain sits at. To avoid having to contact the dangerously sharp cutting chain, there is a tensioning nut on the side of the unit that doesn't require any special tools to use.
Rear Handle With Overmould
One of the most important but sometimes overlooked elements of a power tool is its main handle. Ensuring this has been designed well and is comfortable to use is key to creating a product that can be used again and again.
Ryobi has put some thought into this and included an ergonomic handle with rubber composite over mold, much like you would find on a professional chain saw. This provides excellent grip, is supremely comfortable, and can be easily cleaned when needed.
Mechanical Chain Brake
There's no getting away from the fact that chainsaws can be dangerous things when not used correctly, and the most important features of any power tool are safety ones. With the 18v, you have a mechanical and electrical chain brake included as standard. This means that if you have an accident where the tool is dropped or you fall, the chain will immediately stop, preventing potential injuries.
How Does the Ryobi 18v Chainsaw Perform?
If you're after the best battery-powered chainsaw for cutting down trees and other domestic uses, then the 18v is very hard to beat. Trees, branches, brush, and shrubs are no match for its superior cutting power – sometimes it even makes you forget it's not running on gas!
The 10-inch blade is sufficient for the majority of jobs you'll encounter around the yard, proving its worth time and again during our testing. The Oregon chain makes light work of smaller branches and helps make the Ryobi a great choice for many gardeners.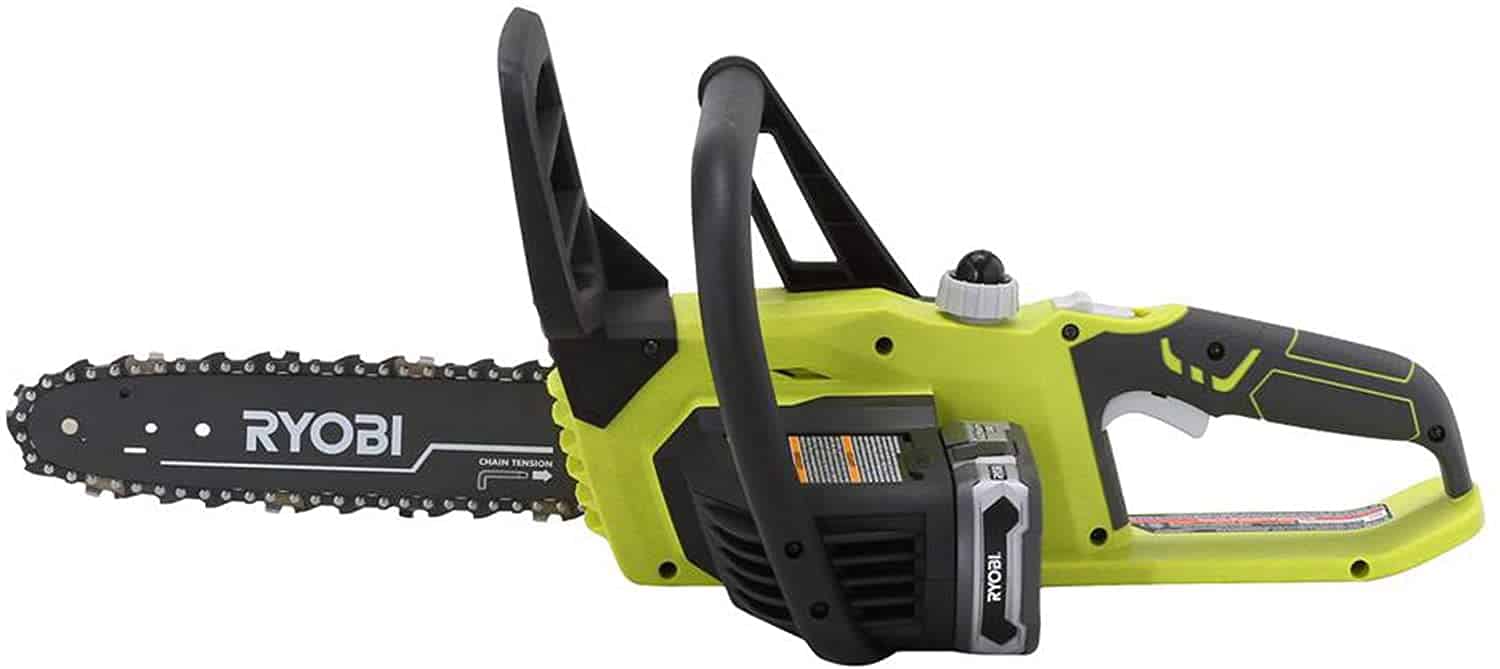 While you won't be able to tackle the largest trees with this, you will be able to cut through branches up to a couple of inches thick for 60 – 90 minutes, depending on how intensely you use it. This is how long the battery lasts on one of these, another huge positive. These batteries are also interchangeable with other Ryobi products, so if you've already got a few in the shed, it's a no-brainer.
If, however, you are looking for something more suited to tackling larger projects, you'll most likely need to go with a gas-powered chainsaw. Something like the Husqvarna 240 is ideal for smaller jobs with the 450 or even 572xp great options if you need a real workhorse.
Back to the Ryobi 18v, it's important to mention the self-lubricating chain. During our testing period, it worked a charm keeping the chain sharp and allowing us to work for the duration of the battery life without stopping for re-oiling. This is a real bonus for the domestic user. It removes one of the most important aspects of regular maintenance, allowing those with slightly less power tool experience to use theirs regularly without worrying about chain lubrication.
It's surprisingly light, too. This makes it a great choice for anyone who values maneuverability in their tools and wants to be able to get their chainsaw out quickly when needed. Don't be fooled by this, though; the Ryobi 18v is still one of the more powerful battery-powered chainsaws on the market.
Ergonomics is another area that stands out. Thanks to the rubber composite that covers the rear handle, the unit is comfortable to hold and easy to grip. This, coupled with an adaptable auxiliary handle and its lightweight build, make for a supremely easy-to-use tool.
Pros of the Ryobi 18v Chainsaw
This compact and simple to use electric chainsaw comes with plenty of good points. Here, we'll take a closer look at how they could benefit any potential user.
Easy to Control
When getting your hands on one of these saws for the first time, the first thing that you notice is how solid yet light it feels. Often a lightweight power tool can feel a little flimsy or underpowered – not with the Ryobi. Instead, it's a great blend of power and functionality that leads to a fantastic overall cutting experience.
Excellent Battery Life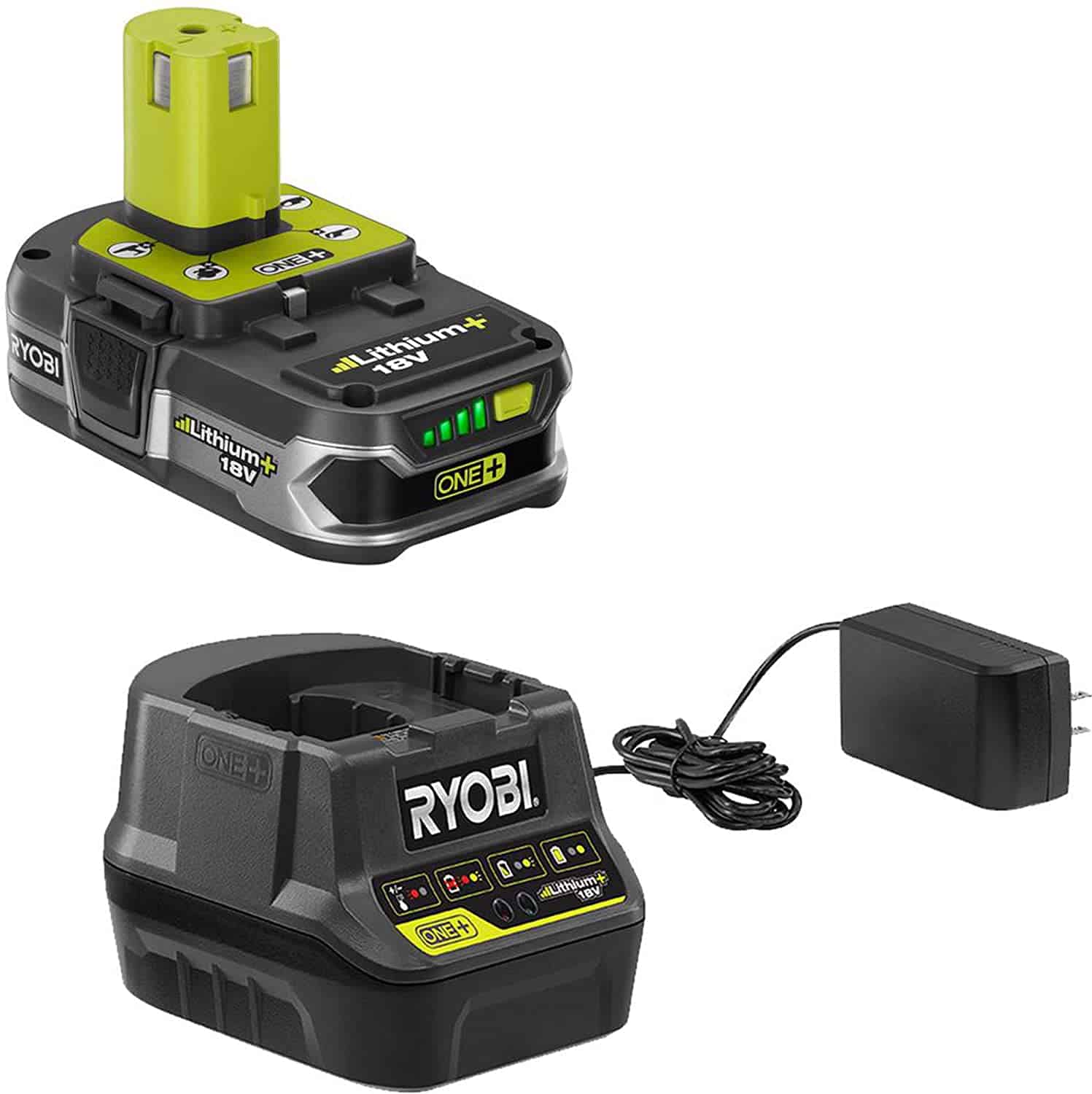 This is not so much a pro of this specific chainsaw but Ryobi overall. Their premium 4ah batteries are well known for going the distance. Despite the large amounts of power needed to run a chainsaw, particularly one suited to cutting through trees and thick shrubs, the battery lasts for well over an hour and often reaches an hour and a half if you work a little more lightly. This is a game-changer for electric power tools, and once you have a couple of batteries on the go, nothing is holding you back.
Easy to Store
Thanks to its lightweight and compact build, the Ryobi 18v is really easy to store. You'll be able to house it either indoors, in a shed, or even a garage, and thanks to the lack of a gas engine, there's much less maintenance required. Simply charge a battery, plug it in, and you're good to go whenever the need arises.
Perfect for Pruning and Trimming
If you've got a yard that needs a bit of TLC, this is a great option. It's ideally suited to those who need a chainsaw for trimming back existing shrubs and trees but need a little more power and versatility than what comes with other products like pole saws or hedge trimmers. You won't be able to fell large trees with this saw, but you'll be able to prune and cut them back. This makes it perfect for garden maintenance.
Manufacturer Warranty
Ryobi claims that all of their tools are built to last, and to back this up, they offer a 2-year warranty as standard. But that's not all; if you register your chainsaw on their website, they'll extend that cover by 12 months, taking the total to 3 years of full coverage. This ensures against any defects that may occur due to poor construction so you can rest easy knowing that if anything goes wrong, Ryobi has your back.
Cons of the Ryobi 18v
There are, of course, some downsides to using a chainsaw of this size. We'll explore some of the most important ones here.
Blade Length
The 18v comes with a 10-inch cutting arm as standard without the ability to upgrade to a larger one. This means there are limitations to the size and scope of jobs that can be undertaken. To put it into context, most gas-powered chainsaws have blades between 16 and 24 inches, allowing them to cut more efficiently.
Power
Although the 18v motor provides an excellent level of power compared to other battery chainsaws when you look at gas saws, the difference is night and day. Therefore, before purchasing one of these who must be sure that an electric saw is right for you; otherwise, you will be underprepared for many jobs.
Are There Any Alternatives?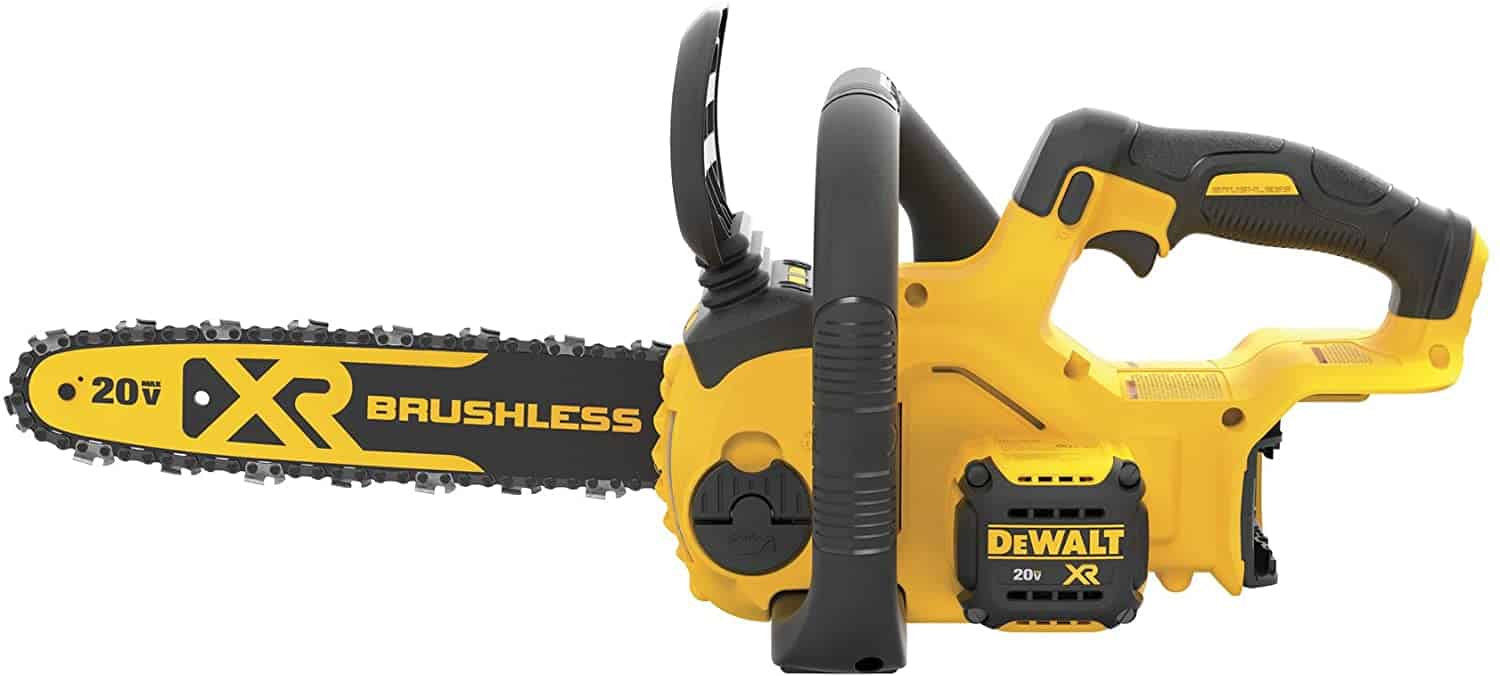 Another industry heavyweight, DeWalt, offers a good alternative to the Ryobi if you're looking for a battery-powered chainsaw. This one will appeal to those looking for even more power than offered with the Ryobi 18v, thanks to the 20v brushless motor. As a result of this increased power, the cutting arm is also longer at 12-inches. This is a good option if you need something just a little bit more powerful.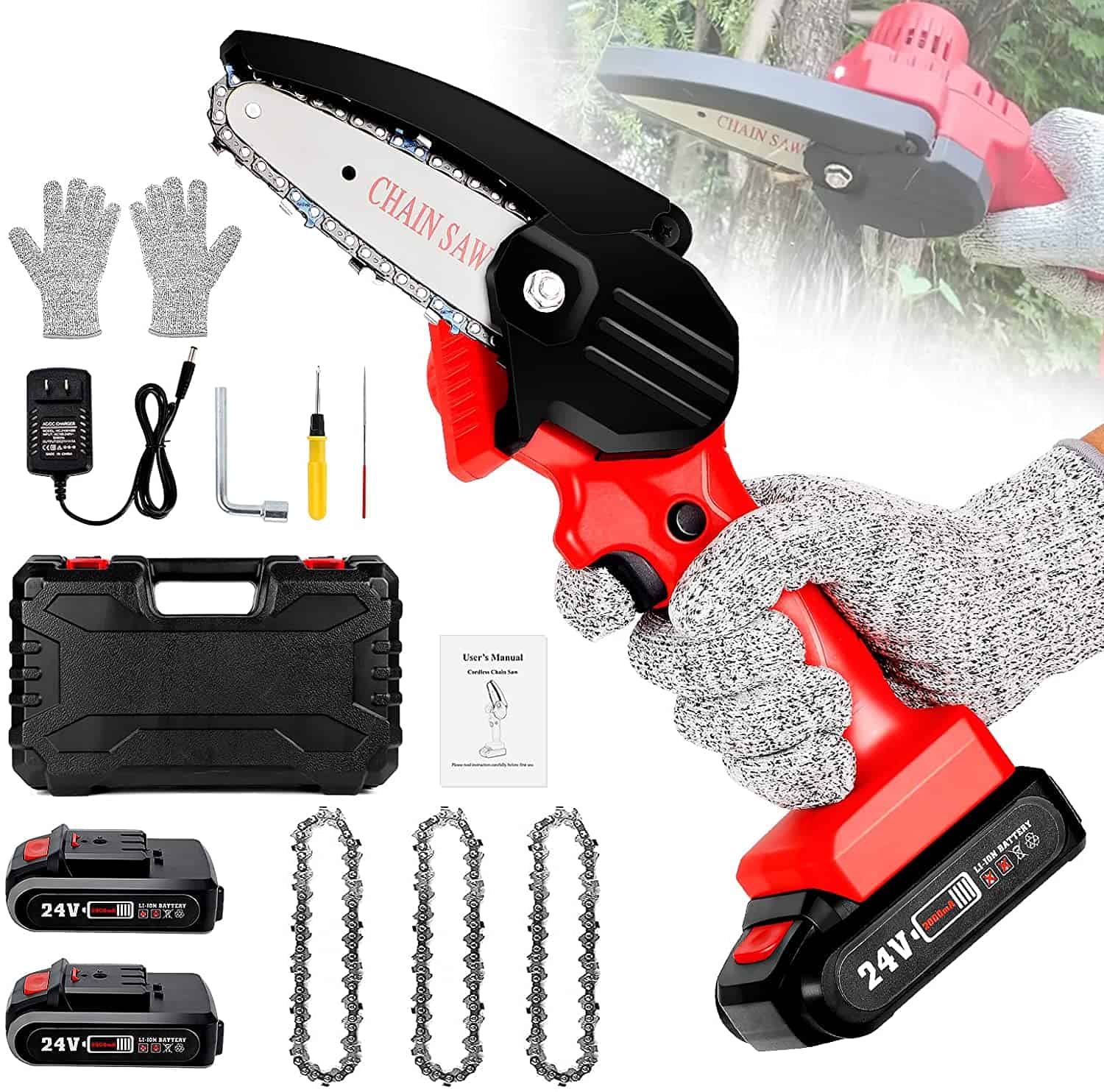 On the other hand, if you'd benefit from something a little less powerful and more affordable, the 2NLF is a great option. Its super-compact nature makes it ideal for use around smaller yards and on the smallest of jobs. Despite its size, it features a surprisingly powerful motor at 24v; this helps deliver a high level of cutting power and allows you to cut through smaller branches easily. Its 4-inch blade won't be suitable for all jobs, though, so be sure to check its suitability before purchasing one.
Frequently Asked Questions
Question: How do you tighten the chain on a Ryobi 18v chainsaw?
Answer: Adjusting and tightening the chain on the 18v is a straightforward task. Simply turn the tensioning screw clockwise to tighten. Continue to turn until you reach the desired tightness and test carefully. If all is ok, replace the cover, and you are ready to start cutting.
Question: Does the Ryobi chainsaw need oil?
Answer: While the Ryobi 18v does not need engine oil as it is battery powered, it still requires lubricant for the chain. Without it, the chain will get damaged during use.
Question: How long does the Ryobi chainsaw battery last?
Answer: We got between 60 and 90 minutes from a full charge during testing, depending on how rigorously we were cutting. In terms of shelf life, a lithium battery is expected to work for 3-4 years, after which it may need replacing.
The Final Word – Is The Ryobi 18v A Good Chainsaw?
In short, yes, the Ryobi 18v is an excellent chainsaw. It offers a happy medium between power and flexibility with the cutting power it provides more than adequate for most domestic situations.
That being said, if you do require a little more bite, then it may be worth looking into the DeWalt we mentioned as an alternative – its 20v battery and 16-inch blade offer a little bit more. If this still isn't enough, then you should seriously consider looking into a gas-powered chainsaw. There is a wide selection available and a model to suit every need. Check out our chainsaw guides for the low down on some of the best.