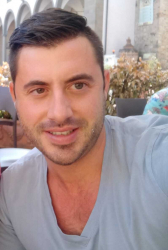 Latest posts by David Borgogni
(see all)
Today we're going to be taking a look at one of the power-tool world's big hitters, Ryobi. Well known for their electric and battery-powered tools, Ryobi has been producing high-quality products for many years now, with everything from chainsaws to drills available. This article is going to be focussing on one of their most popular items – the Ryobi 40-volt brush cutter.
In this Ryobi brush cutter review, we'll be focussing on the key selling points, outlining how they can help you day to day, and assessing its pros and cons. We'll then be answering some frequently asked questions, giving some of our own thoughts on the brush cutter, and even suggesting alternatives to consider if the Ryobi isn't the one for you.
But before we get into it, let's take a look at a general overview of the Ryobi Brush Cutter.
Key Specifications of the Ryobi Brush Cutter
| | |
| --- | --- |
| Power | 1200W |
| Battery size | 40v |
| Dimensions | 35.7 x 8.3 x 6.8 inches |
| Weight | 13.4 Pounds |
| Power Source | Battery |
| Cutting width | 13-15 inches |
| Latest Price | Click here for the latest price |
Core Features of the Ryobi Brush Cutter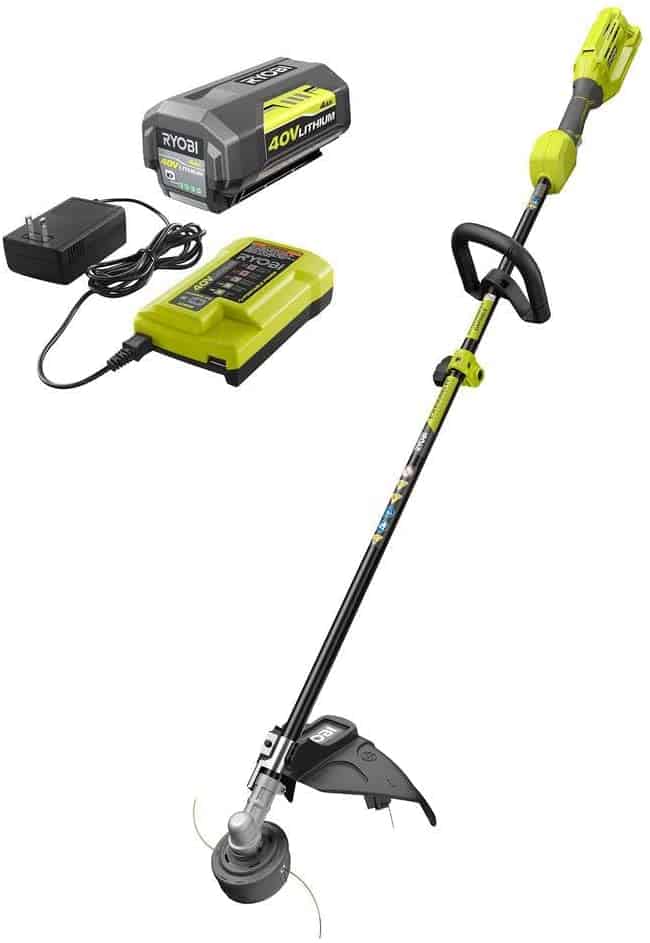 Ryobi is one of the best brands around when it comes to creating products designed for the domestic market. Their pricing and features included making them the perfect choice for many homeowners looking to perform regular maintenance out in the yard. While many companies make good brush cutters, not many do so at such a competitive price point.
The general idea behind these types of brush cutters comes from the adaptation of the classic string trimmer. The elements that work well for these trimmers have been taken and expanded on, resulting in Ryobi's new breed of brush cutters. Things like incorporating a bladed option and even a gas engine on some models give the humble string butter more of a bite.
Let's have a look at the core features included by Ryobi on their 1200W 2 in 1 brush cutter.
Powerful 1200W Motor
The motor is one of the most important factors when it comes to power tools. Understanding their size and power is key to being able to assess their suitability to your needs. This brush cutter is battery-powered with a 1200w brushless motor, meaning it has a good level of power and torque considering its battery-operated. With this in mind, it can be safely assumed that the Ryobi brush cutter is powerful enough to perform most day-to-day tasks.
SmartTool™ Technology
Ryobi's innovative SmartTool technology helps to optimize performance across multiple areas. It is particularly prevalent when you use one of the many attachments (which we'll come on to) compatible with the brush cutter. It essentially helps the battery deliver its power optimally, allowing for work to be carried out more efficiently than ever before.
Bladed Attachment
One of the best things about moving from traditional string trimmer designs to more powerful brush cutters has been the addition of bladed attachments. Ryobi's ships with a 26cm Tri-Arc blade made from hardened steel is perfect for clearing more stubborn areas of brush and debris. This blade even can cut through small tree roots you may encounter while clearing your yard.
Large Trimming Width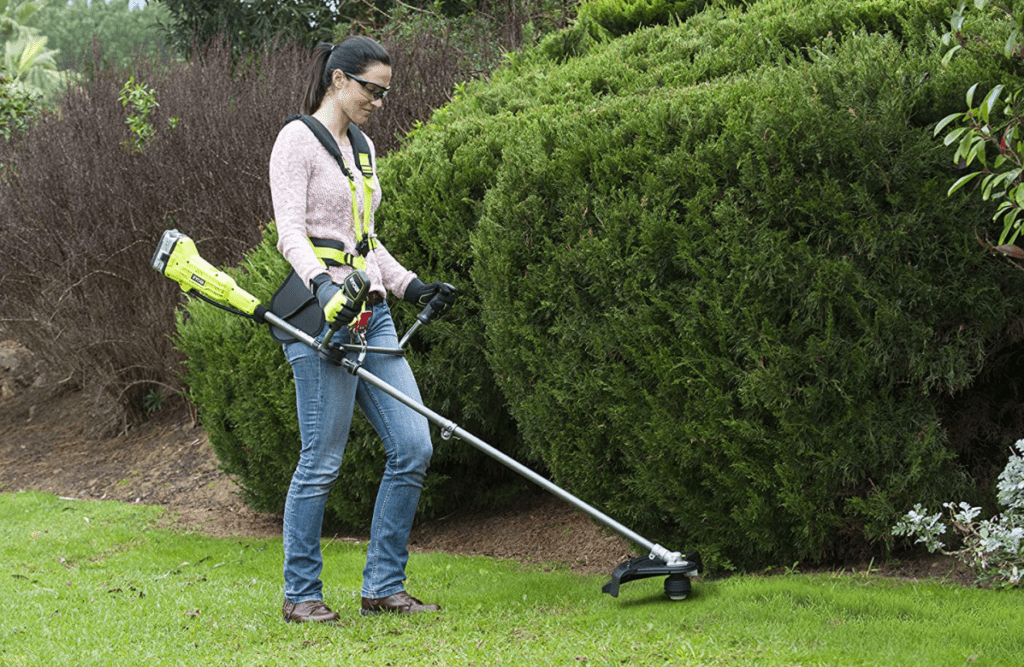 While you are still using the trimmer attachment, you'll be pleased to know that the cutting area is a huge 38cm. This is perfect for clearing large areas of grass and other foliage without becoming too much for the battery-powered motor to handle effectively.
Plenty of Attachments
The Ryobi comes into its own when you chop and change the attachments at your disposal. There are some super useful ones available, including an articulating hedge trimmer, pole pruner, brush cutter (duh), and leaf blower. All of which have been designed to help you get through those chores out in the yard as quickly as possible.
Quick Release Mechanism
The array of attachments is all well and good, but if swapping between them was too difficult, then they would ultimately prove to be pointless. Thankfully, Ryobi has catered for this and created a quick-release mechanism that makes changing attachments easy on the go.
Ergonomic Design
Of course, no good power tool would be complete without a solid handle designed with effective ergonomics in mind. The Ryobi comes with a main handle and accelerator at the base of the unit and an auxiliary one a little further down.
This provides the user with a well-balanced and comfortable overall cutting experience. When the battery is attached, and the unit is being used, the weight has a counterbalancing effect, making the whole unit feel lighter and perform better while on the job.
Powerful Battery
A powerful motor needs a high-quality battery to provide the power. Thankfully with the Ryobi brush cutter, there is a 40v battery that comes as standard. This lithium-ion battery is high capacity and can be fully charged from empty in just 90 minutes thanks to the rapid charger also supplied.
Warranty
The manufacturer's warranty on all Ryobi products is 2 years. This covers all manner of things from production defects to replacement parts and can even be extended to cover your tool for 3 years if you register your brush cutter on the Ryobi website.
How Does the Ryobi Brush Cutter Perform?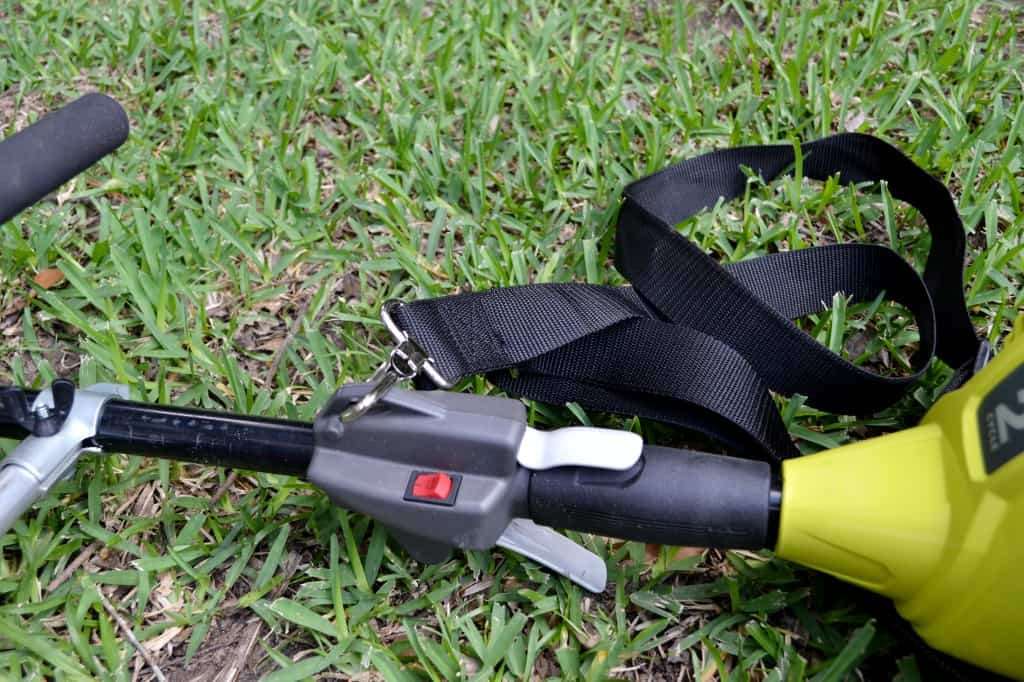 Given its place in the market, Ryobi seems to have nailed yet another domestic power tool. It performs well with all of the available attachments, making it a highly functional and versatile addition to your home. Also, when we put it up against some of the more expensive units on the market, it more than held its own, once again showcasing the fact that Ryobi is one of the best domestic tool manufacturers around.
The nylon-string head that the unit ships with is ideal for general use around the yard, allowing you to cut through brush and tall grass with relative ease.
However, this tool becomes really effective when you start using the attachments available for it. The strengthened steel blade, pole saw, and the blower is some of our favorites. Using these attachments allows you to do much more than just cut brush back, making it an excellent choice for domestic use.
There were a few little details that we noticed when using this product. The nylon-string bump feed head did get a little clogged with grass and other debris when used on particularly overgrown areas. While this isn't an issue if you're using yours to maintain a garden, it shows the difference between it and professional-grade equipment. Important to note, though that this wasn't an issue when using the steel blade.
The other thing we noticed was that the handle is slanted so that only a right-handed person could use it comfortably. Nothing to worry about if this doesn't affect you but something to bear in mind for the lefties out there – although a neutral handle is available direct from Ryobi.
This brush cutter is aimed at domestic use and people using it over shorter amounts of time. With that in mind, it's surprising that the noise levels produced are so high. Even with the correct ear protection on, the noise was noticeably higher than other similar products.
Pros of the Ryobi Brush Cutter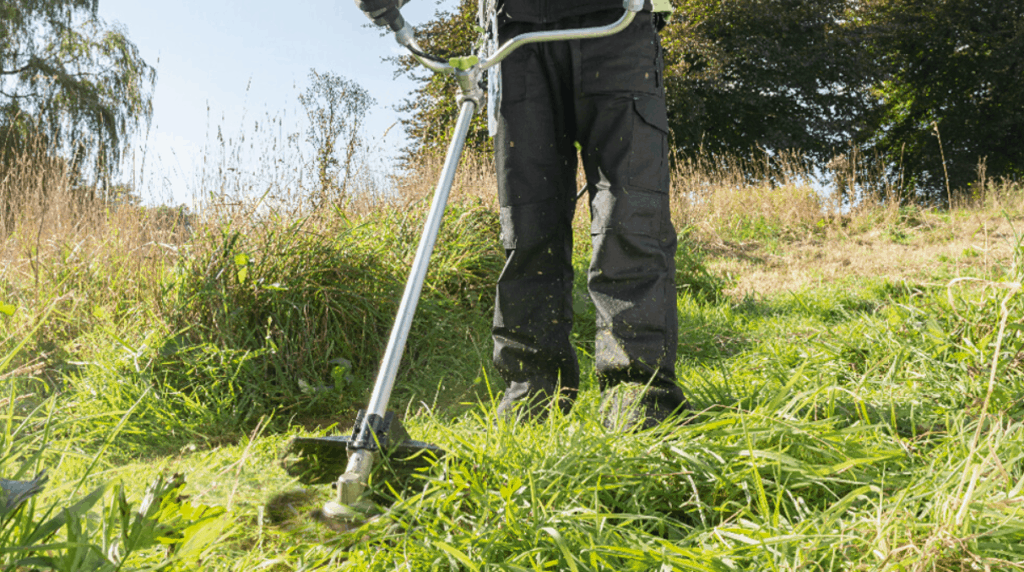 As we have outlined, the Ryobi brush cutter is a solid option for domestic use. It's built well and designed to suit smaller budgets thanks to its selection of attachments. Let's take a closer look at the reasons you may want to consider getting one.
Powerful Motor
The 1200W motor is the headline here; it allows the tool to function to a high standard and means you'll be able to get the job done despite this not being a gas-powered unit. The high capacity battery is also crucial to its success, with its huge 40v helping to deliver the power needed to cut through all manner of grass, debris, and other foliage.
Large Selection of Attachments
The next most important aspect of the Ryobi brush cutter is just how versatile it is. The array of attachments produced by the manufacturer allows you to transform it into any number of different tools. It works well as a brush cutter and a leaf blower, pole saw, and edger. If you like the idea of a 'one size fits all approach to your yard maintenance, then this could be the perfect product for you.
Adjustable Trimming Width
The ability to adapt and change to your surroundings is what makes any tool a success; with the Ryobi brush cutter, this adaptability comes in the form of a changeable trimming width. As standard, the cutting area of 38cm, large enough to get through some pretty substantial grass with relative ease. But when working in tighter areas, the ability to reign that size in makes for much easier and more precise work.
Ergonomic Design
This is a must for any modern tool. Having an ergonomically sound design makes using any product much easier, especially if you plan on using it for longer periods. The Ryobi comes with both main and auxiliary handles and is counterbalanced when the battery is in place. This, coupled with the variable-speed trigger, makes for a great cutting experience.
Cons of the Ryobi Brush Cutter
Overall this is a pretty solid brush cutter, but there are a few downsides to be aware of. We explore what they are and how they might affect you here.
Unsuitable For Left-handers
Like we mentioned, as standard, this tool is geared towards right-handed users. While this is fine for the vast majority of people, it's not ideal for the lefties among us. There are neutral handles available directly from the manufacturer.
Battery Heat
When used for excessively long periods, there have been instances where the battery gets very hot. When they reach temperatures above what is considered normal, there is a risk of damaging them permanently. While this is not a con of the brush cutter itself, any potential buyers should be aware of the issue.
Unsuitable for Heavy Work Loads
This is to be expected to a certain extent as the Ryobi brush cutter is a domestic product, but even so, it is quite apparent that if you were to take on large areas of brush, you would struggle. This mainly comes down to cutting capacity and power, where a gas brush cutter would be more suitable.
Are There Any Alternatives?
Greenworks 40V String Trimmer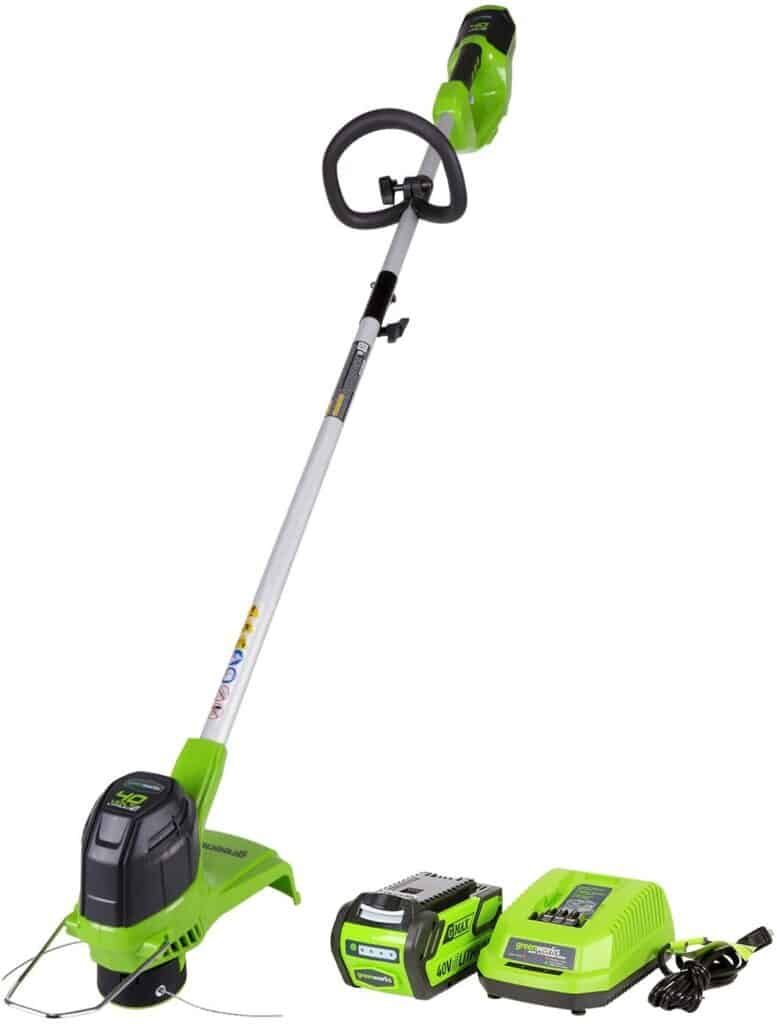 Greenworks is another big name in the domestic power tool market, and their 40v equivalent does a similar job to the Ryobi when it comes to clearing brush. While this is a quality product and one we recommend you check out, thanks to its price, it does lack the attachments that make the Ryobi so versatile.
Echo SRM-2620U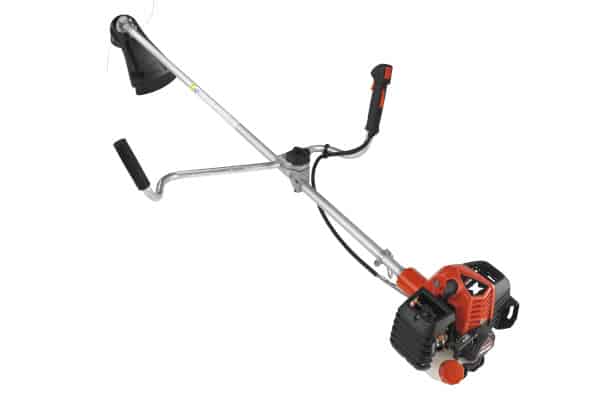 At the other end of the scale, we have the Echo SRM-2620U. This is an entry-level gas-powered brush cutter for anyone who feels they need a little more cutting power than the Ryobi offers. It comes with a 25cc engine which is nice and compact for users who have not used gas tools before.
Although like the Greenworks, it lacks the attachment of the Ryobi, it is an excellent choice for the more strenuous domestic jobs. Check out our in-depth Echo brush cutter review for more information.
FAQs
Question: How does bump feed trimmer work?
Answer: When using the bump feed attachment, you'll need to literally bump the head against a solid surface to release more line. There is a spring in the head that activates when it senses the impact.
Question: What is the length of time to charge the battery after full discharge?
Answer: Always let the battery cool down before placing it on charge. Usually half an hour after use is fine. Once on charge, the battery will take roughly 3 hours from flat to be fully charged using a standard charger. If you have a rapid charger, this time is reduced to around 90 mins.
Question: What will this brush cutter cut?
Answer: The Ryobi 40v brush cutter is good for tall grass (over 6 inches), weeds, shrubs, brush, and other woody debris like saplings and stalks. It won't cut through trees with thick branches or stumps.
The Final Word – Is This a Good Choice for a Brush Cutter?
The Ryobi 40v does exactly what it is supposed to do, that is, provide a good level of cutting power for smaller domestic jobs. If that is what you are after, then this will be ideal for you, especially given the fact that there are so many attachments available should you need another tool as a blower or pole saw.
If, however, you need something a little more powerful, then we would recommend gas-powered options like the Echo SRM-2620U we mentioned earlier. Although slightly more expensive, these tools will help you tackle bigger jobs much more effectively.