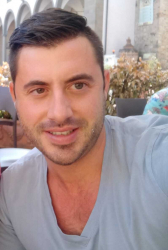 Latest posts by David Borgogni
(see all)
Cutting back overgrown brush and other debris can be a daunting task. If you're faced with a tricky patch of land that needs attention, then having the right forestry tools is the best place to start.
In this Echo Brush Cutter review and guide, we'll be taking a closer look at one of the industry's most popular tools.
In this review and guide, we'll be diving deep into the Echo brush cutters and looking into detail at their pros and cons.
We'll also be discussing their key features, answering the most frequently asked questions about them, and providing some of our own thoughts on who might be best suited to the Echo brush cutters.
We'll even be recommending some alternatives that may be worth considering if you're in the market for a new brush cutter.
But before all of that, let's take a look at an overview of the Echo brush cutter we're going to be looking at today; the Echo SRM-2620U
Key Specifications of the Echo SRM-2620U
| | |
| --- | --- |
| Power Output | 1.8kw |
| engine size | 25.4cc |
| Dimensions | 1852mm x 680mm x 598mm |
| weight | 8.7kg |
| Power Source | Gas |
| Noise Output | 113db |
| Latest Price | Click here for the latest price |
Core Features of the Echo SRM-2620U

The SRM-2620U comes packed with features to help make cutting that overgrown brush quick and easy. It's part of a newer breed of brush cutter that includes a 2:1 gear head with a four-point isolated handle designed to reduce vibration.
The cutter itself is manufactured in Japan by the Yamabiko Corporation you also produce Shindaiwa brush cutters.
The SRM-2620U is a great option for a range of people. Professional foresters and landscapers would benefit from having one of these at their disposal, as would those working on large residential properties or farms.
In this section, we'll focus on the core features of the Echo and think about how they may benefit the user.
Solid Engine
The engine is one of the main parts for any motorized power tool only getting it right is of the utmost importance for the manufacturer. It looks like Echo has built a good one here with several elements catching our eye.
It's a 2-stroke, 25.4cc engine with a single cylinder and fan-forced air cooling. The fan in the back draws air past the recoil starter – a clever design feature that helps overall cooling and efficiency.
It also protects the intake from the potential hazard of flying debris as you cut.
Running at a maximum speed of 10,300rpm, this engine has more than enough cutting power or the vast majority of brush.
The muffler situated on the back of the unit is also a nice touch. It is well made and includes a bolt-on deflector, allowing users to clean the spark arrestor screen easily.
Easy to Access Carb & Air Filter

There are certain parts of an engine that are guaranteed to need more attention and maintenance than others. The carb and air filters are two of the most common.
As you use your brush cutter and inevitably need to carry out repairs, having easy access to these two can make all the difference.
The engine on the SRM-2620U is designed with a double air filtration system. The first layer is a washable foam filter that sits in front of a replaceable reinforced fiber filter.
Although this second filter is described as being replaceable, if you clean it using compressed air, there is a high chance that it will last for the product's lifetime.
The carb is built as a Walbro diaphragm and uses pulsating pressure generated by the crankcase to pump fuel to the jets.
Well Designed Fuel Tank
The casing of the fuel tank has a lovely feel to it. It's sturdy yet light and seals well, leaving no leakage at all, even when left sitting upside down.
At the end of a flexible hose sits the fuel filter that is easily movable, suffering little restriction allowing the user to move it around to any position in the tank. This is useful as it will enable the brush cutter to run while positioned on its side.
Not hugely useful when being used as a standard cutter, but if you decide to use one of the many attachments offered by Echo, it's an essential feature.
Much like with the handles used to operate the SRM-2620U, the fuel tank features isolation supports. This prevents vibrations generated by the engine from impacting the fuel and boosts efficiency.
Ergonomic Handles with Vibration Isolation
Vibration caused by motorized tools has been well documented in causing serious health issues amongst operators when exposed for extended periods.
Most modern manufacturers have taken steps to ensure the long-term safety of their customers by incorporating vibration-reducing technology into their products.
With the Echo brush cutters, the particular focus on ensuing vibration is reduced in the handles. There is a four-point isolation system where the handles are mounted to the shaft.
This dramatically helps to reduce the levels of vibrations passed from the machine to the user's hands.
The manual that ships with the SRM-2620U, Echo states that the vibration level has been measured at 2.8m/s² for the left handle and 2.3m/s² for the right. While to difficult to interpret, when compared to competitors, these figures look solid.
The four-point isolation system works by isolating the points where the handle is connected to the shaft and where the shaft connects to the engine.
This is done using rubber washer isolators and is similar to those found on industry-leading products such as Husqvarna and Stihl brush cutters.
Quality Gear Head

As you would expect from Echo, the gear head is well designed and well put together. It has a gear ratio of 2:1. This means that the engine turns over twice as quickly as the cutting blade.
The solid four-bolt mount that keeps the guard in place feels very sturdy, and the vertical locking pin with spring-loaded retainer are excellent additions. There is also an easy-to-access drainage screw that allows you to get rid of dirty old grease and oil effectively.
One of the benefits of this newly designed 2:1 gear head is that the engine can transfer more of its power to the cutting blade with a similar amount of effort.
This means the engine runs more efficiently while creating more power. The only thing sacrificed is RPM, but at a maximum of 10,300, this brush cutter doesn't seem to have been slowed down too much.
For reference, the majority of brush cutters run with a ratio of between 1.1:1 and 1.4:1. Using this configuration, the brush cutter is relying on speed alone to shred debris.
While this works okay when using a nylon line, if you decide to use the metal cutting blade attachment , the slower but more powerful gear head will be much more effective.
Warranty
As with all expensive tools and machinery, a good manufacturer's warranty gives the customer the confidence to go ahead and make the purchase.
With Echo, you'll be on the receiving end of a 5-year warranty if you're using your brush cutter domestically and a 2-year warranty if you're using yours commercially.
To make sure your warranty is valid, be sure to register your model within 28 days of purchase.
How Does the Echo SRM-2620U Brush Cutter Perform?

For where it sits in the market, Echo seems to have got the SRM-2620U pretty spot on. It performs well, and with a multitude of attachments available, the functionality is great.
When you put it through its paces up against some of the industry big boys, it more than holds its own.
The nylon-string head is perfect for general use and will allow you to cut through overgrown grass and scrubland in much the same way that a weed wacker would.
However, this brush cutter comes into its own when you apply some attachments, particularly the 8-tooth metal blade. That will allow you to cut back much thicker and more stubborn debris with ease.
There were a couple of noticeable things that caught our attention when using this product. First, the bump-feed nylon head tended to clog easily with grass and weeds.
This was a little annoying to have to stop now and again to clean it out. Having said that, we didn't notice the same issue while using the metal head.
The gear head, as good as it is, seemed to get hot during use. So much so that we thought it best to give it some time to cool off during testing. This could go some way to explaining why fuel consumption can be high.
This brush cutter is aimed at commercial enterprises and people who will be using it for extended periods.
With that in mind, it's surprising that the noise levels this thing produces are so high. Even with ear defenders on, the noise was noticeable more than other leading brands.
Pros of the Echo SRM-2620U Brush Cutter

As we have outlined, the Echo brush cutter is a solid option for professional and non-professional use. It's well built and designed to suit tighter budgets. Let's take a closer look at the reasons you may want to consider getting one.
Isolated handle
As we know, minimize the amount of vibration the operator is exposed to help prevent long-term health effects linked to motorized tools.
Echo has included a response to this within their design, ensuring anyone worried about the effects of severe vibrations can use their brush cutter with confidence.
Reliable Engine
The 41cc engine is as reliable as it is powerful. As a 2-stroke construction, there is more than enough power present to cut through the vast majority of foliage and debris.
The forced air cooling system is another element that caught our eye, allowing you to work longer by controlling the unit's operating temperature.
Well-built Parts
While we have sung the praises of the handle and the engine, the rest of the parts that make up the brush cutter deserves mention. The gear head is well designed and allows for more power to be delivered from the engine, thanks to its 2:1 gear ratio.
Other elements, including the fuel tank and cutting blade, are also huge pros when looking at the Echo. All in all, this is a well-built machine that comprises quality parts while remaining affordable.
Warranty

Where would we be without warranties? They give consumers confidence in products and encourage them to buy safely because if anything happens, the manufacturer will take care of it.
With Echo's brush cutter, you can expect to receive a full 5-year warranty If your cutting on private property or if you're using it commercially, you'll be covered for 2 years.
Cons of the Echo SRM-2620U Brush Cutter
There aren't too many downsides when examining this product, but there are some issues to be aware of should you be considering purchasing one.
Overheating
As we touched on briefly, the gear head tends to get very hot. This, in turn, suggests that power is being wasted by generating heat when used to drive the blade.
While the cooling system built into the engine works very well, this seems to be an area that Echo could work on. It doesn't affect the cutting power of the machine too much but is something to be aware of as it could cause a nasty burn.
Issues with Safety Guard
The plastic guard that is used to keep the operator protected from the blade or spindle only provides adequate protection with the nylon spindle is attached.
If you decide to opt for the more heavy-duty metal blade as many people do, the guard doesn't quite line up with the blade and leaves some dangerous areas exposed.
If you are aware of this issue, you can take the necessary steps to avoid it, but it is important to identify the danger before commencing work.
Noise Levels
While all gas-powered tools will have a high noise output, some are designed to manage it than others better. Unfortunately for the Echo, this isn't one of them.
As a result, even professional ears on the engine produce high amounts of noise. While this is manageable in smaller doses, it may become an issue if you needed to work for extended periods.
Are there any Alternatives?
PROYAMA 42.7cc Brush Cutter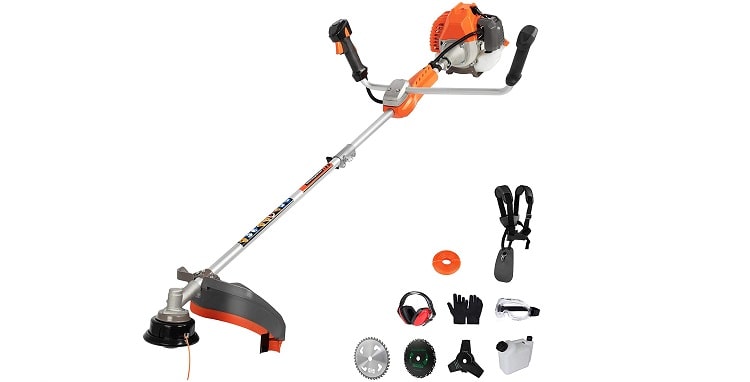 Proyama has released several excellent products over the years. Not one of the names would immediately associate with gas-powered tools but one that produces good ones nonetheless.
Their 42.7cc brush cutter features a slide engine and comes with many extras, such as ear defenders and safety gloves.
Husqvarna 336FR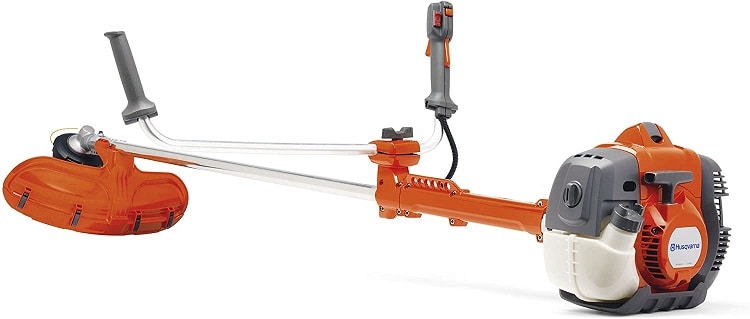 On the other hand, Husqvarna is very much a name associated with quality power tools.
Their 336FR is just one of many brush cutter options that the company produces and features a 34cc X-Torq engine with an adjustable harness. This is a great option for those looking at the top end of the market.
Frequently Asked Questions about the Echo Brush Cutter
Question: How do I Locate the Serial Number on my Brush Cutter?
Answer: You will need to check one of the locations Following:
Below the air filter cover when the unit is off.

The serial number will be on a black/silver sticker

In the same area, the number will be engraved onto the silver engine block
Question:

Can You Use a Metal Blade on Echo Trimmers?
Answer: Metal blades are available for all straight arm trimmers from Echo. They may come with your product or may need to be bought separately. Bear in mind that curved shaft models are not designed for use with metal cutting blades.
Question:

How Do You Clean Echo Brush Cutters?
Answer: Firstly, ensure the engine is off and has had a chance to cool down. Then clean dirt and other debris off using a damp cloth with cleaning detergent. Do not use brake fluid, gas, petroleum-based products, or solvents to clean the brush cutter.
The Final Word;

Is the Echo Brush Cutter any Good?
As we reach the end of our review, we have to ask ourselves a couple of questions. First, is the Echo SRM-2620U a good brush cutter? And secondly, would we recommend it to others?
Well, to answer the first, yes, Echo has developed a solid brush cutter that gets the job done. It is reliable and easy to use while being good on fuel and excellent value for money.
In terms of recommending it to others, it has to be another yes. Despite its flaws, it is still a very solid brush cutter that will suit most users, even professionals.
However, if you are looking to purchase a brush cutter for commercial purposes and you intend to use it regularly for long periods at a time, then we would advise looking at some of the other options available on the market.
If you can justify increasing your budget slightly, products like the Husqvarna 336FR would be ideal for your needs.