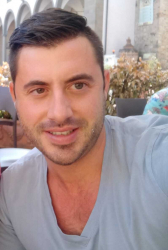 Latest posts by David Borgogni
(see all)
There is some terrain that, when it comes to cutting, your standard lawnmower simply won't do. When the going gets tough and the terrain becomes tricky, a brush cutter is precisely what you need.
In this Billy Goat Brush Cutter review and guide, we'll be looking at the main features associated with the Billy Goat Brush Cutter, its pros and cons, a few alternatives that you may also want to consider, and we'll wrap things up with some of our thoughts on who this brush cutter is best suited to.
The idea behind a brush cutter is simple: there is a much bigger intake area that cuts longer grass and debris from the front, rather than relying on a blade underneath. This means that as you walk behind the unit, the brush feeds into the motor, allowing you to clear overgrown and untamed patches of land.
Before we get into the details, let's take a look at the product overview.
Key Specifications of the Billy Goat Brush Cutter
Core Features of the Billy Goat Brush Cutter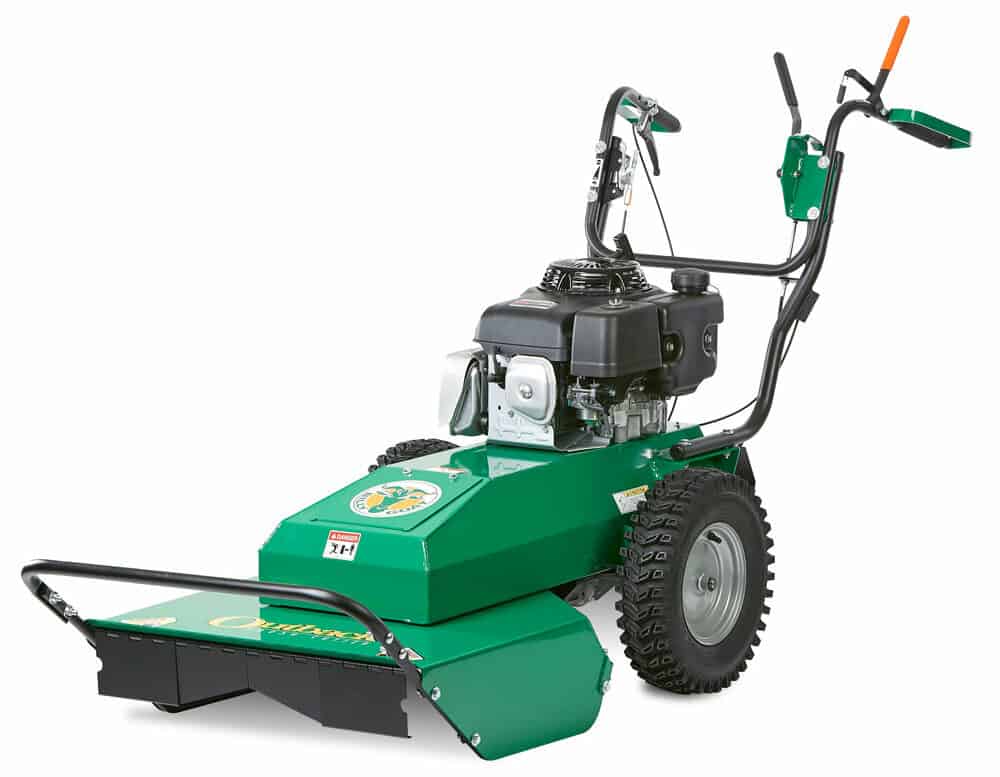 The Billy Goat brush cutter is a rugged machine known for reliability, stability, and strength. It doesn't come packed with technology or innovative new ideas, but it does have several key features that make it one of the best forestry tools out there and helps it to cut through thick brush both easily and comfortably.
Engine Power
When you're trying to cut through thick debris as quickly as possible, you need an engine that is up to the challenge. The Billy Goat ships with a 390cc Honda GXV engine that produces 13 horsepower. This is more than enough to eat away through the brush, helping you to get the task at hand done quickly.
The engine also provides drive to the wheels, meaning you get a little extra help tackling the thick stuff than if you had to push it through manually.
Rear Pivoting Discharge Deck
The front of the unit is designed to glide over uneven terrain thanks to its pivoting motion. The deck pivots ±12 degrees and sits 26-inches wide with a proprietary return to its resting position. This is a clever addition to the Billy Goat that aides cutting when tackling uneven or sloping ground.
Wide Offroad Tyres
The unit comes fitted with chunky off-road tires. Again this helps cutting when tackling that tricky thick debris with the engine providing power to further assist. The higher levels of traction mean the Billy Goat benefits from greatly increased pulling power.
Tuff Torq Hydrostatic Transaxle
Enhanced Traction Control (ETC) is integrated into the design of the Billy Goat thanks to the clever hydrostatic transaxle. The fully automatic ETC detects when rear wheels begin to spin and lock them to provide higher levels of traction.
This is particularly useful when working on hills or in wet conditions.
Reinforced Blade Spindle
The blade spindle is heavy-duty and reinforced, so cutting through pretty much anything is possible. Adjusted and strengthened in four directions, the blade spindle provides maximum cutting power, durability, and safety, leaving you to carry on cutting in the toughest of terrains.
Ergonomic Grip Controls
The handles are designed to be not only comfortable but incredibly easy to use. The precise controls allow the user to feather the throttle and move forward or reverse with poise. With no shifting of gears required, the controls are simple, effective, and allow users to operate the Billy Goat well.
Rubber Rear Deck Trim
The rear deck comes equipped with rubber trim. This allows the operator to clear any stumps that may easily contact the unit when reversing.
Easy to Start
The Billy Goat ships with a hefty engine that thankfully is fitted with an electric start. That means no tugging away at starter cords to get the engine going; simply engage the ignition, and away you go.
Supreme Productivity
The Billy Goat Brush cutter uses its high power and 26-inch intake deck to allow for just under an acre of brush to be cleared per hour. Thanks to its large fuel tank at just over half a gallon, you can keep cutting for several hours before needing to refill.
How Does the Billy Goat Brush Cutter Perform?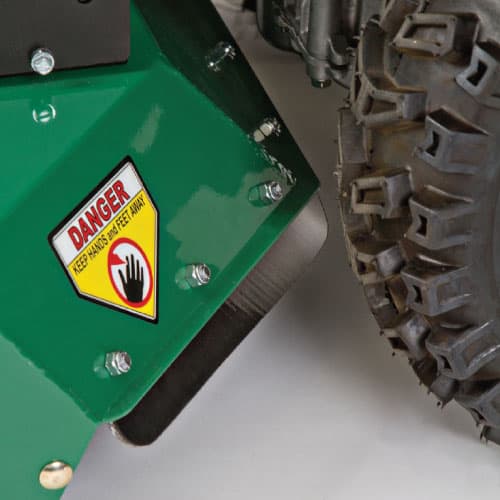 This rugged bit of kit is a godsend if you're got a large area of scrubland that needs clearing. Its powerful engine and solid design mean you can rely on the Billy Goat to perform when you need it most.
The light throttle is responsive, meaning you can be precise when needed whilst allowing you to easily get the help needed when tackling thicker grass and debris.
The Billy Goat is fitted with a 13hp Briggs and Stratton motor. This gives the machine its power and, alongside the superior traction control system, allows workers to move with ease even when tackling challenging terrain.
The brush cutter is designed to walk behind whilst the deck glides over the surface. This helps to avoid any scalping that can occur when cutting too close to the ground.
The bespoke suspension helps this functionality by maintaining an even weight distribution, helping to ensure the drive is maintained to the wheels.
The electric ignition makes the Billy Goat easy to start, even on cold, wet mornings. Drive controls and throttle access is good, allowing you to focus on handling the machine. All the necessary controls are located conveniently on the ergonomic handle.
The 26-inch deck is wide enough for most jobs and helps cut brush efficiently. At 26 inches, this is slightly above industry standard, making it a good choice for anyone with lots of ground to cover.
As we mentioned, the Billy Goat covers roughly 1 acre of brush per hour. The blade can also take on saplings up to a diameter of 2 inches and handles brush up to around 6 feet.
The frame and wheels work well together to make turning and handling easy. The frame is low-slung whilst the wheels are heavy-duty and suitable for all-terrain.
The reinforcements that Billy Goat has made to the blade work a treat with the brush cutter able to take on brambles, vines, saplings, plus much more.
The one-year warranty that all models come with is a nice touch, meaning you don't have to worry about any mechanical faults stopping you from working.
Pros of the Billy Goat Brush Cutter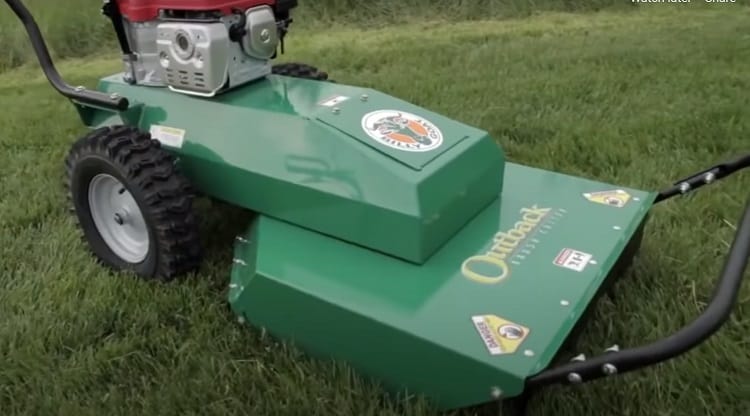 The Billy Goat Brush Cutter is a well-designed and expertly assembled machine. There is a reason that Billy Goat is one of the oldest and best-respected manufacturers of turf products in the USA – this machine certainly lives up to the billing.
Large 26-inch Deck
The deck is what ultimately allows the cutter to gather brush. At 26 inches, the Billy Goat's sits well above the industry standard, which only stands to help users. It allows the machine to gather more debris quickly and leads to an impressive rate of 1 acre per hour of brush that can be cleared.
Excellent Traction Control
Another major pro for the Billy Goat is the quality of its traction control. This is such an important part of the brush cutter's success as it allows the Billy Goat to venture into really tricky areas of land without too much worry.
When the ground gets wet, or the job requires working on an uneven surface, the traction control kicks in to help with handling and stability.
Well Balanced Suspension
As well as a great traction control system, the Billy Goat also comes with well balanced and adaptable suspension. The clever Tuff Torq axle allows the wheels to move freely when venturing over uneven terrain, making light work of otherwise difficult environments.
Ergonomic and Well Designed Handle
The handle is how the operator is connected to and controls the machine itself – an essential aspect to get right. What Billy Goat has done is not to overcomplicate things with fancy controls or extra functionalities, but rather keep it simple with well-built and well-calibrated controls.
The throttle is light yet responsive, allowing for careful movement both forwards and back. The handle is ergonomically built and makes maneuvering the brush cutter through unforgiving spaces that bit easier.
Electric Start
The electric start is a welcome addition. By removing the need for tricky pull starts, the process of cutting brush becomes even quicker and easier. On cold winter mornings, no one wants to be messing around with an engine that won't start – this removes that possibility.
Cons of the Billy Goat Brush Cutter
This is a slightly tricky section. The Billy Goat is a well-designed and well-put-together machine that has proved to be both hardy and reliable time and again. Having said that, we've racked our brains to come up with some reasons you may want to think twice about buying one.
The Price
The biggest drawback when it comes to the Billy Goat is the price. At several thousand dollars, this is not a cheap bit of kit. Its reliability makes it perfect for professional use, and it is priced accordingly. If you're looking for something more suited to residential use, there are cheaper options available.
Its Size
At 152kg, this is a heavy piece of machinery. If you can move it around properly, with a trailer, etc., this should pose no real issue. However, if you are looking to use this on private land rather than in a professional capacity, you may want to make sure it's a viable option.
Are There Any Alternatives?
Swisher WB11524BS Predator Brush Cutter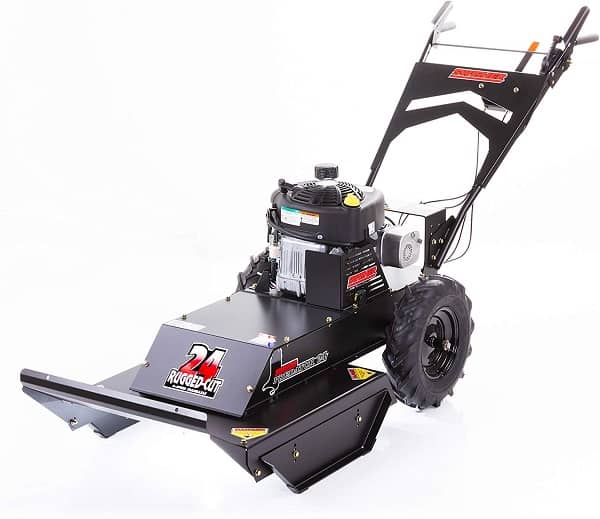 Produced by another well-established and long-standing hardware company, Swisher's WB11524BS is a great option if a tough brush cutter is what you're after. The company launched in 1945, so they know a thing or two about cutting lawns and brush.
The particular model features a 24-inch deck which is slightly smaller than the Billy Goat. However, this is the industry standard for non-commercial units and still provides a high level of cutting capacity.
The Swisher is a slightly lighter weight model than the Billy Goat but still provides good cutting power thanks to its powerful engine and hardened steel cutting blade. Its lighter feel makes it ideal for users who value maneuverability oversize.
Generac Pro Walk-Behind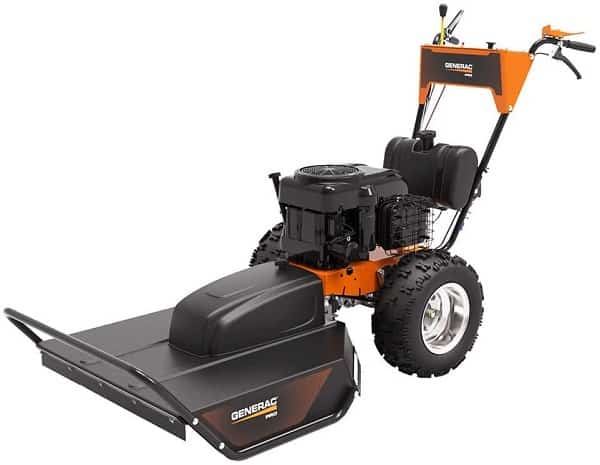 The Generac Pro is one of the best alternatives available on the market today. Its large 606cc engine generates 18.7 horsepower, and its 2-gallon fuel tank means you can keep cutting for longer.
The deck is larger than both the Billy Goat and the Swisher at 30 inches. This gives the user an even greater area to gather debris and cut back that long grass. All mulch is expelled from the back, helping to keep the blade clean and prevent clogging.
This model also features a commercial-grade clutch with no belts or pulleys. This helps during operation to keep everything running smoothly and is particularly useful when needing to swap out attachments, of which the Generac has many.
Southland Outdoor Power Equipment SWSTM431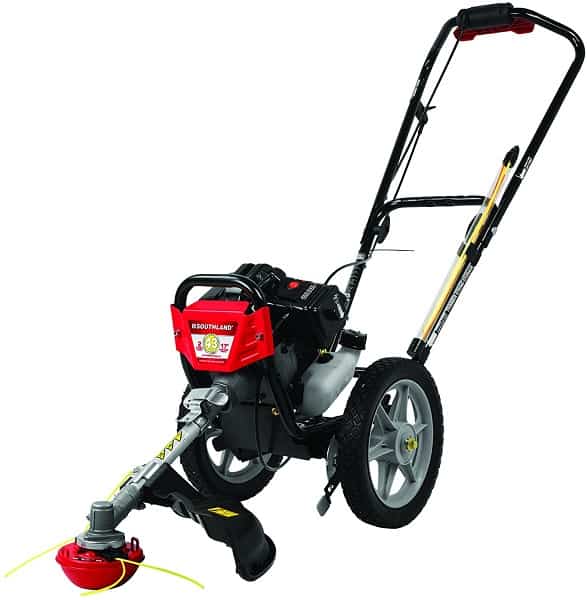 Southland manufacturers an excellent alternative, should you be looking for a much lighter model suitable to use in non-commercial situations.
The Southland SWSTM431 features a 20°-30° head with adjustable string for good ground coverage whilst cutting. The 25cc motor produces enough power for this model to be more effective at cutting back brush and other debris than your typical handheld strimmer.
Although this is a good option for a smaller and less dense brush, it is no match for the larger machines already outlined. If you need a serious machine, then look elsewhere.
Frequently Asked Questions
This section will take a closer look at some of the most frequently asked questions about the Billy Goat brush cutters.
Question: How Do You Use a Billy Goat Brush Cutter?
Answer: Using the Billy Goat is relatively simple. Just fill the tank with fuel, engage the electric start, and compress the throttle on the handle. You will then feel the unit begin to move forward of its own accord as it begins to cut. Use the handle to steer and the controls on the handle to engage reverse if needed.
Question: What Does a Billy Goat Brush Cutter Do?
Answer: The Billy Goat brush cutter is designed to cut through overgrown land. Bushes, weeds, thatch, saplings, and other forms of debris are eaten up and spat out as mulch. This allows the ground to be prepared ahead of replanting or development.
Question: Where are Billy Goat Brush Cutters Made?
Answer: These brush cutters are designed and built at the company's headquarters in Missouri, USA. They have been built there since the launch of the company back in 1967.
The Final Say – Just How Good is the Billy Goat Brush Cutter?
This is a top product; there's no getting away from that. The Billy Goat Brush cutter is suitable for commercial and residential use, with the wide deck and powerful engine helping to clear scrubland efficiently.
Having said that, there are plenty of alternatives available on the market. At the price Billy Goats go for, it is more than worthwhile shopping around and assessing your options.
The Swisher we mentioned earlier provides an excellent option if you don't need much cutting power on offer with the Billy Goat and the Generac is an excellent alternative should you need a cutter with maximum power.
Despite the strong alternatives available, you will not be disappointed if you opt for the Billy Goat. Their reputation speaks for themselves, and once you buy a Billy Goat brush cutter, you won't be needing to buy another one for a very long time; such is their reliability.