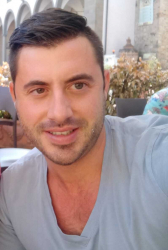 Latest posts by David Borgogni
(see all)
A good mulcher is a must-have for any forestry professional. They allow you to tackle the thick stuff with ease and help to clear large areas of the dense foliage at a reasonable rate. Today we'll be looking at one of the biggest names on the market and seeing how their mulchers stack up in the real world. This is the Fecon Mulcher review and guide.
In our review, we'll be looking at the main features that set their product out from the crowd, assessing their pros and cons, offering some of our own thoughts and insight, as well as giving you some potential alternatives to think about.
The design of a mulcher is a simple one. They are built to grind organic matter into a much smaller size to be removed and disposed of easily. The resulting mulch is often applied to soil to help with drainage, reduce weed growth, and improve aesthetics.
Before we get into the details of the Fecon mulcher, let's have a quick look at an overview of the product.
Key Specifications of the Fecon Mulcher
Core Features of the Fecon Mulcher
Fecon is a brand that has built an identity through its hardy forestry products produced here in the USA. They now produce an array of mulcher heads that have become the industry standard across the country and around the globe.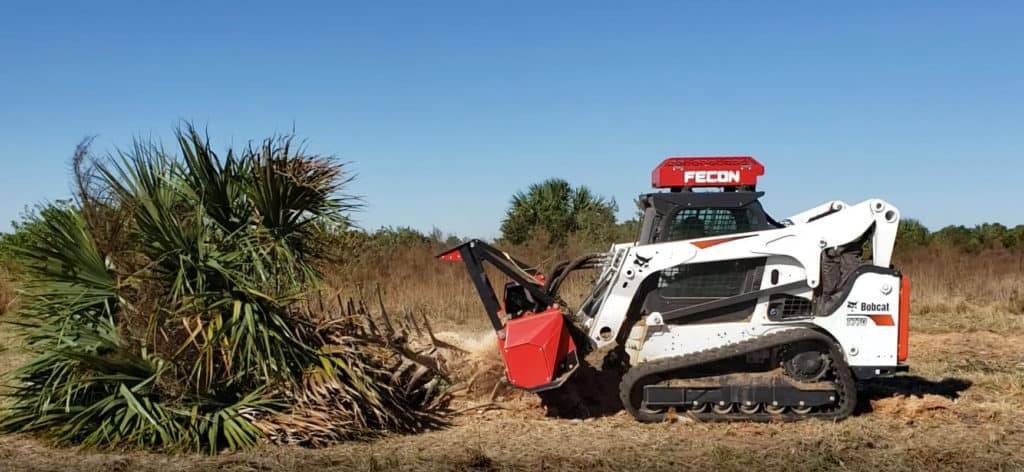 Their product lines consist of compact mulcher heads suitable for smaller areas of debris right through to heavy-duty and even severe-duty heads that are built to clear acres at a time.
For this article, we will focus on one of their medium-sized models, the Fecon Blackhawk.
The Blackhawk is a mulcher head suitable for use with Bobcat skid steer style vehicles and is designed to make light work of stringy, fibrous, dense, and fast-growing materials often found in warmer climates.
Its core features are as follows.
Well Designed Rotor
The rotor that has been incorporated into the Fecon Blackhawk has been designed with optimal performance in mind. It features ideal sizing for accelerated spool pick up with immediate recovery, reversible tools to ensure maximum lifespan and value is got out of them, and a specialist lacing pattern that allows organic material to be processed efficiently.
Heavy-Duty Cutting Chamber
Another example of how well the Blackhawk is engineered can be found when looking at the cutting chamber. It is constructed using 5/16-inch thick AR steel. This steel has been sectioned using bolts in replaceable sheer bars near the infeed to increase overall strength and cutting power. These sections can also be found close to all discharge points.
Consistent Chip Size
Thanks to the cutting capability of the cutting chamber and rotor, the Blackhawk is known for producing a consistent chip size. When the organic matter is processed, it is cut, sliced, and ultimately mulched into the end product. If this chip is of inconsistent size, it can lead to difficulties using it further down the line. Thankfully, with the Blackhawk, this is not an issue.
Collects Forward Facing Discharge
Mulching can often be a messy job, with foliage and other organic matter being spread around your working area as well as being collected by the mulcher. To counter this, the Blackhawk has a system for catching and collecting all discharge that is released forwards. This improves overall efficiency, leads to more mulch being collected, and helps to keep the resulting area clear.
Easy to Use
Whereas many heavy-duty forestry machines can be confusing to operate and take a while to get your head around, the Blackhawk has been built with ease of use in mind. The controls are easy to understand and operate, with all switches being designed for use while wearing protective work gear.
Multiple Optional Add-Ons
There are also several add-ons available that allow the Blackhawk to perform even better, depending on the needs of the job. For example, a Hydraulic Cooler is designed for mounting on the CTL and Skid Steer and will allow you to monitor and maintain all hydraulic liquid at both optimal viscosity and temperature.
There is also a Lexan windshield that can be used to replace existing windows. These are ½ an inch thick and ideal for use when mulching particularly thick debris as they provide an extra layer of protection for both the operative and the machine.
How Well Does The Fecon Mulcher Perform?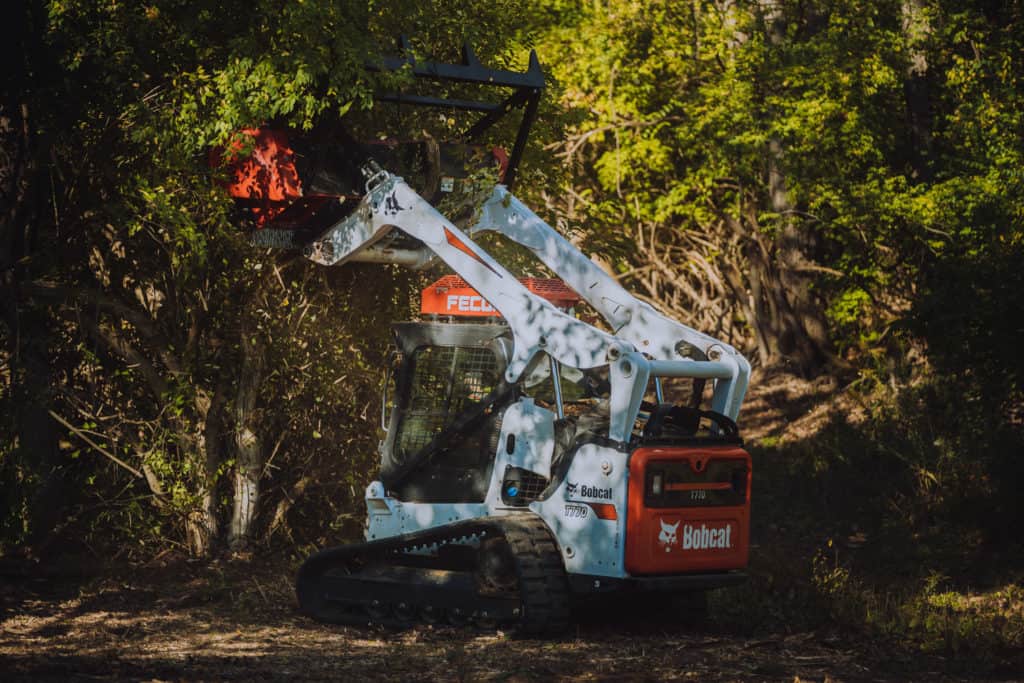 Fecon has a reputation for reliable mulching machines, and the Blackhawk live up to that. Its 70 or so cutting knife tools make light work of all types of debris from thick foliage to brush and everything in between.
It is a great tool for getting rid of vegetation, shredding organic material, clearing paths, site preparation, and much more.
The optimized rotor we mentioned aggressively mulches debris that stands in its way while processing the matter quickly and efficiently, with the resulting chip being good quality. One real plus of the Fecon Blackhawk is that it can process and clear trees and other materials that have already been felled. This leads to a much cleaner site when finished.
Fuel efficiency is another area in which the Blackhawk excels. Thanks to its well-designed cutting cycle, material and debris are processed quickly and with minimal power required. This improved fuel consumption means more time out in the field mulching and less time refilling with gas. If the rotor stalls, the Blackhawk immediately recovers when the offending material has been removed.
During operation, the finely chopped matter is flung forwards and away from the rotor. This minimizes the risk of already shredded debris being processed for a second or third time, increasing effectiveness and efficiency.
The whole design and layout of the hydraulic system have been remapped to eliminate 90-degree bends. This enhances flow and reduces heat build-up within the hydraulic liquid. This has a drastic impact on running time and the lifespan of the machine. Each mulcher can also be fine-tuned and tweaked based on the specific hydraulic output requirements of the operator. Adjusting these parameters to suit the task at hand further increases performance, efficiency, and accuracy.
The bolt-in wear elements help boost its economy, and thanks to Fecon's thorough construction, the 5/16-inch thick steel works well and requires minimal maintenance so long as the mulcher is well looked after.
Pros of the Fecon Blackhawk Mulcher
As we have established, Fecon produces a range of high-quality mulchers. There are many benefits for commercial enterprises that may be interested in getting one. The most important of which are outlined in this section.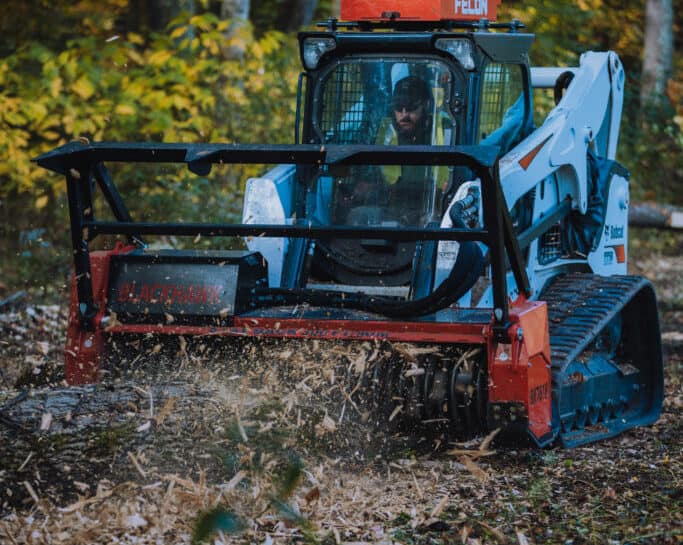 76-inch Cutting Width
This is well above the industry standard and allows operators to complete mulching work and vegetation clearance at a much quicker rate than many of Fecon's competitors.
Remapped Hydraulics
Fecon has taken previous generations and redesigned how the hydraulics are laid out. This makes all the difference to the efficiency, and it keeps the fluid at optimum temperature and viscosity. This improved efficiency also improves performance and allows the Blackhawk to work better for longer.
Expels Discharge Forwards
By doing this, helps to keep the rotor clean and stops any build-up that could impede performance. It also helps to control the quality of the chip produced by ensuring mulch is not processed multiple times.
Solid Construction
The Blackhawk is made with reinforced steel throughout with a fully optimized rotor that produces supreme cutting power. Thanks to these design features, it is considered one of the most reliable mulchers of its class.
Versatile
The Blackhawk is designed to be used with a Skid Steer vehicle but can work with various other similar-sized ones. The controls and hydraulics systems can be adapted to suit the user's needs and allow the mulcher to process all manner of debris across a wide range of terrains.
Simple to Use
Much has also been made of the usability of the Blackhawk. Thanks to well-laid-out controls that are easy to use even when wearing protective gear, this mulcher can be operated by most users who have previous experience. Being simple to use also boosts efficiency and helps to keep performance levels up.
Cons of the Fecon Blackhawk Mulcher
Of course, despite the obvious pros associated with the Fecon mulcher, some areas can be improved. Therefore, any potential buyer should be aware of the negatives when thinking of buying one.
Price
This mulcher is a high-end premium product that is almost entirely aimed at professionals and commercial enterprises. This means the price reflects that and runs into the tens of thousands of dollars, depending on if you need any additional extras or customizations.
However, that being said, commercial users will be well aware of the cost. If you are willing to spend that kind of money on a new mulcher, then there are few better on the market today.
Weight
Another issue is the weight. At 2700lbs, this is not a light piece of equipment and must be considered when purchasing. You must calculate the vehicle's weight you intend to use this mulcher with and ensure the combined total will be suitable for use on the desired terrain. For example, if you are working on damp or marshy land, the weight could cause issues with traction.
Are There Any Alternatives?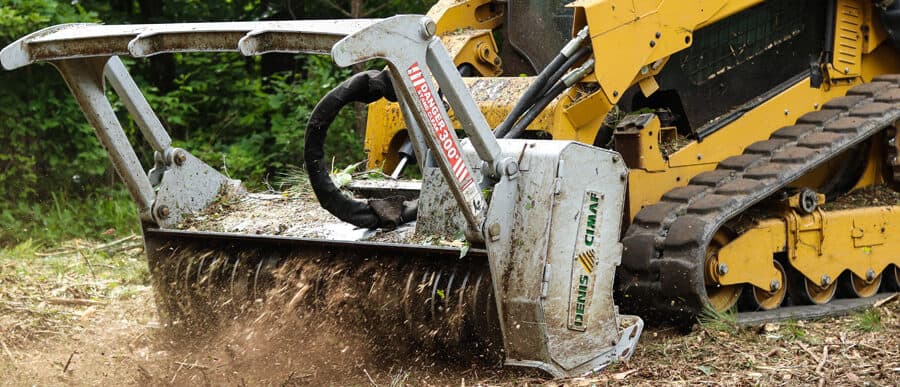 Denis Cimaf is a direct rival to Fecon, who also specializes in forestry mulchers. In particular, front-mounted skid steers mulchers similar to the Fecon Blackhawk. Although this is a slightly lighter weight model, it is still considered a quality option for landscaping companies. In addition, the cutting width is 59 inches, compared to the Blackhawk's 76. While this means less cutting power, if you're working in tighter spaces, then this could be a great option to look at.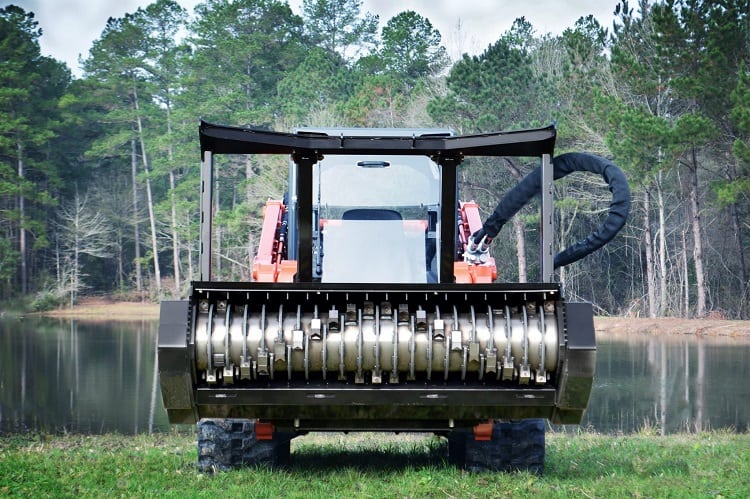 Another excellent option for a mulcher attachment is the Drum Mulcher from Diamond Mowers. Available in different sizes ranging from 60 up to 72 inches, the Drum Mulcher is suitable for a wide variety of work scenarios.
It's also configurable with either standard or high flow hydraulic systems for when you need that extra power. This is a great alternative for those who need a higher level of customization than with the Fecon and those who may need higher pressurized hydraulics.
Fecon Mulcher Frequently Asked Questions
Question: What is the proper tension for Fecon mulchers?
Answer: V belts in mulchers mounted to skid steers should deflect around 5/16" using 30lbs of force. A poly chain cog belt in the same mulcher should deflect around ⅜"-½" when exposed to 30lbs of force.
Question: Do Fecon mulchers require daily maintenance?
Answer: You will need to carry out regular maintenance on your mulcher to keep it running properly. In terms of jobs that need doing daily, it is recommended that you grease the rotor bearings. For best results, give them 1 pump of grease every hour that the machine runs. Pumping 4 lots of grease in and running for 4 hours is the usual operating timeframe. Be sure to also check for loose nuts, bolts, screws, and belts as well.
Question: What is the QR code found by the serial number for?
Answer: The QR code found here allows the users to scan and be redirected to our app. Here, you'll be able to find and read about service parts and maintenance queries on your cell phone.
Question: What flow and pressure are needed to run a Fecon mulcher?
Answer: Fecon mulchers can be configured for a range of pressures and flow settings that will suit most high-flow skid steers. The bare minimum needed for flow is 28gpm, with the range running up to a maximum of 45gpm. Your system pressure should be 3,000psi at least, with the top end of the range being 6,000psi.
The Final Word – Is The Fecon Blackhawk the Right Mulcher For You?
By now, you should have built up a pretty good idea of what a Fecon mulcher can offer you. Their Blackhawk model is robust, strong, and has enough cutting power to serve commercial operations well.
Customizable and versatile, if you have specific needs and wants, then Fecon should help and guide you in the right direction in terms of how the mulcher is set up. This is particularly useful for anyone wanting to use this mulcher across various terrains with different types of vegetation that need removal.
However, it never hurts to shop around. The alternatives we mentioned in the Denis Cimaf and the Diamond Mowers offer great alternatives with similar attributes at different price points. Once you know exactly what you'll need your mulcher for, you'll be able to make an informed choice and get to work clearing that debris.