Latest posts by The Forestry Pros Team
(see all)
Finding the best pocket chainsaw can be a struggle. Especially finding one that meets every requirement you need!
Whether you need a pocket chainsaw for a project or a survival tool, we have the perfect pocket chainsaw to fit your needs!
Browsing for the best pocket chainsaw for your needs can take hours, but there is no need to waste time! Our best pocket chainsaw guide will help you find the perfect fit for your ideal use!
Best Pocket Chainsaw Requirements – What to Look For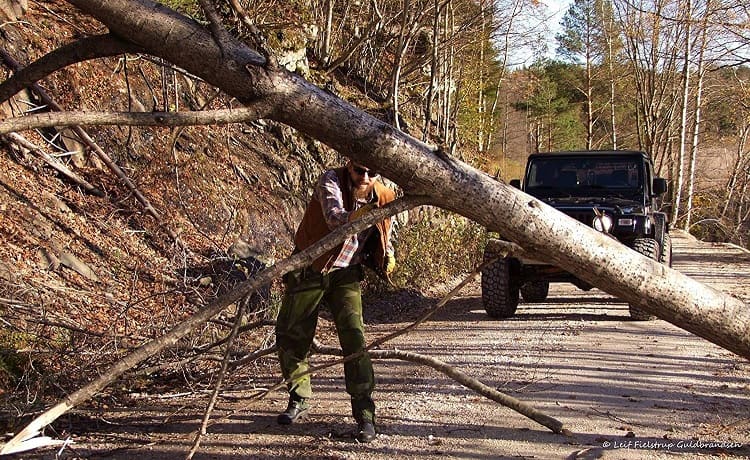 There are many factors to consider before purchasing the best pocket chainsaw. These are the essentials features that you should take into consideration before your purchase.
Read our full guide on how to find the best chainsaw for your needs.
Material of the Blade
The material of the blade can make or break the life of a pocket chainsaw. Finding a pocket chainsaw can be challenging depending on your budget, but choosing a pocket chainsaw made of high-quality carbon steel is vital.
When choosing a pocket chainsaw, we recommend choosing one with a high-carbon content because it will hold a sharper edge longer, allowing you not to have to sharpen it as often! Making sure your pocket chainsaw is built with hard steel will not only prolong the life of your equipment but will minimize the chance of using a faulty forestry tool.
Although purchasing a pocket chainsaw built with a hard blade is ideal, there are some downsides. When you use a pocket chainsaw with hard carbon steel, it tends to become frail, resulting in the blade chipping or breaking off.
To avoid this, make sure you keep your blade sharpened and maintained. Ensuring that your blade is maintained will keep the blade from chipping and potentially prevent any injuries.
Lastly, make sure your pocket chainsaw is corrosion-resistant and rust-proof. There is nothing worse than storing your chainsaw and pulling it the next season and finding it rusted! Not only that, but you cannot control the weather, and you will likely have to use your pocket chainsaw at least once in the rain.
Read also: How to Treat Chainsaw Rust.
Handles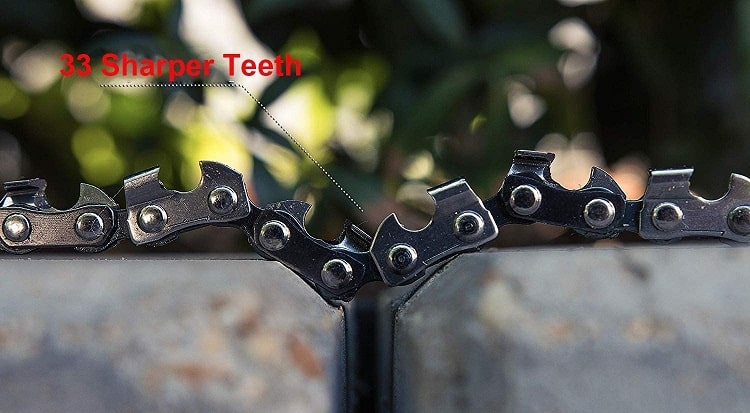 Using a pocket chainsaw with comfortable handles is essential to avoid calluses or any other injuries to your hands. When you use a comfortable handle, it will quicken the process of cutting down limbs.
Before you purchase a pocket chainsaw, take a look at the handles. It would be best to look for handles that go over wrists and hands and are brightly colored. Not only that, but take an extra look to see if handles have a firm grip, promote comfortability, and material that prevents blisters.
Choosing a pocket chainsaw with these characteristics will ensure that you have adequate leverage and have visible handles to prevent injury.
Number of Teeth
A critical factor in the strength of teeth is the amount teeth on the chain. When you have more teeth on a chain, this will allow an easier cut.
We recommend choosing a pocket chainsaw that has teeth built bidirectional. Bidirectional teeth allow your pocket chainsaw to cut in both directions, easier to cut through tree limbs and will give you ultimate efficiency.
If you choose a pocket chainsaw with a high number of teeth, be aware that they can get stuck, so you must use a lot of hand power to prevent the teeth from getting stuck.
Portability and Length
Modern pocket chainsaws are not like they used to be. What was once a heavy and hard-to-store tool is now lightweight, durable, and can fit in an average side pocket on a bag or backpack! Pocket chainsaws are built today for survival, camping, and cutting limbs in desolate areas.
Pocket chainsaws are lightweight and come with a mesh pouch for easy travel use. When you are choosing your pocket chainsaw, take into consideration the length. Pocket chainsaws have a length of 24 to 48 inches long.
The longer the length, the easier it is cut through thicker limbs, enabling momentum for a cleaner, more precise cut. The only pro to choosing a 24-inch pocket chainsaw would be its ability to cut through thin tree branches without getting stuck.
Best Pocket Chainsaw Reviews
Nordic Survival Pocket Saw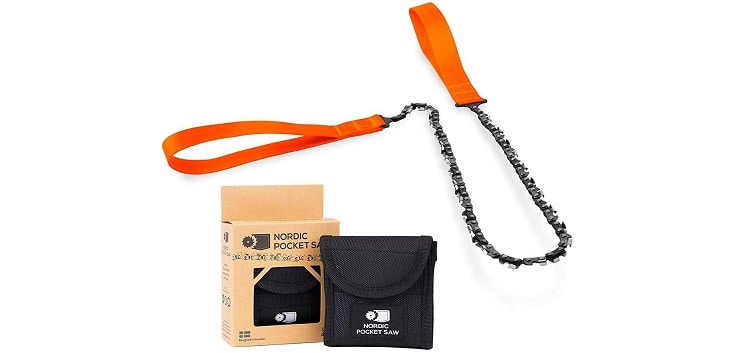 Listen, if you are anything like us, we are huge fans of the outdoors, and we need to have a reliable pocket saw that is not only lightweight but can be an asset for any journey. The Nordic Pocket Chainsaw is compact, but this tool is designed to give you the best cutting experience!
The Nordic Pocket Saw is 104 cm long with 33 bi-directional blades that can be used for cutting both ways, which has benefits of easier use with fast cutting. The handles are extra-wide with heavy-duty nylon, which will keep your hands feeling comfortable and resistant to blisters.
The material of the saw is made from heat-treated high carbon steel with double cutter teeth on each link. The reinforced carbon steel allows you not to worry about anything but the occasional sharpening and lubrication. The pocket saw also comes with a pouch to transport your pocket saw anywhere safely!
This pocket chainsaw is perfect if you are looking for overall versatility!
Pros
Heat-treated high carbon steel
It comes with 5 years warranty
Bi-directional chainsaw
Lightweight and durable
Cons
Higher in price
Potentially challenging to use with thick hardwood
We Do Lifestyles Hand Saw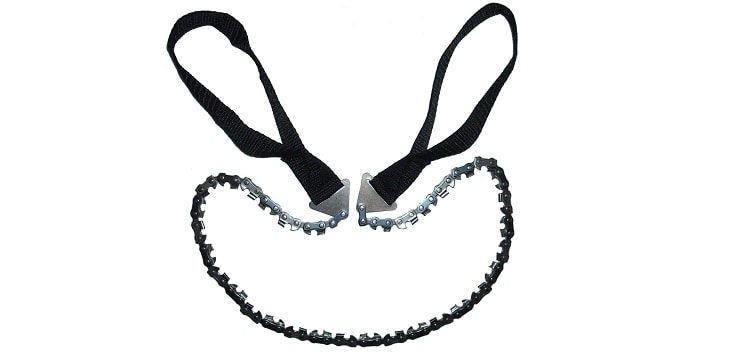 The We Do Lifestyles Hand Saw is not only reasonable but will be an excellent addition for any survivalist to use! This compact saw comes with many features, along with its dependable material.
This pocket saw comes with a belt loop that can easily click right on your pants, allowing you to carry it anywhere! This product has a bi-directional saw that is 24 inches long and weighs 4.2 ounces, allowing it to be easy to sharpen. A unique feature is that there are no handles, making it easier to fit anywhere.
Based on reviews, buyers suggested that it is best used for pruning, branches, and limbs. This handsaw is easy to sharpen and will give your hands a comfortable experience.
Pros
Affordable
Cuts fast and effectively
Bi-directional chainsaw
Lightweight for portability
Includes a carrying pouch with belt loop
Cons
Challenging to use with thick hardwood
Sportsman Pocket Hand Chainsaw
The Sportsman Pocket Hand Chainsaw is the best hand saw if you are a survivalist or camper! This pocket saw is treated to resist corrosion and rust, allowing you not to have to worry about unexpected rain!
The material of the chain is made from high carbon heat treatment, which will give you a durable handsaw that can cut through thick hardwood. The chain is 36 inches with a thickness of 65 mn.
When you take the length and thickness of the chain into consideration, this will ensure the chain's strength, which will prevent the teeth from chipping or breaking off as quickly.
When you purchase this hand saw, it comes with a nylon pouch that is water-resistant, durable, will securely hold your handsaw, and can click on your belt. Along with a handsaw, this tool also comes with a magnesium rod and free scrapper for starting fires.
Another bonus is the heavy-duty stuck handles. These heavy-duty handles will keep your hands comfortable while maintaining control of your handsaw.
Pros
Lifetime guarantee
Bi-directional chainsaw
Strong and Durable
36-inch chain
Cons
The chain may stick inside of thick hardwood
More difficult to use in tight spaces
Homyall 24″ Pocket Chainsaw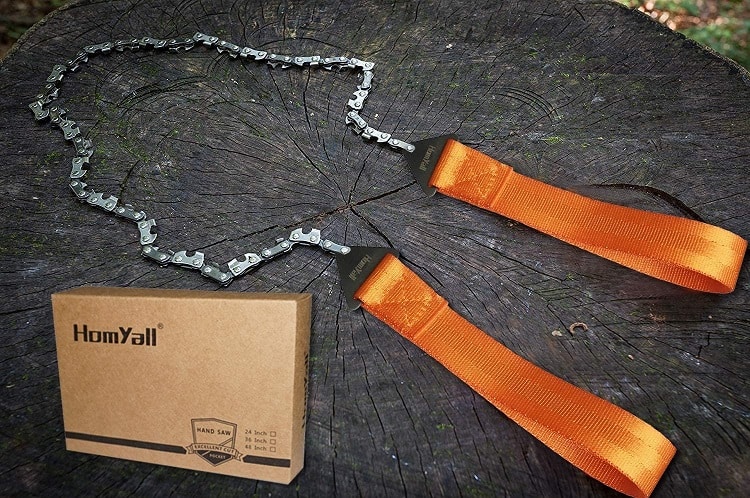 The Homyall Pocket Chainsaw is one of the most efficient pocket chainsaws on the market. This pocket chainsaw is best known for its 33 links on this 24-inch saw that will help you quickly saw through any wood or limb. Side note – each chain link has a blade giving you a razor-sharp cut!
This chain is made out of industrial-grade steel with heat treatment to give you a durable pocket chainsaw. Another feature is the self-cleaning design which will allow you not to worry about maintenance as much.
Another benefit of this pocket saw is the nylon-made handles that grip beautifully to your hands. This product comes with a waterproof carrying case that can clip to your belt or backpack, allowing you to carry your pocket chainsaw anywhere!
Pros
Strong handles
It cuts wood and limbs fast
Self-cleaning blades
Cons
Teeth may get stuck while cutting
It does not come with a warranty
SOS Gear Pocket Chainsaw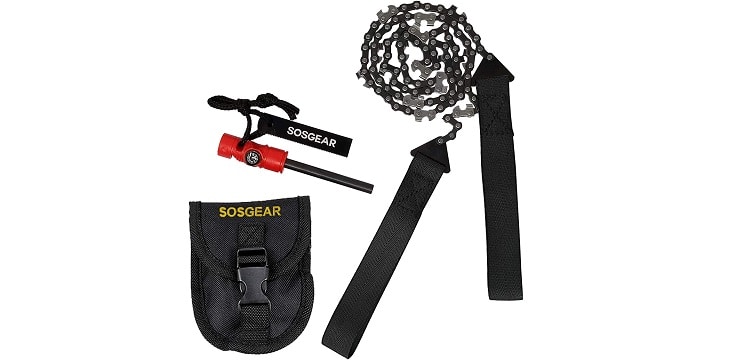 We suggest this specific handsaw if you are new to camping or building your skill as a survivalist. When you purchase the SOS Gear Pocket Chainsaw, you are not just getting a pocket chainsaw, but you are receiving a complete survival kit. This product includes a pocket chainsaw, whistle, fire starter, and storage pouch for all of these items.
The chainsaw is 24-inches made of heat-treated carbon steel alloy, which will give you the maximum benefits of cutting limbs or hardwood. This chainsaw is durable and holds sharpness long before you need to re-sharpening, giving you a low-maintenance tool.
This pocket chainsaw was made for the average person who needs little to no experience using it. The handles are nylon material that can wrap around your wrists. This is an overall durable saw that would be an excellent addition to your camping equipment.
Pros
Completed survival kit
Carbon steel chain
Compact design
Cons
A bit small
Cannot cut through thick hardwood easily
Loggers Art Gens 48 Inch Pocket Chainsaw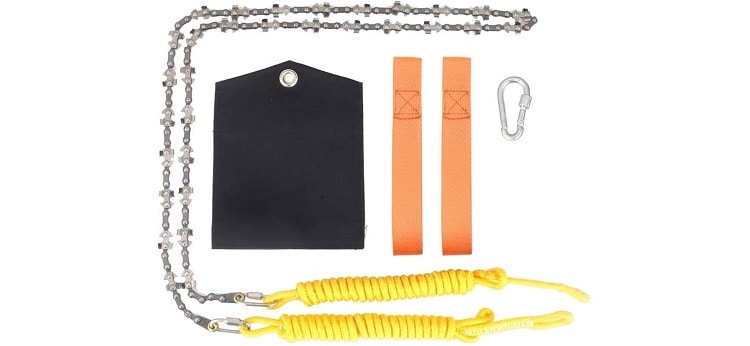 Last but certainly not least, the Logger Art Gens 48 Inch Pocket Chainsaw is best for those who are looking for a pocket chainsaw for thick hardwood.
This pocket chainsaw is a staggering 48 inches long that has bi-directional cutting teeth. The chain is made out of 62 carbon steel teeth with blades that durable, so you will not have to worry about re-sharpening these blades for a long time. Trust us, this pocket chainsaw will cut through just about any wood material.
When you purchase this product, it comes with two 6-foot-long safety ropes and four metal spring buckles that will be useful to use if you choose to suspend on a tree to cut down limbs. This is by far the best chainsaw to purchase if you need to suspend from a tree, as it is designed for loggers.
Pros
48 inches long
It comes with ropes and metal springs
Bi-directional chainsaw
Cons
May get stuck on trees
It cannot be used in small areas
Not very portable
FAQ's
Here are some common questions that consumers have before they purchase their pocket chainsaw!
Question: Do Pocket Chainsaws Need to be Sharpened?
Answer: Yes, your pocket chainsaw will need to be sharpened at some point in its life. A majority of pocket chainsaws come sharpened and will not have to be sharpened until about ten uses.
However, depending on the brand you go with, it may not need to be sharpened until much longer. When you need to sharpen your pocket chainsaw, the best indicator is when you begin to notice that the cuts are not as precise.
Question: What Can my Pocket Chainsaw Cut Through?
Answer: This all depends on the length and the number of teeth on your pocket chainsaw. If you have a pocket chainsaw that is 24 inches, it would be best used in small or tight-fitted areas on branches or limbs.
Anything above 24 inches will be able to cut through thick hardwood much easier, but when you use a pocket chainsaw that is longer than 24 inches, it is hard to maneuver in small areas.
Question: Do you Need Strength to Use a Pocket Chainsaw?
Answer: Strength is not needed if you are only cutting through average-sized limbs and branches.
However, if you plan on using a pocket chainsaw on thick hardwood, you will need to have extra strength.
Conclusion
Picking out a pocket chainsaw that meets every requirement you are looking for can be difficult, especially when there are hundreds of different brands that all tell you the same thing. We broke everything down in our pocket chainsaw guide, so now you will forever know what to look for in this tool.
After reading the best pocket chainsaw guide, you will find the perfect product to use, whether you are a survivalist or plan on camping, these products will bring you to the next level!
Our favorite, although we love them all, is Nordic Survival Pocket Saw. This pocket saw makes woodcutting a hassle-free experience. There are many key features of why this is our pick, but the main reasons are its bi-directional chainsaw, 33 teeth, high carbon steel, and long nylon handles.
We believe you get the best bang for your buck with this purchase, and we know you will love it just as much as we do!
Read more: