Latest posts by The Forestry Pros Team
(see all)
Ego pole is a product from Ego. It's a company renowned for manufacturing high-quality gardening tools. Are you looking for a good pole or pole saw? If so, check out the information below.
We went through user ratings and reviews of various pole saws online. From our research, we were able to determine two of the best Ego pole saws in the market. We also gathered information about the best alternatives and came up with three for you to choose from.
We have also provided pertinent information on the available pole saw types to help you make the right choice. Read on our Ego Pole Saw review to get all the information you need before you purchase a pole saw.
Our Top Picks
There are two highly-rated Ego pole saws you can get in the market. These are the most popular across various online stores. Check them out!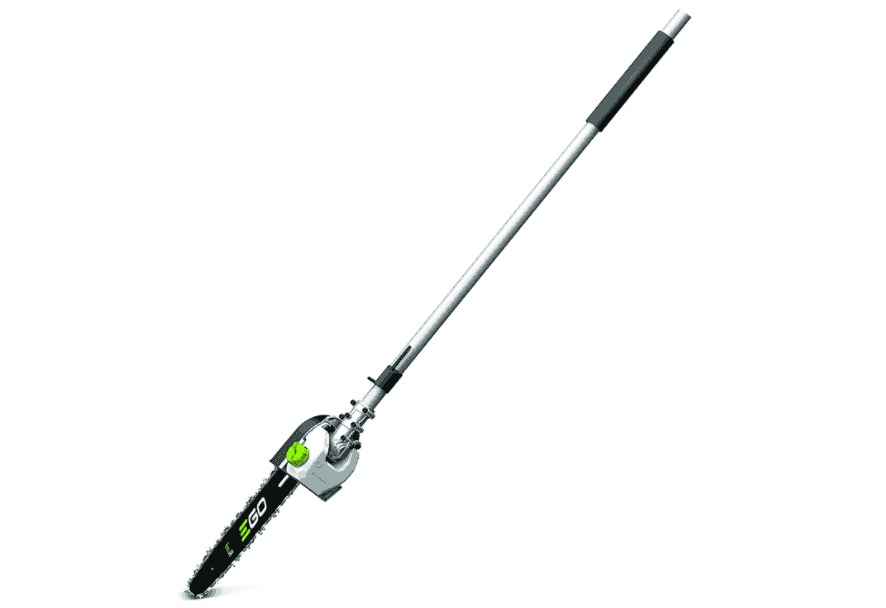 When it comes to ease of use and performance, this Ego pole hits the nail on the head. For starters, it has an incredibly impressive battery runtime. Most users state they would finish their trimming jobs with a single charge of the battery. It comes with a 5 Ah battery designed to run for extended periods.
The extension pole is great for people who want to use attachments to reach a longer range. On the downside, a longer pole means handling is a bit awkward. However, this model is well balanced to ensure the awkwardness is minimal.
Comfort is another benefit considering uses have stated it's more comfortable than others with the same features. The cordless technology has minimal vibrations and is quieter. Compared to a gas-powered unit with the same features, this model is better and easier to use.
Pros
Minimum vibrations
Quiet running
Reaches longer ranges
A single charge lasts long
Light and easy to use
Cons
Some users find it awkward
Costly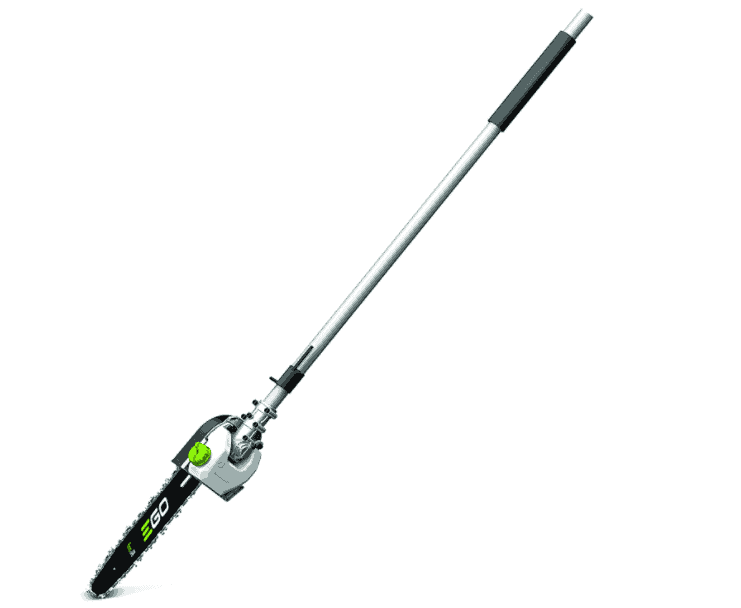 EGO manufactures powerful electric and cordless power tools for its customers. The Ego PSA1000 pole saw is one of the company's popular and powerful cordless saws. It comes with a powerful 56V battery system which is better than other models at the same price point.
You can easily use this pole saw to carry out "heavy" pole saw duties. It works best when combined with a 10-Inch saw blade. Besides being powerful, it's the most durable and reliable choice. It has a great build compared to others in the same category. With a 5-year long warranty, you can rely on this pole saw for a worry-free pole saw experience.
It has numerous features that include:
Perfect build quality
5-year warranty
10-inch saw blade
56V electric motor
Pros
56V battery system
Durable
Powerful
Reliable
5-year warranty
Cons
Lacks battery and charger
Best Ego Pole Alternatives
Now that you have an idea of the Ego pole saw, you may find you may not want to get it. On the other hand, you may be looking for something different. If this is the case, you need to look at the best alternatives. During our Ego pole research, we discovered there are three best alternatives for the Ego pole saw. Check them out to make a sound buying decision. If you don't find one, use the buying guide to help you with your decision-making process.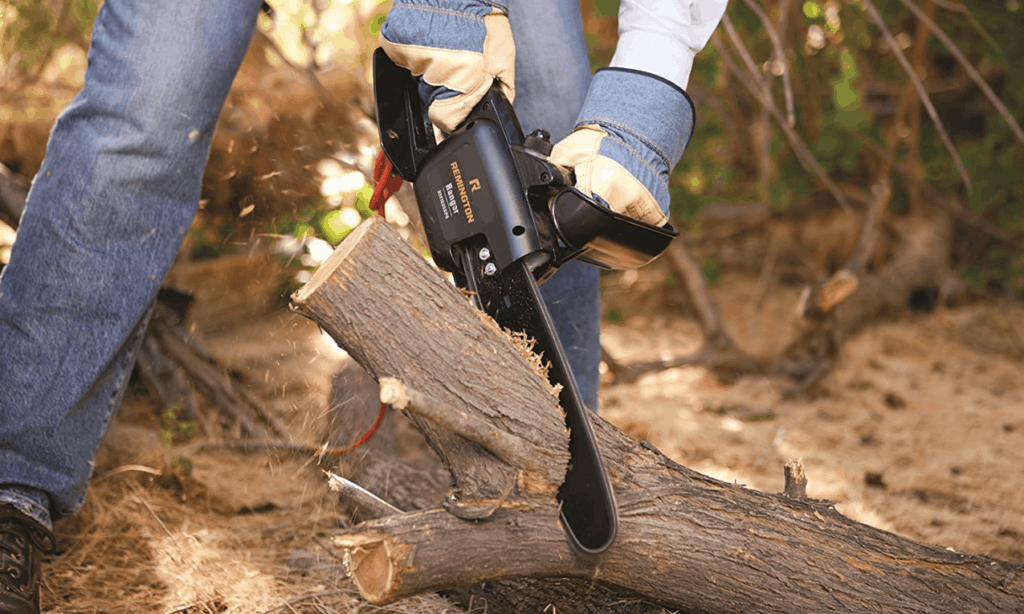 RM1025SPS electric saw is a 2-in-1 power tool with a combination of a pole saw and an electric chainsaw. It gives you a good option for your cutting needs and tree limb trimming particularly in those hard-to-reach places.
This ranger saw comes with an 8-amp powerful electric motor that drives the saw chain. This is a great feature as you can trim relatively sized tree branches with ease. You can trim overhead branches as tall as 10 – 15 feet high.
Another important feature is the ability to detach the pole easily in a short time without using any tools. This saves you time especially when you want to change from a pole saw to a chainsaw.
This pole saw is ideal if you are looking for a trimming tool that won't rotate once you have extended the pole. The design of the pole is rotation-free with a non-slip grip for more comfort.
Read our full Remington Pole Saw Review.
It comes with numerous features which include:
Non-slip grip
Aluminum pole
10" bar and Chain
8-amp motor
Easy flip-lock clamps
10 – 15 feet overhead reach
Anti-rotation pole design
Pros
Easy to use
Has a stable pole with a non-slip handle
Comfortable grip
2-in-1 (Highly versatile)
Features a tension adjuster
Durable and light aluminum pole
Adjustable pole height
Cons
Oil leaks/Not self-oiling
Working area limited
Motor pulls vines

Remington RM1025SPS | Amazon
This 2-in-1 detachable pole pruner is the perfect tool for trimming those small, hard-to-reach branches.
Buy at Amazon
We earn a commission if you make a purchase, at no additional cost to you.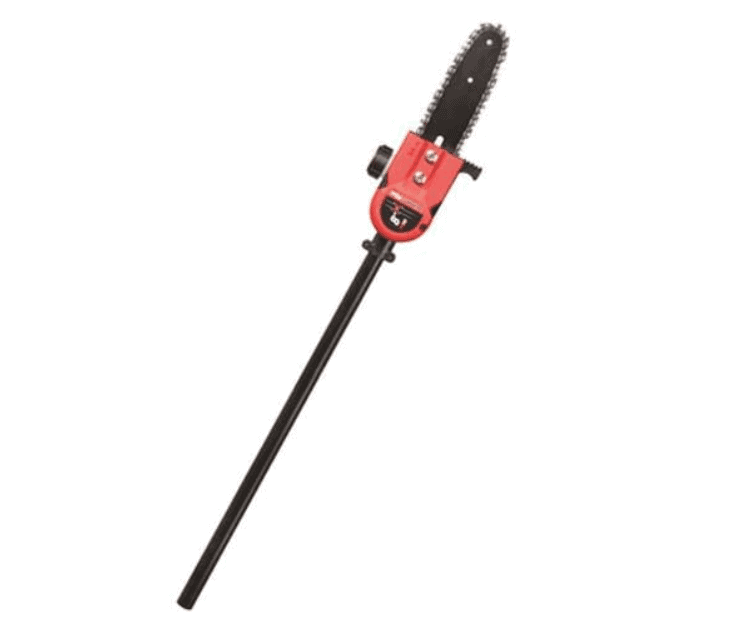 TrimmerPlus PS720 is one of those flexible multipurpose garden appliances that can convert to other tools with the connection of separate attachments. You should consider this if you want a tool that you can use to do other tasks.
This saw model comes with an auto oiler that constantly supplies the chain with oil. This mechanism is quite effective in the elimination of the frictional forces that heat the moving parts if they are not lubricated. Regular maintenance of the same prolongs the product's service life.
You can also mount a 2" height extensible saw pole on the other end of the 8" bar and chain, to add 7 feet to the total height. As a result, the saw can manage to reach a height of 12 feet depending on the user's height.
This is a very great feature for shorter users. Reaching the highest branches won't be a problem whatsoever! You won't require a climber/ladder to trim or prune your trees.
TrimmerPlus comes with various features like:
8" bar and chain
Auto lubrication
Pole features 2 extension sections
A 7 feet long pole
12 feet maximum reach
Gas-powered
Allows for various attachments
Pros
Produces less noise
Light
Low kickback chain
Versatile with attachments
Can trim both hedges and trees
Can reach a reasonable overhead height (12 feet)
Cons
Disintegrating pole ends
Plastic saw cover
Heavy when fully fueled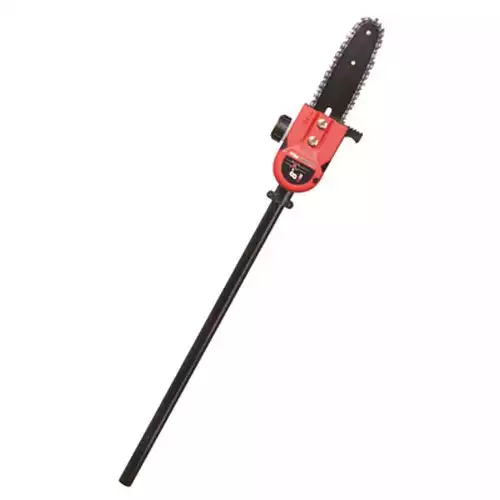 TrimmerPlus PS720 8-Inch Pole Saw | Amazon
The TrimmerPlus PS720 8-Inch Pole Saw with Bar and Chain is perfect for pruning and cleaning up your trees and hedges that are hard to reach. 
Buy at Amazon
We earn a commission if you make a purchase, at no additional cost to you.
12/07/2023 10:40 pm GMT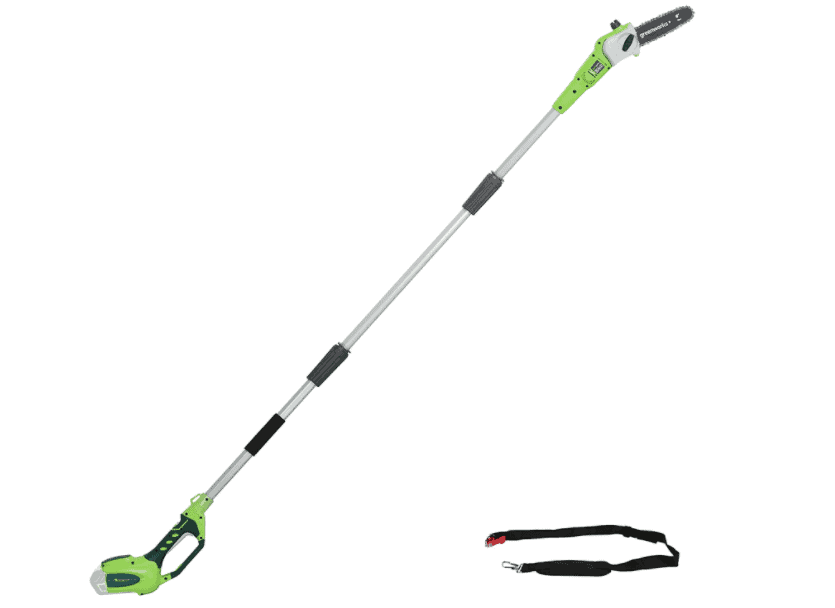 This Greenworks Cordless Pole Saw is powered by a 40-volt G-MAX Lithium-Ion battery system. It's great especially when you are trying to get a tool that will last you long on a single charge.
The 8-inch saw comes with a 2Ah battery and a charger. The lithium-ion battery is light enough to reduce the overall weight of the saw to around 8.360 pounds. Such weight makes pruning and trimming at elevated heights simple.
The 8" bar and chainsawing system is driven using power from the battery. This size of the bar is enough to cut through most small branches without consuming a lot of battery power.
You can tighten or loosen your chain by adjusting the tension system. The good thing with this system is it ensures that you get optimal chain life. There is an automatic oiler that lubricates the chain and the bar ensuring that friction is substantially minimized.
Check out our full Greenworks Pole Saw Review.
Lastly, this saw features an aluminum shaft which comes in 3 pieces. The pieces make it easy for the pole saw reach to be extended by 8 feet. A summary of its features are:
Auto-oiler
8 feet reach
Electric start
G-Max compatible battery
8" bar and chain
40-Volt Max lithium-ion battery
Tool-less chain tensioning and adjustment
Pros
Minimum vibrations
Maintenance-free
Powerful
A single charge lasts long
Light and easy to use
Cons
Not long-lasting
Expensive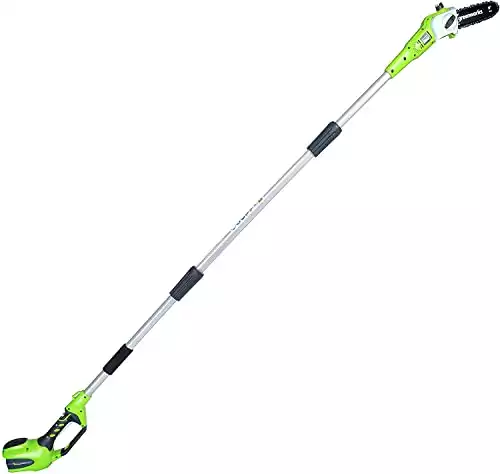 Greenworks 40V 8-Inch Cordless Pole Saw | Amazon
The Greenworks G-MAX 12" Cordless Lithium-Ion (Li-Ion) battery-powered chainsaw is touted as an eco-friendly replacement for a similarly sized gasoline-powered chainsaw.
Buy at Amazon
We earn a commission if you make a purchase, at no additional cost to you.
12/07/2023 11:09 pm GMT
How to Choose the Best Pole Saw?
A pole saw, also known as a pruner/pole chainsaw, is a great option for pruning or trimming your trees. Finding the best pole saw may be a bit tricky for a new buyer. That said, these tree pruners come in various makes and models. The only thing you need to do is ensure that you choose the one that meets your yard demands.
Types of Pole Saws
For a professional gardener, it's an undeniable fact that you'll require a good pole saw for any pruning work. It simplifies your work ensuring you do a great job. Choosing one is however not a walk in the park. This is because there are numerous options available in the market.
All these varieties of pole saws come with different strengths and weaknesses. Take a look at our comprehensive list of the types of pole saws to get an idea of what you need. This information is designed to ensure you can find the best pole saw to meet your preferences.
Gas Pole Saw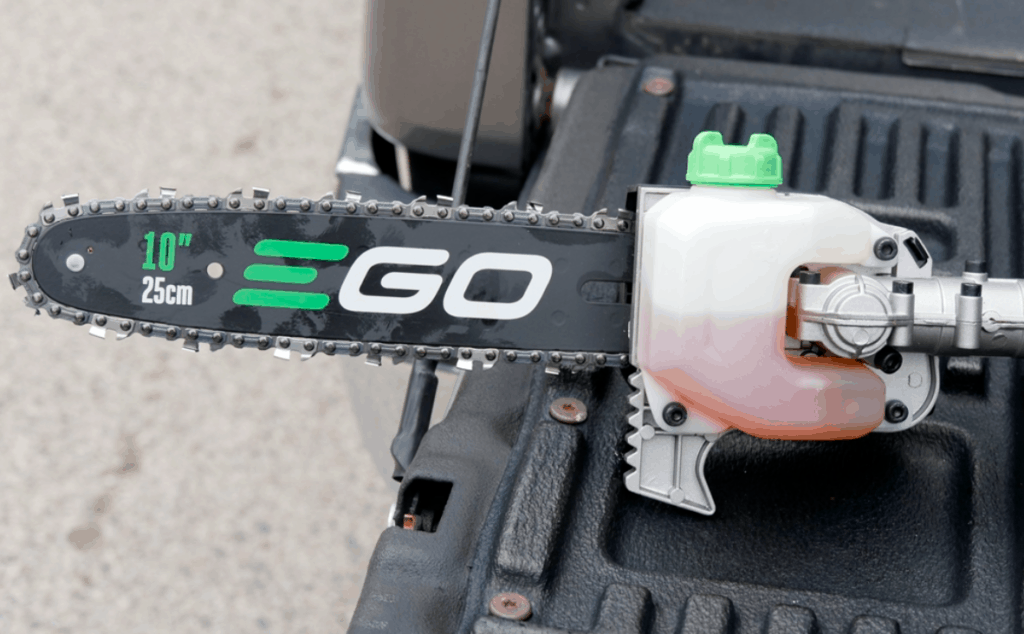 One of the commonly sold saws you can find in the market is the gas-powered saw. You get the best performance with this product. You can get a great experience if you have a large garden with a lot of trees that need pruning.
It's the ideal option for professionals who give preference to the amount of power that a saw produces. As long as you maintain it properly and ensure that its fuel tank is filled up, this saw can operate for a long period.
For those who prefer power to other factors and noise is not a hindrance to them, then this could be their best option.
Merits
Durable
Highly efficient
Long operating hours
Great for heavy-duty tasks
Very Powerful
Demerits
Electric Pole Saw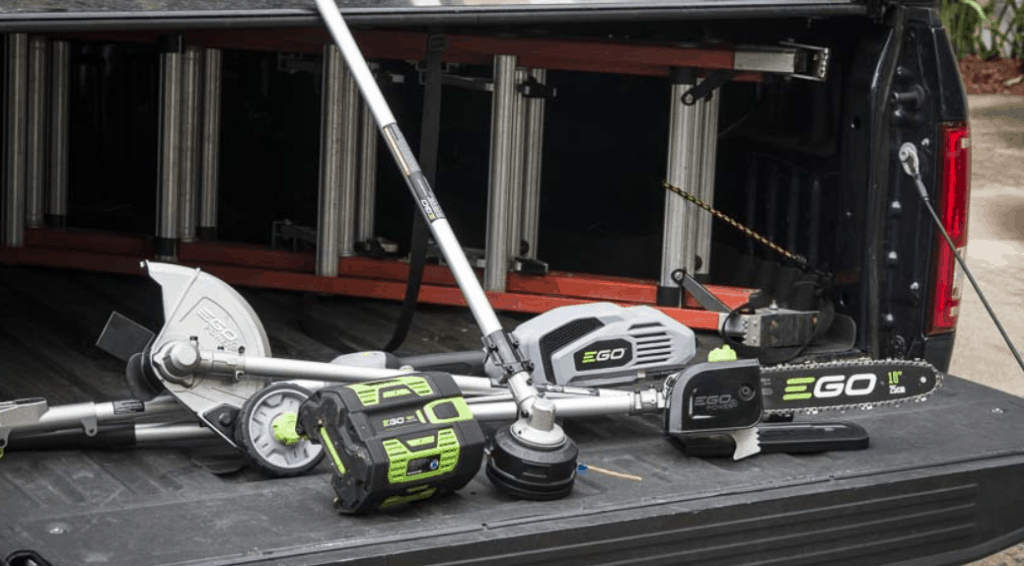 They are also referred to as corded pole saws. Unlike the gas-powered pole saw, this tool uses electricity to run instead of gas. This makes it quite powerful with less noise and weight. An electric pole saw with a range of 6 – 8 Amps rated motor tackles thick branches with relative ease.
However, they feature several drawbacks. They have a cord that you have to drag to your work area. As a result, this limits the area that you can work on. Considering your yard size, this cord also limits the distance from your power source. However, you can always increase the cord length when needed.
Merits
Easy to use
Lightweight
Environment friendly (No gas fumes)
Produces less noise
Considerably powerful
Demerits
Cord limits work area
Not more powerful than gas-powered saws
Cordless Pole Saw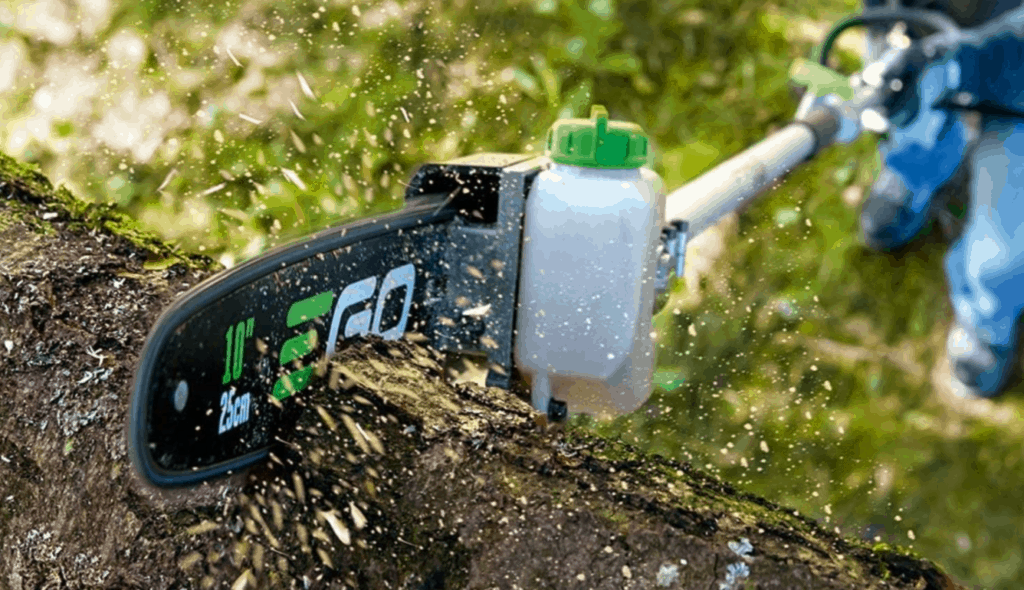 This type of saw offers an ideal solution as it lacks a cord. You can work comfortably in a large area without having to stress about the power outlet as in the case of an electric pole saw. Cordless saws are powered by a battery. When the power runs out, you can recharge it and resume your tasks when the battery is full or sufficiently charged.
Such saws are eco-friendly and offer you the convenience of working with them anywhere. What will determine your best cordless saw choice is the size of the branches that you want to work on. This influences the battery you'll choose.
These saws come in a variety of 20 or 40volt batteries, with the former being less powerful. The limited battery life is one of the drawbacks featuring in this type of saw. Take note lately they have been upgraded to a newer Lithium-Ion battery model. They are slightly heavier and less powerful compared to the electric pole saws.
Merits
Lighter than gas-powered saws
Eco-friendly
Quiet
Environment friendly
Have a "go-anywhere" convenience
Rechargeable Lithium-Ion battery
Demerits
Less powerful
Limited battery life
Manual Pole Saw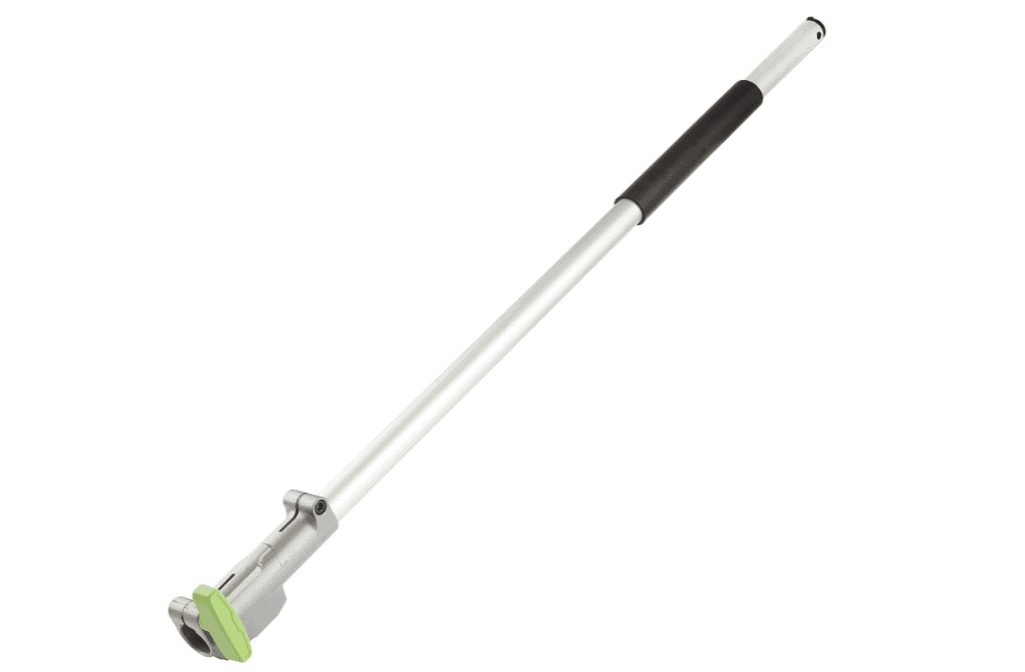 These are old-fashioned saws that were used before the invention of gas and electric saws. Surprisingly, some gardeners still use them to trim high or hard-to-reach tree branches. They have an attached sawing area at the end of the long pole. You need physical strength to operate this saw.
That said, it's not easy to prune large trunks and branches using this saw. You might however require this tool for your occasional tree branches' trimming. Their cheap price gives them an added advantage because anyone can afford them. So, why should your yard stay ugly? Get one now if you plan to start pruning or trimming on a tight budget.
Merits
The most affordable pole saw
Ideal for keeping fit
Best for infrequent pruning
Environmentally friendly
No fumes emitted
Demerits
Manually operated
Not ideal for large branches and trunks
Ego Pole FAQs
Question: Are Ego Poles Any Good?
Answer: Yes, they are! For starters, they are the best when it comes to the best battery-powered gardening tools. That's why they are popular with commercial users.
Question: How Long Does the Battery Last on Ego Poles?
Answer: According to reports by the majority of users, the batteries can last up to ten years. However, the average shelf life for most batteries is about 5 years.
Question: Is it Safe to Leave my Ego Pole on Charger for long Durations?
Answer: The charging system and battery are designed to switch off when the battery is fully charged. Leaving any device or appliance on the charger for long durations is never advisable. With Ego pole, you don't have to worry about this though. When it's fully charged, it automatically discharges to about 30% capacity and starts charging again.
Question: What is the Length of an Ego Pole Saw with Extension?
Answer: Extend your reach and you get more from your Ego Pole. The length is 31-inches. This aluminum extension pole securely attaches to your device. This ensures you get to those tough to reach branches and limbs.
Conclusion
Any Ego pole is a good investment. Check out the two above to help you make a decision. If you don't like the options provided, check out the buying guide to help you with your purchasing decision. On the other hand, you can check out the alternatives provided.