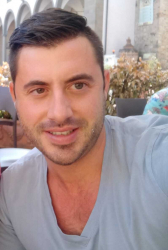 Latest posts by David Borgogni
(see all)
This article will focus on the fascinating Blackjack Oak wood and its uses. It's a distinctive tree with many uses, from furniture to fuel, and has been incorporated in construction for many years.
In this tree and wood guide to Blackjack Oak wood uses, we'll be looking at and analyzing this unique type of wood, what it is, where you can find it, and what are its best uses.
We'll also be giving you the lowdown on everything you need to know about Blackjack Oak ahead of your next project before finishing with some of the most frequently asked questions.
But first, let's take a look at the basics of Blackjack Oak trees.
What is Blackjack Oak?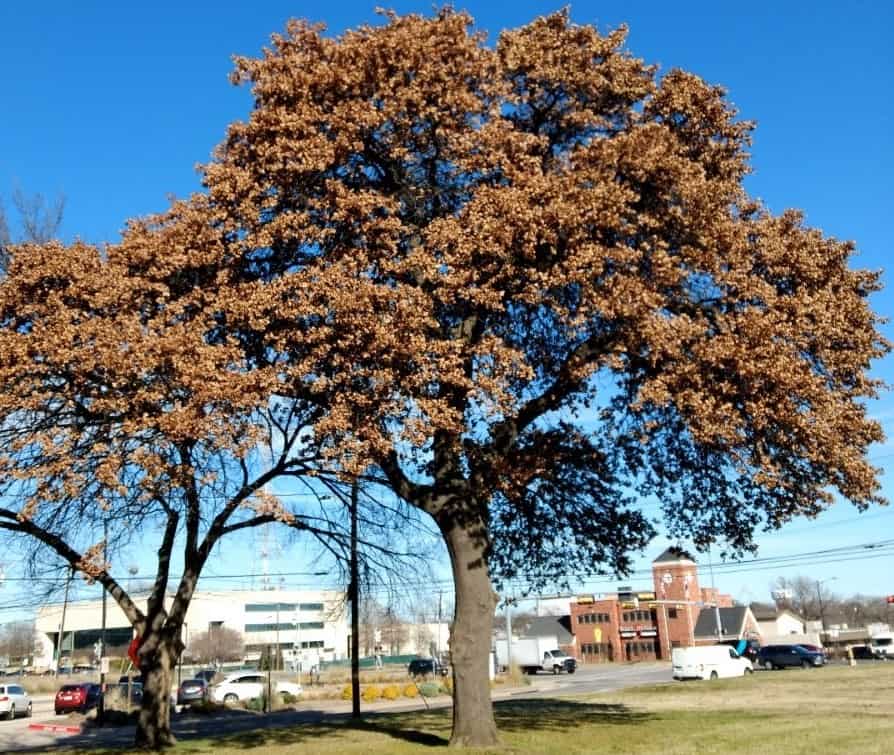 The name Blackjack Oak sounds fascinating, but in reality, the name comes from its incredibly dark bark. As you may have guessed, Blackjack Oak forms part of the Oaktree family and is found predominantly in the southeastern USA.
Although many seem to think this variety of Oak does not have the beauty of traditional Oak, it is well regarded as a handy tree. This is because, in problem sites where other species cannot grow, the Blackjack Oak thrives. Although not hugely commercially valuable, its tough nature wins the Blackjack Oak many plaudits.
Blackjack Oak Trees
The Blackjack Oak, or Quercus marilandica to give it its Latin name, is also known as the Jack Oak, black Oak, or barren Oak. They are a small deciduous tree that grows up to 90 feet with a diameter of around a foot or less. It's got a similar appearance to post Oak which grows in the same areas as Blackjack Oak. However, the leaf lobes are not bristle-tipped and more pronounced.
Blackjack Oak falls into the red Oak grouping and was first named in 1704 in Maryland. Its Latin name translates as 'from Maryland', whereas the Blackjack name comes from the tree's tough features that allow it to survive in crowded areas.
Identification of Blackjack Oak
Woodworking and forestry are tough if you cannot accurately identify trees and their wood. Blackjack Oak can be identified thanks to its distinctive bark and leaves. Here are the key aspects of being on the lookout for finding Blackjack Oak in the wild.
Tree Size & Shape
The size and shape of Blackjack Oak trees can vary dramatically. They can grow as tall as 49 feet high but, generally speaking, top out around 40. This breed of Oak features short, stout, and contorted branches that form compact round-topped or open heads. The twigs are stiff and a greyish-brown color that starts out hairy but become smoother over time.
The buds are also hairy with a reddish-brown color and narrow cone shape them. The tree's bark is almost a black color and appears divided into small square plates that feel rough to the touch.
Leaves
The Blackjack Oak's leaves measure between 4 and 8 inches long, with the widest point reaching the tip. All different tree varieties have simple leaves with a leathery texture and have 3 or 4 shallow broad lobes.
These lobes have bristly tips with veins that end near the edge. The upper surface of the leaf is dark or yellow-green with a shiny appearance. The lower surface is pale yellow-green or yellow-brown and includes brown hairs along the veins.
Bark
The tree's bark has a very dark appearance – almost black in many cases. Its skin is covered with a rough, scaly texture that protects it from the elements.
Flowers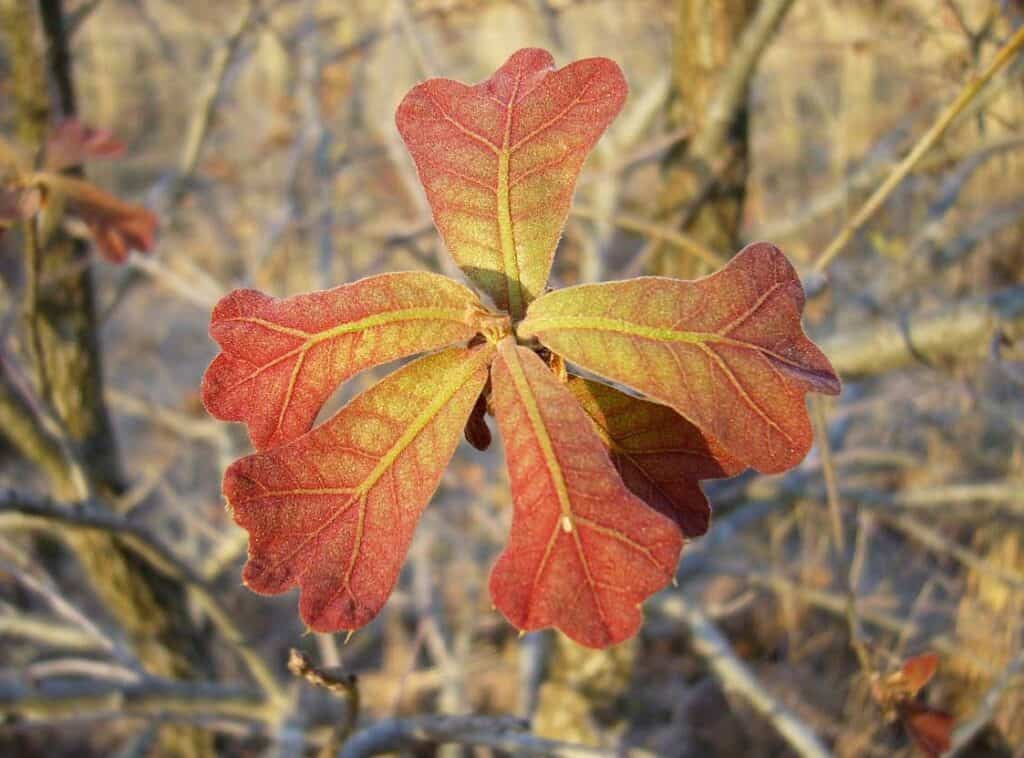 Both female and male catkins can be found on the Blackjack Oak with a yellow-green appearance. They grow to be 4 to 5 inches long, and pollination occurs in April and May. Acorns that form on Blackjack Oak trees grow about ¾ inches long and have a pointed tip.
They are a lighter shade of yellow-brown and have a thick brown cap covering around a third of the acorn. This cap also has hairy scales that come loose when touched with no fringe cover. Blackjack Oak acorns mature from September through to October, which is typical of the red Oak family.
Things to Watch Out For
It's always recommended that you know your wood before you get to work on any projects you may have. Being clear on the dos and don'ts of each wood type will allow you to select the best wood for your needs. This is what we'll explain in this section.
Proper Handling
Although with many softer kinds of wood, you need to be careful how you handle them, the Blackjack Oak is rugged and strong. This means you can be a little laxer with how you handle it but don't relax too much, when untreated you can still split pieces fairly easily.
Issues With Stability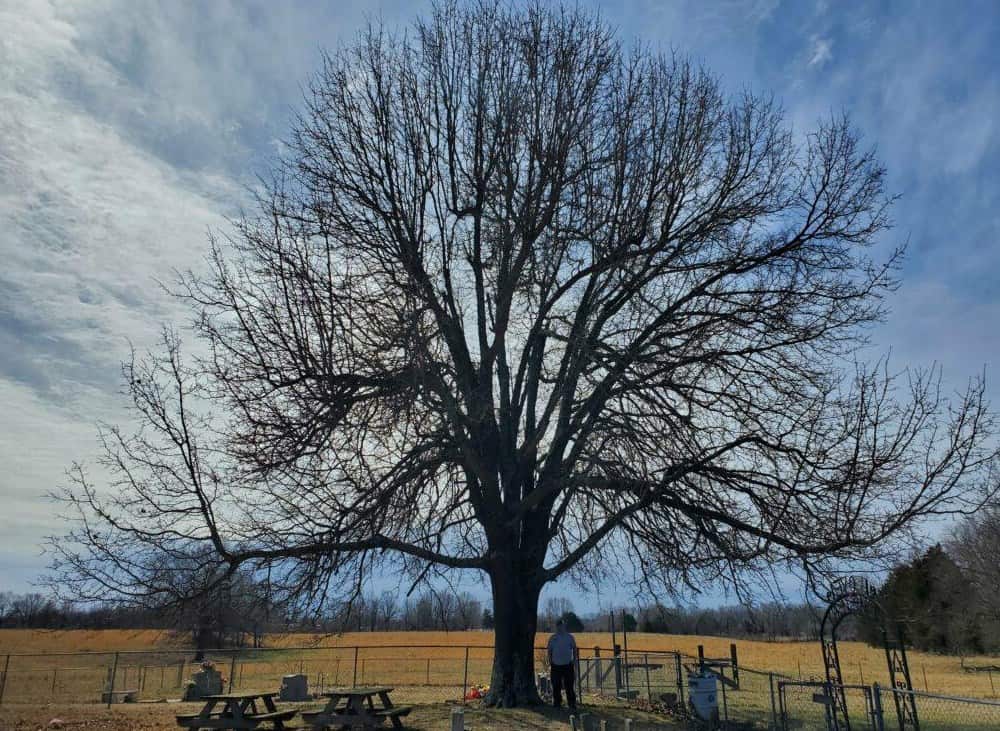 Although Blackjack Oak is a durable wood to work with, there are still plenty of issues with splitting that need to be taken into consideration. If the tree was particularly old, for example, it is more common for splits to occur. This then leads to processing problems that can cause excessive warping, undulated growth rings and fluted butts.
Problems When Sanding
Another problem that needs to be accounted for when working with Blackjack Oak is dust coming off the hardened bark. As with all woods, there will be plenty of dust when you sand using Blackjack Oak but be prepared for excessive amounts of it.
Some woodworkers use CA glue to soak the most affected areas, reducing the level of dust created and help guard against an uneven finish.
Make Sure Your Tools Are Sharp
Extra attention is needed when sanding, shaving, grinding Blackjack Oak or even using any other tool. Its hard nature means cutting through it can be tough at first, although when you get going, it becomes easier and easier.
DEWALT 20V MAX Orbital Sander | Amazon
This Brushless Cordless Random Orbital Sander provides the power and runtime needed to get the job done. A variable-speed dial provides ultimate speed control from 8,000 to 12,000 OPM for a variety of projects.
Buy at Amazon
We earn a commission if you make a purchase, at no additional cost to you.
09/21/2023 01:06 pm GMT
DEWALT 6-1/2-Inch 20V MAX Circular Saw | Amazon
The DCS391B 20V MAX* 6-1/2-inch circular saw with a 6-1/2-inch carbide tipped blade operates on a powerful 5150 rpm motor with a 0 to 50-degree bevel capacity on a lightweight and durable magnesium shoe of the DEWALT 20V cordless circular saw.
Buy at Amazon
We earn a commission if you make a purchase, at no additional cost to you.
09/21/2023 01:39 pm GMT
Be careful as you go, cutting too hard or fast is a sure-fire way to cause the wood to split unevenly, leading to projects failing and tempers fraying. Tear-out is something everyone wants to avoid when working with wood – this is why all forestry tools must be sharpened before you begin.
Sharp Pebble Puck/Disk Whetstone Blade & Tool Sharpener | Amazon
Restore the blade to its prime glory within minutes with Sharp Pebble Ax Sharpener Stone. Made with premium quality 100% silicon carbide and 40% larger surface area it provides an exceptionally sharp blade with minimal effort.
Buy at Amazon
We earn a commission if you make a purchase, at no additional cost to you.
09/21/2023 01:21 pm GMT
Uses of Blackjack Oak
Like most other wood species, the Blackjack Oak is used across a variety of woodwork. Its tough nature and darker appearance make it suitable if you're after a darker finished product but beware, this can be a tricky type of wood to work with.
Although some dismiss the value of Blackjack Oak as only being good for firewood, this has been proven wrong many times. With the right skills, Blackjack Oak can craft anything from timber beams to cabinets and provides a cheaper alternative to other materials like walnut or red Oak.
There is an abundance of Blackjack Oak across the south-eastern US, with their size and quality dramatically changing depending on where you are. In Oklahoma, for example, trees are often found growing only around 20 feet tall, but when you fell the same species in northern Alabama, they are up to 60 feet. Bear this in mind when you go looking for your perfect Blackjack Oak.
Another thing to think about when using this wood is that it tends to split easily. Even when prolonged drying methods have been used, the wood can still split and crack once you work with it.
Despite these drawbacks, Blackjack Oak remains a great wood to work with if you have the skill and patience to deal with it properly. It's cheap and easy to get hold of, so if in the worst-case scenario a couple of pieces do split, replacing them won't be too much trouble.
How Do You Work With Blackjack Oak?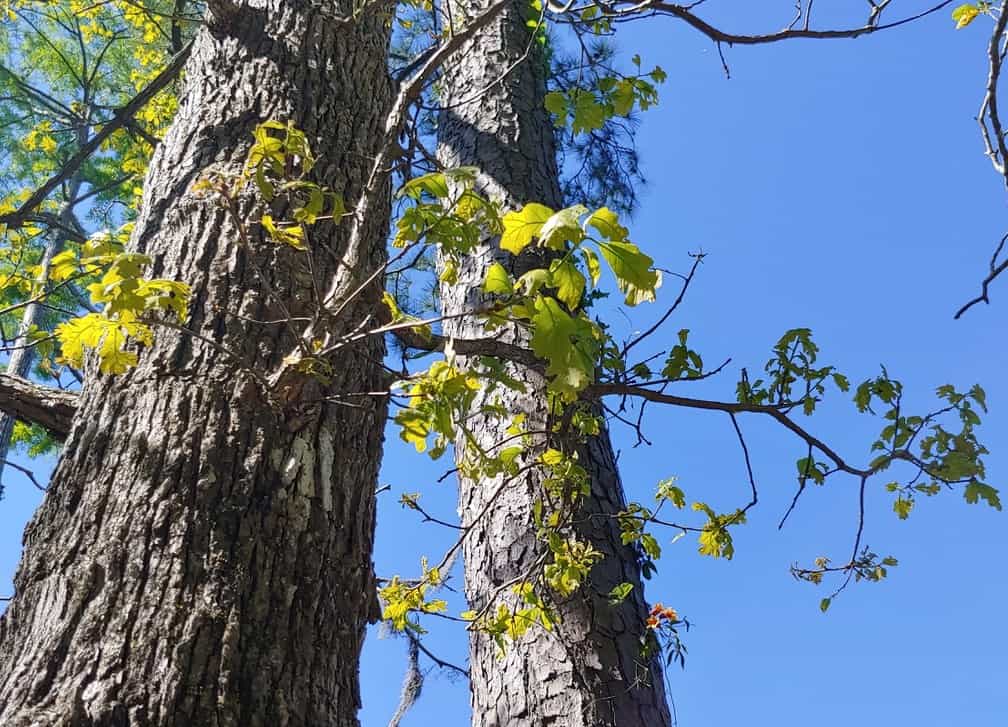 Thankfully, Blackjack Oak is much like other species of wood. It requires due care and attention when you work with it, but if you manage that, you'll be rewarded with beautiful-looking furniture or whatever you decide to make.
Follow these steps when working with Blackjack Oak, and you'll be on the right track to crafting a masterpiece:
Step One: Find the Right Tree
The first thing you'll need to do is learn to spot the right species of tree. There's no use reading this guide to Blackjack Oak if you don't end up working with one! Remember, their characteristics are dark bark with simple, leathery leaves.
Step Two: Fell Your Chosen Tree
Once you have identified the tree you'll be working with, set about cutting it down, taking care not to damage it in the process. You can explore some of the best chainsaws if you need help deciding which one to use.
Step Three: Preparing the Blackjack Oak
This is a crucial step. Making sure your Blackjack Oak is as dry as possible will help prevent it from splitting while you work. This is a problem faced by many when working with this wood, so make sure you take the appropriate time and care to get it prepared. Some people recommend natural drying for up to two years before attempting to work with it.
Step Four: Craft Your Design
Once the wood is cut and treated, it is down to you, the woodworker, to bring your design to life. Ensure your tools are sharpened and ready to use before beginning, as blunt blades could increase the chances of that spalting we're trying to avoid.
How Do You Get Blackjack Oak?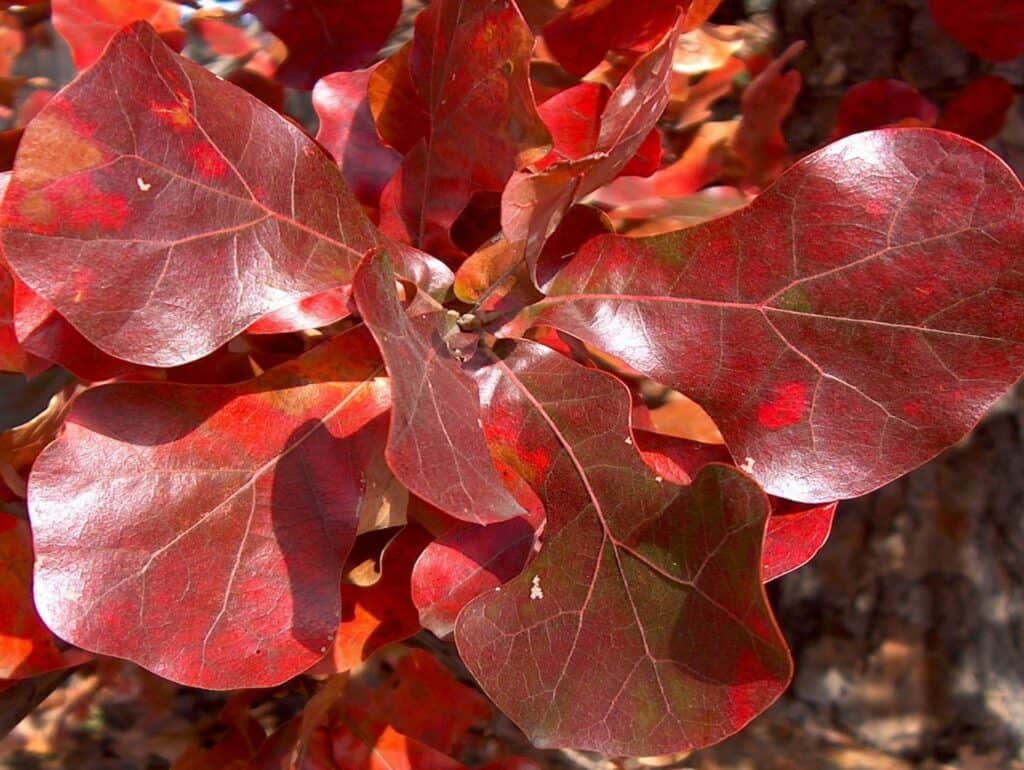 Blackjack Oak is not an uncommon species of wood. Therefore it is relatively easy to buy and comes in at a very wallet-friendly price. If you happen to be in the southwest USA then you'll be able to find Blackjack Oak growing in the wild all over the region – just make sure you have the relevant land owner's permission before cutting anything down.
While it's always better to buy wood in person so that you can see its true character with any imperfections it may have, there are plenty of online lumberyards that can supply Blackjack Oak to you directly.
Blackjack Oak Wood Uses: FAQs
Question: What is Blackjack Oak good for?
Answer: Although Blackjack Oak can be used for almost all woodwork uses, it is most commonly used for fence posts, railroad ties, and firewood. This is thanks to its tough build and cheap price.
Question: How fast does a Blackjack Oak grow?
Answer: Blackjack acorns are small at around 0.5 inches long and 0.55 inches broad. Although this is small for an acorn, like other Oaks, the Blackjack takes around 18 months to mature once planted.
Question: Why is it called Blackjack Oak?
Answer: The name 'Blackjack' refers to its leathery dark green leaves and dark bark.
Question: Is Blackjack Oak a white Oak?
Answer: Blackjack Oak is one of the few red Oak species that share characteristics with white Oaks. These are vessels within the leaves blocked by tyloses.
Conclusion
Although it can be tricky to work with, Blackjack Oak represents a solid wood that can be crafted into something truly beautiful or used when tough and cost-effective materials are needed.
Its versatility mixed with its price make it uniquely suitable for a wide range of jobs, including for use at fence posts and railroad ties and for making furniture or even just burning as firewood.
We hope our detailed guide to Blackjack Oak has opened your eyes to the possibility of using this often overlooked material in the future. For more related forest and wood guides, keep your eyes on the Forestry Pros for the best industry information.