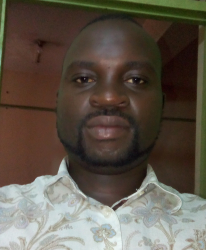 Latest posts by Haron Omaita
(see all)
When operating a chainsaw, it's essential to wear the best chainsaw helmet to protect yourself from flying debris, falling branches, or in case you fall from a height.
Unlike regular helmets, chainsaw helmets are designed to provide protection from forestry and arborist-related workplace hazards. They not only absorb the impact of an accident but also feature earmuffs and visors to protect your ears, eyes, and face.
If you're looking for a new chainsaw helmet, there are several important factors to consider. For that reason, I've put together this comprehensive chainsaw helmet buying guide to help you out.
I'll discuss why you need a chainsaw helmet, essential features to look out for in helmets, and my top chainsaw helmet recommendations.
Bottom Line Up Front: Chainsaw helmets protect the head from falling branches or flying wood debris. Most helmets feature a face shield or visor to provide protection against flying debris, as well as earmuffs to protect your ears from high noise levels.
When selecting a chainsaw safety helmet, make sure it provides enough durability and comfort and complies with international safety standards like ANSI and CE.
My number one pick from the best helmet options on the market is the Oregon 563474 Chainsaw Helmet. It can protect you from any unexpected impact. It's durable, very breathable, and comes with a 6-point harness that allows it to fit you well.
Why Do You Need a Chainsaw Helmet?
It's important to always wear a helmet to protect your head, face, eyes, and ears when operating a chainsaw. If you don't wear one, you'll expose yourself to serious, potentially life-altering injuries.
A chainsaw helmet is even more important if you've never operated a chainsaw before. When I first used a chainsaw, I understandably struggled to avoid kickbacks, flying debris, and other problems. That's when I realized a helmet could protect me when I was felling trees and processing firewood more than any other safety tool could.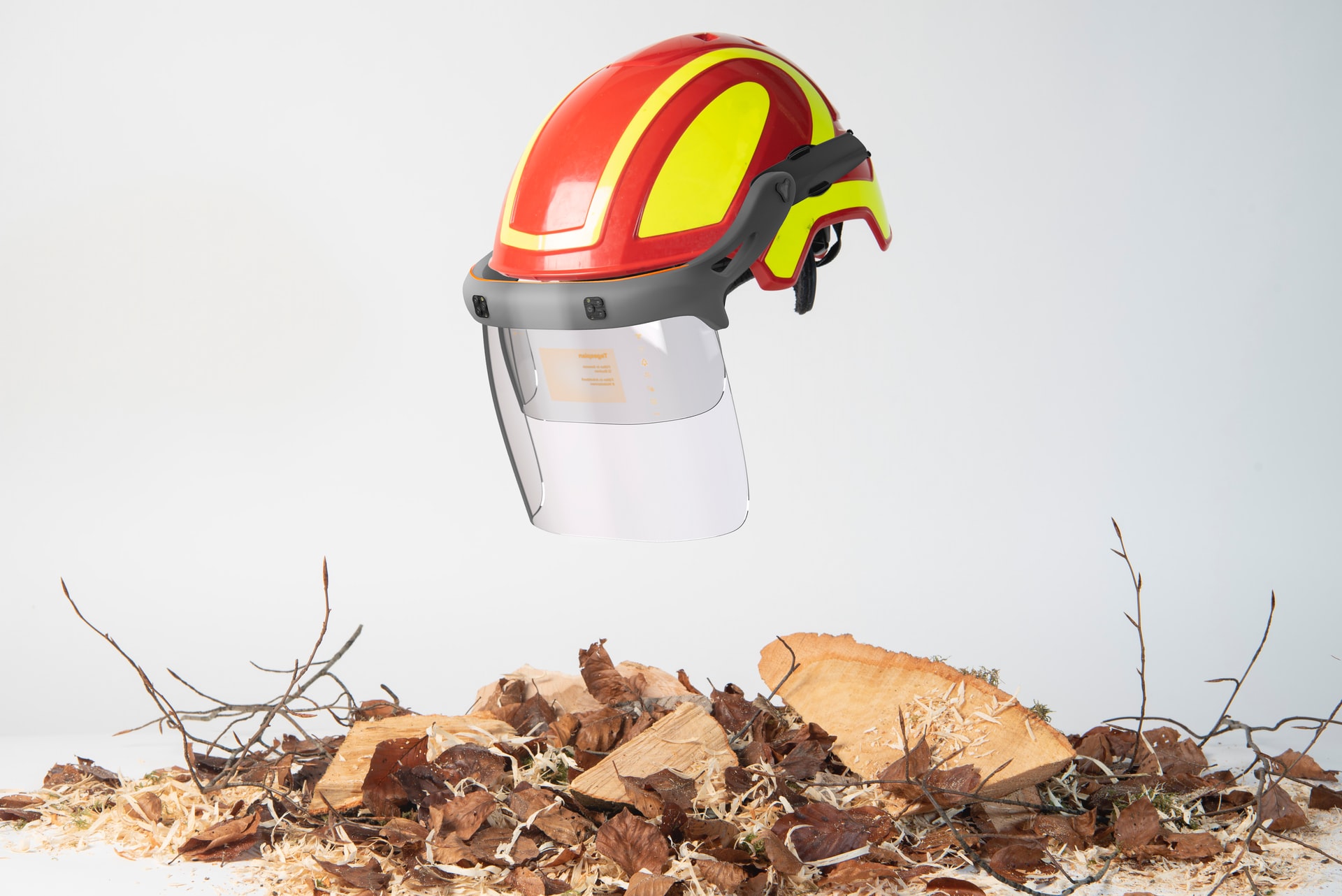 If you'll be operating a chainsaw for long periods, it's also important to protect your hearing and vision. Even if you've used a chainsaw before, a safety helmet is a must-have. It's especially important to use a helmet when working high up a tree because an accident might occur.
Anything can happen if you lose concentration for a few seconds. So even if you're doing small or mid-sized jobs, simply working on your house, or have vast experience with a chainsaw, you need a safety helmet.
What to Look Out for Before Buying a Chainsaw Helmet
When buying a chainsaw helmet, there are so many options out there to consider. Brands like Oregon, Stihl, and Husqvarna have many helmet options with just a few differences between models.
To help narrow down your options, I've come up with things you need to consider before finding your ideal chainsaw helmet.
Type of Work
A basic helmet with good earmuffs and a faceguard is all I need for DIY tasks.
Forestry and arborist tasks that involve working with other people or under tall trees require heavy-duty helmets with a sturdy build, quality noise-blocking earmuffs, decent ventilation, and impact-resistant shells.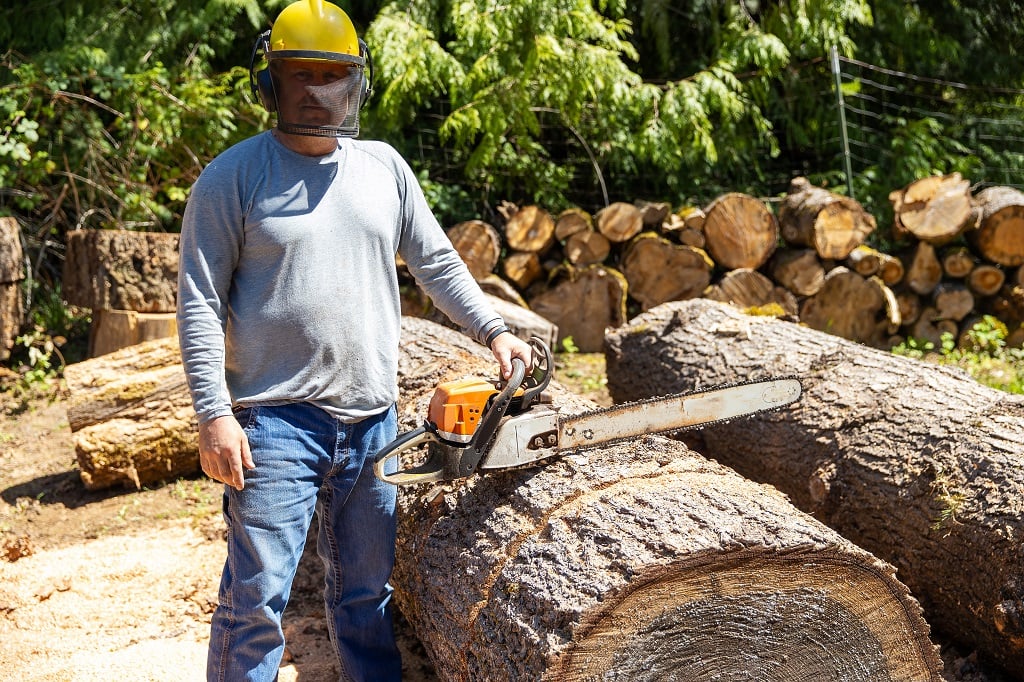 Some helmets designed for forestry jobs also feature back-of-the-neck straps for extra support. Some even have chin straps to keep the helmet in place when you're looking down from high up, for instance.
Consider the tasks you'll be doing and get the right helmet for all of them.
Comfort and Fit
I recommend going for a helmet that's comfortable and right for you. You shouldn't get something that flip-flops while you're working as it could put you in harm's way. And, of course, you can't use a flip-flopping helmet effectively.
Check the helmet's adjustability before you buy it. It should at least have adjustable straps as well as other comfort features such as padding inside. The padding should be enough to absorb the impact of a falling branch or falling from a height.
Moreover, the helmet you choose shouldn't be too small or too large for your head. If you're buying from a local store, try it on to ensure it's the best fit.
Durability
Most chainsaw helmets are made of fiberglass, polycarbonate, and thermoplastic material. These are tough materials that can absorb the impact of an object falling on your head.
Moreover, these materials are designed to take a beating and are durable. However, some can make a helmet very heavy.
To make the most of a chainsaw helmet, be sure to buy something made of high-quality, durable materials.
Breathability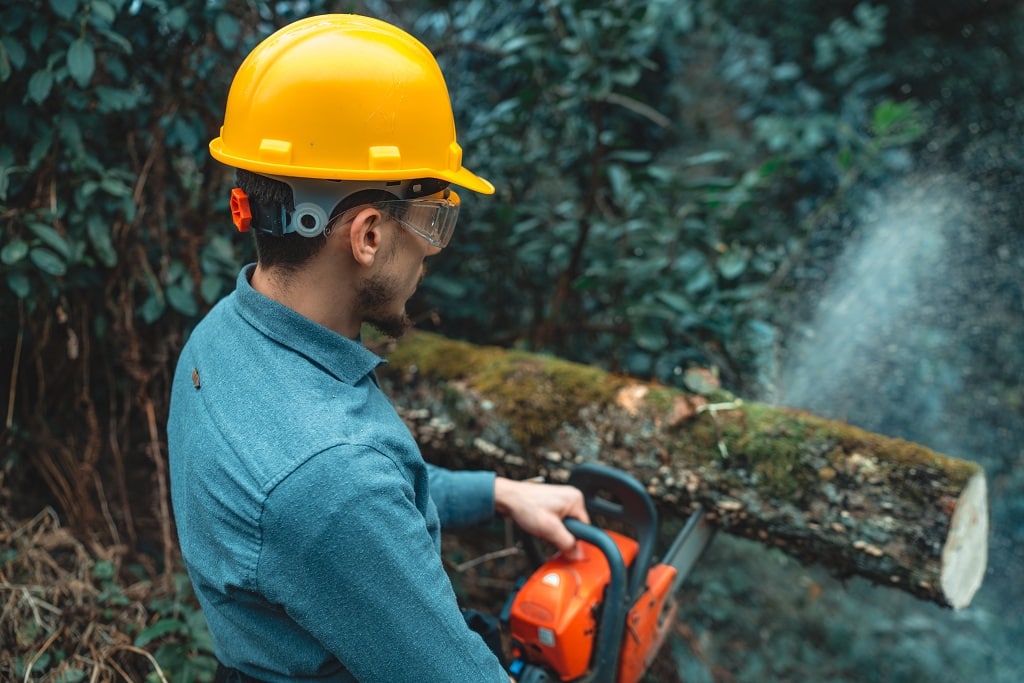 Felling trees or sawing wood is a labor-intensive undertaking, which naturally causes sweating. When that occurs, you'll feel like your head's inside a furnace.
You definitely want to avoid that. Therefore, choose a helmet with enough ventilation holes to enable better airflow, keep your head cool, and improve your comfort.
Versatility
You should buy a helmet you can use for a variety of jobs around your home or at work. This will help you save money in the long run, too.
Color
While color won't protect you from flying debris or falling branches, it has an important role to play in the forestry environment. Personally, I've never seen foremen or masons wearing black helmets!
When it comes to chainsaw helmets, the best colors are yellow and orange. I recommend these because you can easily spot them from afar, even when visibility is poor. White is another good choice because it's excellent at reflecting heat from the helmet, making it ideal for hot weather.
Type of Visor
Chainsaw helmets usually feature a visor, which protects your eyes from any flying debris or glare of the sun. A safety-compliant helmet will have three-point locking positions, making it ideal for various working positions and needs.
Mesh visors are the most common option. They're designed to stop debris from touching your face and entering your eyes. They offer high visibility and allow you to work comfortably.
Mesh visors are made of metal or plastic. Metal is the more durable material, which is why most forestry workers opt for it.
Some people prefer clear visors since they provide high visibility, but they can easily be scratched.
Plastic visors don't have small holes, making them unsuitable for intense heat conditions. These visors also tend to get foggy in humid conditions, so they aren't as widely used as mesh visors.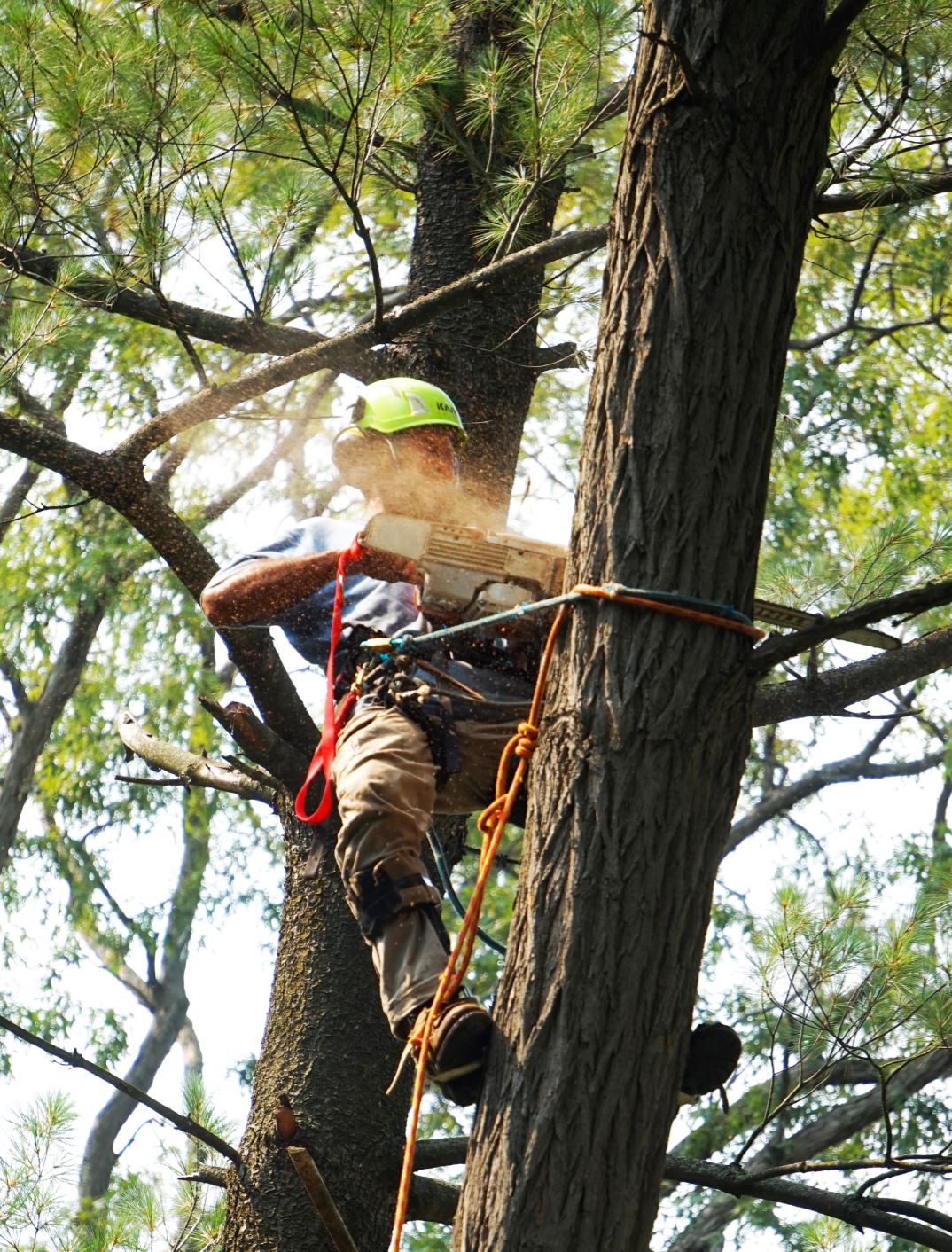 Earmuffs
Most gas-powered chainsaws make over 100 decibels of sound, which could permanently damage your hearing if used for a long period. The only solution to avoid the din of a chainsaw is to use a helmet that features earmuffs.
Maintenance
A chainsaw helmet needs a thorough cleaning, unlike a standard one. Some parts might require replacing once they're broken.
The good news is that well-known brands normally sell spare parts, so consider buying both helmets and spare parts from the same brand.
Safety Standards Compliance
There are a few safety standard regulations governing chainsaw helmets, namely ANSI and CE. Some helmets are designed for groundwork only, and others are for climbing trees.
To get the right helmet, make sure it's suitable for the jobs you'll be doing and complies with safety standard regulations.
Budget
When using a chainsaw, you need to invest in your safety. Therefore, I wouldn't recommend getting a cheap product that's most likely to be low-quality.
Still, helmets are available at all sorts of prices, and different manufacturers have different prices for their models. But when all is said and done, you want something affordable that provides adequate protection with high-quality features.
Warranty
Most chainsaw helmet manufacturers will offer a 6 to 12-month warranty on their product. Many manufacturers will provide a 6-month warranty to protect you from manufacturing faults.
Of course, you must replace your helmet immediately after an accident, no matter how new it looks. Once you're involved in an accident, this compromises the ability of your helmet to protect you.
My Top Picks
When putting together my top chainsaw helmet picks, I considered several key criteria, including safety rating, hearing protection, face protection, size, adjustability options, and of course, price.
Oregon 563474 Chainsaw Helmet

The Oregon 563474 Chainsaw Helmet is a rugged model designed to effectively withstand any impact. Of course, all helmets are meant to take a beating, but this particular model is excellent for protecting you from a sudden impact.
One of the most unique features of the Oregon 563474 Chainsaw Helmet is that it features a 6-point easy–to–adjust harness, enabling it to fit you well.
Wearing a snugly fitting helmet will give your head the best possible protection. This helmet's visor is very wide and is made with a steel mesh. This ensures debris is kept at an arm's length, letting you comfortably operate your chainsaw.
The helmet also features ventilation holes, protecting you from overheating during sweltering hot days.
Pros:
Durable
Highly breathable
6-point adjustment harness
Steel mesh visor
Cons:
Available in one size only
Not the most comfortable choice
Greenworks Chainsaw Helmet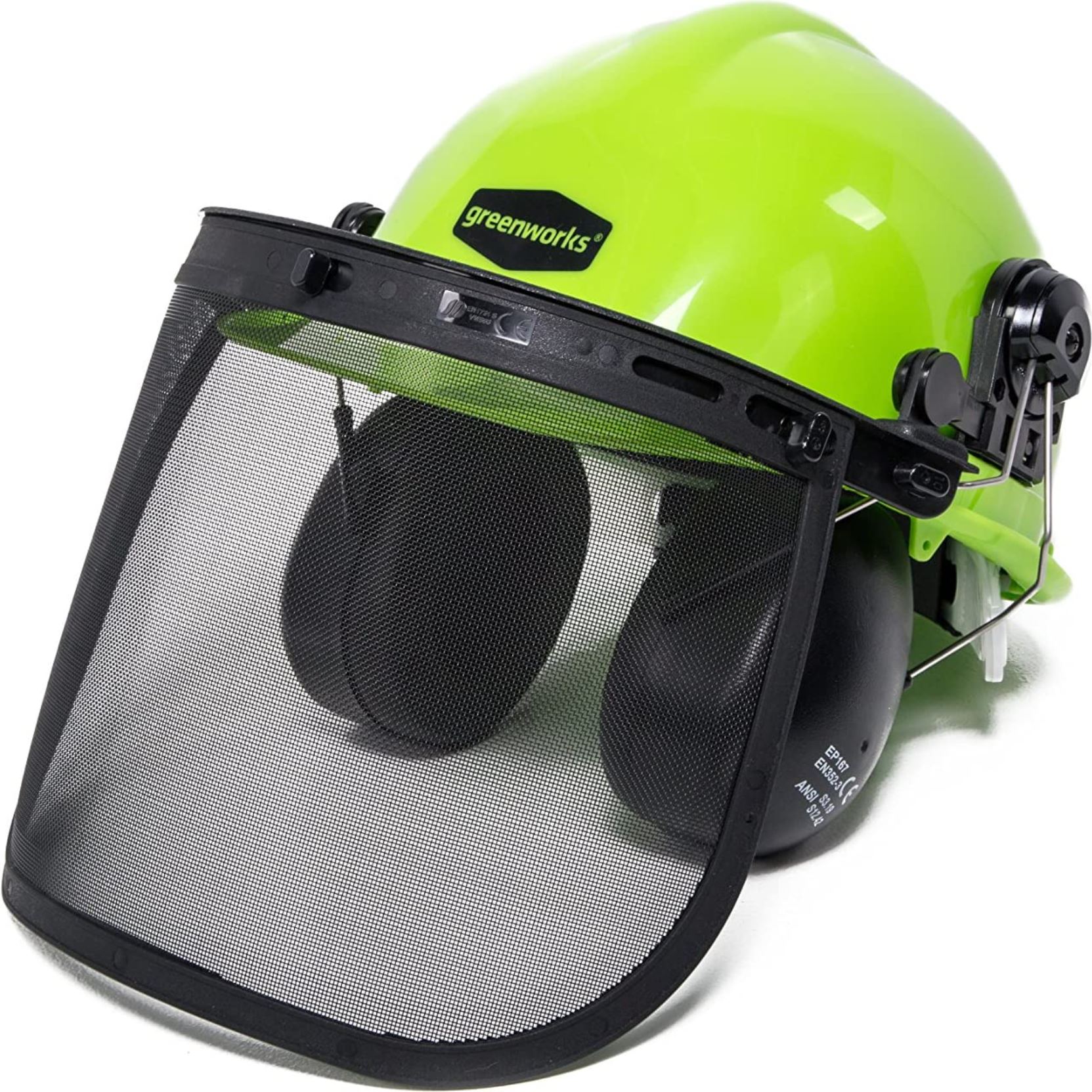 Greenworks makes quality products, including this helmet. Thanks to its adjustable knob, the Greenworks Chainsaw Helmet can perfectly fit everyone.
While it doesn't quite have the same ruggedness as the Oregon 563474, it can adequately protect you. It'll definitely shield you from heavy blows and is a much more comfortable fit than many other impact models.
Its detachable mesh screen is something you'll love. Also, you can take out the earmuffs if you want to. Apart from that, the Greenworks Chainsaw Helmet doesn't boast many standout features.
Nevertheless, this helmet has a basic design that works effectively to shield you from possible dangers while operating a chainsaw. The helmet is also cost-effective, so it's something you should consider.
Pros:
Detachable earmuffs
Lightweight
ANSI and CE-approved
One-size-fits-all
Detachable wire mesh visor
Cons:
Size a little hard to adjust
STIHL 0000-886-0100 Forestry Helmet System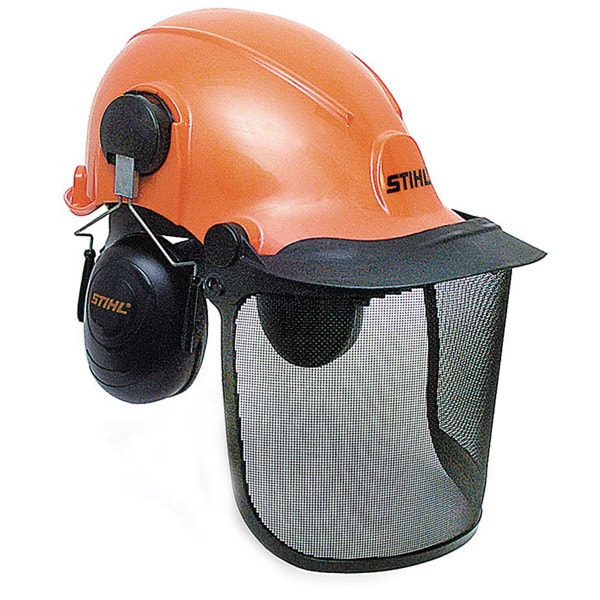 The STIHL 0000-886-0100 Forestry Helmet System is a professional-quality chainsaw helmet that features a built-in rain gutter to protect your eyes from the rain during use. Many chainsaw helmets lack this essential safety feature.
This helmet is highly adjustable, lightweight, and comfortable. Its durable full-face screen will keep flying debris away from your eyes.
Another huge plus is that all of its parts are replaceable. Therefore, if the earmuffs, visor, or rain-gutter get damaged, you can have them replaced instead of buying a brand new helmet.
Pros:
Lightweight
All parts replaceable
Features built-in rain gutter
Detachable earmuff
Cons:
Echo OEM 99988801500 Chainsaw Helmet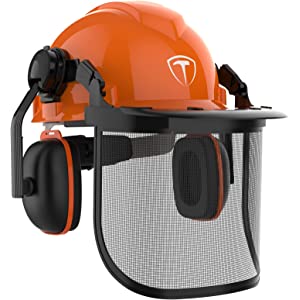 Like other Echo products, the Echo 9998880 OEM Chainsaw Helmet is a tough model built to last for a long time. The durable build, along with the built-in mesh visor and earmuff, makes this helmet a perfect fit for industrial or domestic use.
This bright orange model will make you stand out from the crowd, which is important if you're using it for forestry jobs. At nearly 4 ½ pounds, this helmet is quite heavy and can cause discomfort and neck strain if you wear it for over one hour.
Pros:
Built-in mesh visor
Built-in earmuffs
Durable
Inexpensive
Cons:
Earmuffs non-removable
No ventilation holes
Heavy
Husqvarna 577764601 Pro Helmet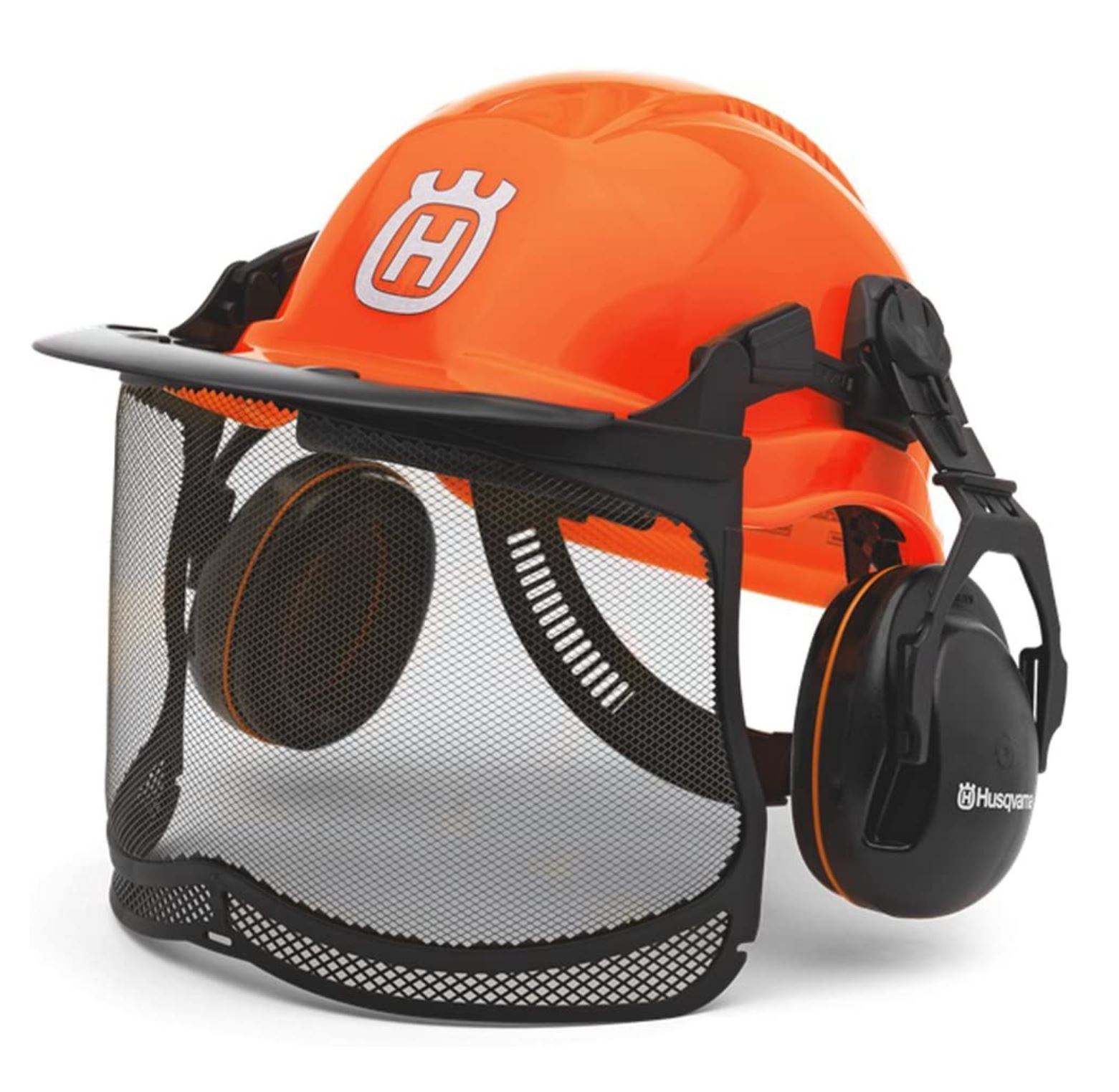 Husqvarna is a renowned safety tools and equipment brand. This brand has been churning out quality products for years, including the Husqvarna 577764601 Pro Helmet.
This high-quality chainsaw helmet will serve you well while keeping you safe and comfortable. It's designed in a one-size-fits-all style. If you have a particularly large head, though, it might not fit you.
The hearing protectors and face visor on the Husqvarna 577764601 Pro Helmet work great, allowing you to enjoy using your chainsaw. The helmet's orange color increases your visibility, keeping you safe while at work.
FAQs about How to Find the Best Chainsaw Helmet
Question: How Long Will a Chainsaw Helmet Last?
Answer: On average, a chainsaw helmet lasts 3-5 years. The lifespan of a helmet depends on how frequently it's used and the working environment.
Chainsaw helmets are exposed frequently to the sun's ultraviolet rays, dirt, debris, gasoline fumes, and moisture. These conditions ultimately weaken their outer plastic covering.
You can use a chainsaw helmet for up to 3 years. If you store and maintain it well, you can use it for at least five years.
Question: When Do I Need to Replace a Chainsaw Helmet?
Answer: Several factors will determine whether your helmet needs replacing, including how long it's served you. Most experts recommend replacing your helmet when visible problems appear, such as cracks or dents, or when you've been in an accident while wearing it.
Question: Do Chainsaw Helmets Expire?
Answer: Yes, chainsaw helmets do expire, after which you should buy a brand new model. The expiry date is engraved on the gear's inner surface.
If there's no mention of an expiry date, you should replace your helmet after three years in line with the industry standard. Moreover, if your helmet gets damaged during use, consider it expired and replace it.
Question: What Are the Safety Standards of Chainsaw Helmets?
Answer: The American National Standards Institute (ANSI) and European Conformity (CE) are both reputable authorities that carry out safety testing.
Certification from both or one of these institutions is a sign that a particular product has gone through stringent testing.
Question: What Parts Does a Chainsaw Helmet Have?
Answer: Most chainsaw helmet models are made up of 3 major parts:
Tough hat to protect your head
Visor to protect your eyes
Earmuffs to protect your hearing
Chainsaw helmets also feature an adjustable chin strap, allowing you to get a bespoke fit.
The Takeaway on How to Find the Best Chainsaw Helmet
When operating a chainsaw, your safety is of paramount importance. You should never use one without proper protective equipment like chainsaw gloves, chainsaw trousers, and of course, a chainsaw helmet.
To choose the right chainsaw helmet, make sure to check out the product's features and find out if it complies with safety standards. Other important factors to consider include comfort and durability.
The right chainsaw helmet will provide maximum protection to your head, face, and hearing. My best pick from the options above is the Oregon 563474 Chainsaw Helmet.
This rugged model can withstand any sudden impact. It's durable, highly breathable, and boasts a 6-point harness that adjusts easily, allowing it to fit you snugly.