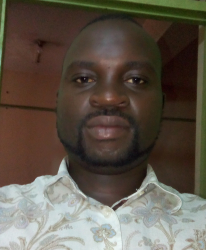 Latest posts by Haron Omaita
(see all)
Carrying firewood from the outdoor or indoor firewood rack to the fireplace is a thankless task, especially when it's freezing outside. Just ask me!
However, having a dedicated firewood carrier has made the job so much easier for me. It's not only protected my hands and arms from dirty and sharp pieces of wood, but it's also sturdy enough to survive the usual wear and tear.
It has also minimized the amount of bark, debris, and dirt I bring into my home. That's not all; most firewood carriers are pretty easy to put away while not in use.
Since a firewood carrier is a crucial home or cabin accessory that helps you minimize trips to and from your woodpile, buying the right one is vital. There are a plethora of options available out there, which can leave you undecided on what carrier will best fit your needs.
To help you make a wise choice, I've put together this guide on what to consider when buying a log carrier and recommended to you the best Firewood carriers on the market today.
Bottom Line Up Front: Firewood carriers are the perfect solution for carrying firewood from firewood racks to the fireplace. Moreover, these bags can also serve other purposes, including ferrying laundry, groceries, and other household essentials.
To help you pick the right firewood carrier, I've rounded up the best options on the market. My top pick is the LogOX WoodOX Sling. This multi-purpose canvas bag is easy to tote around and unload and features a built-in flashlight.
See also: How to Find the Best Types of Firewood for Your Needs.
Top Picks at a Glance
LogOX WoodOX Sling — Most Versatile Option
Fire Beauty Large Firewood Carrier — Most Affordable Option
GALAFIRE Canvas Firewood Tote Bag — Largest Capacity Option
DOEWORKS 18" Fireplace Log Holder — Best Option for Kindling
MeloTough Canvas Firewood Carrier — Most Durable Option
How Does a Firewood Carrier Work?
A firewood carrier is a pretty simple household accessory. It's usually made from leather, canvas, or polyester twill and features a handle.
To use a firewood carrier, simply lay it flat and pile your logs inside it. Once done, grab it by the handles and carry the wood to your fireplace.
What to Look Out for When Buying a Firewood Carrier
A firewood carrier isn't just any bag! You're grossly mistaken if you think a large bag is all you need.
The following guide highlights the most critical factors to consider when buying the best firewood carrier. I hope it'll help you find the right model that meets your own specific needs.
Type
Where are you going to place your firewood carrier? Do you need it to store firewood near your fireplace conveniently? Do you need it to keep your logs dry? Or do you need one you can easily carry around?
Simply sort different firewood carriers by type to narrow down your options. Then take your pick from log carriers, log holders, firewood carts, or outdoor log racks.
Size
A firewood carrier's size determines how many pieces you can carry at once and their length. The length of firewood carriers ranges from less than 24 inches to more than 44 inches. Most carriers are 1 foot to 1.5 feet high.
Carrier Weight
Since logs are typically heavy, you don't want something that only adds to your load. As such, you should go for a lightweight but durable log carrier. These carriers usually weigh about 16 to 20 ounces when empty, so don't buy anything lighter or heavier than that.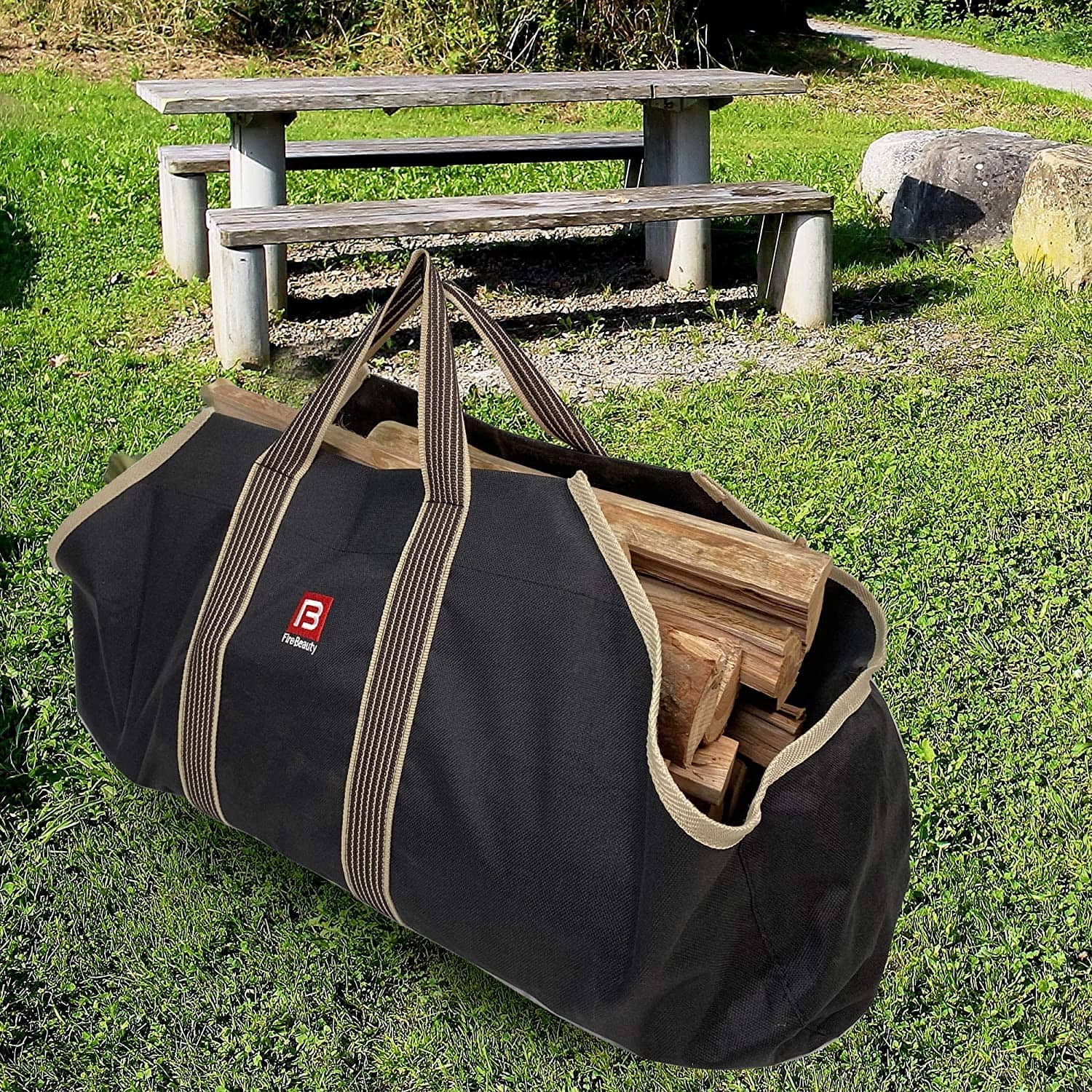 Ease of Storage
For easy storage, choose a firewood carrier that folds up easily. In that case, open-ended models can be a good option. Some models with raised tips can be a bit harder to fold up.
Durability
If you're hauling lots of logs at once, get a durable firewood carrier. The canvas and its support webbing should be sturdy enough.
While most canvas bags are water-resistant, top-of-the-range options are wear and scratch-resistant. There may be weak points where the handles affix to the bag, though. Top selections address this issue with double-stitching and sometimes rivets for extra support.
Material
Leather was once the most common material for making firewood carriers. But these days, most carriers are made from a special kind of canvas. They're usually made of waxed canvas which makes them reasonably water-resistant.
Bag Design
There are two bag designs when it comes to log carriers:
Open-ended: As the name suggests, the ends of open-ended carriers don't have panels. While the lack of panels can cause pieces of bark and wood to fall out, you can carry longer logs in these bags.
Basket-style: These models feature short or tall raised panels on the ends. While a basket-style design restricts the length of wood you can haul, it minimizes the trail of debris from your wood stash to your fireplace or wood stove.
Support Webbing
Most firewood carriers have support webbing lining the material they're made from. The webbing can strengthen the firewood, especially if it's made from a blend of cotton and polyester.
Straps and Handles
Firewood carriers usually feature strap handles made from a cotton and polyester blend or canvas. A cotton and polyester blend is much stronger than canvas.
The straps typically fold together to form one handle or even two. Padded handles are the best because they're securely attached, stable, and of course, comfortable.
Some straps are made with Velcro, allowing them to be easily fastened together to create one strong handle.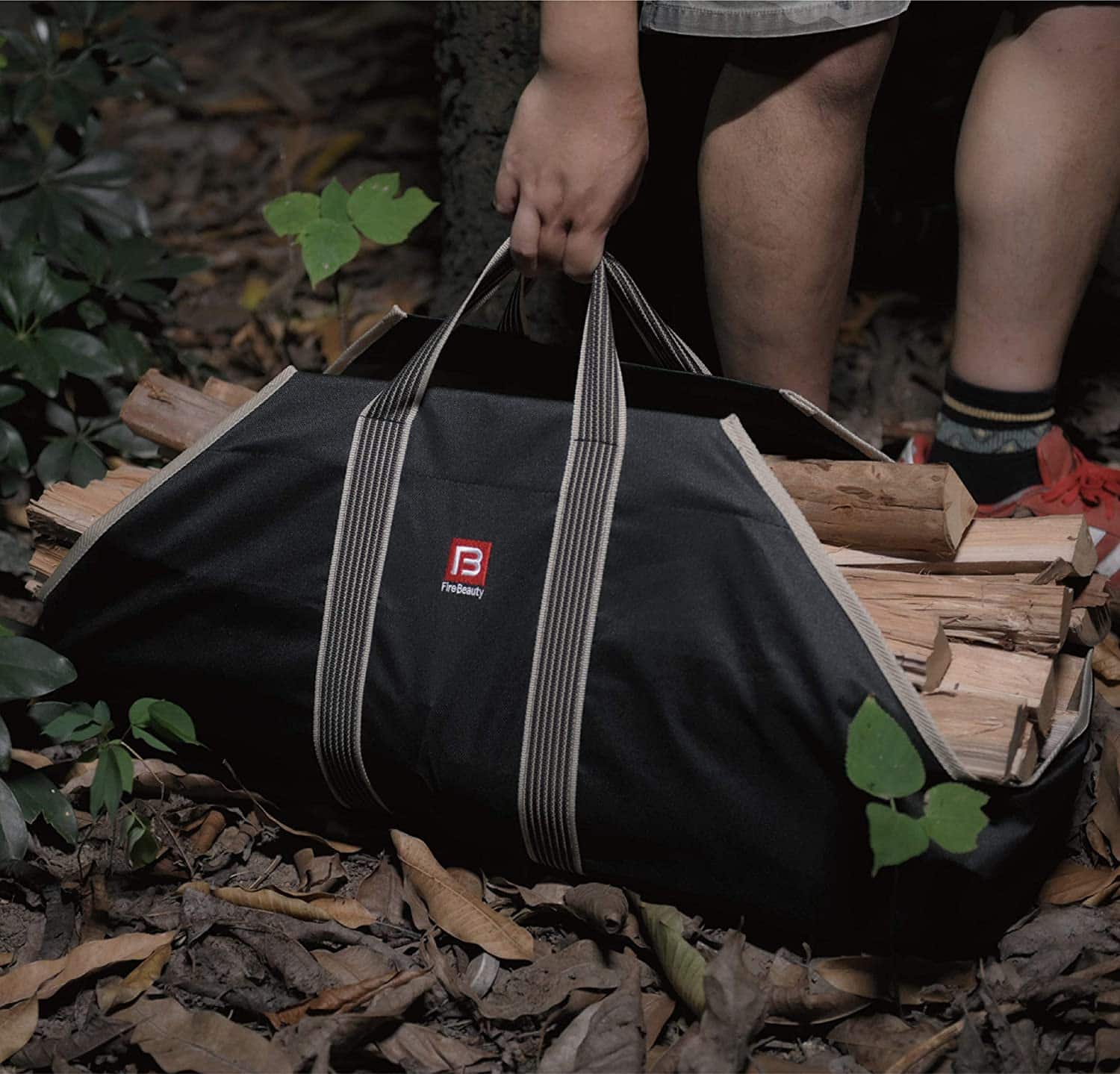 Pockets and Closures
Log carriers usually come with a closure strap and pockets. A closure strap usually has a hook-and-loop fastener that secures the firewood within the carrier. This can prevent your firewood from spilling out when you put the carrier down.
Pockets are rare in firewood carriers. Some carriers come with them, but not all. Log carrier pockets are handy for carrying various firewood accessories, including gloves and rope.
Color
Since canvas firewood carriers are the most common option out there, they come in a range of colors. Darker colors are the most common—like black, brown, and jungle green—simply because they don't get dirty faster than lighter colors.
Budget
Firewood carriers will vary in price depending on log capacity, type, material, color, and finish. Be sure to choose the best carrier that suits your needs and is within your budget.
My Top Picks
I've gained so much experience hauling firewood from my outdoor rack to my fireplace. With this experience, I was able to come up with these top firewood carriers on the market.
I also kept a close eye on customer testimonials and left out any carriers without enough durability. In addition, I ensured that no matter what model I recommend, it'd be reliable and valuable enough for you.
Firewood carriers are simple household tools, so most of my picks below are affordable.
LogOX WoodOX Sling—Most Versatile Option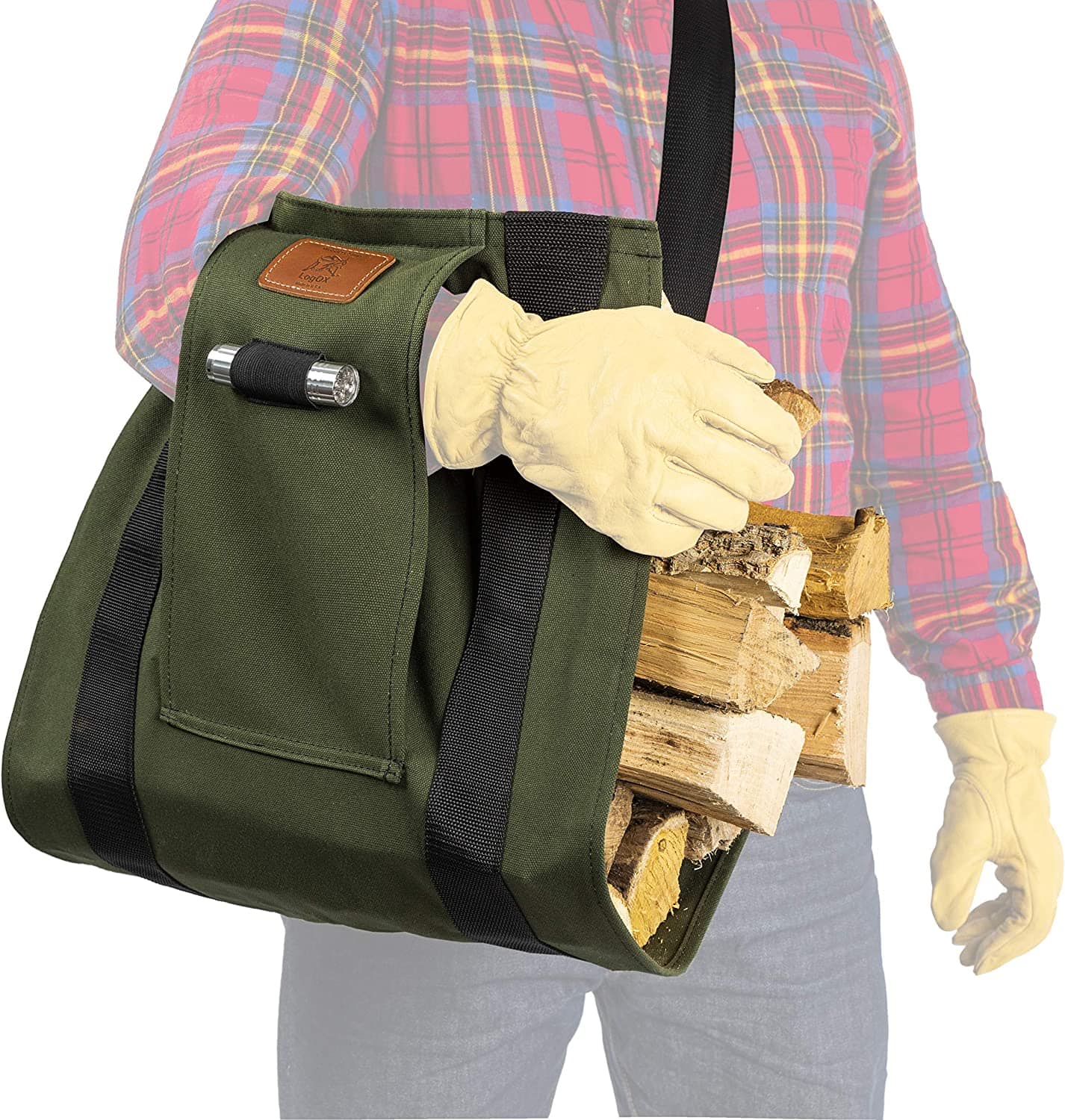 The LogOX WoodOX Sling has a unique design, featuring a large arm "sling" and cross-body strap. These allow you to distribute the bag's weight evenly all over your body, not just in one hand.
The design also allows you to raise the log carrier and unload it with one hand. This means you never have to keep it on the floor inside your house.
Its open-ended style is handy for chucking in huge logs and branches, and it can carry up to 30-35 pounds of logs per trip. It also features a built-in flashlight, a perk that other carrier models lack.
Pros
Easy to carry
Reduces the need to bend over
Features built-in flashlight
Cons
Fire Beauty Large Firewood Carrier-Most Affordable Option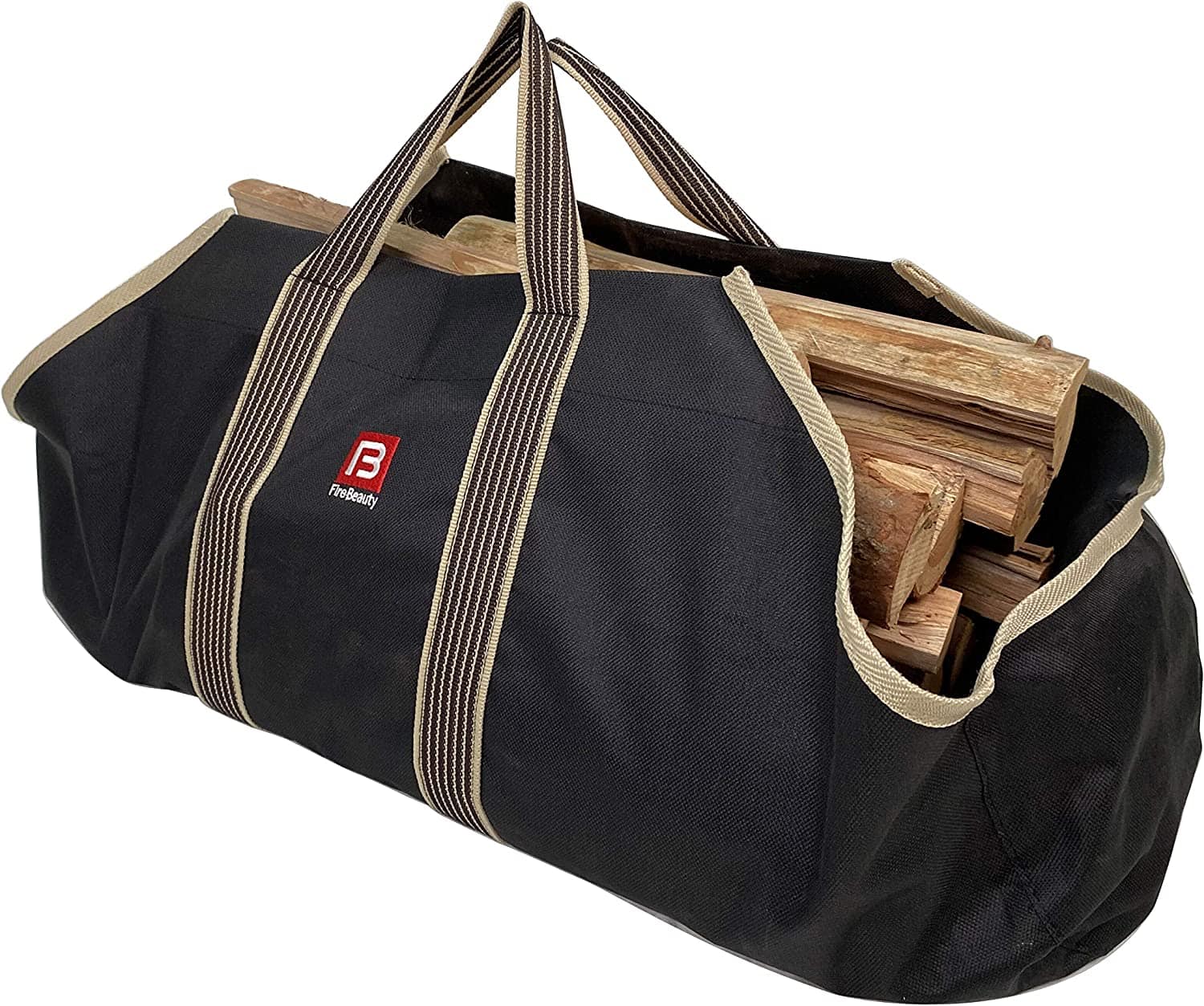 You don't have to haul loose firewood throughout the winter, even if your budget is a bit tight. Made with sturdy canvas, Fire Beauty Large Firewood Carrier is large enough to move large branches and logs.
It has padded handles that allow for a firm, comfortable grip. In addition, the inner layer is waterproof, which will keep your firewood dry wherever you lay the bag down.
Despite Fire Beauty Large Firewood Carrier's rugged design, you can still fold it into a fairly small form and store it easily when not using it.
Pros
Cons
May not withstand long-term everyday use
GALAFIRE Canvas Firewood Tote Bag—Largest Capacity Option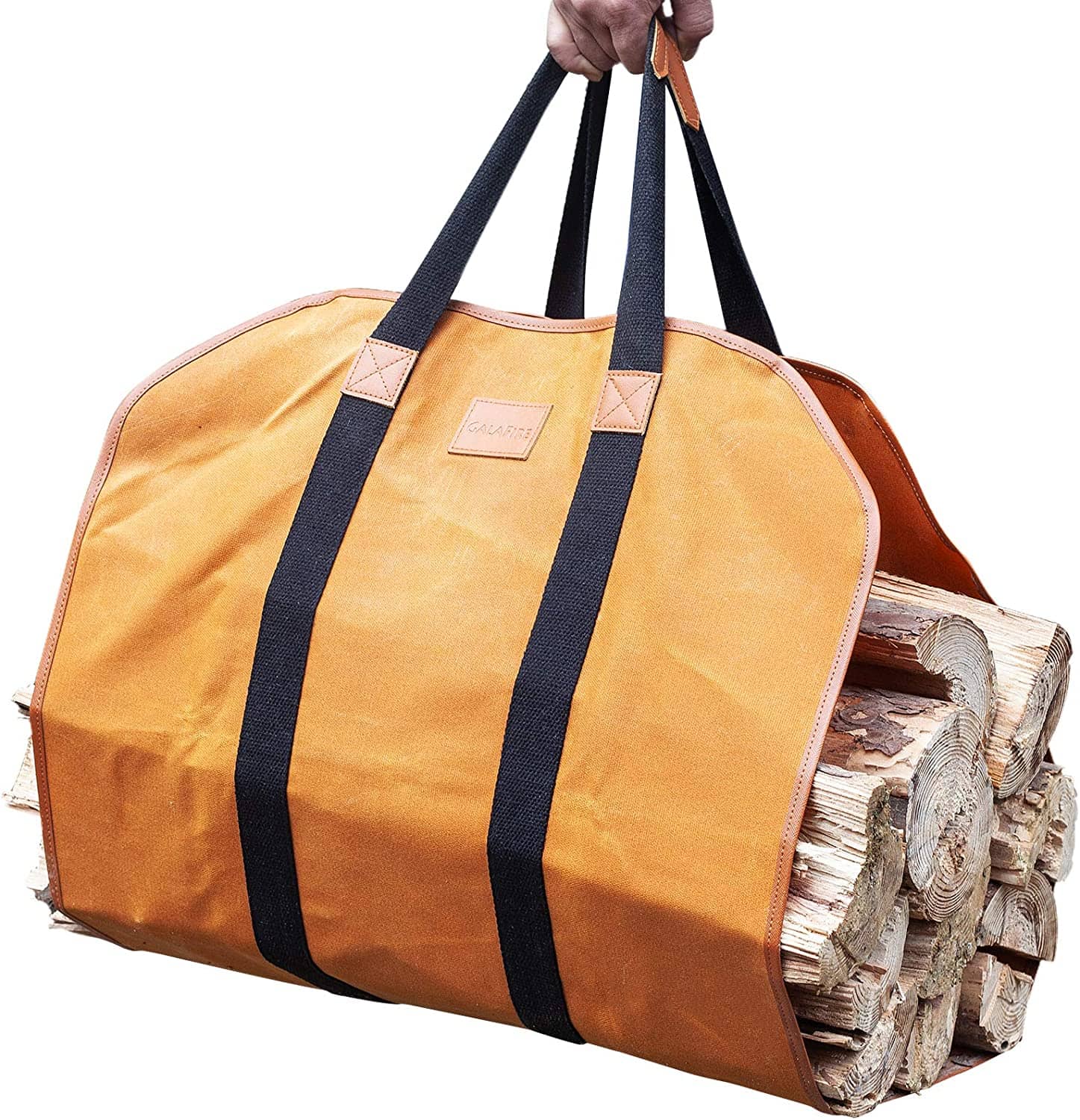 The GALAFIRE Canvas Firewood Tote Bag measures an outstanding 44×21 inches, allowing you to lug around as much firewood as you can. The padded straps also have leather handles, which can make transporting firewood logs as smooth as possible.
The waxed canvas design gives this 20-ounce bag both a vintage and rustic appearance. It's also very durable, making it perfect for other hauling tasks as well. This bag lacks sides, so you have to balance your load a little more carefully.
Pros
Leather padded handles
Extra-large size
Waterproof
Cons
Some people may have a problem with the lack of sides
DOEWORKS 18" Fireplace Log Holder—Best Option for Kindling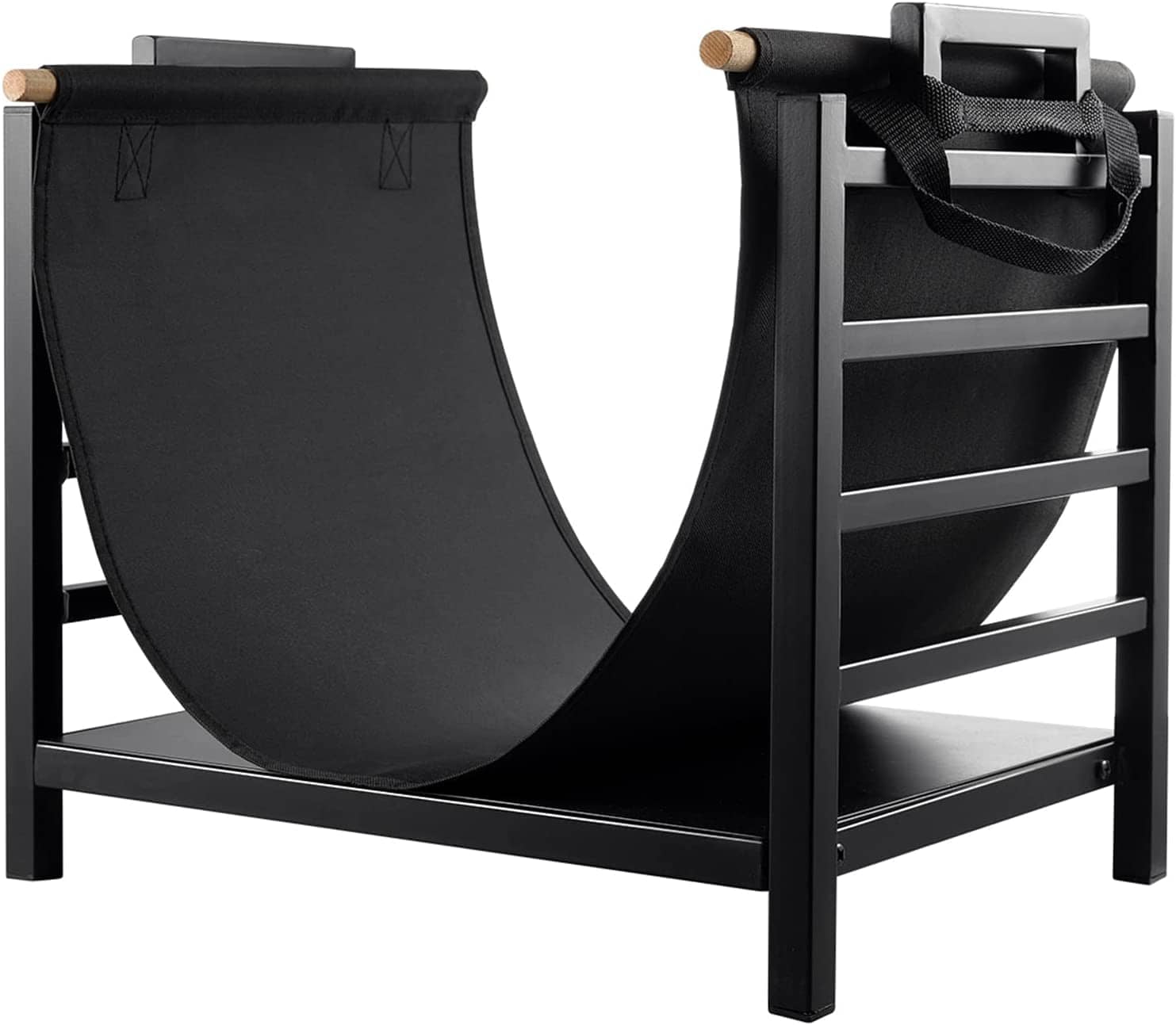 This multipurpose firewood log holder from the DOEWORKS Store comes with a steel log holder, on which you can hang the canvas carrier. It can also be used as a separate holder. The relatively small carrier uses a basic sling design, making it suitable for smaller kindling rather than massive logs.
In spite of that, the design makes this carrier easier to put away when not being used. The steel frame log holder might be smaller than you can imagine, however, measuring just 18 inches long. This space might not be enough to store lots of wood.
Pros
Features steel holder
Powder-coated steel frame
Cons
Requires assembly
Smaller than most models
MeloTough Canvas Firewood Carrier—Most Durable Option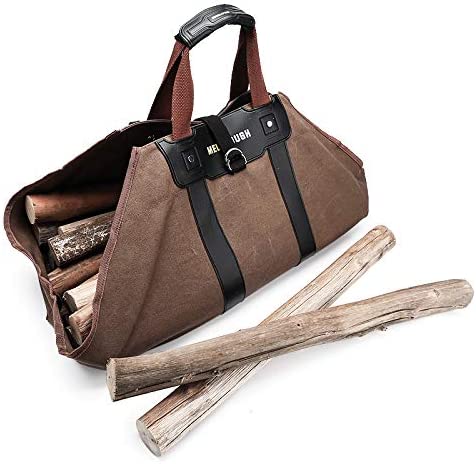 If you're looking for maximum durability in a firewood carrier, then look no further than the MeloTough Canvas Firewood Carrier. Made of ultra-durable ballistic polyester and featuring padded, cross-stitched handles, this bag is built to withstand serious wear and tear.
Its durable design also lets you load a significant amount of weight, while the big straps make carrying it over your shoulder easier if it becomes cumbersome. When not in use, you can simply fold it up, maintain its shape with the built-in Velcro straps and store it away.
Pros
Inexpensive
Won't easily rip or tear
Durable design
Cons
FAQs on Best Firewood Carriers Guide
Question: Is it difficult to use firewood carriers?
Answer: No. Firewood carriers are easy to use, thanks to their easy build. In fact, log carriers with sides are stiff enough to hold firm when you load them.
As for carriers without sides, they're simply laid out flat, and wood is piled in the center. Then you have to bring together the two handles, lift the carrier, and tote firewood.
Question: How easy is it to clean firewood carriers?
Answer: Since most firewood carriers are made with canvas, cleaning them is pretty straightforward. Simply dip a soft cloth in warm water and wipe your log carrier. Use warm water with a soft brush and mild soap for tougher stains. Rinse your carrier completely to get rid of soap residue, and then hang it out to dry.
Question: What's a log carrier?
Answer: A log carrier is a helpful tool for moving several firewood logs from your woodpile to your fireplace or wood stove. It typically comes in a simple design made of canvas and leather, featuring extra-long straps or a padded strap.
Question: What type of firewood carrier warranties exist?
Answer: Not many firewood carriers come with a warranty period. If you find one with a warranty, that's a good sign that it's a quality product.
Question: Is versatility vital in firewood carriers?
Answer: Yes, versatility is an essential factor to consider when it comes to choosing firewood carriers. A quality carrier should serve many different purposes, including moving garden tools and equipment, carrying laundry, carrying groceries, carrying beach supplies and toys, etc.
The Takeaway on the Best Firewood Carriers Guide
A firewood carrier is handy for carrying a pile of logs from your stash to your fireplace during the fall or winter. Typically made of leather and canvas, a simple firewood carrier is versatile enough to serve various other purposes.
The good news is that a log carrier won't mess up your clothes or leave dirt, leaves, dead bark, or other debris all over your carpet or floor while you're heating your living room with firewood.
There are lots of different firewood carriers out there, making it tricky to pick the right one for your needs. For that reason, I put together the above top selections, and my top choice is the LogOX WoodOX Sling. It's multi-purpose, easy to carry and unload, and comes with a built-in flashlight.