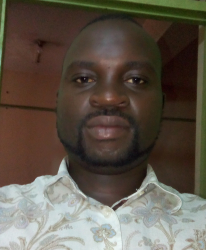 Latest posts by Haron Omaita
(see all)
A firewood rack is an essential item that provides safe, convenient, and organized storage for firewood at home while helping protect it from moisture and the elements.
Whether you like to get together with your family and enjoy a fun-filled barbecue or sit down with friends around a bonfire to catch up on lost time, a firewood rack is a handy home accessory that you might want to consider investing in.
However, there are numerous types of firewood racks on the market, each with unique features and capabilities, and trying to pick out the best from a plethora of options can be mind-numbing.
Thankfully, I've taken it upon myself to create you an eye-opening guide on how to find the best firewood rack on the market. After reading my guide below, you should be better placed to narrow down your options and make an informed buying decision.
Our Bottom Line Upfront: Firewood racks provide a safe, convenient way to store firewood inside and outside your home. When choosing a firewood rack, be sure to consider material, size, and capacity, where to use it, portability, airflow, aesthetics, and ease of installation.
My top firewood rack choice is Amagabeli Firewood Rack. Its sturdy and versatile design will let you install it inside or outside your home, and you can put it together within minutes.
Our Top Picks
Amagabeli Firewood Rack–Best Option Overall
HomComfort HCLRK Adjustable Firwerood Rack–Best Budget Option
ShelterLogic Adjustable Heavy-Duty Firewood Rack–Best for Bulk Firewood Storage
Sunnydaze 4-ft Firewood Rack–Best Outdoor Option
Vail Suede Firewood Rack–Best Indoor Option
Amagabeli Metal Fireplace Indoor Carrier Log Holder–Most Stylish Option
Frontgate Log Racks–Best Oversized Option
What to Consider when Selecting a Firewood Rack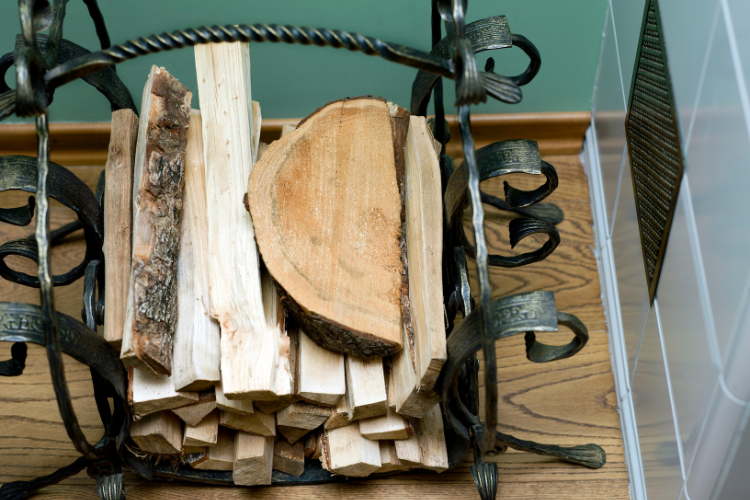 There's plenty of thought that goes into buying a firewood rack. While some firewood racks are sturdy and stable, others will tumble over in the flimsiest wind. Some are built for indoor use, while others are best suited to outdoor settings.
This section will go over some critical points to consider before getting your ideal firewood rack.
Material
The material used to make a firewood rack usually affects its durability and weight. Most racks are made of steel, wrought iron, wood, polymer, etc.
Of these materials, I believe wrought-iron, and steel tubing offer the highest durability. Despite being light, they'll also handle a lot of weight if you have large quantities of wood to store.
Wooden racks have an aesthetic appeal that may improve your indoor decor, while polymer racks are generally lightweight.
What types of firewood should you buy? Continue reading complete Firewood Types guide.
Indoor vs Outdoor Use
One of the most important factors to keep in mind is whether you want to store your firewood inside or outside your home. Usually, firewood racks are designed for use indoors or outdoors, although some double-duty designs can work in either case.
Some stand features can help you determine the best location for your rack. For example, indoor firewood racks come in compact sizes with a built-in hook, shelf, and kindling holders.
On the other hand, outdoor racks have a generally larger design to hold more wood and are fitted with covers to protect firewood from the elements outside.
Read also: Best Firewood Covering Ideas.
Size and Capacity
Depending on the quantity of firewood you want to store, size is a critical feature to consider before you buy a rack.
You'll also want to consider the amount of space you have in your home, especially if you want an indoor firewood rack. In general, a small firewood rack will measure around 4 x 8 x 4 feet, whereas a larger one will measure 8 x 4 x 8 feet.
If you want to buy firewood racks as an aesthetic accent in your home, I think it's probably best to go for a compact choice.
Airflow
Airflow around the firewood is an essential aspect of a rack. It allows the wood to dry and season gradually as moisture seeps from the center of the logs and evaporates into the atmosphere.
You may want to select a rack that keeps the logs well above the ground to prevent contact with moisture and allow air to move freely from all sides. Airflow places a critical role in improving the burning efficiency of firewood when you throw it into the fire.
Portability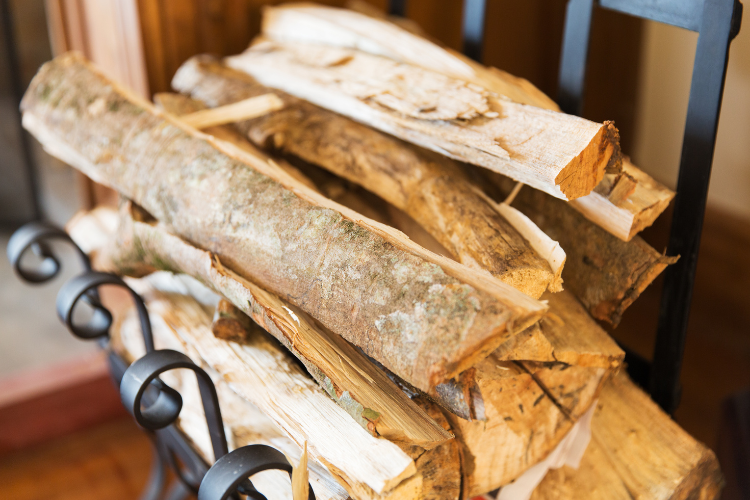 Portability is another crucial aspect to consider if you'll constantly be changing the location of your firewood rack.
Ideally, a compact and lightweight design will let you move the rack around your home, depending on where you want to place it. However, if you opt for something large and heavy, I'd suggest finding a long-term location for the rack.
Style
Although style may not be at the top of your priority list, it may matter to some. I believe aesthetics do matter, especially if you plan to place the rack in a visible area of your property, like the front porch.
How does it look inside and outside your house? If you keep the rack beside the fireplace, will it complement your interior decor and color scheme? You may want to choose something that blends in naturally in either case.
Installation
The best firewood racks have a simple assembly process. It should only take a few tools to get the unit ready for firewood storage.
Some racks even come with a user manual and an assembly kit with all the bolts and nuts to make things easier for you.
Be sure to consider ease of installation so you can assemble the firewood rack on your own when you bring it home from the store.
Our Top Picks
Now that have a good idea of what it takes to choose an excellent firewood rack, it's time to go through my top selections.
When coming up with these recommendations, I considered various factors, including material, where the rack will be used, size and capacity, aesthetics, and of course, budget.
Amagabeli Firewood Rack – Best Option Overall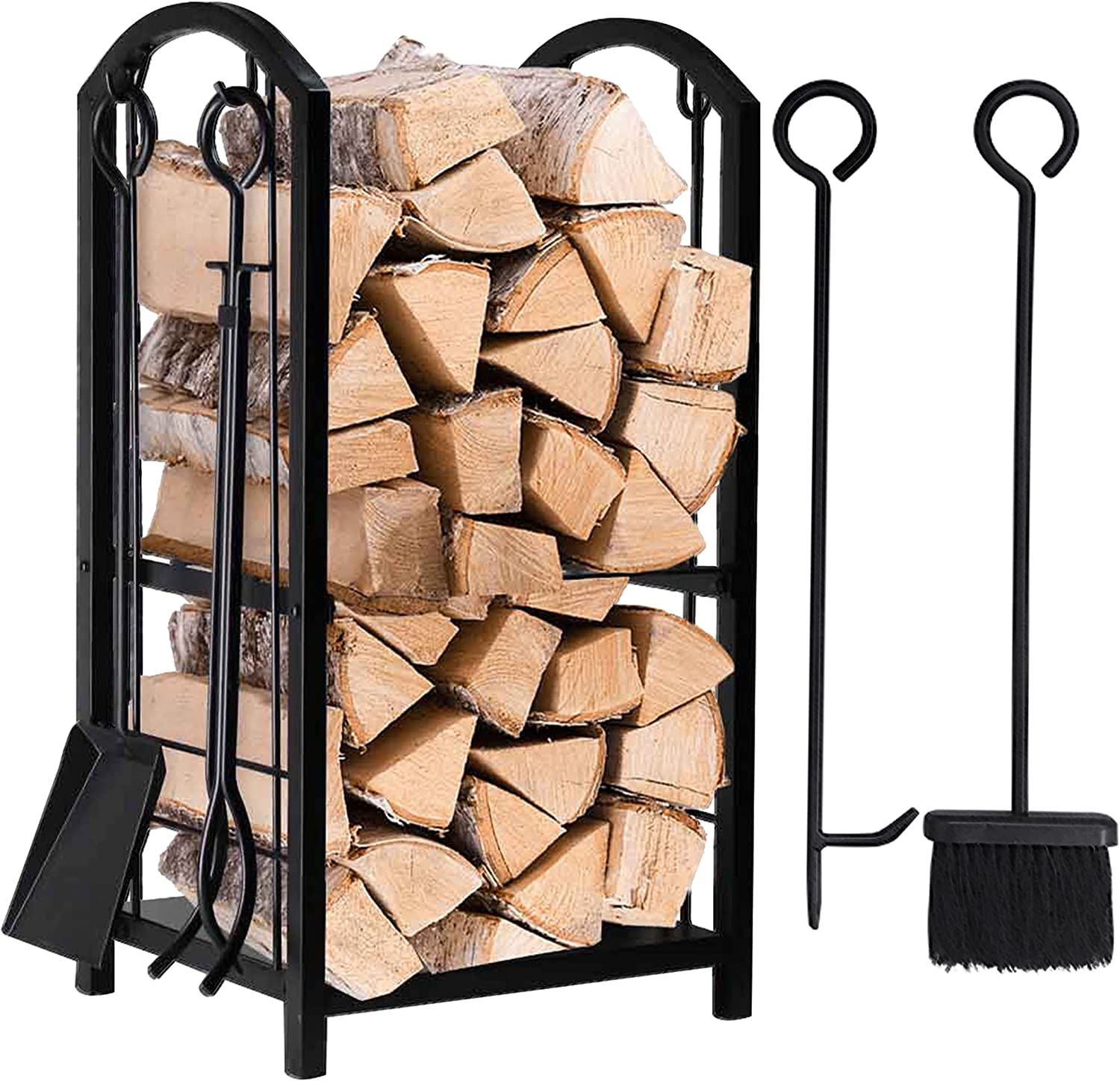 The Ambageli Firewood Rack is a sturdy and attractive firewood organizer that will ease your struggles to store firewood both indoors and outdoors. It comes in a functional vertical design that enhances its capacity to neatly organize wood logs, kindling, and tools while saving lots of space.
This rack measures 29 x 16 x 12 inches, offering decent storing capacity. A high-quality wrought-iron design holds the stand together, which delivers a nice balance between durability and weight. Weighing around 20lbs, you won't struggle to move it around if you need to.
This rack is also designed to separate the wood from kindling for better organization. As a bonus, you get various fireplace tools like a shovel, broom, poker, and a pair of tongs to enjoy full functionality.
It'll take you a few minutes to assemble the rack up and eight bolts are provided to make it easier for you.
Pros
Separates wood from kindling
Versatile design for both indoor and outdoor use
Compact, sturdy wrought-iron construction
Easy to assemble
Cons
HomComfort HCLRK Adjustable Firwerood Rack – Best Budget Option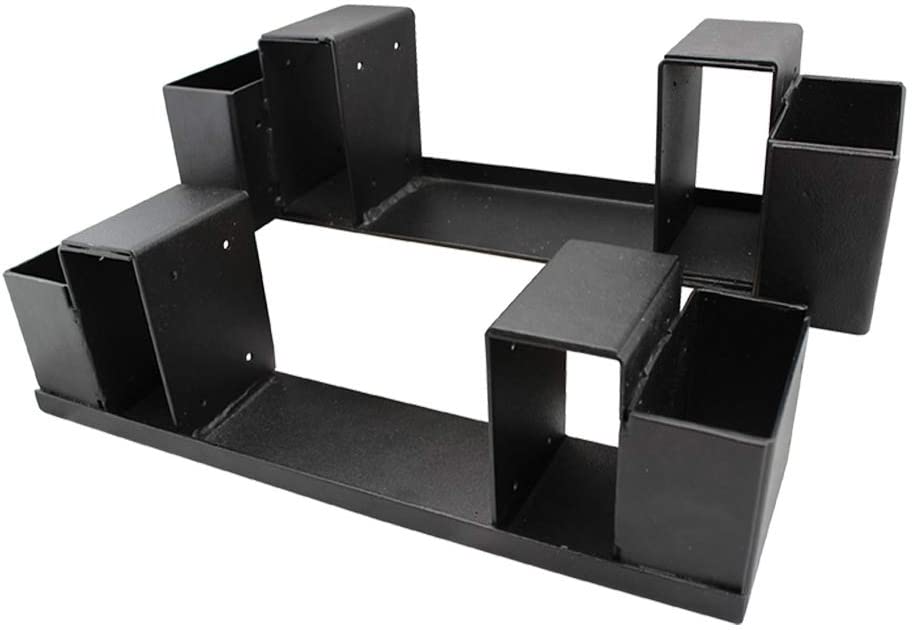 If you are looking for a nice little firewood rack that won't cost you an arm and a leg, I think HomComfot HCLRK Adjustable Firewood Rack could be your perfect option.
This compact firewood rack boats a heavy-duty alloy steel construction that will last you years. This is paired with a powder-coated finish that boosts its durability and makes it easier on the eye.
The rack only weighs 24lbs, making it a lightweight option you can carry around without a helping hand. It measures 13 x 4 x 7 inches, so you don't get as much storage space.
On the plus side, you can adjust it to fit your preferences. You just need to add a pair of 2 x 4s of your chosen length, and you're good to go.
HomComfort HCLRK Adjustable Firewood Rack is also pretty easy to assemble as you can put it together in a few minutes.
Overall, I think it can be an excellent choice for your outdoor use and won't leave a dent in your budget.
Pros
Affordable
Easy to set up
Heavy-duty alloy steel make
Adjustable design
Cons
No wood base
Limited storage capacity
ShelterLogic Adjustable Heavy-Duty Firewood Rack – Best for Bulk Firewood Storage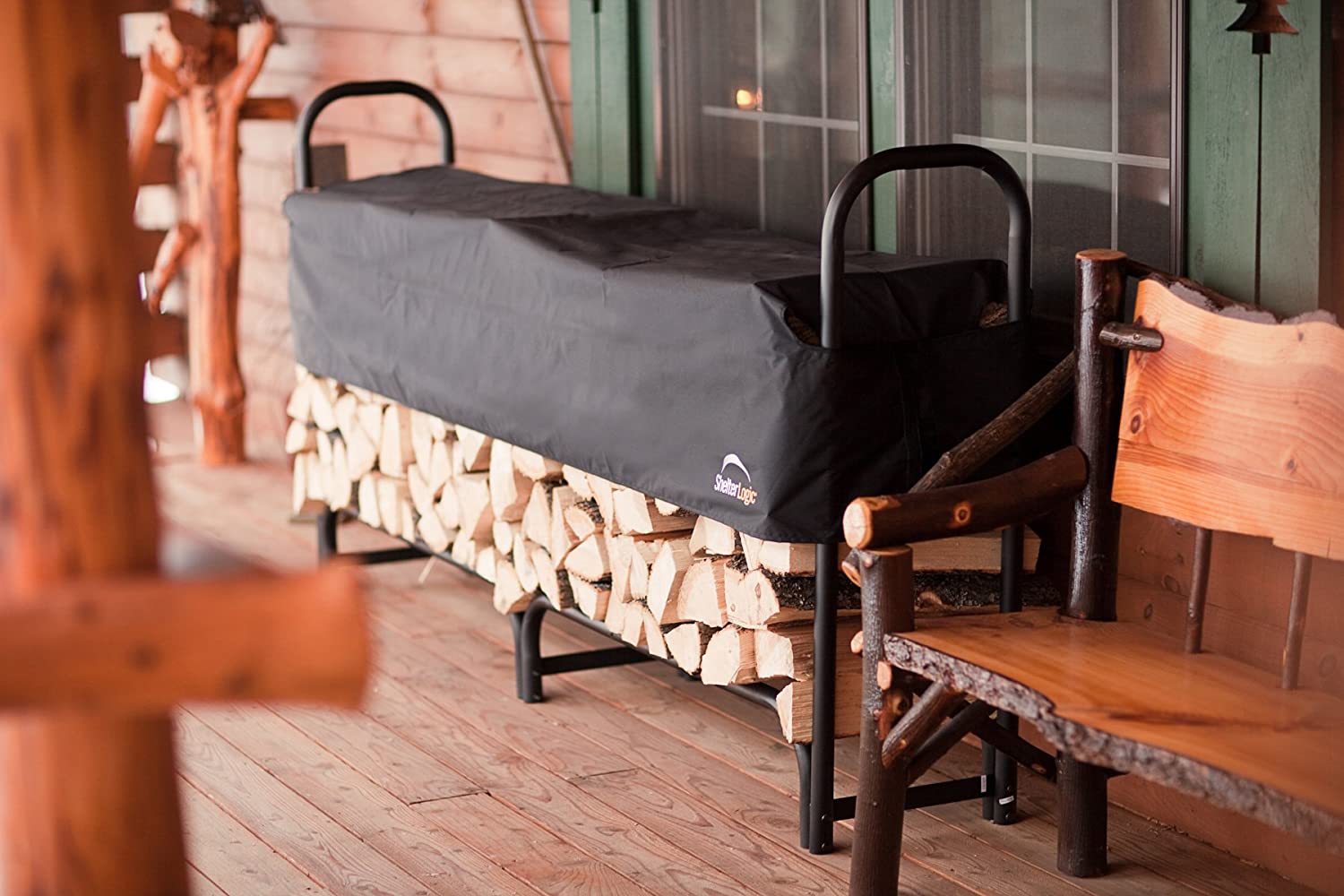 If you have plenty of wood to store outside, there is more than enough space on this 8-foot firewood rack from ShelterLogic.
Thanks to its robust stainless steel frame, the stand can comfortably support up to 220lbs of stacked logs without tumbling down. It measures 15x 96 x 46 inches, ensuring that every wood log has a nice dry place to sit.
This rack is pretty heavy at 37lbs, so you need to find a permanent place to install it. It also comes with a two-way adjustable cover to protect your wood from the elements. Moreover, an open-air design facilitates maximum ventilation for the wood to season well.
ShelterLogic Adjustable Heavy-Duty Firewood Rack is relatively easy to assemble despite its massive size. With a ½" wrench by my side, I was able to put it together in less than an hour.
It also comes with a 12-month warranty to ensure you're getting full value for your money!
Pros
Enormous capacity
Limited warranty
Sturdy build
Comes with a cover
Good ventilation
Cons
Quite heavy
A bit expensive
Sunnydaze 4-ft Firewood Rack – Best Outdoor Option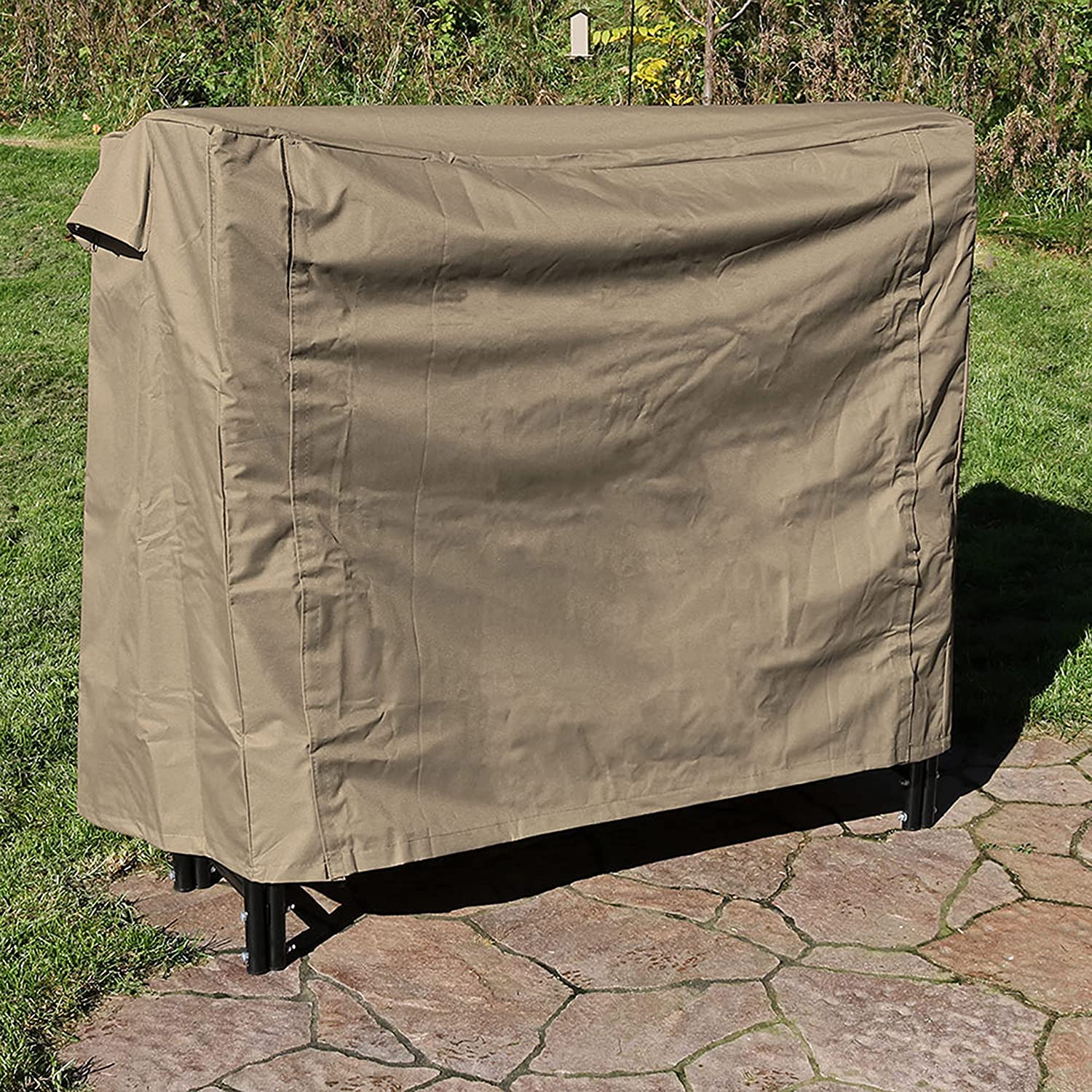 If you're looking to conveniently store your wood logs outside without worrying about the elements, then look no further than the Sunnydaze 4-ft Firewood Rack. Measuring 50 x 24 x 42 inches, there is plenty of room to store enough firewood, so you never run out of dry wood.
A high-grade polyester frame holds the rack together, making it perfect for long-term use. This rack weighs just 16lbs, making it easy to carry it around.
Its overall design allows unrestricted airflow to keep your wood dry and well seasoned. This is conveniently paired with a waterproof PVC cover that shields the wood from rain and snow.
Moreover, a toggle cord and hoop-loop fastener make the cover adjustable for the perfect fit.
The Sunnydaze 4-ft Firewood Rack is an easy-to-assemble log organizer that you can set up within 20 minutes. To get the most out of it, you'll get a 1-year warranty for both the rack and accessories when you buy it.
On the flip side, some customers have complained about the PVC cover's integrity, which could be the manufacturer's fault. Otherwise, there's a lot going right for the Sunnydaze 4-ft Firewood Rack!
Pros
Weatherproof cover
Easy assembly
Strong steel construction
Full-year warranty
Plenty of storage
Cons
Possible quality control issues
Susceptible to wind
Vail Suede Firewood Rack – Best Indoor Option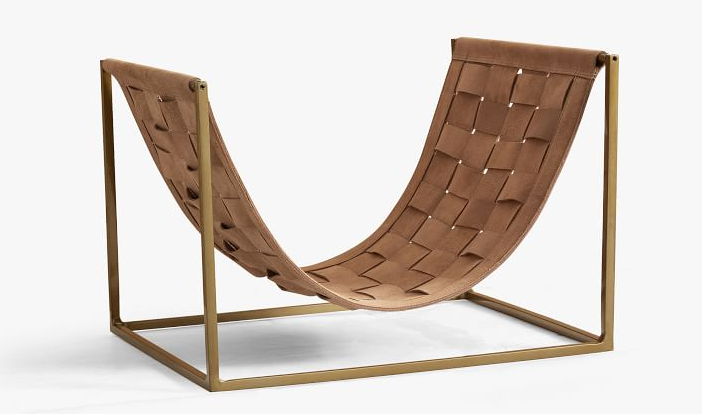 This firewood rack from Pottery Barn is a perfect blend of function and style. Boasting a hand-woven suede sling and sturdy brass-finished iron structure, it has the natural magnificence of leather and a clean, minimalist design.
Vail Suede Firewood Rack comes with a low profile and can carry 22 pounds of firewood, making it easy to keep under your fireplace bench. It's also attractive enough to flaunt.
Pros
Compact
Sleek design
Strong iron frame
Cons
Amagabeli Metal Fireplace Indoor Carrier Log Holder – Most Stylish Option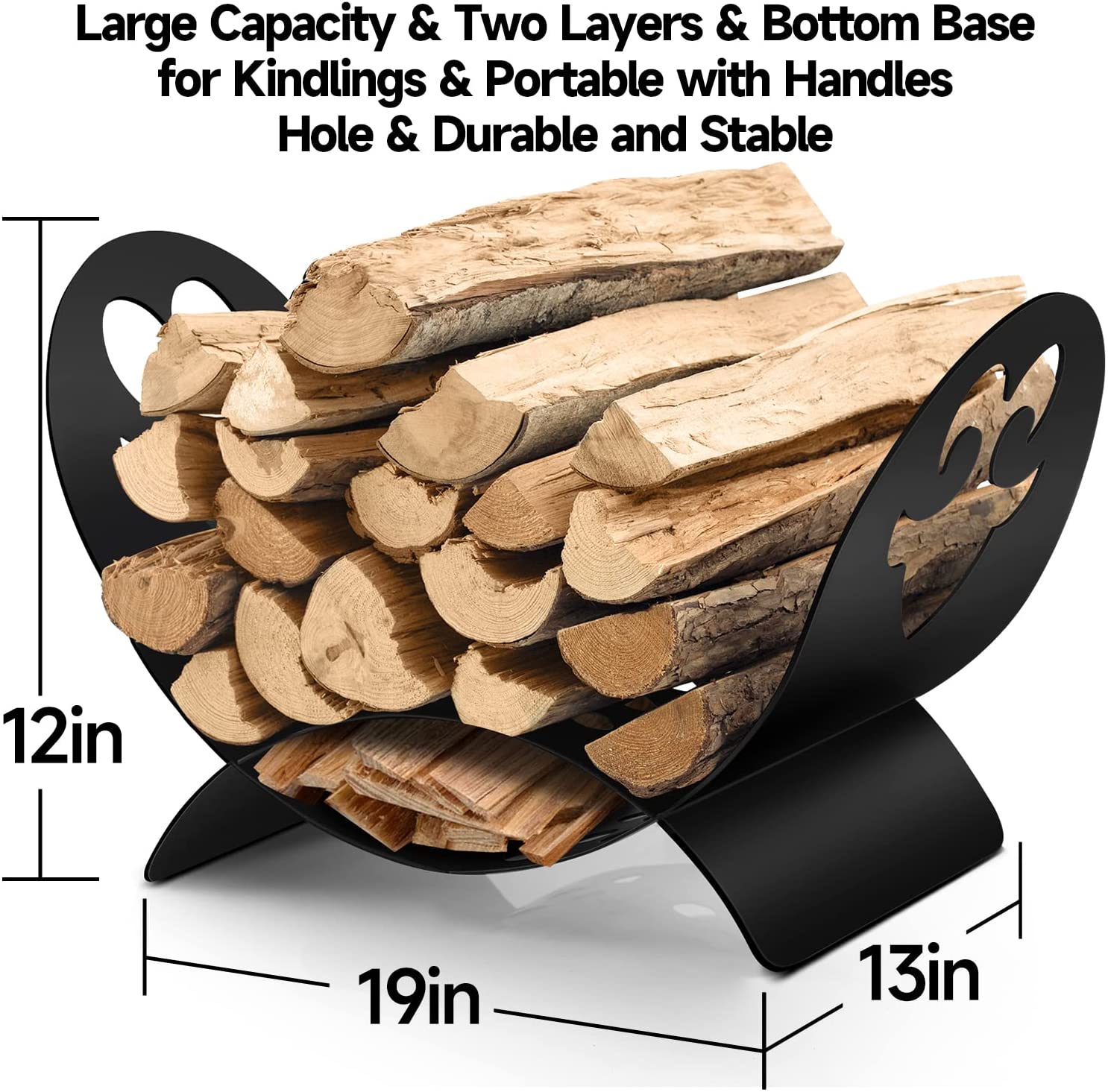 If aesthetics is one of your main priorities in a firewood rack, you'll definitely be interested in the Amagabeli Metal Fireplace Indoor Carrier Log Holder.
This minimalistic yet elegant rack with smooth edges can easily be mistaken for an antique, meaning it'll blend seamlessly into your indoor space. This premium unit stands at 19 x 13 x 12 inches when put together, which unfortunately may not be much storage for your kindling.
However, its compact design lets it sit comfortably beside the fireplace. Its solid and thick steel tube frame comes with a powder-coated finish to guarantee reliable durability.
The Amagabeli Metal Fireplace Indoor Carrier Log Holder also comes with a basic setup process that's made even easier with a detailed manual in the package. You don't even need tools to assemble it.
In addition, the base keeps the wood off the ground to keep your floor from scratches and is ventilated to facilitate the free flow of air.
The Ambageli Fireplace Log Holder is highly portable, weighing only 14 pounds. In addition to its versatile design, that makes it enjoyable to use indoors or outdoors, depending on the occasion.
See also: How to Find the Best Firewood Carriers.
Pros
Beautiful design
Compact and lightweight
Sturdy frame
Easy to set up and handle
Cons
Can't hold a lot of firewood
Frontgate Log Racks – Best Oversized Option
Frontgate Log Racks is a sizable firewood rack, so I'd recommend it if you want something a bit large. It's made with heavy-gauge steel and can carry more than 2,200 pounds of wood.
In addition, this firewood rack comes with a dedicated space at the bottom to help store your kindling.
Pros
Made with heavy-gauge steel
High capacity
Dedicated kindling storage compartment
Cons
FAQs about How to Find the Best Firewood Rack
Question: What's the Right Way to Stack Firewood?
Answer: Stacking firewood is all about keeping it off the ground and stable while allowing enough ventilation from all angles. Ideally, you should pile the logs evenly to keep them secure on the rack without the risk of tumbling down due to a gentle breeze.
Also, be sure to leave a little space between the logs, so there's enough air freely flowing around the wood to let it dry and season faster.
If possible, you might want to get a waterproof cover to protect your wood from the elements when storing it outdoors.
Question: How Much Firewood Does a 4ft Rack Hold?
Answer: A 4-ft rack will generally hold about ½  cord, also known as a rick or face cord. When stacked, this rack would be holding 24-inch long logs piled 4 feet high and 8 feet long.
Question: Should I Cover My Firewood?
Answer: No, you shouldn't. Ideally, firewood must remain open during storage to facilitate easier and faster seasoning. Air should flow freely around the logs to hasten the seasoning process.
However, this may not be possible if your wood is exposed to the elements. If you have an outdoor rack, for instance, you'll need a cover to protect the wood from rain, ice, and even snow.
When covering your firewood rack, ensure the coat is slanting so there's no moisture collecting at the base of the rack.
Question: How Long Can a Cord of Wood Last?
Answer: A full cord of wood will generally last 5-12 weeks, depending on how often you use it. If you're only using wood as a fuel source, the cord will likely last around six weeks.
Question: How Tall Should My Firewood Rack Be?
Answer: It's recommended that you don't stack your firewood rack higher than four feet. This way, you won't compromise its stability and risk it falling over.
Also, stacking it that high will make it easier to retrieve the log pieces. Also, ensure that the rack's bottom is a few inches above the ground, so the logs don't touch the floor.
The Bottom Line on How to Find the Best Firewood Rack
Firewood racks are an essential household asset if you don't want your fireplace to run out of dry wood. They play a vital role in storing your wood logs safely while keeping your home environment neat and organized.
They also come in various designs that allow you to store your wood indoors or outdoors conveniently.
My top pick for the best firewood rack is the Amagabeli Firewood Rack. It features a sturdy and versatile design you can install inside or outside your home, and its uncomplicated assembly process allows you to put it together within minutes.
However, if your budget is a bit stretched and you're simply looking for something more affordable, I recommend going for the HomComfort HCLRK Adjustable Firewood Rack.