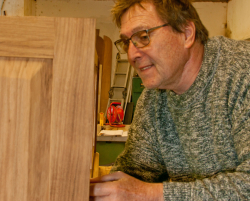 Latest posts by Mike Lillyman
(see all)
Furniture fashion trends come and go, but the beauty and elegance of dark wood furniture have remained the icon of sophisticated furniture design. I'd like to share with you my selection of the best dark woods for furniture that I have used over the years for making beautiful furniture.
Bottom Line Up Front
There are very few wood types that I don't like, but if I were to select timber for a piece of furniture intended for interior use that will look good for generations to come, I would choose Black Walnut. Don't get me wrong, it's not the only great dark hardwood, but for me, it ticks all the boxes, especially since it is sustainably managed.
For furniture intended for outside use, there can be few kinds of wood that match the qualities of Teak. It would be my first choice if not for the price. Iroko comes fairly close and has the advantage of being far less painful on the pocket.
In comparing the various appropriate dark hardwoods, it's important to understand the terms used to describe the qualities of wood.
My Picks at a Glance
Black Walnut — Best for Interior
Mahogany — Best Red-Brown Color
Afromosia — Best Honey Color
Teak — Best for Exterior
Iroko — Best Budget
Selection criteria for Dark Hardwood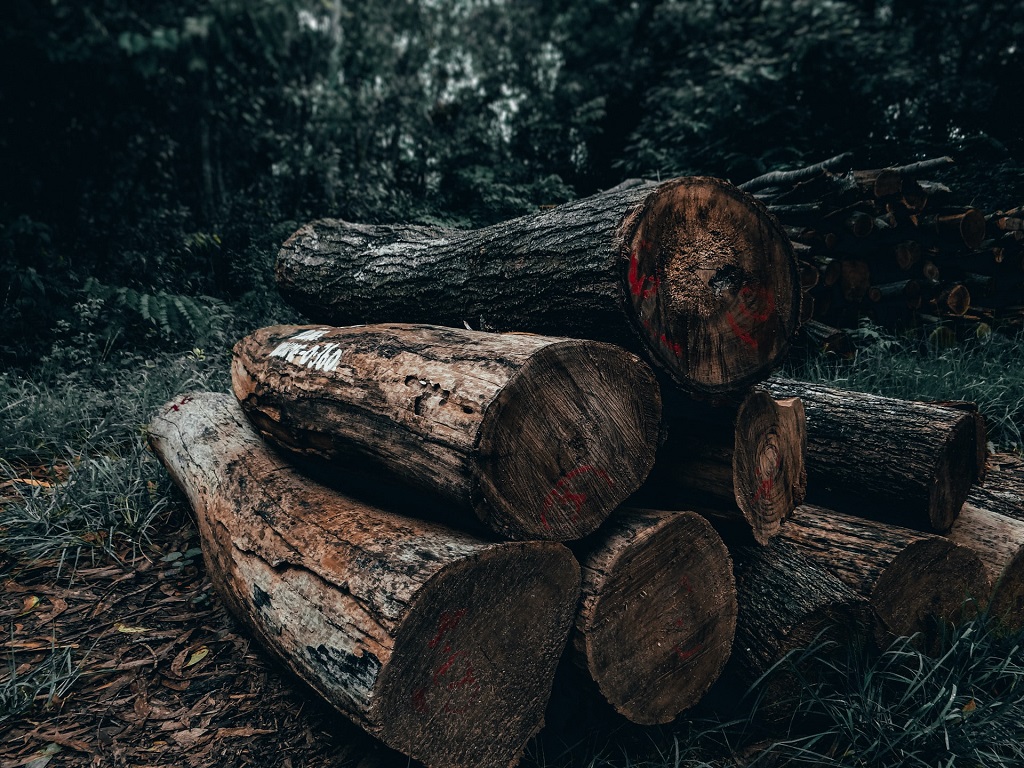 The wood selected for furniture needs to have qualities that will ensure not only the beauty of the piece but also its resilience to wear and ability to stay looking good for many years.
Selecting a piece of furniture from the showroom misses the first part of the life of the piece. Qualities of the wood selected that the woodworker gets to deal with. I can tell you that the smell of freshly cut mahogany is almost soapy and delicate, or that teak has an oiliness about it when freshly sawn. Little things that sway our choice are derived from the reliability of the wood.
While I love the smell in the workshop when we are using mahogany, it doesn't have a bearing on why a particular wood is selected. So here is what I would look for when selecting an appropriate wood for a piece of furniture.
Color
This is a personal preference, but a wood that is naturally the color of choice and not stained is always preferable.
Hardness
All the woods selected are rated as hardwoods. Hardness is important to ensure the piece will be able to withstand knocks and bumps. Hardness also impacts the quality of the finish, and I always prefer wood that has a fine finish. Fine-finished timber is also easier to keep clean.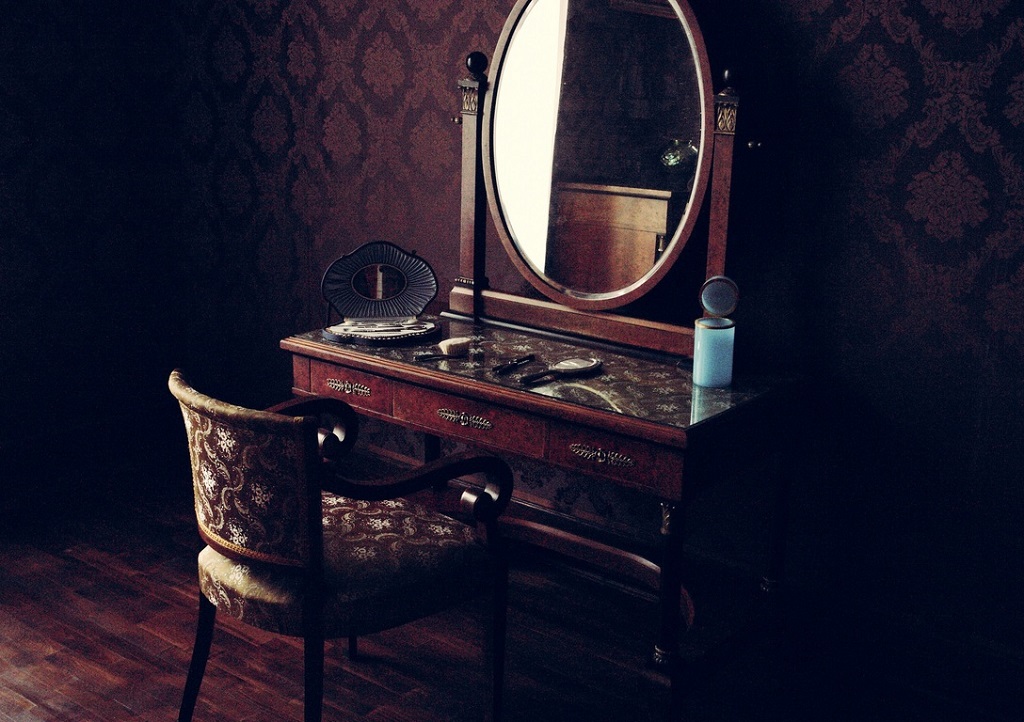 Stability
It is important that the wood selected will not warp or shrink due to weather conditions. Woods that did not conform to these criteria were not considered appropriate.
Source
The availability and sustainability of the selected hardwoods were important criteria. While it is possible to source reclaimed timber, I did not include this in my selection. The woods selected should all be fairly easy to access and be sustainably sourced.
The Best Dark Woods for Furniture
Black Walnut (Juglans nigra)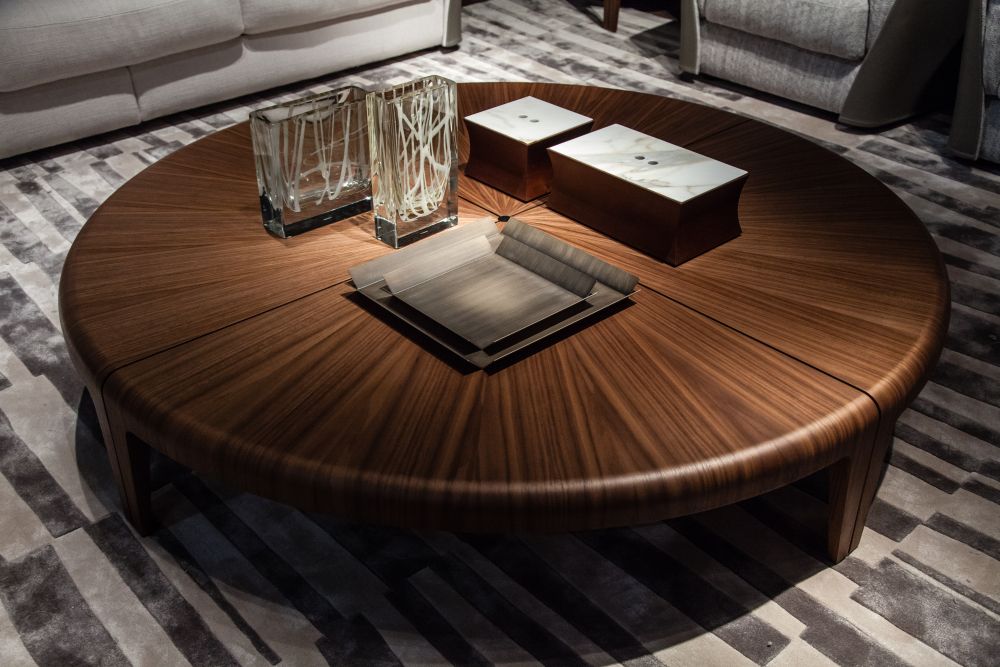 With the technical terms out of the way, let's begin with one of the most sought-after indigenous timbers in the USA, the Black Walnut, which just so happens to be my top choice.
Sometimes also referred to as Eastern Black Walnut, it is one of the most highly prized indigenous timbers in the USA.
It is widely used in furniture manufacture because of its fine-grained heartwood. The wood is hard, heavy, and predominantly straight-grained. The trees are grand and can achieve a height of one-hundred and fifty feet with an eight-foot diameter trunk. The size of the tree becomes critical when timber is selected for live edge furniture like dining tables.
Eastern Black Walnut is a relatively hard timber, making it the ideal choice for furniture that will withstand the rigors of family life. As a timber of medium density, it also has good shock resistance, making it a popular choice for gun stocks.
One of the rather odd qualities of Eastern Black Walnut is that, unlike most other timber species that darken with age, it tends to lighten as it gets older.
The color of the Eastern Black Walnut ranges from the dark chocolate brown of the heartwood to the paler, almost creamy white of the sapwood.
Eastern Black Walnut has a most appealing quality both to the skilled woodworker and the customer looking for wood of exceptional beauty. The grain variations, knots, and ripples that occur to offset the predominant straight grain ensure that the furniture made from Black Walnut is strikingly beautiful and unique. Here are some examples of beautiful furniture pieces made with Black Walnut:
Black Walnut pros:
Grows locally in the USA.
Pale to dark brown in color
Straight grain
Fine finish
Resistant to rot and mold
Good stability
Black walnut cons:
Expensive
Scarcity of large pieces
The presence of the respiratory toxin juglone can be hazardous to the lungs and skin.
Mahogany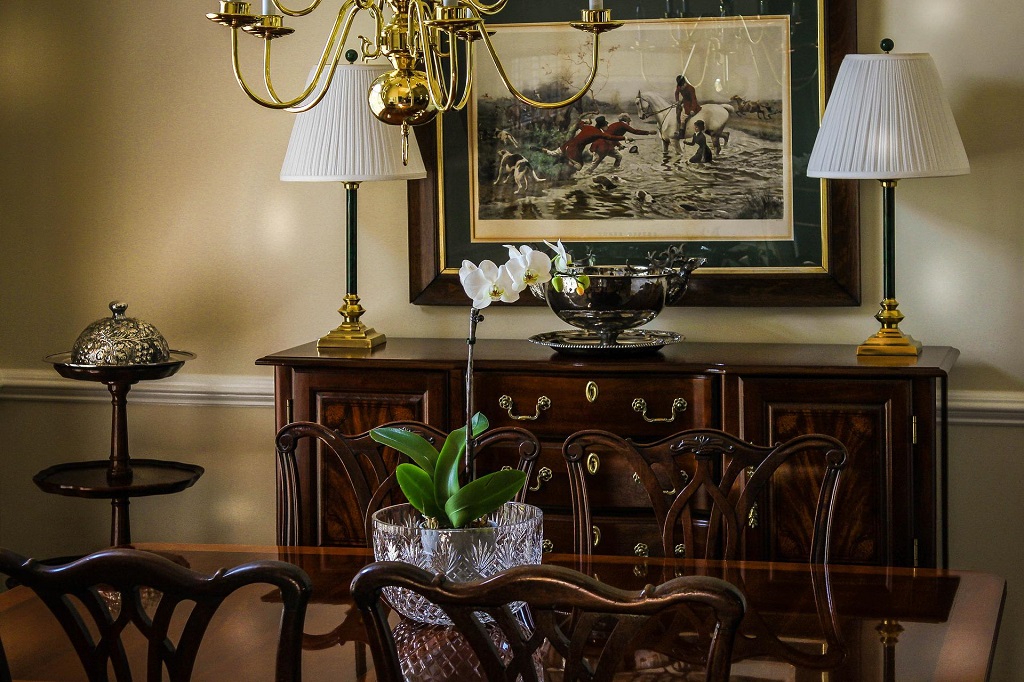 Several different trees belong to this genus. They were initially named after the famous scientist Gerard van Swieten. The wood has been known under various names, Mahogany (English), Acajou (Spanish), and Coaba (French).
One of the most highly valued Mahogany species is Cuban Mahogany (Swietenia mahogany). It is also sometimes referred to as Caribbean or West Indian mahogany. Sadly it has a history of being over-exploited, and a ban on the exportation of the species from Cuba had to be enforced to prevent it from becoming extinct.
Although not quite as hard as Eastern Black Walnut, the impressive stability and workability of the timber have made it a favorite wood of choice over many decades. Regrettably, the scarcity of timber has made it very expensive.
Some Cuban Mahogany is harvested from trees blown down during winter in southern Florida.
The trees can get to around one hundred feet in height with a trunk diameter of approximately 3 to 5 feet. The color of the wood ranges from a pale pinkish-brown to beautiful dark reddish-brown. The color darkens as the wood ages.
Cuban Mahogany has excellent durability, and as a result of its water-resistant qualities, it has been used extensively in ship and boat building.
The enthralling quality unique to this timber is Chatoyancy, where the color or luster of the surface changes much like the iridescence found in some gemstones.
Happily, Honduran Mahogany is a substitute for Cuban Mahogany. It is also known as Brazilian or Big Leaf mahogany and is far more readily available than Cuban Mahogany. Furthermore, this species is grown in plantations and has become a sustainable source of this timber.
Not only is the tree sustainable, but it is also huge. Up to two-hundred feet high with a diameter of six feet, each tree provides a sizable amount of timber.
The color is similar to that of the Cuban cousin, but the grain is wavier but wonderfully uniform, making it an ideal choice for furniture.
African Mahogany (khaya anthotheca) grows in the tropical areas of western Africa. Like the Honduran relative, these trees are enormous, and the wood is a little harder than the other two mahoganies making it an excellent choice for furniture and flooring.
Here are some examples of beautiful mahogany furniture:
Mahogany pros:
Sourced from Central America
Beautiful dark red/ brown color
Long-lasting and durable
Straight grain with interesting figures
Fine finish
Resistant to warping
Good stability
Mahogany cons:
The great demand creates a scarcity of supply
Wide color variation can make it difficult to match pieces
Variations in species are difficult to detect.
Scarcity has driven up the price
the dust can cause lung irritation
Afromosia.(Pericopsis elata)
Also known as African Teak, this species has grown in popularity due to its similar appearance to genuine Teak. However, like so many other timber species originating in Africa, it has been over-exploited. Now, Cites listed, the exploitation of the species is tightly controlled.
The appearance of Afromosia is almost identical to that of Teak. However, Afromosia lacks the oil content that makes Teak the wood of choice for boat building. On the upside, the lack of oil content makes Afromosia that much easier to finish.
The color ranges from a deep honey hue to dark brown. The wood is harder than Walnut or Mahogany. The finish is fine due to the close grain, which also makes the timber heavy.
Have a look at the beauty of the wood in this fine dining table and chairs: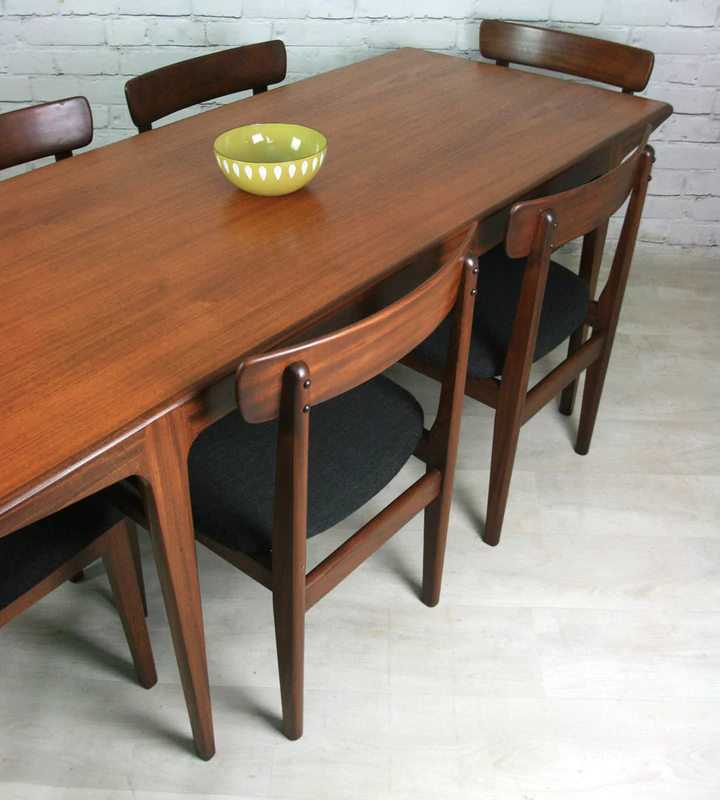 Afromosia pros:
A beautiful dark honey color
Price is competitive
Generally straight-grained but has some reverse grain.
Very hard
fine-grained
superior finish
Afromosia cons
Difficult to work with hand tools
Scarce with long lead times
Listed by Cites
Dark hardwoods for patio and garden furniture
While Walnut, Mahogany, and Afromosia are great dark hardwoods for interior furniture, they don't shape up too well as external furniture. So instead, you will need a wood-like Teak or the cheaper African substitute, Iroko.
Teak (Tectona grandis)
Originated in Southern Asia but it is also grown in plantations in Central Africa and tropical Latin America.
The color of Teak varies from a medium brown in freshly cut timber to a much darker brown with aging. The grain is straight, and freshly cut wood has an oily texture and unique aroma.
The timber is easy to work with and can produce a lovely fine finish. Teak has been the timber of choice for many centuries and is especially prized for its ability to withstand the elements. This makes it the ideal choice of wood for patios and gardens.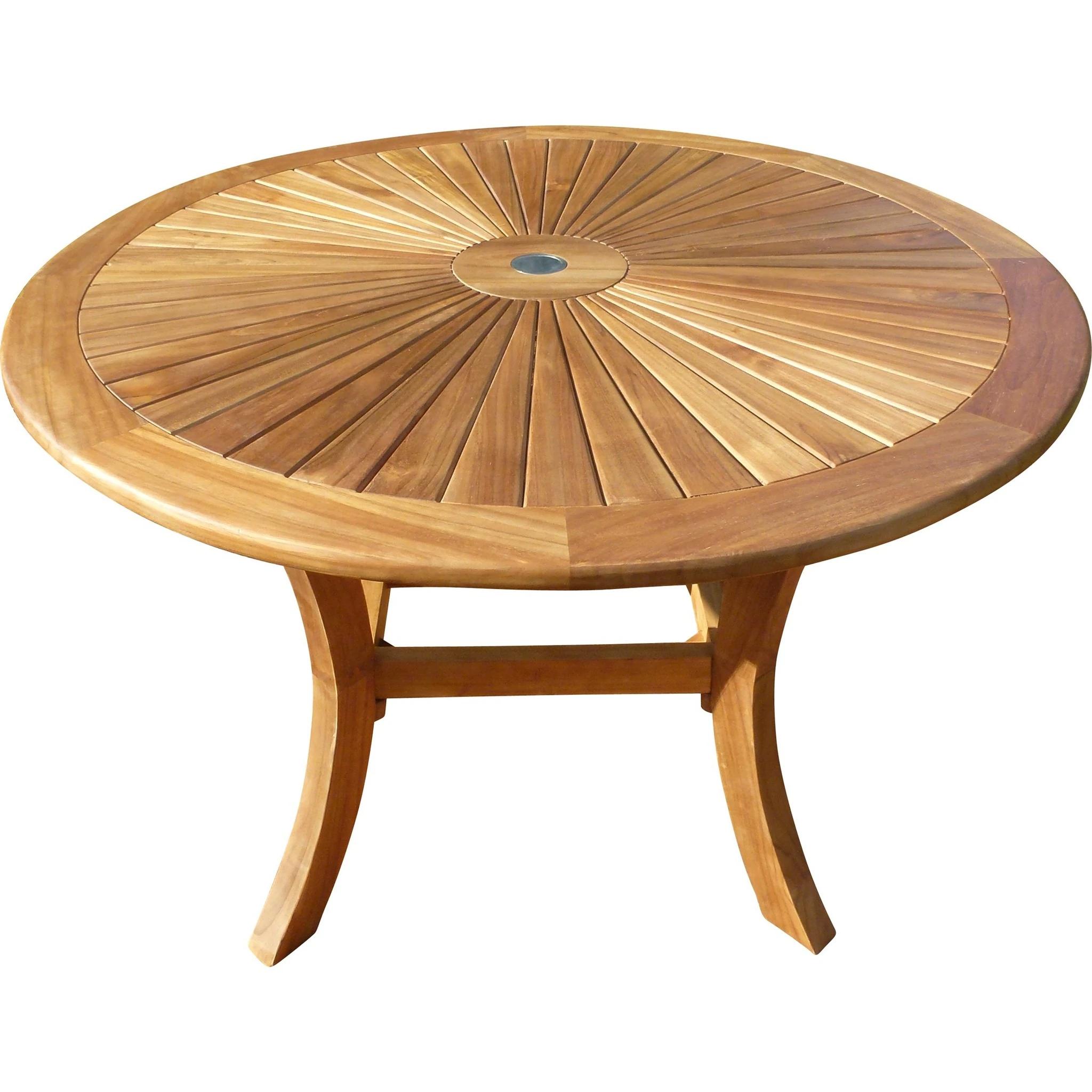 The scarcity of timber has made it one of the most expensive timbers commercially available. Have a look at these two examples of teak furniture:
A cheaper substitute for Teak is the tropical African wood, Iroko.
Teak pros:
Beautiful dark red/ brown color
Long-lasting and durable
Good water-resistant qualities
Straight grain with interesting figures
Fine finish
Resistant to warping
Good stability
First choice for exterior furniture
Teak cons:
The price is exorbitant
Over exploited
Iroko(Chorophora excelsa)
This wood has an almost yellow appearance when freshly cut, but this soon deepens into an attractive dark honey brown color.
The grain is typically straight, but it can vary towards Figured and sometimes Heavily figured.
The trees are enormous, resulting in large timber sections being made available for furniture of unique qualities. Have a look at this spectacular live edge single-piece solid Iroko table. The size of the table is over eight feet long and over three feet wide.
Here are some more examples of Iroko furniture for gardens and patios.
Iroko pros:
Cheaper alternative to teak
Lustrious light to dark brown color
Darkens with age
Straight grained with some figure
Good water-resistant qualities
Iroko cons:
Not as stable as teak
Some reverse grain occasionally
It may not always be sourced sustainably
How to keep your Dark hardwood furniture looking great
No matter what type of dark hardwood the furniture is made of, the most basic rule is to keep it clean. The finish determines the method and cleaning material that you should use on the furniture. Pay strict attention to the cleaning recommended by the furniture manufacturer.
Avoid placing hot objects on your furniture. Using coasters to protect your furniture from heat stains will also limit damage due to water.
Before you decide to apply a store-bought wax or oil to your furniture, try it out on a section that is hidden from view. Better still, get some advice from professionals regarding the appropriate substance.
Scratches and dents in furniture are almost inevitable. However, trying to do a home repair may quickly result in tears, so do consider obtaining professional advice to avoid disappointment.
Cleaning surfaces using a damp cloth followed by a dry one works wonders in keeping your furniture looking great.
FAQ's
Question: What is the difference between Hardwoods and Softwoods?
Answer: Wood is divided into two sections, Hardwoods, and Softwoods. That sounds simple enough, but to add some confusion, some hardwoods are soft (like balsa wood), and some softwoods are hard (like yew).
The distinction is derived from the seed of the tree. Hardwoods have their seeds enclosed in a shell or cover, and the trees shed their leaves in winter. Softwoods have their seeds exposed, and they don't typically shed their leaves.
Hardwood trees tend to grow slower than Softwoods, so their timber is denser and heavier.
Sadly, Hardwood species have been overexploited, making many species very scarce and almost unaffordably expensive.
Question: How is the Hardness of Wood measured?
Answer: The Janka Rating scale measures the hardness of different timbers. However, like many things that appear to be simple, the scale becomes complicated because different countries apply different systems. For example, in many European countries, the rating is done on a metric basis (kilogram-force), but the Imperial system of 'pounds force' is used in the USA.
The rating is derived from the force required to embed a steel ball in the wood. While the actual amount of force needed is of little interest to a furniture customer, the comparative hardness with other woods is a helpful guide.
For example, Black Walnut has a reading of 1010 on the Janka Scale. Teak is just below that at 1000. Mahogany varies around 800 depending on the species, while Iroko is much harder at 1260. Afromosia is the hardest of all the woods we have covered at 1570.
Question: What are the right questions to ask about the sustainability of furniture?
Answer: Probably the most important question to ask is the source of the timber. For example, was the furniture produced from a sustainable plantation, or has it been sourced from tropical forests?
What sort of finish does the furniture have? Sprayed finishes that are not water-based will be high in volatile organic compounds (VOCs).
Is the piece of furniture made to last for a long time? It is better to select furniture made of solid wood rather than pieces made of particle board.
Conclusion
Dark hardwood furniture has a distinct elegance about it. Modern furniture design lends itself to dark hardwood's refined lines and finish.
The ability of the dark hardwood to withstand damage from rough treatment means that the furniture will survive for many years despite the interaction with children and teenagers, so it is worth spending a little more on quality furniture made from dark hardwoods.
While all the woods mentioned here are beautiful and have the qualities to make beautiful and long-lasting furniture, I would find it difficult to overlook the beauty and appropriateness of Black walnut for interior furniture. If price were not critical, I would go for Teak for outside furniture, but Iroko is a less expensive alternative.
However, please do make sure that the trees that supply the wood for your table or cabinet have been sustainably sourced. We lose a little of the rain forests to unscrupulous loggers and timber merchants every day. Please check that you don't unwittingly play a role in that destruction.