Latest posts by The Forestry Pros Team
(see all)
Do you use chopped wood to heat your home? Are you looking for a way to keep your firewood organized, well-stacked, and easy to access? Do you struggle to carry your firewood to the fireplace? If you answered yes to all the above, then a firewood cart is what you need.
Compared to wheelbarrows and firewood bag carriers, carts are designed to ensure firewood doesn't split when hauling. Additionally, minimal effort is required when pulling and they bring an aesthetic value to your home. It's a crucial accessory in homes, businesses, industrial smokers, and kilns that use wood for heating. It's used to transport wood to a fire pit, fireplace, or wood oven. Firewood carts are mostly made of steel, iron, and aluminum.
Best Firewood Cart Ideas: Our Top 5 Picks 
Finding the right firewood cart can be a daunting task. This is why we did some research on reviews, testimonials, and ratings from users who use them. According to the information we gathered, we were able to compile a list of the 5 of the best firewood carts in the market. We have provided information about them below to make your purchasing decision easier.
Best Lightweight Firewood Cart – Sunnydaze Firewood Log Cart
This is the commonly used firewood cart because it's light to haul. Sunnydaze is made of tubular steel. It's one of the biggest and light carts which can carry lots of logs.
It's made of durable tubular steel with a black powder-coat finish that prevents it from rusting. This cart is easy to haul because it has a wide pneumatic wheel which makes it easy to travel over snow and dirt without getting stuck. The materials used in its construction make it light. This means you don't have to be strong to cart wood from one location to another.
Pros
Has a top cover
Can be used to cart and store firewood
Ultra-lightweight
Comes with one year warranty
Can move in any terrain
Cons
The handle doesn't have any padding
It may not be the best option for constant use
Best Firewood Cart for Indoor Use – 1900 Earth Worth Firewood Log Cart
For a stylish and functional design, this is the best cart. It's raised off the ground for proper ventilation and to protect woods from bugs, mold, and wood rot. The height is just right to ensure your firewood is always neat, dry, and clean. The tires are made of real inflatable rubber.
Pros
It's easy to assemble
The materials used provide it with a sturdy construction
Raised off the ground
Offers great ventilation
Prevents wood rot and mold
Cons
Can be wobbly on rough terrain
Best Firewood Cart for Heavy Loads – Plow & Hearth Caddy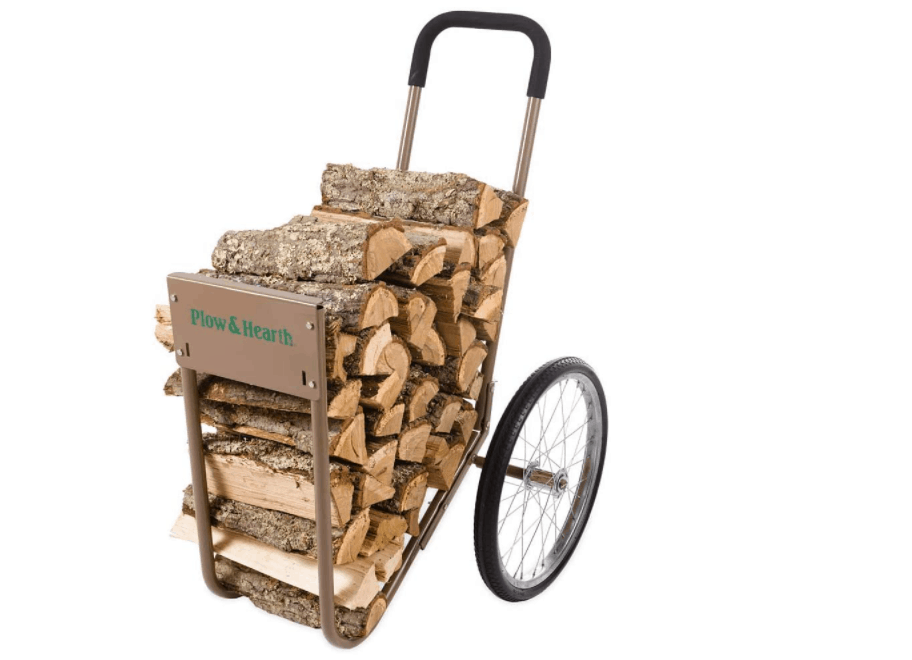 The Plow and Hearth Caddy are made of galvanized tubular steel with smooth-rolling and large wheels. The wheels are 18 inches which makes the product easy to use on traversing staircases and unruly terrains. For large loads, this is the best cart as it can hold 150 lbs. of firewood. It's designed to minimize physical effort and discomfort.
Pros
Round and padded handles
Can be used on most terrain
Lightweight
Holds up to 150 lbs. of firewood
Minimizes physical effort
Cons
Not the best for snowy area
Not as durable as others at the same price point
Most Durable Firewood Cart – Vogelzang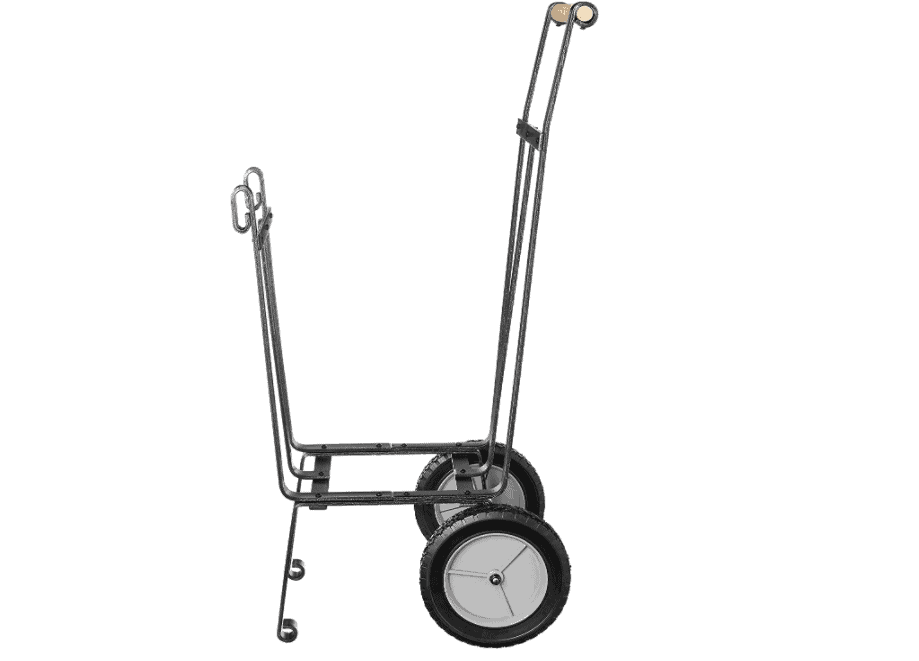 This is different from other listed carts as it has a steel frame instead of the common tubular option. It has a capacity of 50 pounds of firewood per load. It's loved because of its rustic design and attractive iron finishing.
Pros
Durable
Weight is balanced for easy handling
Large hard rubber wheels that roll easily
Steel frame construction
Attractive iron finish
Cons
Can only carry 50 pounds of firewood
Not designed for regular firewood carting
Best Firewood Cart for Most Use – Gorilla Carts Wagon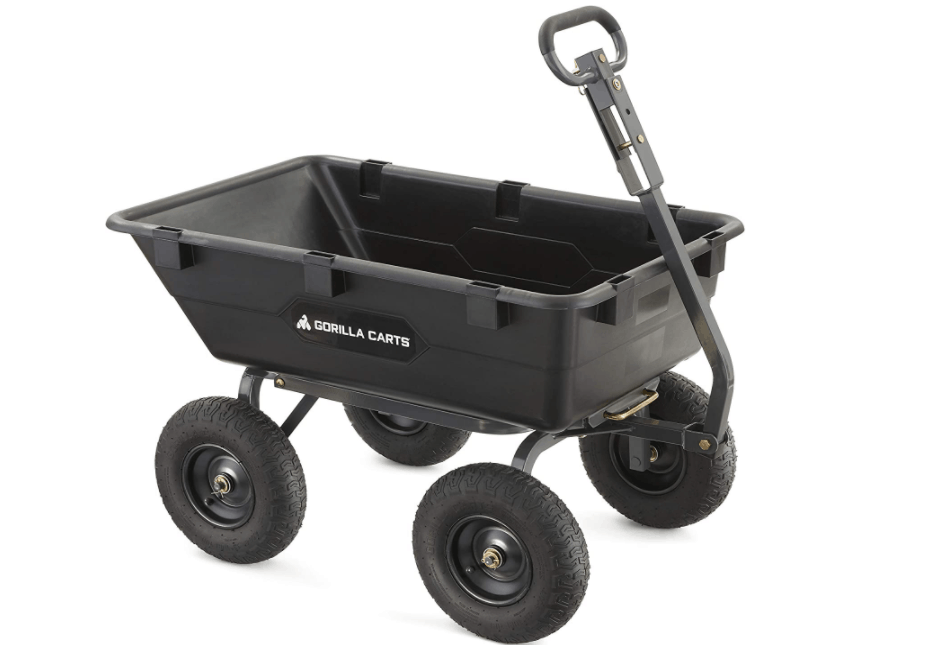 This product is different from other carts as it has four pneumatic wheels and can hold a capacity of 800 pounds. The side can be removed in case you are carting large logs. With these features, it's the best for large logs or commercial use.
If you're looking for a multi-purpose cart that can carry standard-sized woods of 16″, this is the best wagon. Its width is 18 inches making it great for moving large-sized logs. Great for a large home, a motel or lodging, or a kiln.
Pros
It's durable
It's ideal for carrying large stacks of wood
Can be used on all terrains.
Can be used for other none firewood ferrying purposes
Carts up to 800 pounds of firewood
Cons
Cannot be used inside the house
Requires large storage space
Why Invest In A Firewood Cart?
If you're looking for one of the most economical sources of heat during winter, firewood is a good option. Although some people consider this heat source as old-fashioned, many households still use it to warm their houses. They opt for this option because woods are at times cheaper than electricity.
A cart is a great investment if you have a large farm. It's a great accessory you need because it can also be used to carry other items on the farm. Carts are not only made to haul firewood to the fireplace but are also used to stack firewood. This ensures your wood appears neat, dry and is protected and free from bugs. Unlike wheelbarrows, carts are flexible and reduce body strain when used.
Apart from hauling woods, nicely organized stacks of firewood in a cart at the fireplace can act as part of your indoor decor. A firewood bag carrier is also an option if you don't use a lot of firewood.
Things to Consider before Purchasing a Firewood Cart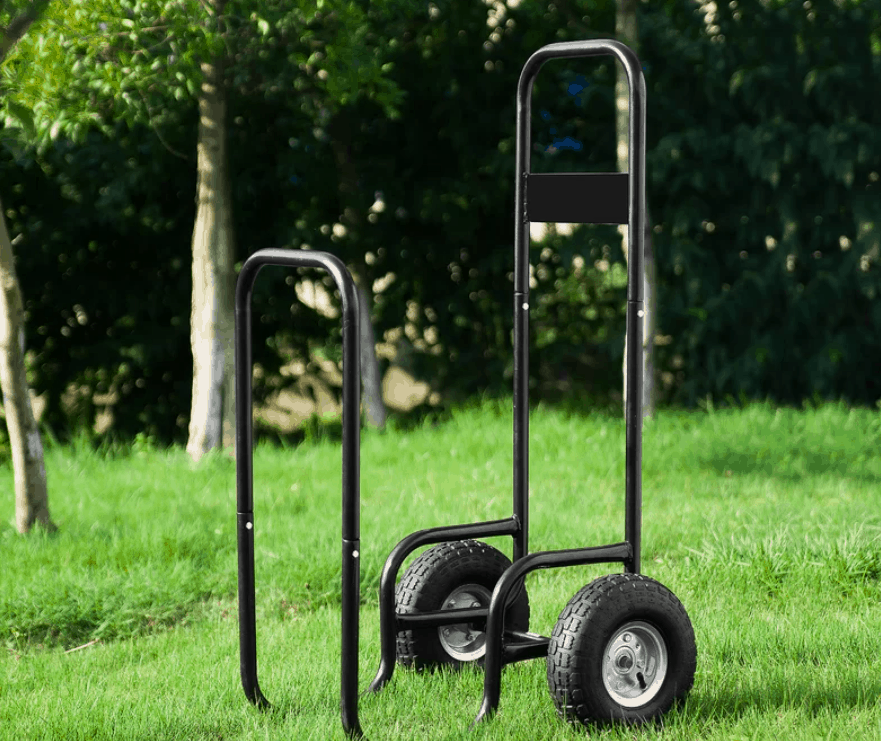 There are several factors to keep in mind when looking for an effective and efficient cart. All carts can haul firewood but not all may meet personal preferences.
There are firewood carts that can be used for the interior, others for the exterior and others can be used for both. Indoor firewood carts are more decorated. Other than easy movements from one place to another, below are important factors to put in place when purchasing a firewood cart.
Frame Material
It's good to buy a cart that will last long, withstand harsh weather conditions, and is attractive. Carts are made of steel, iron, and aluminum. Steel is the best material for a durable cart, but it's pricey. For carts with steel, the steel is powder-coated so that it doesn't develop any rust and corrosion.
Aluminum carts are not as durable but they are light in weight. An ideal firewood trolley should have sturdy wheels made from either rubber or a durable type of plastic.
Price
Price is a factor to consider when buying a cart. A decent cart will cost anywhere from $50-$200 depending on the style and manufacturer. An expensive cart does not mean that the cart is designed to suit your needs. It's good not to invest in a cheap cart that will not last long. At the same time, as you compare the price also keep in mind your preferences and needs.
Wheels
It's good to look for wheels that are not susceptible to wear and tear. They should also be good for uneven terrain. Plastic wheels are less demanding, but rubber wheels last long.
Carts with two wheels are best if you have a small space. A 2-wheeler is more challenging to maneuver than a 4-wheeler. Furthermore, a 4-wheeler can haul bigger loads. Apart from the price, it's good to consider a cart that can easily move from one location to another.
Size
When choosing a cart, choose according to the workload expected. Don't choose a cart that can't meet your needs. Consider how easily a cart can be stored. If your storage space is not enough, purchase a cart that can be folded to fit in a small space or get a small cart.
If you're dealing with woods for commercial purposes or you stock lots of firewood, a large cart will serve your purpose well.
Firewood Cart Maintenance
All firewood carts need proper maintenance and regular inspection to ensure proper functionality and durability. Such a move also prevents failures and costly repairs. It's always good to inspect your cart to ensure you don't get a damaged caster, squeaky wheels, and damaged handles.
Your cart should be kept clean by brushing away debris. You can also wash it with a power hose (preferably with hot water) to kill bacteria and remove rust. In addition, the cart should be stored properly to prevent contact with the elements such as rain and sun.
Firewood Storage Ideas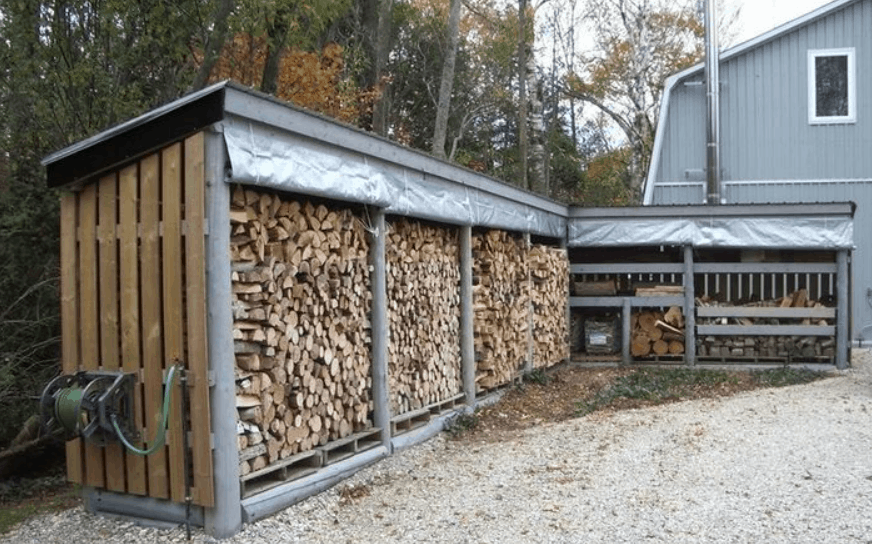 Proper storage of firewood leads to the long lifespan of firewood and safety to the user. Firewood can be store outdoors or indoors.
Outdoor storage places can be DIY firewood shed, firewood garage, or firewood racks. After buying or cutting wood, freshly cut logs take about six months to dry. This means they require proper storage that will protect them from rotting and ensure they are well before you use them for heating. Firewood can't be used when they are green and need time to dry. Wet woods cause creosote in the chimney.
Outdoor is the most convenient place to store firewood as they are exposed to adequate airflow. Storing firewood near the house is not a good idea considering bugs and creepy-crawlies can easily find a hiding place and find their ways into the house.
Apart from firewood carts, firewood racks are also good for stacking firewood. This is a good idea for storing your wood. So what types are available and how do they work?
Types of Firewood Racks
If your firewood trolley doesn't give your house that rustic touch or it's too big to fit next to your fireplace, a firewood rack is the best option. It's convenient and decorative. Wood racks are for both indoor and outdoor use. Check out the best firewood rack ideas below:
Plow & Hearth Heavy Duty
This is made from black powder-coated rust-resistant stainless steel. It comes with all the necessary hardware making it easy to assemble. This is perfect for an average-sized living room.
Woodhaven 5 Foot
This is slightly expensive but a cinch to assemble and durable enough to give you great service. It's made of high quality and it's the best for outdoor because it's durable.
Patio Watcher Folding
It's good for indoor as it can hold a lot without taking up too much space
Amagabeli Wrought Iron
This is a good choice for indoor use because of its attractive and elegant motif.
How to Choose a Firewood Rack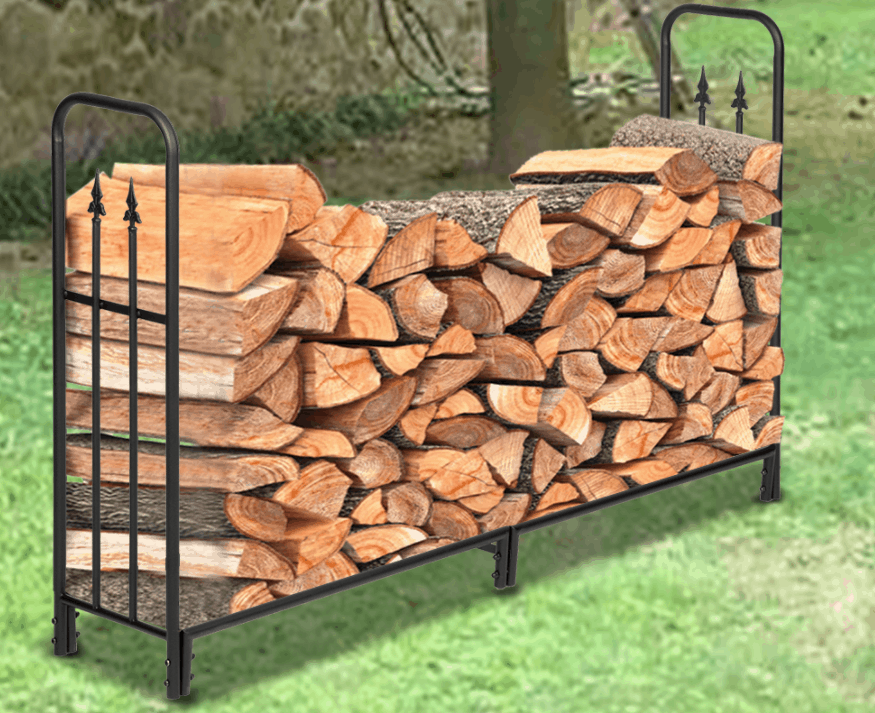 Woodpile(s) should be arranged properly and neatly so that woods can last long and can be easy to access. For an outdoor firewood rack, here are some factors to consider.
Outdoor Wood Rack
The amount of logs the rack is to hold is one of the crucial factors to consider. Don't purchase a rack that is too small when you store large, rugged firewood because overloading a rack can cause your wood to topple over. It can also damage your rack. Invest in a rack that is designed to hold your logs' size and weight.
For woods stored on a patio, porch, or deck racks, those that use wooden beams as their base are the best. If you invest in a rack that sits directly on the ground, you need a unit with a metal base to prevent rotting. Also, consider a rack that comes with a cover because the cover is a better option compared to any tarp. Make sure the rack is rust-resistant and durable.
Indoor Wood Rack
The major aim is aesthetics. Some indoor firewood racks are loaded with carefully selected logs that are left there for all seasons as decorations.
Consider the type of floor where the rack will sit/stand on. Racks that have long, flat bars at their base are best as they don't extend pressure on the floor. Avoid racks that can scratch a wooden or tile floor.
How Do I Maintain My Firewood Cart?
These products usually don't need a lot of maintenance, but it depends on the material. Just make sure you use your cart properly and store it well after use. Wiping off the frame with a dry cotton towel is all you need to keep remove any stains and marks. Try to keep the cart away from sun and rain. Maintain a distance of about 20 feet from the house to prevent pests from crawling into the house. Do not overload your cart.
Why is Stacking Wood Important?
For starters, stacked firewood looks appealing. No matter what method you use, make sure you stack your logs off the ground or in a concrete block paving that won't retain moisture for long. Woods can be stacked on any dry concrete base, a firewood rack, or raised on a treated timber base. Firewood needs to be stacked to give the wood time for the moisture content to reduce to an acceptable level.
Firewood should be stacked in a way that allows the sun and the wind to reach the wood. One end of the log should be exposed completely to the atmosphere when stacking so that the wind and the sun can help the log to dry. Stacking firewood in square piles is hard as compared to stocking them in round piles.
Firewood should be stacked:
Up in rows from the base
One end of the logs should be facing outwards
Spaced far enough apart and in an angular formation to help with airflow in between the logs
At the right height as you are comfortable with and not too high because the whole stack may become unstable
Do not stack your woods against the wall of your house or near the widows to ensure efficient air circulation
Importance of Stacking Firewood
To ensure firewood are well seasoned and thoroughly dried
Proper stacking ensure firewood is readily available
Stacking firewood protects them from termites and carpenter ants
Storing firewood protects them from becoming wet since mold and mildew grow in wet woods
Stacking firewood indoor gives the house that aesthetic look.
Woods are given enough time to dry.
Having firewood at the right place ensures easy accessibility and saves time and ensures movement is reduced
Stocking firewood neatly keeps pests away
Buying woods in bulk saves money. You can only do this if you know how to properly stack the wood
Stacking firewood well promotes efficient air circulation
Outdoor Firewood Storage Ideas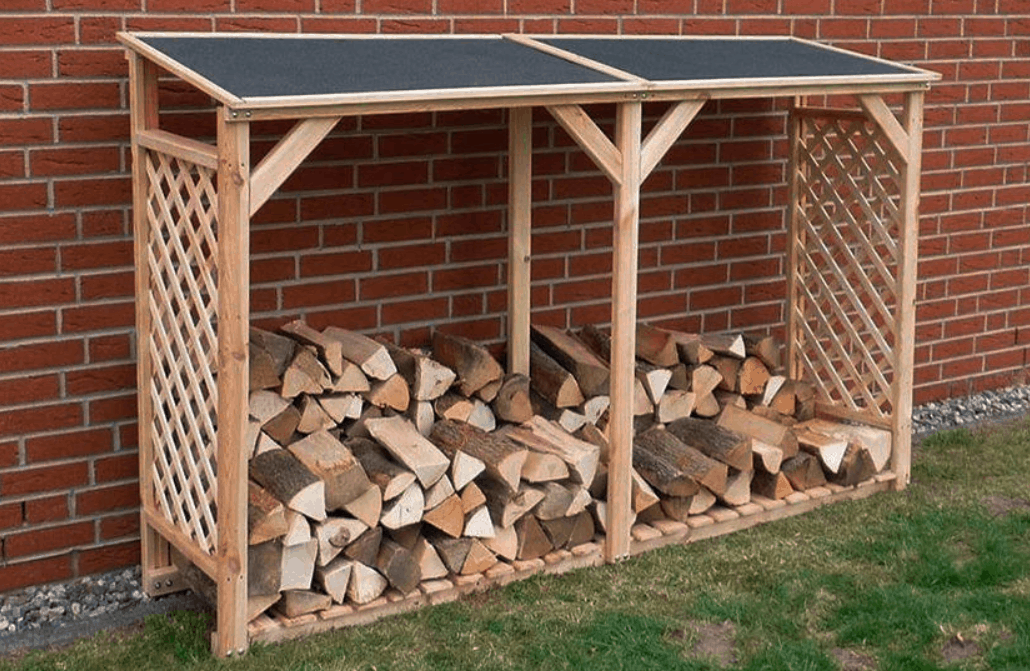 Freshly cut logs take a long time to dry and they need a proper place to be stored before they dry and are ready for use. Outdoor is paramount for storing them since the logs are exposed to adequate air circulation. Outdoor storage may require a roof although there are simple options you can make.
What is the best place to keep my firewood? Don't worry, here are some ideas to consider when looking for a proper place to store your wood outside:
The wood should be stored on the side of an exit door for easy access
The woods should be off the ground and in a dry area
Stack the woods properly and cover them at the top with a proper cover like a tarp
Some of the outdoor firewood storage ideas we have for you include:
Outdoor Firewood Storage Bench
For a farmhouse, this bench gives such a warm and welcoming vibe to a space when stacked neatly under a cubby bench. This bench is so easy to build as you can just convert crates into storage bench.
DIY Pallet Storage Rack
This is a simple and commonly used rack because they are economical, easy to construct, and easy to use. To make a DIY Pallet all you need is four planks of wood, three wooden pallets, a drill, and some wood screws for materials. This beam rack can store a variety of goods both large and small in size and quantity.
Window Well Firewood Holder
This is separated into sections for holding different types of wood. One advantage of the window well is that it has a cover so you don't need a tarp.
Indoor Firewood Storage Ideas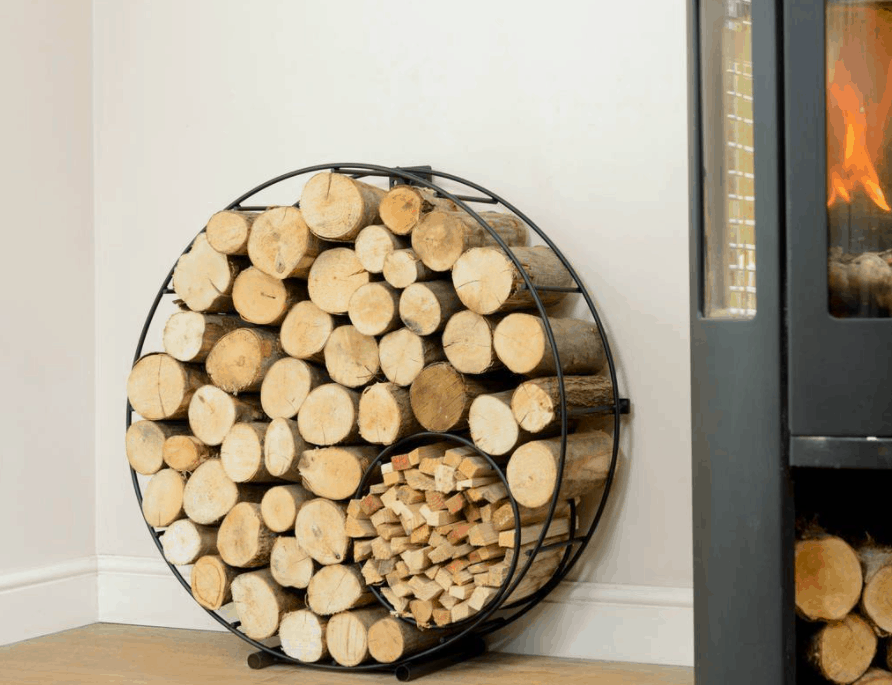 Before storing firewood inside the house, ensure they are well seasoned to prevent any wood smell. Stacking firewood indoor protects wood from rain and snow and guarantees the woods are near the fireplace to ensure minimal movement.
If you're planning to have indoor storage, please ensure;
The woods are thoroughly dried and seasoned to prevent a wood-like smell in the house
The firewood is raised off the ground and away from the wall. Stacking your firewood against the wall reduces airflow around the wood.
In case you notice any pest or rotted wood remove it and do not use pesticide on firewood
The wood is not near the fireplace to prevent sparks from your fireplace from igniting them
The storage area is always clean and dry
Storing firewood indoors can become a harborage for rodents and insects. Don't store a large amount of firewood inside your house
Below are some of the indoor firewood storage plans we have for you:
Copper Storage Rack
If you prefer to keep your firewood near the fireplace use copper because it's effective in dissipating heat. Copper also adds a dash of style to your furniture. This rack is easy to assemble and use.
Wall Mounted Wood Rack
This is another rack that you can build or buy ready-made. As the name suggests, the rack is molded onto a wall. This DIY rack saves space and it's good for a family that does not use firewood frequently.
Concrete Log Holder
You can buy a ready-made concrete log holder or build one according to your needs. Even though this is an affordable project, it may look complicated for people who haven't built anything in the past.
Aluminum Firewood Rack
If you need a simple or rack that doesn't interfere with your aesthetics, this is the best rack.
Do You Need an Affordable Firewood Rack?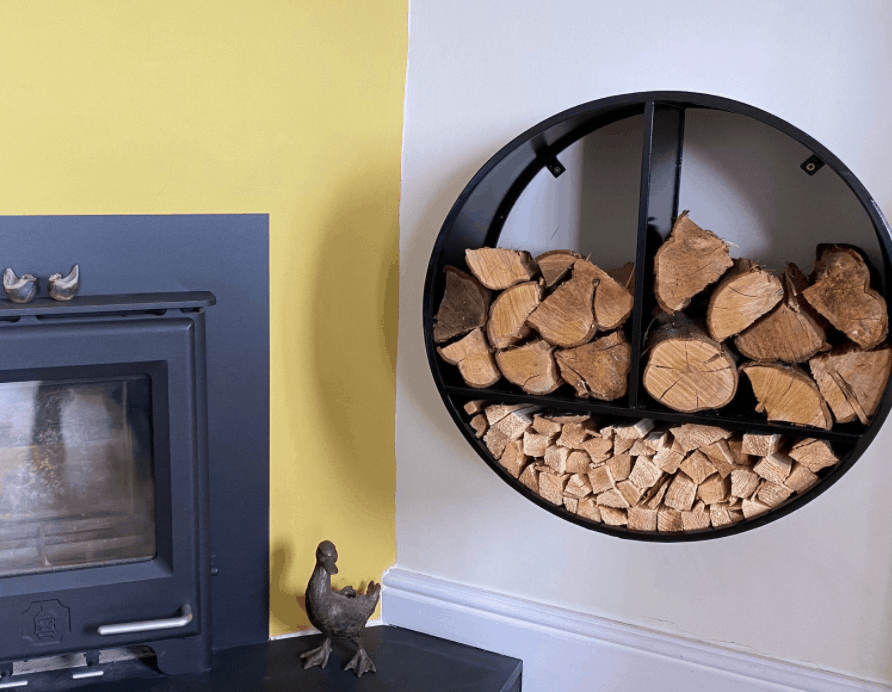 Are you interested in a DIY log storage project that won't break the bank? If so, we have an easy DIY firewood rack for you.
V-shaped Rack
Use the following steps to make a DIY firewood rack. You will need:
Four 2×4 pieces of wood
Two cinder blocks
Now, put a piece of wood into each cinder block hole. Your affordable and effortless firewood rack is ready.
Wall Mounted Rack
Check out this simple but cost-effective DIY rack idea for you. Unlike the concrete log holder, this one works for DIY beginners. You will need:
Brackets
Power tools
Paint
A few long pieces of lumber
This idea is perfect for any home because it saves a ton of space, and you can paint or stain the wood according to what fits your style. It won't store a large supply of logs, but it's perfect for people who burn fires a few times a week
How to Build a Wood Storage Shed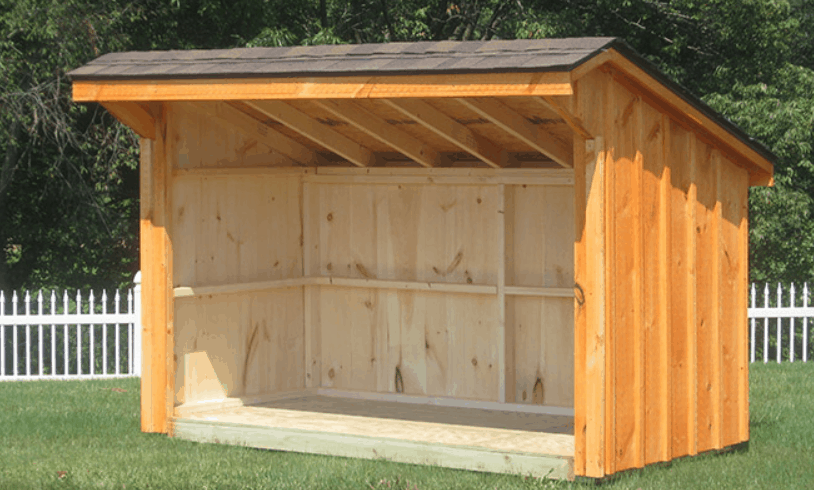 You can build a firewood shed for storing small simplified plans and other items. Before building a storage shed please consider:
Getting a building permit from your local authorities
Identifying the exact spot where the shed will be placed or sited
Don't build a shed in a low-lying area where water collects because excessive moisture makes the wood rot and hinges rust
Assembling the tools
Start by building a strong foundation of concrete blocks or pressure-treated wood timber
Firewood Rack Using Minimal Tools
If you're looking for a simple and quick design to build, here is how to build. This rack may require minimal tools and zero building skills. It only requires a few cuts and joints to complete. Materials you need are:
2 or 3 concrete blocks
2 landscape timbers
Two pieces of 2x4s – 8 or 10 footers cut in half
How to Build Rack a Rack with Minimal Tools
Place two concrete blocks holes up on a stable surface. Use three if support is needed at the center.
Put the timbers across the outside edges of the blocks with the width of each timber on a block.
Place 2×4 uprights in holes in blocks. If you are doing this on soil, put a few small rocks or pebbles in holes first. The move helps drain water from 2×4′ ends. You should now have your rack.
Take note the 2×4 should be leaning out at the top to make it very strong.
There you go, you now have a DIY firewood rack!
FAQs
Question: How Much Does a Firewood Cart Cost?
Answer: Most firewood carts range between $50 and $250. Take note of the price range depending on the use, size, and other features.
Question: Are Firewood Carts a Good Investment?
Answer: Firewood carts are normally available in aluminum, iron, and steel. Even though steel carts might be a bit pricey, they are more resilient.
Question: How Long Will My Cart Last?
Answer: It depends on the build and quality of the cart you want to buy. Additionally, how you use it affects durability. A high-quality cart can serve you for years and even your whole life if you use it properly.
Question: How Much Wood Does a Firewood Cart Carry?
Answer: The manufacturer of your cart design carts to carry a certain weight of firewood. Generally, they are designed to hold anything from 50 pounds to 200 pounds. Some have pneumatic tires to ensure pulling or pushing the carts is as easy as possible. For large farms or commercial uses, some carts can haul up to 800 pounds, maybe more. Keep this in mind when you are looking to buy a firewood cart.
Conclusion
Investing in a firewood cart is ideal for people who have fireplaces that need firewood. The above carts should help you get the best for your needs. If you don't need a cart, check out our firewood cart ideas for racks and other firewood storing ideas.
Firewood carts also add a decorative element when they are placed inside the house. Firewood racks and firewood carriers are an alternative wood storage options if you don't need to move firewood from point A to B often. Consider firewood bags if you just need to store the same in your house.