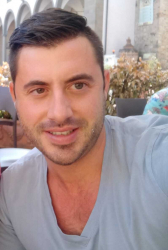 Latest posts by David Borgogni
(see all)
Many years ago, the invention of the pole saw put an end to the difficulty gardeners faced when trying to prune hard-to-reach areas like trees and tall bushes. Companies like Milwaukee have taken the original designs and refined them, creating essential products for domestic and commercial landscapers alike.
Today, we're focusing on one of their most popular products; the M18 pole saw.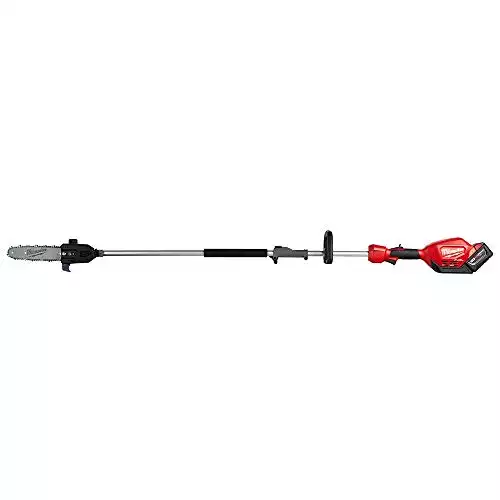 Milwaukee M18 Fuel Pole Saw | Amazon
This Milwaukee Combo Kit includes an M18 FUEL Pole Saw Kit with QUIK-LOK to meet the needs of landscape maintenance professionals.
Buy at Amazon.com
We earn a commission if you make a purchase, at no additional cost to you.
12/08/2023 05:40 am GMT
In this Milwaukee pole saw review, we'll help you on the hunt for your latest piece of forestry equipment by looking in detail at the main features of the Milwaukee pole saw. We'll be outlining how they can benefit your work, assess its pros and cons and answer some frequently asked questions.
Once that's out of the way, we'll be offering our own thoughts on who the Milwaukee pole saw best suits and even suggesting a couple of alternatives we think you should take a look at. But before we get into it, let's take a look at a product overview.
Key Specifications of the Milwaukee Pole Saw
Core Features of the Milwaukee Pole Saw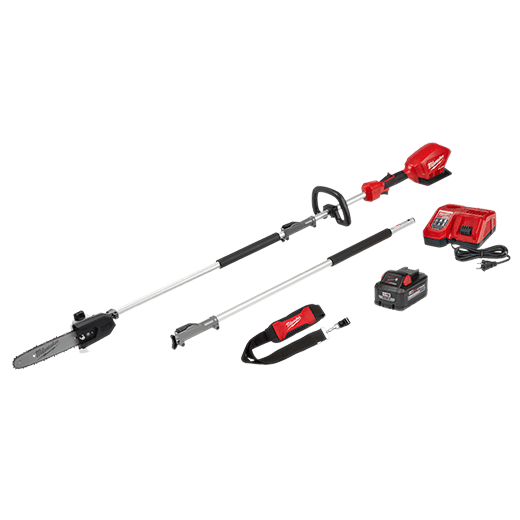 When looking to purchase a pole saw several key factors need to be taken into account. As you might have guessed, these are the length, power, and reach. However, while these are undoubtedly very important features, they are not the be-all and end-all of a good pole saw. Let's take a look at the key features that Echo brings to the table.
Powerstate Brushless Motor
A brushless motor is a must for any premium tool. It provides more efficient power and is much more reliable than traditional or cheaper models. In addition, this pole saw comes with a purpose-built motor for use with Milwaukee's M18 FUEL products, meaning it generates high levels of power and performance needed when dealing with tricky jobs.
It also means the motor is powerful enough to power an array of Milwaukee attachments (we'll come onto those later).
Read also: How to Find The Best Pole Saw Attachments.
M18 RedLithium High Output XC8.0 Battery Pack
There's no point in having a powerful motor if there's nothing to supply the power. Thankfully, with Milwaukee, their M18 high output battery pack comes as standard. This provides unrivaled power and operating times compared with other leading brands and 50% more power while running 50% cooler than their M18 XC batteries.
Redlink Plus Intelligence
The addition of Redlink Plus has helped elevate this pole saw above its peers. It helps to optimize overall performance from the controls right through the motor and into the blade. In addition, it protects from electrical overloads, preventing the number one cause of damage sustained by battery-powered tools.
This technology is compatible across Milwaukee's M18 range and provides particular protection during heavy-duty workloads.
Quik-Lock Attachments
Another key feature of this pole saw is that it can also act as various tools. Powered by a single head, this pole saw can be used in conjunction with Milwaukee's string trimmer, edger, articulating hedge trimmer, 10ft pole saw, and 3ft extender for a complete gardening solution ideal for domestic use.
This flexibility makes Milwaukee an excellent choice for homeowners looking for a comprehensive solution to their yard work and saves you both time and money buying a whole host of other tools.
Good Length
The overall length of this pole saw is another standout selling point. At 10 feet, it provides a great cutting reach and can tackle most treetops from the ground – for particularly hard-to-reach areas, and there is even a 3-foot extension option. With the option to reach over 13 feet, unless you've got some seriously tall trees in your yard, the Milwaukee pole saw should be able to trim them for you.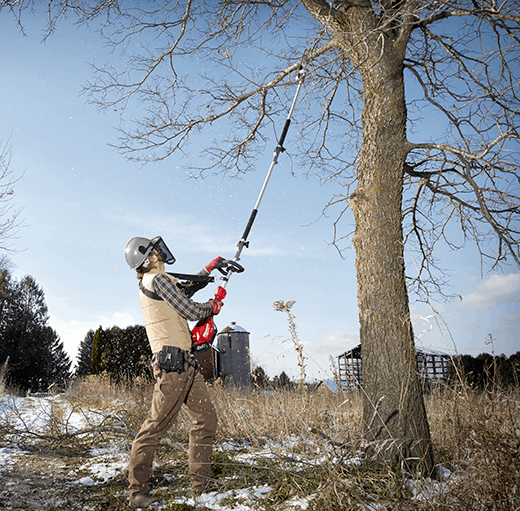 Cutting Bar and Chain
At the business end of the saw, you'll find a 10-inch bar and chain. Thanks to Milwaukee's oiling and lubrication system, both stay sharp and well oiled. Just keep the blade away from any dirt or metal shrapnel, as that's a sure-fire way to cause damage.
Included is a standard T-wrench that can be used to adjust chain tension. On one side of the unit, you'll find the socket and an adjustable screw on the other. Make sure you have a flat-head screwdriver handy, and away you go. Loosen both, and you'll be able to adjust the chain tension, so it's either looser or tighter, depending on what you need.
You can also change the auto-oiler in the same way, which is useful for adapting to different weather conditions.
Milwaukee Build Quality
Another key feature of this Milwaukee pole saw is the overall build quality. If you're planning to work height, a cheap tool wouldn't be suitable as a flimsy pole could cause problems. However, you know what you're getting with a brand like Milwaukee, so this will never be an issue.
The shaft on the M18 comes with an aluminum inner that boosts rigidity while keeping weight down. On the outside sits a solid fiberglass covering, again adding rigidity and reducing weight. The use of these materials results in a shaft that is light enough to maneuver while being strong enough to safely support the cutting bar and chain.
Aluminum collars have also been used in the design at each end of the pole to further add overall strength. This helps to reduce flex when the unit is being used at full reach, making the cutting blade more accurate and easy to use.
At the base of the pole saw the site, an ergonomic handle and responsive throttle combining to give the user an unparalleled level of control. In fact, the level of control is so great that the blade can be manipulated to cut sideways, even when fully extended.
Lightweight Build
At just 12.7lbs, this is one of Milwaukee's lightest pole saws. Everything from the chain and blade unit through the strengthened shaft and the brushless motor has been built to keep weight down where possible. This makes the pole saw incredibly easy to use and allows it to be precise, even when fully extended.
The motor has been built using light but rigid materials and helps to contribute to the product's overall feel while still being powerful enough to deliver a high power output. Similarly, the lightweight shaft has been created to be rigid enough to prevent any issues when working at extended heights.
Ergonomic Handle
The way Milwaukee has designed this tool allows for maximum comfort while working. When using extendable tools such as the pole saw, all controls and handles have to be well balanced to be precise.
The handle at the base of the unit is ergonomically built, and the brushless motor with an M18 battery provides a counterbalancing effect thanks to its location.
How Does the Milwaukee M18 Pole Saw Perform
Milwaukee is well established within the power tool world. They are known for designing and building quality products that can be used both professionally and domestically. As the price of their pole saws reflects this, it's crucial to understand how they perform before you purchase one.
We put one of the M18s through its paces and found that Milwaukee has produced a solid pole saw. The unit feels light and responsive while at work, which is highly necessary when using it with a fully extended shaft.
There is very little that cannot be cut when the shaft is fully extended to 10 feet. There is even an extendable attachment to allow workers to cut at even greater heights – an additional 3 feet can be added.
The brushless motor was another hit. It is easy to start and efficient with power consumption – we got a good 90 minutes of cutting out of a full battery which is the level you would expect from Milwaukee's flagship battery range.
If you've not used a pole saw before but have to regularly prune trees and other tall plants, then this is a good option for you. Not having to climb a ladder to reach high up branches boosts productivity while being a much safer option.
The unit is also straightforward to maintain. Admittedly, there is not much to it as battery-powered tools tend to be easier to look after than gas-powered ones, but keeping the blade sharp, chain well oiled, and motor in good condition is simple thanks to the easy access that has been incorporated into the design.
Pros of the Milwaukee M18 Pole Saw
As we have established, this Milwaukee pole saw is great for homeowners and pros alike. Here, we'll take a closer look at the pros of the M18 and look deeper into why you may want to get yourself one.
Great Extendability
Being able to extend this unit by up to 10 feet is a huge pro. For those that need to access the tallest trees, this makes Milwaukee an attractive option. Add to that the fact that an attachable accessory extends the reach by another 3 feet, and you've got one of the longest saws on the available.
Ergonomics
Clever ergonomics is a must for any power tool that is to be used over long periods. Milwaukee has included a variety of ergonomic additions that help the overall feel of the pole saw. There is an easy-grip handle and throttle, a lightweight shaft, and the whole unit is counterbalanced. All of which combine to make this a pole saw that is comfortable to use over extended periods.
Good Warranty Cover
Another great aspect is the warranty cover that comes as standard. Milwaukee offers all customers a manufacturer's warranty of five years for consumers and two years for commercial enterprises.
Great Attachments
Purchasing separate attachments that use the same motor and battery head means you can turn this unit into multiple tools. This is particularly useful for homeowners who perhaps don't want to spend large amounts on a variety of different tools to use around their yard.
Cons of the Milwaukee M18 Pole Saw
Where there are pros, there are usually cons. So we outline the downsides of the M18 pole saw here.
Price
Milwaukee is a reputable brand that produces top-quality products. The prices of their tools reflect that, and that could put some off, particularly if you are a domestic buyer. However, the array of attachments could be viewed as a way to save money in the longer term as you will not need to purchase stand-alone tools to complete the same jobs.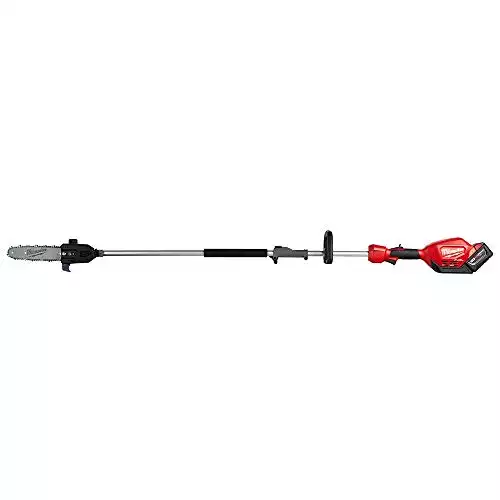 Milwaukee M18 Fuel Pole Saw | Amazon
This Milwaukee Combo Kit includes an M18 FUEL Pole Saw Kit with QUIK-LOK to meet the needs of landscape maintenance professionals.
Buy at Amazon.com
We earn a commission if you make a purchase, at no additional cost to you.
12/08/2023 05:40 am GMT
Are There Any Alternatives?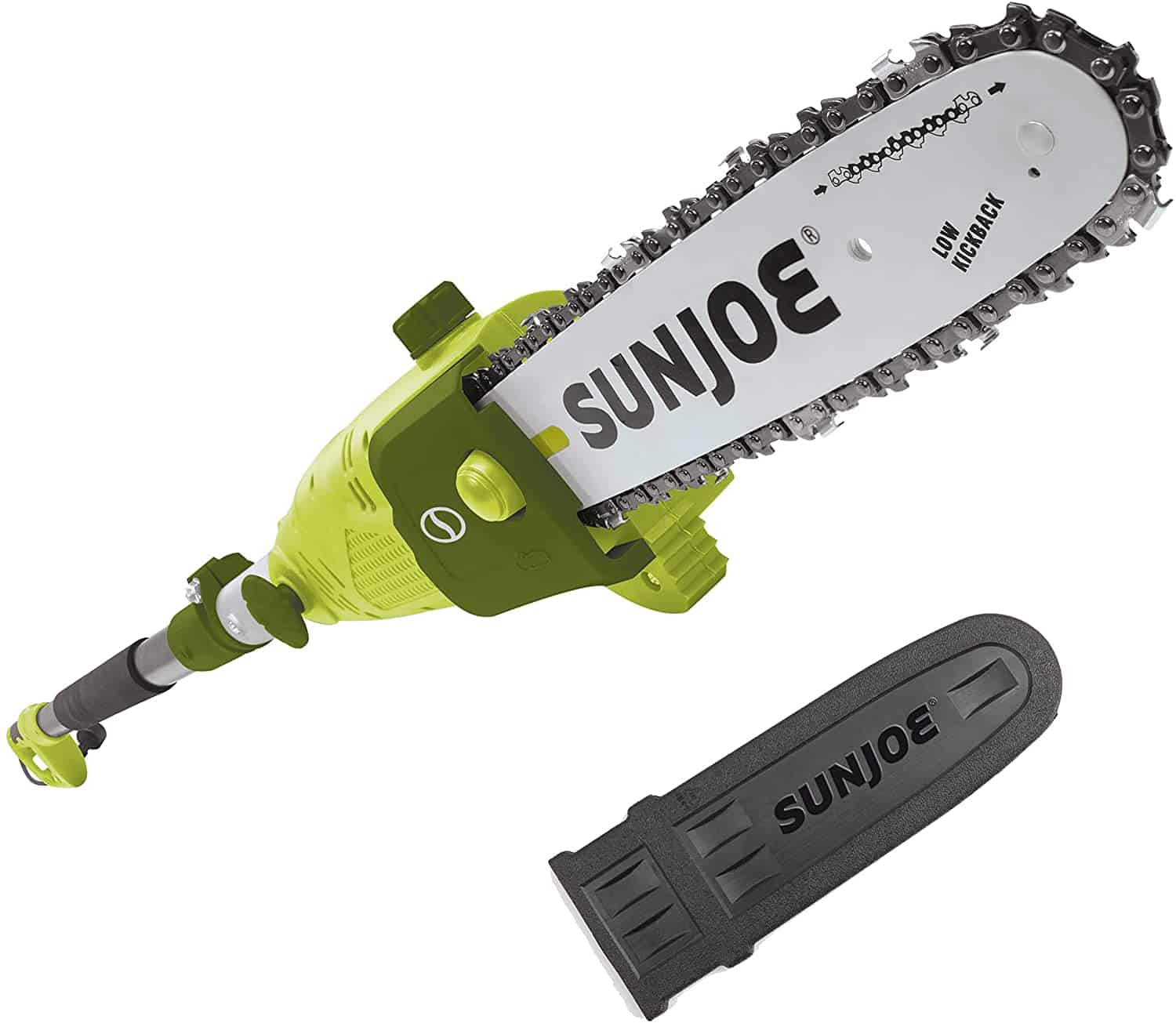 Sun Joe offers a great alternative to the M18. Although not as powerful, the Sun Joe features the same level of reach as it is extendable to 10 feet. A great option for buyers on a budget, the Sun Joe offers low kickback with a good level of power.
However, one thing to bear in mind is that this is a corded unit, so it will need to remain plugged into a power socket during use.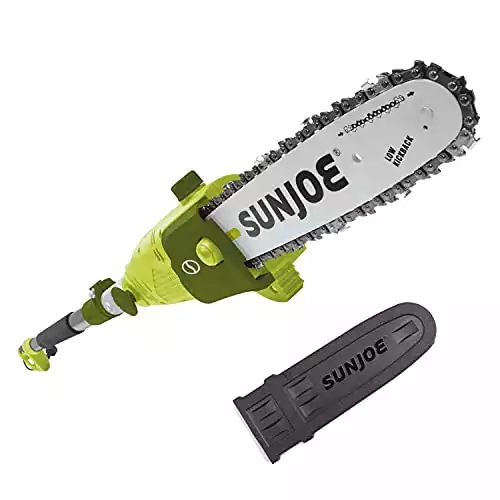 Sun Joe SWJ803E | Amazon
The Sun Joe SWJ803E electric pole chain saw takes the danger and difficulty out of trimming your overgrown trees. Stand safely on solid ground and simply adjust SWJ803E's telescoping pole to go from 5.8 to 8.8 feet for up to 14 feet of overhead reach!
Buy at Amazon.com
We earn a commission if you make a purchase, at no additional cost to you.
12/08/2023 05:46 am GMT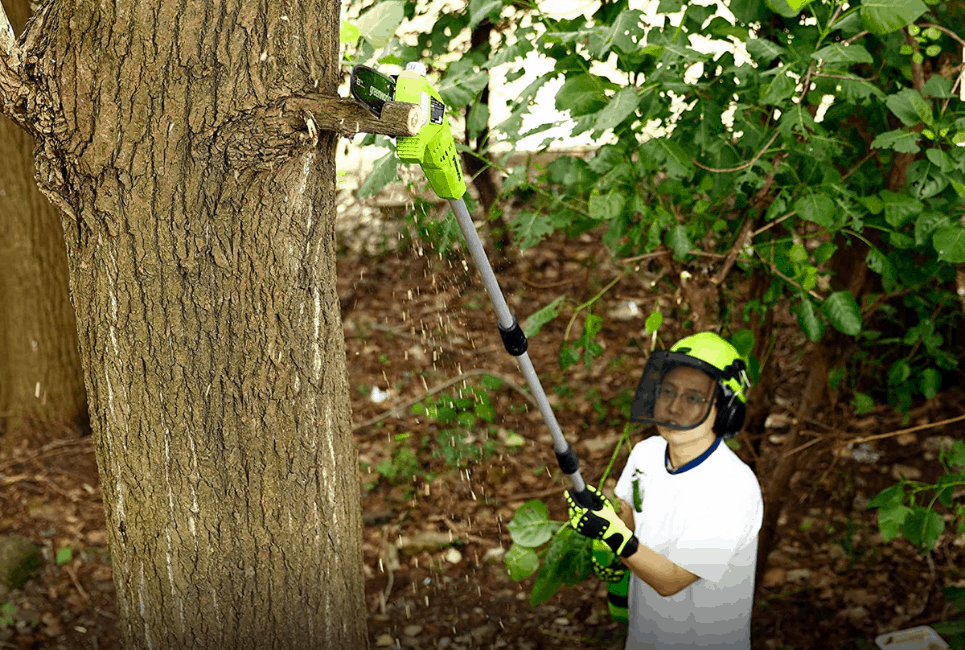 GreenWorks is another company that specializes in garden tools, this time specifically aimed at the domestic market. This unit's total extendable length is 9 feet, allowing for 11 feet of reach – slightly less than you get with the Milwaukee.
The power generated from the battery is a lot lower, too, meaning you'll need to charge up much more often. Despite these drawbacks, like the Sun Joe, this offers a great alternative to those with a tighter budget.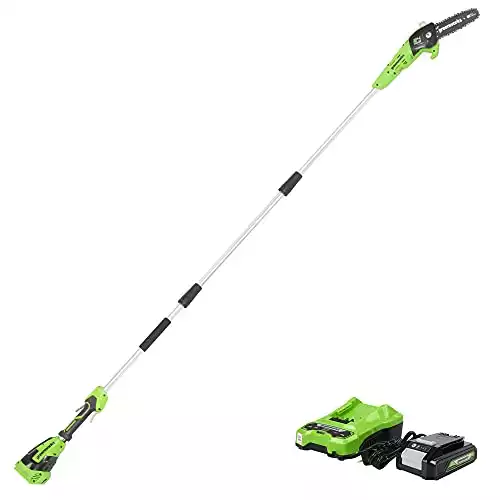 Greenworks 24V 8-Inch Cordless Pole Saw | Amazon
This 24V Lithium-Ion pole saw features an 8" bar and chain (. 050 gauge, 33 drive links, 3/8" LP (low kickback chain)), automatic oiler, cushioned over-mold grip, aluminum shaft, and manual chain tensioning. No gasoline, no pull cord, no spark plug, no maintenance!
Buy at Amazon.com
We earn a commission if you make a purchase, at no additional cost to you.
12/08/2023 02:10 am GMT
FAQs
Question: How Many Extensions Can You Add to the Milwaukee Pole Saw?
Answer: There are five different extensions available for the Milwaukee pole saw. These are a string trimmer, edger, articulating hedge trimmer, 10ft pole saw, and 3ft extension. Unfortunately, you can only attach one of these at a time.
Question: How Far Will a Milwaukee Pole Saw Reach?
Answer: As standard, the Milwaukee pole saw will reach up to 10 feet from the user. The pole can be adjusted to suit different lengths, and there is a 3-foot extension attachment available if a greater reach is needed.
Question: What Chain Does the Milwaukee Pole Saw Use?
Answer: The Milwaukee M18 pole saw uses a similar chain to that of their chainsaw. A 10 inch Oregon bar with an R56 chain provides the cutting ability with a chain gauge of .043 inches.
The Final Word – Is This a Solid Pole Saw Option?
There is no surprise that Milwaukee's M18 pole saw offering is a great choice for many people. Although it is marketed as suitable for both pros and domestic users, we would recommend only using it at home.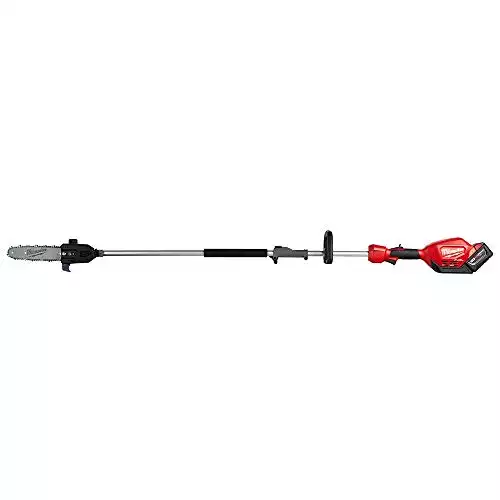 Milwaukee M18 Fuel Pole Saw | Amazon
This Milwaukee Combo Kit includes an M18 FUEL Pole Saw Kit with QUIK-LOK to meet the needs of landscape maintenance professionals.
Buy at Amazon.com
We earn a commission if you make a purchase, at no additional cost to you.
12/08/2023 05:40 am GMT
Its attachments come into their own there and provide a great solution for homeowners. However, pros may find it more beneficial to go with the individual tools. For a great professional pole saw option, check out our full Echo pole saw review and guide.
Don't forget to also give some thought to our suggested alternatives. Both the GreenWorks and Sun Joe are fantastic options for use and home, particularly if you don't like the idea of spending quite so much on your new pole saw.