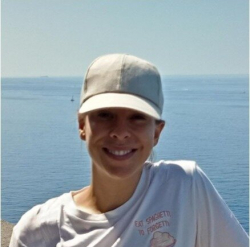 Latest posts by Maddy Chiffey
(see all)
As even the most experienced forestry professionals will tell you, trying to determine the best Home Depot pole saw to spend your hard-earned money on is rarely as straightforward as anyone would like.
Walk into any one of the brand's 2,000+ stores, and you're met with an array of options, all of which boast about their exciting range of features but none of which actually explain whether that specific set of features makes any given pole saw the right one for you.
If that sounds familiar, don't worry, this guide is for you.
Just like I did with my recent guide to the best Home Depot Wood Chippers, I've rounded up the top five very best pole saw options offered by Home Depot and offered up everything you need to know to determine which is the best option for you and your land.
You'll find all that -plus a buyer's guide and answers to your most frequently asked pole saw questions- below, but if you're in a hurry, here are my top five picks in brief:
At a Glance: Top 5 Best Home Depot Pole Saw
What is a Pole Saw?
In essence, a pole saw is a very simple piece of equipment, yet for homeowners and landscaping pros alike, it can prove to be an indispensable tool that provides a level of convenience you just won't get with other power tools.
Their job is to make it easy to cut down branches from tall trees without the hassle and added safety risks of climbing up a ladder and hacking them off with a chainsaw.
Many of the best pole saws sold by Home Depot tend to be powered by batteries or a cord plugged into the mains, though as you'll see in my top 5 picks, there are some gas-powered versions available.
Regardless of which power source you choose, you'll find that your pole has three main parts; a blade, a pole, and a handle.
The blade, obviously, does all of the cutting work, slicing through thick wood with precision. Yet, it's the pole itself that is often the key selling point, extending multiple feet into the air so that you can get to those branches you'd otherwise have a great deal of difficulty reaching.
Who Needs a Pole Saw?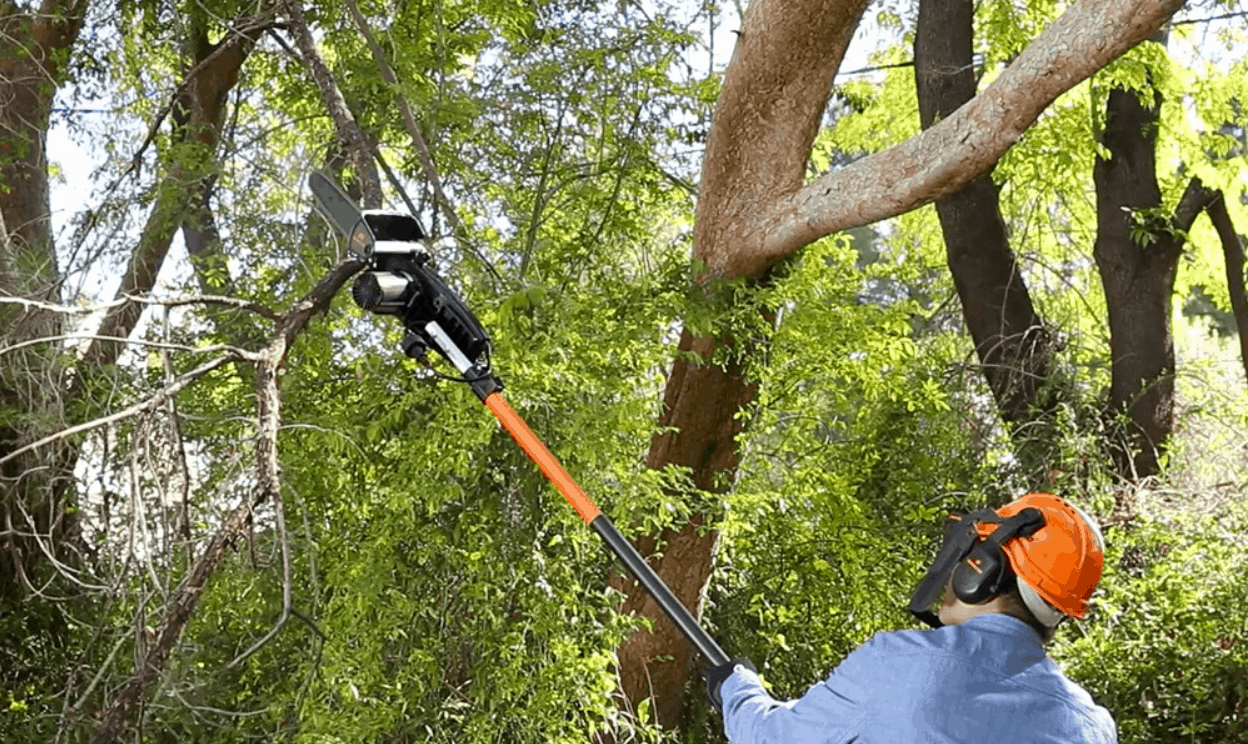 Pole saws can often prove to be an essential part of many landscaping and forestry professionals' arsenal.
After all, these types of jobs usually involve maintaining mighty trees that grow 50+ feet in height.
While even the best pole saw is unlikely to get all the way up to 50ft without a little extra assistance, it can prove to be very useful for reaching branches that stand a good 10ft above your head.
As you can imagine, this simply makes the whole job of limbing trees much more straightforward, saving plenty of time in the process and allowing busy professionals to work more efficiently and productively.
Still, that's not to say that only the pros can own one of these handy tools.
Buying a Home Depot pole saw can also be a worthwhile investment for homes and landowners who need to take care of their own tall trees, often making for a much safer and more convenient alternative to chainsaws.
Home Depot Pole Saw Buyer's Guide
Before diving into my reviews of the five very best Home Depot pole saws, let me share the four main things I considered when selecting and ranking my choices so that you have a better understanding of what to look for when choosing the right saw for you.
Pole Size
If we talked about chainsaws or other cutting tools here, you'd expect me to talk about the blade first. While that's definitely important, the whole reason you're thinking about buying a pole saw instead of a chainsaw is because you need that extra extended reach.
Obviously, it's the pole that offers this, making it the most important thing to consider.
Most pole saws come out of the box at around 6ft in length, but few stop there. You should be able to extend that pole to at least 8ft – 9ft, which gives you the freedom to reach branches that are 15ft – 16ft above the ground.
The good news is that if you need significantly more reach, you'll also find models that extend up to 12+ft.
When determining the best saw to spend your money on then, it pays to consider just how high up those branches are that you want to cut.
Blade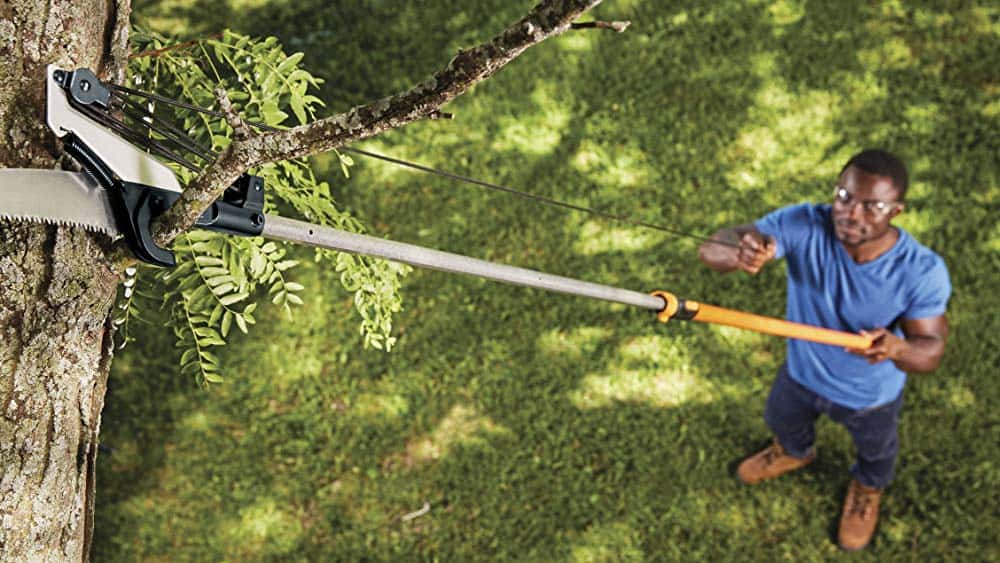 OK, so the blade (or bar and chain to use the proper terminology) isn't the most important factor here, but it still matters a great deal.
The standard blade size for commercial pole saws is around 8". This is generally enough to cut through branches between 6" – 10" in diameter, which is more than sufficient for most trees.
If you are faced with extra-thick wood, don't worry, you can pick up models like the Echo PPT-2620, which offers a substantially bigger 12" blade.
Power Source
Like most outdoor power tools, pole saws usually come in either electric or gas-powered options.
For domestic home use, electric-powered options win out every time.
Sure, you get more power with a gas model, but you also have to spend much more time setting up your saw, and they require far more maintenance than electric models.
What's more, gas pole saws tend to be loud and give off fumes that don't just smell bad but are also hazardous to your health and the environment.
With electric models, there are no such problems. Instead, they're easy to set up, require minimal maintenance, and are lighter, quieter, and more environmentally friendly.
That said, if you're working on a large-scale project that requires much more power, it may be worth sacrificing the benefits of electric saws in favor of a gas option.
Maneuverability
The whole point of owning a pole saw is to get to those branches that are tough to reach. Sometimes, that isn't just because they're high up, but because they're in an awkward position or just not very accessible.
This is why it's so important to pick a saw that scores high maneuverability marks.
There are a couple of factors contributing to this. First of all, you need a strong, firm, ergonomically designed handle to hold. This allows you to hold the pole steady and maintain maximum control as you get into those tough spots while using your other hand to hold and support the pole.
Still, there's only so much support you can offer if that pole starts to wobble and shake the further it is extended. A wobbly pole hinders your level of control and can often result in poor or botched cuts, and it's for this reason that you'll see I've placed such a heavy emphasis on the sturdiness in the following top 5 reviews:
5 Best Home Depot Pole Saws
1. Sun Joe SWJ806E 2-in-1 Convertible Pole Saw – Best All-Round Pole Saw

 

Converts into a handheld chainsaw
15ft reach
It cuts up to 10"

Find it Here
2. Ryobi ONE+ 8″ Pole Saw – Best Budget Option

 

Excellent battery life
Best for existing Ryobi users
Three-year warranty

Find it Here
3. BLACK+DECKER 20V MAX Pole Saw

 

 

Best for transporting to work sites
Impressive, long-lasting durability
Over 15ft reach

Find it Here
4. Craftsman 14-Foot Pole Saw

 

Angled blade perfect for awkward spots
325 cuts per battery charge
Excellent maneuverability

Find it Here
5. Echo PPT-2620

 

Best gas-powered pole saw
12" blade
Largest telescopic pole.

Find it Here
1. Sun Joe SWJ806E 2-in-1 Convertible Pole Saw – Best All-Round Pole Saw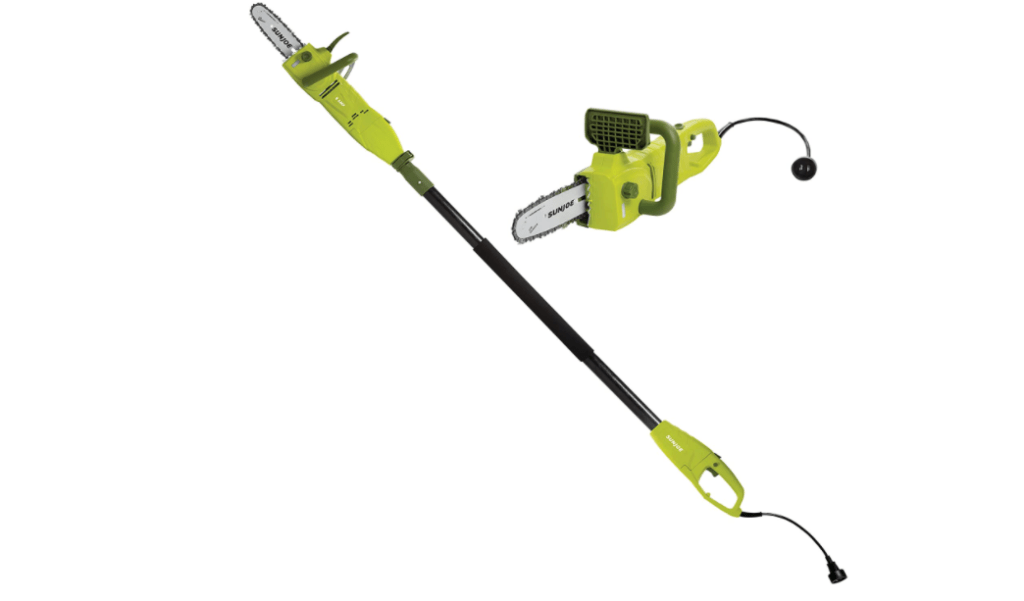 Sun Joe has long enjoyed a reputation as one of the leading purveyors of saws and other outdoor power tools, so it came as no shock to find that the Sun Joe SWJ806E 2-in-1 Convertible Pole Saw is the absolute best on the market right now.
Like many others on this list, it boasts a solid 8″ cutting bar and chain, which, when driven by the substantial 8.0-amp motor, gives you all the power you need to effortlessly see your way through branches up to 10″ in thickness.
Yet there's also a lot to offer here, which really helps the Sun Joe SWJ806E stand out from the crowd.
First of all, the impressive telescoping pole can extend between 6.3ft to 8.5″. Put this one at full extension and grip the well-designed ergonomic handle, and you'll enjoy 15ft of reach, perfect for getting at those hard-to-reach branches.
Then, of course, there's the fact that this is a 2-in-1 device. So when you're done hacking down those tree limbs, you can convert your pole saw into a small, hand-held chainsaw to quickly chop them up.
If you're on the hunt for both products, this can save you time, money, and hassle, eliminating the need to also start shopping around for the best chainsaw you can buy.
Pros:
Features auto-oiling mechanism to keep it fully lubricated during use
Includes blade guard for added safety
Sturdy, easy-to-control pole.
Cons:
Powered by the mains, which may limit the reach
The extension button for the pole is right next to the power button, which can be dangerous if you hit the wrong one.
2. Ryobi ONE+ 8″ Pole Saw – Best Budget Option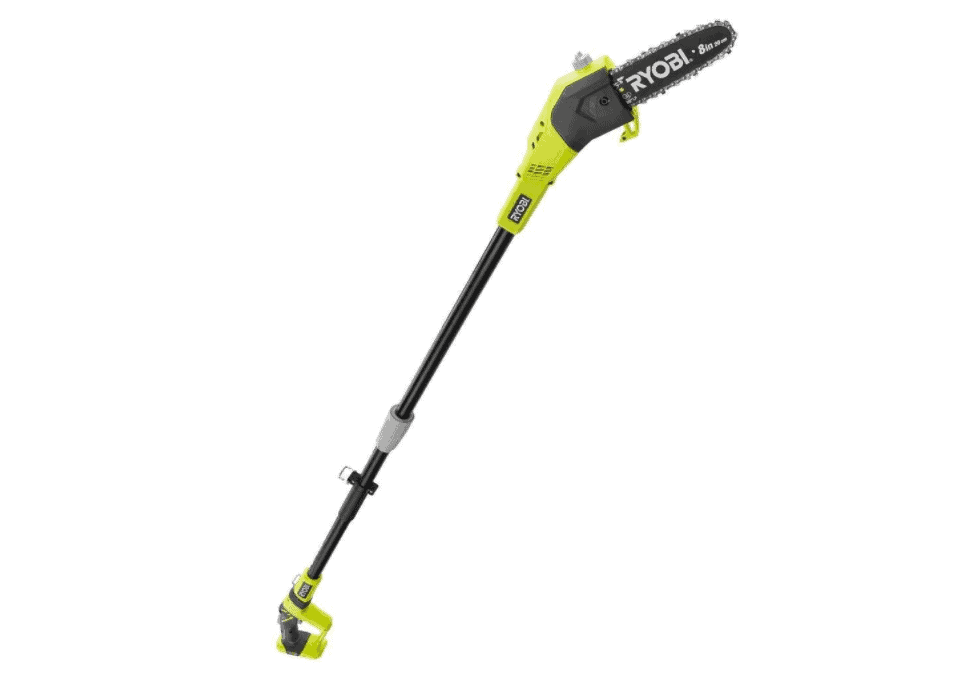 The fact that the Ryobi ONE+ 8″ Pole Saw is one of Home Depot's best-selling chainsaws is hardly surprising when considering the kind of quality it offers for such an affordable price.
The standard 8″ blade makes light work out of branches up to 6″ in diameter. While others boast better performance, that's still more than plenty for gardens with small-medium-sized limbs.
However, I really like this one because it outranks even some of the higher-priced battery-powered pole saws in terms of energy use.
The battery goes from 0%-100% charge in only thirty minutes and offers sufficient running time to tackle most common household sawing jobs without running out of power.
There are several excellent Ryobi pole saws to choose from, and while the ONE+ may not be the biggest, it's certainly the best you're going to get at this price range.
Pros:
Includes 3-year warranty
Maximum pole length extension of 9.5ft
Works with batteries from other Ryobi products.
Cons:
Heavier than other models
A small number of users report that the chain oil leaks.
3. BLACK+DECKER 20V MAX Pole Saw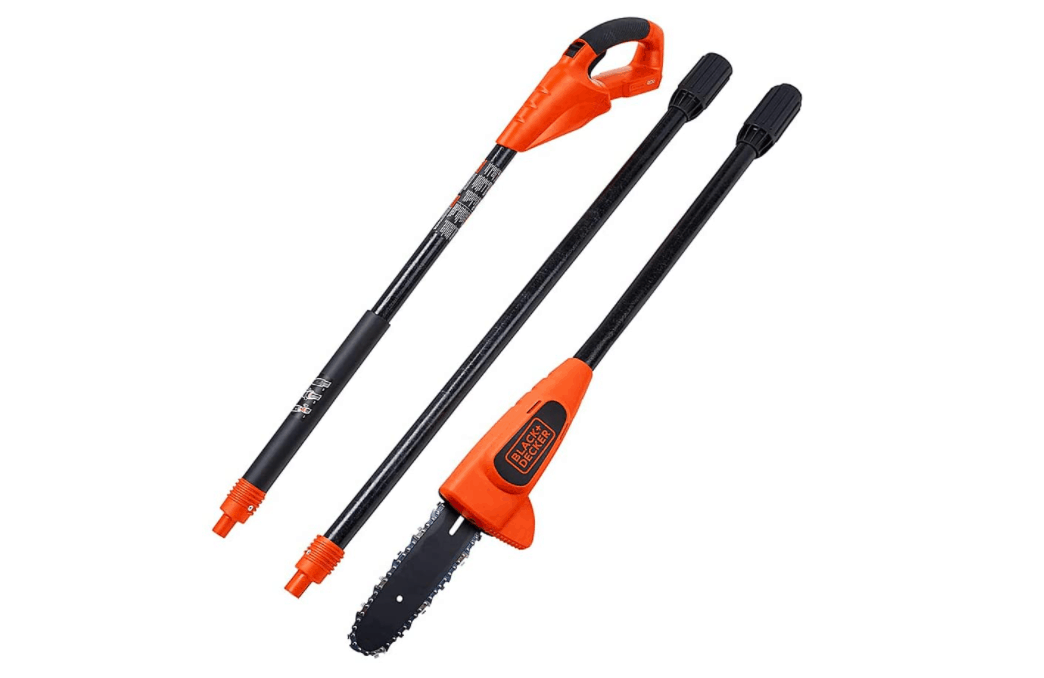 Like Sun Joe and Ryobi, the BLACK+ DECKER brand is synonymous with quality, and the BLACK+DECKER 20V MAX Pole Saw proves why.
Solid, sturdy, and incredibly well-made, this is one saw that's built to last and will get through even those tough jobs without any damage.
Not that exceptional durability is all it has going for it.
The telescoping pole can extend anywhere between 6.5ft – 10ft to offer a maximum reach of 15+ ft.
Elsewhere, I love the in-line powerhead, which doesn't block your visibility (a common problem with so many lesser-quality saws) and allows for greater flexibility and maneuverability.
Altogether, I'd say that this combination of durability and flexibility makes this one of the best battery-powered pole saws professionals can rely on for taking to the worksite.
Pros:
Great combination of lightweight design and durability
Easy to assemble and disable, making it easy to transport
Includes blade guard oil bottles which other saws miss out on.
Cons:
It doesn't include batteries and a charger
It can require more maintenance than other saws.
4. Craftsman 14-Foot Pole Saw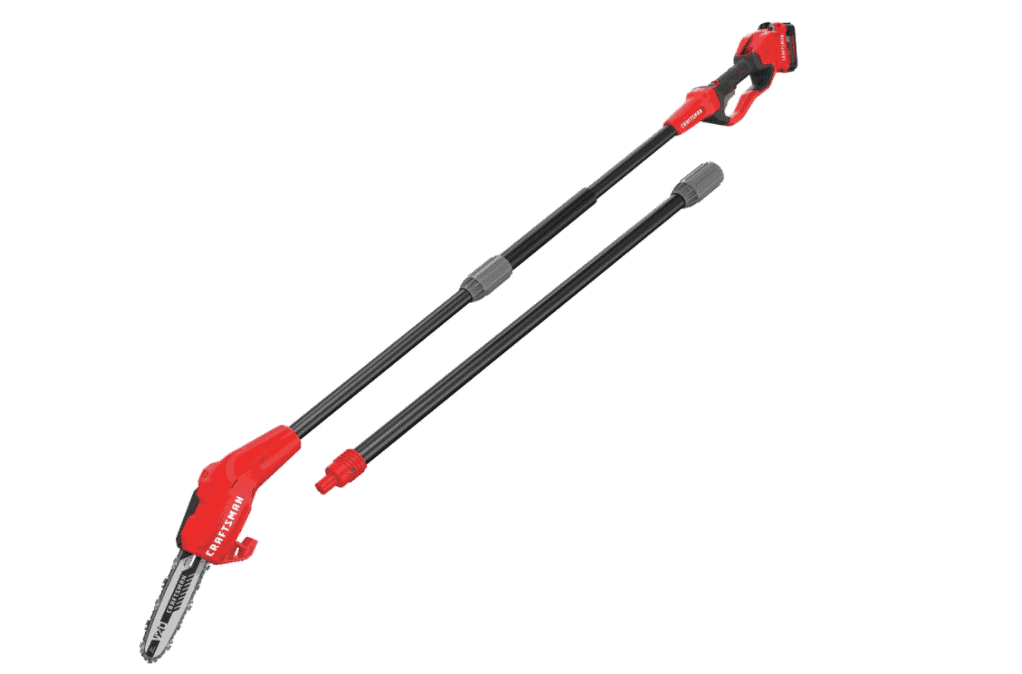 The Craftsman 14-Foot Pole Saw gives the Ryobi ONE+ a serious run for its money in terms of battery life.
Although the battery may take a little longer than Ryobi's to charge, it delivers enough power to complete at least 325 cuts per charge, meaning there's more than enough juice to tackle large amounts of work without changing the battery.
Elsewhere, the saw boasts an angled head and blade, which allows for very precise cuts and makes it easier to get at those awkward branches.
Speaking of making life easier, the soft grip handle allows for optimum maneuverability. If you find you've got a lot of difficult, tough-to-reach limbs to lob, the Craftsman may prove to be your best friend.
Pros:
Telescopic pole offers up to 14 ft reach capacity
Compatible with the Versatrack wall organization system for easy tool storage
Extra-long battery life.
Cons:
Pole tends to wobble when at full extension
Not as powerful as other saws.
5. Echo PPT-2620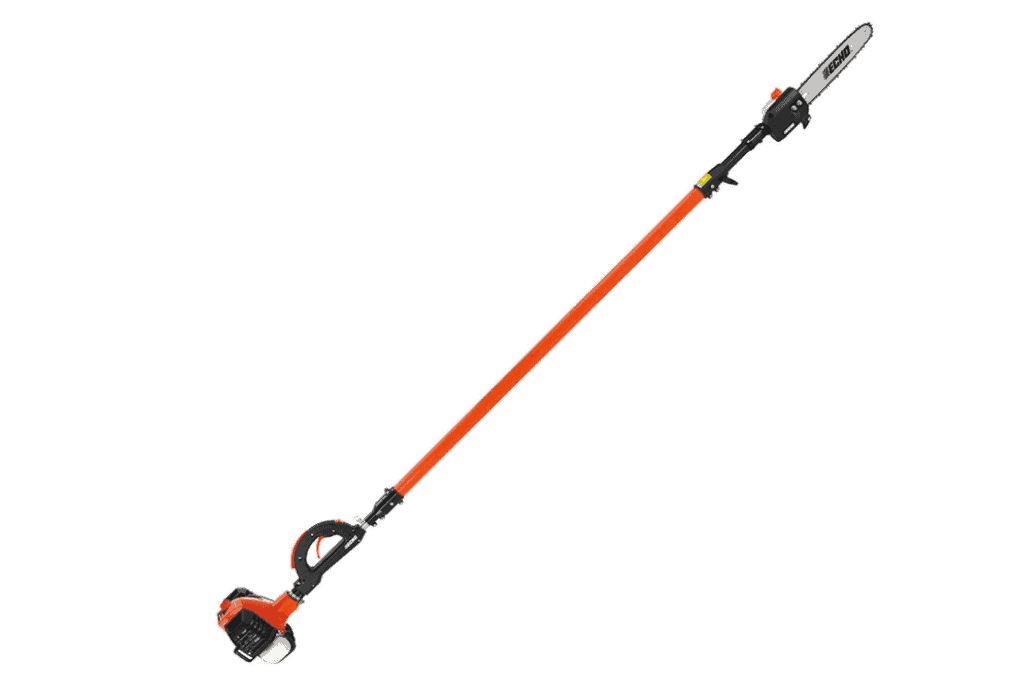 Last but not least, we come to an old friend of mine, the Echo PPT-2620.
In my in-depth Echo PPT-2620 review, I mentioned that despite being one of the most expensive pole saws around, it still provides great value for money for both homeowners and professionals alike, and a large number of Home Depot customers seem to agree with me.
Another one of the DIY store's top-selling pole saws is praised for its effortless assembly and professional-grade construction.
What really sets this apart, however, is that it's the only gas-powered pole saw to make it into my top 5.
As I mentioned in the buyer's guide, gas models tend to require a lot more work in terms of setup and maintenance, and that's before we even mention the noise and environmental damage.
Sure, the Echo isn't perfect in that regard, but if you really do need more power than an electric model, then the PP5-2620's very impressive 25cc engine will certainly deliver.
In fact, pretty much everything is bigger on this one. The pole extends between 8ft – 12ft, making it the best choice if you need something that will reach beyond the usual 14-16ft range, while the 12″ bar and chain is bigger than any you're going to find on an electric model.
All in all, then, this additional size and power make it a perfect choice for those difficult jobs that even the best electric pole saws struggle to manage.
Pros:
The lightweight build makes it easy to carry and maneuver
Includes heavy-duty air filter to minimize maintenance
Provides up to 2-hours of cutting from a single tank.
Cons:
Expensive price tag
Much louder than electric saws
Frequently Asked Questions About Pole Saws
Question: How big of a branch can you cut with a pole saw?
Answer: Most standard pole saws can cut branches between 6" – 10" in thickness, though with a bigger blade, you could cut much bigger branches.
Question: Are our pole saws safer than chainsaws?
Answer: While both tools can be hazardous, pole saws are much safer than chainsaws partly because they don't come with the same risk of kickback, but also because it's much safer to keep your feet firmly on the ground when cutting high branches rather than climbing a ladder and risk falling off while holding a live chainsaw.
Question: What is the best pole saw for the money?
Answer: The Sun Joe SWJ806E 2-in-1 Convertible Pole Saw is one of the best pole saws money can buy right now, though if you're looking for a more wallet-friendly option, the Ryobi ONE+ 8″ Pole Saw is an affordable budget pick.
What is the Best Wood Chipper to Buy from Home Depot? My Verdict
Having reached the end of this guide, you've hopefully armed yourself with all the information you need to know to make an informed purchasing decision the next time you head to Home Depot to buy a chainsaw.
If you still haven't fully made your mind, here are a few final recommendations:
If you need the biggest and most powerful pole saw around and don't mind paying a premium price tag for it, the Echo PPT-2620 is hands-down the best gas-powered pole saw around right now.
If the Echo's expensive cost is well out of your price range and you're looking for the best budget pole saw, you'll find that the Ryobi ONE+ 8″ Pole Saw combines Ryobi's trademark quality with remarkable battery performance at a very affordable price.
Yet if you're simply looking to get your hands on the all-round best pole saw Home Depot sells, then it has to be the Sun Joe SWJ806E 2-in-1 Convertible Pole Saw as not only does it provide 15ft of reach and a 10" cutting capacity, but it also converts into an equally as useful chainsaw in a matter of seconds.