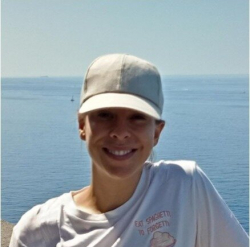 Latest posts by Maddy Chiffey
(see all)
Let's be honest: Trying to determine the best Home Depot wood chipper is rarely an easy task.
Walk into one of the brand's countless stores, and you're inundated with options. While it's certainly good to have plenty of choices, it's hardly ideal when you can't determine which wood chipper is best for use in your home garden versus those high-powered machines that are best reserved for the professionals.
That's precisely why I've put this guide together.
Below, I'll outline exactly how to choose the best wood chipper from Home Depot, as well as offering my thoughts on the top five models for both home and commercial use.
If you don't have time to read those reviews right now, here's a quick overview of my top picks:
At a Glance: Top 5 Best Home Depot Wood Chippers
What is a Wood Chipper?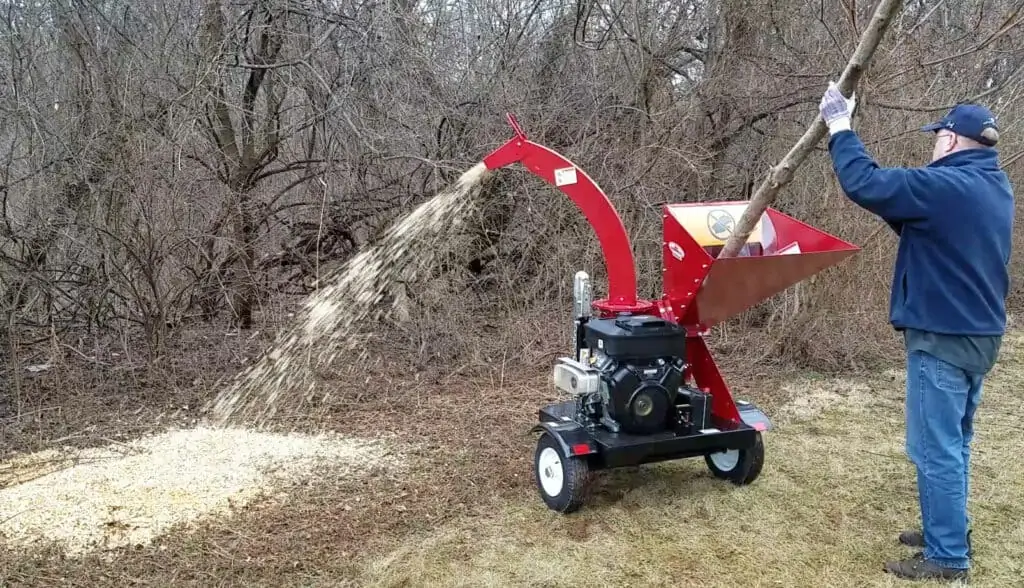 A wood chipper (sometimes spelled as one word – woodchipper) is a machine designed for outdoor use which turns trees, branches, and other outdoor debris into smaller chips.
Why would anyone want to do this?
Simple:
It makes managing and disposing of waste that much easier, as well as turning scrap wood into a useful commodity for your garden.
Just imagine if you've using your brush axe to clear out a large patch of overgrowth.
You're now left with lots of long branches which aren't only too big but also too awkwardly shaped to dispose of easily.
So, you simply fire up your wood chipper to reduce those branches to chips. Now, you've got a nice, manageable bag of freshly cut wood chips that you can use to make mulch to help your plants grow.
Alternatively, maybe you've been using your beam saw on a carpentry project, and you're left with lots of scrap pieces. You simply reduce all that wood into a smaller pile of chips, and it's much, much less effort to get rid of.
Most of the larger wood chippers are designed for commercial use and run into thousands of dollars. I'll cover a couple of those in this guide, but if you're also looking for something small, simple, and affordable that you can use in your garden at home, I'll also share a few of those with you too.
Who Needs a Wood Chipper?
If you're a landscaping or forestry pro who regularly finds yourself with a large amount of wood and garden debris to dispose of, then buying a powerful, commercial-grade wood chipper can prove to be a very worthwhile investment.
In the long run, it will save you a small fortune in rental fees while also helping you to work much more efficiently and productively.
If you're a home user, this all depends on exactly how often you're going to use it.
Many of the best electric wood chippers can be purchased for not much more than it would cost you to hire one out for the day, so even if you only use it a few times a year, buying rather than leasing will ultimately pay for itself in the long run.
However, if you're convinced that using one of these machines is only ever going to be a one-and-done deal, you may find that it works out cheaper just to rent instead.
Home Depot Wood Chipper Buyer's Guide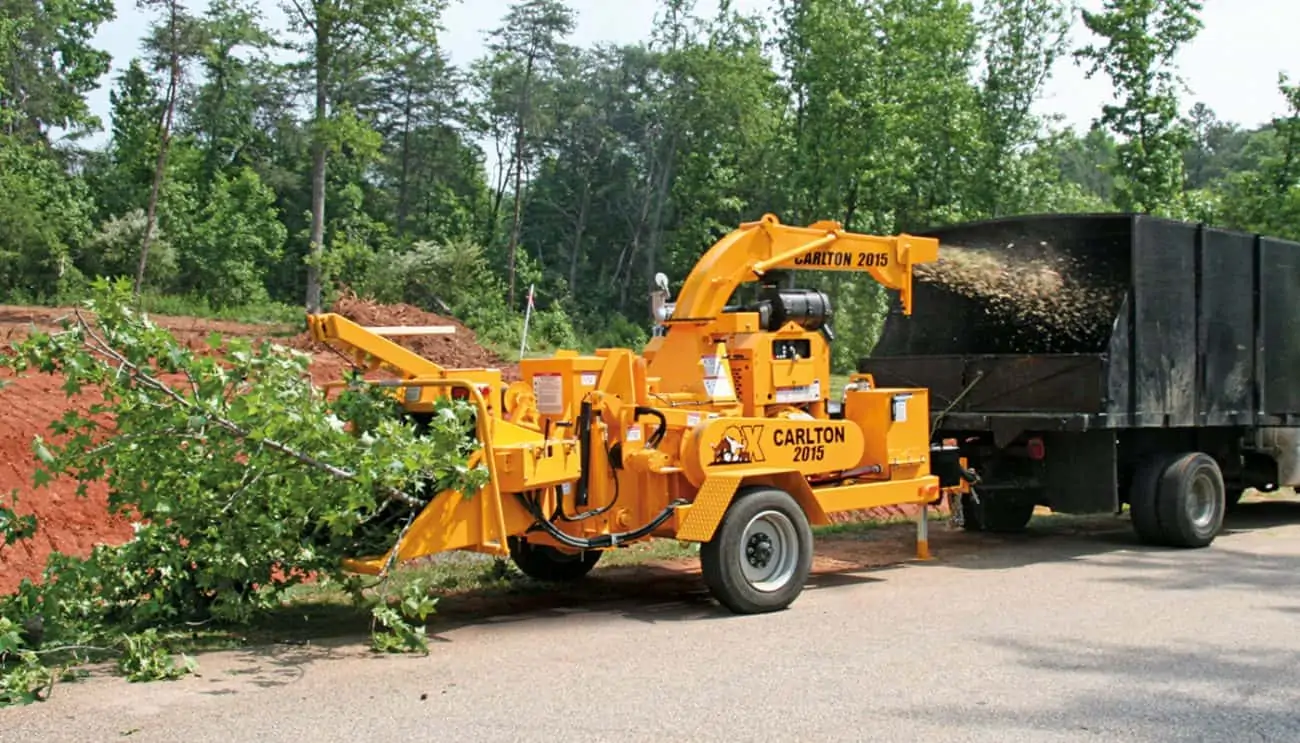 Before I share with you my thoughts on the best wood chippers you can buy at Home Depot right now, let me outline exactly what I looked for when picking these five products and how each factor will likely influence the one machine you eventually buy.
Electric vs Gas-Powered
Much like chainsaws and other high-power tools, woodchippers tend to be powered either by a cord plugged into the mains or by gas fuel.
Electric chippers tend to be the best for the environment. They don't cause fumes and pollution, and they're relatively quiet, which is great if you're using them at home and don't want to annoy the neighbors!
Being plugged into the mains also means that you never have to worry about running out of fuel, which, if it's ever happened to you, you understand how completely annoying it can be.
However, electric chippers are far from perfect. They tend to be smaller than their gas-powered counterparts, meaning the size of wood that they're able to cut is much smaller too.
What's more, while you may not run out of fuel, you may run out of cord, which can be frustrating if you need to use your chipper a long way from the mains supply.
As such, if you have lots of large wood or you're working on commercial projects, gas tends to be the way to go.
Cutting Size
While I'm not suggesting you go out with a tape measure and individually measure each branch or bit of wood you want to cut down, it does pay to consider the kind of cutting size you'll need.
Electric chippers tend to only cut wood of up to 2" in diameter. This is great if you're using it at home where twigs, debris, and branches from small trees are unlikely to exceed that size. However, if you're dealing with anything over 2" in thickness, you'll definitely need a much bigger machine. Otherwise, you run the risk that jamming in a piece of wood that's too big for your chipper causes it to clog, jam, and even break altogether.
Reduction Ratio
All good quality chippers can be measured by their reduction ratio. This is the term used to describe how small the resulting waste will be once it's passed through the chipper.
Many of the best chippers in this guide feature a reduction ratio of around 15:1, meaning the waste will be reduced to a 15th of its original size, though some seriously high-grade commercial chippers can boast a ratio of up to 8:1.
5 Best Home Depot Wood Chippers
1. Earthwise GS70015 Corded Electric Chipper – Overall Best Woodchipper

 

Easy cuts branches of up to 1.75″ in diameter
Largest collection bin for collecting waste
Eco-friendly design and operation.

Find Here
2. Sun Joe CJ602E Electric Wood Chipper/Shredder – Best Budget Pick

 

Best for small garden jobs
Capable of cutting 1.5″ in diameter
Includes auto-stop safety features.

Find Here
3. Detail K2 14HP Gas-Powered Wood Chipper – Best for Commercial Use

 

Largest cutting capacity of 6.25″
DOT approved for legal road use
Includes free set of safety gear.

Find Here
4. Landworks Super Heavy Duty Wood Chipper

 

Cutting capacity of 3″
It also includes mulcher and shredder
Slanted design prevents jams.

Find Here
5. SuperHandy Mini Wood Chipper

 

Small, compact design
Cuts up to 3″ in diameter
Highly durable and lasts for years

Find Here
1. Earthwise GS70015 Corded Electric Chipper – Overall Best Woodchipper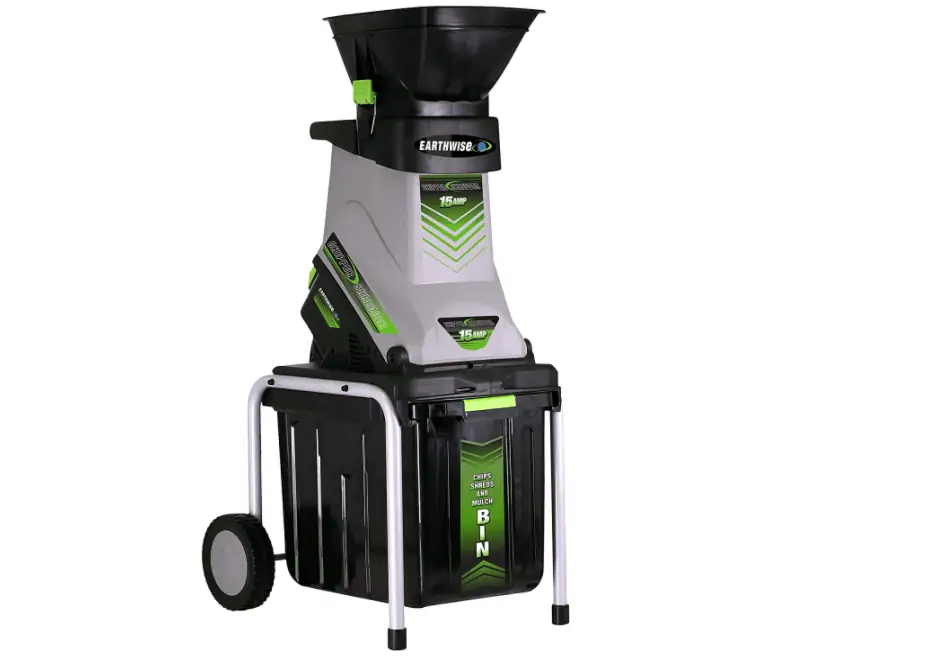 Regardless of whether you decide to buy this wood chipper from Home Depot or anywhere else, there's no denying the fact that the Earthwise GS70015 Corded Electric Chipper is the all-around best chipper on the market right now.
This is primarily due to its power and performance.
The 15-amp electric-powered motor packs a sizeable punch, driving the sharp, durable steel blades to help it take care of branches up to 1.75″ with ease, making it one of the most high-performance electric chippers around.
Elsewhere, there's a very generously sized 40L collection bin, which takes the hassle of disposing of waste afterward.
Portable, relatively lightweight, and effortless to assemble, the Earthwise GS70015 is undoubtedly the best woodchipper for home use that you can buy right now.
Pros:
Eco-friendly operation
The combination of aluminum and resistant plastic makes it highly durable
Strong rear wheels and a large electric cord make it easy to move around the garden
Cons:
Some users may prefer the added power of a gas-powered chipper
Can jam up if the collection bin is too full.
2. Sun Joe CJ602E Electric Wood Chipper/Shredder – Best Budget Pick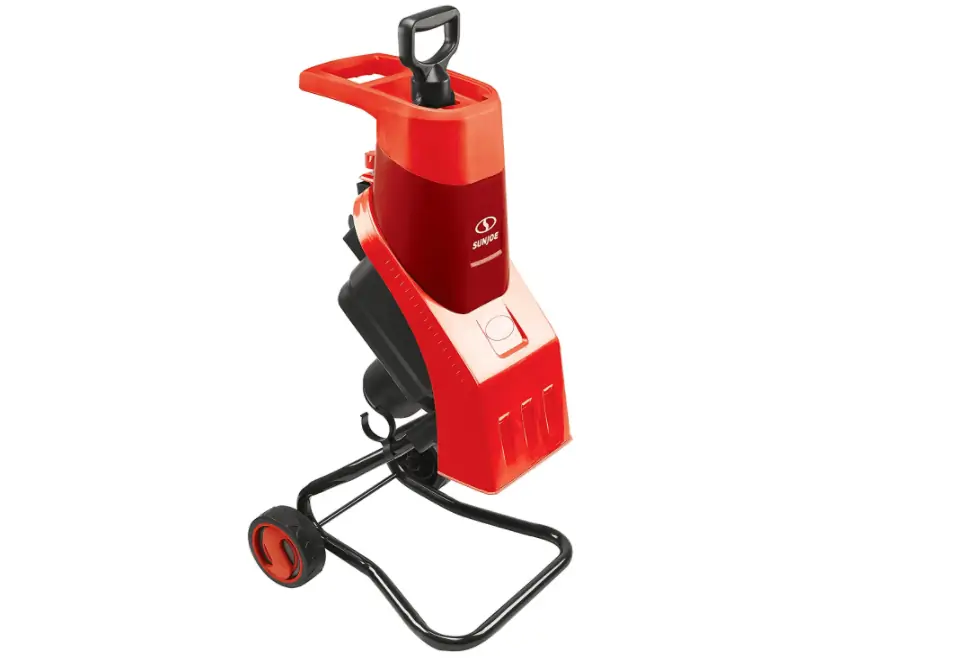 The Sun Joe CJ602E Electric Wood Chipper/Shredder remains one of Home Depot's best-selling wood chippers, and when you see how little it costs compared to other models, you'll certainly understand why.
Still, just because this is my best budget pick doesn't mean that the affordable price tag is all that the Sun Joe CJ602E.
The size is the main advantage here. It's neatly designed and fairly compact, resulting in easy storage and portability, yet what it lacks in physical stature, it makes up for in chipping prowess.
The 15-Amp electric motor drives the blades up to speeds of 4,300 revolutions per minute so that it can make light work out of chipping wood as thick as 1.5″.
Designed primarily for those lightweight jobs around the home, this helpful little tool is straightforward to use, making it a great choice for anyone looking to buy their first wood chipper.
Pros:
Features automatic safety stop feature for added protection
It doesn't jam up easily
Cons:
Not suitable for shredding leaves
Quieter than most other models.
3. Detail K2 14HP Gas-Powered Wood Chipper – Best for Commercial Use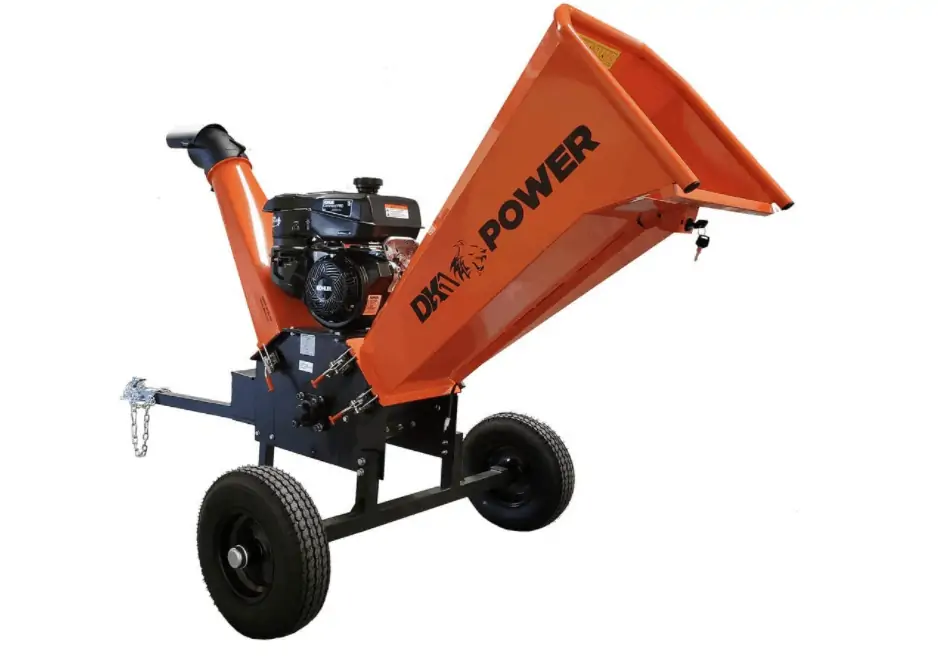 If you need more size and power than you'd get from an electric chipper, the Detail K2 14HP Gas-Powered Wood Chipper will prove to be a worthwhile investment.
One of Home Depot's highest ratest chippers, this commercial-grade machine comes with a substantial Kohler 429 cc CH440 engine and impressive 13″ dual-edge reversible blades capable of cutting trees up to 6.25″ in diameter.
If you need to take your chipper out on the road from job to job, you'll also like the fact that the Detail K2 chipper is fully approved for legal road towing by the Department of Transport, thanks to its road-legal tires and 36″ extended clear.
Combine that with superior durability and chip chute pipe that is the perfect size for pickup trucks, and what you've got here is the best Home Depot woodchipper for professionals.
Pros:
The 14HP engine delivers an RPM of 3,600 to improve efficiency
It comes with a full set of safety equipment
Cutters auto-adjust to make your work easier.
Cons:
Much bigger and heavier than other models
Expensive price tag.
4. Landworks Super Heavy Duty Wood Chipper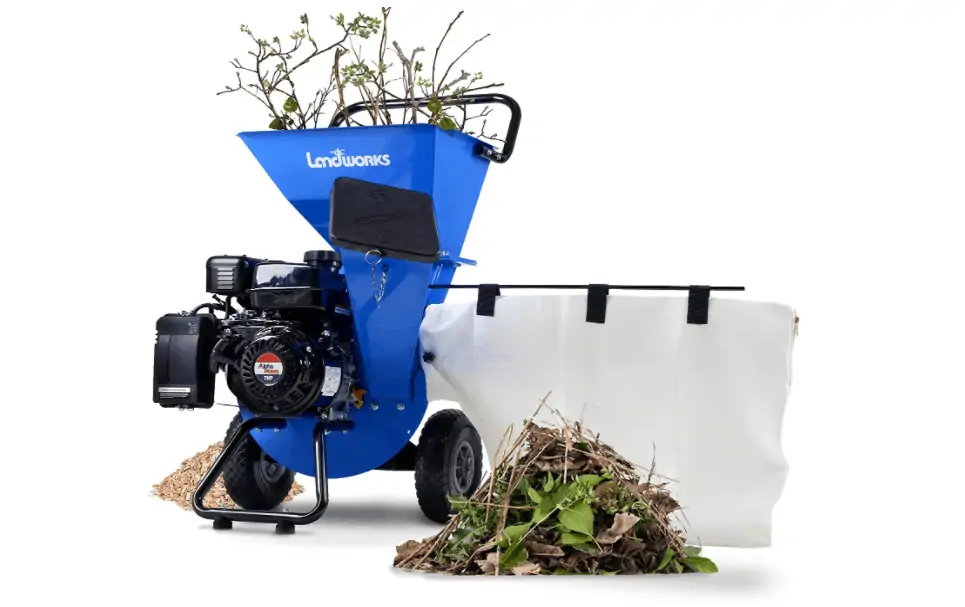 Heavy-duty by name, heavy-duty by nature, the Landworks Super Heavy Duty Wood Chipper is another high-performance, gas-powered machine that gives the Detail K2 a decent run for its money.
Make no mistake about it; this is a powerful piece of kit. The 7HP 212cc Horizontal 4-stroke Single Cylinder OHV Gas Powered Engine drives blades that can cut wood up to 3″ in diameter with no trouble at all.
What I like best about it, however, is that it's a versatile, multi-functional tool that also works as a leave shredder and mulcher, meaning you've got everything you need to take care of your garden waste in one fairly easy-to-use device.
Pros:
Unique, slanted design to prevent jams
Easy assembly
3-in-1 chipper, shredder, and mulcher.
Cons:
Mulch bag is small and fills up too quickly
It can be towed but doesn't include equipment for towing.
5. SuperHandy Mini Wood Chipper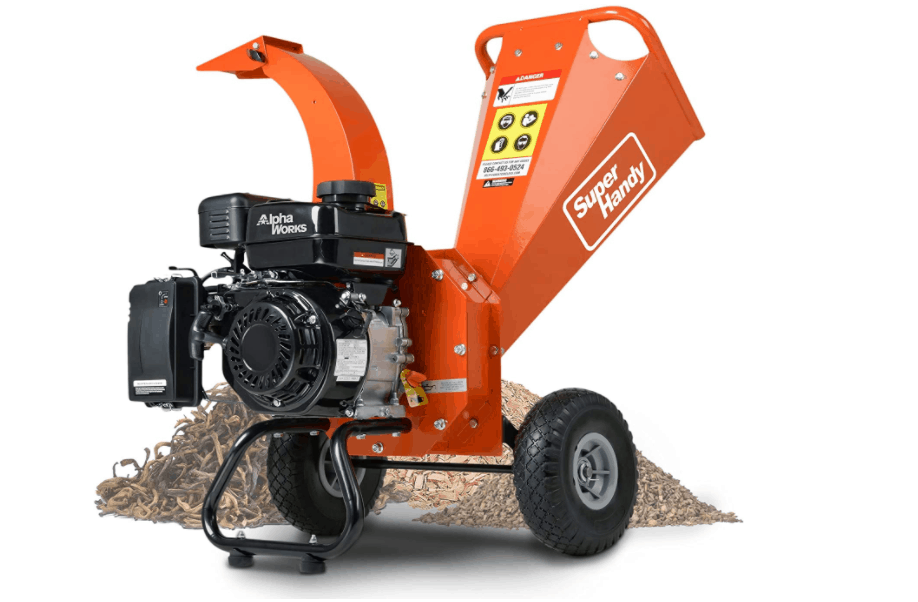 So, you like the idea of a powerful gas wood chipper but don't relish the idea of lugging around a big, heavy piece of machinery.
If that sounds like you, the SuperHandy Mini Wood Chipper is one to look out for.
This one is purposely designed to be smaller and lighter than alternative steel chippers, all without compromising on quality.
Much like the Landworks model we just looked at, this one can tackle branches and other wood of up to 3″ in diameter thanks to its 7HP 209cc Horizontal 4-stroke Single Cylinder OHV Gas Powered Engine, while the discharge chute can be rotated between 90°-145° degrees to make seriously lightwork out of disposing of your garden waste.
Pros:
Also works as a mulcher
Long-lasting durability providing years of use
Affordable price for a gas chipper.
Cons:
It doesn't include towing equipment
0.7-gallon gas tank is fairly small and may need refilling more frequently.
Frequently Asked Questions About Wood Chippers
Question: What is the best wood chipper for home use?
Answer: The Earthwise GS70015 Corded Electric Chipper is the best wood chipper for use around your home and garden as it's small enough to be easily stored, quiet enough not to annoy the neighbors, and yet still big and powerful enough to tackle most common garden debris.
Question: How much do wood chippers cost?
Answer: Good quality wood chippers for home use typically cost between $120 – $250, though woodchippers for commercial use can cost anywhere from $500 at the low end all the way to as much as $2,000+.
Question: What is the best inexpensive wood chipper?
Answer: The Sun Joe CJ602E Electric Wood Chipper/Shredder is the best budget-friendly wood chipper around right now. It costs very little compared to other models but still delivers great performance.
Question: Are small wood chippers any good?
Answer: Small wood chippers that cut wood under 2″ in diameter can be very good for small gardens and general home use, but if you have large trees to remove or you're working commercially, then you'll need a much bigger model.
What is the Best Wood Chipper to Buy from Home Depot? My Verdict
If you've read this far, you're now armed with all the knowledge you need to make a fully informed purchasing decision when it comes to buying the best Home Depot wood chipper for you.
Yet if you're still deliberating and haven't quite made your mind up, allow me to leave you today with final recommendations:
If you're looking to keep your costs down but still want a good-quality wood chipper you can use at home, the top-selling Sun Joe CJ602E Electric Wood Chipper/Shredder comes highly recommended as the best budget model on the market.
For the landscaping and forestry professionals among you, the high-powered Detail K2 14HP Gas-Powered Wood Chipper is hands down the best wood chipper for commercial use, not only for its fantastic performance but for its range of additional features that make it easy to hitch it to your ride and take it out on the road to your next job.
Meanwhile, for home users who simply want the best woodchipper money can buy right now, the Earthwise GS70015 Corded Electric Chipper boasts exceptional cutting ability for a chipper of this size along with quiet performance ease-of-use and lasting-durability, all of which make it a hands-down winner.