Latest posts by The Forestry Pros Team
(see all)
Pole Saw is a well-known machine in the woodworking industry. Regular chainsaws are mainly used for cutting branches, bushes, logs, keeping them on the ground. If you want to cut branches out of your reach like pruning limbs of tall trees, a handy pole saw is your best option. 
Husqvarna is a renowned chainsaw manufacturer company providing quality saws regularly. 
This article will help you find the best Husqvarna pole saw a model for your project that can meet your requirements and budget. 
We will discuss the key features of the models that make them unique which will help you find the best Husqvarna Pole Saw of your need. 
Why do we need a pole saw?
The sole purpose of a pole saw is to cut branches, vines, limbs of a tree that is out of reach for you. If you had a handsaw, you need a ladder for pruning tall trees. Again, they are also quite heavy to lift over your shoulder and would be very risky if you use them in this way. So, how do you solve this problem?
Here comes the pole saw, which has a long telescopic pole with a bar saw at the end. The key features of a pole-saw include lightweight, compact, flexible, and above all, comfortable. All of these features will help you cut those limbs at a long reach very quickly. You can also clean low bushes around your house or garden with a handy pole saw. This fantastic machine will improve your cutting experience and bring a smile to your face. 
How to choose a Pole saw?
Before buying any product, we all double-check its features with our needs to get our work done. There are certain things to understand to bring out the best value for money. Here are some important parameters to check before investing in the best pole saw in the market.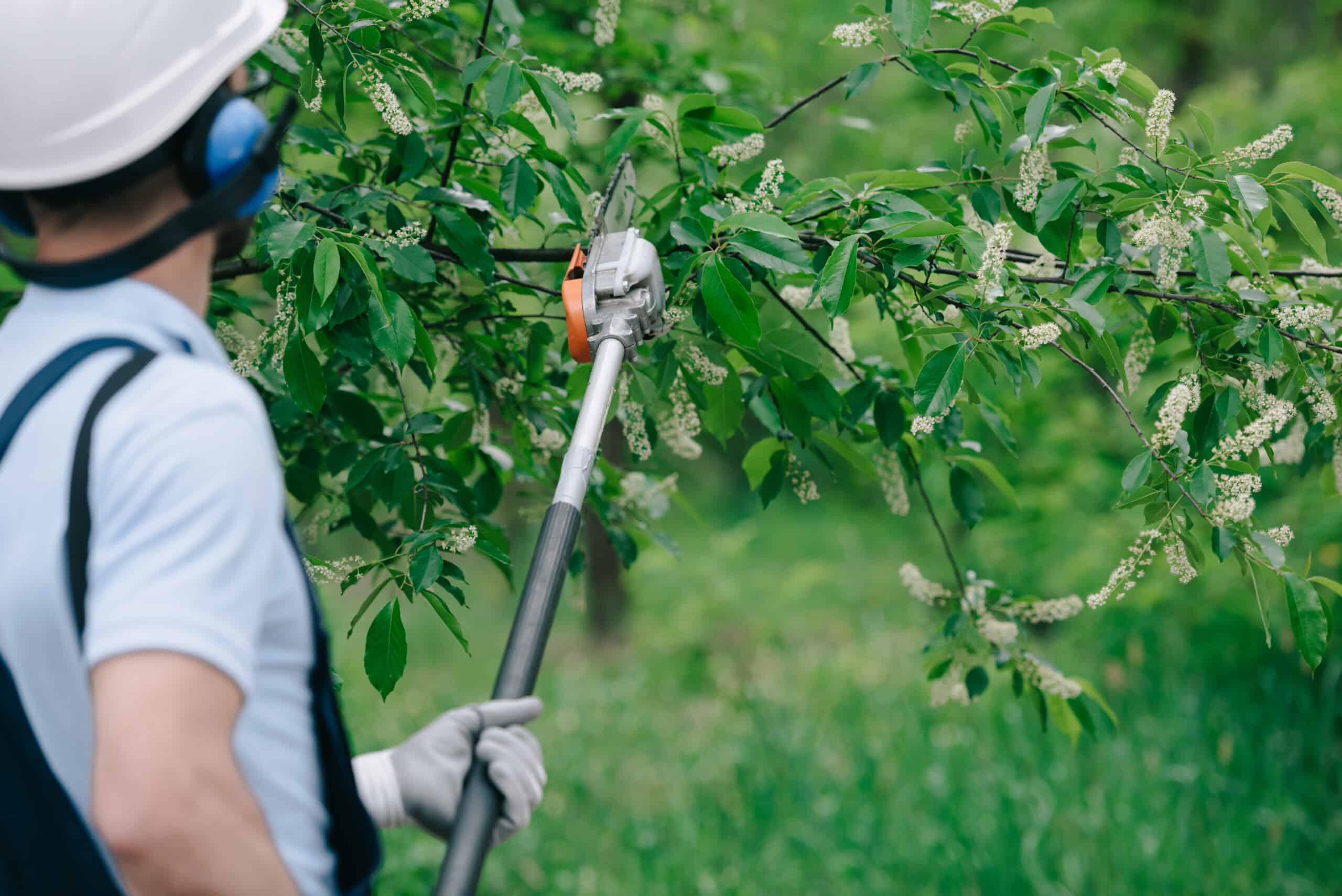 Do you need a pole saw?
If you can get your work done comfortably with other chainsaws, then pole saw is not for your needs. We usually use a pole saw to extend our reach for cutting both above and on the ground. Pruning tall trees and branches are the main job of this type of chainsaw. That's why you need to identify your needs, especially before investing in a pole saw.
Length of pole
It's essential to get an idea of how far you can reach with a pole saw. Generally, the poles of a pole saw can reach as high as 15 feet, but it varies from brand to model. Some pole saw comes with an extra advantage of telescoping poles which extends even further. It's your turn to set the right pole length that easily suits your project.
Types of Pole Saw
Three types of Pole saw based on which power source they use: Battery, Electric, and Gas powered pole saws.
Cordless or battery-powered
Pole saws have rechargeable batteries giving a runtime of about an hour depending on the quality and brand of the battery used. 
| | |
| --- | --- |
| Pros | Cons |
| Minimal maintenance | Quite heavy for the battery |
| Portable  | Limited runtime |
| Best for outdoor or extensive gardens | We need to carry extra batteries for continuous work. |
The electric pole saw
Comes with an extension cord that supplies the electricity. 
| | |
| --- | --- |
| Pros | Cons |
| Lighter than battery-powered saw | Need a long cord for a large yard |
| Limitless run time | Not suitable for outdoor jobs |
| Almost no maintenance | Working with a long cord might be risky. |
Gas-powered pole saw
Runs on gas and promises heavy-duty woodworking jobs efficiently.
| | |
| --- | --- |
| Pros | Cons |
| Good for larger branches | Heavier |
| Powerful | Louder |
Can you carry the weight?
For outdoor works where you need to carry the saw, choosing a lightweight saw is better. There is usually a harness with the heaviest saws to distribute the weight, making it more comfortable to use.
Other features
Other noteworthy parameters include safety features, harness, chain oils, extra blades, ergonomic features, kits, handles, and shaft bars. Don't forget to check all the accessories that come with the complete set when you purchase.
Why do we recommend Husqvarna?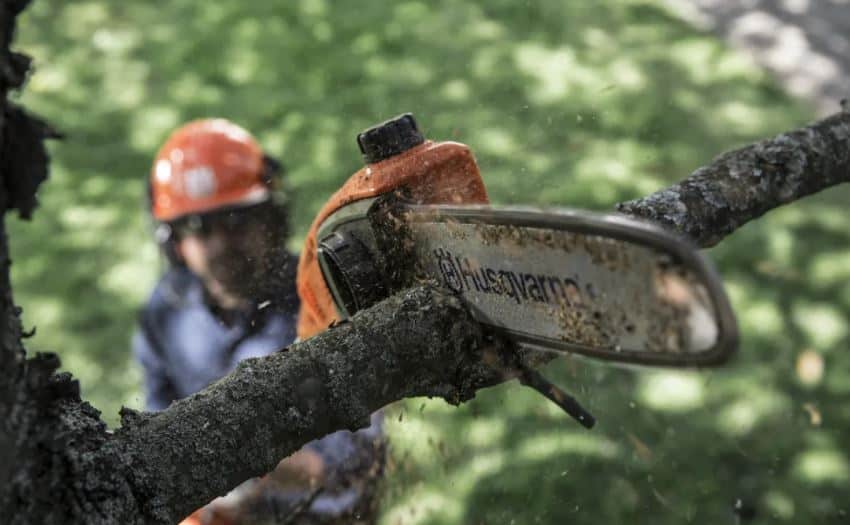 Quality
Who doesn't want a quality product when they are investing their money in it? With a brand like Husqvarna, it's easy to say that you would get a top-quality product. They are using one of the best accessories for their robust, durable, and long-lasting products. It will make your working experience better than you can imagine.
Price
When you are getting a top-quality tool for your project, it will hurt less to expense more. Every product at Husqvarna is budget-friendly to make them more affordable to the customers.
Ease of use
Pruning, cutting, trimming branches or bushes are tedious jobs for an extended period. They can also create pain and acne all over your body if the machine you are using is not comfortable enough. Husqvarna pole saws are great to use for an extended time. The manufacturers have designed the products keeping your safety and health in mind. 
Support
With great support and warranty of their products, Husqvarna products also come with a money-back guarantee. It would help if you were confident to take any help from them about your product. You can also try their products before buying to make sure it's perfect for you.
Best Husqvarna Pole saw Models
In this section, we will recommend the best Husqvarna pole saw model for you. We have separated our choice into three categories to meet everyone's expectations: Best Battery-powered pole saw, Best Gas-powered pole saw, and best budget option Husqvarna pole saw in the market.
The Husqvarna 530iPT5 is a great telescopic saw if you look for a professional battery-powered pole saw. It's a sizeable telescopic pole that extends up to 16 feet where you can't reach. 

This tool can perform heavy-duty woodworking with ease with BLDC (brushless) motor and 36 V Li-ion batteries. Its long 10-inch bar can cut through logs and branches up to 6-7 in diameter.
It has a good quality battery that promises long runtime. The waterproof body is convenient while working in the rainy season. 
If you are working for a long time and worried about your battery being drained, a great feature called Eco mode is for you. On Eco mode, your battery will drain slowly, letting you work longer. 
The intelligent battery pack position lets you easily attach the battery to the machine, keeping it safe from dust or wood chips. Changing batteries is also flexible and fast as you can easily swap batteries and continue working.
After holding the machine for the first time, you will notice the handle is quite comfortable and very easy to start too. Although the tool is 11 lbs in weight, your hand and shoulder will suffer pain if used for a long time. 
There are two solutions; one is a harness, and another is a rear impact guard. Both come in handy to relieve weight from your hand and shoulder.
This tool has a lower noise level than other counterparts like gas pole saws. It allows you to work pleasantly inside your yard without worrying about your neighbors.
Pros
Great for pruning tall trees.
Weatherproof (IPX4) feature keeps the battery safe in bad weather.
Good battery performance
Reduced noise
7-days money-back guarantee offer included
Cons
You have to buy the battery and charger separately
Little heavy
Out of all pro-grade petrol pole saw, Husqvarna's 525PT5S has the most extended telescopic pole. Gas saws tend to have more significant vibration, but with LowVib technology, Husqvarna has found a way to reduce the vibration.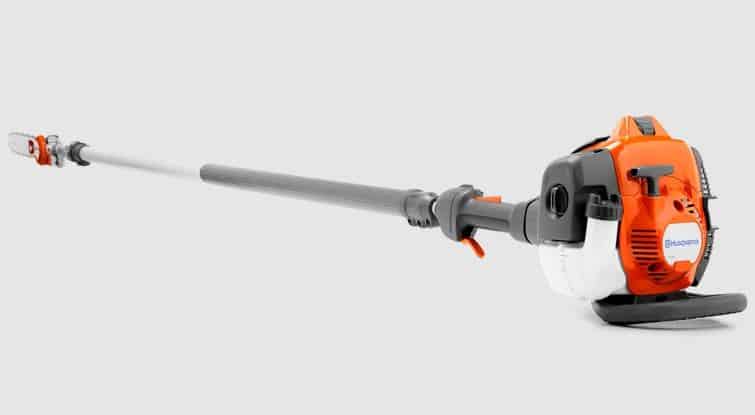 The 525PT5S has an auto return stop switch that automatically resets the stop switch to the ON position, which is suitable for the user. The long telescopic tube is easy to control and has a solid clutch at the base. 
Professional chainsaw users will always tell you to keep in mind the chain lubrication while using. But in this case, auto chain lubrication will free up your mind and keep the chain safe and running.
To keep the 15.4 lbs saw resting on the ground, there is a rear impact guard if you take a short break. The reliable build quality of the saw reduces the chance of engine wear and easy maintenance. Powered by X-Torq engine technology which has a maximum of 8,500 rpm, it has an excellent power to weight ratio. 
Pros
Low Vibration
Heavy-duty performance
Durable and strong built
Seven days money-back guarantee offer
Great power to weight ratio/ lightweight
Easy to start
Cons
Accessories might not be available at every dealer shop.
The Husqvarna 115iPT4 lightweight battery pole saw is more than perfect for you if the above recommendations were out of your budget. Homeowners can do their outdoor woodworking projects with ease with this portable tool. 

The combination of power and budget makes it a must-buy for beginners. All the accessories and parts are easily disassembled to make them easier to carry from your home to anywhere you go. Accessible transport mode and cordless freedom let you take your work wherever you want. 
From do-it-yourself to professional use, this tool excels on every type of project. 
Pros
Best for beginners
Easy transportation
Great for trimming branches
Cons
Less power for bigger branches
Extra price for battery and charger
Tips and Advice
If you are still with us, let's find out some tips and advice for buying the best Husqvarna pole saw model and keep it running for a long time:
Before buying, contact your local dealer shop if they have all the accessories of the product you need.

 

After using it once, disassemble the battery from the machine. It will stop the battery from draining out.
Always buy original accessories for the product.
Use fuel with low ethanol for the gas-powered pole saw. A higher ethanol percentage can damage your tool.
Keep the saw blade and body clean from dirt and debris. If you want to run a single chain for an extended time, you must check the oil bar regularly.
Check promotion, discounts, and offers that come with the purchase.
FAQ section
Question: Which is the best brand of pole saw?
Answer: There are many chainsaw manufacturers in the market that provide quality pole saw. We recommend the Husqvarna pole saw depending on reliability, durability, performance, support, warranty, and woodcutting experience. For 300 years, they have been producing quality tools for woodworking professionals and homeowners. It's hard to complain about their machines as they provide high-quality machines to their customers. All these reasons are enough to choose Husqvarna over other brands.  
Question: What does a Smart start on a Husqvarna pole saw do?
Answer: The Smart start is a great feature of the Husqvarna pole saw that quickly starts the machine with ease. It also comes with balanced wheel vibration that helps the pole start smoothly for this feature resulting in better cutting performance. 
Question: Can a Husqvarna pole saw be used for a big job?
Answer: Big or small, the Husqvarna pole saw can handle every job effectively. It's not about the product but the type of product you need for performing any projects. If your needs are met, any Husqvarna pole saw is perfect for your workspace. For a more significant project, you will need a powerful pole saw that is reliable and ergonomic. We recommend Husqvarna 525PT5S, $649.99 for you, as it meets all of your requirements.
Conclusion
Which Husqvarna pole saw do you need?
Answering this question might be your best solution to finding the best Husqvarna pole saw model from the market. A chainsaw is most efficient when it is used properly. Regardless of the brand, workplace, environment, experience with a chainsaw, etc. should be considered for selecting a saw. If all requirements like weight, warranty, type, power, and reach are correctly met, you have got the best pole saw anyone can imagine.