Latest posts by Samantha Biggers
(see all)
It is hard to beat the Stihl brand regarding outdoor power tools. Stihl makes a variety of pole saws to meet homeowners and professional users. From battery-powered to gasoline, a Stihl Pole Saw can help you get your tree and shrub trimming projects done safely and efficiently. In this guide, we will examine the best Stihl pole saws so you can find the models that suit your property or professional needs.
Over the years, my husband and I have found that a pole saw is essential for keeping limbs and shrubs cut back from our long private driveway. Pole saws provide a way to cut dangling limbs and branches while safely on the ground. No more allowing dangerous limbs to stay in place until a storm takes them out. Using an electric pole saw and power center to provide mobile electricity saves time. They are no more using hand tools to try to reach limbs and low-hanging brush.
My Bottom Line Up Front: Stihl pole saws are some of the highest quality pole saws you can buy. The question is, what pole saw is best suited for your home and properties? While electric pole saws have the advantage of not requiring specialized fuel and being low noise, gasoline-powered saws pack a lot of power, and you don't have to invest in extra batteries to keep working throughout an extended project.
How I Chose My Top Picks
Current Availability via Stihl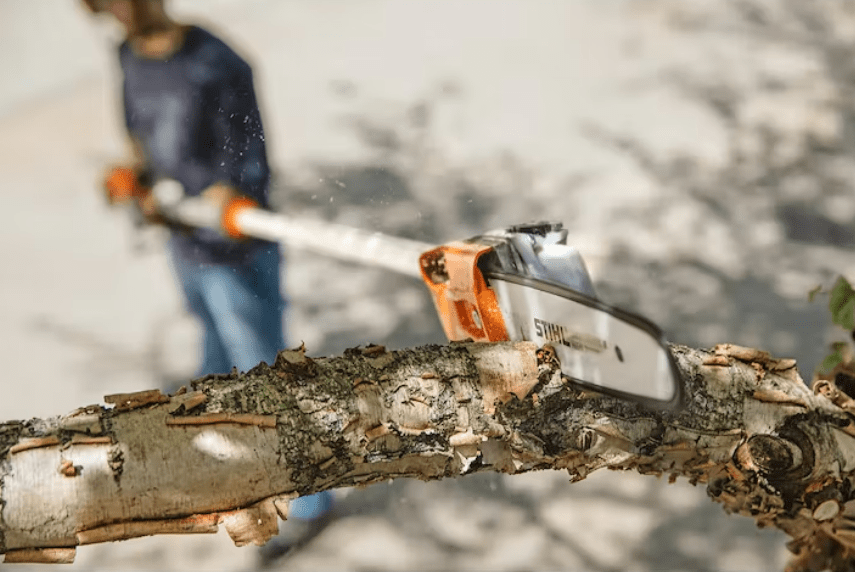 This article includes all the currently available electric or gasoline-powered Stihl pole saws. I felt it was essential to offer the entire lineup since consumer needs vary. Knowing your options is necessary so you can make the best purchasing decision. Spending the most money to get the best professional model is not required for the average homeowner or small property to get a Stihl pole saw that offers excellent performance over many years.
Homeowner or Profesional Models
I included homeowner models and models designed for landscaping professionals as well. If you have a larger property or intend to use a pole, saw often, getting a professional model is usually worth it. On my property, I use a homeowner-grade pole saw because we only need to trim back brush and limbs a few times per year to maintain our 1/4 mile-long driveway.
In addition, the limbs and trees we trim tend to be very small. If we ever need to cut limbs more than 3-4 inches in diameter at the base regularly, a professional-grade model would be necessary unless we were comfortable wearing out our homeowner-grade model quickly.
Read also: How To Properly Use a Pole Saw.
My Top Picks

Stihl Electric Pole Saws Vs. Stihl Gasoline Pole Saws
Stihl makes many different models of pole saw. For some people, an electric pole saw is appealing. Electric pole saws do not require gasoline or a two-cycle gas mix, so they are less expensive. In addition, if you live in a neighborhood, an electric pole saw keeps noise levels low compared to a gasoline-powered pole saw.
The main disadvantage of an electric pole saw is that each battery pack only provides 42 minutes of operation. While you can get a lot of cutting done in 42 minutes, professionals and those that need to take on more significant projects will need to purchase additional battery packs.
Stihl gasoline-powered pole saws are popular because they offer more power than electric models. Professionals favor them because they provide unlimited run time as long as you have gasoline and a 2-cycle gas mix. The cost of operating a gasoline-powered pole saw may be more expensive at times due to high fuel costs. The noise level of a gasoline-powered pole saw is similar to a small chainsaw, so it is a good idea to operate it during times when you know it is less likely to bother your neighbors.
Let's explore all of Stihl's electric and gasoline-powered options so you can make the best choice to suit your needs.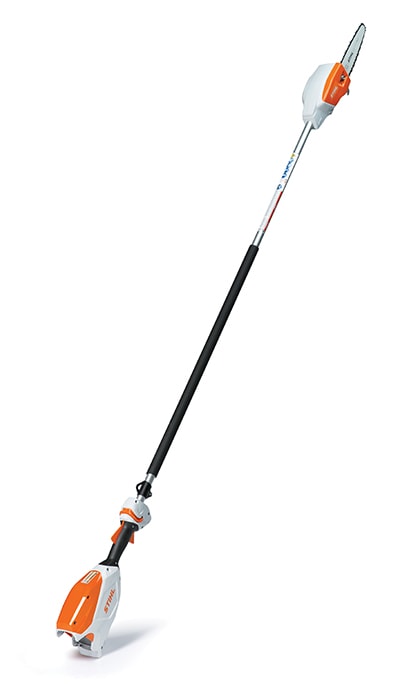 Pros
It weighs only 7.3 lbs without a battery
Easy to use
An excellent choice for homeowners with small to moderate lot sizes
Cons
Fixed length allows for removing limbs up to 12 feet off the ground.
The HTA 66  uses a 36V battery system to deliver up to 42 minutes of cutting per battery. This electric pole saw is Stihl's smallest and lightest weight electric powered homeowner pole saw. It is an excellent option for people with smaller yards and hedges who want to keep nice and tidy.
Since the fixed length and limb hook only allow for removing limbs up to 12′ above, this is unsuitable for those who want to take on taller trees and shrubs. It is all they would ever need, however, for the average urban or suburban homeowner to keep things looking nice.
Pros
Commercial grade high torque motor
Pole extends up to 12.8.'
42-minute run time per battery without any power loss
Cons
With a powerhead weight of 10.1 lbs, it is considerably heavier than the HTA 66
If you want an excellent pole saw with a telescoping pole, then the HTA 86 is an incredible electric option. The pole allows you to reach up to 17′ to take out limbs safely. I like that Stihl has designed their electric pole saws not to lose power as the battery drains. You can expect a full 42 minutes of full-on cutting time with no power loss at all. Simply switch out for a fresh battery and keep going if needed.
The HTA 86 weighs about 13 lbs with the battery, making it light enough for most people to use comfortably.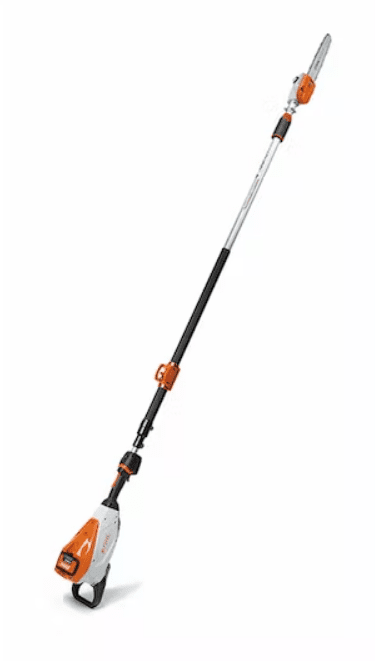 Pros
Commercial grade motor
Extends over 13.'
The translucent bar and chain oil tank make it easy to check your oil level.
Foot mount for increased stability
Similar gearbox to the gasoline-powered Stihl HT 131 Pole Saw
Cons
At 19 lbs with a battery, this model is considerably heavier than other electric Stihl pole saws.
The HTA 135 is the most robust electric option available from Stihl. The strong gearbox and professional quality motor make it an excellent pole saw for a frequent user that wants a lot of power while sticking to electricity. In addition, Stihl's AP 300 S Lithium-Ion battery provides 45 minutes of run-time per charge.
I recommend the HTA 135 if you are serious about sticking to electric tools and you have a lot of moderately sized trees and shrubs to maintain. My husband and I have a 1/4 mile-long driveway to help maintain, and there are a ton of little trees and shrubs that pop up and need to be taken out. I am confident the Stihl HTA 135 could handle a job of that magnitude.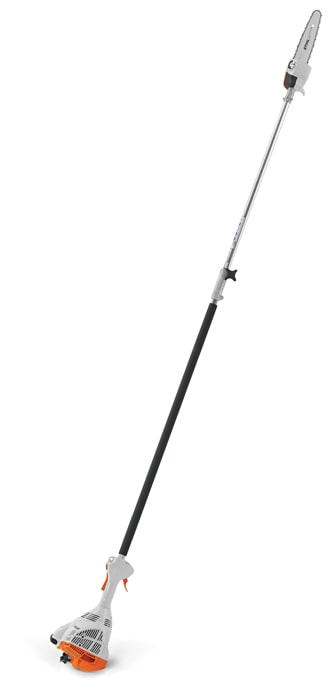 Pros
Lightweight at 12.8 lbs
Fuel efficient
Easy2Start system means fast starting without wearing yourself out
Two-piece shaft design for easy transport and storage
Cons
The HT 56 C-E is an excellent choice for homeowners that want a lightweight gasoline-powered pole saw. With a reach of up to 13′, this pole saw can take on a variety of pruning projects with ease. I like that it has an Easy2Start system. If you have ever struggled with a pull start, then you know how frustrating and tiring it can be. Stihl prides itself on offering pole saws that will start with just a single easy pull.
This saw stores in a small space thanks to the innovative two-piece shaft design. I recommend this pole saw for homeowners and small property owners.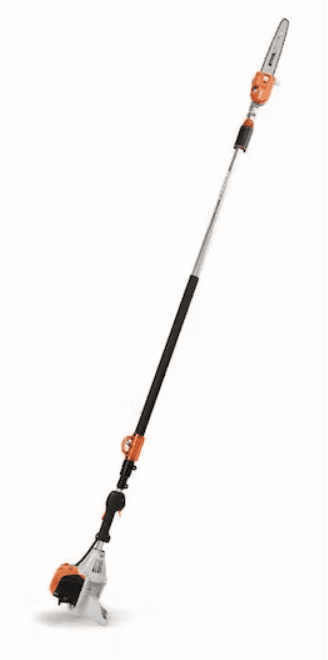 Pros
Sturdy enough for professional use
Uses 1/4″ Stihl PICO Saw Chain
Cons
The Stihl HT 105 is Stihl's professional entry-level pole saw. If you are a homeowner that has a lot of pruning work throughout the year, then this is a good model to consider. The telescoping pole allows you to reach branches as high as 16 feet off the ground.
The one-touch stop button makes it difficult to flood the engine throughout the workday. The HT 105 uses Stihl's innovative PICO Saw Chain, which uses less force to cut through branches, so you get faster and smoother cuts every time.
The HT 105 is easy to adjust thanks to the quick adjustment clamp nut. No struggling to keep a pole from collapsing on you during adjustment times.
Stihl HT 131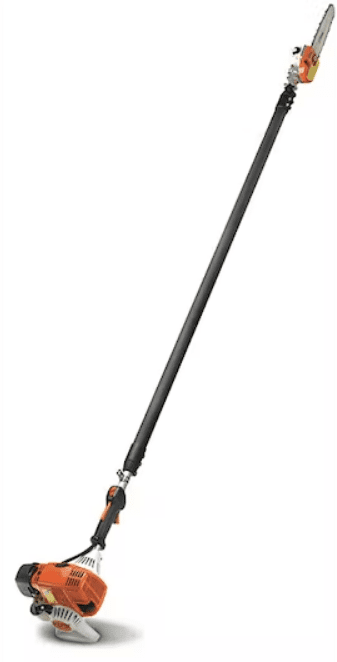 Pros
Professional grade
14″ guide bar and chain
Slotted sprocket reduces clogging
Cons
The HT 131 stands out because it comes with a much larger bar and chain than most pole saws. With a 14″ bar and chain, you can easily cut through some thick branches. The downside is that the robustness and size of this pole saw mean that it weighs in at 17.3 lbs. If you are a landscaping or forestry professional, then this weight may not be a deal breaker, but for some homeowners, the weight may be cumbersome, especially if they use the saw for an extended period.
The larger bar and chain make this pole saw an excellent choice for professionals that need to cut thicker limbs at times, and that want to get through the smaller ones really fast.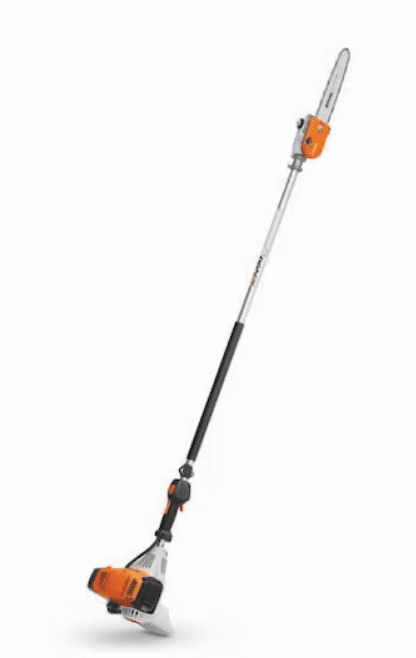 Pros
14″ bar and chain
3/8″ Stihl PICCO Micro Mini Chain Saw chain
Durable metal branch hook
Professional Grade
Cons
Some people prefer a fixed-length shaft pole saw. Although you do not get the exceptional reach of a telescopic pole saw, you do get a lot of stability, and there is no chance of the pole saw collapsing back down when if you forget to tighten an adjustment nut.
The HT 134 features a robust 14″ bar and chain that cuts through big branches like butter. Due to the smaller shaft length, this powerful pole saw weighs in at just 13.2 lbs.
I recommend the HT 134 for professionals and homeowners that want a lightweight yet powerful pole saw for tasks such as maintaining medium-sized shrubs and fruit trees, hedges, and roadways.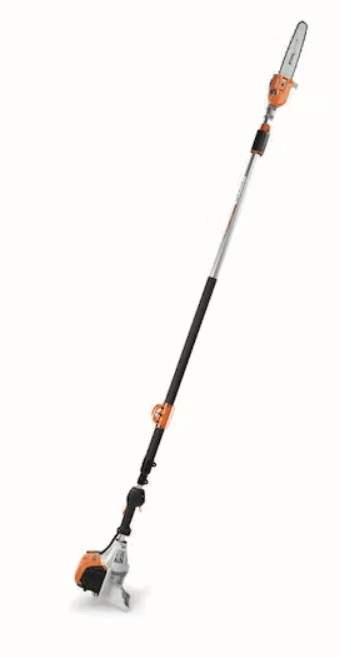 Pros
Reach limbs up to 16′ above ground
14″ bar and chain
Uses Stihl's 3/8″ PICCO Micro Mini Saw Chain
All controls are located on the handle for easy access
Cons
At an MSRP of around $650, this is a pricy pole saw.
The HT 135 is a pole saw to take on serious jobs. With a 14″ bar and chain, this pole saw will cut through some tough limbs while you keep a nice distance away, thanks to the telescopic shaft.
Due to the size and cost of the HT 135, I only really recommend this pole saw for professionals or those with larger properties that they want to maintain mostly by themselves over the years. A 14″ bar and chain is a lot more than the average person needs to get a pruning job done.
I like that all the controls are on the handle, so you don't have to fumble around when performing a task.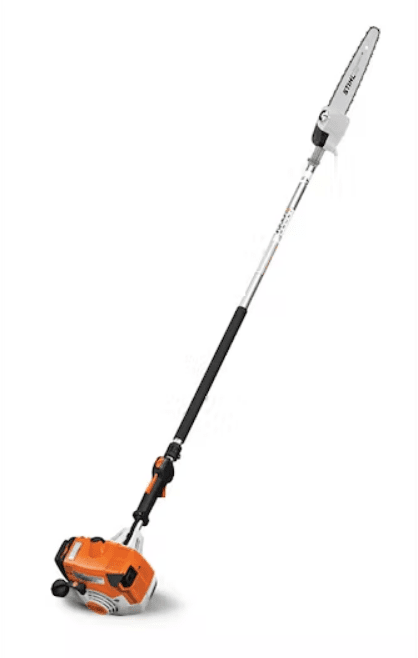 Pros
Fixed length 7′ shaft
Powerful motor with lightweight gearbox
Only 13.4 lbs
14″ bar and chain
Cons
Harder to reach the really high limbs
The HT 250 is an interesting pole saw because it offers a fixed pole length for strength and durability and a powerful motor all in a saw that weighs just 13.4 lbs.
The 14″bar and chain allow for cutting very large limbs. I recommend this pole saw for mostly professional use because of the size. It is lightweight enough that it is worthy of consideration if you have a lot of fruit trees or shrubs around your property.
FAQs
Question: Where can I buy a Stihl pole saw?
Answer: Stihl pole saws are only available through Stihl authorized dealers. It is not hard to find a Stihl dealer, but you will have to go to them to get your pole saw. If a particular pole saw is not in stock at your local dealer, you can call and pay them to order it for you and pick it up when it arrives. I am not aware of any dealer shipping pole saws to a residence or business, but if you live in a very remote area, it might be worth asking the nearest dealership if they can help you out and ship for an additional charge.
Question: How do I maintain a pole saw?
Answer: Stihl pole saws have a bar and chain, just like a chainsaw. The only difference is that it is shorter. You will need to sharpen your pole saw chain between uses and possibly even during the course of a workday if you are using it a lot. Pole saws require bar oil to lubricate the chain and bar so your pole saw does not overheat and you get smooth cuts.
It is essential to check your bar oil often, especially if you have an electric pole saw. When you refuel a gasoline-powered saw, you check the bar oil. It can be harder to remember this when you have an electric pole saw that never needs to be gassed up.
Question: Is there a difference between pole pruners and pole saws?
Answer: In product titles and descriptions, you might see pole saws referred to as pole pruners. A pole saw and a pole pruner is the same thing. Of course, some pole saws are not electric or gasoline powered, but that is easy enough to notice.
Best Stihl Pole Saws: The Bottom Line
A Stihl pole saw is worth purchasing, no matter if you are a homeowner in town or someone with a larger property. Stihl is one of the best brands of power tools available to homeowners and professionals alike.
Electric pole saws are a great option for homeowners that just need to occasionally trim a few things and do not want the hassle of mixing gas. Electric pole saws weigh less and are quieter to operate, so they make a lot of sense for those that have neighbors close by.
There are a lot of great pole saws available from Stihl. For the average homeowner, entry-level models will take care of any cutting needs. There is no need to spend money on the most expensive or largest Stihl model. However, if you have a larger property to maintain., a professional-grade pole saw like the HT 135 might be exactly what you need. Consider your needs carefully and make a buying decision based on that, not just what sounds like the biggest and baddest saw.