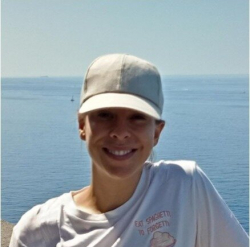 Latest posts by Maddy Chiffey
(see all)
Manzanita is a lovely and versatile type of wood, though it can be tricky to work with for its irregularity. Still, it has a special place in my heart since it makes me recall some fond childhood memories.
My grandfather was an avid aquarist, and I used to watch him crafting dream-like sceneries from the Manzanita wood (Arctostaphylos manzanita in Latin) in a water tank.
He taught me that nothing beats Manzanita's crude texture, raw curviness, and perfectly irregular morphology, and showed me how to spot it in nature.
This decorative evergreen shrub (or small tree) can be found all over the country, from Washington to Oregon to California. Its rich, shiny, mahogany-like wood is easy to recognize.
Besides that, you can also identify Manzanita by its bell-shaped flowers and berry-type fruit that ripens towards the end of summer.
There are many different Manzanita wood uses, and if you know how to pick a good piece, it's a pleasant material to work with.
Manzanita Wood Uses: Bottom Line Up Front
Manzanita is a beautiful ornamental wood with a lovely reddish color, fine texture, and impressive crooked shapes that look great on many types of decorative products.
But thanks to its high density, durability, and hardness, it can also be used more practically as a part of furniture or even as a firewood.
Read also: Which are The Best Types of Firewood?
Nonetheless, be warned that your success will not come effortlessly with this wood. It requires patience, a good nose for suitable pieces, and quality tools and gear.
All in all, I've personally learned a lot while working with this wood, and I highly recommend this experience to everyone.
Things to Look For When Buying Manzanita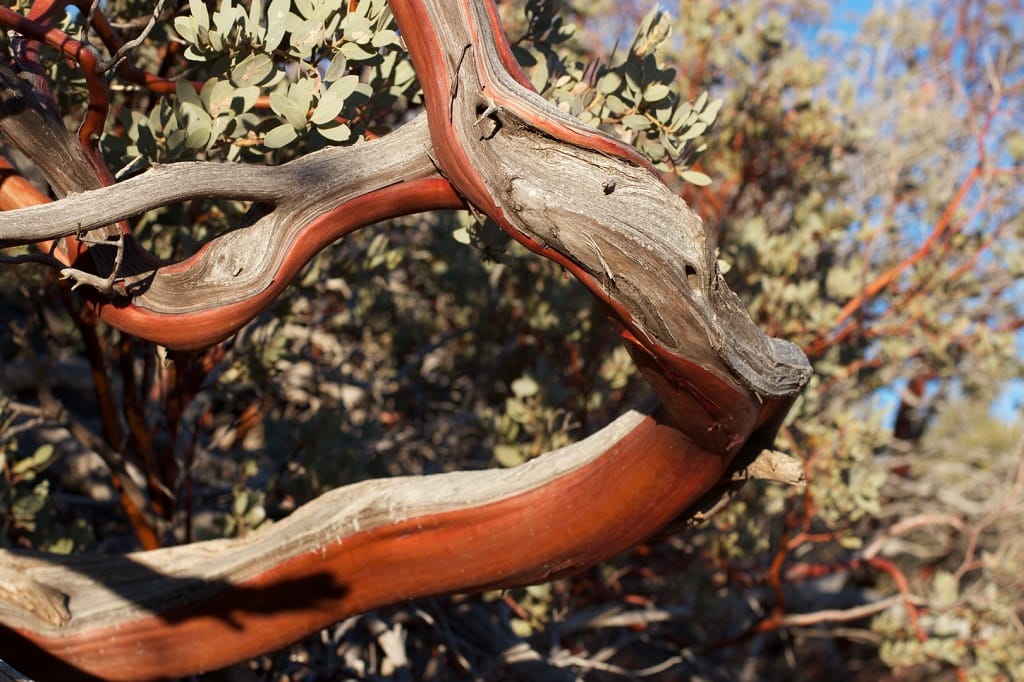 As I've mentioned above, finding a good piece of Manzanita is essential for most projects. This wood can have many defects and irregularities that can make woodwork exhausting or even impossible.
So, what to focus on? That depends on how you intend to use the wood.
Suppose you plan to use it as a water tank decoration. In that case, you're looking not only for visually attractive branches but also for dry wood that will easily get waterlogged and, hence, stay underwater.
A dry Manzanita wood is typically pale and discolored with no leaves. If you cut a tiny piece of branch, its cross section should have uniform color (remember, the wood dries from the inside out).
On the opposite, if you plan to work with Manzanita wood using machines, focus on straight pieces with clear grain to avoid splitting caused by defects and knots.
Where to Buy Manzanita Wood
Manzanita grows standardly in different parts of the country (particularly in the Western states), so many hobbyists prefer picking it in nature to buying it in specialized shops.
However, the Manzanita family has dozens of subspecies, some of which are considered endangered and protected in some states (e.g., Presidio manzanita in California).
This means not only cutting but also possessing dead branches of the wood can be illegal, so be very careful about what and where you are picking.
If you decide to play it safe and buy Manzanita, here are my recommendations on where to do so:
Modern Aquarium: An excellent source for hobbyist aquarists with a nice range of attractive driftwood, including hand-picked Manzanita branches in various sizes.
Manzanita Direct: As its name suggests, this shop focuses exclusively on Manzanita wood, so the range on offer here is hard to beat. From roots to branches to burls to stumps, both raw and finished for instant use.
Blooms & Branches: Another great source of decorative wood, including Manzanita in all the different styles, forms, and finishes. This is also one of a few suppliers of entire Manzanita trees if that's what you're looking for.
Key Features of Working With Manzanita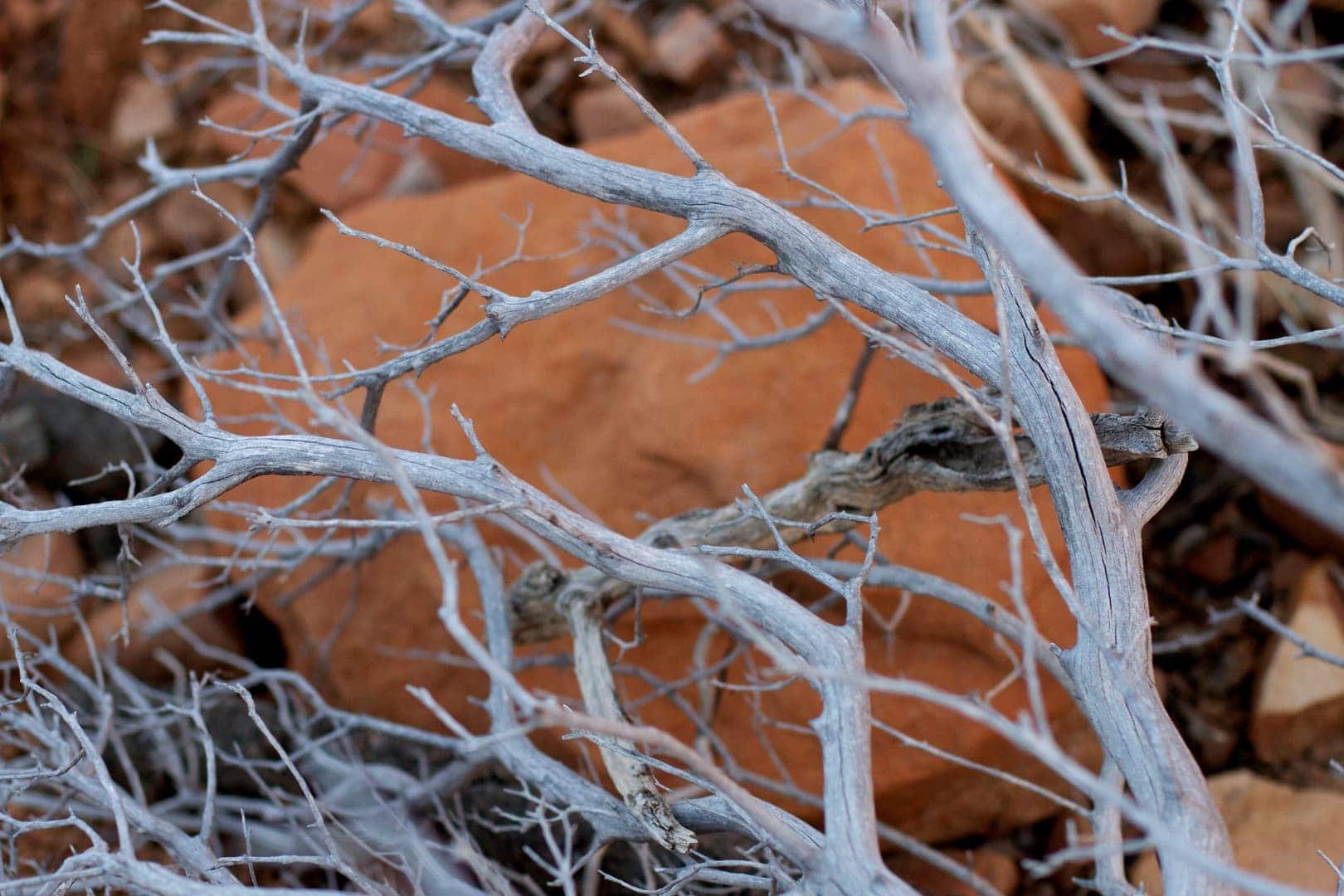 Drying
Proper drying is a key to success when it comes to Manzanita wood. But unless you want to use the wood for an underwater decoration, you still want it to hold some of its juiciness to avoid cracks.
That's why professionals often cook the Manzanita wood in wax, ensuring it will keep its density and flexibility during the drying process. Alternatively, you can leave it in a salty bath for about three weeks.
How long should a proper Manzanita drying take? If you intend to use the wood for furniture or some other heavily loaded product, you should let it mature for at least two years.
Of course, if you're buying the wood from a specialty shop for hobbyists, it is usually already aged and ready for use, Don't hesitate to ask before purchasing if unsure.
Stability
Although Manzanita is hard and stable in its entirety, when you're working on the wood, it can surprise you with hidden twists, layers, knots, and other defects that can lead to cracks and breaks.
In my experience, you can never be 100% sure whether the piece of Manzanita you're holding will work well for the intended purpose because its inner stability is a bit hard to predict.
Strength
Manzanita is one of the world's hardest wood, so you can rely on its strength in many different situations and uses.
Color and Grain
Manzanita's heartwood is usually brownish-red, sometimes almost mahogany dark, and at other times lighter and slightly orange. Sapwood, on the other hand, is pale, almost white or light brown.
The grain of Manzanita wood is swirled but very fine and dense.
Working with Manzanita
Working with such a dense and hard wood as Manzanita has its specifics. Be prepared, for example, to replace your saw blade quite often (my average is about one hour of work).
Still, with some patience, quality tools, and a bit of experience, you will certainly find your own approach to this wood and shortly develop a routine that will lead to the results you hope for.
Carving and Turning Manzanita
If you're thinking about turning or carving Manzanita, you should focus on its root, respectively the part that grows under the ground, as this will be the least branched, thickest part of the plant.
Still, you must beware of all the irregularities of this wood – chunks can get loose during turning at any time, so ensure you're wearing protective goggles and proceed carefully.
Common Uses of Manzanita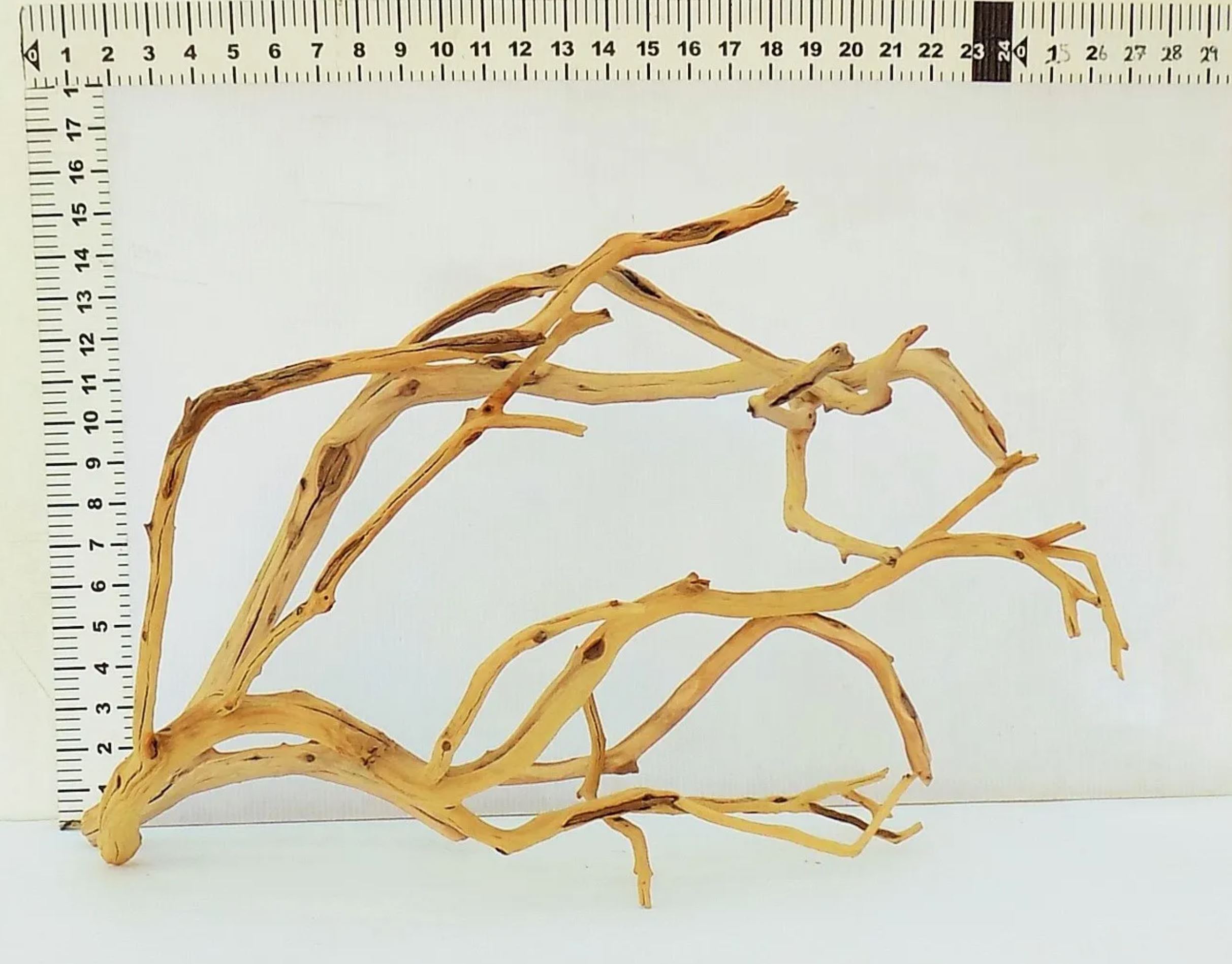 Manzanita is primarily used for decorative purposes but also serves more practical intents.
Underwater decoration
Thanks to its attractive, somewhat dramatic appearance (the twisted branches look like little trees on their own), non-toxicity, and great durability, Manzanita is a favorite wood of many aquarists.
If you prepare it properly, it can stay in a lovely condition submerged for many years (my record is more than a decade!).
Terrarium/vivarium/bird cage decoration
Similarly, Manzanita serves great as an addition to your bird cage, vivarium, or terrarium. Not only it looks great, but animals can also safely use it as a roost or a natural lounger.
Hanger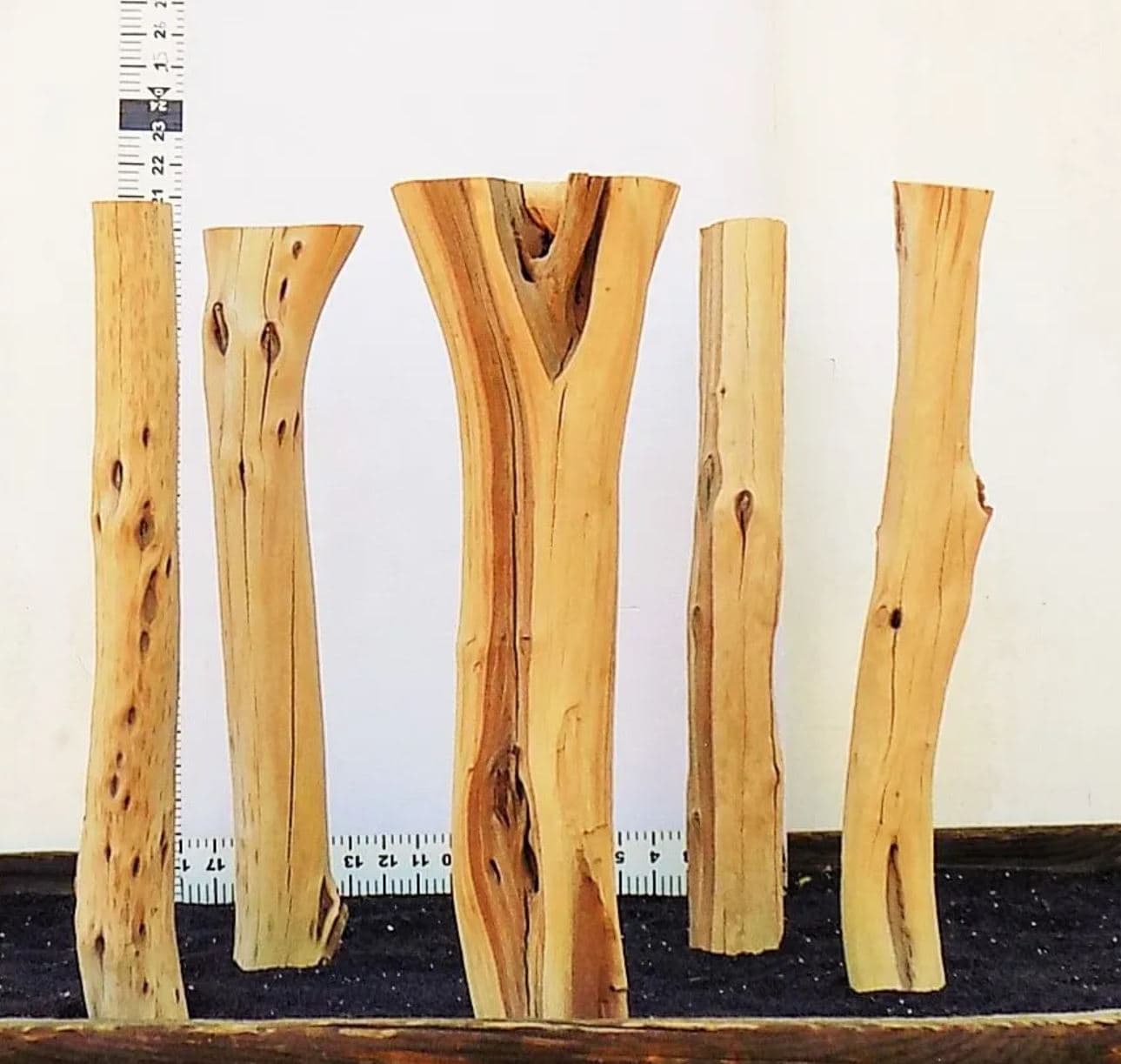 The unique twisted shape and great hardness make Manzanita a wonderful hanger, either for some other decorations (paintings, photographs, etc.) or even for coats, hats, and umbrellas.
Coffee table
If you can find an adequately robust Manzanita trunk, adding a simple flat base and a safety glass top is all you need for a unique, one-of-a-kind coffee table
Lamp
Manzanita lamp stand looks incredibly good, and since this wood is perfectly suitable for painting, you can easily adjust it to the interior decoration of your apartment or house.
Bowls, boxes, and other small containers
If you're into carving and turning, the Manzanita wood is a great material for stylish jewelry boxes, decorative or even fully usable bowls, and other types of handy wooden containers.
Manzanita as a Firewood

You might not expect it, but Manzanita also makes, in some regards, one of thebest types of firewood. It will provide you with slow-burning coal and intensive heat.
It also smells very nice when burnt and doesn't produce any dark/irritating smoke.
The main downside is that it takes a really long time for such a dense wood to season enough for a fine burning. Also, due to its small diameter, you need quite a lot of Manzanita for regular heating.
Pros of Using Manzanita
The character (color, texture, twisted shape) of Manzanita wood is truly unbeatable.
Manzanita is one of the hardest woods on the planet.
It is native to the US and can be found freely in nature in many states and areas.
It is very durable – especially if you know how to prepare it properly.
It looks very exotic but remains quite affordable.
Cons of Using Manzanita
It is a relatively small plant, so finding robust pieces of Manzanita wood is not easy.
The wood has many hidden defects and irregularities.
The hardness of the wood makes it quite demanding on your tools and machines.
Despite its hardness and durability, it can be quite unstable when you work on it.
Alternatives to Manzanita
If you're after some local alternatives, Manzanita can be, for instance, replaced (or vice-versa) with the Madrone or Strawberry tree wood.
| | | | | |
| --- | --- | --- | --- | --- |
|   | Density | Hardness | Grain | Durability |
| Manzanita | 37.6 | 1460 | fine | very durable |
| Madrone | 45 | 1460 | fine | very durable |
| Strawberry tree | 46 | 1470 | fine | very durable |
Both alternatives have similar hardness and fine grain; they all are very durable and, most importantly, highly decorative with similar curviness and twisting as Manzanita.
Besides that, if you're working on wooden decorations, you can also opt for exotic imported wood, including the so-called Malaysian driftwood, Mangrove roots, etc.
However, these are often only inaccurate commercial names of the products, which can comprise many diverse species and don't tell you much about the actual characteristics of the wood.
Frequently Asked Questions
Question: Is Manzanita the hardest wood?
Answer: Manzanita is officially listed as the world's 8th hardest wood.
Question: Is Manzanita wood toxic?
Answer: No. Manzanita wood is chemically inert and non-toxic. It is free from harmful resins or oils, making it an ideal choice for aquarium, terrarium, or vivarium decoration.
Question: Is it illegal to cut Manzanita in California?
Answer: Pallid Manzanita (Arctostaphylos pallida) is considered endangered plant species in California. This means it is not only forbidden to cut the plant but also to have it.
Conclusion
Manzanita will probably never be as popular and widely used as other, more versatile, and accessible woods like Hackberry or Aak (see our Hackberry Wood Use ideas or Virginia Pine Wood Uses guide).
The small body of this tree (or rather a shrub), its complicated texture, unpredictable hidden defects, and extreme hardness make it a demanding wood to work with.
Still, I think it is a unique wood full of character that can hardly be replaced or substituted.
Whether you're planning to use it to create unique decorative products, outstanding pieces of furniture, or stylish gifts, it is well worth your effort, as the results will be truly breathtaking.
Moreover, try to approach the whole journey as a chance to improve your skills, broaden your knowledge, and learn a few new technics of drying, conservation, or woodturning.
Last but not least, if you're interested more in practical ways of wood use, Manzanita is also great firewood providing intensive heat and slow burning.