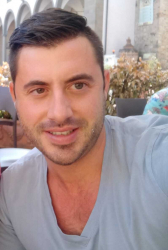 Latest posts by David Borgogni
(see all)
As an avid DIYer, I rarely leave my chainsaw idle for more than a week. Consequently, I frequently search for the best 16-inch chainsaw chains that allow me to work with materials that have different hardness levels.
Most chainsaw chains I've ever had weren't prone to kickbacks and they generally held up well, despite excessive usage. Adjusting their tension and sharpening them whenever their cutters got dull were the only upkeep requirements the models I've used had.
Also, I prefer models with built-in lubrication systems because they demand less maintenance than conventional models. In this guide, I'll share everything I've learned about the best 16 inch chainsaw chains through the years and take you through some of the top replacements for your chainsaw's original chain.
Bottom Line Up Front
Upgrading to a more aggressive chain than the one you're already using won't make your tool more powerful. Hence, you must ensure that the chain you're getting is the right fit for your chainsaw model.
I believe that a model like the Oregon S56 AdvanceCut is a reliable choice, but you must check if it's compatible with your Ryobi or Husqvarna chainsaw. Stihl 63 PS Pico Super Chainsaw Chain is the replacement part that fits on more than ten Stihl chainsaws.
My Top Picks at a Glance
| | | | |
| --- | --- | --- | --- |
| Model  | Drive link count | Brand compatibility  | Price range  |
| Oregon S56 AdvanceCut | 56 | Husqvarna, Craftsman, Poulan, Ryobi | $$ |
| Zentop 16-inch Chainsaw Chain | 57 | Stihl, Echo, Husqvarna, Homelite | $ |
| Loggers Art Gens Chainsaw Chain | 56 | Poulan, McCulloch, Chicago, Worx | $ |
| Stihl 63 PS Pico Super Chainsaw Chain | 56 | Stihl | $$$ |
| Husqvarna X-Cut SP33G | 66 | Husqvarna | $ |
| Greenworks 2904402 | 56 | Greenworks | $$ |
| Maxpower S56 | 56 | Homelite, Echo, Craftsman | $$ |
| UpStart Components Chainsaw Chains | 56 | DeWalt | $ |
| Hipa Chainsaw Chain | 56 | Milwaukee, Greenworks, DeWalt | $ |
Chainsaw Chain Types
Most 16-inch chainsaw models I've encountered had a low profile or semi chisel chains. Still, knowing the differences between chainsaw chain types will speed up the selection process and enable you to shortlist the models compatible with your tool.
Low profile – Chances are that your chainsaw model uses a low profile chain. Their cutters are smaller than the ones on other chain types, which lessens the kickback. The slow cutting speed is one of the main drawbacks of low-profile chains.
Full chisel – This is the most aggressive type of chain you can get. A full chisel chainhas right-angle corners near the plates of top cutters. Most models have safety warnings because they're prone to kickbacks and are a risky choice for a novice chainsaw user.
Semi chisel – The blades of semi-chisel chains are rounded, which results in slower cutting speeds. You can use this chain type to cut through hardwood and softwood equally efficiently. They remain sharp for years and are generally more durable than other chain types.
Micro chisel – As a subcategory of semi chisel chains, macro chisel models are a good option for chainsaw users who want to trim trees or make high-precision cuts. The corners of their blade edges are much smaller than the blade edges of full and semi chisel models.
Chain Pitch, Drive Links, and Gauge

You'll have to know three values to select the correct replacement chain for your 16-inch chainsaw. Drive link, gauge, and chain pitch numbers are usually printed on the chainsaw's bar, so obtaining this information takes just a few seconds.
Figuring out these values can be difficult if they're not included on the chainsaw. Let's look at what these numbers really mean.
Drive links – This component indicates the chain's length. Most 16-inch chains have around 56 drive links.
Gauge – This value shows you how wide are the chain's drive links, and it ranges from 0.043 to 0.063 inches. Chains designed for 16-inch chainsaws usually have 0.043 or 0.050 gauges. Your new chain can't have a higher gauge than the one recommended for your chainsaw.
Pitch – The distance between three drive links is referred to as pitch. These components are held together by rivets that are 3/8, 1/4, 0.404, or 0.325 inches long. 16-inch chains usually have 3/8-inch long rivets.
Drive Link and Cutter Configurations
The chain's cutting speed and aggression depend on how its cutters and drive links are arranged. You can choose from three different configurations, but I recommend getting a replacement model with the same arrangement as the one on your old chainsaw chain.
Skip chain – This configuration is rare on 16-inch chain models. It is designed for aggressive cutting styles, and it is prone to kickbacks.
Full complement chains – This chain configuration includes a left and right cutter separated by a drive link. Full complement chains, also known as Full House, are safer than other chain configurations because they don't develop high speeds.
Semi skip – As implied by its name, this chain configuration is less aggressive than the skip chain arrangement but offers higher cutting speeds than the full complement option. This configuration is utilized for specific tasks rather than general wood cutting purposes.
Other Chainsaw Chain Features
Analyzing the properties of each 16-inch replacement chain I consider helps me understand their performance capabilities. Most models are made of steel alloys, but their cutting potential depends on the quality of their teeth.
Chains for 16-inch chainsaws can have chrome, tungsten carbide, or diamond coated teeth, but most models have chrome-tipped cutters. Also, I think getting a model with drive link channels that spread the oil throughout the chain can be useful if your chainsaw has a built-in lubrication function.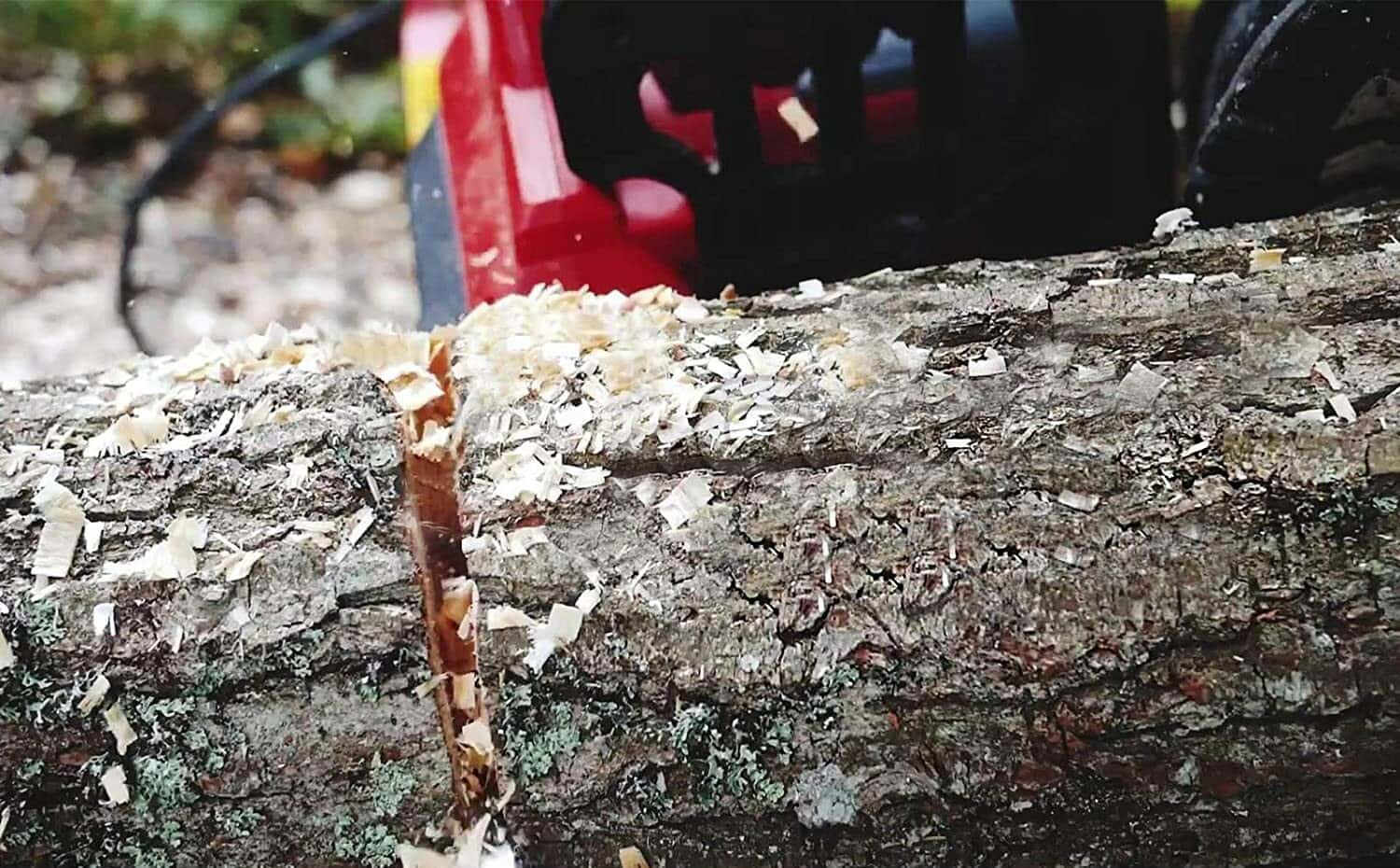 None of the available models are self-sharpening, so you can only sharpen a chain while using a chainsaw if the tool has this feature. However, I advise caution when using the chainsaw's self-sharpening option because it can wear out the chain quickly.
Most 16-inch chains are designed for lightweight applications, and despite having heat-treated rivets, they might break if used to cut thick logs.
Durability and Upkeep Requirements
I don't replace my chainsaw's chain often, but I check the tool routinely before, and after every use. 16-inch chainsaw chains are durable as some models can last for five years or longer, but their lifespan depends on the usage.
Also, direct exposure to dirt can shorten the chain's lifespan, while hitting a rock or a nail can damage it permanently. Besides oiling the chain frequently, you also need to check and adjust its tension and ensure its teeth are always sharp.
Replacement chains for 16-inch chainsaws aren't expensive, and most models cost less than $20. Prices of packs of three 16-inch chains cost between $20 and $50, while high-end models can cost up to $80. The most affordable options are usually not heat-treated or pre-lubricated.
Selection Criteria
Quality, durability, and compatibility were vital guiding principles I depend upon while selecting the best 16-inch chainsaw chains. Hence, all models can withstand daily wear and tear and retain their sharpness for extended periods.
Let's go through the criteria I've used to single out the best 16-inch chainsaw chains:
Gauge, drive link, and pitch numbers – All models I included in this guide have the drive link, gauge, and pitch values that make them suitable for use with 16-inch chainsaws.
Chainsaw chain type – I relied on this parameter to identify the best low profile, semi chisel, or micro chisel models.
Top 9 16-Inch Chainsaw Chains
Oregon S56 AdvanceCut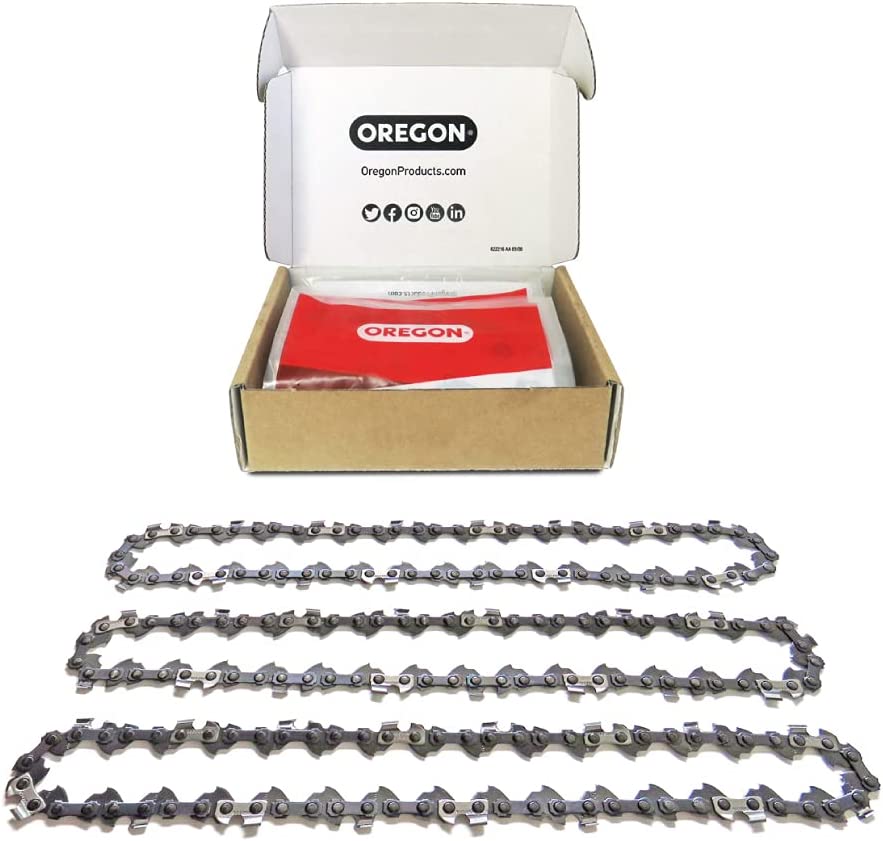 As an owner of a Makita EA4300F40B chainsaw, I can confirm that the Oregon S56 AdvanceCut chain offers excellent quality at an affordable price. Besides Makita, this chain is also compatible with chainsaws produced by Ryobi, Husqvarna, or Echo.
Oregon's model has 56 drive links, 0.50-inch gauge, and 3/8 pitch. This semi chisel chain doesn't generate a lot of vibration and lowers the risk of kickbacks. Its chrome-tipped teeth and heat-treated rivets ensure it's not necessary to replace the chain often.
Pros
This chain is easy to install
The Lubri-Tech system spreads the oil evenly throughout the chain
It's compatible with a broad range of chainsaw models
The manufacturer offers a lifetime warranty for this product
Cons
It's not designed for heavy-duty applications
The chain might require sharpening before the first use
Check also: The best Oregon chainsaw models
Zentop 16-inch Chainsaw Chain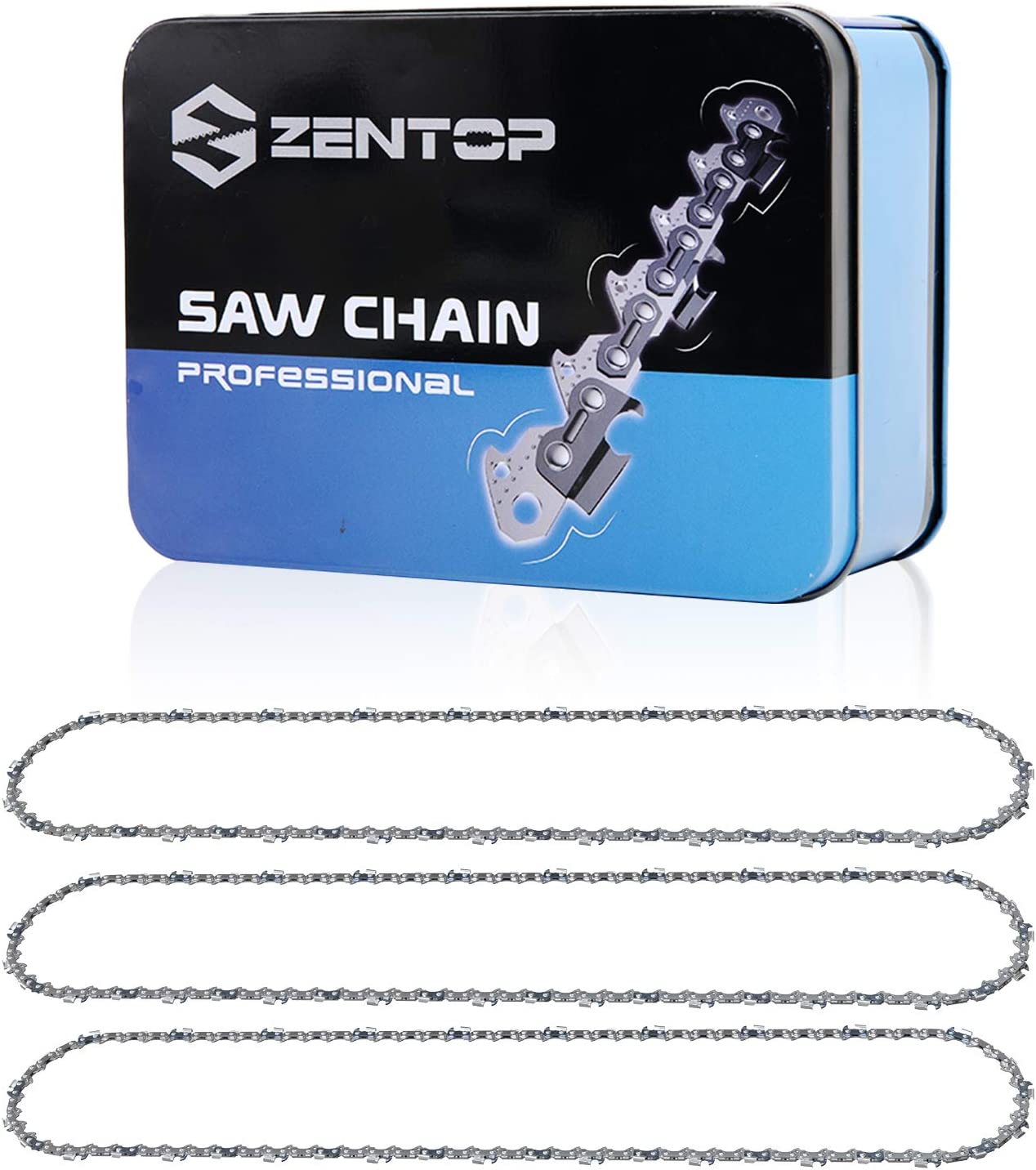 Low vibration, excellent anti-kickback properties, and high cutting speed are some of the Zentop 16-inch Chainsaw Chain's features I noticed immediately. The stainless steel chain has chrome-plated teeth that can cut through most hardwoods.
The model's rivets are hardened, which increases its durability and eliminates the need for frequent tensioning. It is compatible with DeWalt, Craftsman, Stihl, and other chainsaws, but it is necessary to check if you can use it with a specific model produced by one of these brands.
Pros
Chrome-plated cutters remain sharp for a long time
It delivers clean cuts
The chain can reduce the vibration level by 20%
This model has 57 drive links
Cons
It doesn't have an oiling mechanism
Loggers Art Gens Chainsaw Chain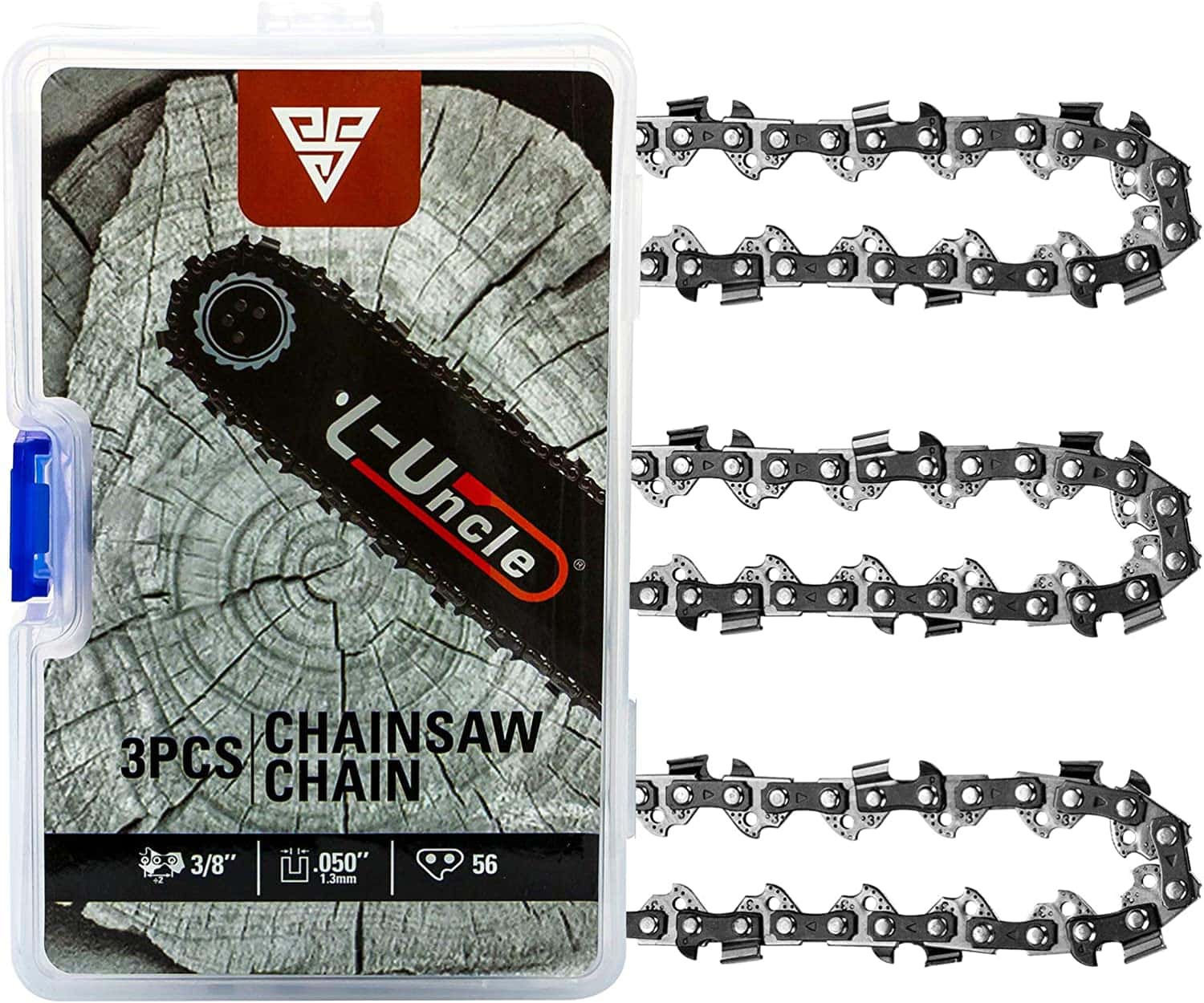 Testing the Loggers Art Gens Chainsaw Chain on a Poulan chainsaw was pure joy because it cut through a tree branch like a knife through butter. This 3/8 pitch, 56 drive link, and 0.050 gauge chain fit various Homelite, Poulan, McCulloch, and Echo models.
The steel chain has anti-fracture properties, and its teeth are coated with industrial chrome. Hence, you'll have to sharpen it annually while hardened rivets ensure the semi chisel chain doesn't sag.
Pros
The product meets ANSI safety standards
The chain has an efficient lubrication system
An excellent option for occasional DIYers
Cutters don't dull quickly
Cons
It doesn't absorb vibrations
Stihl 63 PS Pico Super Chainsaw Chain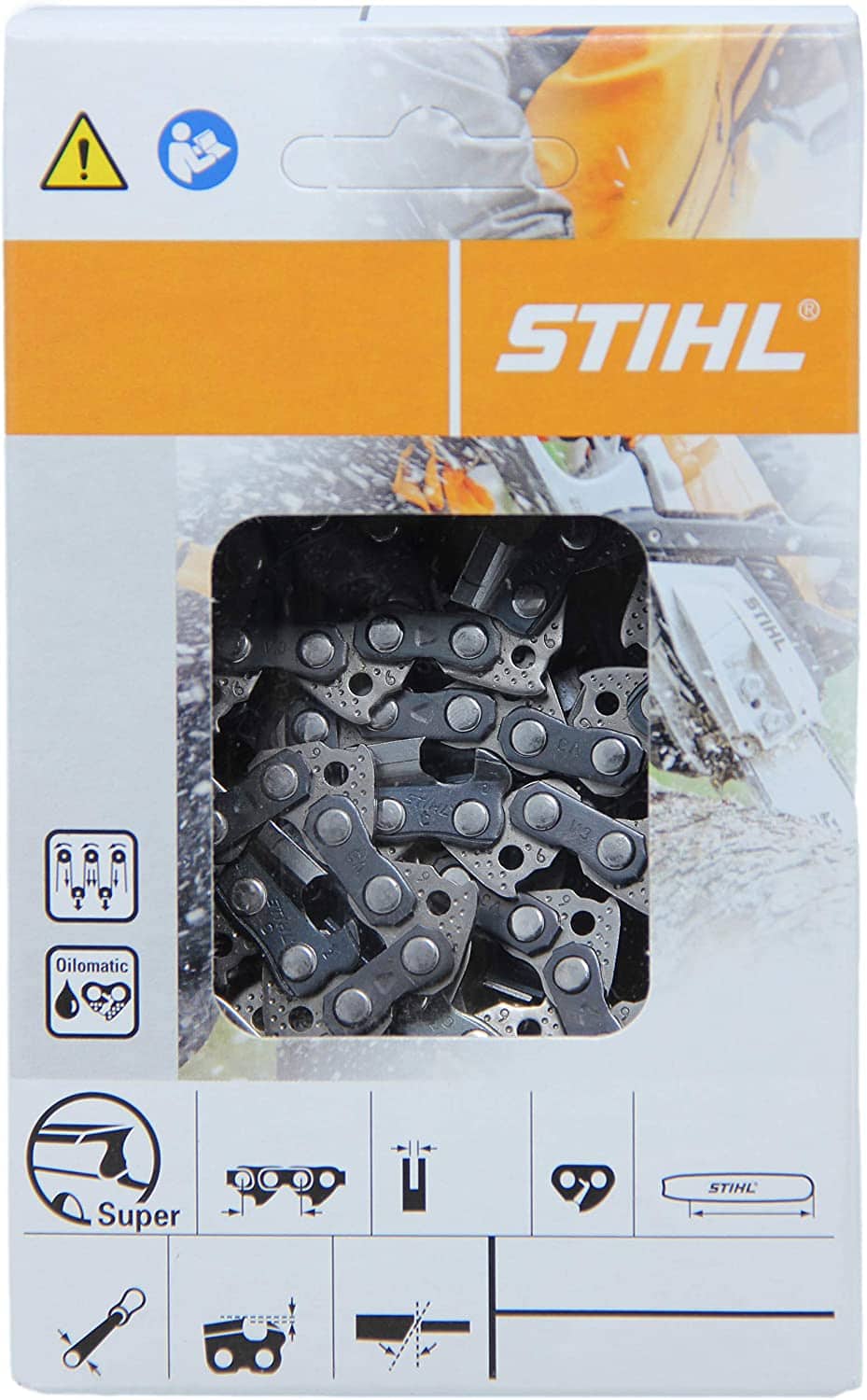 You should only consider getting the Stihl 63 PS Pico Super Chainsaw Chain if you own a Stihl 024, MS170, 250, or other brand's chainsaw models. This OEM part is highly efficient and can cut through frozen lumber effortlessly.
The low-profile chain has square cutters that don't generate much friction while they're in contact with different surfaces. Despite having low-kickback properties, this Stihl's model isn't ideal for homeowners who are using their chainsaws recreationally.
Pros
It's not prone to kickbacks
It has a one-year warranty
It is more durable than most 16-inch chainsaw chains
Cons
It's only compatible with Stihl chainsaws
This chain is expensive
Further reading: The best Stihl chainsaw models
Husqvarna X-Cut SP33G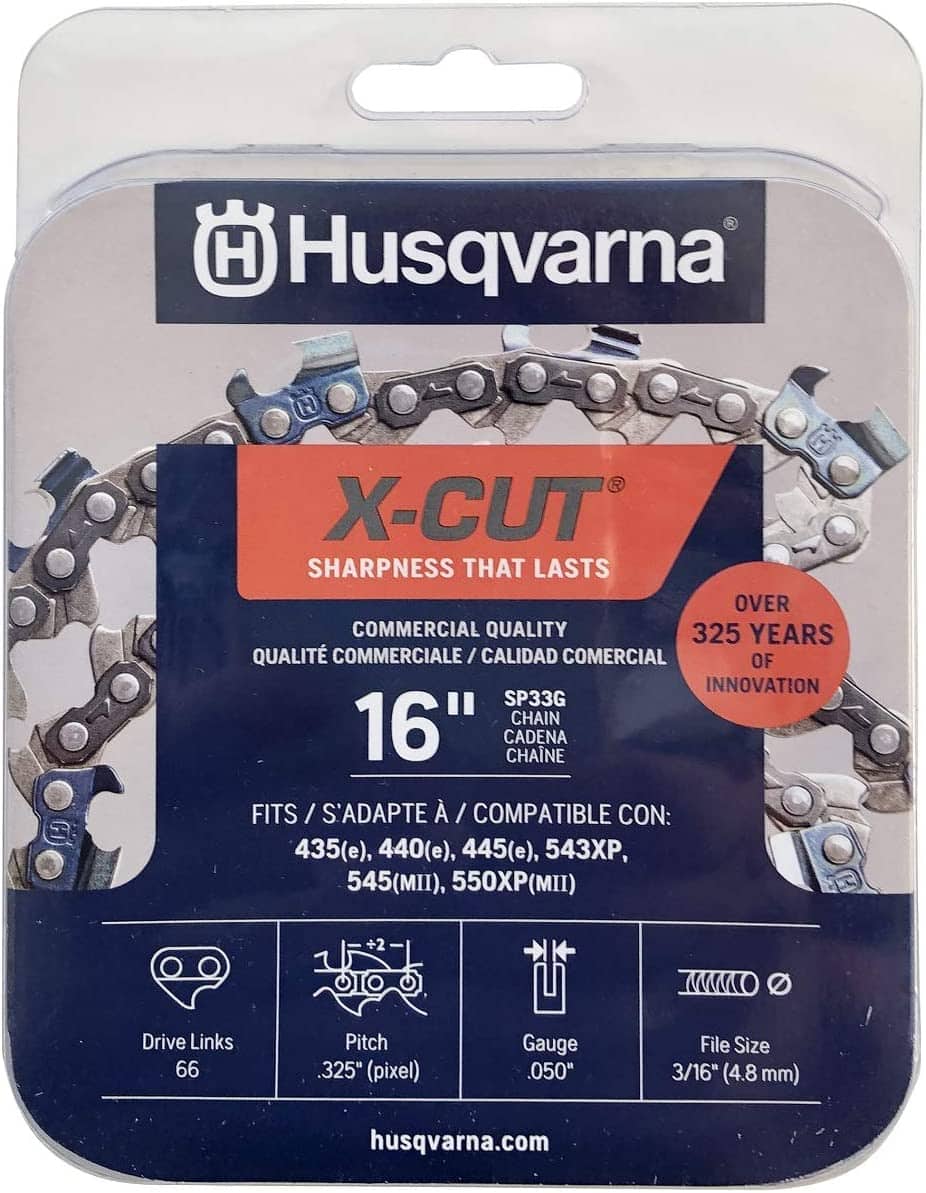 I think the limited compatibility is Husqvarna X-Cut SP33G's only downside since you can't use it with chainsaws produced by other brands. Even though it is designed for 16-inch bars, the X-Cut SP33G has 66 drive links, and its pitch is 0.325 inches.
The model arrives sharpened and you can start using it right out of the box. Moreover, it doesn't get dull quickly, even if you use it for heavy-duty applications. The chain has an oiling system that eliminates the need to lubricate it manually.
Pros
High cutting speed
It doesn't need frequent sharpening or tensioning
Excellent price-performance ratio
Cons
The chain doesn't have a low kickback rating
The warranty period lasts for 90 days
You might also like: The best Husqvarna chainsaw models
Greenworks 2904402
I think that the brand's OEM chain is often the best available option for the chainsaw's original chain. The Greenworks 2904402 has 56 drive links, 3/8 pitch, and 0.043 gauge.
Despite having seemingly universal specifications, it only fits Greenworks CS60L210, 22022, CS80L01, 20232, SC80L211, and CS60L00 chainsaw models.
The manufacturer doesn't offer much information about this 16-inch chain. So, gathering information about the quality of its cutters or its lubrication options can be tricky.
Pros
Suitable for lightweight applications
It's not prone to sagging
This chain is affordable
Cons
It is compatible with a handful of Greenworks chainsaw models
Maxpower S56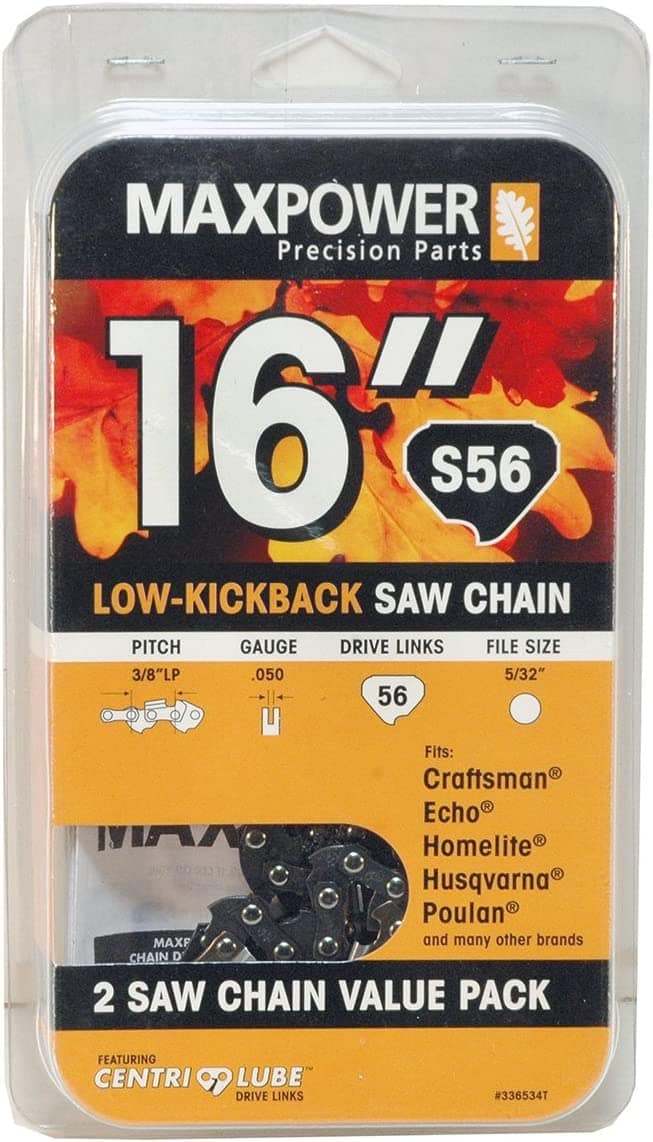 I can hardly overstate the importance of having a spare chainsaw chain in your toolkit. Getting the Maxpower S56 two-pack will ensure you have a replacement for the chain you're using at all times.
This model is compatible with Poulan, Husqvarna, and Echo chainsaws, but you might have a hard time determining its compatibility with specific models. It has 56 drive links, 3/8-inch pitch, and 0.050 gauge, but this doesn't mean you can fit it on all 16-inch chainsaws these brands make.
Pros
The chain has self-lubricating links
It has a low-profile pitch
The chain's teeth are sharp
An attractive price
Cons
Controlling vibrations can be difficult
It requires frequent tension adjustments
UpStart Components Chainsaw Chains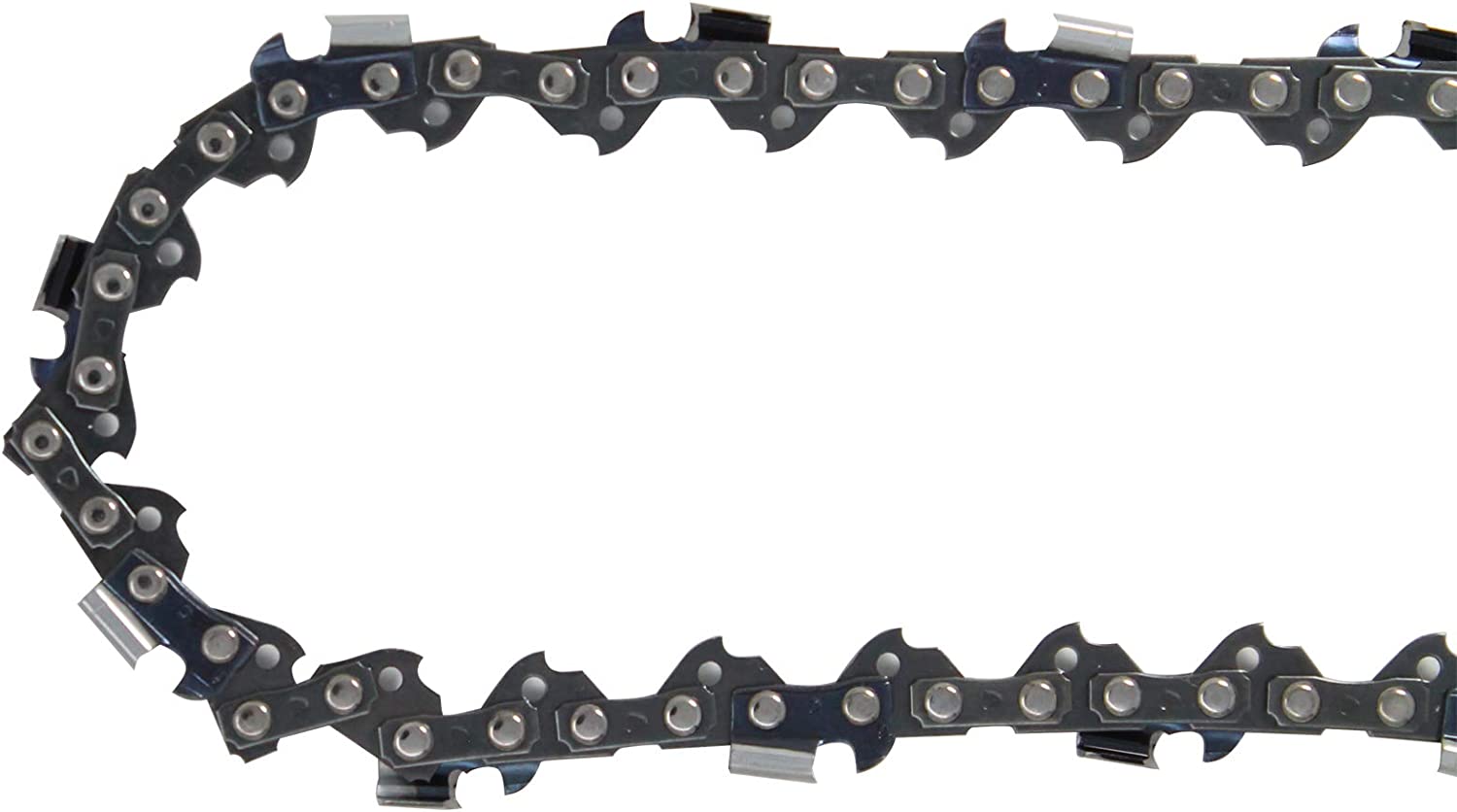 Although they're designed for the DeWalt DSCCS670X1 chainsaw, UpStart Components Chainsaw Chains are not OEM parts. This chain has 56 drive links, a low profile 3/8-inch pitch, and a 0.043 gauge, and you can only use it if your chainsaw has a matching bar.
The steel chain has durable rivets that prevent sagging, but its cutters don't remain sharp for long, especially if you use the chain often. Also, this model doesn't have a built-in lubrication system.
Pros
The chain can absorb vibration
A good option for people who don't use their chainsaws often
It's made of high-quality steel
The chain makes precise cuts
Cons
It only fits one chainsaw model
Hipa Chainsaw Chain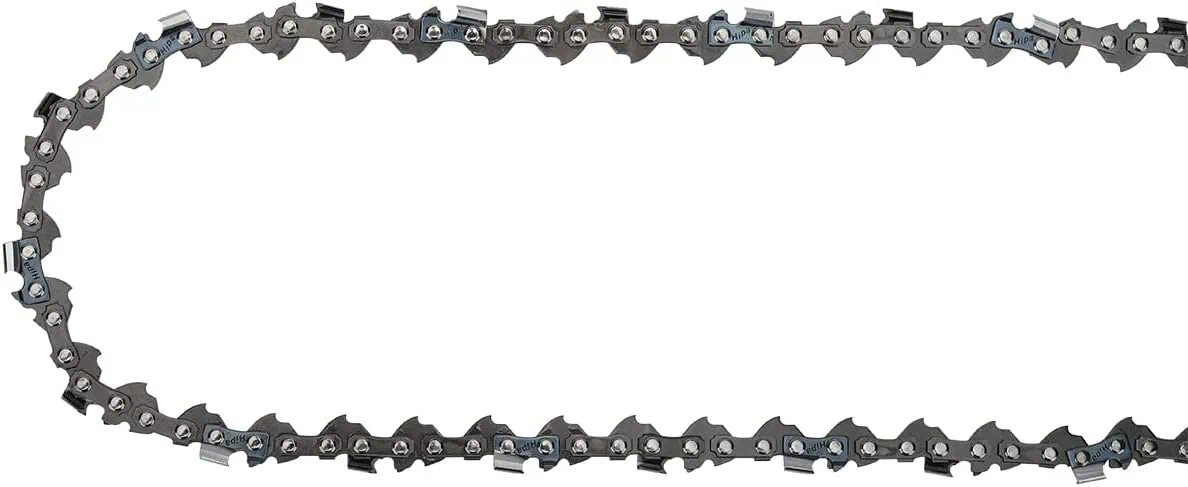 Hardened rivets, chrome-plated cutters, and low kickback are some of the properties that make the Hipa Chainsaw Chain a good replacement for a broad range of Makita, Craftsman, Greenworks, and Milwaukee chainsaws.
This semi chisel chain is corrosion resistant and doesn't create kickbacks when operating at high speeds. Its teeth have filing indicators that enable you to sharpen them properly. The chain is designed for small chainsaws, and you shouldn't use it for heavy-duty tasks.
Pros
The chain meets ANSI safety standards
It has a durable design
Tensioning the chain often is unnecessary
Cons
Novice users might need time to get used to this chain
Frequently Asked Questions about 16-Inch Chainsaw Chains
Question: Which oil should I use to lubricate a 16-inch chainsaw chain?
Answer: You can use canola, vegetable-based, and other environmentally friendly oils to lubricate the chain and the bar.
Question: How to sharpen a 16-inch chainsaw chain?
Answer: Sharpening a chain is easy if you have a chainsaw with a self-sharpening function, but sharpening the chain manually can be difficult.
Question: Do I have to tighten a 16-inch chainsaw chain often?
Answer: You may have to adjust the chain's tension a few times if you use the chainsaw for three to five hours.
Please look at our guide to the best 24-inch chainsaw options to learn more about chainsaws designed for heavy-duty applications.
My Verdict: Which 16-Inch Chainsaw Chain Is the Best?
Finding a model compatible with my chainsaw is my primary concern when searching for a replacement 16-inch chain. So, getting too caught up with the performance capabilities of specific chain models often does more harm than good.
I recommend picking a model that meets ANSI safety standards and provides steady and balanced cuts with a low kickback risk. Oregon S56 AdvanceCut is, in my opinion, one of the best and most versatile options you have at your disposal.
I suggest taking a look at Stihl 63 PS Pico Super Chainsaw Chain or Husqvarna X-Cut SP33G if you need a replacement chain for a chainsaw produced by one of these brands.