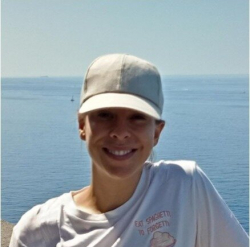 Latest posts by Maddy Chiffey
(see all)
In recent years, finding the best chainsaw case for your prized power tool has become more important than ever.
There once was when the best chainsaw brands like Husqvarna and Greenworks would include a good-quality case with the chainsaw itself.
These days, however, they're more likely to provide you only with a sheath to cover the blade.
While that's helpful, it doesn't provide that much protection for the rest of your saw, or you for that matter. That's not to mention that a sheath offers practically nothing when it comes to finding a convenient way to carry your saw and all of its equipment.
With that in mind, I've put together this complete guide to help you find the best chainsaw case for you, including reviews of the top five cases on the market right now.
If you don't have time for those reviews, here's a brief overview:
At a Glance: Top 5 Best Chainsaw Cases
What is a Chainsaw Case?
A chainsaw case is an invaluable tool for anyone who owns a chainsaw.
They're designed to ensure that your case is fully secured when not in use so that not only is your chainsaw well-protected from the environment but that you and those around you are equally as protected from the chainsaw.
However, the best chainsaw cases offer more than this.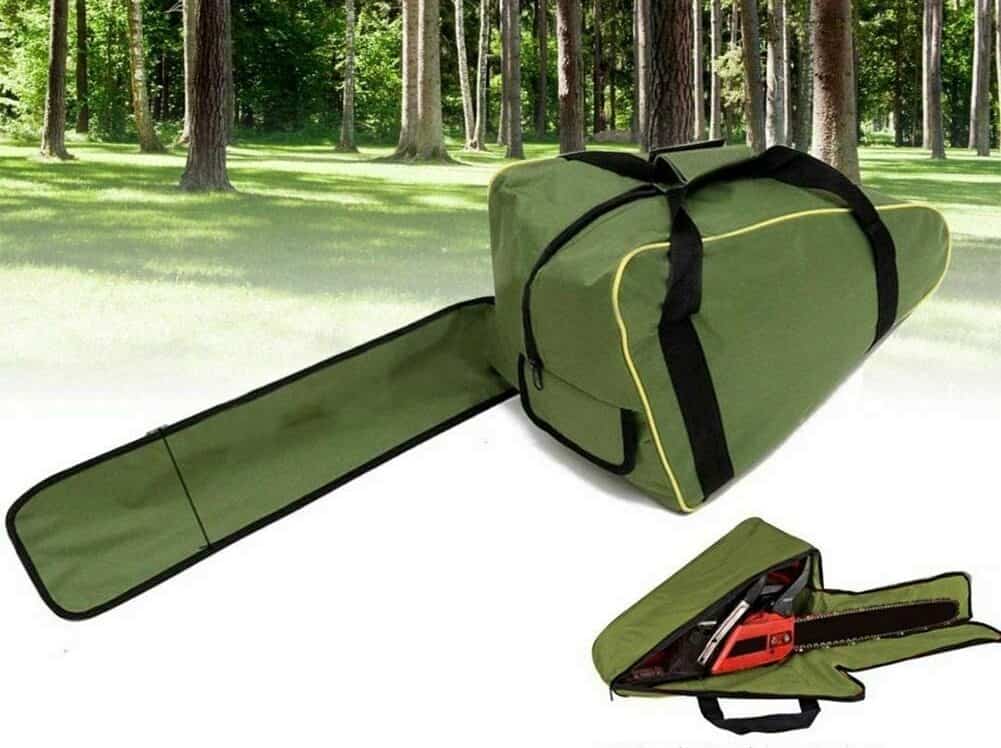 You'll find that they have additional room to store the kind of tools and materials you'll need when working with your chainsaws, such as spare chains, sharpening equipment, an oil can, and protective gear.
Most cases are made from either a durable, resistant canvas material or a strong, protective Polyethylene. I'll talk more about the differences between the two in the buyer's guide later, but for now, let's talk a little about who might need a chainsaw and why.
Who Needs a Chainsaw case?
The honest answer to this question is that anyone who owns a chainsaw will benefit from also owning a proper, protective chainsaw case.
You might get lucky and find a top-quality chainsaw that comes with its own case, but the truth is these are few and far between. In most cases, if a chainsaw includes any protective kit at all, it's usually in the form of a sheath that goes over the blade when not in use.
This is a good start, but it fails to offer the same kind of benefits that you'll get with an actual case.
These benefits include:
Protection for You
Even if a chainsaw is switched off, it can still be a dangerous piece of equipment. With electric and battery-powered chainsaws especially, it only takes a little careless mishandling while carrying it around for the whole thing to fire into life and cause serious damage.
That's not to say that it's safe to carry around an uncased gas-powered chainsaw. However, even so-called lightweight models like the Homelite XL are still heavy and dangerous tools to lug around unprotected. Hence, it's always worth investing in a good-quality chainsaw case to keep yourself safe while using your equipment.
Protection for Your Family and Those Around You
Of course, you'll rarely be the only person whose safety you have to consider when owning a chainsaw. However, if you're working with others, keeping that powerful tool in its case when not in use will ensure that they don't come to any harm either.
More importantly, there's family to consider, especially families with young children. Sure, you can look at storing that saw well out of harm's-reach, but having that tool locked up in a secure, protective case provides an extra level of safety and the peace of mind that comes from knowing that even if your kids are determined to access your power tools, they simply won't be able to get to the chainsaw.
Protection for Your Car and Surfaces
If you own a gas-powered chainsaw that you carry around from place to place with you, a good protective case will stop any oil leaks from damaging your car seats or work surfaces.
Even for mains and battery-powered options, your case will protect surfaces from scuffs, scratches, and scrapes.
Protection for Your Chainsaw
As much as a chainsaw carry case can stop your chainsaw from causing damage to other things and people, it can also prevent damage being done to the chainsaw itself, helping to protect it from the kind of knocks, drops, and other damage that can cause that expensive piece of equipment to break.
Convenience
Protection isn't the only reason to buy a case. The very best chainsaw carry cases make it that much more convenient to carry your saw -and any vital accessories- around with you, ultimately making your work much easier.
Chainsaw Case Buyer's Guide
Later, I'll share my opinions on the 5 chainsaw cases I consider to be the very best on the market. However, before I do that, it's helpful to look at the most important factors to consider when choosing a carry case of your own so that you can determine which of my top 5 picks is right for you.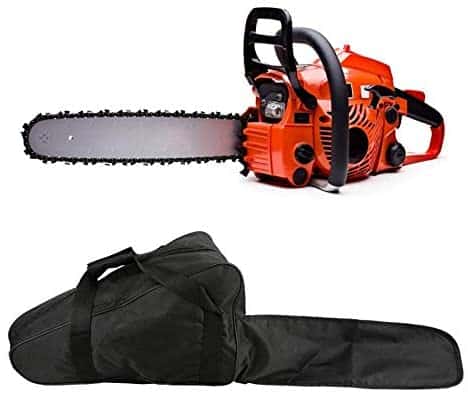 Compatibility
It sounds fairly obvious, but the most important thing to consider is whether the case you're thinking of buying is actually suitable for housing your chainsaw. Some brands like Husqvarna and Poulan make a range of cases designed specifically for their own brand of chainsaws.
That's great news if you own a Husqvarna 350 or similar model, as it means you're guaranteed a case that has been purpose-made to provide optimum protection and convenience for your particular model.
If not, you may have to find a non-brand-specific case for your saw.
Chainsaw Size
Even if you come across a more generic case that isn't exclusively for one particular brand, you'll still need to ensure that said case is a good match for your saw.
Too small, and your equipment won't fit inside. Too big, and your chainsaw and additional tools are likely to come loose and rattle around inside, meaning you don't get the level of protection you're paying for.
Material
As I mentioned earlier, chainsaw carry-cases are usually made either from soft-yet-tough canvas or solid plastic casing.
There are advantages to both, and which one you pick will ultimately depend on your needs.
Canvas cases tend to be much cheaper, so if your only priority is to keep a close eye on your wallet, the low price tag will no doubt appeal.
That said, these soft cases are generally only suited for using your chainsaw at home or any location in which you're going to be spending a lot of time carrying your chainsaw from place to place.
Plastic cases are often more expensive, but they're also much more durable and offer a better level of protection for chainsaws that are regularly transported around.
Additional Storage
The best chainsaw cases are designed to carry more than just the chainsaw itself. They can often be used to carry spare chains and many of the other essentials that you'll need to use your chainsaw properly.
As such, when you're choosing which one to buy, it pays to consider how much extra stuff you'll need to carry with you and pick a model that can accommodate all of it.
Weight
Weight may not be the most important factor, but it still matters a great deal. After all, chainsaws are heavy, so the last thing you want is a case that doubles the amount of weight you have to carry.
Instead, look for a lightweight option that still offers great protection but doesn't leave you feeling like you've just done a hard workout at the gym after carrying your gear around.
Five Best Chainsaw Cases
1. Husqvarna 100000107 Powerbox Chainsaw Carrying Case – Best Overall Case

Ample room and cut-out compartments for other tools and equipment
Compatible with some non-Husqvarna saws
Room to add a padlock for extra security.

Find it Here
2. Poweka Chainsaw Bag – Best Budget Pick

Universal case works with most brands of chainsaw
Best for electric chainsaws
Strong, durable material.

Find it Here
3. Echo Toughchest 20″ Carry Case 

Most lightweight case
Made in the USA
Good generic alternative to the Husqvarna 100000107

Find it Here
4. Cataumet Chainsaw Carrying Case & Sharpening Kit

Includes full set of chainsaw sharpening tools
Features heavy-duty double zippers
Shoulder straps make it easy to carry.

Find it Here
5. Poulan Pro 952031152 Carrying Case 

Best for gas chainsaws between 18″ – 20″
Exceptional durability
Can work with other brands like Stihl and Greenworks.

Find it Here
1. Husqvarna 100000107 Powerbox Chainsaw Carrying Case – Best Overall Case
Regular readers of The Forestry Pros will probably recognize that we're big fans of the Husqvarna brand.
The company has carved out a reputation as an expert in the world of chainsaws, creating a range of premium-quality products which frequently top lists like this one.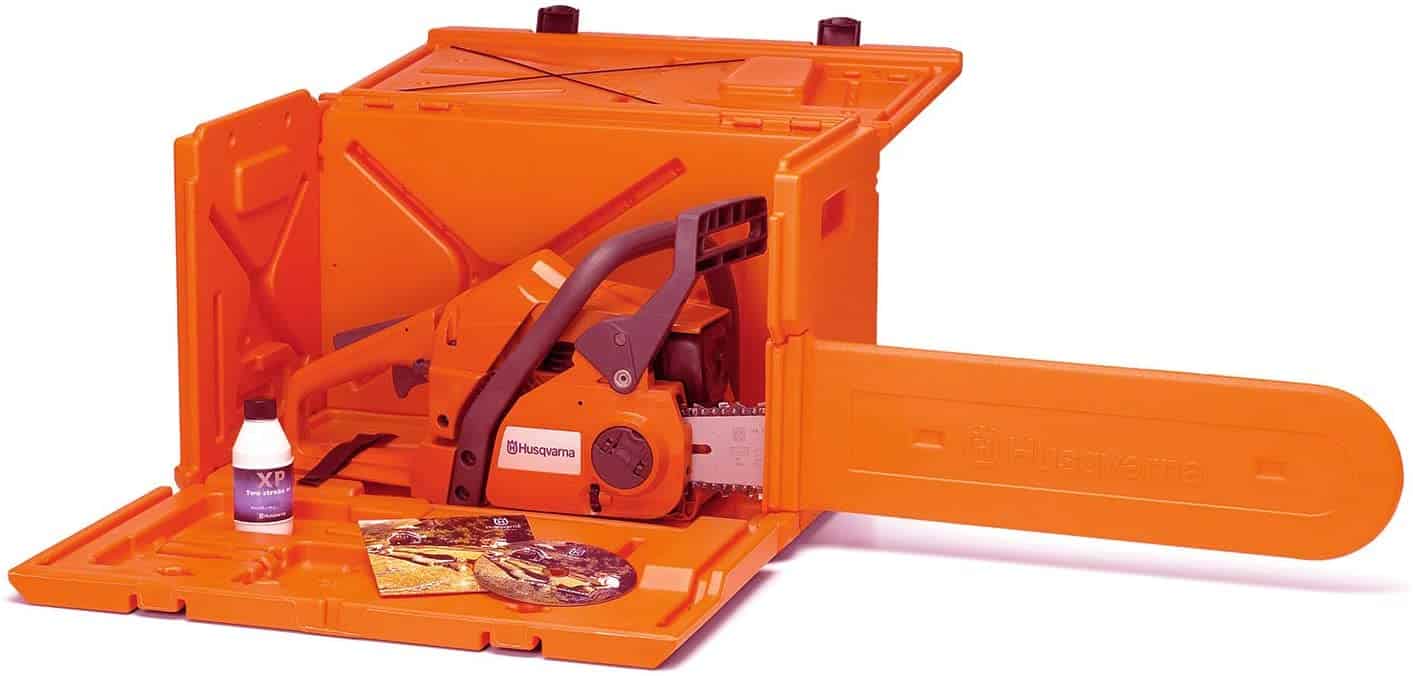 With the Husqvarna 100000107 Powerbox Chainsaw Carrying Case, the brand has done it again.
Measuring 12″ x 20.5″ x 13.25″ inches and weighing just a slight 9 lbs, this deluxe case is big enough to house all Husqvarna chainsaws up to and inclusive of the 372xp and 575xp (including the popular Husqvarna 572XP) yet is still light enough to make carrying it around a breeze.
Despite being designed exclusively for Husqvarna products, we have seen customers reviews that state that it worked just as well for other brand chainsaws such as those by Greenworks and Stihl, though don't take that as a given and always check your saw will fit comfortably if you're thinking of buying this one.
Inside, there's plenty of room for an oil can and other essentials, with several in-built compartments designed to contain tools such as screwdrivers and sharpening securely.
Combine that with the highly durable plastic case and a convenient handle, and there's little doubt that the Husqvarna 100000107 is the absolute best chainsaw carry case around.
Pros
Lightweight-yet-durable design
Includes added security measures such as room to add a padlock
Includes 18″ – 20″ removable scabbard.
Cons
Pricier than other cases
It lacks anything to hold the oil can in place, meaning it may fall out when the case is opened.
2. Poweka Chainsaw Bag – Best Budget Pick
If you're looking to keep your costs down while still ensuring adequate protection, the super-tough, super-affordable Poweka Chainsaw Bag will undoubtedly appeal.
Available at half the price of other leading bags, the low cost doesn't mean that Poweka has compromised quality or convenience.

Instead, they've made a universal bag that isn't limited to any one brand and instead proves suitable for all saws that can fit within its 35.04″ x 18.90″ x 5.12″ dimensions.
The composite material sees a thickened, Oxford fabric keeping your saw well protected on the inside. At the same time, on the outside, a 600d lined waterproof polyester ensures your saw is safe from the elements.
While you may be able to get an upgrade on quality if you pay more, you simply won't find a better case at this price range.
Pros
A great choice for electric chainsaws
Convenient carry straps
Enough room for a spare battery and chain
Cons
Some users report issues with the zipper coming apart after repeated use
Oil leaks can stain the fabric.
3. Echo Toughchest 20″ Carry Case
If you liked the look of our top-ranked Husqvarna case but found it just isn't suitable for your non-Husqvarna chainsaw, you might like the Echo Toughchest 20″ Carry Case much better.
This generic case weighs just 6lbs, making it the most lightweight chainsaw carry case we've come across so far.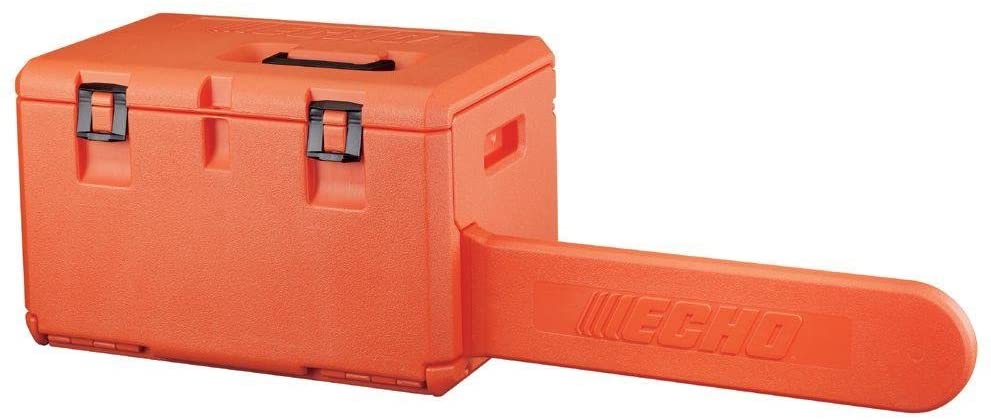 Still, it's by no means small. This one measures 20″ x 12″ x 12.5″ and will provide adequate room for any brand of chainsaw that fits those dimensions while still offering plenty of space for oil and other accessories.
Speaking of accessories, the Echo Toughchest is very similar to the Husqvarna 100000107 in that it combines multiple cut-out compartments for wrenches, screwdrivers, spark plugs, and other essentials.
Pros
Made in the USA
Affordable price
Made from extra-strong molded plastic
Cons
Nothing to secure the chainsaw inside the case
Requires assembly.
4. Cataumet Chainsaw Carrying Case & Sharpening Kit
As you'll have deduced from the name, the Cataumet Chainsaw Carrying Case & Sharpening Kit is more than just a carry case.
It also includes a whole arsenal of tools including, but not limited to:
3 x double-handed file guides
1 x 6″ flat file
1 x depth gauge
1 x 13mm – 19mm chainsaw wrench screwdriver.
While all that provides exceptional added value, it's really the bag itself we're most concerned about here today, and that's certainly up to the task.
The 600 denier polyester material is both abrasion resistant and fully weather-proofed for greater protection, all while providing the kind of outstanding durability that ensures this one is built to last.
Best of all, unlike other, cheaper soft-material cases, the Cataumet Carrying Case features heavy-duty double zippers that won't fall apart and will continue to serve you well for years to come.
Pros
Features high-density semi-rigid polyethylene board sewn into the bottom of the bag for greater protection.
Includes a separate compartment for other tools
High-quality shoulder straps for easy carrying.
Cons
Difficult to clean out any oil spillages
May not be room to fit a battery for battery-powered saws.
5. Poulan Pro 952031152 Carrying Case
At first glance, the Poulan Pro 952031152 Carrying Case may not be much to look at. The rough texture of the all-black, solid plastic casing is hardly attractive, but let's be honest:
Aesthetic appeal is probably the last thing on your mind when you're choosing the best chainsaw carry case.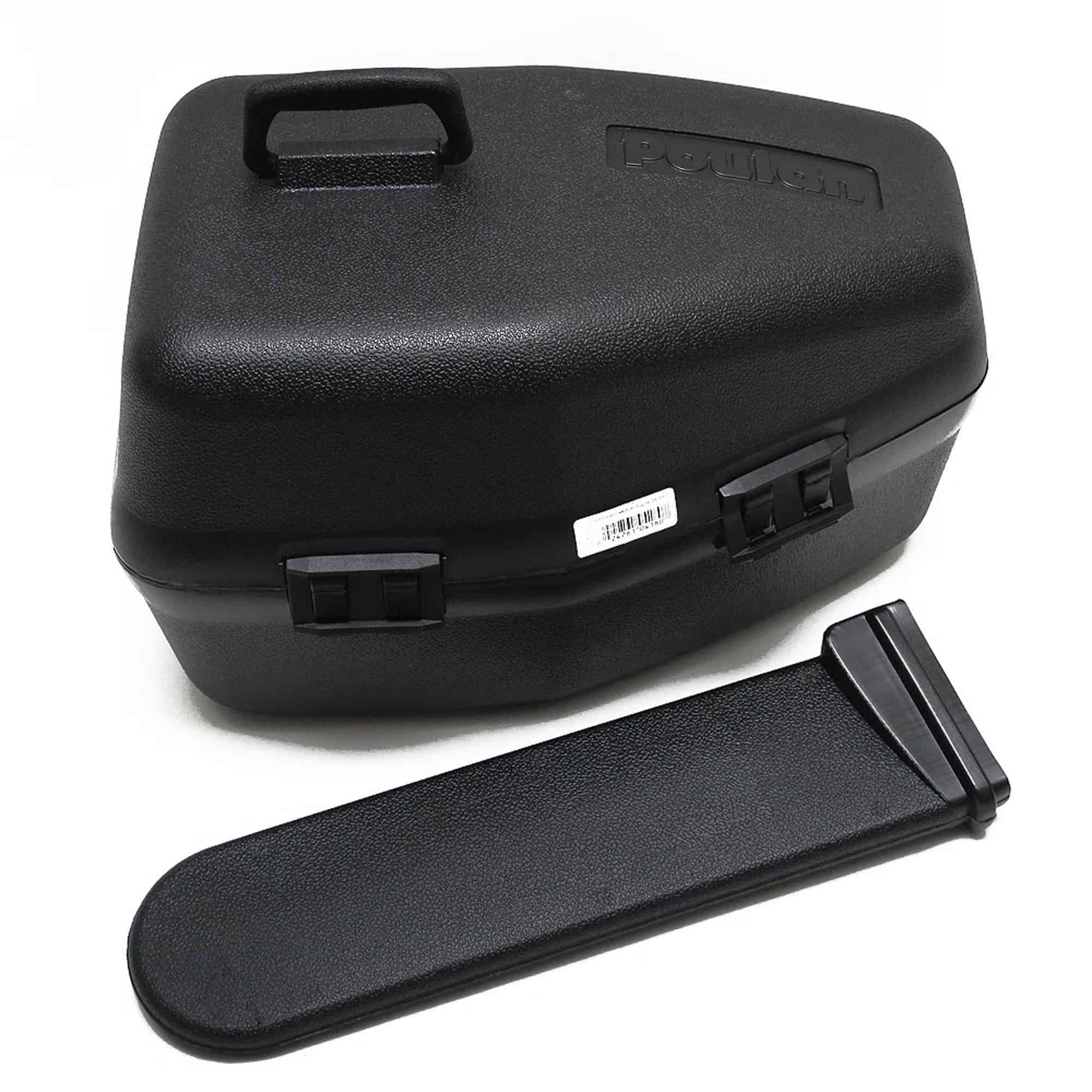 Indeed, what it lacks in looks, the Poulan Pro more than makes up for in quality.
Measuring 22.1″ x 15.9″ by 14.5″, the 952031152 is designed to securely store gas chainsaws between 18″ – 20″.
While Poulon insists that it's only designed for their own specific brand of chainsaws, there are enough customer reviews out there to suggest that it works well with certain Stihl and other brand saws. Still, much as with the Husqvarna case we looked at earlier, it's best to double-check that your own saw will fit before you purchase.
Providing it does, what you'll get with this one is an incredibly durable, resistant hard case that can withstand just about anything.
Pros
One of the most durable cases around
Strong, sturdy handle
Reported to work well with all brands of chainsaws.
Cons
Most expensive chainsaw case
Limited extra space for oil and tools.
Frequently Asked Questions
Question: Who makes the best chainsaw cases?
Answer: Husqvarna makes some of the best chainsaw cases on the market, which is unsurprising given their reputation as chainsaw experts. That said, other leading brands like Echo and Poulan also create great-quality cases worthy of consideration.
Question: Are chainsaw cases universal?
Answer: Not all of them. While some universal chainsaw cases exist, many are made either for a specific brand or model of chainsaw, whereas others are designed for certain sizes. Therefore, it's always worth checking that a chainsaw case fits your particular model before you buy.
Question: Can you transport a chainsaw without a case?
Answer: As the old saying goes, just because you can, doesn't mean you should. Chainsaws are dangerous pieces of equipment that should be properly encased for transport to ensure the safety of you, your vehicle, and those around you. A good case will also help protect your chainsaw from damage while on the road.
Best Chainsaw Case – My Verdict
If you've read through my top five reviews and are still struggling to decide on the best chainsaw case to spend your hard-earned money on, allow me to wrap up with a few final recommendations.
If you're looking to spend as little money as possible, the Poweka Chainsaw Bag is a great budget pick that is strong, sturdy, and sizable yet does suffer from a poor quality zipper.
If you're looking for the best all-around generic chainsaw carry case, the Echo Toughchest 20″ Carry Case is super strong, remarkably durable, and provides plenty of room for additional tools.
The Echo Toughchest is also an affordable alternative to my absolute top pick, the Husqvarna 100000107 Powerbox Chainsaw Carrying Case, a case of such impressive quality that I have no hesitation in recommending it as the best case money can buy right now.