Husqvarna is a brand that has over 60 years of experience when it comes to power tools. They manufacture a range of chainsaws designed for different uses and come in various shapes and sizes. Today's focus is one of their more compact offerings, the Husqvarna 350.
In this Husqvarna 350 review, we'll be outlining the pros of owning one of these chainsaws, talking about some of the associated downsides, answering some of the most common FAQs, and even recommending some alternatives that you may not have considered.
But before we get stuck in, let's take a look at an overview of the Husqvarna 350's core features.
Husqvarna 350 Core Features & Key Specifications
Core Features of the Husqvarna 350
Crucially, the 350 is part of Husqvarna's mid-range of chainsaws. So while it is bigger than the smaller 120, it is still smaller than the full-sized models such as the 450 rancher and alike. This means it has a smaller and less powerful engine but features a greater degree of maneuverability that makes it ideal for tackling smaller tasks or supporting the larger models on bigger jobs.
The 350 comes in at a very attractive price point that will appeal to anyone in the market for a new chainsaw. This is great as Husqvarna has targeted this at a different audience to that of its premium saws. However, to reduce costs, the manufacturer has clearly had to reduce the number of features available and ultimately cut a few corners. We'll touch on these in more detail a little later.
Compact Size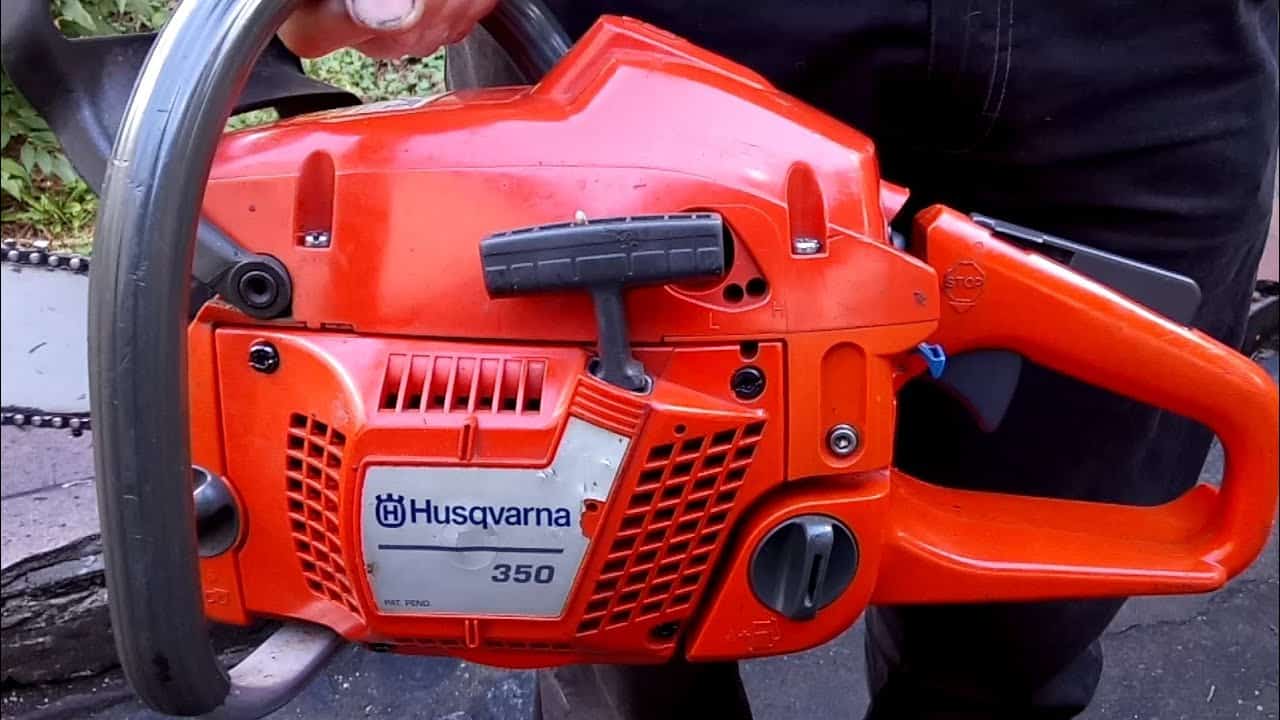 At 4.7kg, the 350 is light enough for almost anyone to use comfortably. The casing is made using lightweight plastics, and the engine itself is only 45cc, relatively small for a gas-powered chainsaw but powerful enough to tackle smaller trees and prune larger ones.
Its size makes it ideal for use around your home, but it's equally at home in a commercial capacity. So although it won't be cutting down any of the biggest trees on its own, it is more than equipped to play a supporting role
Adjustability
Another key feature of the 350, and one that makes it popular, is the level of adjustability that Husqvarna has included in the design. For example, you can adjust the oil flow easily, allowing you greater control over the engine's performance. This is particularly useful if you intend to be working during both hot and cold seasons.
The cutting arm is also changeable. As standard, it ships with an 18-inch arm, but that can be swapped out for a 24-inch one if needed. This makes the 350 a highly versatile yet compact chainsaw and further adds to its appeal.
LowVib Technology
Vibrations generated by gas-powered tools can cause some serious health issues for the user. They cause fatigue and put high stress levels on certain parts of the body, namely the hands and forearms. This fatigue leads to drops in productivity, something that no one wants to endure when trying to get a batch of chainsaw work completed.
To combat this, Husqvarna has included its 'LowVib' technology in the design of the 350. This tech is present across most of their products and works by isolating the vibrations and both source and delivery points. The engine is housed in a low vibration casing with rubber shock absorbers used to soften the vibrations. The same tactics are used at the other end of the saw, where the handle also features rubber isolation points.
Air Injected Cleaning
Another great feature of the 350 is the air-injected air filter cleaning. This system allows larger dust and debris particles to be removed from the air filter during use and helps reduce the amount of maintenance required to keep the chainsaw running.
The air filter is a part of any gas-powered engine that requires attention from time to time. If the air filter does not function properly due to being blocked, the engine cannot suck enough oxygen in to keep it running. You'll find your saw will die very quickly or won't start at all if this is the case.
Husqvarna has introduced a design element that uses air to remove larger particles from the filter as you work. This means less time you have to spend cleaning it and less time to spend away from your work.
Safety Features
No modern chainsaw would be complete without a good level of safety features. With the 350, several are worth mentioning, which can ultimately prevent serious injury from occurring should an accident occur.
The inertia-activated chain brake is the most important of these. It means the chain will instantly come to a stop should an impact be detected. So, for example, if an operator falls while using the chainsaw or gets dropped, the brake will activate to stop the chain from cutting. There is also a 'dead man's switch,' meaning when pressure is not applied to the accelerator; the engine will also cut out.
How Does the Husqvarna 350 Chainsaw Perform?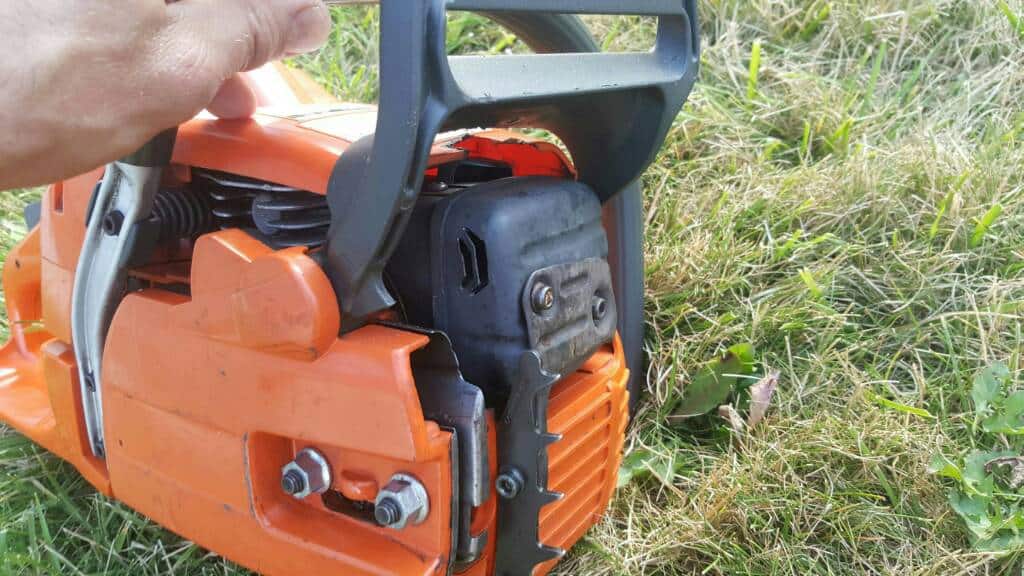 The 350 is a different beast when compared with many other chainsaws in the range. As a smaller, more compact model, it has a much different feel than the larger rancher saws, like the 450. Yet even when compared to the smaller versions like the 240, there is still something about the 350 that feels slightly different.
One of the first things to strike you as you start to use the saw for the first time is its weight. While a light design was exactly when Husqvarna was after, chainsaws that are too light tend to feel a little weak and flimsy. There is certainly an element of that here.
Despite the inclusion of some of Husqvarna's premium features, there is still a budget feel to this chainsaw. Common issues are oil leaks, the chain wearing out, and the fuel tank not properly working. Unfortunately, none of these are cheap or easy to fix.
Despite the cheaper feel of the 350 when compared with other chainsaws made by the same manufacturer, it is still a chainsaw that can perform well in the right situation. The 350 is very much a homeowner class chainsaw. This means it is well suited to performing domestic jobs rather than being ideal for professional use. Having said that, it could be used in a commercial environment but would work best as a supporting tool rather than being the go-to for larger trees.
The ergonomics of the casing and handle work well, combining with the lack of weight to create a light and easy-to-use chainsaw. This is great for anyone who struggles to use larger power tools over extended periods, and while the lack of weight does contribute to the 350s somewhat cheaper feel, it does help if pure ease of use is what you are after.
Other areas to note include the efficiency of the engine and the ease at which you can refill the fuel tank and oil reserves. Husqvarna has developed their X-Torq engines over several years, and while the 350 doesn't strictly feature one, there are many elements contained within it that can be found in the more expensive X-Torq models. This means that you can cut for longer before refueling is required, and the level of emissions is low.
When the time comes, and you do need to refuel, one side of the 450 is flat. This allows you to easily lay the chainsaw on its side while filling the 0.5L tank. The oil reserve is also located on this site for a convenient refill.
Pros of the Husqvarna 350
Despite the corners that seem to have been cut by Husqvarna when producing the 350, it remains a solid mid-sized chainsaw for work around the home. Here, we look at some of the main positives of this chainsaw, should you choose to buy one.
Compact Design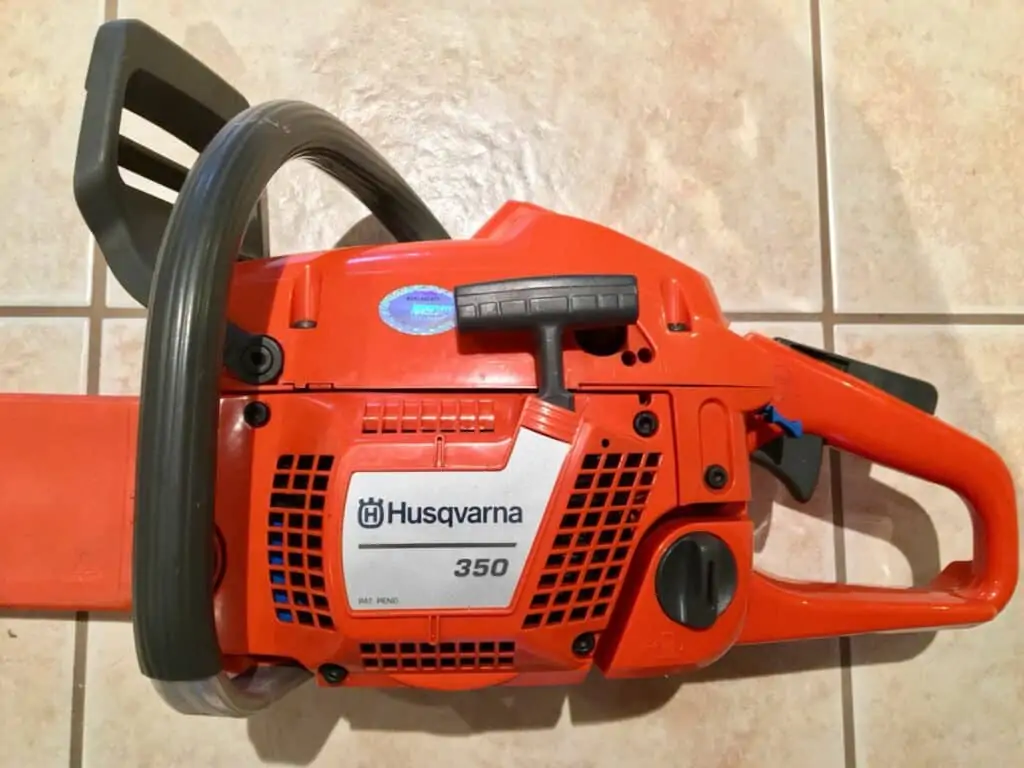 As we have already outlined, the main positive aspect of the Husqvarna 350 is its compact nature. It weighs just 4.7kg, pretty light for a mid-sized chainsaw with a 45cc engine. This weight, combined with its cutting power, makes an excellent tool that is well suited to a range of jobs.
Excellent Ergonomics
The ergonomic elements of the 350's design further improve its ease of use and help users get their work done quickly and effectively. For example, it features a rubber auxiliary handle on the top and side of the unit and a cleverly designed rear handle and accelerator trigger that makes it simple to work long hours while using it.
LowVib Technology
This is another Husqvarna product that features their LowVib technology and yet another that benefits from it. As one of the forerunners in the industry, Husqvarna has to look after its customers. With the cleverly isolated engine, the risk of fatigue and longer-term physical issues developing is greatly reduced – anything that allows you to work harder for longer is a positive in our eyes!
Air Assisted Filter Cleaning
The 350 also benefits from pressurized air being used to clean the filter out. This smart design feature results in dramatically reduced amounts of required maintenance, helping you to keep your 350 running longer and saving you money on repair costs.
Adjustability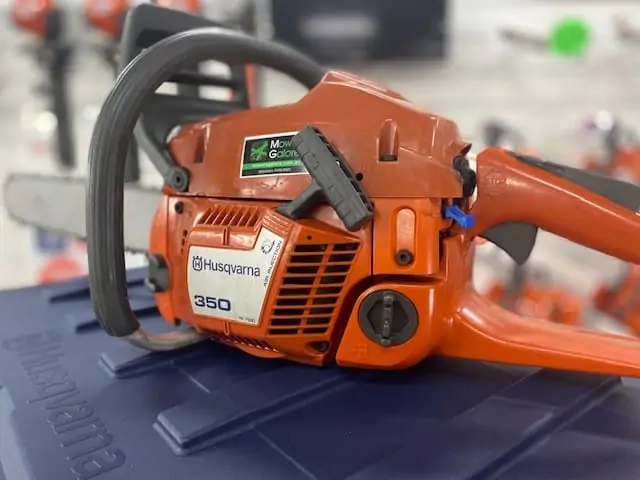 The improved adjustability that Husqvarna has worked into the final product makes it great for any homeowner. Changing the oil flow gives you control over engine performance, and being able to swap the cutting bar out for longer versions makes the 350 highly adaptable and able to take on a range of jobs.
Safety Features
Finally, one of the most important parts of any power tool is the safety features. When using a chainsaw, it is imperative to ensure the operator is protected and possibly against accident and injury. With the 350, you get Husqvarna's tried and tested chain brake, a dead man's switch, and a chain guard. All of these help to make the 350 a safe option for use at home.
Cons of the Husqvarna 350
Unfortunately, as with many products, there are some negatives to make potential buyers aware of. We came across some issues when looking at the 350 as well as some well-known issues that seem to affect a large number of customers.
Muffler Issues
The first of these issues is with the muffler. While some users report no issues at all, several reviews describe the muffler coming loose quite easily. Once this happens, it is not uncommon for the muffler to come off altogether. This creates a dangerous machine to operate and makes the chainsaw incredibly loud, potentially causing hearing damage and generating noise pollution.
Oil Leaks
Other issues have arisen from the oil well leaking. When the unit is left on its side for any length of time, it appears that the oil and often fuel tanks can leak. This is very dangerous and not to mention messy. Although leaky seals can the patched up pretty easily, this would not be something you would expect from a brand new product made by a reputable manufacturer.
Are There Any Alternatives?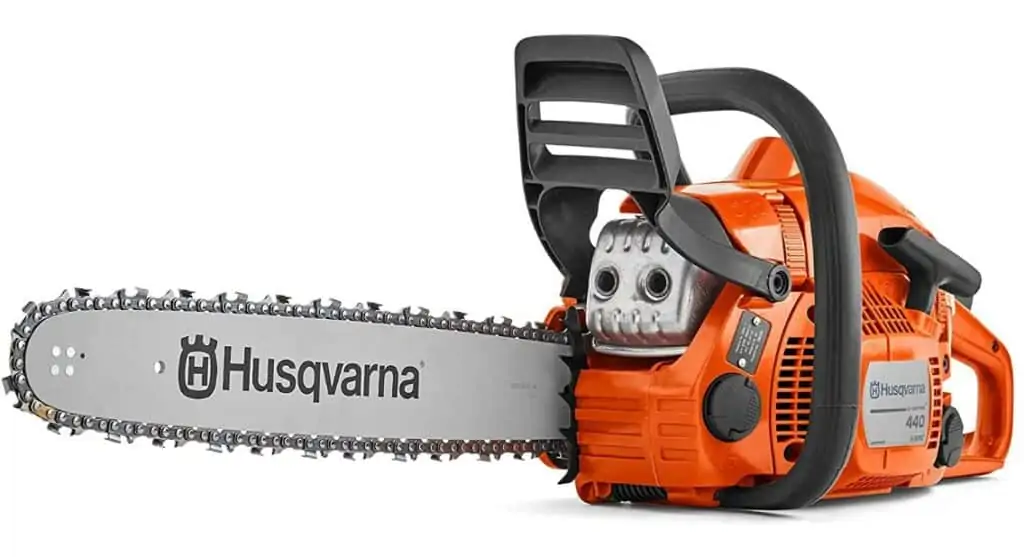 The 450 rancher is the bigger brother of the 350. It's larger, more powerful, and perfect for professional outfits as well as use at home. It features all of the same elements as the 350, but with a more powerful X-Torq engine, a 20" cutting bar as standard, an X-cut chain, and easy start technology. This is one of Husqvarna's more premium chainsaws.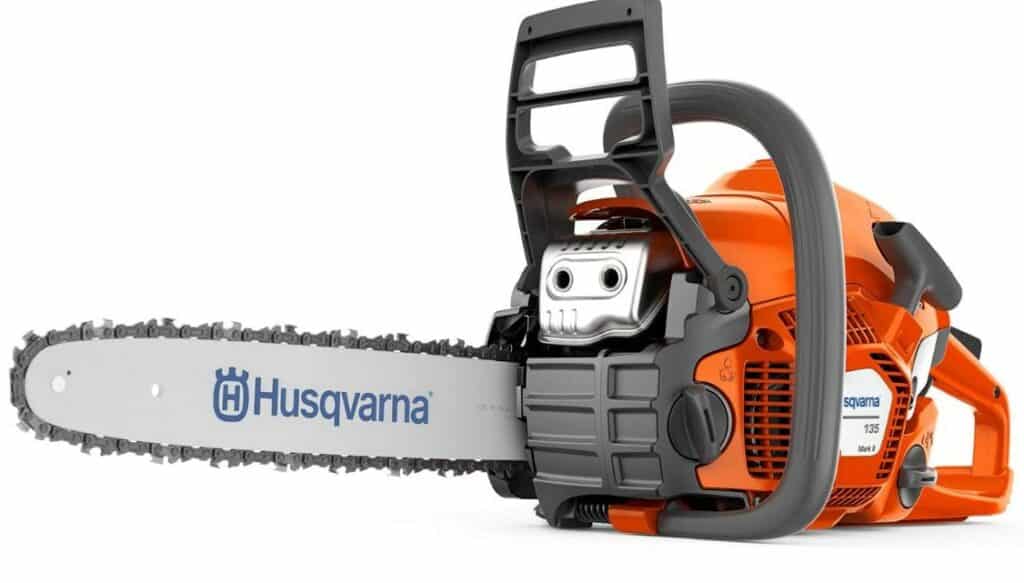 If, on the other hand, you need a more versatile and compact model, then the 135 could be a great option for you. As with the 450 Rancher, the 135 comes with all of the same features that the 350 does but with added premium extras such as the X-torq engine, easy start tech, and x-cut chain. In addition, this model features a 16" cutting bar as standard and is perfect for tackling smaller trees or pruning branches from the larger ones.
Frequently Asked Questions
Question: Can you swap the cutting bar on the 350?
Answer: Yes, the 350 chainsaw comes with good adjustability options. These include changing the cutting bar to suit your needs. You can purchase new arms that are either 16, 18, 20, or 24-inches long.
Question: How do I find the serial number on my 350?
Answer: The serial number can be found under the handle at the front of the tool next to where it attaches to the crankcase. It will be located on the brake side of the chainsaw.
Question: Is a warranty still valid without the original purchase receipt?
Answer: Not without the original receipt. You can also contact your bank, and they will provide proof of a sales transaction.
The Final Word – Is the Husqvarna 350 a Good Chainsaw?
In a word, yes, the Husqvarna 350 is a solid option for anyone looking to buy a mid-sized chainsaw for their home or private land. However, if you're looking to buy a new chainsaw for professional use, there are much better options available, in our opinion.
For example, if you're looking for a larger and more powerful tool that you can use to tackle the biggest of trees, the Husqvarna 450 Rancher is an excellent choice. Similarly, if you're looking for a more compact option to cut smaller trees and bushes with, we'd recommend taking a closer look at the Husqvarna 135.