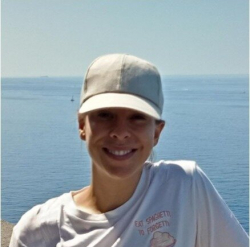 Latest posts by Maddy Chiffey
(see all)
Ask any forestry equipment dealer about the best skid steer mulcher options for your next big project, and many are likely to bamboozle you with a whole range of technical details which, though they sound impressive, don't really help you determine which product to purchase.
Sure, they'll talk about drum mulchers vs. disc mulchers. Sure, they'll be quick to boast that their best-selling product has four-point steel teeth or Twin Chisel Planers, but while all of that sounds good, those equipment dealers aren't so fast to explain what any of these means nor, more importantly, what difference it will make to your work.
That's why I put together this comprehensive guide to the best skid steer mulcher options around right now. Not only do I outline what to look for and how certain features may -or may not- help you, but I also share with you detailed reviews of my top five picks and outline which one may be best suited to your particular needs.
Don't have time for that right now? No problem, here's a quick look at my top 5:
Top 5 Best Skid Steer Mulchers: At a Glance
What is a Skid Steer Mulcher?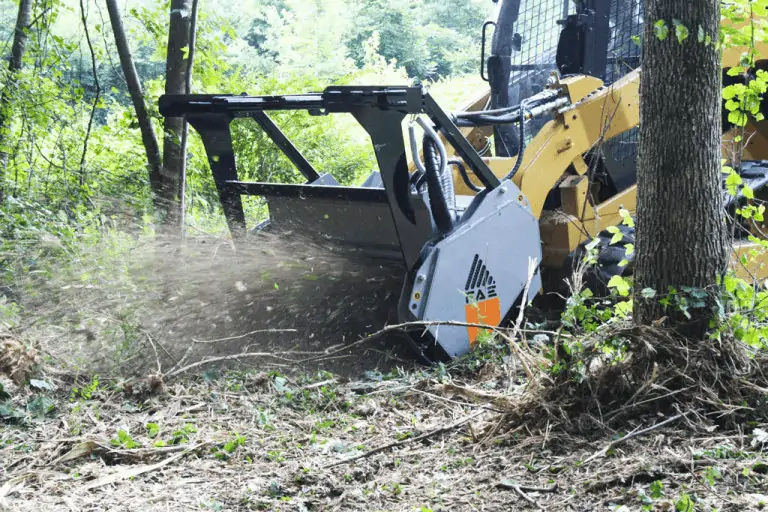 A skid steer mulcher is a powerful attachment that you add to your skid-steer loader to clear away vast swathes of overgrowth.
If you're tasked with clearing away such a large patch of vegetation that using a brush axe or even a top-quality chainsaw would consume too much time and energy, a good mulcher attachment will prove to be your best friend.
They work by utilizing sharp teeth, which effectively grind up trees, tree stumps, brush, and other overgrowth in minute pieces, which they then launch from the machine.
Later, attaching a mulch bucket will allow you to clean up the resulting debris with ease.
How much would it cost you to remove the stump? Check out this guide to find out.
Who Needs a Skid Steer Mulcher?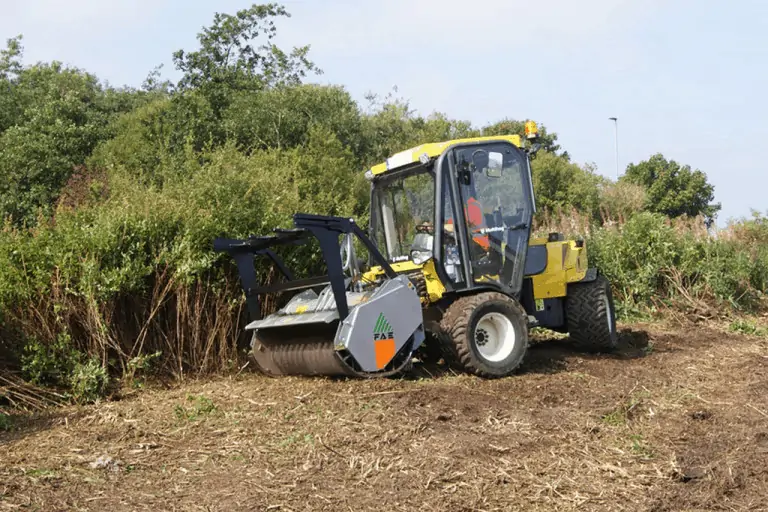 There's no escaping the fact that skid steer mulchers are expensive pieces of equipment to buy, often running into the thousands -if not tens of thousands- of dollars.
As such, they're the type of equipment that is usually only owned by landscaping and forestry companies working on big contracts.
That's probably just as well, as in the majority of cases, it's really only going to be the professionals that are tasked with working on the size of land that would warrant using a skid steer in the first place.
If you're not a professional and yet you still need to clear away a huge volume of land as a one-off job, you may find it easier to look into skid-steer mulcher rental. This is still going to be expensive, but nowhere near to the same extent as spending thousands of dollars on a large piece of equipment that you're only going to use once or twice.
Skid Steer Mulcher Buyer's Guide
If you've decided that buying a skid steer mulcher is definitely the right move for you, there's still the question of which one to invest in.
To help you make that decision, I've listed the three main factors I considered when ranking my top picks and how each one of these factors will play a role in choosing the best skid steer mulcher for your project.
Disc vs. Drum Mulcher
Drum mulchers aren't the fastest attachments around, but they're incredibly powerful, and the best ones often boast premium, high-grade steel teeth.
This makes them the perfect choice for grinding tree stumps and other stubborn objects into mulch.
If your job places you in a forest or other area that involves eliminating stumps, large trees, and similar items that would be just too tough to tackle with another piece of equipment, a drum mulcher may be the way to go.
Alternatively, if speed and performance are your top priority, you may prefer disc mulcher attachments.
The teeth on these things tend not to be as sharp on drum mulchers, and while they may be capable of grinding stumps down to ground level, doing so is likely to wear out those teeth pretty quickly.
Where disc mulchers come into their own, however, is with their speed.
Make no mistake about it. They're incredibly fast pieces of equipment that will tear through vegetation, overgrowth, and wood up to 14″ thick in no time at all.
Compatibility
Once you've decided which type of mulcher attachment you need, your next task is to determine whether the one you're looking at will fit the skid-steer loader that you own.
My budget pick, the FAE DML/SSL, is designed to work with loaders up to 70hp, while others work best with much more powerful machines. While I've tried to include compatibility requirements in all of my reviews below, if you're still uncertain, it's always best to talk to the company you're thinking of buying from to check whether the model you're looking to purchase is suitable.
Teeth
A moment ago, I mentioned that drum mulchers typically have sharper teeth than disc mulchers. While this is generally true, not all teeth are made equal.
Some brands will specifically equip their mulchers with powerful teeth that are purpose-made for cutting through hardwood, while others tend to recommend that you only use them for softwood and brush. But, again, it's not beyond the realms of possibility that teeth designed for softwood can also cut through harder material. Still, since that's not what it's designed for, you'll probably find yourself needing to replace those teeth sooner rather than later.
Our criteria
Before we break down our list of recommendations, we want to show you the criteria we used to choose the skid steer mulchers we've listed. The list of skid steer mulchers we've created here weren't randomly chosen. Instead, we carefully vetted each of the skid steer mulchers in this list. 
All of the skid steer mulchers we put in this list had to be:
Affordable: We wanted to make sure we recommended skid steer mulchers for a variety of price ranges. That way, you can be certain to find a skid steer mulcher that fits perfectly in your price range.
Positive customer reviews: Besides our own positive testing experiences, we made sure other customers using these skid steer mulchers also had a generally positive experience.
Sturdily made: We vigorously tested all of the skid steer mulchers in this list in a variety of different conditions. This way, we could ensure the skid steer mulchers recommended in this guide will withstand the wear and tear your business puts it through. 
Top 5 Best Skid Steer Mulchers
1. Diamond Mowers' Skid-Steer Forestry Drum Mulcher – Best All-Round Mulcher

vailable with 60" or 72" cutting width
2-Speed Variable Displacement Piston Motor
Three different teeth options

Find it Here
2. FAE Group DML/SSL Forestry Mulcher – Best Budget Pick

Affordable price
Suitable for skid steers up to 70 hp
17/34cc variable manual displacement hydraulic piston motor

Find it Here
3. Blue Diamond Skid Steer Drum Mulcher

Works with both open and closed hydraulic systems
60″ cutting width
Serrated push bar for mulching brush and overgrowth

Find it Here
4. Diamond Mowers – Skid Steer Disc Mulcher

Best disc mulcher on the market
Available in 48″ and 60″ cutting width options
Cuts up to 14″ in diameter

Find it Here
5. FAE Group UML/SSL Forestry Mulcher

Suitable for skid-steer loaders up to 120hp
Low profile design for increased visibility
8″ shredding diameter.

Find it Here
1. Diamond Mowers' Skid-Steer Forestry Drum Mulcher – Best All-Round Mulcher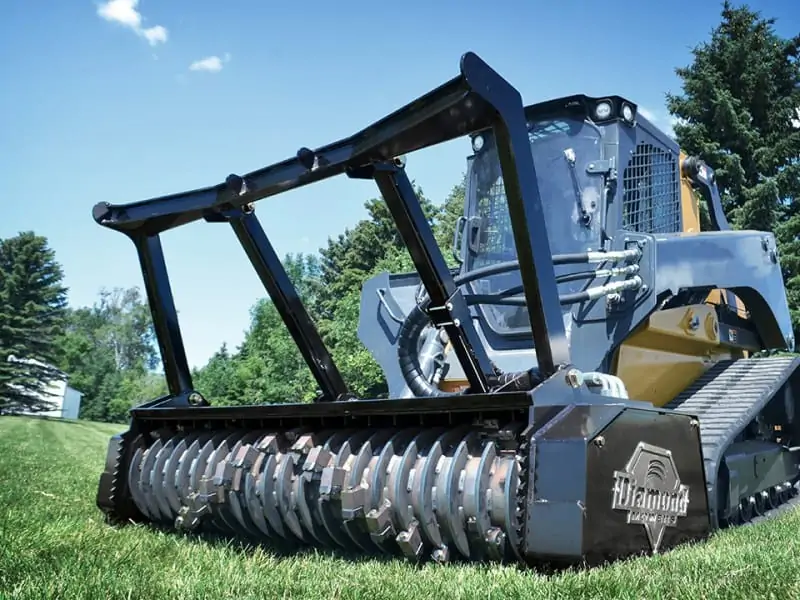 If you're in the market for a premium-grade drum mulcher that will make light work out of heavy trees, thick stumps, and other tough-to-move vegetation, you'll find that the Diamond Mowers' Skid-Steer Forestry Drum Mulcher is nigh-on impossible to beat.
One thing I love about this mulcher is its versatility.
The machine comes in a standard 60″ cutting width, though if that doesn't quite do it for you, you can always upgrade to the 72″ version for increased performance.
Elsewhere, Diamond Mowers' signature mulcher utilizes a 2-Speed Variable Displacement Piston Motor to mulch trees and brush up to 9″ in diameter with ease, combining all of the power you'd expect from a drum attachment with a speed and efficiency which rivals some of the lesser disc mulchers currently around.
In other words, if you've got a serious amount of heavy-duty work to do, the Diamond Mowers' Skid-Steer Forestry mulcher will prove to be an invaluable asset.
Pros
Choice of three different teeth (four-point hardened steel, Twin Chisel planer, or Twin Maul Carbide)
Includes anti-wrap plates to protect the drum for added durability
Diamond will tune the mulcher to your specific carrier for effortless compatibility.
Cons
Expensive price tag
Some customers report problems with bearings failing.
2. FAE Group DML/SSL Forestry Mulcher – Best Budget Pick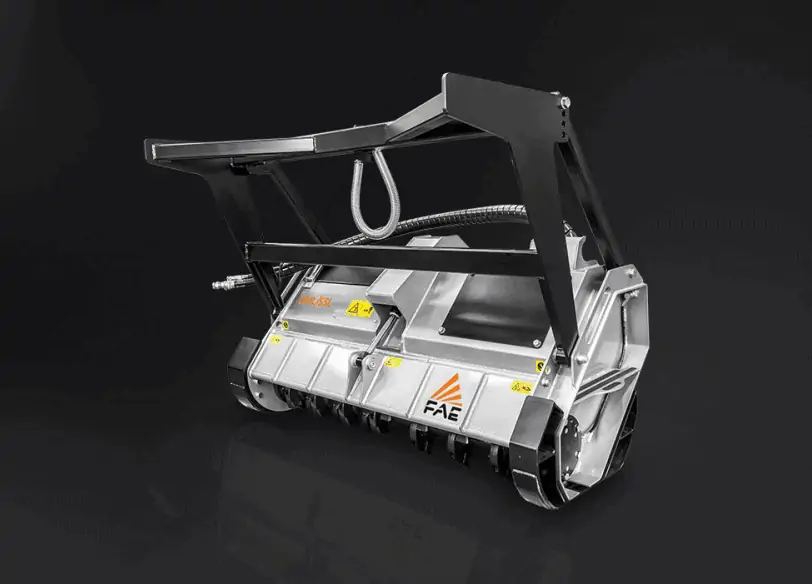 If you're on the hunt for a top-grade Forestry Mulcher, but your equipment budget is on the thin side this year, the FAE Group DML/SSL Skid Steer Forestry Mulcher may be the one for you.
FAE Group is well-known for developing several outstanding mulchers and other skid-steer attachments, in the process carving out an impressive reputation for lasting quality, durability, and all-around impressive performance.
We'll see another one of their models later, but for now, it's the brand's entry-level attachment that gets my vote for the best budget-friendly mulcher on the market.
Suitable for skid steers up to 70 hp, this powerful machine is driven by a 17/34cc variable manual displacement hydraulic piston motor which keeps it plowing through thick forestry while the reversible teeth cut through wood up to 5″ in diameter.
A sound investment in terms of durability, this is one mulcher that's sure to pay for itself in no time.
Pros
Motor enclosed in the frame from added safety and durability
Includes safety and anti-cavitation valve
Features a diverter valve for simple plug-and-play operation.
Cons
It May not be powerful enough for larger jobs
Smaller cutting width compared to other models.
3. Blue Diamond Skid Steer Drum Mulcher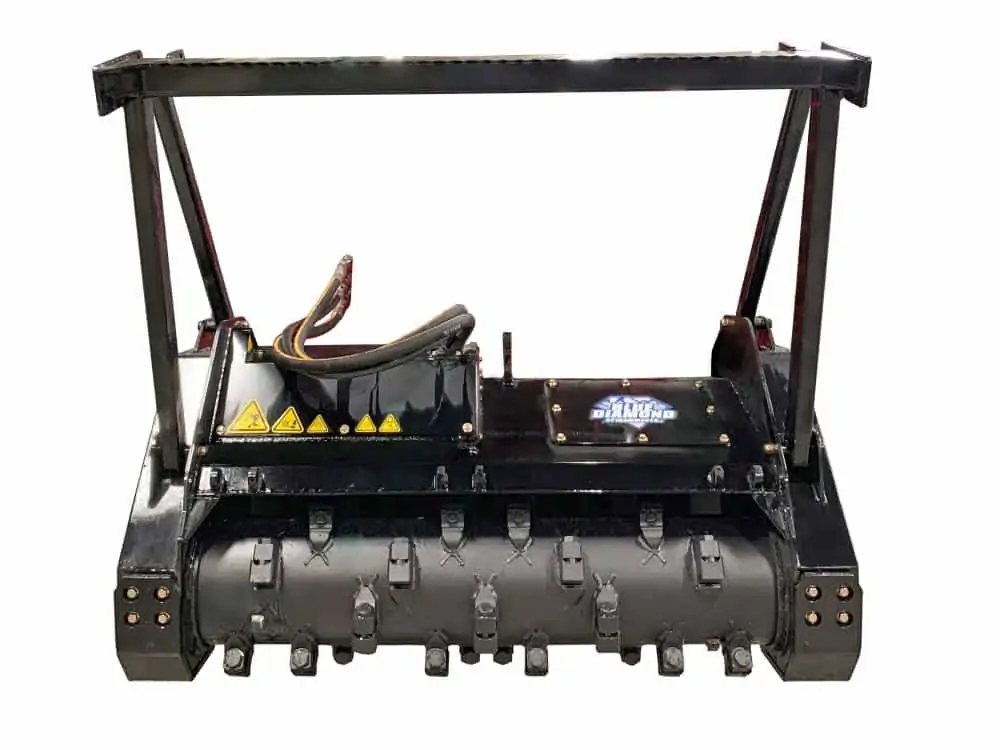 While it's not quite as big as my top-ranked pick from Diamond Mowers, the Blue Diamond Skid Steer Drum Mulcher certainly proves itself to be a very reliable alternative.
Again, versatility is a key factor here. The machine can be set up for simple installation on either closed or open loop hydraulic systems, meaning no matter which type you own, it's going to work flawlessly with your loader.
In terms of performance, this 34-tooth cutting drum boasts a 60″ cut width and can tear through large trees, stumps, and vegetation without flinching.
Pros
Features heavy-duty drum bearings that are built to last
Includes a serrated push bar for mulching brush and overgrowth
Features a 1-inch high-grade bolt tooth fastening system
Cons
Only has a 1-year warranty
Features fewer teeth than other drum models.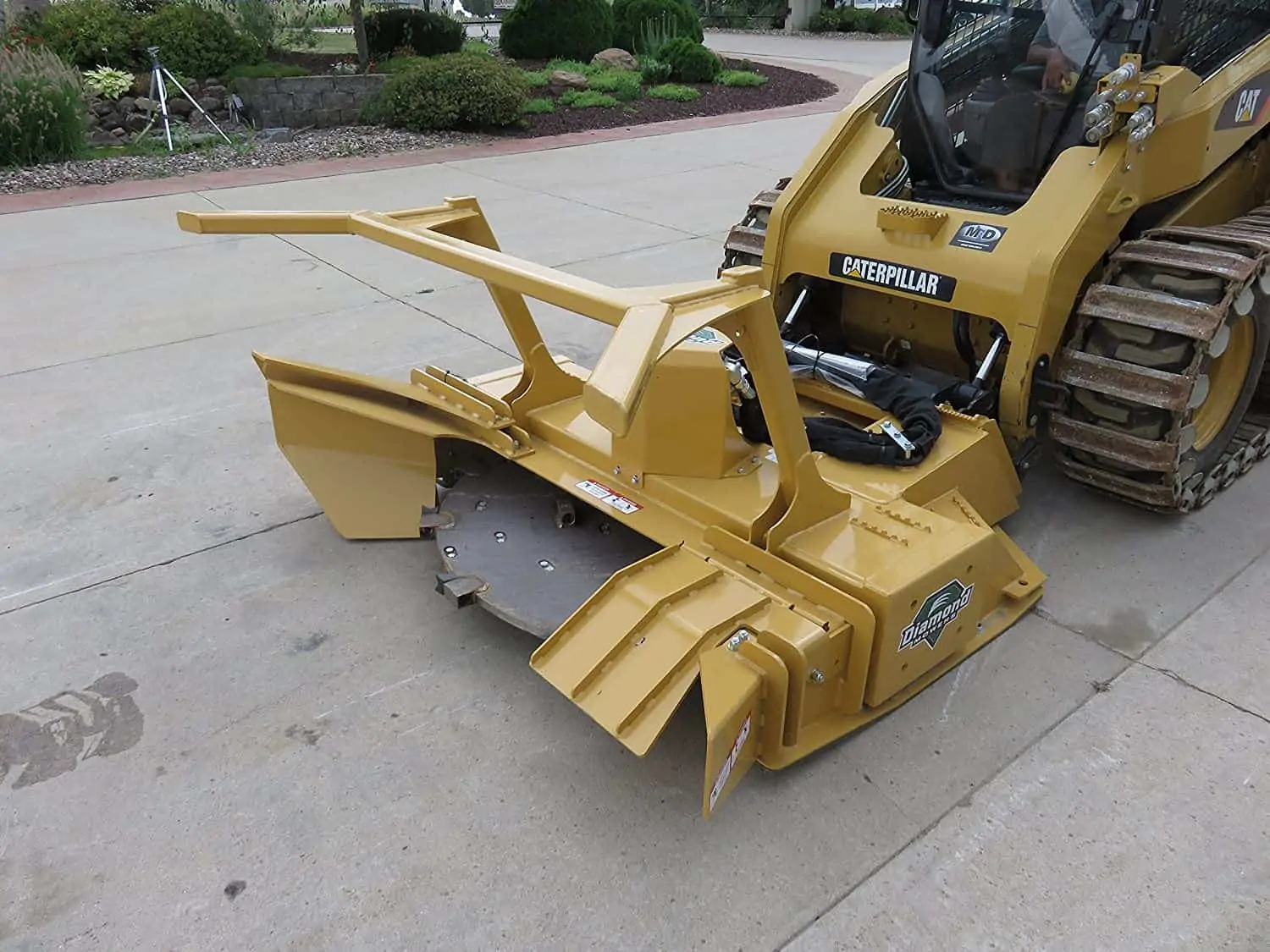 The competition was tough when it came to choosing the best disc mulcher around, but the Diamond Mowers Forestry Disc Mulcher ultimately took the prize thanks to its impressive speed and cutting capabilities.
This one offers either a 48″ or 60″ cut width, hacks through trees, and brushes up to 14″ in diameter with no problems at all.
Meanwhile, the fixed teeth set in the inside of the deck shell mulches material up to 6″ in diameter as the discs send it through, ensuring optimum efficiency and maximum productivity for those large-scale jobs.
If you've found that the all-out power of a drum mulcher is just too excessive for your needs and you're in the market for a quality disc mulcher from a reputable brand, you'll find the Diamond Mowers Skid Steer Disc Mulcher to be an excellent option.
Pros
Features Four-point hardened steel teeth which are easy to sharpen
Includes planner knives in the middle of the disc to avoid any dead zone
Available in three different motor options
Cons
Not recommended for urban use
High price tag
5. FAE Group UML/SSL Forestry Mulcher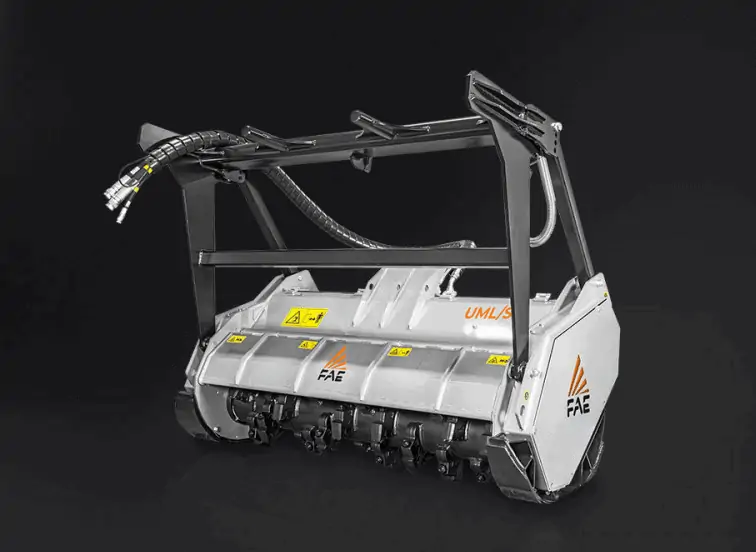 Didn't I tell you we'd be meeting the FAE Group again in this guide?
This time, we're looking at their FAE Group UML/SSL Forestry Mulcher, a super high-performance model that no list of the best skid steer mulcher options would ever be complete without.
No question, this is one seriously big piece of kit, proving itself to be perfectly compatible with skid steers up to 120 hp.
Recently redesigned, the new lower profile maximizes visibility so that you'll have trouble seeing exactly what you're doing. Elsewhere, the mulching chamber has also been given a thorough overhaul so that more material can enter. As you can imagine, this speeds up the process and helps you and your forestry team to enjoy optimum productivity.
Combine this with an 8″ shredding diameter and four different teeth options, and it's no wonder the UML/SSL remains FAE Group's best-selling mulcher.
Pros
Powered by a Hydraulic piston motor 63cc
Features Safety and anti-cavitation valve
Allows for customized hydraulic motor settings.
Cons
It may be too large for smaller skid-steers
Not as simple to set up like others.
Frequently Asked Questions About Skid Steer Mulchers
Question: Who makes the best skid steer mulcher?
Answer: While there are a number of top brands, Diamond Mowers are the best skid steer mulcher makers on the market, offering a range of options that all combine premium, professional-grade quality with outstanding performance.
Question: How big of a skid steer do you need for a forestry mulcher?
Answer: At a bare minimum, you should be using a skid-steer loader with at least 60 HP, though ideally, something in the region of 70+ will make your work much easier and more efficient.
Question: How much does a skid steer mulcher cost?
Answer: It's rare to find a skid steer mulcher that costs less than $10,000, though many of the top-grade models are likely to set you back around $20,000 – $60,000+.
Question: Can a skid steer mulcher grind stumps?
Answer: Yes. If you need to grind tree stumps, opt for a drum mulcher as these are better for that job than a disc mulcher.
Which is the Best Skid Steer Mulcher Option for You?
Choosing the best skid steer mulcher to buy is rarely an easy feat, but hopefully, this guide will have armed you with enough information to help you walk into any dealer in the land and make a fully informed purchasing decision.
However, if you haven't quite made up your mind yet, let's wrap up today with a few of my final recommendations.
If you're looking for the best disc mulcher for those smaller trees and overgrowth, the Diamond Mowers Forestry Disc Mulcher is the way to go. Its impressive 48″ – 60″ cutting width, high-speed and efficiency, and 14″ cutting capability are hard to beat.
If you prefer a drum mulcher, but your funds are limited, the FAE Group DML/SSL Forestry Mulcher is my pick of the best budget mulcher on the market, combining FAE Group's trademark premium quality and durability with top performance and an affordable, entry-level price.
If, on the other hand, you're determined to invest in the best skid steer mulcher available today regardless of cost, the Diamond Mowers' Skid-Steer Forestry Drum Mulcher is the hands-down winner.
It's exceptionally powerful, offers a choice of 60″ or 72″ cutting width, and moves almost at the same speed as a disc mulcher, making it an exceptional choice for serious forestry professionals.