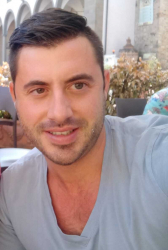 Latest posts by David Borgogni
(see all)
A stump bucket is a useful attachment for your skid steer or tractor if you need to remove tree stumps, cut into the root systems, and shift debris. In our guide on finding the best Stump Bucket, we will take you through the different models you can buy.
We will explore the top six stump buckets on the market, outline their pros and cons, and determine which one is best suited for your needs. We'll also have a look at things you should think about before you purchase a stump bucket.
If you are in a rush or just want a quick overview of the stump buckets we consider the best, look at the table below.
At a Glance: 6 of the Best Stump Bucket's in 2022
Selection Criteria
There are so many stump buckets available to buy, we have put in some strict criteria to ensure only the top stump buckets are included in this guide. The criteria we have used includes:
Machinery compatibility – Most stump buckets are only compatible with certain tractors or skid steers, and we have included as wide a range as possible.
Cost – Sticking to a set budget is essential. We have chosen stump buckets in various price categories from budget to expensive to ensure a model on our list for everyone.
Stump bucket size – We made sure to review different stump bucket sizes as you may need a heavy-duty model or one for infrequent use. The size can determine how much power is generated and how the stump bucket can access harder-to-reach locations.
Personal or commercial – You might need a stump bucket for infrequent DIY jobs or everyday commercial purposes. We have included a mixture of both with stump bucket models for personal use and professional services.
What is a Stump Bucket?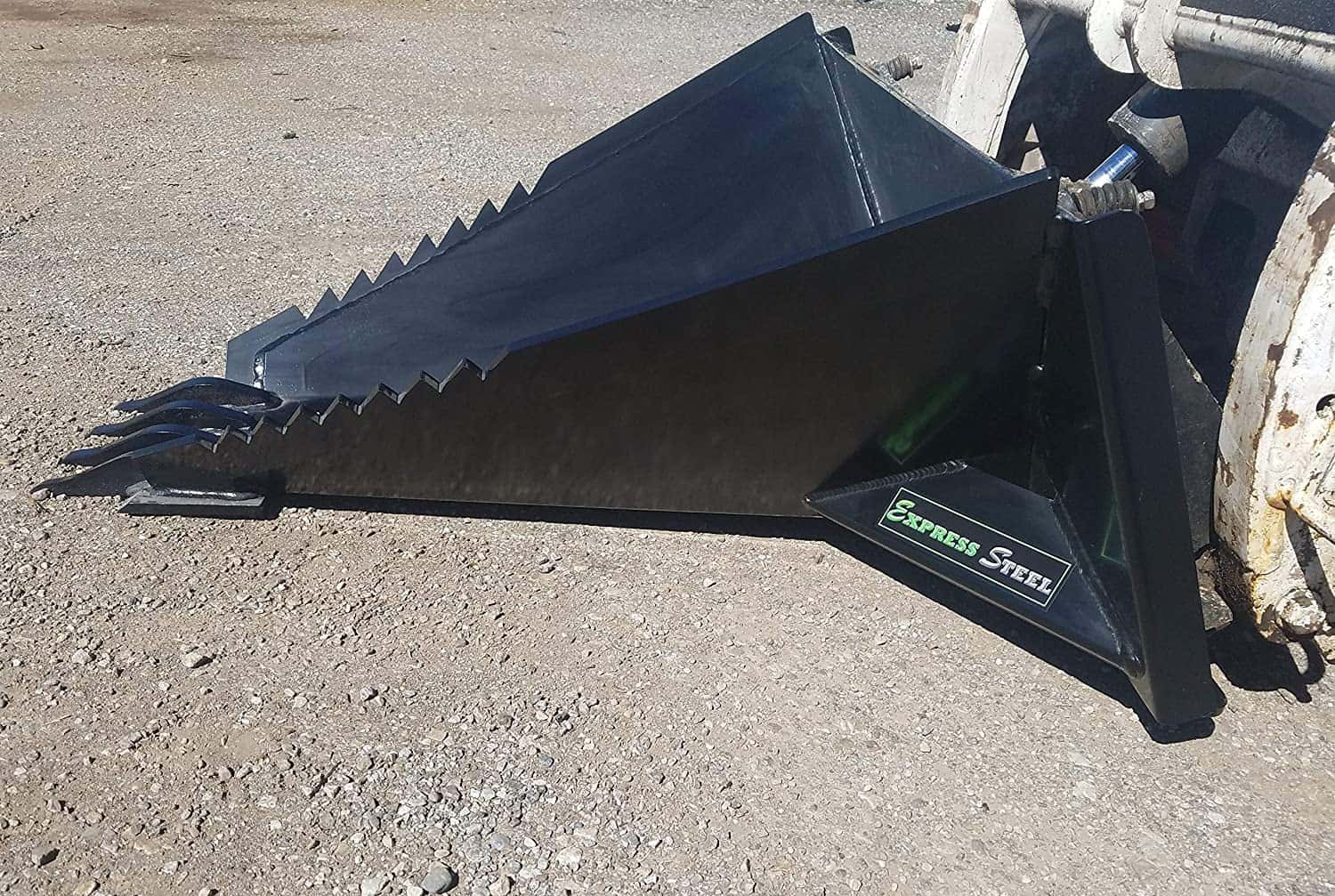 A stump bucket is an attachment for a tractor, skid steer, and other machine types designed to remove tree stumps.
If you regularly need to remove tree stumps, you will understand how arduous the process can be. It can take a long time to get particularly stubborn and challenging tree stumps out of the ground; however, a stump bucket can make all the difference.
This attachment digs into the root structure of a tree stump and curls to get the stump out of the ground as cleanly and easily as possible. Without a stump bucket, this job could take hours, and using this tool can save you a lot of time and effort.
Things to Consider Before Buying a Stump Bucket
Stump buckets are a popular attachment for tractors and other machinery types. There are many different models on the market, and we have compiled some things you should think about before you buy one.
Compatibility
Different manufacturers make stump buckets, so you must check that the model you want to purchase is compatible with your skid steer.
Some stump buckets can be used on various skid steers; however, some models will only be compatible with certain types of machinery.
Rather than purchasing a stump bucket without doing any proper research, ensure that you check that it will fit with the machinery you will be using.
Cost
Stump buckets are often quite expensive compared to some other attachments that you can purchase.
When buying any equipment, whether it is a stump bucket, chainsaw, or brush cutter, you need to set yourself a budget and stick to it as much as possible. While it is essential to do this, sometimes spending slightly more money than you first thought can get you a much better model.
More expensive doesn't always mean better, and we have listed some budget stump buckets on our list. However, if you come across a skid steer stump bucket attachment that is a bit pricier than you initially thought of paying, but it is a far better model, it might be better to buy it in the long run.
Stump Bucket size
The size of the stump bucket is another factor to consider before making a purchase.
This comes down to a couple of things; firstly, if it will fit onto your skid steer or machinery, and also if you need a heavy-duty stump bucket or if you will only be using it occasionally.
A larger stump bucket should have additional power and be able to rip up tree stumps easier. However, if you are only going to use this attachment infrequently, a smaller version might be more suitable.
The weight of the stump bucket may also cause problems for some skid steers if it is too heavy, whereas a lighter stump bucket will take more force to rip into the root structure.
Additional Maintenance
All stump buckets will require maintenance to a certain extent. This includes carrying out things such as:
Cleaning the stump bucket before and after using it
Carrying out safety checks regularly for loose nuts and bolts
Checking the controls and overall condition frequently
Some stump buckets may require additional maintenance beyond this, and it is essential to find out what is involved before you buy. For example, you might have to spend more time keeping certain stump bucket models in good condition, whereas another model might not need as much additional maintenance for it to work effectively.
6 Best Stump Buckets
Our top choice for the best overall stump bucket is the Titan Attachments Extreme HD Stump Bucket.
The major advantage of this stump bucket is its universal design. While many attachments are tailored for specific skid steers and tractors models, this stump bucket can fit nearly any machinery (including John Deere). The stump bucket also has a superior serrated leading edge, which is ideal for fast ripping through roots and debris. In addition, three heavy-duty replaceable cast iron teeth break into the ground effortlessly.
Even though this stump bucket is powerful and gets the job done with ease, it doesn't cost a ton of money either. The Titan Attachments Extreme HD Stump Bucket isn't the cheapest on our list, but it isn't the most expensive either. It could be considered a bargain for how well it removes stumps, cuts into root systems, and removes debris.
There isn't much we don't like about this stump bucket. A potential downside is that it might be slight overkill if you just need a stump bucket for very occasional use or one-off jobs. However, for the price, you get a robust stump bucket that is compatible with most skid steers and tractors.
Pros
It is compatible with a wide range of skid steers and tractors
Powerful and rips into root systems and removes stumps easily
It can be used to break ground and move the debris
Affordable and reasonably priced
Cons
It might not be suited for occasional use or one-off jobs.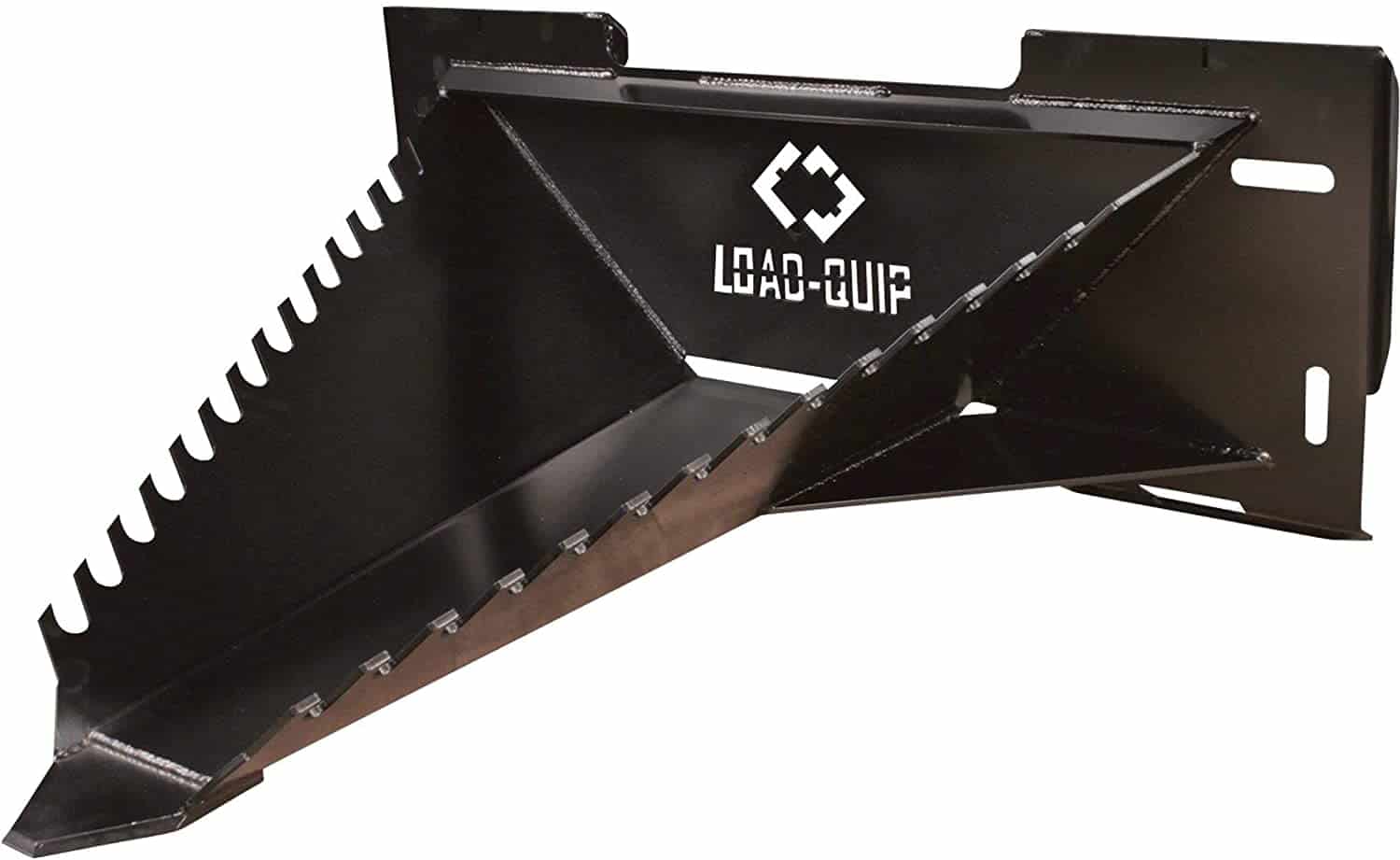 While the Titan Extreme HD is suited for heavy-duty stump removal and consistent use, the Load-Quip Tree Scoop Bucket Attachment is our top pick for use on an occasional basis.
The durable powder-coated steel construction body on this stump bucket does a good job cutting into root systems. It will get the job done even though it isn't as powerful as other stump buckets on our list. The durable steel body ensures that this stump bucket can handle various rigorous tasks, and it will remain in top condition even with consistent use.
A disadvantage of this stump bucket is that it is quite heavy. Compared to other stump buckets, you will notice the extra weight with this model; however, this has the benefit of being able to dig into the ground, upheave root systems, and move concrete slabs.
This stump bucket represents good value if you only need it for smaller jobs and on an infrequent basis. It isn't really suited to constant professional use, but it is ideal for removing stumps and debris now and again.
Pros
Ideal for infrequent and occasional use
Good value and doesn't cost too much money
Can move root systems, debris, and concrete slabs
Cons
This stump bucket isn't suited to consistent use
It is quite heavy, and the extra weight is noticeable
The Titan Attachments Stump Bucket For Skid Steer is perfect if you don't want to spend a lot of money on a stump bucket or have a very limited budget.
Even though this is our budget pick, it isn't a poor-quality stump bucket, and this attachment performs well. In addition, it features a lightweight design, so your skid steer won't be weighed down as it weighs 151 lb.
The serrated cutting edge does well at cutting into root systems and removing stumps. However, the construction and durability of this stump bucket could be better. It won't fall apart after a few uses, but it won't last as long as some of the more tough stump buckets on the market.
It is hard to go wrong with this attachment even if there are better options for anyone on a tight budget who needs a lightweight stump bucket to remove stumps and debris.
Pros
Suited to those on a budget
Features a lightweight design
Does a good job at digging into root systems
Cons
The construction of this stump bucket could be better
Not every stump will be in a convenient place, and the Haala Industries Skid Steer Loader Stump Bucket is our best stump bucket to get into those difficult-to-access areas.
This stump bucket offers a 36-inch reach which is ideal for getting in locations that aren't normally accessible. The durable construction of this stump bucket is another positive as it is manufactured from heavy-duty steel.
We also like the price of the Haala Industries Skid Steer Loader Stump Bucket. It won't empty your wallet, and given the performance, it offers alongside its ability to get into difficult locations, there aren't many downsides. However, one thing to note is that this stump bucket won't work well with particularly large stumps, so you will need to look elsewhere.
Overall, a well-rounded stump bucket that has a long reach.
Pros
Ideal for accessing harder to reach locations
Durable and cost-effective
Cons
This stump bucket isn't suited for big stumps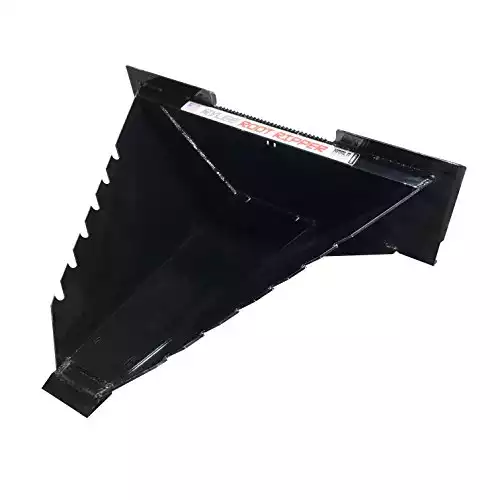 Haala Industries Skid Steer Loader Stump Bucket | Amazon
This very durable and cost-effective Skid Steer Loader Stump Bucket is suitable for a variety of skid steers. With 36 inches long, which gives it increased capacity and the sides are serrated for better root-ripping performance.
Buy at Amazon.com
We earn a commission if you make a purchase, at no additional cost to you.
The ES Stump Bucket Skid Steer Quick Attach is designed to save you time when putting the stump bucket onto your machinery.
The quick attach mounting systems make getting this stump bucket set up and ready to use a breeze. The universal design system also means that this stump bucket will fit onto most skid steers and tractors which is a significant advantage (although it is recommended to use it on machines up to 65 HP).
The ES Stump Bucket is quite heavy compared to some other models, so that is something to be aware of.
However, this is a great stump bucket, so loading on quickly and getting the job done minimally.
Pros
Excellent quick attachment design
It fits onto most skid steers and tractors
Performs well to upheave root systems
Cons
This stump bucket can be quite heavy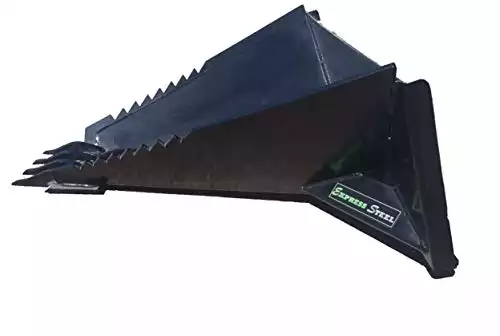 6. Blue Diamond Mini Stump Bucket – Best compact Stump bucket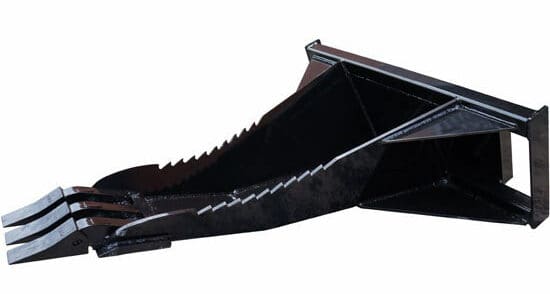 The Blue Diamond Mini Stump Bucket is our choice if you need a compact model, and you won't be digging up any large stumps or big collections of debris.
This stump bucket offers three replaceable cast teeth and a curved bottom design to enhance the leverage. This stump bucket won't perform well against particularly tough root systems or large stumps, but for smaller jobs, it is ideal.
The compact nature of this attachment is reflected in its price. There are cheaper models available; however, this stump bucket is budget-friendly, and it would suit carrying out minor stump removals and digging small trenches.
Pros
Functional and high-performing mini stump bucket
Works well to remove small stumps
Available at a decent price
Cons
This stump buck isn't suited to removing larger stumps
Frequently Asked Questions
Question: What is a stump bucket?
Answer: Machine types that are designed to remove tree stumps. They dig underneath the stump and into the root structure to remove the stump effectively.
Question: Can a stump bucket save me time?
Answer: Yes. A stump bucket is designed to make removing tree stumps and potentially other objects easier. It can save you a lot of time and effort compared to using different tools.
Question: Are stump buckets expensive?
Answer: Potentially. Some stump buckets can cost a lot of money, while others are at the budget end of the pricing structure. The cost can depend on the model, brand, and type of skid steer it is compatible with.
Question: Can I use a stump bucket to remove rocks and other debris?
Answer: Certain models can. A stump bucket can be used to remove rocks, scoop up loose soil, and dig trenches. Refer to the guidelines for each stump bucket to ensure that you are using it for the right purpose.
Question: Do I need to be a professional to use a stump bucket?
Answer: No. If you have a tractor or skid steer, you can use a stump bucket. However, it is important to follow all the necessary safety guidance and information and read up on how to use this attachment safely if you haven't operated one previously.
Question: Can I make my own stump bucket?
Answer: You can if you want. Many online resources will show you how to make a stump bucket. However, if you want to ensure that this attachment is durable and will work as intended, it is better to purchase one from a reputable source.
Our Verdict: Which is the Best Stump Bucket?
The best all-around stump bucket on the market is the Titan Attachments Extreme HD Stump Bucket.
There are several reasons why we love this attachment.
Its universal design means you can fit it into pretty much any skid steer or tractor, so you won't need to worry about compatibility. The serrated leading-edge does a great job of removing stumps and ripping into root systems, and this stump bucket is powerful and robust.
If you want an excellent performer, whether it is for personal or commercial purposes, the Titan Attachments Extreme HD Stump Bucket delivers this and more at a reasonable cost.