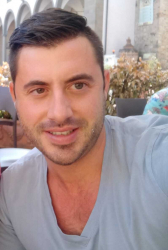 Latest posts by David Borgogni
(see all)
If you're a chainsaw enthusiast, certain brands and models attract your attention whenever you happen to stumble upon them. The Homelite XL is one of those models, and today's focus is on exploring what many consider to be a legendary chainsaw. This is our Homelite XL chainsaw review and guide.
Homelite is a company that can trace its roots back as far as 1927 when Charles H. Ferguson came up with a design for a small gas-powered generator. This generator would go on to power thousands of rural farms across the country and gave birth to his company, the Home Electric Lighting Company (Homelite).
In this review, we'll be taking a closer look at one of their most famous products, the Homelite XL chainsaw. It gained popularity upon its original release in 1963 as it was one of the first lightweight chainsaws to be available anywhere on the market. In addition, it was built to last, and as such, many original models are still in operation today.
Before we explore the XL chainsaw in a little more detail, let's take a look at an overview of the product.
Homelite XL Chainsaw Product Overview
Core Features of the Homelite XL Chainsaw
There are some notable features that the XL became famous for. This fame led to it becoming one of the most popular saw models to have been sold anywhere in the US and is one of the reasons that chainsaw collectors and enthusiasts alike still buy them today. Here's a look at those core features that make the XL so popular.
Lightweight Design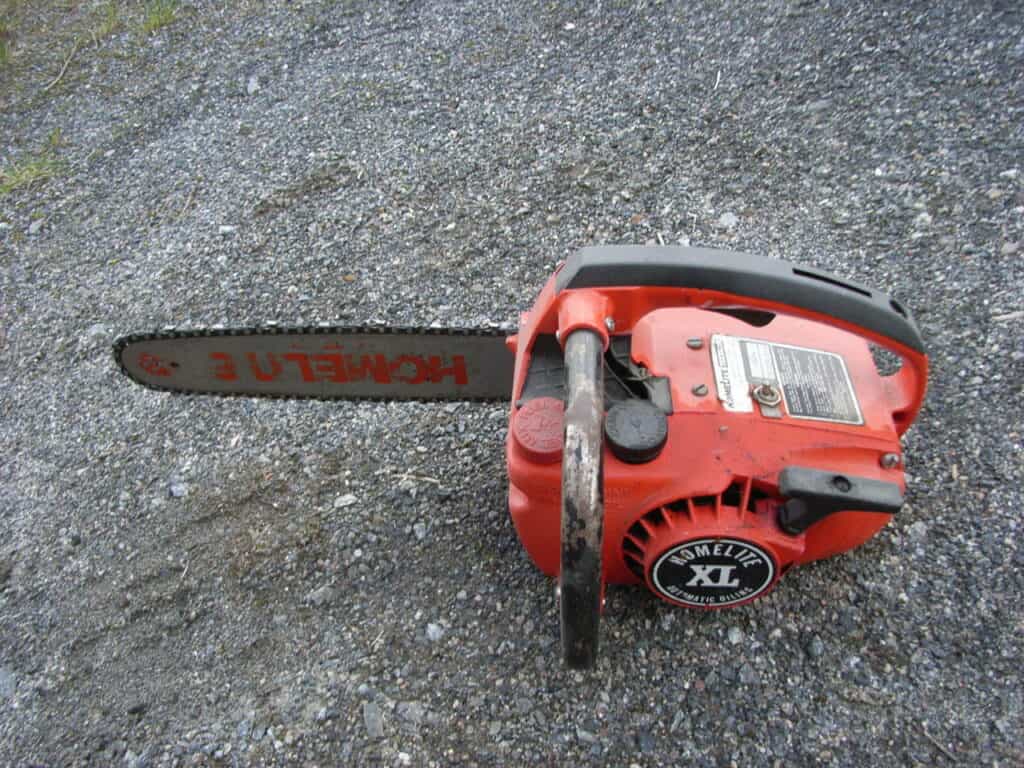 When the original XL was released in 1967, it was the lightest chainsaw to have ever been mass-produced. This was because the chassis was produced using a magnesium-alloy and weighed just 12 pounds.
Whereas previously, chainsaws had been made using much heavier metals like steel and iron, the new alloy compound allowed chainsaws to be used in the home instead of being predominantly restricted to commercial use.
If you're after something even lighter than a regular chainsaw, check out our guide on the best pocket chainsaws.
Highly Reliable
The old saying 'they don't make them like they used to' rings true with the XL. The fact that many original XL-12's can still be found in operation today is a testament to that. There are plenty of companies that specialize in keeping them running, even after all these years. There is also an active community of XL owners who discuss their love for the forestry tool and how best to keep them operational.
Iconic Movie Appearances
Yes, you read that right. The XL chainsaw became somewhat of a pop culture icon after it appeared in several films made in the 1980s. The most notable of these is the original Texas Chainsaw Massacre and The Evil Dead. As they were some of the most popular chainsaws at the time, it made sense for them to be used for filming, and they have gone on to gain popularity with fans of the film franchises.
Sturdy Build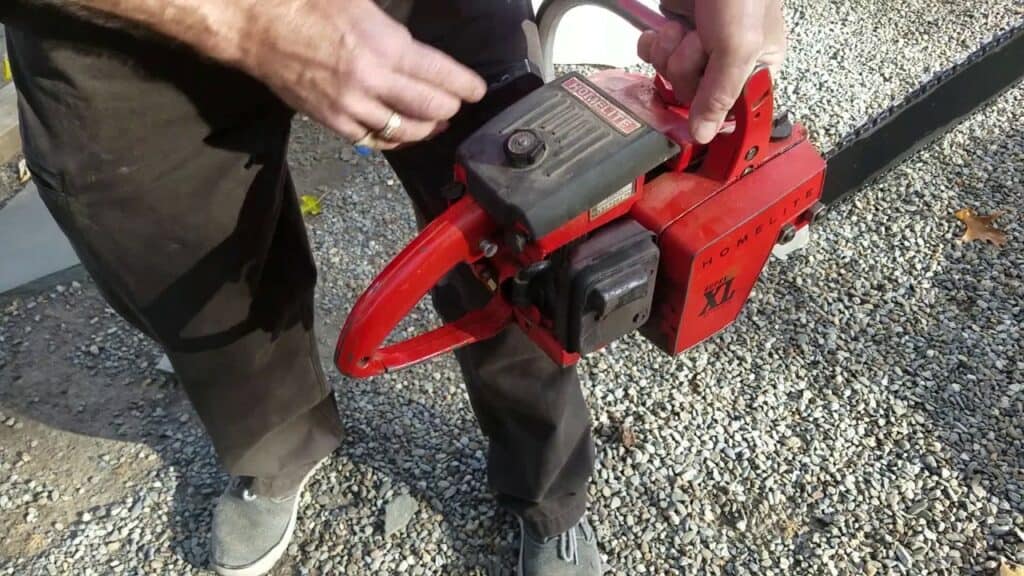 The casing and the engine were made using the highest quality materials available at the time. Although these were mass-produced, they were not churned out at the same rate in which many modern chainsaws are today. The die-cast magnesium, for example, is resistant to corrosion and lightweight in the same way that modern plastics are without feeling weak or flimsy.
Ease of Use
Aside from the quality of the build, the XL was also incredibly easy to use compared with older models. The simple engine design is 58.2cc using one cylinder. It has a bore of 1.8" and a stroke of 1.4" with a cellulose fiber air filter. These are all considered high-tech in the 1960s and, when used alongside Homelite's automatic starter, made for a very easy to use power-tool.
Fuel & Oil
As a 2-stroke engine, the XL needs gas to be pre-mixed before filling. The ideal ratio for this is 32:1, and once mixed, the XL's tank will hold 24.2oz. This is more than enough to get yard work done around the home and even provided a long enough work time for more intense farm work and commercial jobs.
How Does the Homelite XL Perform?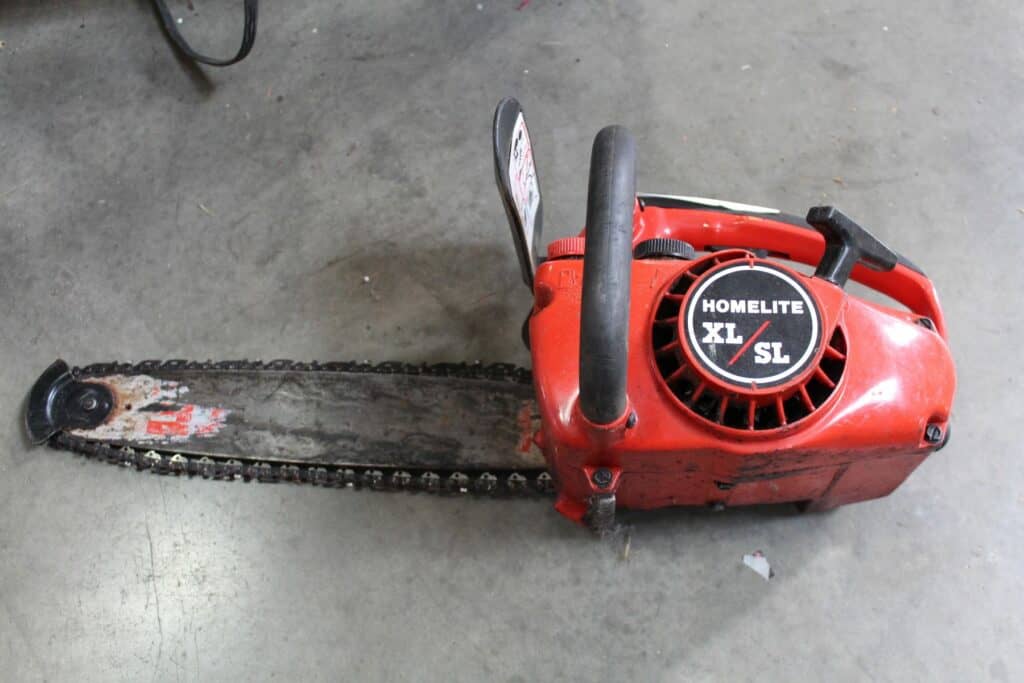 As far as chainsaws go, this is right up there with the best of them when you consider when the design was put together and when the tool was built. In the early 1960s, the average Joe didn't have access to anything that had the cutting power of the Homelite XL. What was once reserved for teams of professional landscapers and foresters was now accessible in every home across America.
Its performance was the bedrock of this success and was built upon the solid foundations of a reliable engine and a lightweight chassis. This meant it could be used by anyone and was relatively easy to maintain.
In terms of the power, the XL was able to produce, the 58.2cc engine managed to generate more than enough to cut through trees up to about 24-inches thick. It even came with optional accessories and featured both a 16-inch and 24-inch cutting bar that gave users the option for extended reach for those bigger jobs or a more compact feel for smaller ones.
The ever-reliable XL is known for its reliability, with plenty still operating today. This build quality was also present in the body construction where instead of the flimsy plastic you would find on a modern chainsaw; a die-cast composite is used that again contributes to the reliability and longevity of the original model.
One issue that became apparent sometime after its release was that of kickback. Despite the groundbreaking features included, safety additions were few and far between on the original XL. This lead to the development and subsequent release of Homelite's next model, the XL Automatic.
As well as featuring a larger and more powerful engine, the XL Auto addressed some of the safety concerns raised through the inclusion of an anti-kickback device. This device is a guard that secures onto the guide bar and completely covers the cutting chain at the point that it wraps around the end of the bar.
This stops the user from cutting with the top half of the chain, as this is when dangerous kickback is more likely. A guard was also included on the handlebar to add further protection to the operator, although there was no chain brake included yet.
Both the original XL and the XL Auto featured a ⅜-inch-pitch Raker 3 chain. This was a beast of a cutting chain that featured three depth gauges for each cutter included on the chain. This was in contrast to conventional chains at the time, which tended to only have one depth gauge per cutter link. This design feature helped kickback and helped prevent the chain from cutting too deeply too quickly and becoming stuck.
Pros of the Homelite XL
The cleverly designed and built-to-last Homelite XL comes with plenty of pros. It's regarded as somewhat of a legend for a reason. Check out the main ones here.
Durability
Build quality is the name of the game when it comes to the XL series. Each rendition has been a slight improvement on the last, but they are ultimately designed to be tough, durable, and last a lifetime.
This is evident in the materials used to construct them. Although plastic was not such a popular manufacturing material when the XLs were first introduced, the fact that they were made with an alloy composite means they have a solidity rarely found on modern power tools.
The fact that they can still be bought today, despite long since going out of production, is a testament to their longevity. In addition, certain engineering companies exist today purely to service Homelite XLs, and there is a community of avid chainsaw enthusiasts who can help in the event you need maintenance carried out.
Status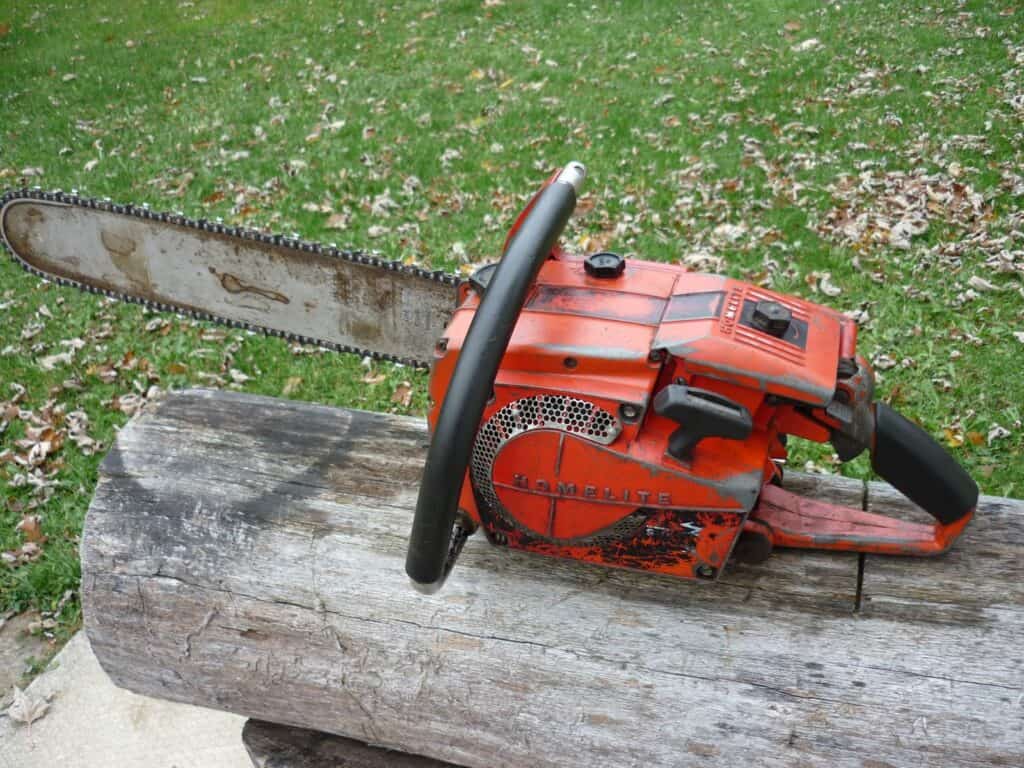 The original and older model XLs are a rarity in modern times, particularly if you are on the hunt for one in really good condition. However, if you do manage to find one, you'll be able to enjoy owning a small piece of history with collectors interested in a product that forced its way into popular culture thanks to its various appearances in popular horror movies.
Cutting Power
Away from their reputation as a bit of a collector's item, the XL chainsaws are excellent power tools. The 58cc engine found on the original XL 12 produces a good level of power, and when coupled with a cutting arm available in both 24" and 16", there is more than enough versatility to get most jobs done.
Originally suitable for commercial and consumer usage, an XL would still be perfectly capable of performing in either situation today. Although commercial enterprises will undoubtedly be drawn to the cost-effectiveness and added safety features of newer models, a Homelite XL is still a great choice for any chainsaw work that needs doing.
Cons of the Homelite XL Series
Despite the many pros associated with owning and using a Homelite XL, there are some negatives that you'll need to take into account when looking to buy one.
Hard to Source
Despite once being the most popular range of chainsaws globally, since their discontinuation, they have become increasingly hard to get hold of. If you're looking for an XL in mint condition, you'll need to find a local dealer or scour second-hand sites. These days Homelite only produces smaller electric chainsaws.
Price
Due to their reputation and build quality, a good condition Homelite XL can set you back up to $500. This is a substantial amount for a tool that doesn't feature modern technology or safety measures.
Lack of Manufacturer Support
As Homelite stopped the production of gas-powered chainsaws many years ago, support from them is almost non-existent. If you require assistance or maintenance work, you will need to seek out a specialist engineer or have a go yourself. While many will be able to fix a basic 2-stroke engine, sourcing replacement parts can often be tricky.
What Are the Best Alternatives to the Homelite XL?
While many different types of vintage chainsaws around, none have the same reputation and collectible value as the Homelite. Therefore we have included some modern alternatives that feature similar cutting abilities as the XL series.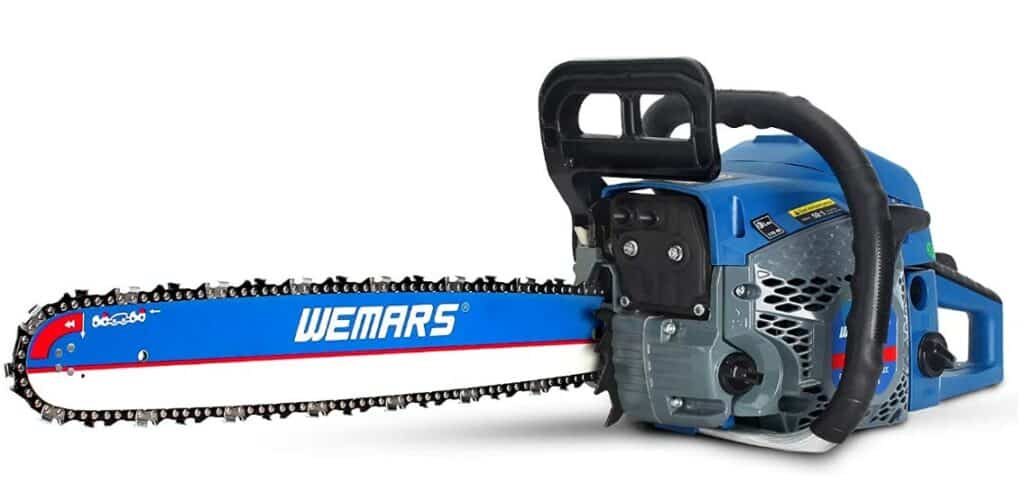 WEMARS is another company that has been producing gas-powered chainsaws for many years, although not with quite the same pedigree that Homelite has. Their 58cc chainsaw features a 20" cutting arm, wrap-around ergonomic handle, anti-vibration technology, and a quick-release air filter. Plenty of mod-cons to enjoy there that you wouldn't get with an XL.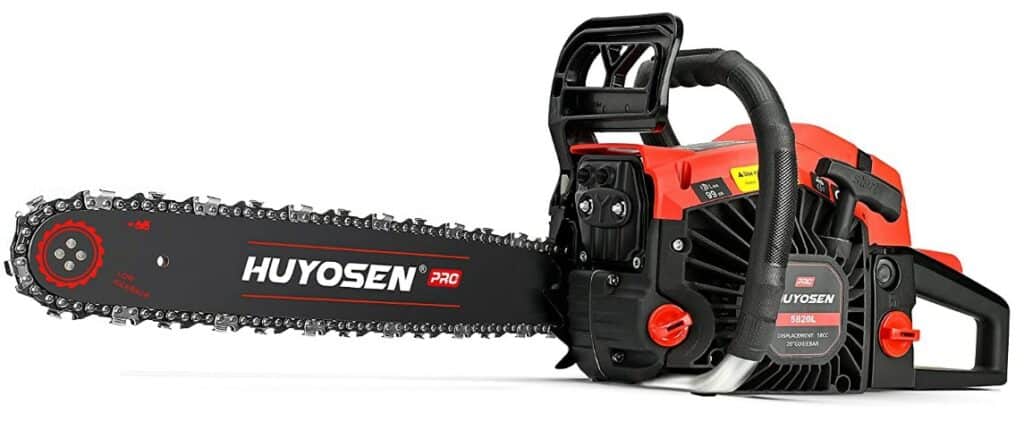 Coming in at a slightly more wallet-friendly price than either the WEMARS or a good condition XL, Huyosen's Pro 58cc offering provides a great choice for those wanting to carry out work on their land. Its 3.6 horsepower engine is plenty powerful enough, and the array of safety features make it the perfect choice for anyone who wants a powerful chainsaw but who maybe lacks the experience of operating one.
Homelite XL Frequently Asked Questions
Question: How can you tell how old a Homelite is?
Answer: To find that out, you'll need the serial number. This can be found in your owner's manual or near the base of the saw casing. Once you have the serial number, contact Homelite directly, and one of their technicians will be able to tell you the exact age of your chainsaw.
Question: How Many CCs is a Homelite XL?
Answer: As we've covered in the article, an original Homelite XL chainsaw has a 58.2cc one-cylinder engine.
Question: Can you adjust the carburetor on a Homeli1te XL?
Answer: Yes, you can adjust the XL's carburetor by turning the screws for high and low speeds as required. The high-speed screw will be marked with an 'H'. When the engine is off, pull the trigger to open the throttle, turn the screw and check engine performance. Repeat this process if needed.
The Final Word; Is The Homelite XL a Great Chainsaw?
I think it would be very hard to argue against the Homelite XL is one of the greatest chainsaws ever produced. While it may not have many of the features you would expect of a modern gas-powered chainsaw, the fact it set the standard for what a chainsaw should be when it came out means it has to be up there.
Before chainsaws were too heavy to be used regularly by ordinary folk in their homes, the XL changed that and allowed everyone from the guy with a smaller yard to the farmer who needs to cut down 10 trees to do so.
That being said, there are performance sacrifices if you decide to you with a vintage model. However, if you think you'd be better off using something with all of the mod-cons, the Huyosen and Wemars provide great alternatives and similar cutting capabilities to that of the Homelite XL.