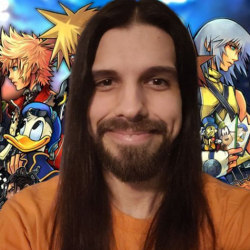 Latest posts by Trevor Abbott
(see all)
If you're wondering where to buy black walnut lumber, you've come to the right place! This is a fine wood to work with but comes at a higher cost. In general, the walnut species are notably workable and create products that will last for the long term. Black walnut wood is considered luxurious and appealing, with a bold appearance that compliments your home. It is often used as a decorative wood and has a beautiful grain pattern that is highly favorable.
You're probably anxious to get all the benefits of black walnut wood, and it's worth the steeper investment. It yields a satisfying result that's easier to maintain, and many choose to shop for this type because it's highly durable and resistant to rot and infestation. I'm here as your expert guide to make purchasing this species a bit easier for you!
Of course, I can't reduce the higher price, but I can point you in the right direction to various online and offline options to obtain this remarkable type of wood. Let's explore the most reliable methods for getting this material in your hands expediently!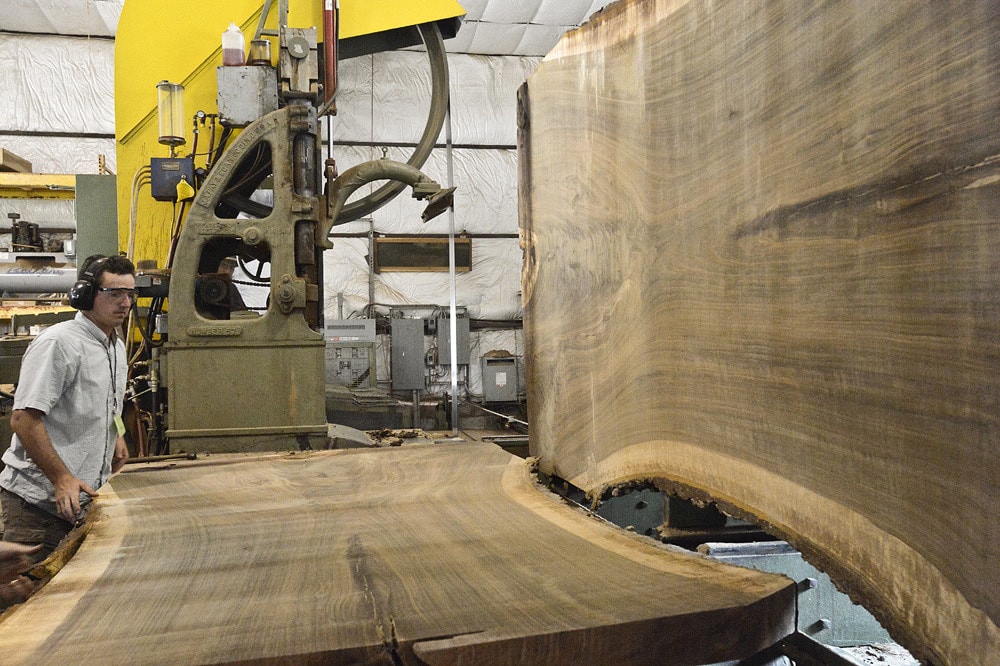 Benefits of Purchasing Black Walnut Wood in Person
You See the Product Better
One of the benefits of buying black walnut or any wood in person is seeing what you're getting. Pictures sometimes make it difficult to convey any product's quality. It's generally favored to purchase timber from the store because you won't have to deal with shipping costs and the uncertainty of receiving something different than expected. You can choose between various cuts and grain patterns; each tree grows differently and has a unique quality.
It allows for flexibility during the shopping process, and browsing the other woods in person is fun. Buying wood is much like purchasing a new car because most people want to see and drive it before taking it home. Being at the store allows for a professionally satisfying experience where you can see, smell, and even knock on the wood for good luck.
Some sales professionals have useful advice during shopping and can serve as a guide. They have help online, but woodworking is also about being in the community and meeting others who are passionate about the craft. It's comforting to pick up fresh cuts of walnut lumber after seeing them first-hand.
Easier to Choose between Options
If you visit your local hardware store, the selection will be organized and easy to understand while displayed so you can assess any prospective purchase. The examination phase of the shopping process is critical in crafts like woodworking because it helps you to choose wisely. The selection will be narrowed down as opposed to shopping online, where it's easy to get overwhelmed.
You will reap the rewards of getting fresh air while walking through the aisles to buy each material. Buying wood in person is more satisfying for many woodworkers in an age of internet shopping. It can be compared to the old days of selecting a movie from the store instead of just streaming it. You can see the cover, ask the employees if it's good, and make a more confident decision.
It's the same when picking out your next slab or board of black walnut wood. You can undertake many projects towards home improvement with black walnut, and you'll get inspired by the sights and smells of various materials in each aisle. They are categorized by your project needs and can help you narrow down the options faster.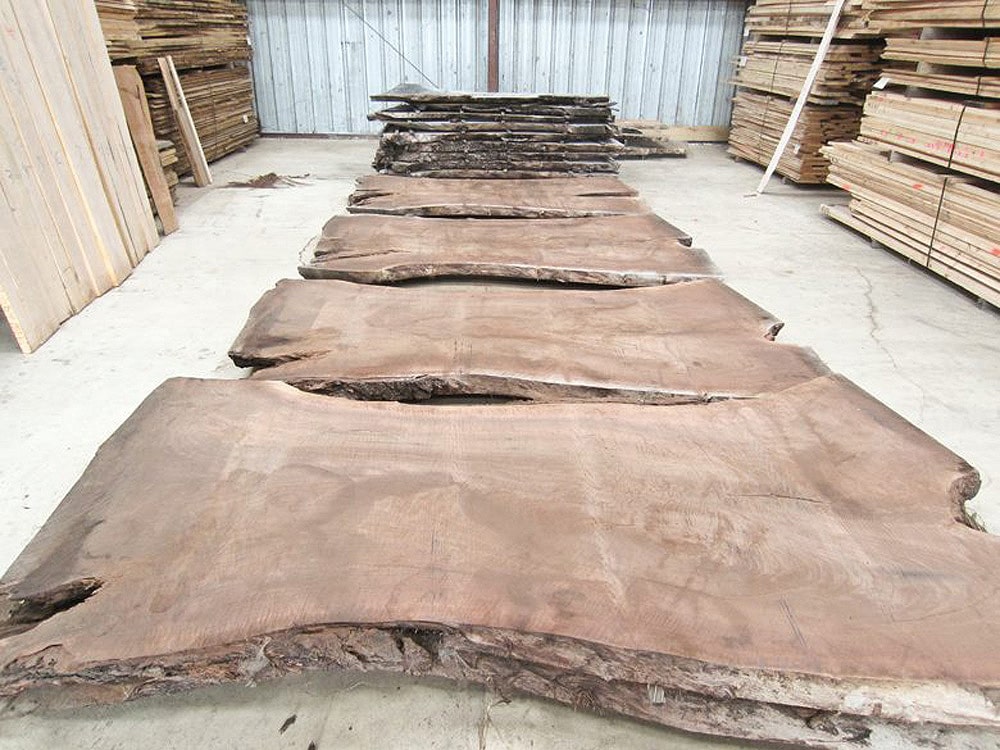 Potentially Negotiate a Deal Buying in Bulk
When working with people in person, you can take advantage of negotiation if you're buying a lot. Many overlook their right to haggle, which can serve you well when making a larger purpose. If you're building something substantial, like a fence or shed, it will be advantageous to speak with the manager and get a deal. In-person shops will have black walnut flooring sets ready to install with a professional team who can take on the challenges.
It's also an excellent social exercise to discuss your project with someone who might have similar experiences. They can also make the details easier by giving information you didn't know. If you're taking on a job, there is always room for error. This also applies to the shopping experience, which can happen online or offline. You're less likely to make a mistake in person with someone there to guide you. Potentially saving money with a bulk deal on black walnut is essential because the wood is costly.
Benefits of Purchasing Black Walnut Lumber Online
It's Highly Convenient & Accessible
Purchasing wood online is prevalent for woodworkers and hobbyists who need reliable options. This method's convenience makes it most attractive, as you can browse the different products and compare prices across other websites. Some people prefer to buy everything online, and it's easy to understand why this is so popular. The products are all available from the sanctity of your computer, and you won't have to worry about carrying or transporting heavy lumber while stressing your car.

The feeling of getting fresh black walnut on your doorstep is preferable to many because you can get working quickly. Many great online wood shops have a variety of lumber with different prices. Sometimes it's necessary to go online for rarer species you might have difficulty finding at a standard superstore.
Where shopping in person fails to give you suitable materials, online picks up the slack and gives you the opportunity for exquisite exotic and luxurious woods. Filtering your results for a streamlined experience is a breeze. Finding black walnut wood online isn't hard, but the wood certainly is. Overall, it gives you peace to have it handled and delivered.
Access to Exclusive Online Discounts
The reality is that online shops will give you more opportunities for discounts. It's hard to say if you'll save more online than in person, but the concept of buying in bulk is the same. The more you buy, the more opportunities for a discount on different products. Regarding black walnut wood, you need to be prudent when purchasing because this is an expensive wood that should be put to good use.
Sometimes waiting for these sales is the best decision to save some money, especially for larger projects. Many websites will give you a first-time buyer's promo code that allows for a heft discount. This is one of the times to strike and buy in bulk, so you have enough black walnut for the future. It's a beautiful material worth every penny and won't trouble you in the shop.
Hunting for online discounts is part of the process, but there are browser tools that can make sure you're not missing out on a cheaper offer. Values online tend to be more frequent than sales at a shop, but both are great ways to save money when buying wood!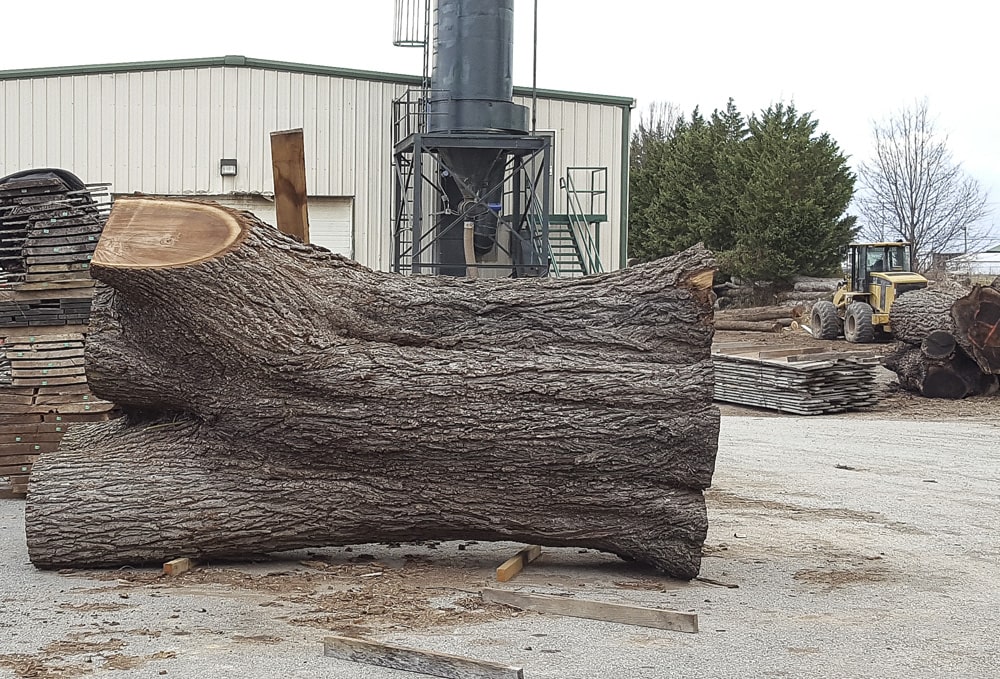 Customer Service Is More Abundant Online
Each website has its help network so that you can gain access to an expert on the products. It's more likely that you will be returning things online than if you purchase them in person. Some people can help you if you're unsure about the final decision online, but it will most likely be through chat instead of voice. Most are flexible and can answer your questions about any wood species.
Each project is different, and you can explain your ambitions to them through the help bar and make a lucrative purchase online. These are convenient because we often think of questions after talking with someone when it's too late. You can message or email online shops and get an almost immediate response.
This reality allows you to decide on the products according to your schedule instead of feeling pressured. Working with others online to ensure you settle on the right product is ideal when shopping. It is like insurance to prevent you from making the wrong purchase.
Versatile Selection & Customer Feedback
The internet has a high potential for purchasing wood online, and you can easily browse through the options and take suggestions from other shoppers. Each company does its best to give you a high-quality product, but reading their information will reveal what makes each choice different. You will undoubtedly have a more extensive selection of wood online than visiting the shops.
Certain lumberyards might rival the online market, but there are many opportunities to thrive with discounted wood and skilled laborers. Neglecting this resource with black walnut would be a mistake because the price is an issue and diversification is important for snagging the best offers. Online you get the value of customer feedback through informative reviews. You can see what some people who purchased a product thought about it and if it's worth buying.
A salesperson in person might be overly enthusiastic and attempt to close the sale while giving a biased opinion. Real customers usually tell you how it is with both the pros and cons, which can encourage you to keep searching instead of settling for a lesser black walnut product.
Where to Look For Black Walnut Offline
Buying Black Walnut from a Lumberyard
A lumberyard is one of the most reliable in-person options that will be fun to visit for educational purposes. You'd be surprised at how much you can learn from a single trip to a lumberyard. They are experts at their craft and have intimate knowledge about black walnut and other species. You can get some supreme woodcuts here for varying projects, and they can quickly adapt to your needs.
This approach is the natural way to purchase black walnut lumber; you can get a fantastic selection here. Another advantage to working with a lumberyard is you can easily order a custom cut that would be impossible to obtain anywhere else. Sometimes your needs stretch outside the scope of the standard purchase, and that's where this service is highly advised to bring your vision to life!
You will get high-quality expert lumber guaranteed without any hiding behind the computer screen. It's about upfront and transparent business practices that are more tangible. I advise that every woodworking enthusiast visit a lumberyard at some point to broaden their horizon. It's a way to get a great product while developing an appreciation for the work behind the scenes.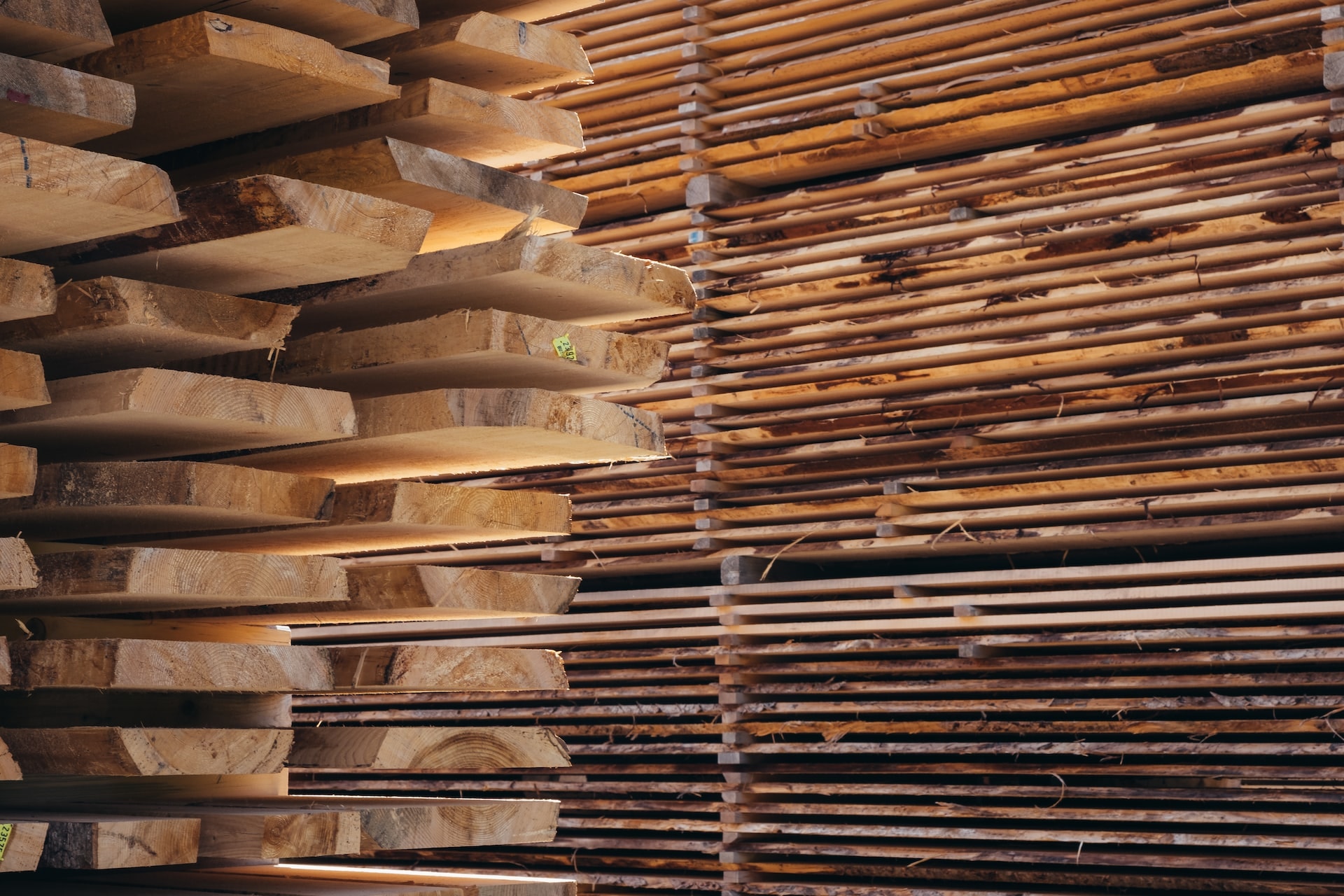 Checking Your Local Hardware Store
Hardware superstores are another viable option, but they might be secondary to a lumber yard. Here you will get a decent variety with most species in stock. It's certainly a less gritty environment where you can consult with people indoors, and usually, there aren't opportunities for customization.
You see what you get in hardware stores, and they are a good option if you're looking for something fast and easy. Black walnut can be found at places like The Home Depot or Lowe's. Of course, there are countless other establishments that you should check out before settling on a single shop.
Thrift stores and antique shops might have wooden options, but this is more of an adventurous shopping quest instead of serious buying. Antique shops are good places to look for black walnut items and other trinkets. Some locations might not have a local hardware store to visit, and shopping online will save you from driving a distance to obtain black walnut.
Best Places You Can Order Black Walnut Online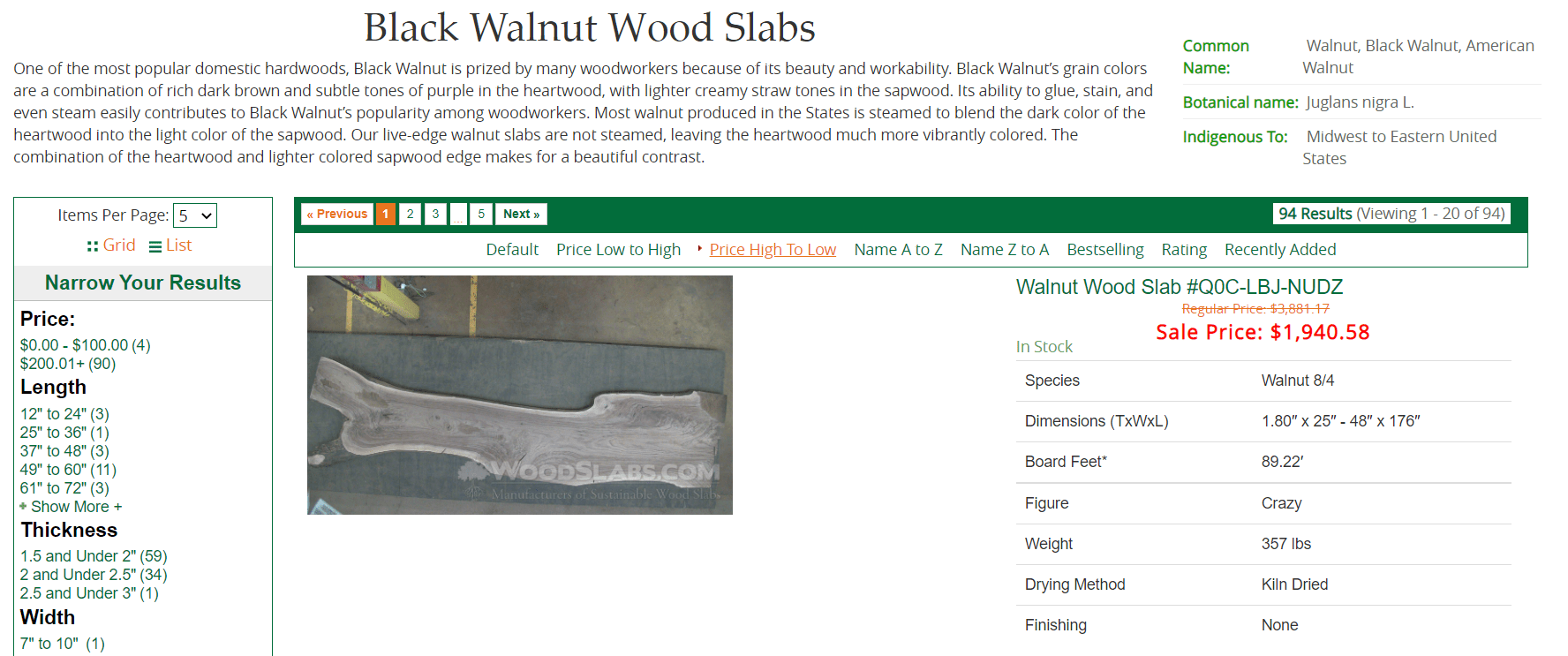 Woodslabs.com is an excellent website to pick up some black walnut after browsing their slab selection. You have the tool to filter through wood types and find the ideal slab for any given project. You can also select the wood according to a specific length, width, and overall thickness.
They produce live-edge slabs and are forged with consistency that meets your needs. This is where quality makes a difference because you will find that they are kiln-dried to perfection, which increases resistance to insect infestation. With over 100 species of hardwoods to choose from, you'll feel right at home discovering some black walnut and more. Slabs are often utilized for tables, doors, benches, shelves, and other woodworking ambitions.
This sustainable wood has been professionally harvested and dried to ensure continuity throughout all its products. It's an excellent online option for buying black walnut slabs, and the results will be satisfying. Remember those savings I mentioned earlier? Well, they have a current deal when buying in bulk that saves you an impressive 50% off if you spend $500 or more.
Hearne Hardwoods is another good place to find some black walnut that will suit your needs. They carry exotic and domestic woods that will bring your home to a new level. Their services offer practical materials for sustainable results that are professional and lasting. You can buy much more than black walnut here, with some exotic options that are fun to explore.
When shopping for wood online, you might be concerned about how the forests are managed, which is a legitimate concern. Hearne Hardwoods is a family-owned company that takes pride in the sustainability of forests. They offer some exciting mutations of classic species to give you a truly unique result that will shine
Walnut wood has been the standard for American furniture for a long time, but there are different methods of preparation to consider. Hearne Hardwoods takes extra care not to steam their black walnut wood, ensuring the natural quality is preserved. They believe that wood tells a story, so you'll get unsteamed raw cuts of black walnut that are premium quality!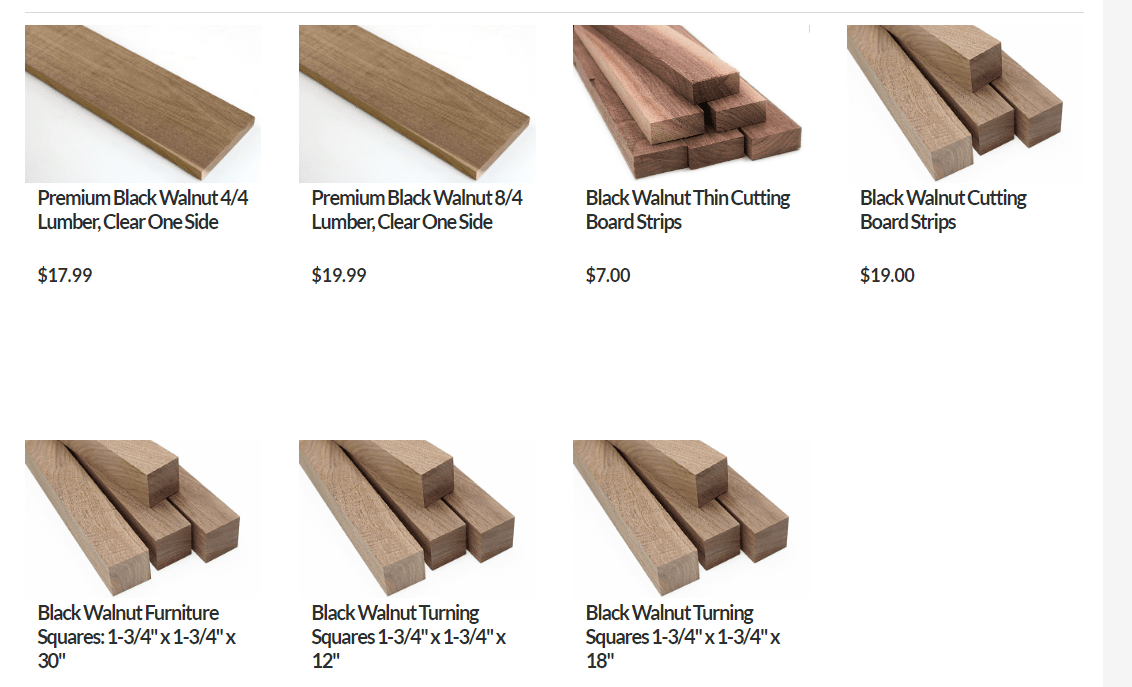 When you shop with woodworkersource.com, it makes acquiring black walnut wood easier and a less stressful process. They provide essential information about each species, so you know what you're getting. The pictures are clear, so you can be sure you're buying high-quality wood prepared by professionals. They usually have some products on sale, and you can find some black walnut discounts.
Their website is more than just a shop for lumber because you can actively get your questions answered through their lumber help section. Here you get the most basic questions answered while getting instructions on handling certain species. They have plywood, lumber, tools, and specialty woods that make this site more enticing to use as a woodworker.
Free shipping is offered, and they even have delightful contests to engage their customers. You'll want to bookmark this site if you're looking for unique woods like black walnut for your shop. The selection is organized and your questions will be answered at woodworkersource.com.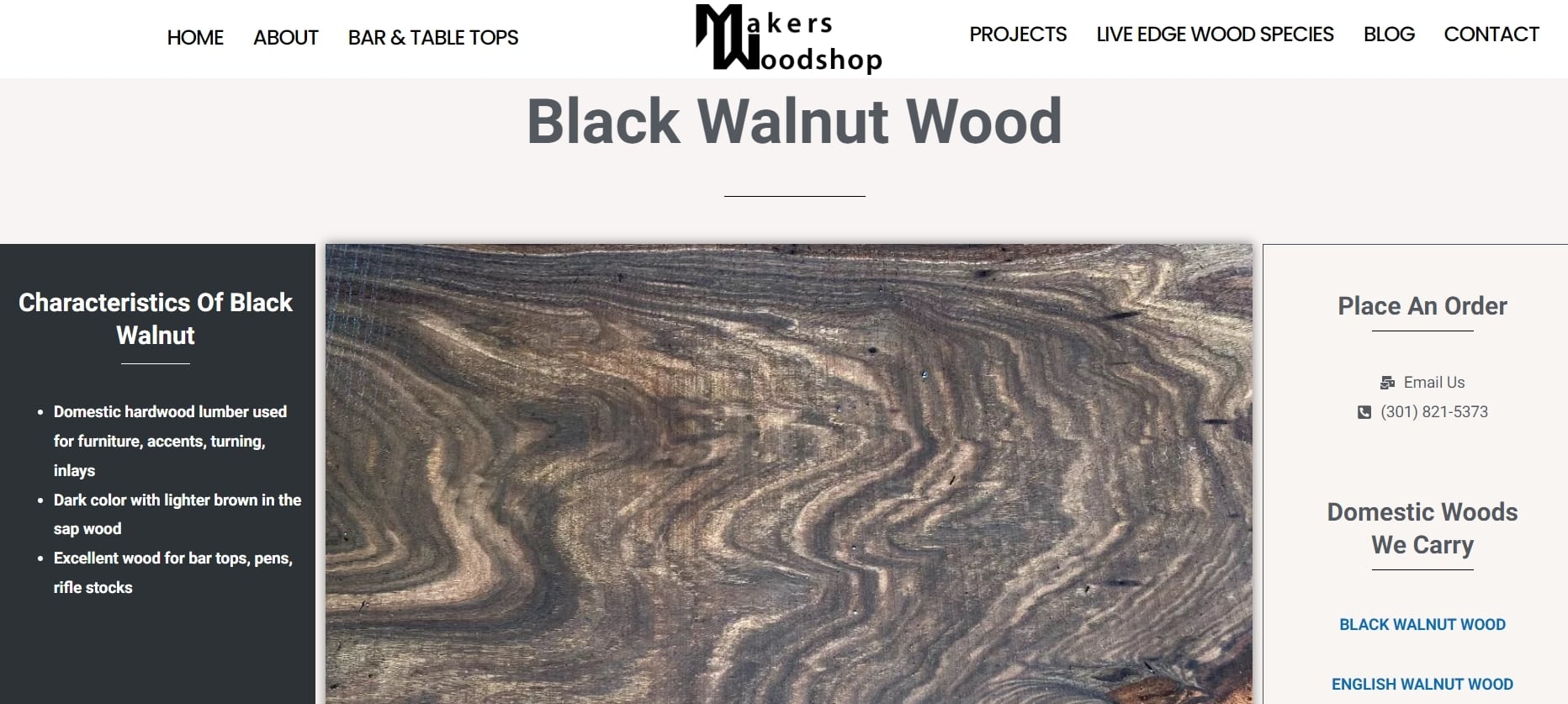 Live edge wooden furniture is the main draw of makerswoodshop.com, and they have a variety of species to choose from. They have black walnut wooden slabs that can be crafted to create incredible, lasting furniture that can stay in the family for generations. They have information on black walnut that outlines its characteristics so you will be informed from start to finish.
Their wood is sustainably sourced and produced well, so you can be at peace when buying any wood. These passionate professionals can help you realize your vision through customization options to craft breathtaking black walnut furniture. Their pieces are one of a kind and not part of a mass production assembly line. This site can equip you with creative professionals who know how to work with black walnut.
You can also get materials to fuel your project and craft something magnificent. You'll find suitable wood to thrive here, from pieces for smaller coffee tables to larger dining room ones. It's an excellent resource if you only want to buy expert-crafted black walnut and other wooden furniture.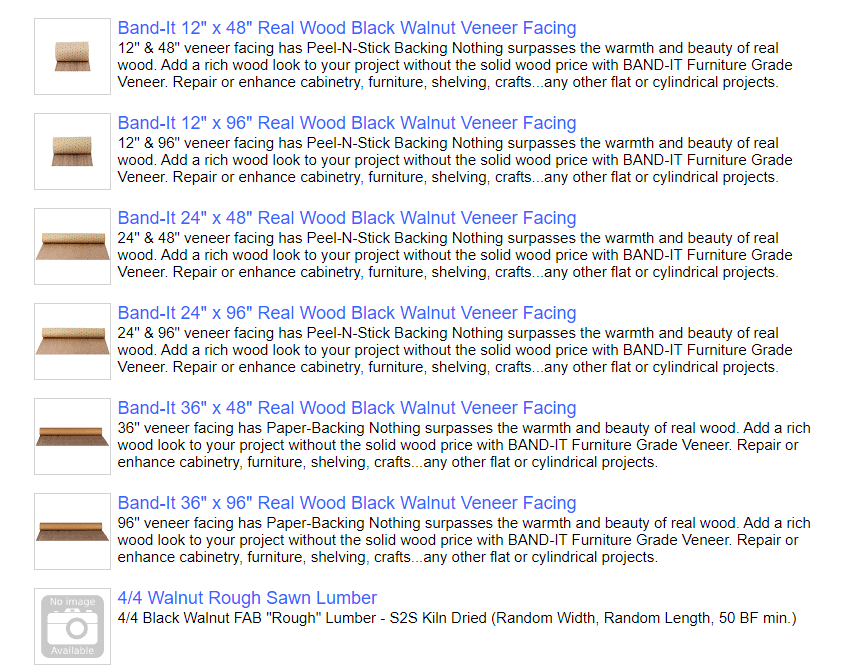 This is another good site if you're looking for a wider variety, and it's no surprise they have black walnut wood in stock. They offer a great selection and the opportunity to do custom projects for you. They sell some fine hardwoods that are of the highest quality. Not only that, but they also help you uncover new styles and decorations using different woods.
They are in tune with the creative aspects of woodworking but also give you the suitable materials to succeed in your projects. Their blog keeps you updated on all the woodworking trends that can inspire you with modern methods. Things are constantly evolving as technology continues to surge, and the developments have positively impacted woodworking. This massive selection will take your breath away, and it's comprehensive to see it online.
Being in person can be intimidating with all the towering lumber, but shopping here is fast and easy. They have shows and events that can help you broaden your understanding of classic and modern styles with black walnut wood and many more species! Each brings a unique quality to your home and business, highlighting the benefits well in addition to their informative shop.
Get Black Walnut on eBay, Craigslist, or Amazon
One alternative to looking online would be to discover what other shops have. Many people are looking to get rid of black walnut wood on eBay, and it can be a better deal than shopping at an established wood vendor. There's usually more flexibility in the pricing where you can place bids and see how it pans out.
Places like Craigslist always have posts of wood for sale, and sometimes you can get lucky and obtain it for free. Even items made of black walnut can be salvaged and used for your project. This method means you might have some unreliability in the mix, depending on the person selling. Amazon is more dependable if you're looking for alternatives to the sources already mentioned.
They have some exciting products and a variety of lumber, with black walnut as a staple. You can search black walnut, and many options will pop up to browse. They have lumber-turning squares, boards, slabs, and other items made of walnut. These can be anything from professionally-crafted furniture to walnut utensils. Amazon is a reliable place to buy wood, and you get faster shipping with Prime.
Black walnut has a handsome character that tends to draw the eye and liven any space. Sometimes you may not want to make your furniture, and Amazon is an excellent place to shop as opposed to the store where you need to cart it home. They also have walnut plywood and varying thicknesses for your needs.

Etsy has a surprisingly fulfilling selection of black walnut lumber and many other species of wood that will keep you coming back for more. The prices are modest, and you can adequately search slabs, boards, or other items made of a particular wood. There are deals daily on etsy.com to capitalize on, and it's a nice hub for nurturing your creativity in woodworking and other art forms.
You can explore the site and find highly unique cuts that will make you feel confident when purchasing. They have live edge wood and many slabs styles that coincide with your project needs. Etsy.com isn't solely engaged in selling wood, but they have an impressive stock of black walnut that is worth checking out. Diversity online is one of the keys to success, but doing the proper research behind what you're getting is also vital. Etsy provides information about each product.
You can get free shipping on many orders, and there's also the opportunity to buy in bulk here. They have tree slices and many other products associated with the black walnut tree that is worth checking out. Their kitchen utensils are innovative, with items like walnut cutting boards and bowls. From small to large woodworking projects, etsy.com has more than enough options to sustain your needs.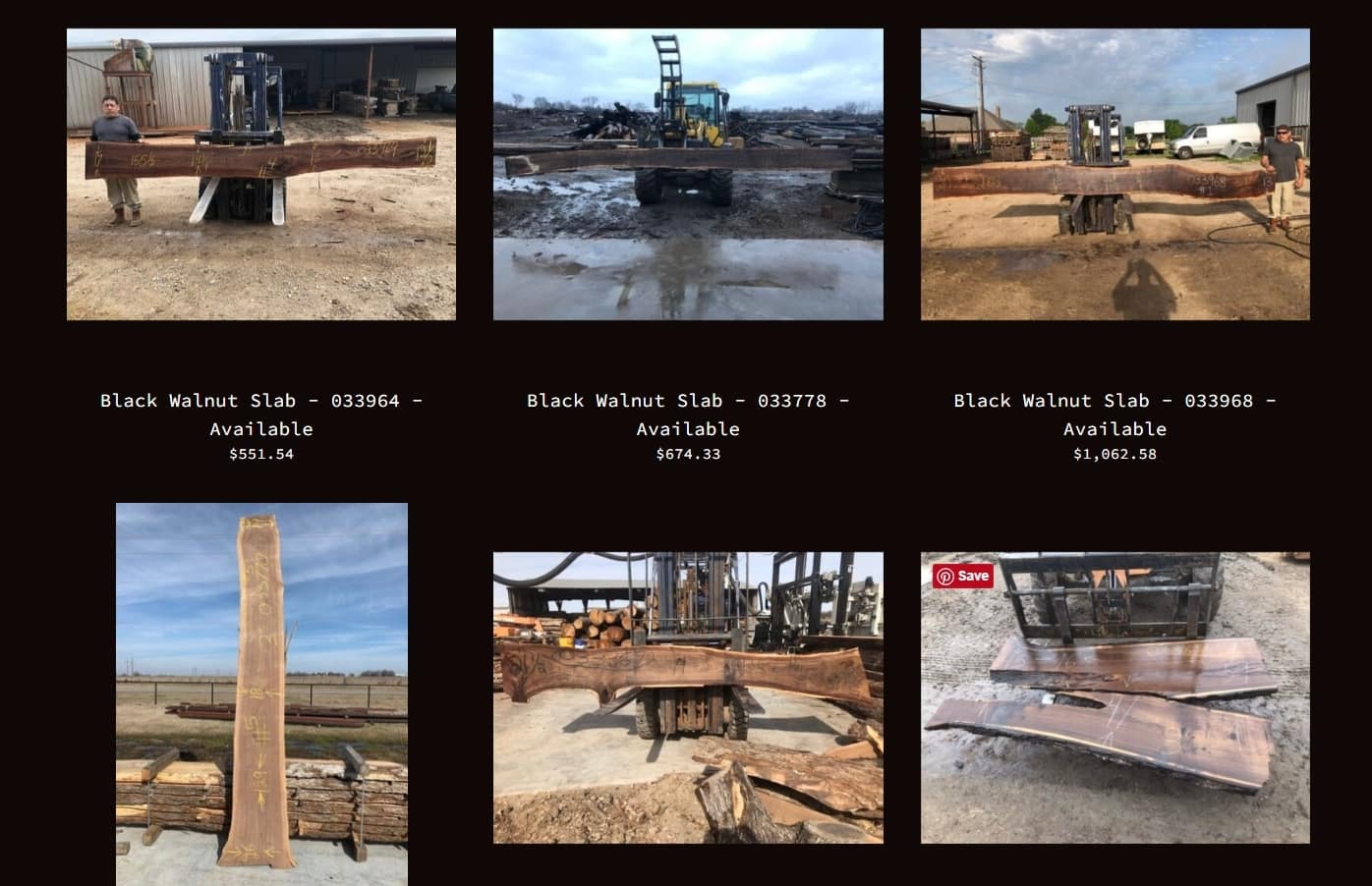 Harden Sawmill is another excellent online spot to pick up some high-quality black walnut wood, specifically fine slabs. They have massive cuts worth the investment if you want to accomplish something more extensive. Their selection of black walnut is awe-inspiring, with many options that give you an excellent visual reference. It's a reliable online source for hardwood lumber that will provide you with the perfect material.
One exciting feature of this website that stands out is that you can schedule a time to meet and view any slab in person. This demonstrates they care about allowing you to physically assess any slab. If you're not confident about one, then your doubts can be put to rest by witnessing it yourself. They are about establishing connections with customers and giving a quality product that will work wonders in your shop.
You can also gain inspiration from all the different customer projects they have posted. It's a friendly, encouraging, and sustainable online business that values in-person shopping too. They give you the best of both worlds, so note them for the future when you need black walnut slabs or anything else!
Benefits of Buying Black Walnut Wood
Black walnut is an extremely sturdy and long lasting wood
It is praised for the visual attractiveness and darker quality
It's mostly easy to work with in the shop
Black walnut is one of the staples of America
Hardwood flooring is very easy to maintain
A straight-grained hardwood that works well under machinery
Finishes very well and looks amazing for guests
Stains and glues well & is easy to clean
Where to Buy Black Walnut Lumber: FAQs
Question: Is Black walnut easy to find online or at the store?
Answer: Black walnut is highly accessible at your local hardware store or through many online vendors. Not all are created equal, but the ones listed are reliable. Ordering wood online is much easier if you're buying a lot because it will reduce your transportation labor. Overall, shopping online is more convenient and less energy..
Question: Is Black walnut wood expensive?
Answer: If you're trying to stick to a budget, you might want to try alternatives to black walnut because it's pretty expensive on the current market. The pricing is $5.25-$12.50 per foot of timber. It's one of the best hardwoods you can obtain, with great versatility and an excellent finish. Prices aren't going down; each tree sells for around $20,000 or more to help you gain perspective.
Question: Does Black Walnut make good firewood to buy?
Answer: Black walnut is perfect for firewood because it has an impressive heat output with a much longer burn time. This is ideal for warming a space consistently without needing to feed the fire constantly. Remember that the wood needs to be adequately seasoned for around one to two years, so watch out for this detail when buying. Burning black walnut excessively indoors isn't recommended because of excessive carbon monoxide from it.
Question: Is Black Walnut wood easy to work with and worth purchasing?
Answer: Black walnut has a gorgeous grain pattern and is easy to work within the shop. You can easily split it, and it's highly forgiving. Overall, it's considered one of the best woods around, with an attractive appearance. It finishes very well and lasts seemingly forever with excellent durability.
Conclusion: Black Walnut Wood Is More Accessible than Ever before!
Because of the internet, you have a sea of options when it comes to black walnut wood. However, it's important not to lose sight of lumberyards or hardware stores because they also offer fantastic options. They're also an educational experience that gets you out of the house to start your project right. Most professionals prefer shopping for wood, where they can observe the tangible quality of any material.
This is logical, and you might have reservations about purchasing wood online. Don't worry; if you stick to these sites while exploring other professional online options, they will give you a quality product. Black walnut wood might be highly accessible, but that doesn't mean it's cheap. You will be paying a hefty sum for this species, and it naturally pays you back in the shop.
Now you have the information to make an informed purchase in any context. No matter which you choose, working with black walnut will be fun and rewarding. It's an excellent wood for shaping, but note it's the best hardwoods for turning. Don't wait any longer and start enjoying the elegant natural quality of this appealing dark wood!