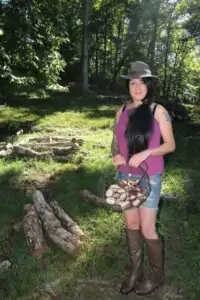 Latest posts by Samantha Biggers
(see all)
Over the years, I have spent a lot of time splitting firewood. Of course, a lot of that time was just using a splitting maul and splitting wedge, but as I get older it's nice to have a log splitter to quickly produce split wood when needed.
If you split your firewood, I can tell you from experience that you will want a log splitter as you get older or if, like me, you have more daily responsibilities that require time and attention.
My Bottom Line Up Front: Yardmax is a well-known name in log splitters. Suppose you are looking for a reliable and high-quality log splitter. In that case, you should take a glance at all the options they have to offer everyone from the homeowner splitting just enough wood for their home up to the commercial user who wants to make some extra money from logging and landscaping projects.
How I Chose The Best Yardmax Log Splitters
Size of the Log Splitter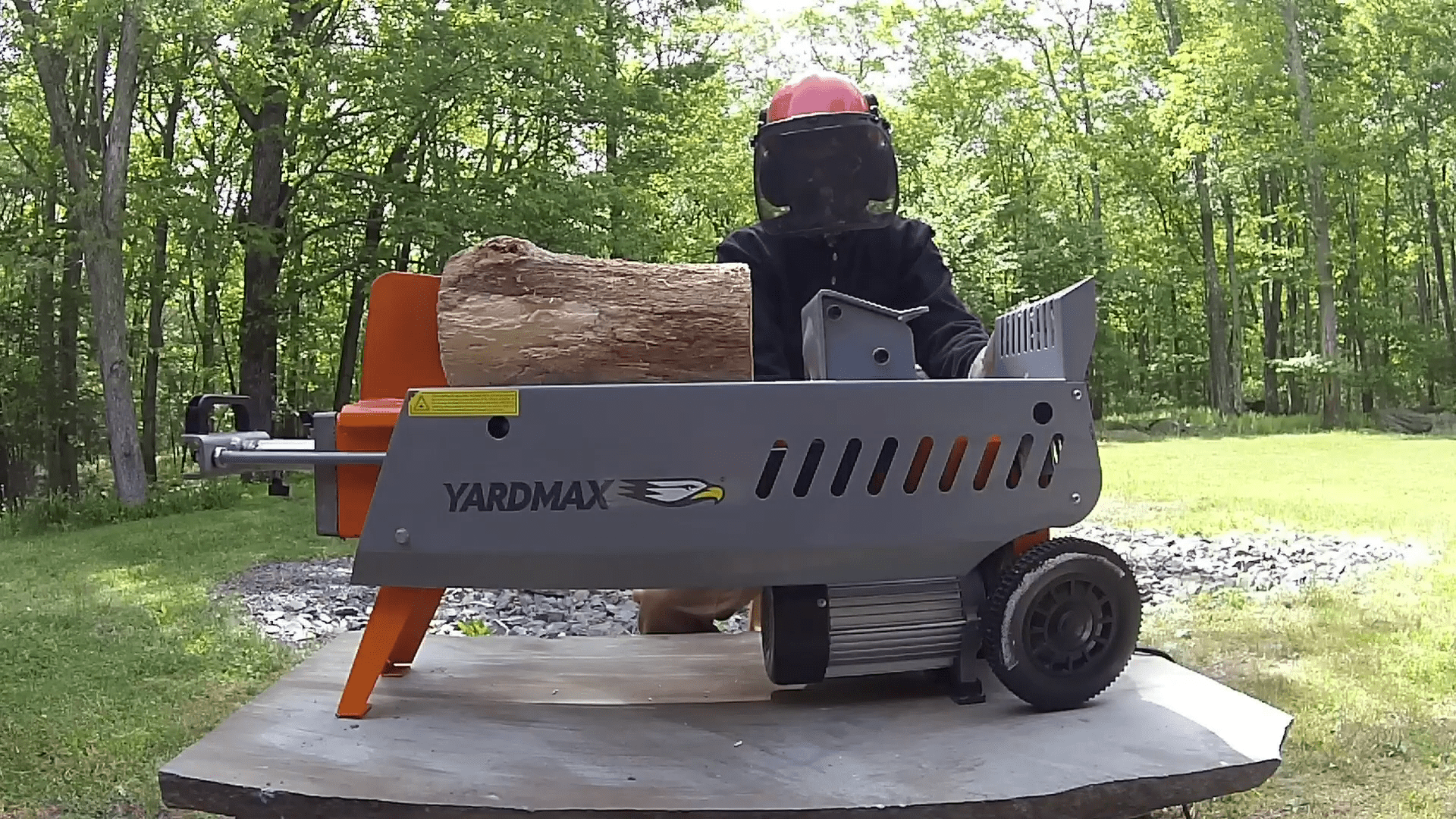 It is essential to get a splitter that can meet your needs. This means not going with a very small splitter if you intend on cutting a lot of wood each year. At the same time, buying the largest splitter is not the best option for the average homeowner. A larger splitter can be cumbersome to store and use.
Accessories
I like it when a log splitter has at least a 4-way splitting wedge available for me to purchase. A separate log table is even better. However, it can be not very clear if compatible accessories are not easy to find with just a few clicks.
Availability
In this guide, you will find all of the Yardmax log splitter models currently available at stores or shipped to your home. This includes gas and electric log splitters.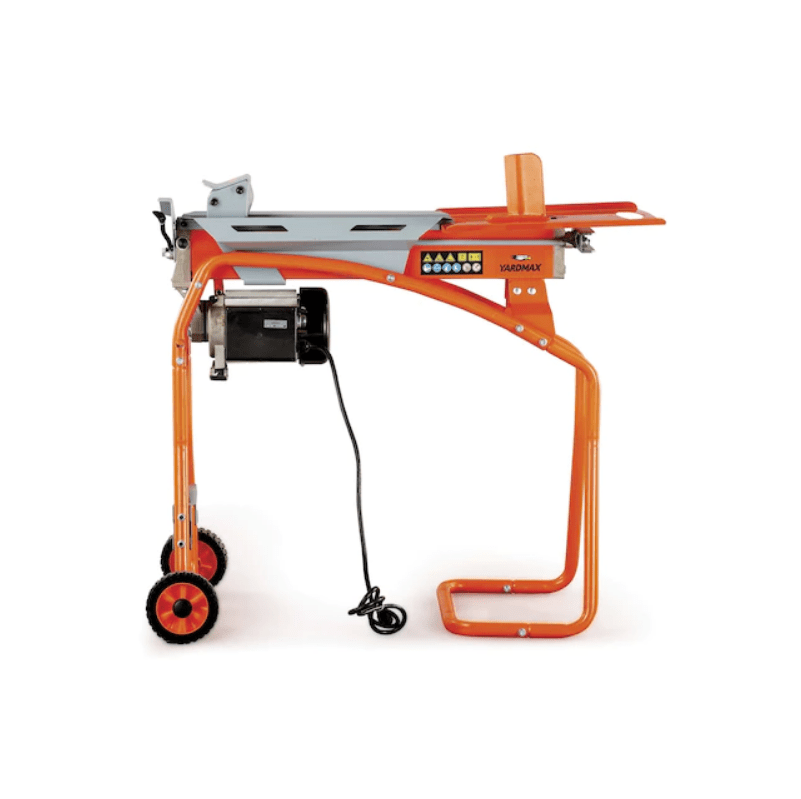 Pros
An affordable option for homeowners
Stand included
It can be used indoors using a standard household outlet
The stroke limiter reduces splitting time when splitting short logs
Cons
It cannot be used at remote sites that do not have electricity
Smaller log splitters may struggle with some very tough-to-split woods
I am a big fan of smaller log splitters because they offer the average homeowner an option for easing their workload without spending a ton of money or taking up a lot of space.
This 5-ton Yardmax electric splitter is a real bargain, and it includes a handy stand so you can easily feed wood into your splitter from the back of a truck and avoid all that extra lifting.
In addition, this splitter features 7-inch wheels and a handle for easy maneuverability and storage. If you are short on space and want to split enough wood for yourself and maybe one other house, this is an excellent Yardmax model.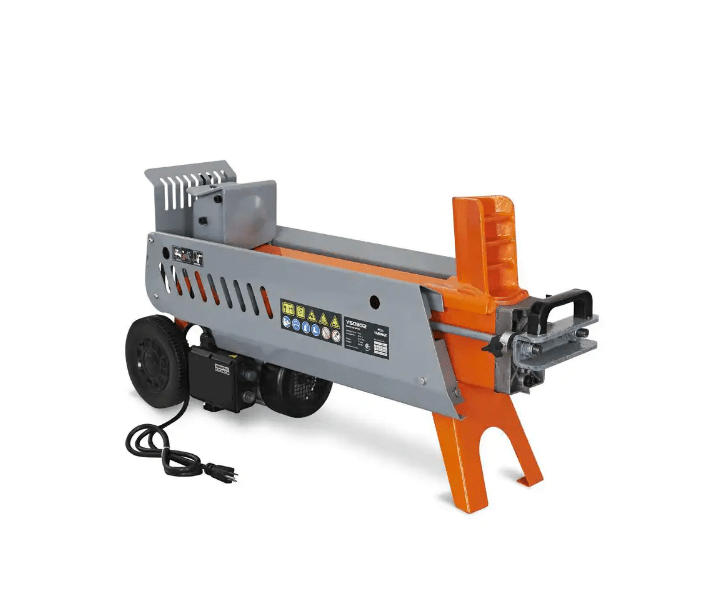 Pros
A lot of power in an electric splitter
Small enough to store easily
It comes ready to use. No assembly time.
Cons
No stand
Not for use at locations above 3,200 elevation
This powerful electric log splitter is just what you need if you want a splitter that goes above and beyond the smaller splitters. At just over $500, this model is a bargain when considering a lot of 5-ton electric splitters cost just as much.
This splitter is rated to split logs just over 12.6″ in diameter and 20.5″ long. While the cycle time of 14-23 seconds may seem long, the stroke limiter allows you to easily shorten the cycle time when splitting logs that are on the short side.
I recommend this splitter for homeowners and small woodlot owners that need to split enough firewood for 1-3 households.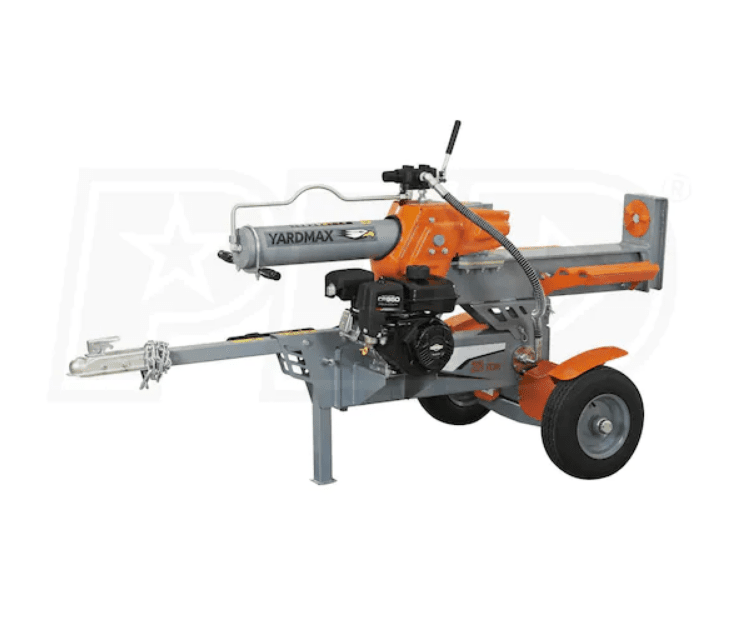 Pros
208 cc Briggs & Stratton engine
Easy to start
13.2 second cycle time
Cons
Instructions can be hard to read
Assembly required
This is the splitter for you if you want a powerful splitter in a compact package. With 28 tons of splitting force, you can breeze through logs up to 25.5″ in length and 24″ in diameter. In addition, the half-beam design significantly reduces weight, making this splitter come in at just 435 lbs, making it easier to tow and move.
I like that Yardmax designed this splitter with a patent-pending spinner plate that allows logs to move freely throughout the splitting process, so you have fewer jams.
The splitter is very easy to use thanks to intelligent control placement at the top of the machine and a shorter wheelbase so you can stand closer to the machine while staying safe.
Slightly less expensive than the 28-ton version
Fast cycle time of 9.6 seconds
16-inch highway-approved tires
Great warranty
Cons
It may seem underpowered when used by professionals that need to split larger logs from hard-to-split species like locust or hickory.
The Yardmax 25-ton log splitter features a strong U-beam design and a lightning-fast cycle time for its size. You can get through a stack of logs fast with this efficient splitter. I recommend getting the 4-way splitting wedge to further maximize efficiency and speed.
At the moment, this log splitter is an excellent deal for the amount of power you get. If you don't need the extra 3 tons of splitting force, it can save you some money over the 28-ton model.
I envision this splitter doing well with a small woodlot or, let's say, for example, you want something that can handle processing a few windfall trees after a storm.
The Yardmax 25-ton splitter seems to be appearing in a lot of close-out sales online, so I am not sure how long this model will be offered or if there will be a model to replace it so if you are considering it you may want to purchase it sooner rather than later.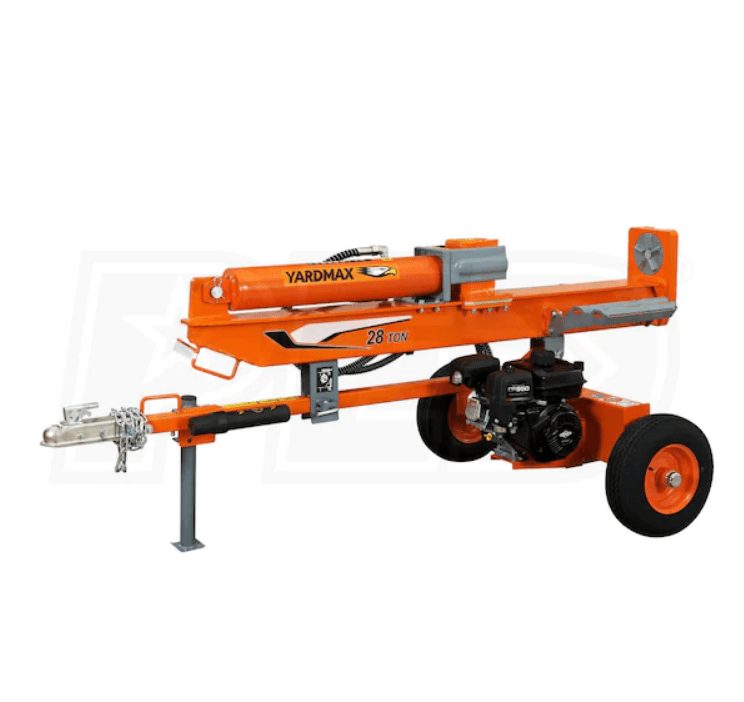 Pros
Full beam construction
28 tons of splitting power can take on harder-to-split logs
13.2 second cycle time
Cons
Heavier and more complex to move around than half-beam models
The 28-ton Yardmax with full beam construction is exactly what you need when you have a big stack of hard-to-split logs that you want to get through fast. The only wood you may have to split somewhat carefully is if you work with green unseasoned logs that are 24″ in diameter or more. In that case, you may want to either use a wedge and split them in half before putting on your splitter.
The 13.2-second cycle time for a log splitter in this size range is fairly fast. I suggest getting the 24″ log table available as an accessory from Yardmax so that you have plenty of space to catch logs as they come off the splitter. The 4-way splitting wedge will significantly reduce overall splitting time when dealing with larger logs.
This splitter is recommended for professionals and woodlot owners that need a heavy-duty splitter for long-term use.
At 35 tons, this splitter is powerful enough for professional use
Handles logs up to 26.5″ in length
Dual-end cylinder support adds strength when splitting large logs
Fast 12.8-second cycle time
Cons
At around $2,000, this is one of Yardmax's more expensive log splitters
Professionals should take a look at this powerful log splitter from Yardmax. You get a lot of splitter for your money and a fast 12.8-second cycle time so that you can make the most of your workday. Adding a log table and a 4-way splitting wedge is recommended to increase splitting capacity even further.
While the U-beam design is extremely strong, Yardmax has added other features to decrease stress on the beam. This includes a patent-pending spinner plate that allows logs to move more freely while remaining securely on the splitter.
Overall this is the best Yardmax log splitter option for when the most power is needed for professional jobs and large land-clearing operations.
FAQs
Question: Does Yardmax offer a good warranty and customer service?
Answer: Yardmax provides an excellent warranty for residential use.
• 3 years on materials and workmanship
• 2 Years on engine/motor*
• 1 Year in hydraulics
For commercial users, the warranty is only 90 days for gasoline log splitters. Yardmax offers great customer service. To contact them, you can either use their contact form or call 844-927-3629, then press Option 2.
Question: These all look like great splitters. How do I decide which is right for me?
Answer: It is important to assess your current and future log-splitting needs. If you just need to split enough wood for your family and you are starting with smaller logs or logs that have already at least been split in half, then a small electric splitter is likely all you need, and it will cost you 1/3 the price or less of a larger gasoline splitter from Yardmax.
A smaller gasoline splitter will offer the power you need if you intend to use a splitter to process logs on a small woodlot. The larger Yardmax log splitters are best suited for those that intend on using their splitter to make some extra money in a firewood business or professionals that want a log splitter to add to their team to increase revenue from jobs where wood would otherwise go to waste.
Question: Where can I buy Yardmax log splitters?
Answer: Yardmax log splitters are available at many online and national retailers. Lowes, Home Depot, and even Amazon may have some models. Remember that due to the size of the log splitter, you may have to order it to be delivered to your local store and then pick it up or arrange for truck delivery. Even larger stores often only keep a few splitters in stock; sometimes, they are only available at a store for immediate pickup on a seasonal basis.
Question: Do all Yardmax log splitters require assembly?
Answer: Unless you buy the gasoline-powered models already assembled at the store, you will need to assemble your splitter at home. Some customers report splitters taking up to 3 hours to assemble. Having someone to help you set up a larger splitter initially is recommended. Electric log splitters require little to no assembly.
The Yardmax 9-ton electric log splitter is ready to use right out of the box. The smaller 5-ton splitter is mostly ready to use, but you do have to put the stand together and get the splitter attached to it if you want to use it like that. Assembly of the stand is simple and doesn't require more than one person.
Question: Are Yardmax log splitters easy to maintain?
Answer: Yes they are. Check oil levels and hydraulic fluid regularly. Make sure to drain out or use up any gasoline in the tank before storing it for longer than a few months. If you forget at the end of log splitting season and have old gas in the tank, drain it and replace it with fresh before running your splitter.
While log splitter tires are made tough, they will wear out eventually. Dry rot can be a problem over many years, even if you do not take your splitter on the road much. This is true for any log splitter, no matter how great the tires are. Check tire pressure before taking your splitter on a highway or traveling far on your property.
Larger log splitters should at least be stored covered with a heavy-duty log splitter cover when not in use. If you have a barn or outbuilding, then that will work too. Electric log splitter should never be allowed to sit out. Small electric log splitters can be stored vertically in a small space in a garage or basement.
Conclusion on the Best Yardmax Log Splitters
Yardmax log splitters offer good quality and performance at a reasonable price. The wide availability of models and ease of use make them a great choice for homeowner and commercial use. I recommend anyone considering buying a log splitter to take a look at Yardmax. For personal use by average homeowners that use a lot of firewood for heat, I recommend the Yardmax 9-ton electric log splitter. For professionals that need to split a lot of hardwoods and larger logs, the 35-ton Yardmax model will perform well for you.