Latest posts by Samantha Biggers
(see all)
If you know you want a log splitter that can take on the biggest rounds with plenty of cutting power, then you should consider a 30-ton log splitter. These are not splitters for just anyone. You can expect to pay at least $1,700 for an excellent 30-ton splitter, so if you are not going to use a splitter a lot for huge rounds, then a smaller log splitter is likely to make more sense.
If you are in a forestry-related industry or have a lot of land to manage, a 30-ton log splitter is going to make things a lot easier than struggling with a smaller splitter.
A 30-ton log splitter is not something you can just pull around by hand. If you want to move a splitter of this size, then you will need a least a moderately sized lawn tractor. Practically any vehicle will tow one because the weight is usually under 800 lbs. You also need to consider that a splitter will take up some space, even if you store it outside with a splitter cover over it.
My Bottom Line Up Front: My top pick is the Iron and Oak 30-Ton Horizontal/Vertical Log Splitter. Out of all the best 30 ton log splitters, this is the only one that has a Honda GTX motor. I have a lot of experience with the GTX motor and can attest to how reliable it is. This is a splitter that will not let you down.
How I Chose These Log Splitters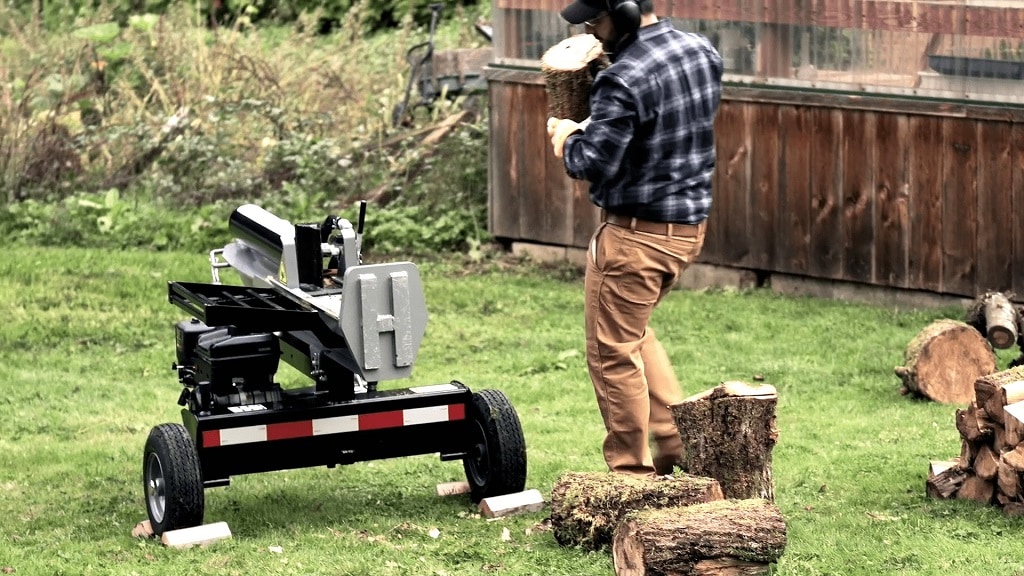 Size
I looked for log splitters that specifically offer 30 tons of hydraulic power. There are splitters out there that offer power in the 30-ton range, but I wanted exactly 30-tons. This, of course, limited the options for splitters considerably.
Reliability
All the splitters featured in this post are from brands that are known to offer high-quality tools, good customer service, and a reasonable warranty. A 30-ton log splitter is a significant investment, so it is essential to know that you are not paying for something that is going to be frustrating to own or get repaired if or when something happens.
A Quality Engine
Not all engines are created the same. When it comes to a log splitter with this much power, it is essential to know that you are paying for a quality engine that will offer years of performance without a ton of hassle or maintenance.
Personally, if it was me, I would make sure every large lot splitter had a Kohler or Honda engine just to be sure. At the same time, other reliable engines are out there, and I have included a few splitters with different engine types.
Interesting reads: Should you buy a Kinetic Log Splitter or an Electric Log Splitter?
My Top Picks
Iron and Oak 30-Ton Vertical/Horizontal Log Splitter- This splitter features a Honda GX series motor, meaning it is going to offer a lot of power and reliability. If anything ever happens to a Honda GX motor, they are easy to get repaired or even repair yourself.
NorthStar Horizontal/Vertical Log Splitter- Northstar is sold exclusively at Northern Tool stores nationwide. This log splitter features a commercial grade Kohler motor, sturdy beam construction, and the great customer service and warranty that Northern Tool products come with.
Advantages of 30-Ton Log Splitters
Pack plenty of power for splitting tough and gnarly logs
Most have the ability to split vertically or horizontally
Capable of splitting much bigger diameter logs than smaller splitters
Large enough for those who own large tracts of wooded property or that want to start a side business selling firewood
Disadvantages of 30-Ton Log Splitters
Expensive compared to smaller splitters
Require a small tractor or vehicle to move due to their size
Take up considerable storage or outdoor space
Best 30 Ton Log Splitters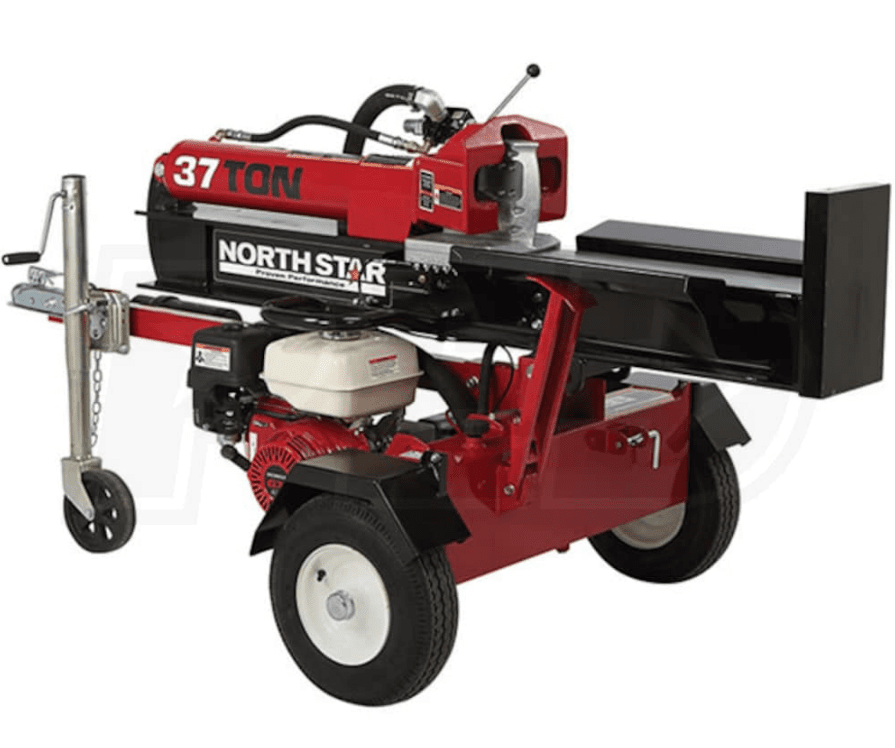 Pros
203 cc Kohler Commercial CH 270 engine for strong splitting action
Can split logs up to 25″in length and 16″ in diameter
The engine guard protects the motor from any wood that may fall
Cons
At around $2,000 at the time of writing, this is a significant investment to make
8-inch tires appear to lack some robustness
NorthStar is a brand you will see often in the forestry, farm, and construction industries because it is Northern Tool and Equipment's own brand name. In my experience, buying NorthStar products is a good decision. This splitter features a powerful Kohler Commercial engine capable of easily splitting some large logs.
I like that NorthStar log splitters considered the inevitability that something will fall on your engine and possibly something heavy and damaging, like a larger piece of wood. The engine guard makes sure your engine is protected at your worksite.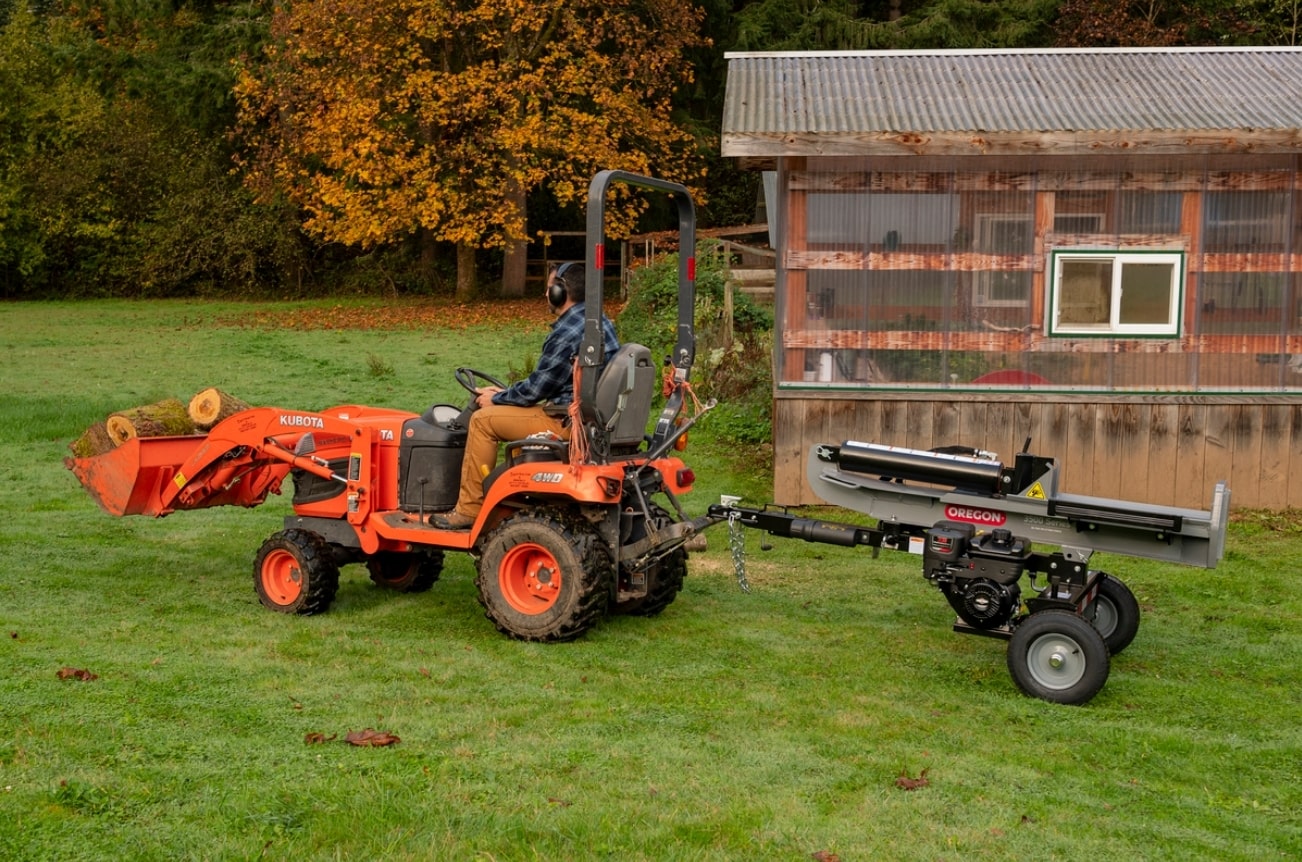 Pros
Heavy duty H-beam construction
Splits horizontally or vertically
Cons
You may need to tighten down some nuts and bolts when you receive it.
Doesn't come with hydraulic fluid
No 4-way wedge attachment is available
For a long time, I was unaware that Oregon made such a wide range of tools. I am most familiar with their high-quality Stihl compatible chainsaw bars and chains. The Oregon log splitter is an economically priced 30-ton log splitter for property owners or small business owners.
The Oregon log splitter has a fast 12.9-second cycle time and features an auto return for fast splitting. If you are interested in Oregon, you will need to buy it from an authorized retailer such as Tractor Supply or Lowes Home Improvement.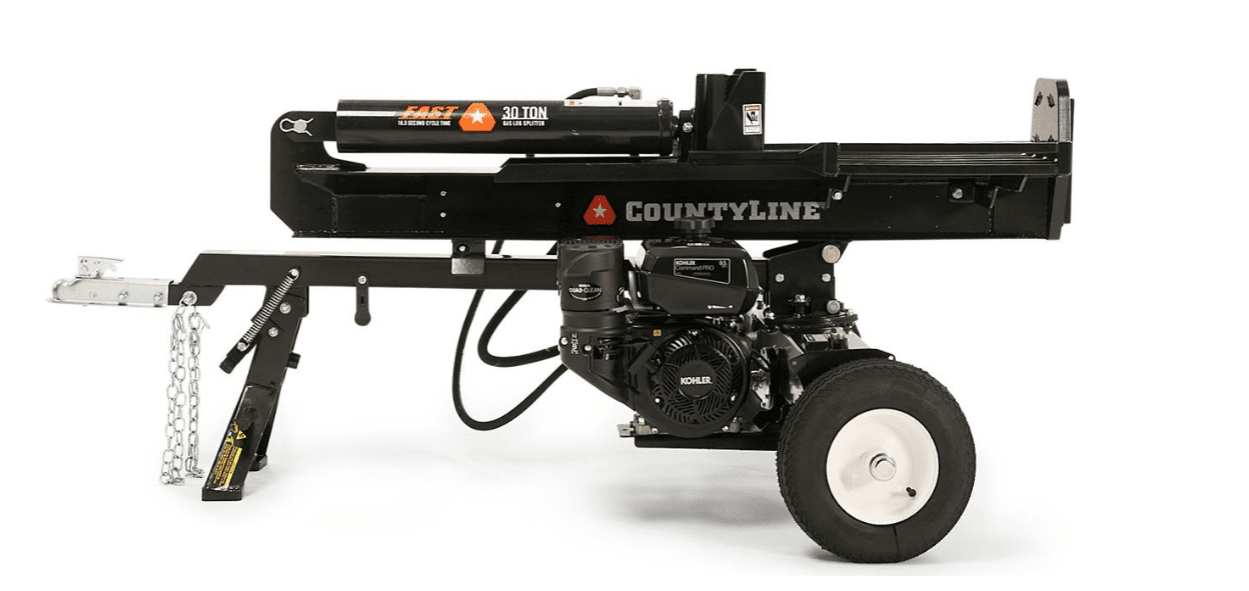 Pros
Easy to find at Tractor Supply stores
Simple to access air filter and spark plug for routine maintenance
DOT Approved Tires
Outstanding 10.9 second cycle time with auto-return
Cons
Pull start is too close to the on/off switch
Tractor Supply makes a wide range of farm equipment under the brand name CountyLine. This 30-ton log splitter really stands out due to its blazingly fast 10.9-second cycle time and auto return. While being a few seconds faster might not sound like a big deal, it can really add up when you are splitting a lot of firewood.
The DOT-approved tires mean you can easily tow this splitter on the road. The splitter will operate in a horizontal or vertical position.
The only major complaint I have about this splitter is that the on/off switch is close enough to the pull start that you risk breaking the switch if the pull start snaps back.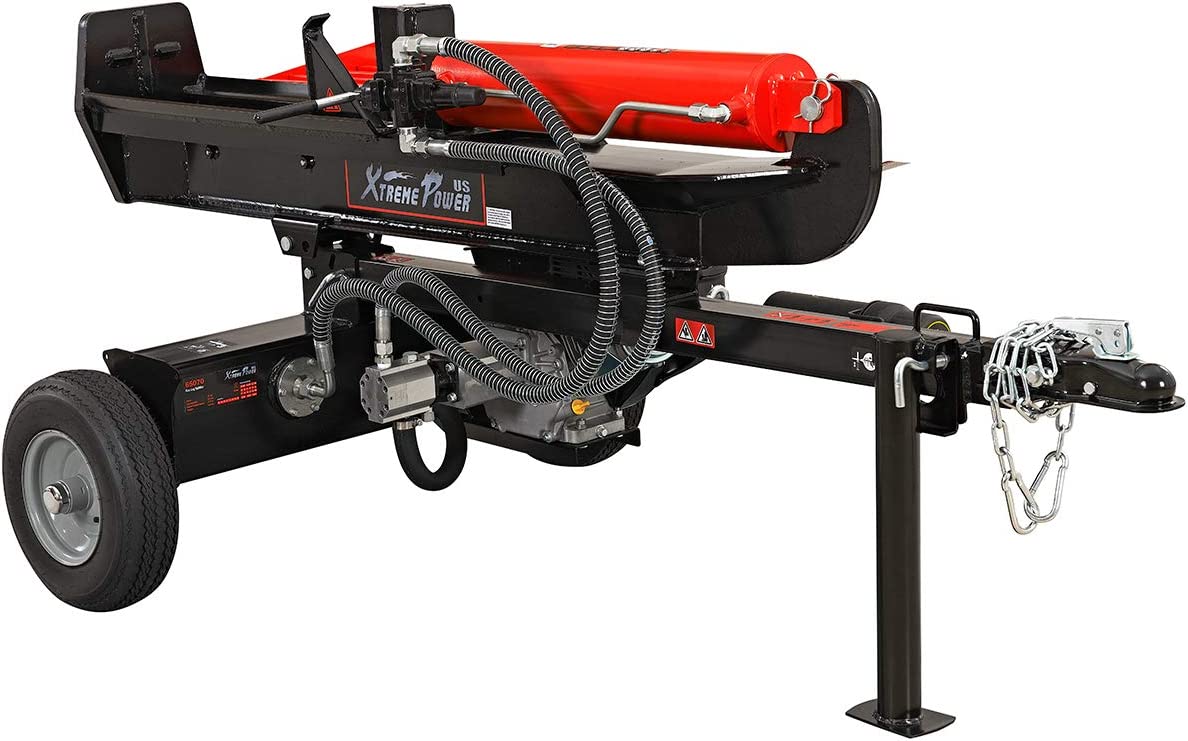 Pros
Kohler SH265 196 cc motor is proven to be reliable
Roadworthy tires
13-second cycle time
Cons
At 6.5 HP, this splitter has as much as 50% less HP than some 30-ton splitters
The Xtremepower Log Splitter features a Kohler engine with an idle down feature that helps conserve fuel. At around $1,700, this splitter is on the lower end of the price spectrum for a 30-ton splitter. You can split logs either vertically or horizontally.
The tires on the Xtremepower are rated for highway speeds up to 45 mph. Overall, this is a solid machine at a bargain price.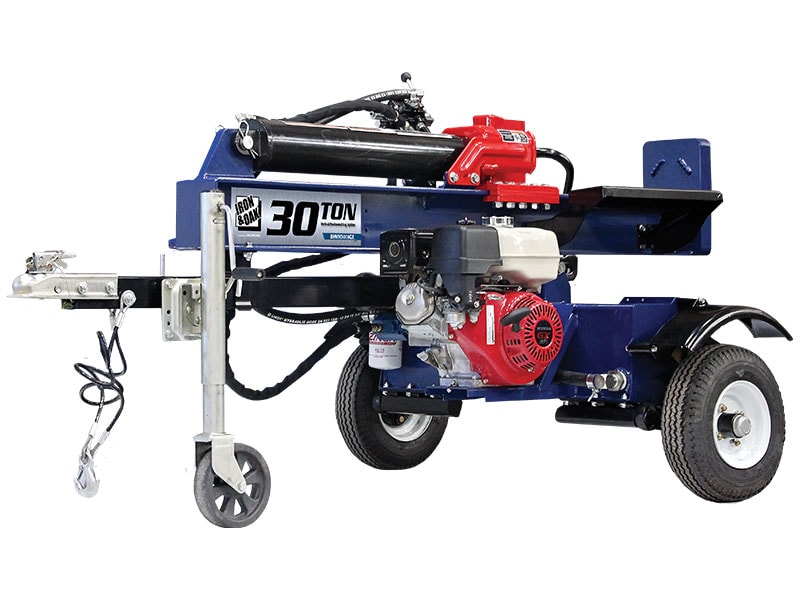 Pros
Honda GX270 motor
12-second cycle time
USA Made
Includes a log dislodger
Cons
At over $4,000, this splitter is on the higher end of the price spectrum
The Iron and Oak 30-ton log splitter is a beautifully built piece of machinery. It is made in the USA of high-grade steel and includes a Honda GX270 motor. Honestly, what sold me from the start on this splitter was the Honda motor and USA craftsmanship. This is a commercial quality log splitter from the ground up. The GX270 engine is quiet and produces lower emissions than other comparably sized engines.
The Iron and Oak splitter has a feature that is lacking on many other splitters. Enter the log dislodger. This handy feature ejects logs that generally get stuck on the splitting wedge and requires you to manually get them off with a maul or similar tools.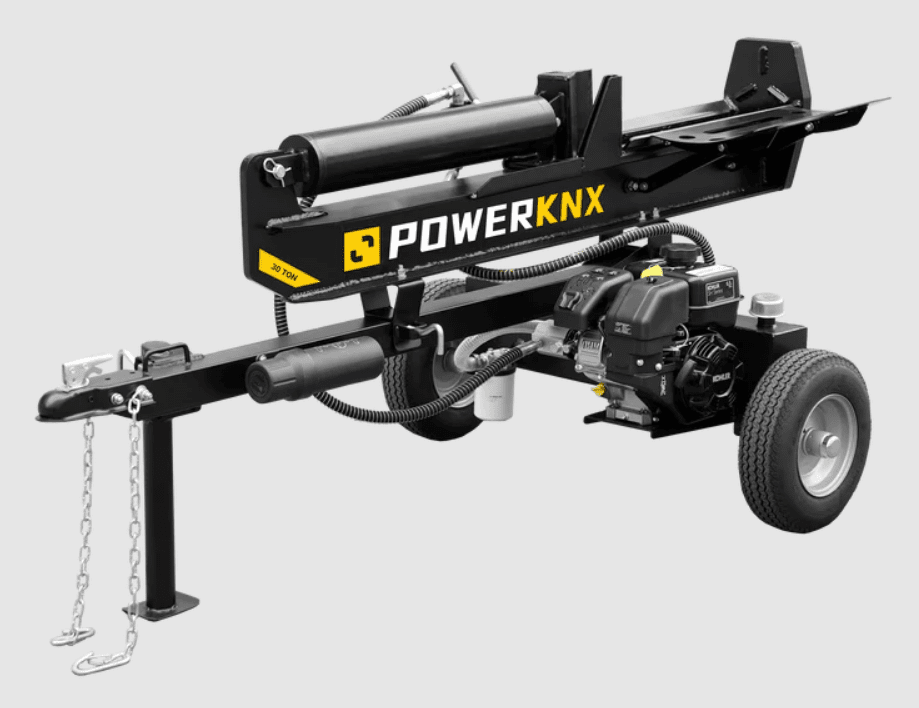 Pros
7 HP Kohler Engine
DOT Approved 16″ Tires
Manufactured by a Colorado-based company with decades of experience making equipment
Cons
Not widely sold, so there is a lack of reviews from owners
This log splitter is made on a strong yet lightweight frame and features a 13.3-second cycle time. Operators can choose between horizontal and vertical splitting. I like that you can purchase a 4-way splitting wedge for this splitter, unlike some featured in this post. The included log catcher saves on lifting.
Overall, this seems like a solid unit with a warranty that includes a customer service number in the USA, which is a real plus if any issues arise and you need a repair.
Pros
Made in USA
Hydraulic log lifter arm means you do not have to lift wood at all
10-12 second cycle time with automatic return
Choice of Subaru or Honda motor with electric start
Cons
Only splits in the horizontal position
Very expensive compared to other splitters
Of course, the most expensive 30-ton log splitter I found has some of the nicest features and options. The log lifter is a major bonus for those that want to eliminate lifting rounds onto the splitter. The downside is that waiting on a hydraulic arm to lift a round is going to make splitting take longer but who cares if it takes a little longer if you don't have to wear yourself out lifting a huge stack of wood over the course of a day?
Customers can specify if they want a Subaru EX40 engine or a Honda GX390. Both engines feature an electric start, so you don't have to fool around with a frustrating pull start.
This is a fantastic splitter, but the cost is prohibitive for all but those with professional forestry-related businesses.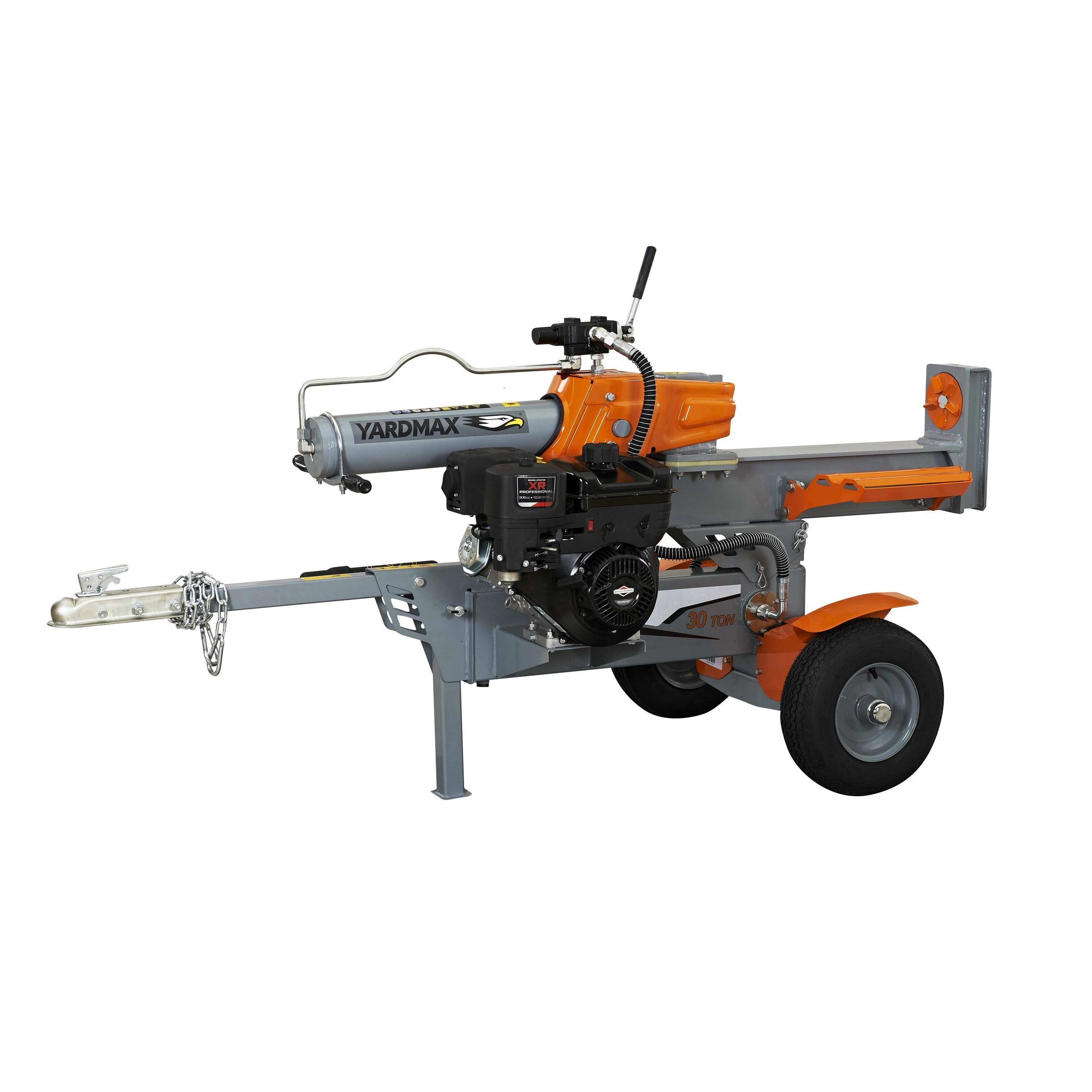 Pros
Briggs and Stratton motor
Hydraulic oil filter in the reservoir eliminates the possibility of damage from falling logs
Log stripper eliminates jams
Log cradles
Optional log table sold separately
Cons
Can be hard to find the optional 4-way log splitter wedge that is supposed to be available for purchase
Yardmax makes a variety of log splitters from small electric models up to their 30 and 35-ton full-beam models. This is a solid wood splitter that packs a lot of splitting power. The Briggs and Stratton motor allows for a fast 11-second cycle time so that you can blaze through a stack of wood in no time.
The tires allow for travel speeds up to 45 mph for easy transport on highways. All full beam Yardmax splitters feature a full 3-year warranty. This is a great splitter for those that want a lot of power and split a lot of wood throughout the year.
Tips for Getting the Most out of Your Splitter

Always check fluid levels in case of leaks
Hydraulic fluid and engine oil levels should be checked regularly so you can catch any leaks or low levels before they cause more trouble. Keep engine oil on hand to top off.
Automatic returns are nice, but consider using the ramstop
You can reduce cycle time when splitting shorter rounds by using the ramstop to shorten the overall cycle. This can save a ton of time if you are splitting a lot of firewood.
Position your log, so the splitter doesn't hit it dead center
The center of a round is the hardest and most dense part of a round. With harder woods and gnarled rounds, it is often better to aim an inch or so off center. Of course, if you see a good crack already started, you might do well to aim for that too.
Make sure you operate your splitter on a level surface
Lot splitter hydraulics don't work right on an unlevel surface because the oil cannot flow. Plenty of people make this mistake and wonder why their splitter will not split. There is nothing wrong with the actual machine. While it may take some digging or other tasks to create a level working area, it is a must if you want to get anything done at all.
Never exceed the recommended towing speed
Most 30-ton log splitters have wheels that are not rated for speeds above 45 mph. This means you can move your splitter on side rows and even on a 55 mph road if you go slow, but you should never take it on the interstate. Don't be tempted to push it and blow out your tires or have an accident that, at the very least, ruins your splitter.
FAQs
Question: What type of oil does a 30-ton gasoline-powered log splitter need?
Answer: Most 30-ton log splitters use 10W-30 oil. This is available at any auto store. This weight is the most common weight for small engines. Of course, you should always double-check the requirements for your particular splitter just to make sure.
Question: How much does a 30-ton log splitter cost?
Answer: There is a wide price range in log splitters in the 30-ton range. The splitters in this post start at around $1,700 at the time of writing and go up to $7,500 for those with special features like log lifting arms. Most 30-ton log splitters are in the $2,000-$3,800 price range.
Question: How good is the warranty on a 30-ton log splitter, and how easy is it to get a repair done?
Answer: Warranties vary by manufacturer, but you can expect at least a year and typically at least two years. If you purchase a log splitter from Lowes, Home Depot, or Tractor Supply, you can buy an extended warranty program that will replace, refund, or repair your splitter for a set number of years, depending on the plan you choose. If you intend to use your log splitter commercially, it may be worth purchasing one of these plans.
Question: Can I buy a used 30-ton log splitter and save money?
Answer: You can sometimes purchase used log splitters, but you need to be careful. When possible, ask to see the splitter in action before you buy. The last thing you want is to get a splitter home and find out you need significant repairs for it to operate safely or at all. Always check the tires out to make sure it is safe to transport if you do buy used. As far as prices, it pays to look up the MSRP if you bought it new so you can make a good argument for a fair price.
Best 30-Ton Log Splitters: The Bottom Line
For those in forestry or landscape-related business, a good log splitter can help you maximize the income you get from a job. Instead of mulching limbs and giving away the mulch or paying to dispose of it at a landfill, you can earn quite a bit of money selling firewood to others. There are plenty of places that sell unseasoned firewood throughout the year. If you have a dry place to store wood, you can sell seasoned split wood for even more money.
Shop around and compare prices on 30-ton log splitters before making a final purchasing decision. Consider going with at least a mid-priced splitter if you intend to use it for commercial purposes.
Doing some extra reading on the various engines on the splitters that interest you is not a bad idea, especially if you are the type that likes to try to repair things on your own.
While a 30-ton log splitter is a significant investment, they hold their value well. This means if you decide at any time that you don't need a splitter that large, you can resell it.