Latest posts by Samantha Biggers
(see all)
If you need a splitter capable of taking on some tough wood, then you should consider a 35-ton log splitter. Although a lot of 35-ton splitter models have been discontinued by manufacturers, there are still some great options out there for your wood splitting projects.
My experience with log splitters is mostly smaller electric log splitter models, but there are definitely times when we have big rounds that are very gnarly and twisted that I wish we had a larger model. If you have a few acres of woods, then you may want to consider a 35 ton log splitter to cut down on labor over the years.
My Bottom Line Up Front: A 35 ton log splitter is appropriate for people that plan on splitting a lot of firewood over the years. This size splitter packs plenty of power for those with small to medium size wood lots. As for the best 35 ton log splitter, I recommend the Oregon 35-Ton Log Splitter and the Yardmax 35-Ton Half Beam splitter due to their great reputations, durable features, and ease of purchase nationwide.
How I Chose My Top Picks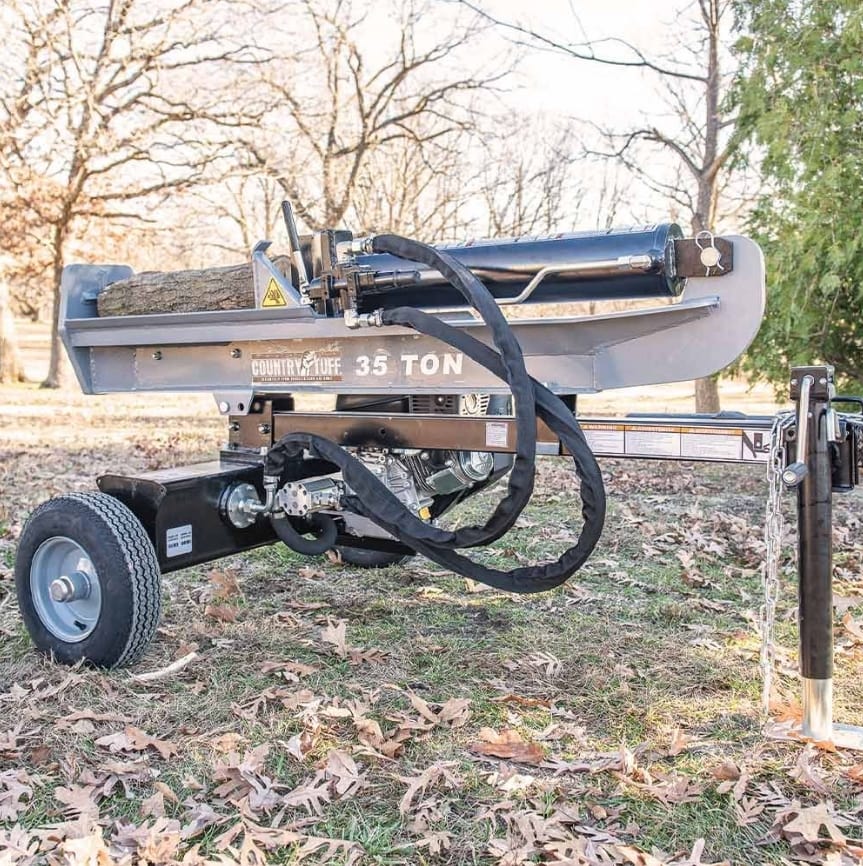 Availability
There are not a lot of 35 ton log splitters available to choose from at the moment. Some splitters featured in this post are brands that have to be purchased at specific regional chain stores. You may be able to find additional options for 35-ton splitters locally. It is also very possible that many out of stock models will become available at some point, however I did not include any splitters that I do not think you can currently purchase.
Good Engine
I tried to make sure that all my picks had engines of reasonable size and if possible, a well-known engine brand. The engine on a log splitter is very important. A 35 ton log splitter is not a cheap machine to buy. You need to know that the engine on your splitter is reliable and easy to start.
My Top Picks
YARDMAX 35-Ton Half Beam Horizontal / Vertical Gas Log Splitter- Easy splitter to get at larger home improvement stores. Yardmax has an excellent reputation for outdoor power tools. It is very easy to get accessories such as a 4 way splitting wedge and a log table for the Yardmax.
OREGON 35 Ton Log Splitter- Tough and reliable Oregon quality all in a 35 ton log splitter with an excellent Briggs & Statton engine for smooth splitting and an easy start on cold mornings.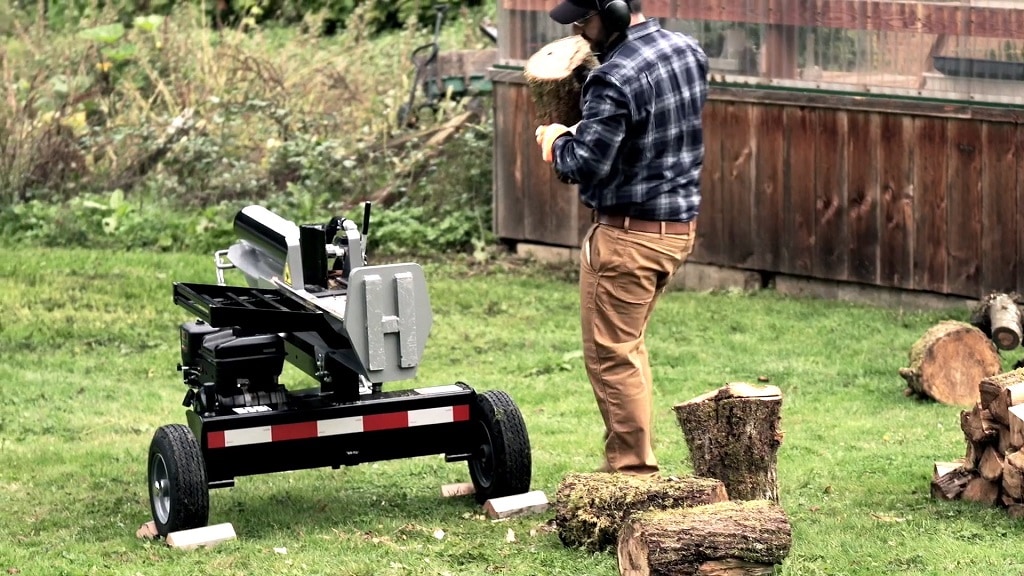 How to Decide if a 35-Ton Log Splitter Is Right for You
When you start getting into log splitters of this size, it is important to ask yourself a few questions to make sure that you are getting a reasonable splitter for your needs.
Do you plan on splitting a lot of firewood each year?
If you just intend on splitting single cord or two of firewood each year, then a splitter of this size is a lot more than what you need so it might be hard to justify the cost and the amount of space it will take up on your property. If you plan on splitting a lot of wood for others or need a lot of wood for your own heating needs year after year, then a powerful splitter may be just what you need to reduce labor and firewood costs.
Do you find yourself struggling with a lot of hard to split wood and larger rounds every year?
If you tend to get firewood in larger rounds or species that tend to have a lot of knots, then a 35 ton log splitter can save a lot of backbreaking work and make it possible to split rounds that you might otherwise consider not splittable.
If you just tend to need to split standard rounds under 20″ in diameter that lack a lot of twisted grain, then a smaller splitter is probably all you need.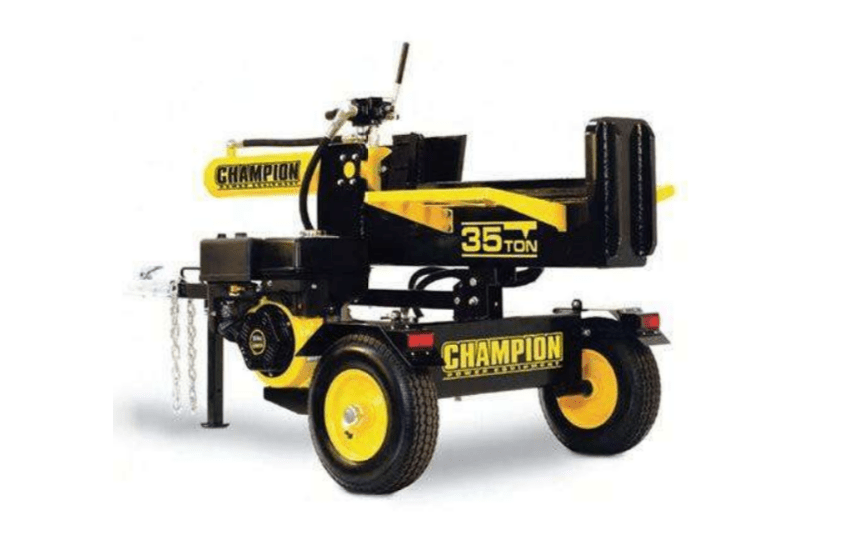 Pros
11 HP, 338 CC Champion Motor
Automatic low oil shut off
7″ Sharpenable splitting wedge
Cons
The Champion 35-ton log splitter is a powerful solution for your firewood splitting needs. You can sharpen the splitting wedge when needed to ensure a smoother split.
It is nice that there is an automatic shutoff if oil levels get low. While good maintenance and checking fluid levels is always the way to go, sometimes it is easy to get busy and forget.
The road approved DOT tires mean you can tow this splitter to practically any site, but you should keep your speed to 45 mph or less.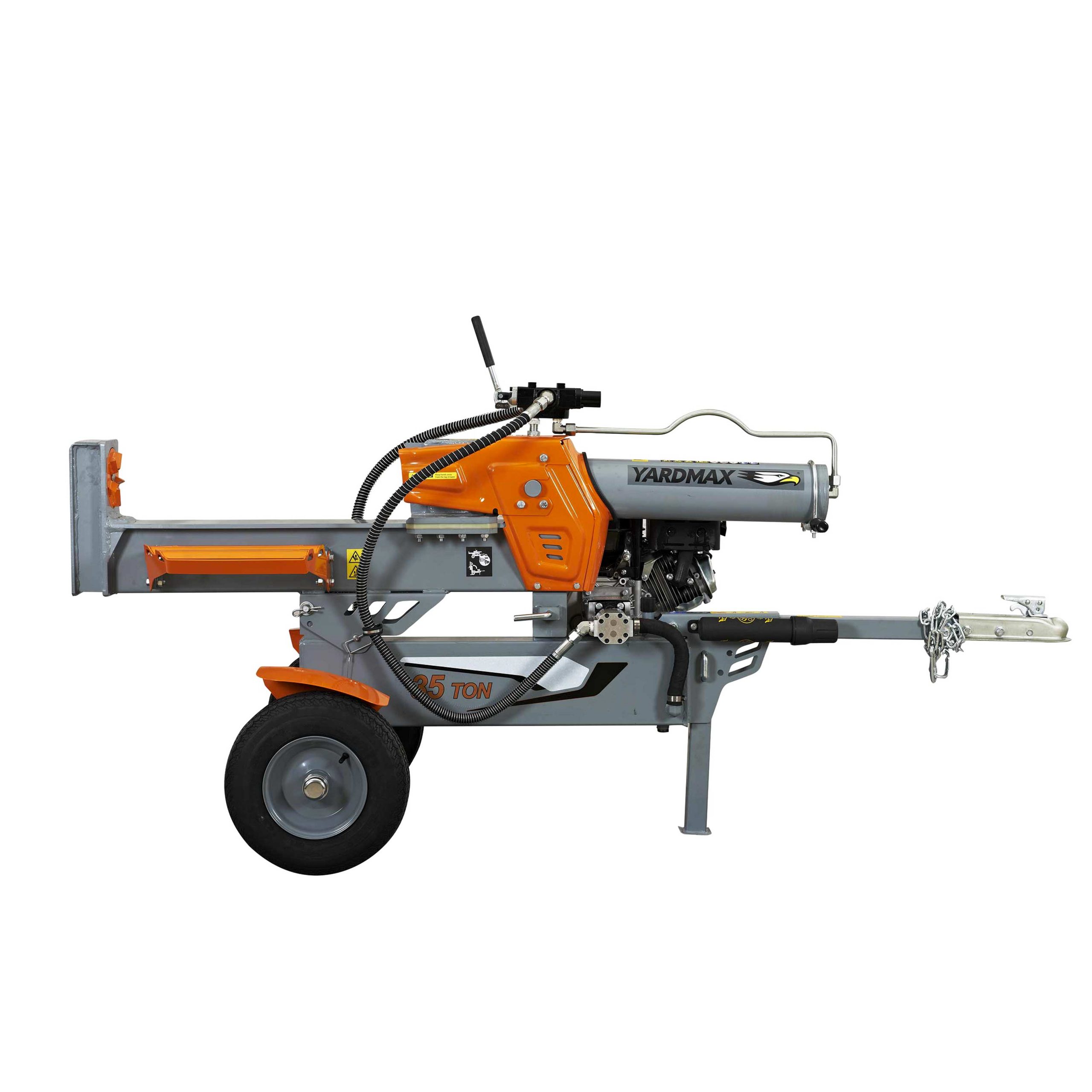 Pros
Well-known and trusted brand
Great price point
306 CC Briggs & Stratton gas engine
Easy to start
Cons
Log table and 4 way splitter wedge must be purchased separately
Yardmax makes some popular log splitters ranging from their small electric homeowner models all the way up to this extremely powerful 35-ton half beam splitter. The 10-12 second cycle time is plenty fast for a splitter in this size range, especially when you consider this splitter comes in at a lower price point than Champion.
The adjustable log cradle keeps logs firmly in place during splitting while the patent pending spinner plate also allows them to spin freely to prevent too much stress on your splitter over time.
This is an excellent splitter for the homeowner or woodlot owner that intends to split a lot of wood over the years and wants plenty of power. The Yardmax is sturdy enough to take on splitting needs for a small side firewood business for additional income from your property.
The DOT approved tires mean you can move this splitter to other sites if you want to take on firewood duty at another property.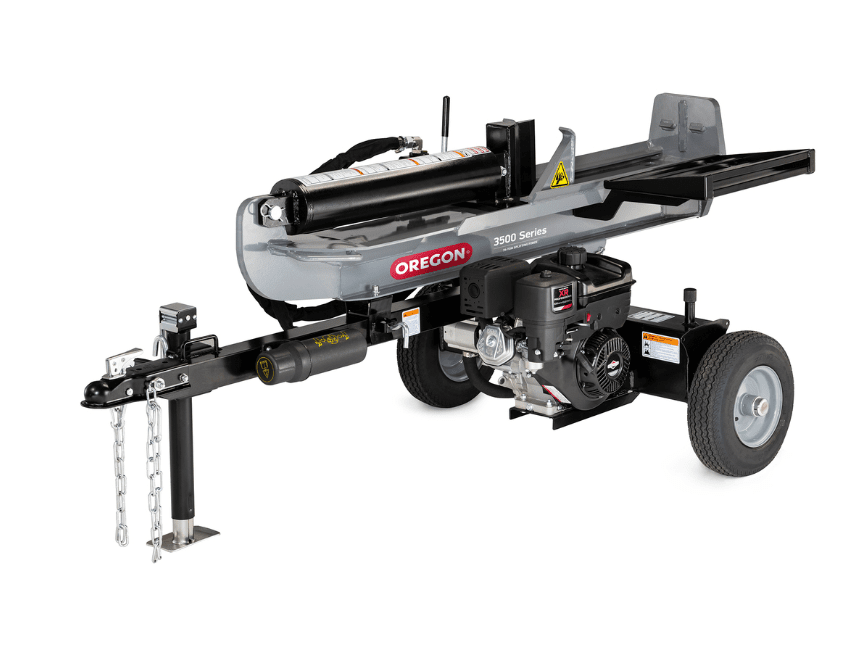 Pros
Well known and reliable outdoor tool brand
Briggs & Stratton XR1450 360 CC Engine
Robotically welded H-beam design for strength and durability
Cons
Only available from authorized Oregon dealers
I really like the Oregon 35-ton log splitter because it features a strong engine, and I have been happy with other Oregon products I have used over the years. This splitter features a 12.7 second cycle time and comes with a log catcher for easier horizontal splitting.
The Oregon splitter features an 8″ knife edge splitting wedge for smooth splitting each and every time.  With a 2 year warranty, you can rest assured that Oregon stands behind their product.
You can purchase the Oregon splitter online at Woodsplitters Direct or at any authorized Oregon dealer.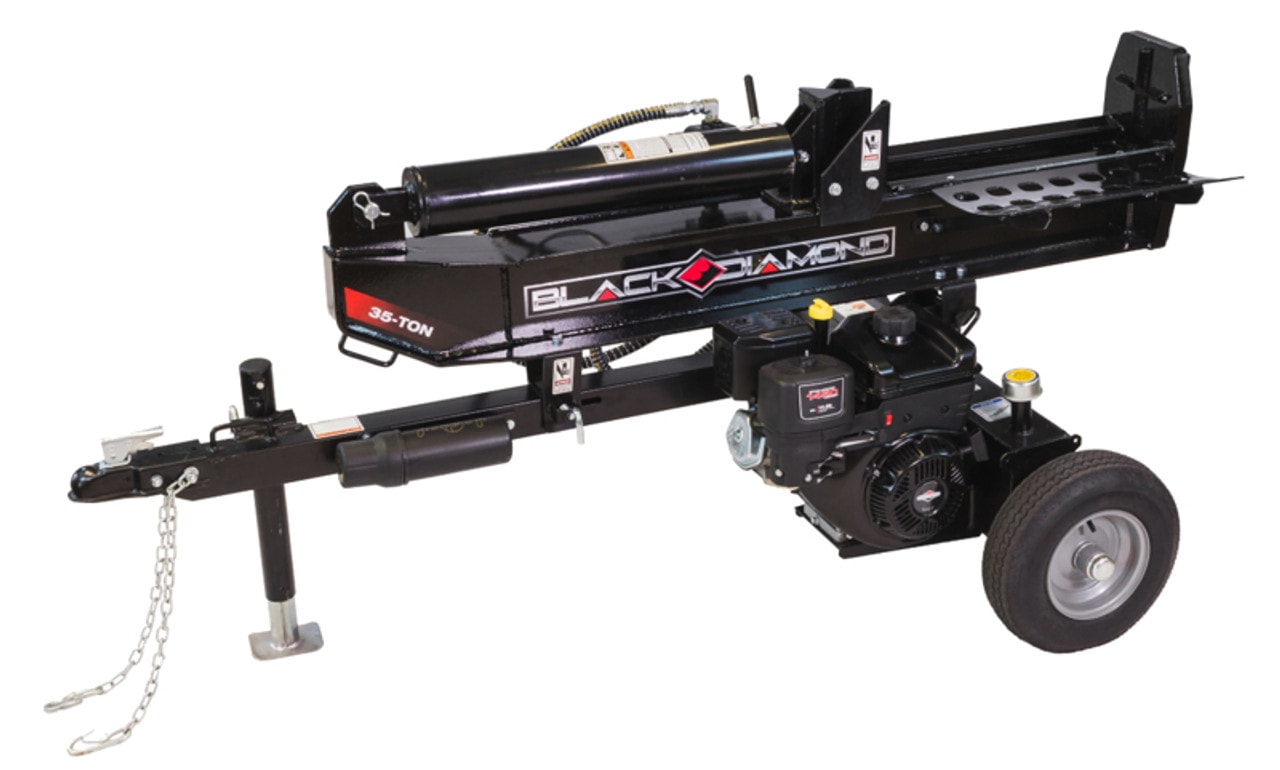 Pros
10 HP Briggs & Stratton 306 CC engine
11.5 second cycle time
Foot plate holds log in place during splitting for safety and smooth splits
Cons
Only available for in store pick up at Big R stores
The Black Diamond log splitter is an economically priced powerful log splitter available at Big R stores. If you have a store in your region, it may be worth it to pay a visit and pick up one of these splitters. For the money, you get an excellent 11.5 second cycle time and a robust 10 HP Briggs & Stratton 306 CC engine.
The 9″ high splitting wedge can take on some big pieces of wood. In fact, this wedge is a full 2″ taller than some of the other splitters in this article.
It appears Big R stores are mostly located in Colorado, with a few in Kansas and New Mexico.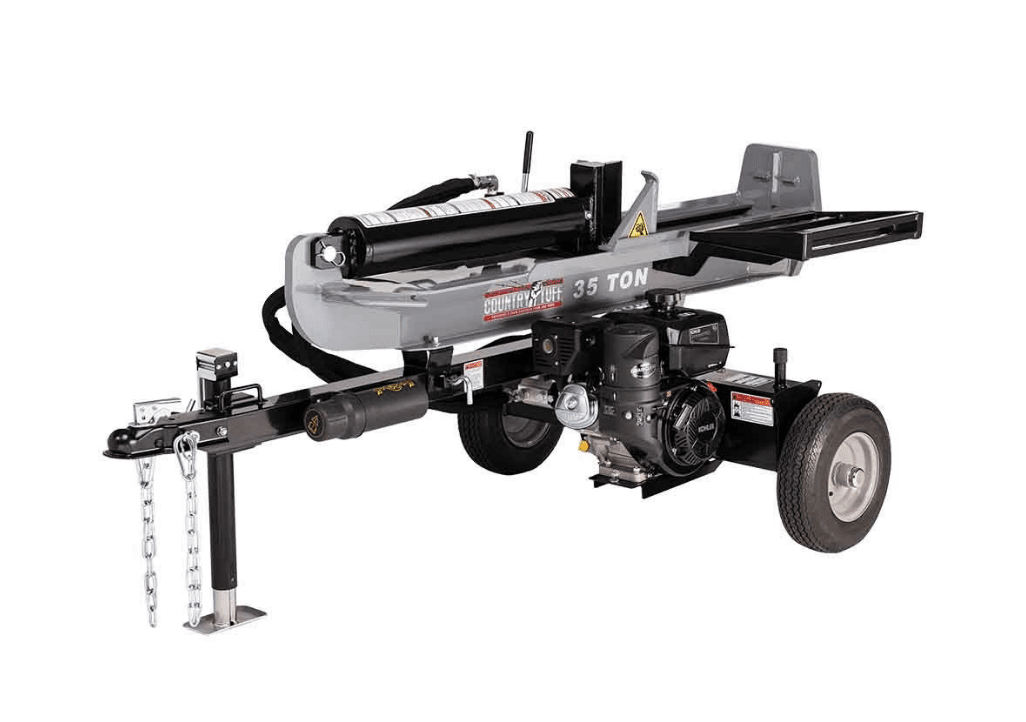 Pros
Command Pro Kohler 9.5 HP engine
12.7 second cycle time
DOT approved tires
Splits horizontally or vertically
Cons
Only available at Orscheln Farm & Home stores
This splitter reminds me a lot of the Oregon 35-ton log splitter, but at a slightly lower cost. Alas, this is another splitter that is only available at a specific store chain. The Country Tuff has a Pro Grade Kohler engine that provides a fast 12.7 second cycle time.  Satisfied customers report splitting 24″ diameter rounds with this machine with no hang-ups at all.
I recommend taking a look at this splitter if you have a Orscheln Farm & Home store near enough to make the drive in a reasonable amount of time.
Tips for Ordering A 35-ton Log Splitter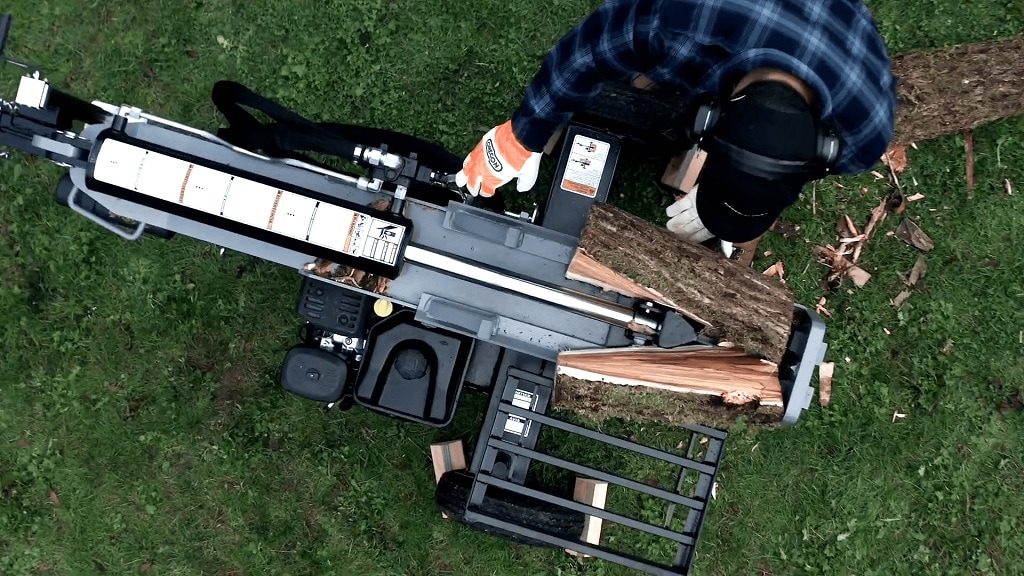 Consider picking up at a retail store when possible.
35-ton wood splitters are bulky and heavy. It is often less expensive to pick your splitter up at a retail location. Even if you have to special order your splitter, having it shipped to a store on their next delivery truck can save as much as $500 in cost.
If your splitter is shipped to your home, always get lift gate service unless you have a loading dock or forklift.
There are plenty of online stores that will ship a 35-ton log splitter to your home or business. Never make the mistake of not choosing the lift gate option for delivery. Yes you will pay $75 or so for this service but it is the only way to safety unload your splitter unless you just happen to have a forklift or loading dock suitable for a large truck.
Make sure the truck can actually make it to your home. If they cannot, meet them at a location where they can unload and turn around easily.
Over the years, we have learned a thing or two about having larger pieces of equipment and even appliances delivered to our home. We live on a road with no tractor trailer access. You would be amazed how even a 700 lb piece of equipment will come on the back of an actual semi, not a box truck. Despite warning trucking companies ahead of time to call us and let us meet them elsewhere, we have had trucks go past the warning signs saying that no tractor trailers are allowed.
Make arrangements to either pick up your splitter at the freight office or meet your delivery driver somewhere that there is a large parking lot like a major grocery store. The last thing you want is a stuck semi tearing up the neighbors' grass. It was not fun.
Best 35 Ton Log Splitters: The Bottom Line
Although there are not that many 35 ton log splitter options currently available, there are still a few great options for those that want a splitter in this size range. The Oregon 35 ton Log Splitter and the Yardmax are both excellent choices for those that want to split a lot of firewood. Yardmax is easy to order to store for pick up at home improvement stores such as Lowes or Home Depot.
FAQs
Question: Why is it so hard to find a 35 ton log splitter compared to other sizes of splitters?
Answer: When it comes to log splitters, 35 tons is a bigger splitter than what a lot of people want or need. Supply and demand come into play and as a result, manufacturers have cut back on log splitters in this size range. You may be able to find some discontinued models as remainders from some retailers or even buy used.
Question: Where can I buy used log splitters?
Answer: Craigslist is an excellent place to look for used log splitters. Of course, there is no guarantee what size of splitter is going to be listed. Farm and garden stores often have notice boards where people post equipment for sale.  Just remember to be careful when buying any used splitters because it can be hard to tell if there are any problems.
If possible, ask to have the unit demoed so you can watch it in action and observe if there are any noticeable problems.. If you intend to tow it, check the tires to make sure they are still road worthy. Even if a splitter appears to be in great shape, dry rotted or under-inflated tires can be a problem. You can always haul a splitter on a trailer and replace tires later if needed.
Question: What do I need to tow a 35-ton log splitter?
Answer: All the splitters that I am aware of take a standard 2″ ball hitch and weigh under 800 lbs so almost any vehicle with a hitch will tow a log splitter. Just remember that you should never exceed 45 mph when towing a splitter. No splitter tires that I am aware of are rated to go faster than that. If you absolutely must haul a splitter on an interstate, you will need a trailer with good tires rated for major highway speeds.
Conclusion
A 35-ton log splitter is a great piece of equipment to have if you have a lot of firewood to split and do not want to be lacking power to take on the truly tough to split pieces that are inevitable if you burn a lot of wood over the years.
At the same time, this is a larger splitter that takes up some storage on your property and costs significantly more than smaller splitters.
Before buying any splitter, it is important to be honest about your actual splitting needs so you can make a good purchasing decision.