Latest posts by Samantha Biggers
(see all)
Splitting wood doesn't have to result in total exhaustion and a sore back. With a log splitter, you can save a lot of time and labor while splitting the wood your family needs for heat. If you are in a forestry-related field such as landscaping or logging, using a log splitter can provide additional income from a job.
If you just like to get outside and want a side business for some extra income, you might want to consider a firewood business. Sometimes landowners have trees that they either want removed or that fall on their property. Split firewood sells for more money than just rounds. A log splitter makes it a lot easier to get top dollar for the firewood you sell.
My husband and I have a small 5-ton electric log splitter, and it does a fantastic job reducing labor. With my father burning wood as a major source of heat and us burning it to reduce energy costs, we need a lot of split wood to get through a winter in the mountains.
My Bottom Line Up Front: For the average homeowner and small woodlot manager I prefer the Earthquake Electric W500 Log Splitter with Stand because it is affordable, small enough to store easily, and has plenty of power.
If you are a forestry professional that needs a powerful splitter for commercial needs, then my pick is the Performance Built 37T Gas Log Splitter. The Performance Built is portable, has a short cycle time for super fast splitting, and it is rugged enough for daily commercial use.
Best Lowe's Log Splitter: How I Chose My Picks
Size
I felt it was important to include different sizes of log splitters to fit different user needs. Most people do not need one of the larger log splitters at Lowes to take care of their firewood needs for the year. On the other hand, someone that works in the logging, landscaping, or firewood industry, needs a larger splitter with a faster splitting time.
Available at Lowes
All the log splitters featured in this article are available at Lowes Home Improvement stores nationwide. That being said, availability can vary from time to time and by location.
lthough the Lowes website is supposed to have up to date inventory, it is my experience that it is best to look at your local store as well. I have just not found the online inventory to always be reliable for all locations on a variety of items over the years.
Portability
Log splitters need to be easy to move for their size. All the smaller splitters I chose have excellent wheels that allow them to be pulled into place or pulled up ramps for loading. Larger splitters have wheels suitable for towing or loading for transport.  The larger splitters that require towing all use a standard hitch.
Related Reads:
My Top Picks
Advantages of Buying a Log Splitter at Lowes
Easy pick up from store
Lowes offers a 10% discount for veterans and those in the armed forces if you show your valid military ID or sign up for their military discount program and order online.
Simple to return if there are immediate problems
Optional extended no questions asked warranty programs for an additional fee
Disadvantages of Buying a Log Splitter at Lowes
Limited selection of brands and sizes
Availability can vary a lot from store to store
Overall, Lowes is a great place to buy a log splitter. I like the option of purchasing extended warranty protection when I am buying a serious piece of equipment like a log splitter. If you are buying a log splitter that is on the lower end of the price spectrum, I highly recommend getting a 1-3 year plan. I remember when my husband and I bought an auger at Lowes that cost less than all the others. For $20, we got the extended protection plan, and we are sure glad we did.
It was a lot easier to get a full refund. Basically, if you buy a plan, the equipment cost is refunded in full if your splitter stops working or if anything goes wrong that makes it unsafe to use. You can also just exchange it for a new splitter and keep on working.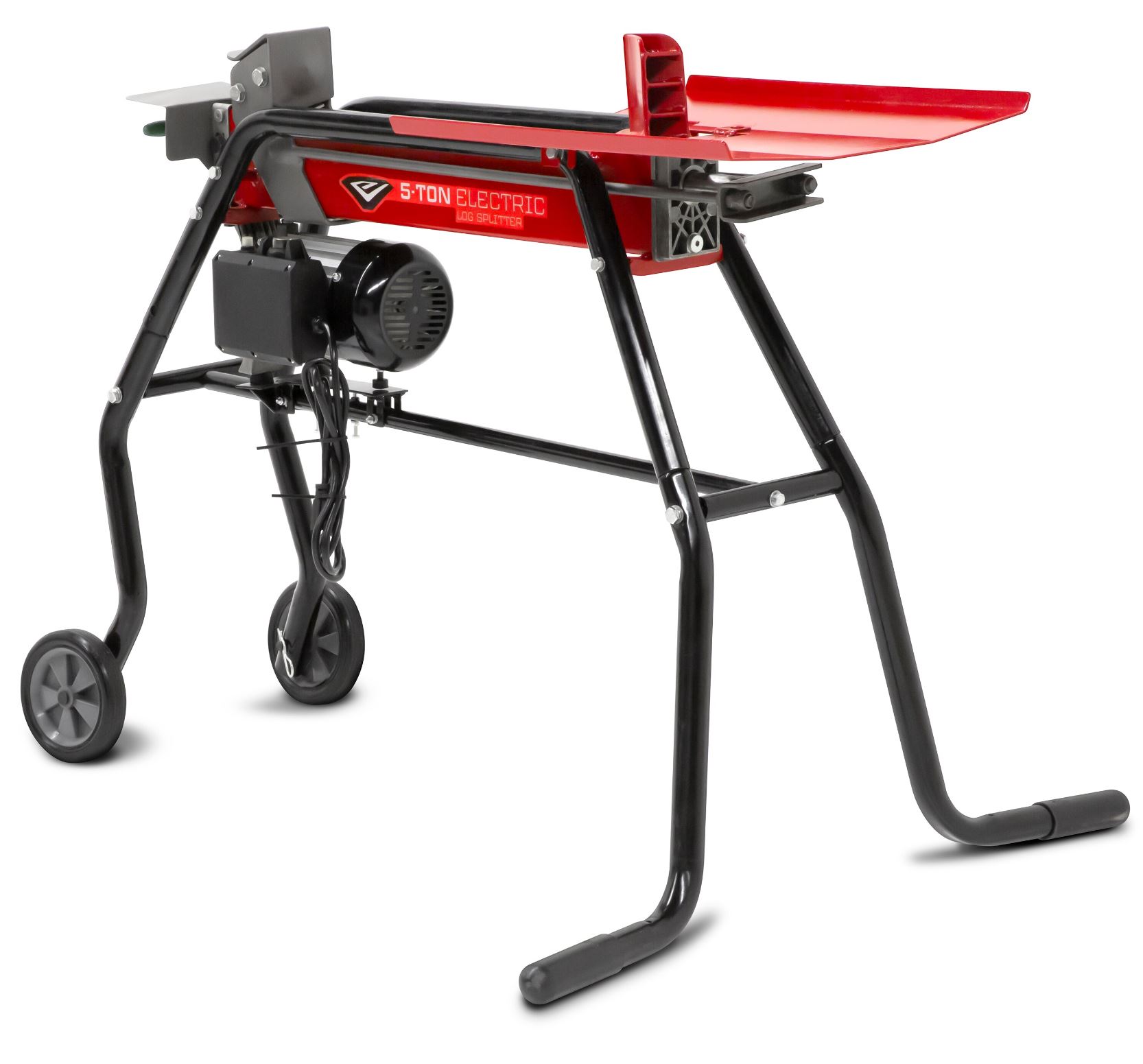 Pros
Operates on a standard 15 amp household outlet or extension cord
Affordable
Stores in a small space
Outstanding 5-year warranty
No fumes mean you can use it indoors
Cons
5 tons is enough power for basic homeowners and small woodlot owners, but others may feel this unit lacks power.
A small electric log splitter is often all that the average person needs to split all the firewood they need to get through, even a brutal winter. Plenty of people use small splitters like the Earthquake to split their own wood and then loan it to friends and family. The Earthquake is capable of blasting through a huge stack of wood in just a fraction of the time it would take to split it by hand.
The small size means you can store the Earthquake in the corner of a small shed or your garage. I like that this splitter includes the stand and log tray. If you have a log tray, then the split wood doesn't just fall to the ground, where you have to bend down and pick it up again.
Pros
Powerful 10-ton splitting action
No gasoline purchase required
Can be used indoors since there are no fumes
Wheels and stand included
Cons
Requires a 20 amp plug-in rather than the more common 15 amp
This is one of the most powerful electric log splitters you can buy. The Boss has twice the splitting force of the smaller electric log splitters available at Lowes. One of the more important aspects to keep in mind when buying an electric splitter with this much power is that you cannot just plug it into any old household outlet. In most homes or garages, there is usually at least one 20 amp outlet/circuit installed so you can run higher power consumption appliances. If you, for some reason, do not have a 20 amp outlet, then you will have to get an electrician to install one or learn how to do it yourself.
Remember that you also have to use extension cords capable of handling 20 amps as well.
The Boss features a fast 13-second cycle time thanks to the 2.5 HP, 115V, 60 HZ, 3400 RPM motor. The wheels make this splitter easy to move and store. The Boss will split logs up to 20.5 inches in length. There is no information on how big of a diameter of log you can put on the Boss, but most electric log splitters say 10″.
I would say that you could go a bit bigger than that because this splitter has hydraulics that are exerting double the force of the electric splitters that are limited to 10″ diameter rounds. Of course, you may not want to lift or slide anything bigger than that onto the splitter because that can be a lot of weight for one person to handle.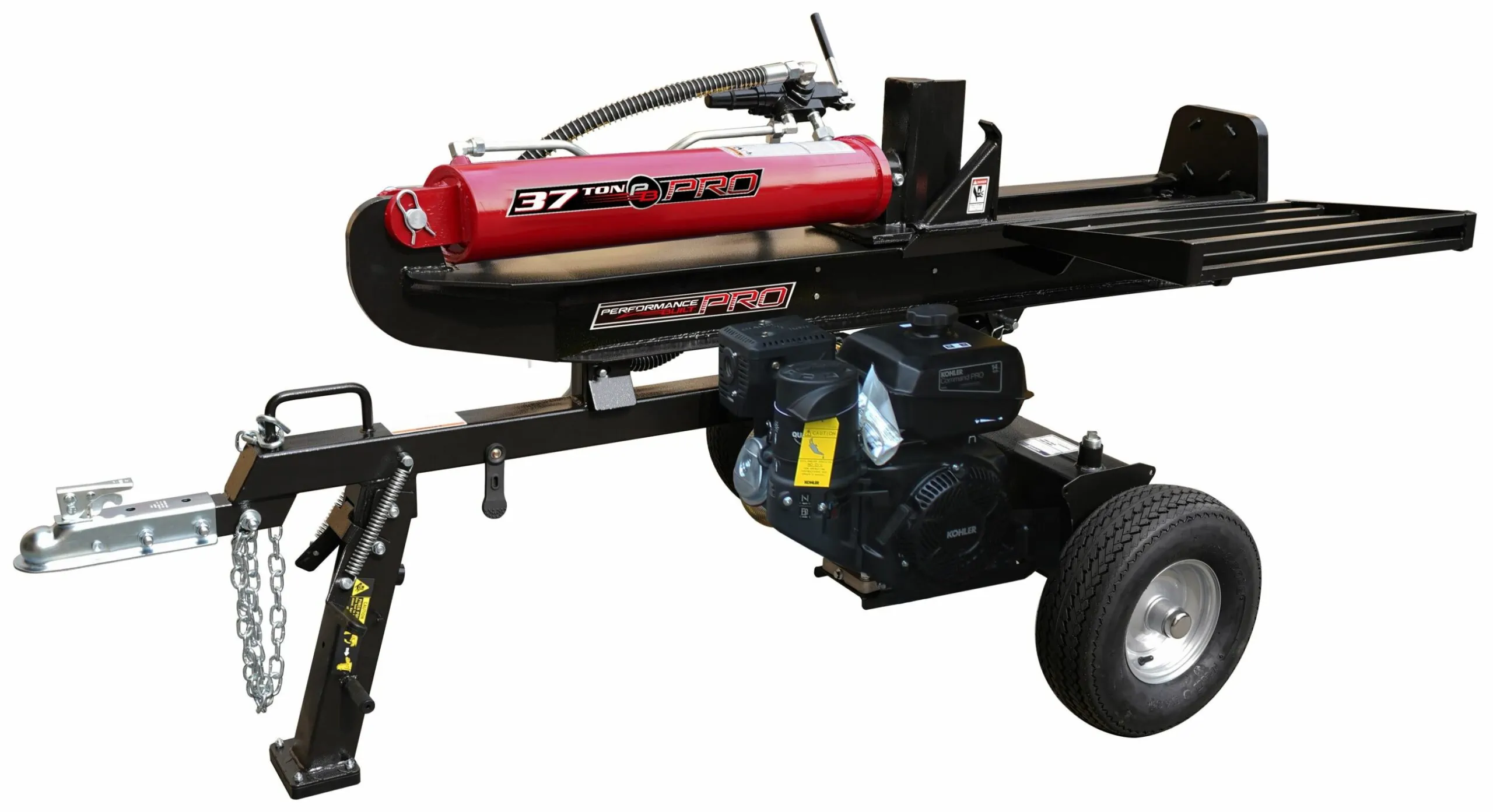 Pros

Kohler 429 cc engine
Splits firewood in a horizontal or vertical position
Built with a heavy duty full beam design
11-second cycle time allows for fast splitting of a big stack of wood
Automatic cylinder return
Log cradle catches your split wood with ease
Cons
Pull start may be hard for some people to use
If you are looking for a very powerful gasoline log splitter at Lowes, then look no further than the Performance Built 37T. With 37 tons of hydraulic power, this beast can split through some tough and twisty wood rounds. The Kohler gas engine has a pull start and has an 11-second cycle time for fast splitting.
This is a big splitter that is suitable for those that plan on splitting a lot of wood for others. If you are just looking for something for your family to use, then this is way more splitter than you need. However, if you are a professional that plans on splitting a lot of wood throughout the year, then this splitter has all the power you need.
Pros
Affordable
Stand and log catcher included
Runs off a common 15 amp electric outlet
Can be used with 15 amp extension cord
Cons
Lacks the power of larger log splitters
The Yardmax is a popular small electric log splitter for a lot of reasons. It is affordable, costing less than the cost of a large load of delivered wood in many areas. The stand and log catcher are included so you don't have to spend extra money on them later after realizing they would be nice to have.
I recommend the Yardmax for those that are on a budget but still want a nice little log splitter to take care of their family's heating needs this winter.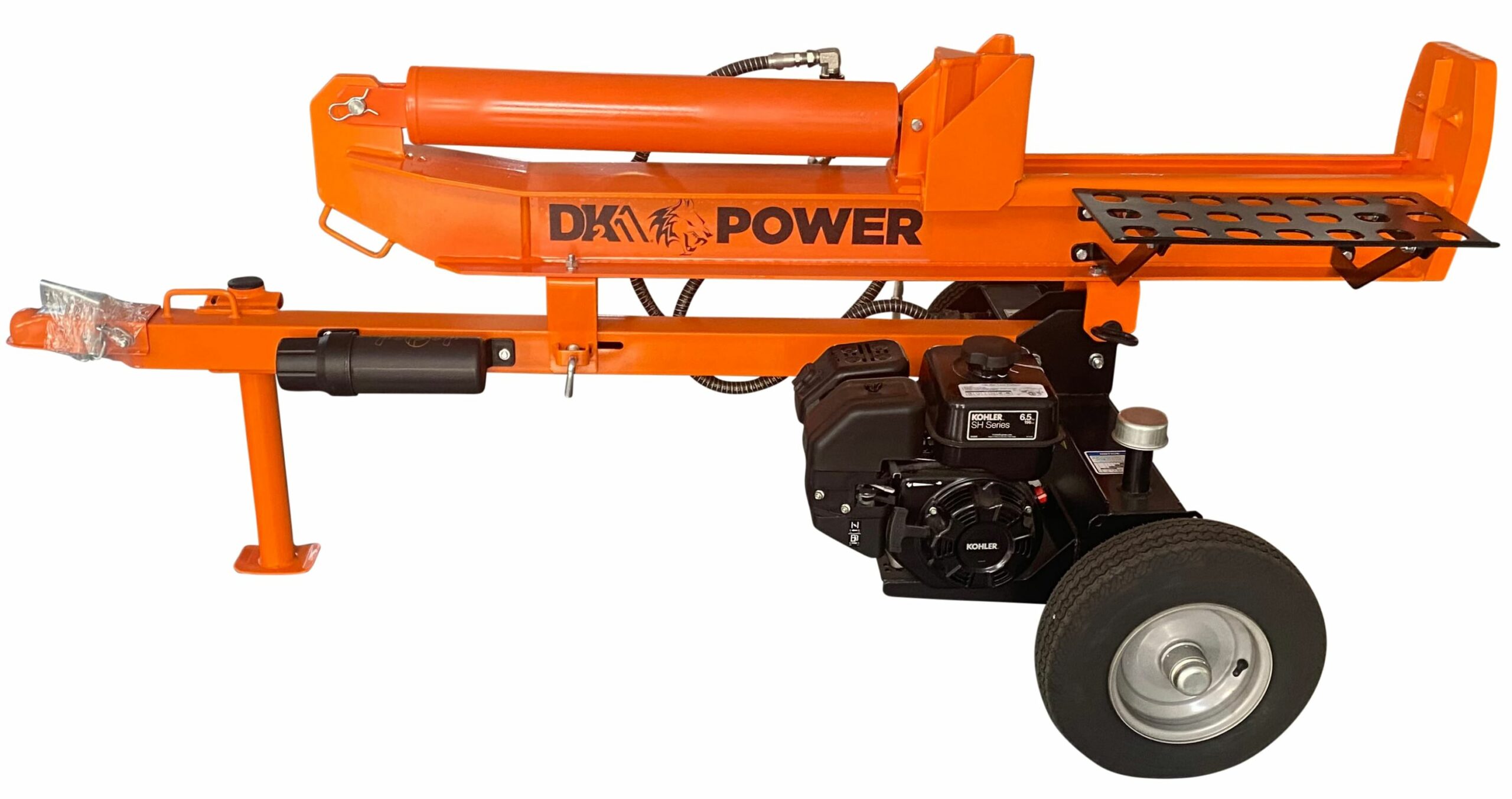 Pros
At 27 tons of force, this is a very powerful log splitter
Kohler 2000 Series RH 265 6.5 HP 196 cc Engine
2-year warranty on engine
Splits horizontally or vertically
Accepts very large pieces of wood
Cons
Tires are not for highway use
16-17 second cycle time
The DK2 is a powerful log splitter that is useful for the really hard to split wood in your life. In fact, this splitter will split logs up to 25.5″ inches in length and a whopping 19.5″ in diameter! This capacity is a far cry from the 10″ max diameter and 20.5″ length of the smaller electric wood splitters.
The downsides of this splitter is that the cycle time is long. This is understandable, considering that the splitter will take lengths that are considerably larger than other splitters.
While the tires are robust, they are not for highway usage. This means while you can tow the DK around a property with ease, you have to load it on a trailer to transport on the open road.
Log Splitter Usage Tips
Always keep oil and hydraulic fluids at their proper levels.
If your splitter has been in storage, make sure to check before you start your splitter for the first time in a firewood season.
Keep a splitting maul and wedges on hand.
You may need to split some rounds by hand so they are small enough to be lifted onto your splitter. Even the largest log splitters have limitations on the size of round they can accept. A good splitting maul and a few wedges are essential tools when splitting firewood, no matter what type of wood splitter you have on hand. Also, remember that you can use a chainsaw to get rounds down to a more reasonable size if splitting by hand is not working out for you or the rounds are simply enormous.
Consider buying a 4-way splitting wedge for your log splitter.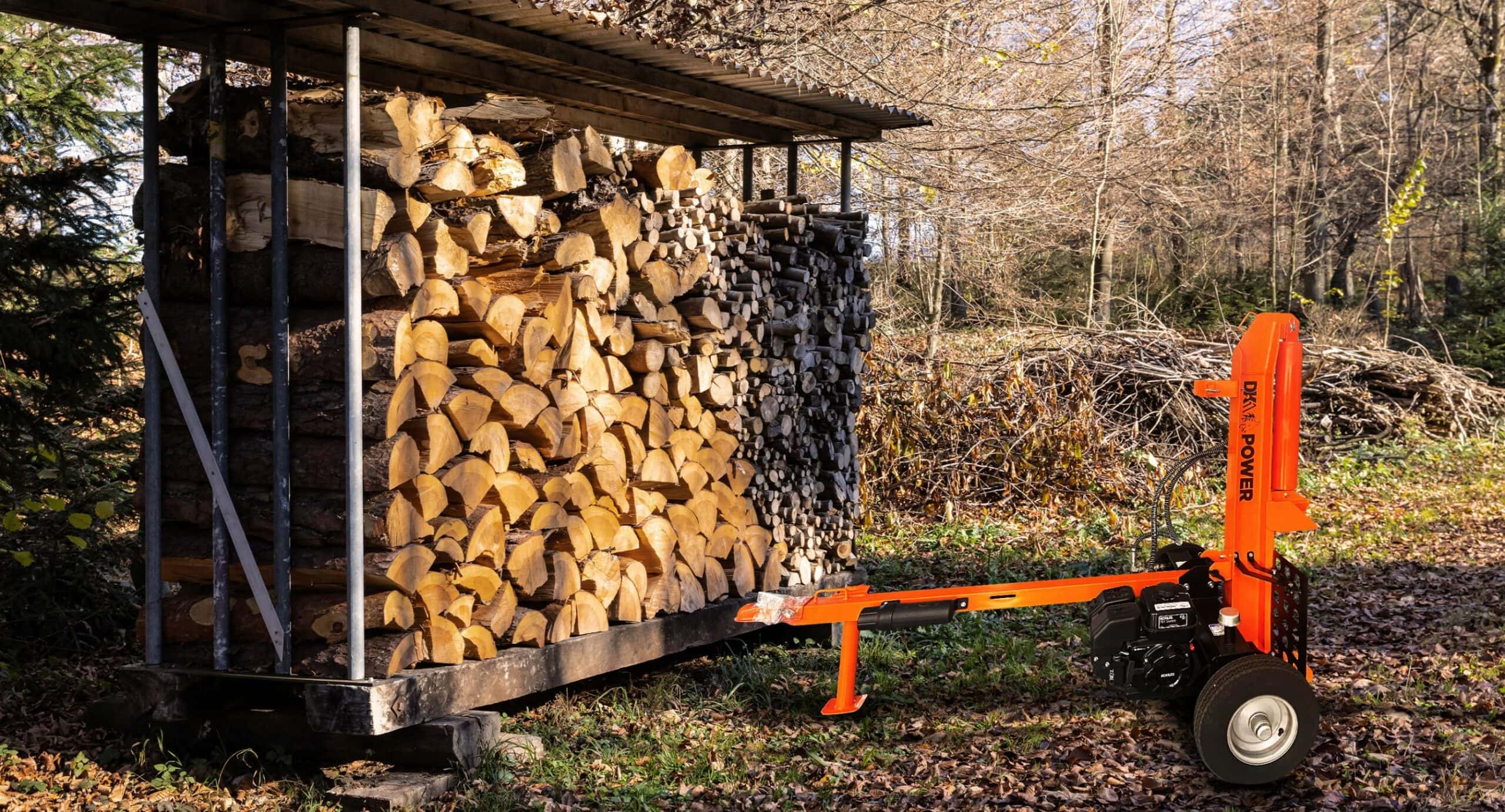 Some log splitters have optional 4-way splitting wedges that you can easily slip on and off depending on your splitting needs. These types of wedges are sold separately from your splitter. Unless a wedge says that it is designed for your model of splitter, do not assume it will fit.
We have a 4-way splitting wedge for our small Boss electric log splitter, and it works great at reducing splitting time. It easily splits rounds into four ready-to-burn pieces of wood rather than two that have to be cycled through again. It was well worth the extra $65 to reduce splitting and handling time that much.
Practice good safety measures.
Log splitters exert a lot of force and have quite a few moving parts. It is important to follow these rules for safety.
Keep all pets and children out of the way. There is always the possibility that a piece of wood or a large splinter leaves the splitter at high speed.
Wear a good pair of safety glasses. To avoid splinters, a pair of close-fitting leather gloves is recommended.
Pull hair back in a ponytail or bun. Avoid wearing any dangling jewelry.
Know when to give up on a piece of twisted wood.
It is easy to get super determined to split a piece of wood. I remember when I had to work with others splitting firewood with a maul and wedges back in my college days that it became almost a competition. Well, we were young and competitive, and it was a huge waste of time. It is important to know when a piece of wood is not worth the effort. Maybe it will be a great piece for a bonfire later or something.
My point is to not waste valuable time and, in the end, money on some rounds. There are species of wood in particular that are notorious for being hard to split. Black Gum is one species that if we find on our property, we make a point to cut down when the tree is small enough that we can just saw up the rounds into pieces that can be burned. It is simply too hard to split to make it worth our time.
Best Lowes Log Splitter Options: The Bottom Line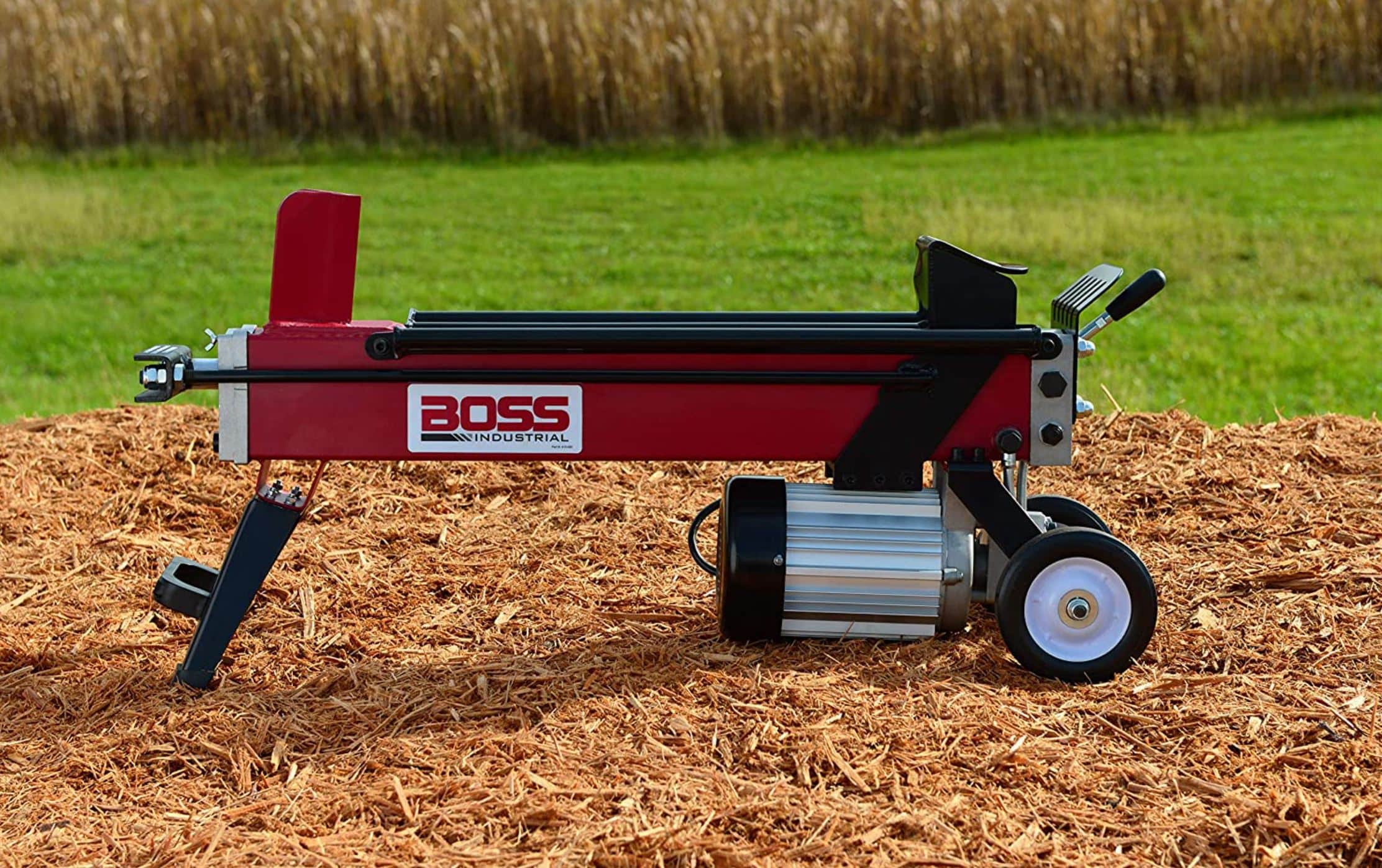 With the wide range of sizes of log splitter available at Lowes, it may seem like a hard decision when deciding which one to buy. I recommend making a choice based on your usage needs. A small electric log splitter makes the most sense for the average homeowner that just doesn't want to have to do all the backbreaking work of splitting wood throughout the winter. Smaller splitters are also perfectly capable of helping out a friend or neighbor too.
Large log splitters should only be purchased by those that plan on using a log splitter as part of a business. I could see purchasing a large splitter if you had a lot of property being logged and wanted to process all the logs unsuitable for a sawmill into firewood to sell to the general public. Larger splitters take up a lot of storage space in a barn or garage. Covering them up for storage is possible, but you still have to have a space to park a large splitter. On top of that, larger splitters cannot be moved by hand.
FAQs
Question: How can I find the best deal on a log splitter at Lowes?
Answer: There are some ways to get a discount on a log splitter. For example, you may qualify for the military or veterans discount program that can shave 10% off the purchase price. Lowes sometimes has sales on log splitters seasonally. Paying attention to sales flyers and online pricing is a good way to find the best deal. If you have a Lowes credit card, you can save 5% and/or qualify for special financing plans.
Question: Where can I get a log splitter repaired?
Answer: Log splitter repairs can be done by a small machine shop or a welder depending on the type of problem. Generally speaking, as long as a log splitter is well maintained, it is rare for there to be any serious problems until they are really old. Electric motors, in particular, are really tough and long-lasting.
Question: Do Lowes log splitters come with oil or hydraulic fluid?
Answer: All the Lowes log splitters researched seem to come with all the fluids needed to get started except for gasoline. That does not mean that there might not be an exception to this. Always check descriptions to see if you need to buy oil or hydraulic fluid before getting started.
Conclusion
Lowes is a great place to buy a wide range of log splitters. No matter if you are a professional or just a homeowner that splits a lot of their own firewood, there is a log splitter at Lowes that meets your needs.
Log splitters are a great way to save time and money while heating your home. Another thing that is important to keep in mind when deciding if you should spend your money on a splitter is that they have good resell value.
If you decide that you do not want to heat with wood or you finish up a big land clearing and firewood project, you can always sell your log splitter and get back a substantial portion of the purchase price.