Latest posts by Samantha Biggers
(see all)
I have split a lot of firewood over the years, and most of it has unfortunately been done using nothing more than a splitting maul and a few log-splitting wedges. While, at times, the work was exhilarating and enjoyable, I am a bit older now, and I have a family that requires more of my time.
A lot of the firewood splitting duties fell to my husband, who, as you can imagine, is already super busy. The solution for us has been a log splitter. Using a log splitter allows us to realistically split wood for not only our household but my disabled father as well.
Working on forestry crews over the years also highlighted the importance of working smart but no harder than is needed to do a task. No matter your age or physical ability, there is only so much you can do in a day. Now, finding the best 37 ton log splitter will make it possible to get more out of any crew without making them so exhausted that the next day is a struggle.
If you plan on splitting your firewood every year, you need a log splitter to save on labor and physical exertion over the years.
Owning a log splitter can save a lot of time and reduce the wear and tear you put on your body. Let's face it, as you get older; it gets harder to do physical tasks. A log splitter can allow you the independence of splitting your firewood for much longer than if you had to do it all by hand using a splitting maul and wedge.
Even if you are in your physical prime, a log splitter, at the very least, means you have more time to do other things, like finding a little more time to relax or spending time with family.
Owners of wooded properties can make some extra income off firewood or harvest enough to heat their homes.
When you own a wooded property, keeping a log splitter on hand can make a lot of sense. Even if you don't cut down many trees yourself, there is typically plenty of windfall wood each year. Also, consider the number of storms you get per year. Trees falling during storms can be bothersome if you don't have a way to process the wood. Even if you sell firewood to others, having a log splitter may still be worth it.
Are you involved in a forestry-related profession like logging, landscaping, tree services, etc.? If so, a 37-ton log splitter can help you make more money.
While a 37-ton log splitter is not the biggest splitter, it is still powerful enough for professional use. If you are in a business where you may be offered free logs or even paid to dispose of them, then a log splitter can add quite a bit to your take-home pay for a job. The ability to sell split cords of firewood as a byproduct while offering your customers a better service is invaluable. You can quickly recoup the purchase price of a log splitter.
A 37-ton log splitter can save you a lot of money if there is a significant difference in the cost of split and unsplit wood in your area.
There is a good chance that you can purchase unsplit firewood for significantly less money and then split it yourself using your 37-ton log splitter. The savings can add up fast if you burn a lot of firewood yearly. Having the ability to split your wood also means you can scour sites like Craigslist for free or inexpensive logs and save even more money.
Plenty of people find they have a pile of wood taking up space on their property and want it removed. That can mean cheap firewood and heat for your family in the coming year.
My Bottom Line Up Front: Purchasing a 37-ton log splitter will ensure you have plenty of power to split any wood species. For homeowners or professionals on a budget, I recommend the NorthStar Horizontal/Vertical Log Splitter — 37-Ton, 277cc Kohler CH395 Engine.
For professionals, the Ruggedsplit 37-Ton Raven Log Splitter offers a log lift and the ability to split logs with a diameter of up to 24″. The log lift saves a lot of lifting so that pros can get more done. I recommend that professional tree crews, loggers, and landscapers strongly consider the Ruggedsplit.
Interesting Read: How to Properly Use a Log Splitter?
How I Chose My Top Picks
Availability and Delivery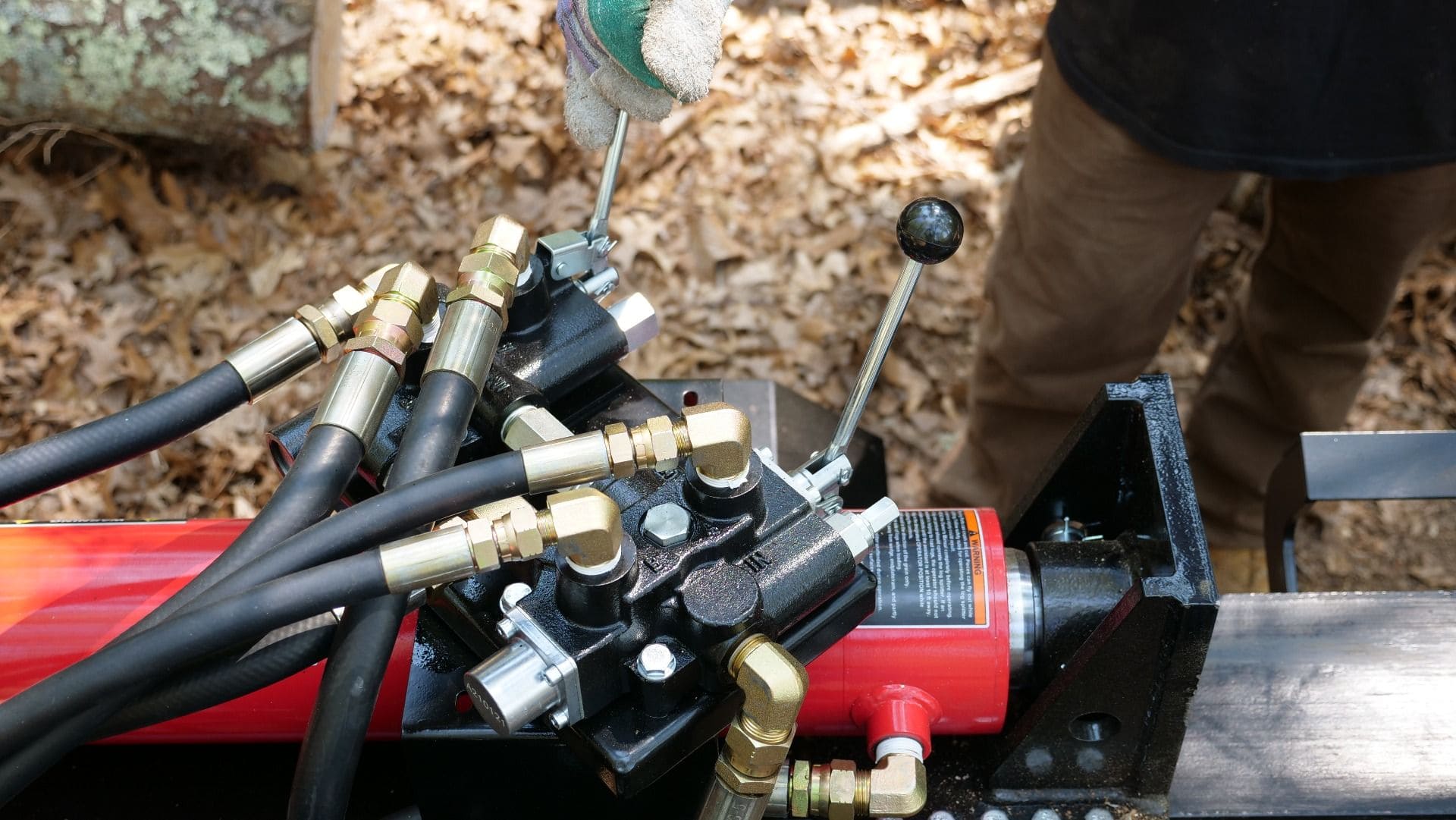 With supply chain issues popping up so often, I picked log spliters that I know have good availability. In addition, I picked splitters that could be picked up in-store or delivered to your home for a meager fee.
Value
Any heavy-duty machine is quite an investment. I have picked splitters in a wide price range to suit homeowner and professional needs. Regardless of the final cost, all of my picks are excellent value for the features they offer.
A High-Quality Engine
There are a lot of splitters and other machines that have off-brand engines that, to be honest, are hard to trust. However, my picks all have very high-quality engines that come standard on each unit. In most cases, these are the Honda GX series or Kohler.
A Reasonable Warranty
Good customer service and a warranty of at least a year should be standard with any large equipment purchase. All log splitters in this article have at least a one-year warranty and have a customer service line that is easy to access.
Read also – How to Find the Best:
My Top Picks
NorthStar Horizontal/Vertical Log Splitter — 37-Ton, 277cc Kohler CH395 Engine– The NorthStar log splitter is an excellent pick for homeowners and professionals who want a powerful log splitter with a commercial-grade engine and the best warranty available on any log splitter.
Iron & Oak 37-Ton Log Splitter– Iron & Oak splitters are made to last with only the best materials. I chose this splitter because it is robust and has a top-of-the-line Honda GX270 engine that I know will stand the test of time.
Ruggedsplit 37-Ton Raven Log Splitter–

For the professional or homeowner that doesn't want to lift logs by hand, the Ruggedsplit is an excellent choice. The included log lift, the ability to accept logs up to 30″ in length and 24″ in diameter, and a superb log cradle are all time and labor savers that will add value to any job.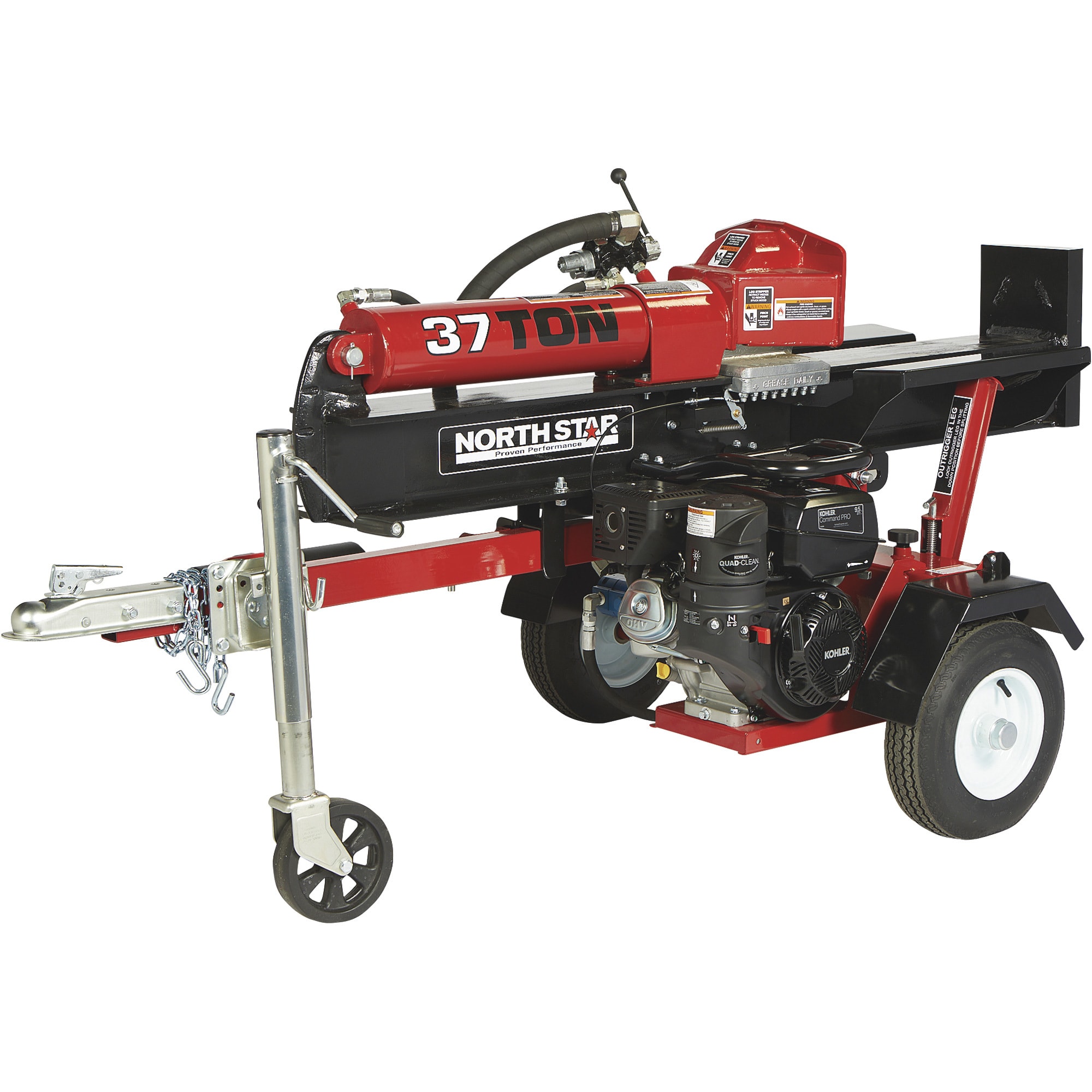 Pros
Well known brand
Easy to pick up at Northern Tool Stores
Kohler CH395 Commercial Engine
Can be shipped to home for free plus a small liftgate fee
Excellent 4-year warranty
Cons
Some customers find the assembly time to be too long and cumbersome.
Northern Tool makes a lot of great equipment under their North Star brand name. This log splitter is a fantastic deal for those that want a powerful splitter. At the time of writing, this splitter is available for around $2,400. I am impressed with how long the warranty period is for this splitter. If you have looked at other splitters in this size range, the typical warranty is just 1-2 years. Northern Tool stands behind their products. It is easy to get help from your local store if there are any issues with your splitter.
The North Star 37-ton log splitter boasts an American-made Concentric pump and Brand valve and will split logs up to 16″ in diameter and 25″ in length in the horizontal position.
An engine guard protects the motor from damage on worksites, such as falling logs.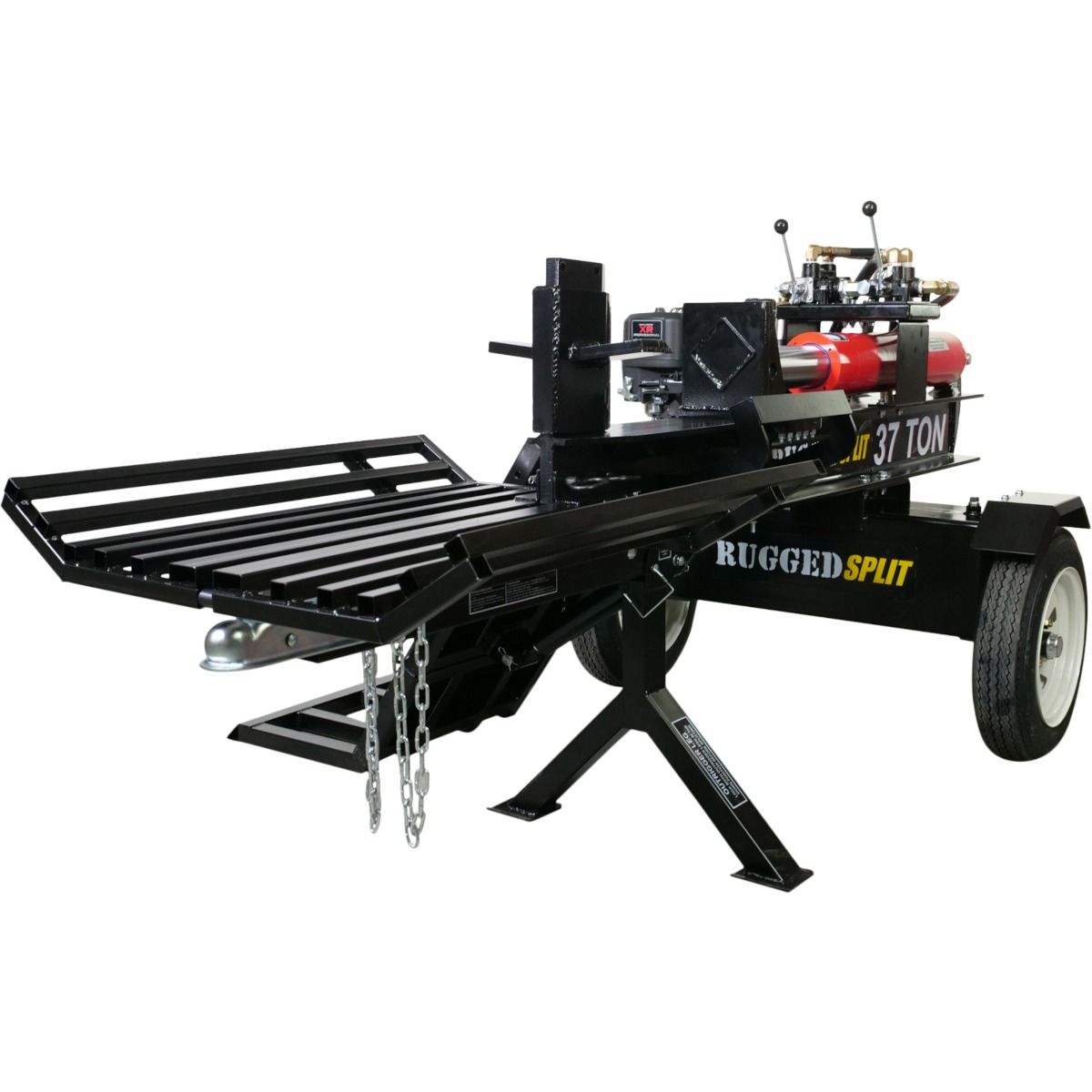 Pros
Log lift
Slightly faster cycle time than other 37-ton log splitters
Large log catcher eliminates dropped split logs
Will split logs up to 24″ diameter and 30″ long
4-way splitting wedge available
Cons
40 mph tow speed is lower than other log splitters
The Ruggedsplit is an exceptionally well-designed and sturdy log splitter suitable for professional use. The log lift is a feature that even some tiny woodlot owners might feel justifies the extra cost. I am impressed with how large of a log this splitter can take on. 24″ diameter is a big piece of wood! The log lift is rated to lift to 300 lbs.
When you order this splitter from Rugged, they offer you the option of placing controls in different positions so you can choose where you are most comfortable. Many people choose to have the controls on the very top of the splitter so they can stand to the side.
The one disadvantage of this splitter is that the tires are only rated to be towed at a maximum of 40 mph, making it cumbersome to move on most major highways. Therefore, a small trailer for hauling on roads is recommended.
Pros
Honda GX270 Motor
4-Stage Filtration System for Extended Working Life
High quality at an excellent price
It can be delivered to your home for just a $50 lift gate fee
Cons
The Brave Pro 37-ton log splitter is an outstanding bargain for a log splitter with a Honda GX engine. A 14-second cycle time with auto-return is about what you have to expect for a splitter in this size range. I want to point out that this is the same cycle time as machines that cost twice as much. As far as I can tell, you will probably need to order this splitter to be delivered to your home. I could not find any stores that just had this splitter in stock and ready to take home.
While the 7″ splitting wedge is smaller than some splitters in the 37-ton range offer, operators report that this splitter can take on just about anything. Only a few seem concerned that the wedge is smaller than some. I have to say that it pays to remember that many people try to push the limits of what a splitter is designed to do. No splitter can take on anything.
I recommend this splitter to those that need to split a lot of wood year after year and want the reliability of a Honda GX engine-powered splitter. Features like a log dislodger that eliminates most stuck logs make this an extremely user-friendly splitter to own.
Pros
Honda GX270 engine with a 2-year warranty
Professional grade log splitter
Tires can be used at up to 55 mph on a paved road
12-14 second cycle time
Cons
Expensive at around $5,000
I am a big fan of the quality of Iron & Oak log splitters. Unfortunately, the high quality means you can expect to pay substantially more for any Iron & Oak splitter. One feature that sets them apart is that they always use high-quality Honda GX series engines to power their splitters. On our farm, we have a lot of experience with this particular type of Honda engine, and we have found them very reliable and easy to work on if a repair needs to be made.
Iron & Oak provides better tires on their splitters than I am used to seeing. This is one of the few splitters with tires rated for traveling on a highway with a speed limit of 55 mph. This is nice because it makes it much easier to move this splitter without using a trailer.
This splitter is rugged enough for professional use.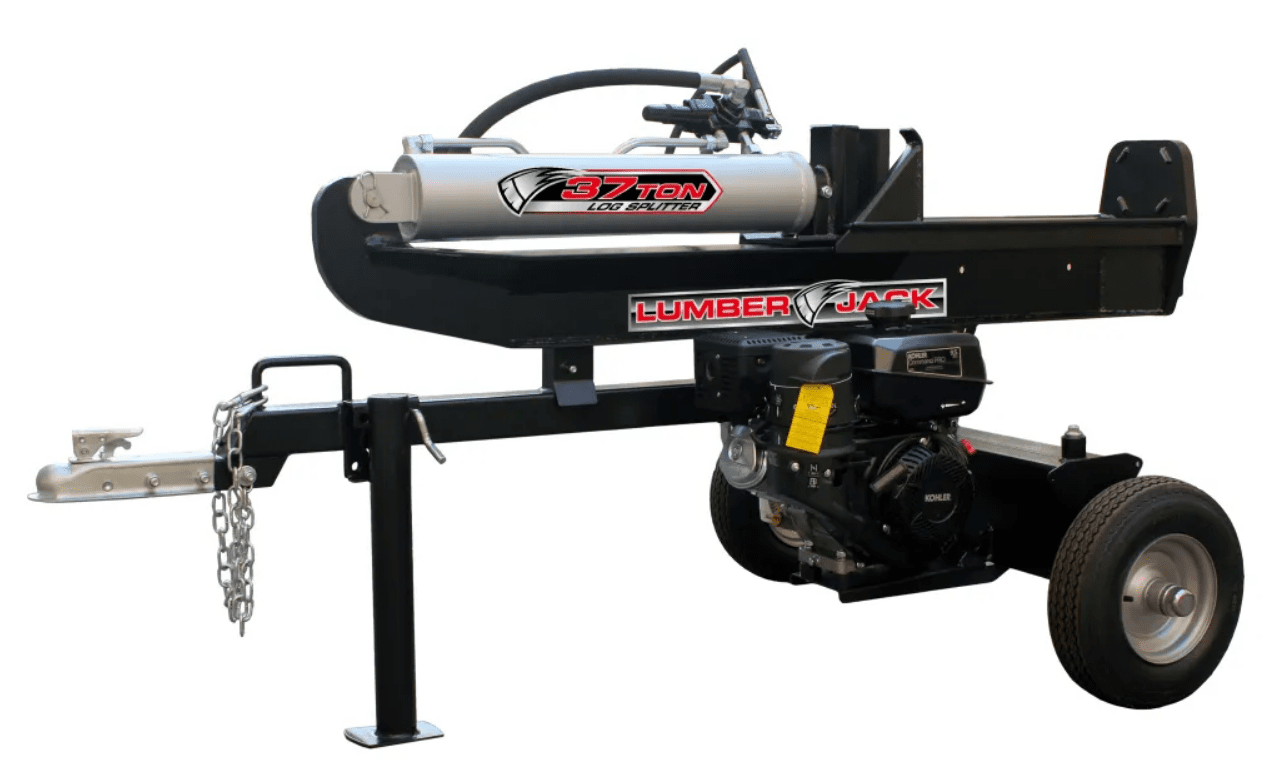 Pros
Built-in log cradle and catcher
Splits logs up to 26″ in length
Cons
Lumber Jack makes a variety of splitters in different sizes. Their 37-ton log splitter packs a lot of power for splitting the hardest-to-split rounds you can put in it. The cycle time is a bit slower than some log splitters, but you will not notice it unless you split insane amounts of firewood.
This splitter is powered by a 277cc Kohler engine and splits with an 8″ hardened steel wedge. You get a one-year warranty with this splitter, but they will not replace anything if it is evident that you have used it irresponsibly and not maintained it. OneSo  year is just an ok warranty, not great.
Lumber Jack products can be found at a low of retailers nationwide, including Lowes, True Value, and Tractor Supply. The selection of larger equipment varies by store, but you can likely special order this splitter and have it delivered to a local store.
Best 37-Ton Log Splitter: The Bottom Line
The truth is that any log splitter featured in this article will perform well for anyone that wants to split all of their firewood and possibly some wood for others. However, there are a few splitters that are more expensive, such as the Ruggedsplit, that have features such as a log lifter that are desirable for professional use. To decide which one is best for you, it is imperative to look at the price and see if you can justify the cost of a more expensive log splitter or if a lower-cost model will suit your needs well.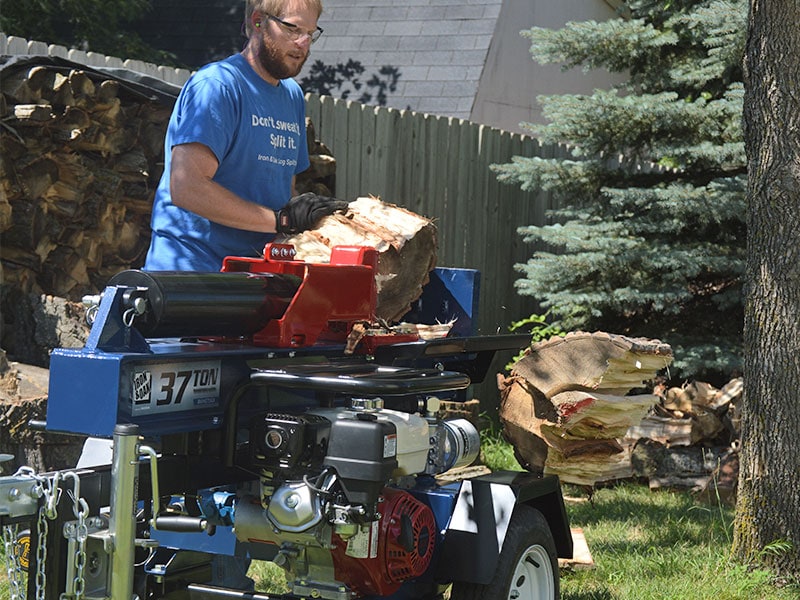 FAQs
Question: Are 37-ton log splitters easy to use?
Answer: Absolutely! Users just need the ability to lift pieces of wood onto the splitter and push a button. 37-ton log splitters usually have an auto return which returns the cylinder to the position it needs to be in to split your next piece of wood. Splitters are easily moved using a lawn tractor with a hitch or vehicle.
A log splitter is much easier on your body than splitting firewood by hand using a maul and wedge; this makes them an excellent choice for those getting older who still want to be independent when it comes to splitting their firewood year after year.
Question: Why do so few 37-ton log splitters come with a log lift? Can I add one later?
Answer: A log lift can double the cost of a log splitter because it adds more hydraulics, controls, and metal to the machine. But, of course, it also adds extra weight, making it harder to tow. Since many people purchasing log splitters only need to split wood for 1-2 homes, there are more 37-ton log splitters available that are more affordable and do not include a lift.
Adding a log lift to a splitter may be possible, but it would have to be done at a professional shop, and the cost may be much higher than you expect for that level of professional work. If you think you may want a lift in the future, it is probably worth waiting until you are in a financial position to purchase a splitter that already has one. Customizing a log splitter will likely void any warranties available for your splitter as well.
Question: Can I split any species of wood with a 37-ton log splitter?
Answer: The high tonnage of a 37-ton log splitter makes it capable of splitting even hardwoods like Hickory and Locust. You can split any wood species, but you must remember that all log splitters have their limits regardless of size. Attempting to split a log that is too large in diameter, for example, can lead to a jam or even breaking something on your splitter.
Conclusion
A 37-ton log splitter is an excellent machine for homeowners and professionals that need to split a lot of firewood each year. Unlike some sizes of log splitter, there are quite a few options to choose from. While this article features some solid choices that are widely available, it is worthwhile to look at chain stores in your area.
Lowes, Home Depot, Northern Tool, and Tractor Supply are all examples of stores that often have log splitters in stock. Of course, there is no guarantee about what sizes they will have. Remember that a 37-ton log splitter is on the larger side, so check out store websites to see if they have a splitter you can order for delivery to the store.