Latest posts by Samantha Biggers
(see all)
Sometimes you need wood that is as weather resistant as possible. Luckily some woods can take on very rainy conditions naturally.
At the same time, one should not discount the power of treatments to make other woods resistant to rain and harsh weather. In this post, you'll learn what lumber is good for rainy weather and I'll show you many types of wood and lumber that can handle a lot of water while performing well.
My husband and I live on the side of a mountain at 3,000 feet in elevation. We get quite a bit of rain, and the humidity is often high. As a result, we built our house by ourselves for the most part.
This experience forced us to learn a lot about how to keep rot and decay at bay. Fortunately, my background in forestry allowed me to help make decisions on what wood to use for specific applications and what types of treatments could make them even more resistant to rain and rot.
My Bottom Line Up Front: Choosing the suitable lumber for your application is essential. Choosing the wrong lumber in wet locations will lead to warping, rot, and even structural failure. Treated pine or naturally water and rot-resistant species like Cypress are the best options for most.
Still, some other woods that are either regionally specific or more expensive, such as teak, offer water resistance. Also, due to cost and availability, some fancier woods, like teak, are typically used for furniture and other specialized applications.
Cypress Lumber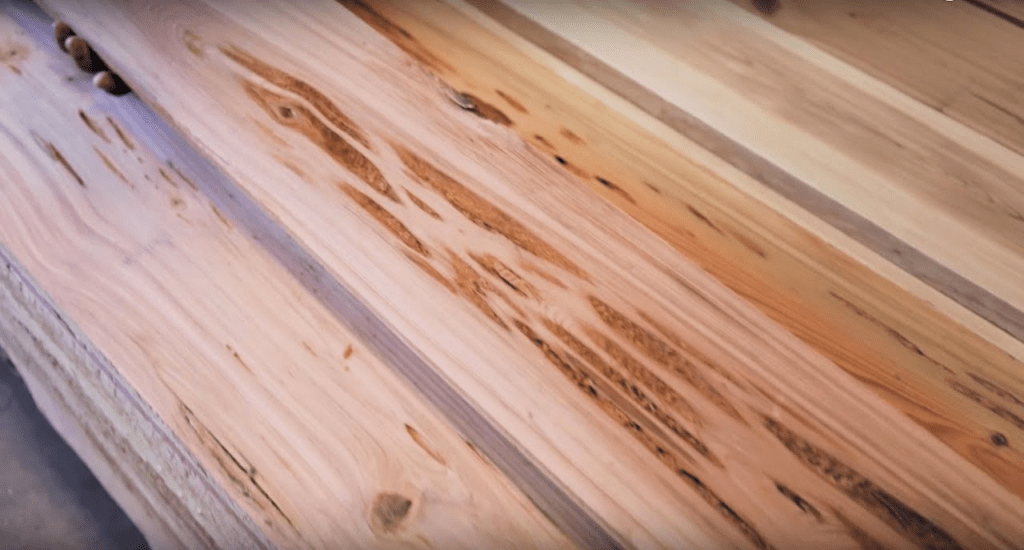 Pros
Outstanding rot resistance even when fully submerged in water for long periods.
Grows fast
Abundant supply in the Southern USA and East Coast
Easy to saw and work with
Lightweight
Cons
More expensive than treated pine
Must be purchased at a specialty mill or store
Limited availability in western and midwestern USA
Although you may have to purchase cypress lumber at a custom wood establishment or sawmill, it is one of the most striking naturally waterproof lumbers you can buy.
You can expect to pay a premium for Cypress compared to treated pine boards, but in my personal experience, Cypress is far better than any treated pine.
When my husband and I were building our house, we realized that the shower doors specific to the shower pan we bought cost an impressive $700. This was back in 2010 when money went a little further, too.
Instead of buying expensive tempered glass, my husband built a beautiful shower enclosure made entirely from Cypress lumber. After installation, we treated the Cypress with clear MinWax wood treatment to seal it well. After 12 years, the shower is still beautiful and shows no signs of rot or decay whatsoever.
Of course, we have recaulked any seams over the years because caulking in showers starts to look bad or show a bit of mildew over the years, no matter what brand you buy.
Teak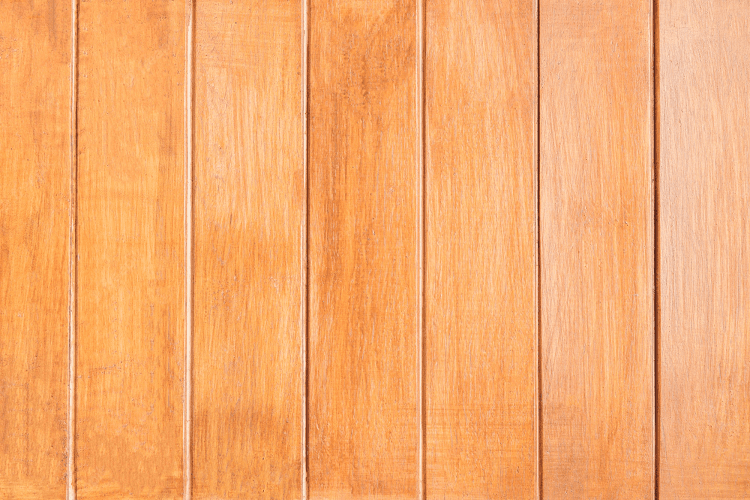 Pros
Beautiful wood that is ideal for floors and furniture
Easy to saw and work with
Naturally resistant to insects
Cons
Expensive
Must be imported from South America so supply can be limited
Teak is a tropical wood regularly used to build nice outdoor furniture or for interior flooring. Teak is resistant to rot and insects.
Of course, these excellent characteristics and the fact that it has to be imported from South America add to the cost considerably. This is why buying furniture is a more significant investment than purchasing metal or plastic. Teak
Treated Pine
You will likely find treated pine lumber if you visit your local hardware or home improvement store. There are a lot of options in the treated pine category.
It is essential to know the difference, so you get lumber with the right level of water and rot resistance for your application. There is likely a price difference, but you do not want to get the wrong thing to save a few dollars.
Note: It is important to wait 2-4 months before painting, staining, or using other preservatives on treated lumber.
This is, so the boards have time to dry out. Drying time varies depending on conditions. Some people use the color of the boards as an indicator. Wet-treated boards appear dark in color and lighten considerably as they dry.
Ground Contact Treated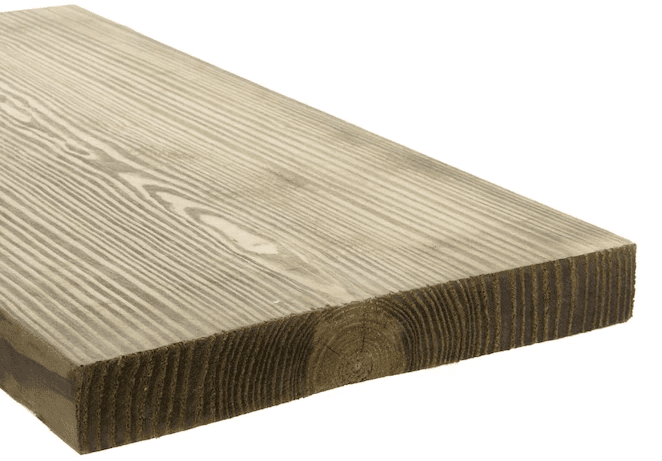 Pros
Most rot-resistant treated lumber is available at home improvement and hardware stores.
Suitable for very wet locations
It can be used directly in contact with bare earth
Cons
Quality can vary depending on
If a board says it is for ground contact, it has been treated with water and rot-resistant chemicals so that it can be in direct contact with bare earth for many years without significant deterioration. How long, you might ask? Well, that is a tricky question to answer.
Manufacturers of treated wood tend to exaggerate how long their product will last, in my experience. But, on the other hand, it can be difficult for a manufacturer to make a precise prediction when they do not know how or where a board will be used.
For example, suppose you use ground contact lumber in an area that does stay wet all the time and does not have a chance to dry out regularly.
In that case, you cannot expect it to remain structurally sound as long as a board is installed where it at least has a chance to get some direct sunlight and dry out.
Above Ground Treated Pine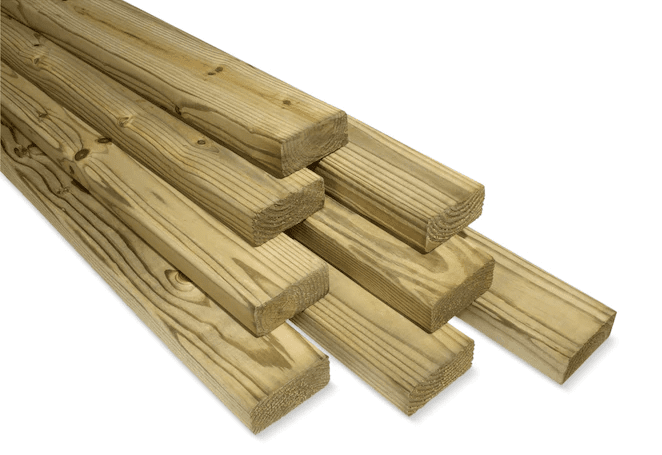 Pros
Less expensive than ground treated
Easy to find
Resists water and rot well when installed above ground
Cons
It does not hold up to water as well as ground contact treated
Most treated pine boards are only rated to be used in cases where they do not make direct contact with the ground. An example would be boards used on top of a concrete foundation or attached to a concrete anchor point. These boards can be used for decking not in contact with the ground.
Choosing boards for use above ground can save some money on a project, huge ones, but it should be noted that using ground contact treated will always offer the most resistance to water and rot.
Black Locust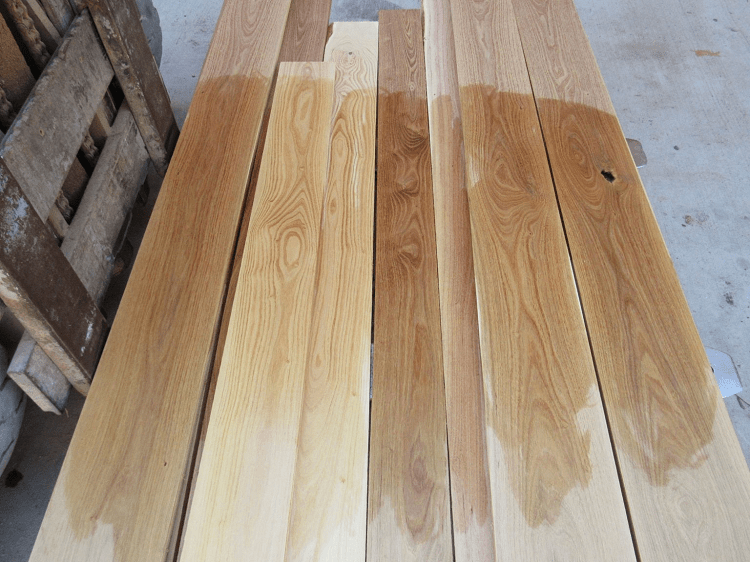 Pros
Very strong and dense
Extremely resistant to rot
Resists insects
Cons
Grain is too twisted and gnarly for most sawmills to saw into dimensional lumber.
Not as widely available at stores
Black Locust is a fantastic wood. A log can lay on the ground in a very wet place for years and still make a great fence post or firewood.
Black Locust has a very twisted grain, so most sawmills do not offer it. Black Locust is great for use as support posts or beams. A fence post made from Black Locust will last for many years before needing to be replaced.
We have utilized Black Locust trees on our property to create the main support posts for wood sheds and animal shelters.
If you have a woodlot and have Black Locust on it, then cutting some down for fence posts and building some small structures is a great way to clear out your understory and save some money on lumber at the same time.
When purchasing Black Locust, you will likely need to check your local Craigslist or a bulletin board at a nearby farm and garden supply. Independent woodcutters typically sell Locust. However, it may be worthwhile to call local arborists and inquire as well.
If you do find Black Locust boards, then count yourself lucky. If a tree is large enough and straight enough to be milled, it can be turned into some beautiful boards for decking.
Western Red Cedar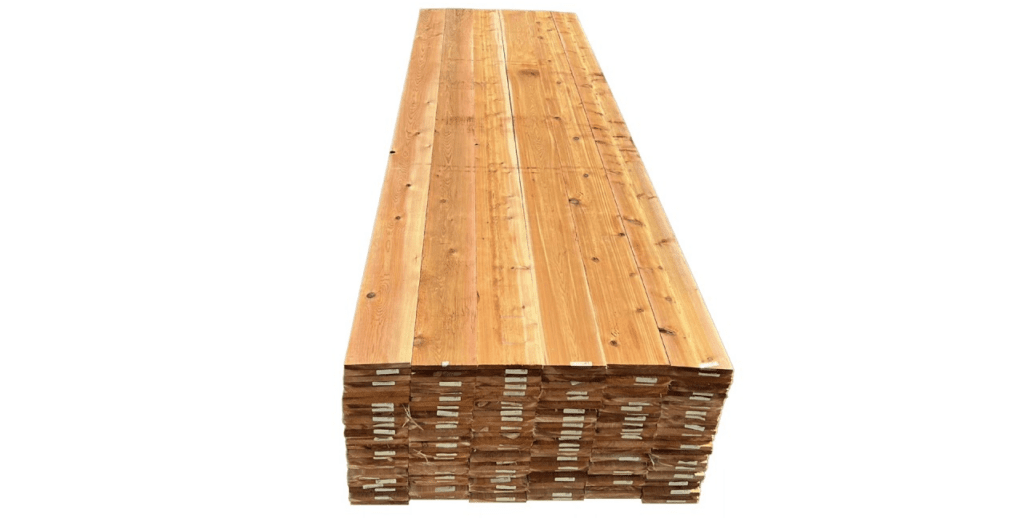 Pros
Naturally resistant to rot and insects
Aromatic properties make it excellent for use in closets
Accepts wood finishes well with no bleeding out of finish after application
Cons
It can be expensive, especially if you do not live near where Western Red Cedar grows.
Cedar is a very tough to-rot wood. Unfortunately, it shrinks a bit as it dries out, so you want to ensure that it is well-seasoned before using it for any projects. On the other hand, red Cedar has a lovely smell and is naturally resistant to insects, a significant bonus for lumber that will hold up to harsh conditions.
The downside to Western Red Cedar is that it can be hard to find and very expensive if you do not live near a source.
Cedar is often used for docks and pilings.
California Redwood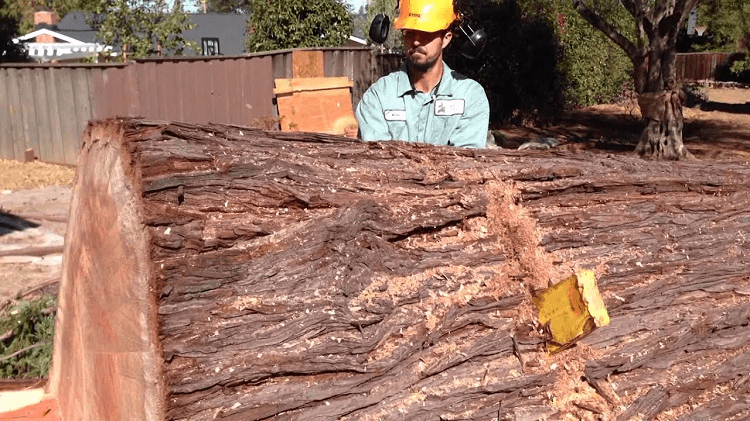 Pros
A beautiful look for furniture, floors, and more
Easy to work with
Durable
Cons
Costly
Usually, a special order item
While plenty of people might immediately think that Redwoods are a protected species, the fact is that there is a lot of sustainably grown and harvested redwood out there.
California Redwood is a very fast-growing softwood. So when you buy Redwood lumber, you can rest assured that you are not getting lumber from old-growth protected trees.
Redwood can be used for furniture, decking, siding, arbors, and trim. If you live close to where Redwood is grown, you may be able to get an excellent deal on boards.
Types of Lumber That Is Not Good For Rainy Weather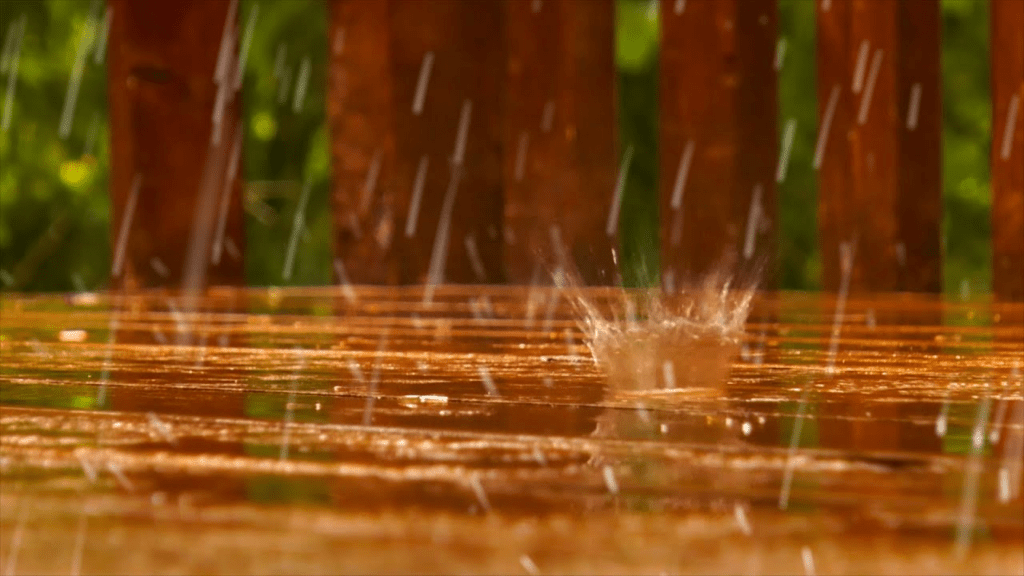 Oak is not suitable for rainy weather despite all the articles claiming it is
As someone with a degree in forestry, it is a bit alarming to me how many websites claim that oak is a good choice for wet and rainy conditions.
While oak is a wonderful wood to work with for furniture and indoor paneling and trim, it is not appropriate for rainy conditions. Oak will start to look weathered the first year it is exposed to rain; within a few years, you will not want to trust its strength.
I know this from personal experience. Oak firewood will start to rot if left uncovered for a season. When my husband and I were building our house, we sometimes left scraps of oak trim boards lying in the rain. These boards warped quickly and turned gray with weathering.
While painting oak or using a wood preservative would help prevent rot and deterioration due to rain, you would have to treat the oak regularly, and it still would not hold up as well as pine lumber that has been especially pressure treated for rainy applications.
Oak is also far more expensive than pine lumber, so using it in a rainy location is a bad financial decision.
Untreated Pine
Pine rots and loses strength very quickly if it is not treated. Pine is a softwood, and while it grows fast and is used for a lot of the main frame of a house, it is quickly covered to avoid damage.
Untreated pine is best used in applications where it is going to be covered with something that is waterproof, like CDX plywood and vinyl or hardboard siding.
Poplar
While Poplar is a gorgeous wood for furniture, walls, and trim, it is not what you want for exterior projects. Some readers may have seen Poplar bark being used for decorative siding on homes.
While this will hold up if treated for some time, it definitely does not have the lifespan of vinyl or hardboard siding. You also cannot compare bark to lumber. Bark is more water resistant than the lumber itself. Poplar quickly loses strength and rots if exposed to moisture regularly.
Treatments for Sealing Wood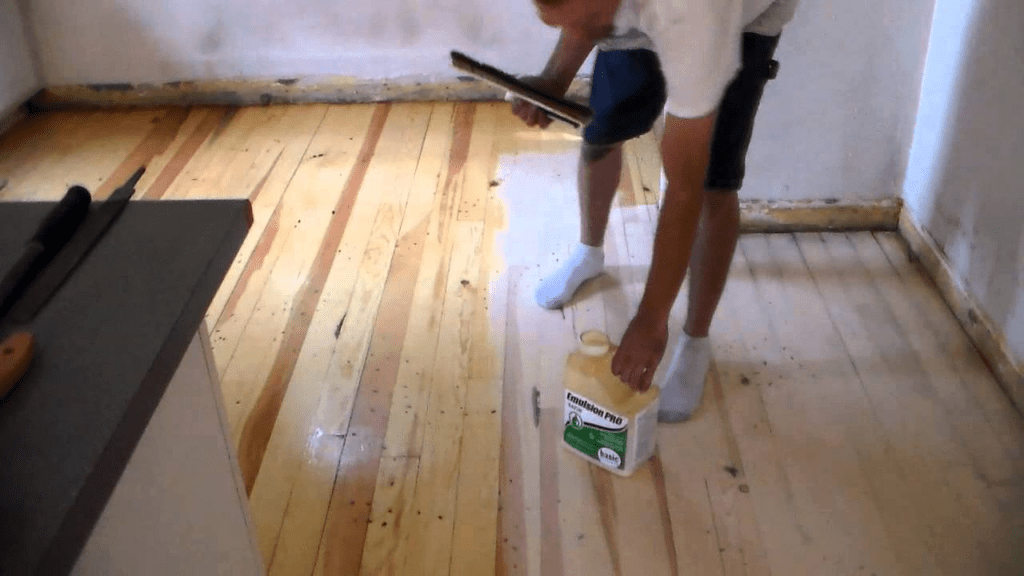 No matter what type of wood you use, it will benefit from a treatment that seals and protects it from water and insects. There are numerous easy-to-apply treatments out there. In this section, I will detail natural and traditional penetrating wood treatments that will extend the life of your chosen lumber.
Oil-Based Penetrating Stains
Common Brands: Minwax
Minwax is my favorite brand of wood stain and sealer. You can choose from a variety of colors or go for the natural clear finish to preserve the original color of your chosen species of wood.
The actual results can vary from what you see on the can you buy, so it is a good idea to test a small area with a coat or two of stain or sealer to make sure it is the color you want.
Clear or natural Minwax is what we use to seal our Cypress shower. After a decade, the wood still looks like  when we installed it. I do have to mention that some woods will suck up more stain or sealer than others. Cypress is one of those woods, so the coverage it says to expect on a container may vary drastically.
Natural Oils
Common Types: Linseed, mineral
It is possible to use natural oils to seal the wood. Linseed oil is one of the most common. This oil is typically used for sealing wooden handles or for specialty projects like knives.
Mineral oil is a natural oil that penetrates and can be used for sealing wood that comes into contact with food. For example, a wooden cutting board, bowl, or spoon could be sealed with mineral oil.
Paint
Common Brands: Sherwin-Williams, Valspar
Oil-based paints are best for sealing wood. Depending on your area's harsh weather, paint may need to be applied fairly often. Water-based paints should be avoided when possible.
FAQs
Question: Is modern treated lumber the same as treated lumber produced decades ago?
Answer: If you have bought and used treated lumber or had something like a deck built in the past, you may be surprised by the difference in the durability of modern treated lumber. I have seen this firsthand. When my husband was a teenager, he helped his parents build a large deck using treated boards.
The boards were allowed to cure for so many months before being sealed and painted. This is the typical recommendation for treated lumber. Two decades later, the deck is still pretty nice looking and seems as strong as ever.
Now let's compare that to the staircases and small decks that my husband and I built in 2010. Within five years, the boards were splitting and falling apart. The treatments used and the quality of commercially produced treated boards is far different than in the past.
The big difference is the move from arsenic-treated lumber to copper. Arsenic is a much better preservative than copper, but it is considered more toxic and not environmentally friendly, so it is no longer used.
It is very important to be careful where you buy your boards. In our experience, you get better treated lumber through a smaller local lumber supplier or building materials center than you do at a big box store like Lowes or Home Depot.
Question: Do I need to use paint, wood sealer, or another preservative if lumber is already good for rainy weather?
Answer: Absolutely. Just because a wood holds up to moisture well doesn't mean it will not deteriorate over time when exposed to wet conditions. Wood that is good for places with rainy weather merely deteriorates at a slower rate when exposed. Never leave any wood untreated that is exposed to the weather.
Even Cypress benefits from a wood sealer, even though it grows literally in the water. A preservative also keeps your lumber a nice color.
Question: Where can I buy lumber that is not just treated pine from a home improvement store?
Answer: Home improvement stores have a limited selection of wood species. For many of the woods discussed in this article, you will need to contact a specialty sawmill or a smaller building supply that can do special orders.
For larger orders, it is typically less expensive to purchase lumber from a finish mill, especially if you want boards cut to a specific size. You may get a better deal if you are willing to take boards of varying length and possibly width and cut them down yourself.
Conclusion
Many options are available to builders and DIYers who want lumber that will withstand rainy and wet conditions. I suggest looking at your budget and what is available in your area. You should also consider the application you want to use your lumber for.
For example, it might make more sense to use Cypress to build an outdoor patio furniture set than teak due to cost and availability. Remember that you can always stain and seal a light-colored wood like Cypress to resemble the darker tone of teak.