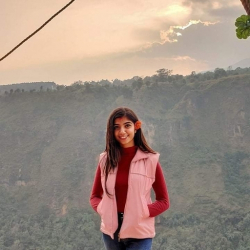 Latest posts by Rukmita Ghimire
(see all)
Woodworking is a really fun task. Isn't it exciting to make your own furniture? – Of course, it is. So, what do you think are the tools you need to make your DIY furniture? – A saw, sander, driller, routers? And what about the mortising machine?
Mortising machines are not one of the first tools any woodworker will mention, but they are imperative in woodworking- to cut square holes. We see the mortising machines as important as other woodworking tools.
A perfect mortising machine is on your table when you figure out – what product you're buying, what is the purpose, why do you need that specific tool, what are the best you can get in the market.
This article will cover all these questions in detail. Also, we'll be providing you with a list of some of our favorite mortising machines.
Quick Pick
What is a Mortising Machine? How Does it Work?
The simplest definition for this power tool is that it is a device that cuts square holes in a piece of wood. This machine creates the perfect joinery of a mortise and a tenon.
The mortising machine as a whole does look intriguing but the actual game-changers here are auger bits and chisel. Having said that, the motor is, obviously, the heart of the machine that runs it all.
The unique makeup of auger and chisel makes perfect mortise (square hole) to fit an equally nice and clean tenon.
The motor drives the drill chuck, the spinning motion of which changes the inertia of the auger bit. An auger bit clear out most of the waste by chewing through the bulk of the material at the center.
Similarly, a chisel bit is sharpened on all four sides as a result of which the workpiece gets a perfect square-shaped hole.
The fence and hold-downs are designed to support the workpiece downward as the chisel is removed. The adjustable fences are what make it easy to work with any size of the workpiece.
Video Link: https://www.youtube.com/watch?v=KO4GM7J3zmc
Types of Mortisers
The purchase of mortising machine mainly depends on the nature of your project. To begin with, are the types of mortising machines based on the depth and type of cuts.
Square Chisel Mortising Machines
If you are familiar with a drill press then a square chisel mortising machine is not a strange product to you. The fun part is the chisel mortising bits can be attached to drill presses through a mortising attachment.
Mentioned above was the working mechanism of a square chisel mortiser in which an auger bit and chisel bit are the business product.
We think this mortiser- being lightweight and more subtle- is perfect for you to complete any project.
Horizontal Mortising Machines
A horizontal mortiser/slot mortiser is one working beast that cuts a perfect mortise. It is equipped with depth stops and levers to adjust the height and depth of your workpiece.
This mortising machine features a standard router mounted on its side which moves on two independent axes. One axis plunges the router into the mortise and another axis moves it side to side to cut the length of the mortise.
So the advantage of using this mortiser is that all you need to do is simply insert the workpiece and the machine takes care of the rest.
If you are looking for a mortiser to tackle loose or floating tenons then a horizontal mortising machine is what we recommend.
Chain Mortising Machines
Chain mortisers are designed for larger projects like creating large mortises for timber frame construction. These mortisers amaze you with their excellent performance.
A chain mortiser gives your workpiece wider slots because of the chain equipped in it. A side fence keeps you safe by holding the workpiece in place.
We'll say that this machine is a complete-time savior for you if you are working on some big projects. It is both powerful and portable and makes a precision cut at next to no time.
What to Look For in a Mortising Machine?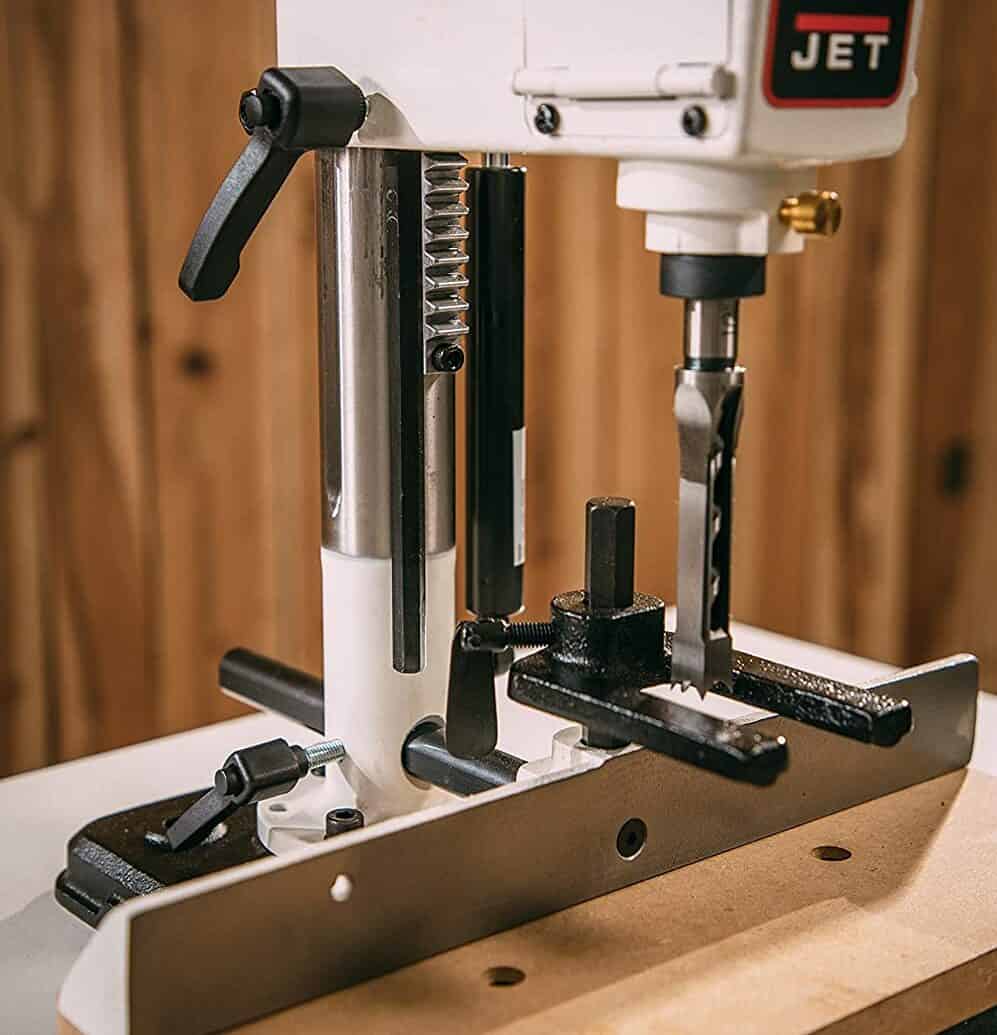 The power of the mortising machine is not the only thing to look for during purchase. What also matters is the adjustability of the fence, stiffness of the columns, design of the lever, space under the chuck, and strength of the hold-downs.
Power and RPMs
Your mortising machine should be capable enough to cope with all the wood types and their depths. Machines with more horsepower allow you to chisel and mortise hardwoods with their higher torque.
However, there is a risk of overheating in mortisers with high speed. Considering this fact, nowadays, mortisers with comforts are encouraged than that with speed.
To be precise, we recommend you pick a mortiser with a motor of 0.5 hp. But the real determining factor depends on the motor RPMs.
Yes, a higher rpm gives you a quicker result, but in the context of the mortising machine, a lower rpm is better. This is because motors with higher revolutions are hideous to control and the speed may heat the wall of your mortisers. To conclude, we'll suggest you seek out mortisers with about 1500 RPMs.
Chisel Capacity and Bit Changes
As mentioned above, chisel and bits are two important business products. So you must pay special attention to chisel capacity and bit changes- factors determining the performance of your mortiser.
The majority of the benchtop models can take up to half by half inches of chisels. Along with that, you want to make sure if changing the bits and chisels is easy and fast.
Table Size
The table is like your working environment and works with the fence to keep your workpiece stable while you use the mortiser. Larger tables are appropriate for larger projects.
Head Travel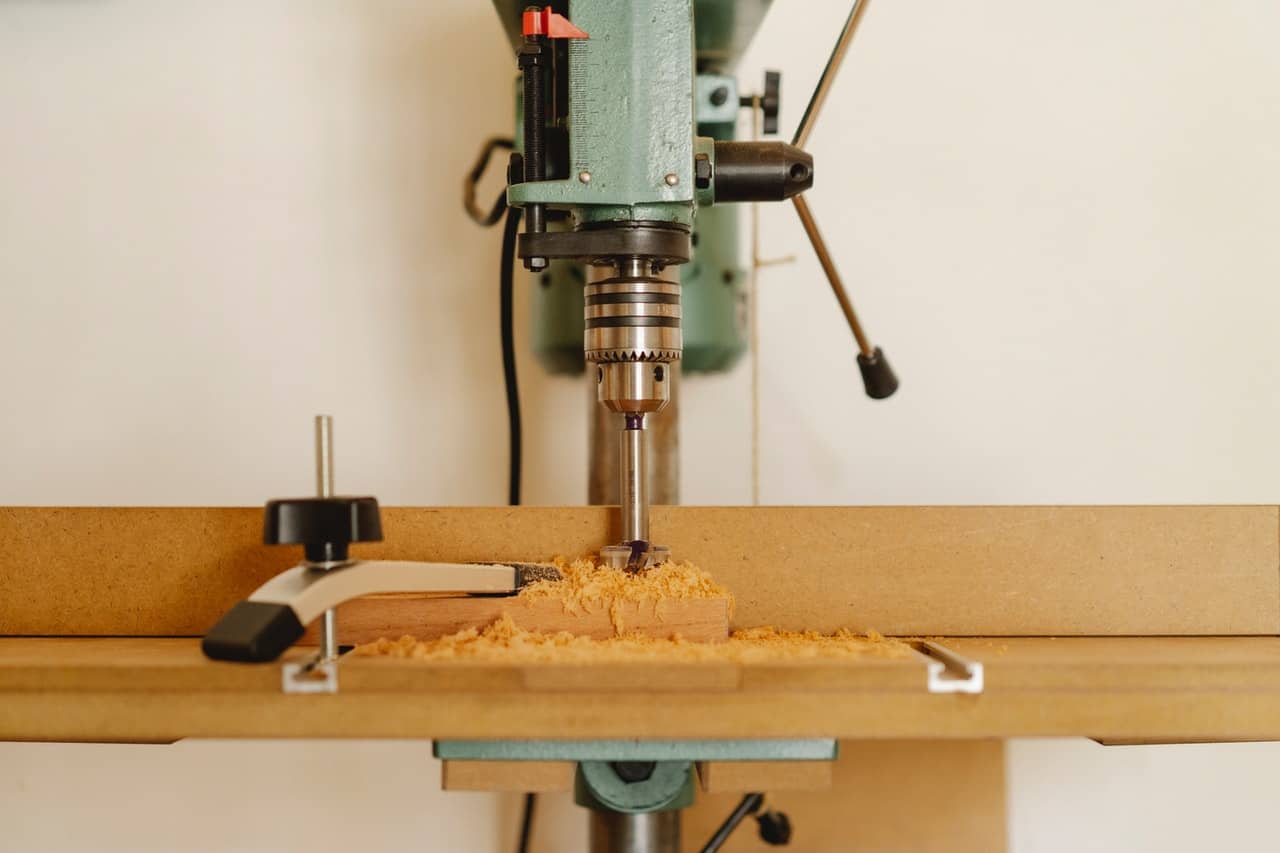 Head travel or stroke of the machine is the distance a chisel covers along the vertical axis when you pull the lever. This is another important feature to look for while buying a mortiser.
Insufficient head travel can leave your work incomplete and may result in imperfect mortise. You may end up lifting the workpiece up to make it close to the bit- leading to risk. A stroke of 4¾'' to 6'' is highly recommended.
Feed Lever
A feed lever functions to provide you leverage, making your job easier. Make sure you are choosing such a mortiser that has a sturdy feed lever and can be readjusted for different cut depths.
Fence System
The larger the fence system the better. Search out a mortiser with a large fence system- flat across its face and 90 degrees to the table.
Hold Down System
The hold-down system is more of a safety feature in any mortisers. In some cases, chisel bits find it difficult to work through hardwoods. If the hold-down system is weak, there are high chances of wood to come loose and lift off the table.
Top 5 Best Mortising Machines
1. Delta 14-651 Bench Mortising Machine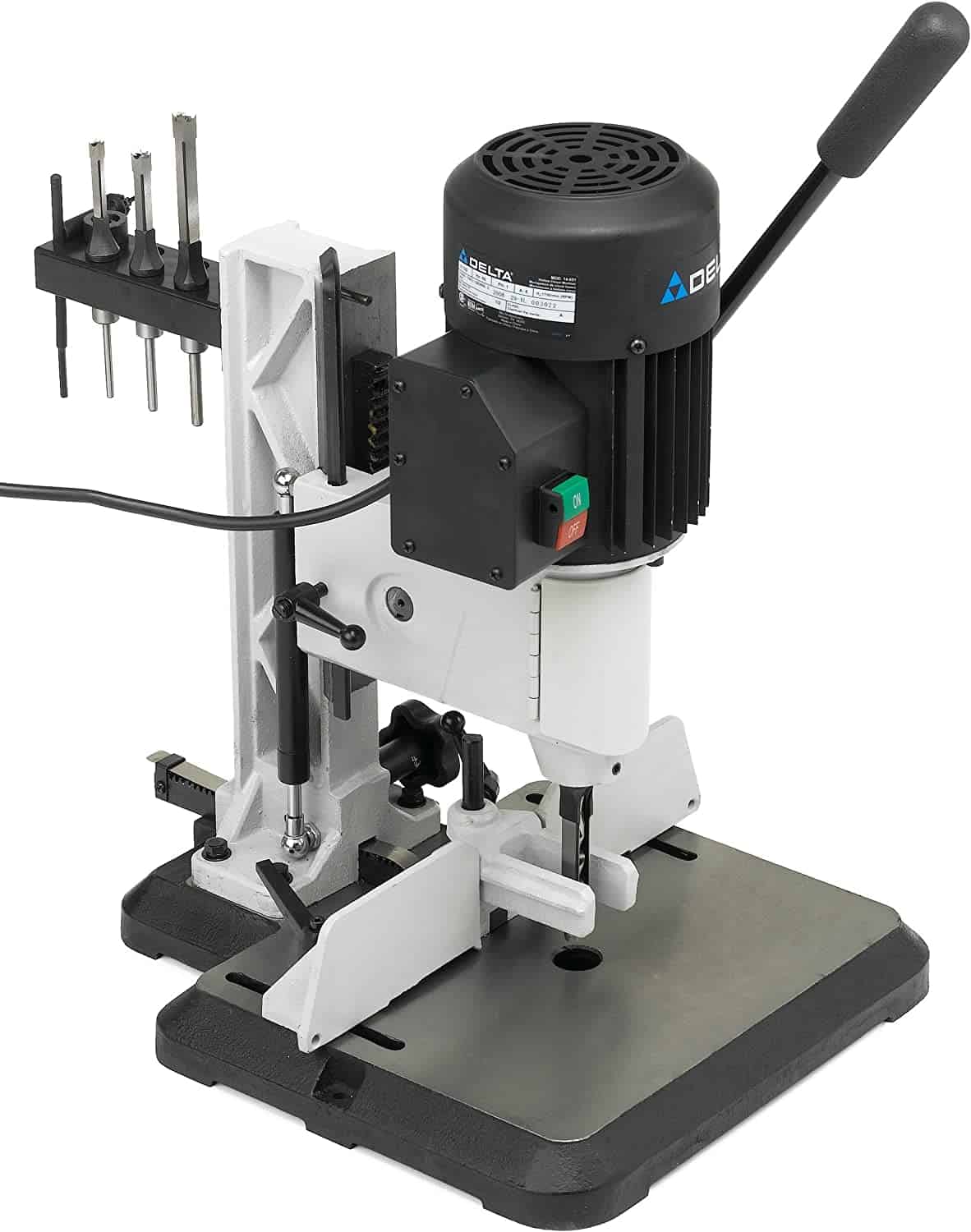 Starting in the list of our top 5 best mortising machines is Delta 14-651 Bench Mortiser. Let's see what this machine has to offer you.
The heart of this machine is a 0.5 horsepower, 120 volts, single-induction motor providing you with a precise cut. Rotating at the speed of 1,725 RPM, Delta Mortise offers you a steady stream of power.
Efficiency is the key in mortising- the slow speed keeps you away from overheating and assures your safety. Another reason for being number one on our list is its multi-position, adjustable depth stops.
A 77- pound Delta 14-651 with a cast iron base will always keep you protected from the drill. Adding next is its customization options. In case you don't want to use the table, you can simply remove it or turn it 180 degrees. The product comes with four mortising chisels and bits.
And lastly, it comes with an easily adjustable head system and rack and pinion fence system for your convenience.
Key Specs
Measures 22.4 x 18.6 x 16.4 inches
Heavy-duty 16-3/4- inch by 13-1/2- inch cast iron
Good leverage on the handle
3/8-inch-capacity drill chuck key
2. Jet JBM-5 Bench Mortiser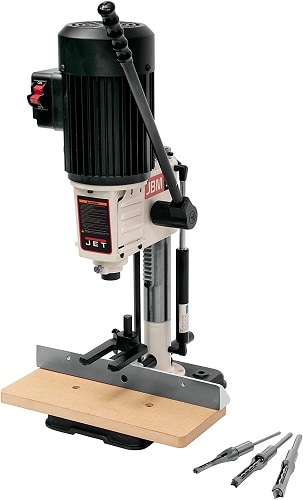 Adding to the list is Jet JBM-5 Bench Mortiser hailed for its affordable price and combinations of features.
Starting with the engine, it contains a powerful 0.5 hp powered motor that rotates at the speed of 1752 rpm. Weighing in at 44 pounds, it is an easy tool for you to maneuver.
What makes the Jet mortiser the best? It is obviously its mechanism to shift in reverse at the heavy-duty. Like Delta 14-651, Jet is also built with a cast-iron base.
When it comes to safety, Jet JBM-5 Bench Mortiser is one beast you need. It comes with a removable on/off toggle switch and a quick-setting depth stops, both of which will prevent any accident.
Key Specs
Dependable rack-and-pinion head adjustment
Optimum handle position
Mortise larger stock- reversible column
1/2 inches chisel capacity, 4-3/4 inches head stroke
Easy to change the bits
3. Powermatic PM 701 Bench Mortiser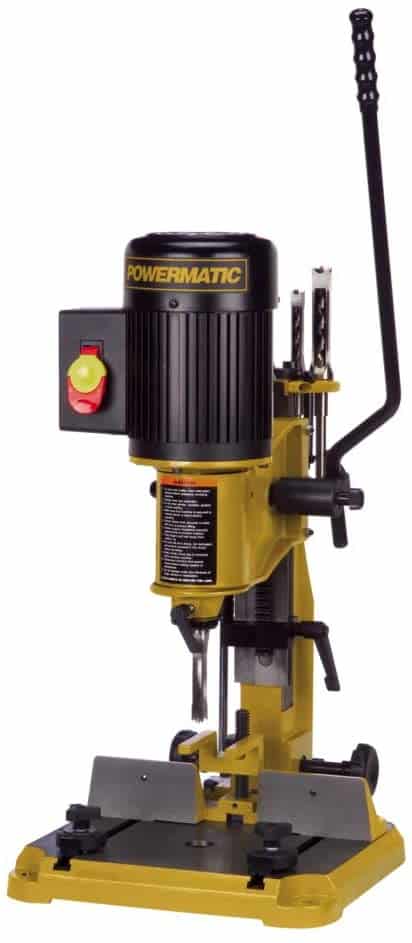 Powermatic PM 701 Bench Mortiser comes with exceptional features and has high-end performance. Starting the praise with its motor engine- 3/4 hp, 115-volts motor that runs at the speed of 1725 RPM.
This machine not only gives a fine/ clear cut but also features an in-line depth stop which allows you to stop the mortiser at the preset depth. Its versatile heavy-duty reversible handle leaves you with no fatigue and does not require any tool to change from one side to the other.
Adding more to it is a double lock system of hold-down. These lock your workpiece from the side and top at once, thus eliminating the chance of slippage while removing the chisel from the workpiece.
The setup of this mortiser is so easy and precise, this is due to its quick-action cam lock that will lock the fence position with single 90 degrees turn. There's no need for continued adjustment due to lock nuts.
Key Specs
Chisel capacity up to 3/4 inch
Standard 4 inch chuck key
Weighing in at 90 pounds
Integrated chisel and tool holder
Large work surfaces on both table and fence
Rack-and-pinion design
4. Makita 7104L Chain Mortiser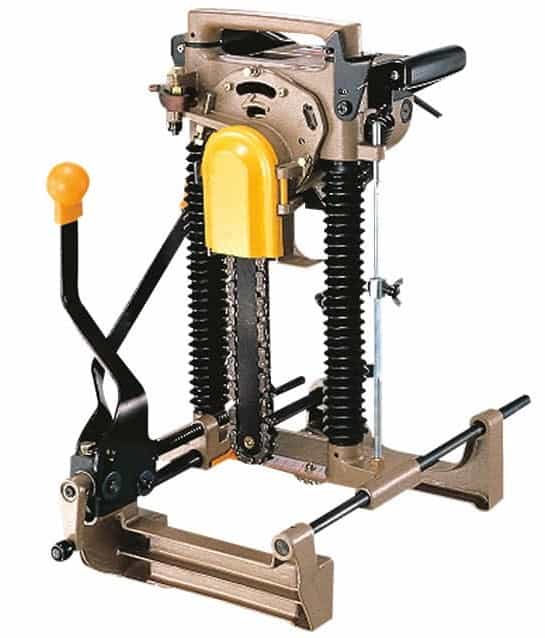 Makita 7104L Chain Mortiser is something you'll need for your timber framing projects. Compared to other Mortisers this is a little high in price, but considering its features and the fact that it's a chain model, it is worth every penny.
Makita's chain model is a powerful 10.5 AMP motor that runs at a speed of 3,200 rpm. With that speed, you can get a precise cut in woods of any thickness. Especially with the razor-sharp chain, you can cut any of the lumber without destroying them.
It is extremely portable with only 38.1 lbs. The adjustable vise and knob can attach the logs firmly. Along with that, you can adjust the sliding rear clamp to the desired width with a quick-adjust tension knob. Makita 7104L Chain mortiser comes with lots of specifications. Let's see some of them.
Key Specs
Adjustable knob for the re-adjusting position of chain across the log
Horizontal chain lever for widening holes
18.25 mm Cutter Chain
100cc oil supply
Chain speed of 37.4 pounds
Adjustable levers and knobs
Max. hole width (longitudinal) of 5-1/8 inches
Transverse hole width of 1-1/4 inches
5. Shop Fox W1671 Mortising Machine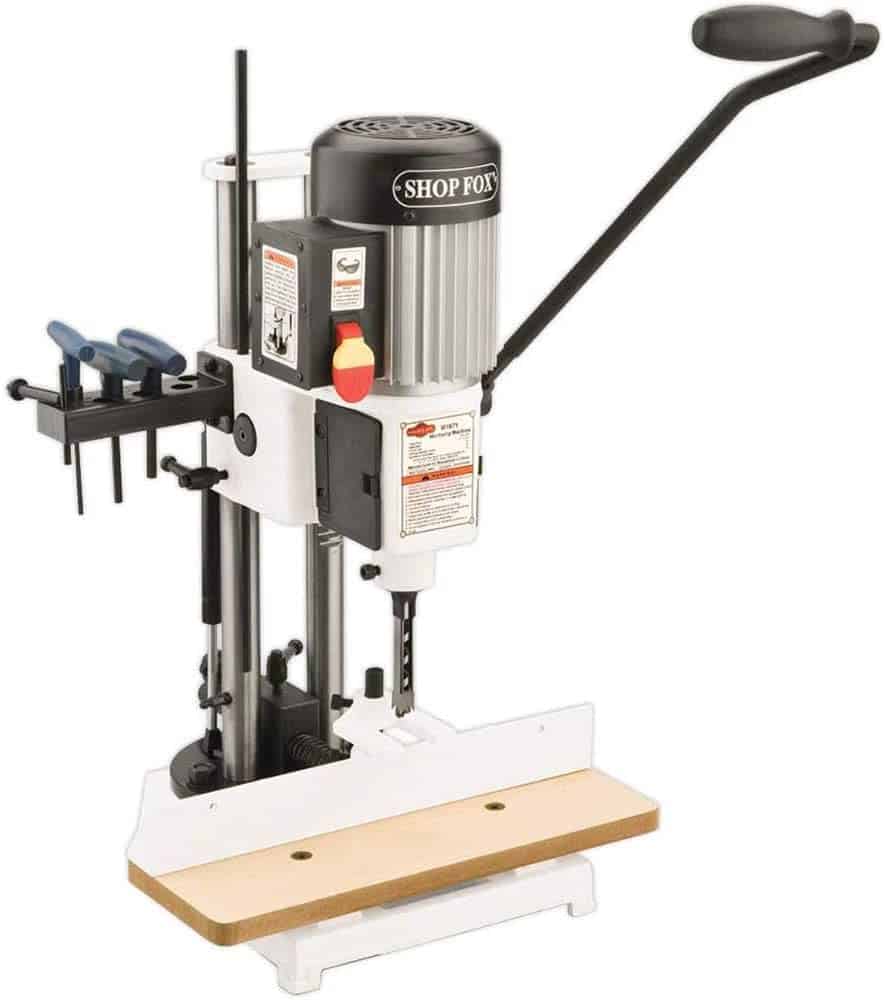 Hands down, Shop Fox W1671 Mortising Machine is one good-looking Mortiser. But besides that, it has a plethora of functionalities deserving its position in our top 5 list.
Presenting you is a heavy-duty, 3/4 horsepower Mortising machine that will address all of your frustrations. Starting with, its safety switches with a removable key and cord set, you will be satisfied using this workhorse.
It is constructed with a swivel base for off-bench operation. Just in case if you need to mortise larger stock with extra height and depth capacity, it's of no problem with this mortiser.
Another feature that makes it to be in our top 5 list is the extra-long handle which can be adjusted in six different indexed positions. Talking about its construction, this motor is enclosed in aluminum-finned fan-cooled housing- makes you free from the tension of overheating.
Key Specs
Adjustable depth stops
Gas spring return
Double support columns
Heavy cast iron construction
Micro-adjustable fence
Paddle safety key with removable key
FAQs
Question: What should I be aware of while using the Mortiser?
Answer: The first thing to keep in mind is that mortising chisels are razor-sharp all the way around the square opening. Don't forget to use your safety precautions before starting any of your mortising projects. On the contrary, a blunt/dull chisel will make you increase your force to drive it. Above all, it will make a splintery mortise.
Secondly, if you are hoping to make a long mortise, apply the chisel keeping specific gaps between two square holes – so that each square wall of chisel gets equal anchorage when practiced for repeated times.
Question: Does a mortising machine comes with a warranty?
Answer: Yes, a lot of mortisers have years of warranty. Jet JBM-5 Bench Mortiser, Powermatic Bench Mortiser is of 5 years warranty. Similarly, Makita 7104L Chain Mortiser has a year of warranty.
Question: What should I do to reduce the breakage?
Answer: Chisels and bits determine the longevity of the mortising machine. With proper care, you can continue to work with the same chisel and bits. A major thing to consider is you must insert the proper bit through the chisel opening.
Question: How to obtain maximum performance?
Answer: Performance of mortising machine depends upon the exceptional features. However, it's in your hand to execute these features with proper handling. To obtain maximum performance, you must fasten the tools securely, your tool must have a proper spindle alignment, and you must replace badly worn bushings and bits.
Question: Can I use a mortiser in the drill press?
Answer: Yes, the chisel mortising bits can be attached to drill presses through a mortising attachment.