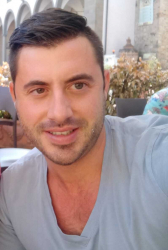 Latest posts by David Borgogni
(see all)
Today we're excited to be looking at and examining one of the latest releases from perhaps the most popular chainsaw brand in the world. Stihl's MS271 has been designed as the perfect tool for anyone looking to harvest firewood as well as general landscaping use. But does it live up to Stihl's stellar reputation? We find out in our Stihl MS271 review and guide.
Sthil is a brand synonymous with quality forestry tools. They are arguably the biggest and best chainsaw manufacturer globally, with foresters and commercial landscapers alike trusting their products to get the job done.
In this  review, we'll be examining and exploring the MS271 in detail. We'll outline its key specifications, discuss its pros and cons and even provide you with some alternatives to have a look at. We'll then round off with our own thoughts on who this chainsaw is best suited to.
But before we get into the details, let's look at the key specifications of the Stihl MS271 chainsaw.
Stihl MS271 Key Specifications
Core Features of the Stihl MS271
When you're looking to buy any new product, it's always important to know what exactly is on offer. The core features of any power tool can vary dramatically depending on who the tool is aimed at and what jobs the tool is designed for. This is particularly true with gas-powered chainsaws.
These are the core features that the Stihl MS271 brings to the table.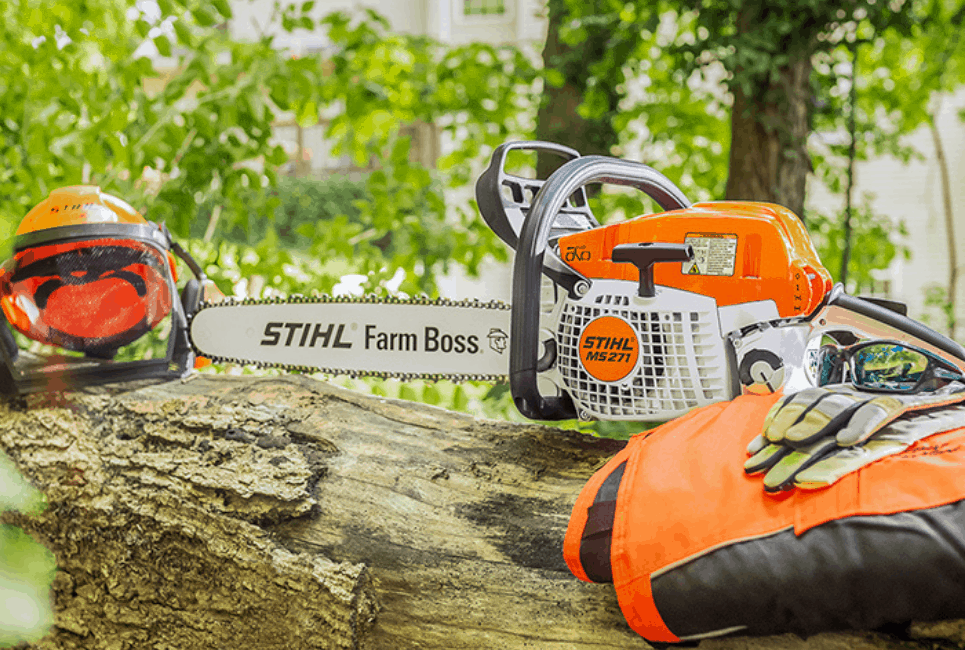 STIHL 2-MIX-Engine
Stihl's patented 1 in 4 channel technology finds its way into this saw. This helps boost power and overall efficiency by u to 20% compared with standard Stihl 2-stroke engines. It also maintains the same level of performance with particularly high torque and a wide speed range.
Stihl also claims that exhaust emissions are reduced by anywhere up to 50%. This is particularly important for any potential buyers looking for the most economical and environmentally friendly chainsaw options.
HD2 Filter
A solid air filter is vital to the efficiency and long-term maintenance of any gas-powered tool. Stihl's HD2 filter is manufactured using polyethylene, a material with up to 70% finer pores than standard fleece and polyamide found in most modern filters.
This new breed of Stihl filter is also designed to be both oil and water repellent making them incredibly easy to clean after use. As well as performing well and being easy to clean, the HD2 filter comes with a PET-covered cartridge and a quick-release mechanism allowing for quick access without the need for any tools.
Side Chain Tensioner
Being able to quickly and easily adjust chain tension on the go is vital when using a quality chainsaw. The MS271 comes with a tensioning screw located on the unit's side underneath the sprocket cover. Twist this until the desired chain tension is reached. This removes the need for coming into contact with the dangerous chain itself.
Tool-Free Filler Zaps
Again, Stihl has focused on the ease of use for the user here as they have included specialist catches on all fuel and oil reserves. This makes them easy to open when needing to fill up and removes any extra tools.
Pre-Separation Air Filtration System
The air filtration system itself has been reimagined and redesigned, achieving longer product life than older models thanks to its pre-separation function. This pre-separation works by swirling air around the filter, allowing larger particles to be separated and removed from smaller ones. This 'pre-cleaned air is then routed to the filter, allowing for greater performance and less maintenance.
Anti-Vibration System
The effects of vibration on the hands and forearms of users have been well documented in recent years. Therefore, quality anti-vibration features are necessary for any modern power tool with blood vessel issues arising from prolonged use. Stihl has developed a highly effective anti-vibration system that dampens the oscillations generated from the engine, therefore greatly reducing the vibration level users are exposed to.
Combi Lever
The clever combi lever uses M-Tronic technology so that only one starting position is required. The precise amount of fuel required is available on-demand, meaning fuel consumption is vastly improved. There's no need to know the chainsaw status, and full throttle can be engaged as soon as the motor has started, even when cold. The motor's acceleration warms the entire unit in a matter of seconds once started.
Advanced Combustion Technology
Four overflow channels swirl the fuel mix before ignition. This allows for the optimal combustion rate, leading to highly effective and efficient performance thanks to low fuel consumption and high torque levels across the full range of RPM generated.
Carburetor Heating (V)
This chainsaw comes with a clever feature whereby users can pre-select whether they are working in summer or winter. When winter operation is selected, the intake air is warmed via the engine fins. This helps the carburetor to remain warm when working in particularly cold temperatures.
Single-Lever Master Control
Keeping controls simple yet effective is the key to a successful power tool. If they are too complex, you risk alienating a large market section based on their experience. However, Stihl has included all of the main functions such as electric start, choke, stop, and throttle into one easy-to-use lever. This makes the MS271 suitable for many users ranging from the less experienced to professional operators.
Ematic Chain Lubrication System
Stihl claims that their revolutionary Ematic lubrication system can reduce oil consumption by up to 50%. It does this by ensuring accurate lubrication of the links within the chain and guide bar rail. This, in turn, leads to less oil consumption when compared with traditional systems, less wear on the chain itself, and a longer product lifetime.
Sthil also says that this system is further enhanced when used in conjunction with their Oilomatic saw chain.
Read also: The Most Common Problems with Stihl MS 271 and How To Troubleshoot Them.
How Does the Stihl MS271 Perform?
As most consumers would expect from one of the country's leading chainsaw manufacturers, the Stihl MS271 is a chainsaw that delivers. Its 50.2cc engine delivers just over 3.5 horsepower, more than enough to tackle the agriculture and horticulture work it is designed for.
When it comes to cutting power, the MS271 comes with the option of a 14, 16, or 18-inch cutting arm, meaning you can select a model to suit your individual needs. Although more expensive, the 18-inch blades are perfect for cutting thicker trees down or clearing more dense debris away.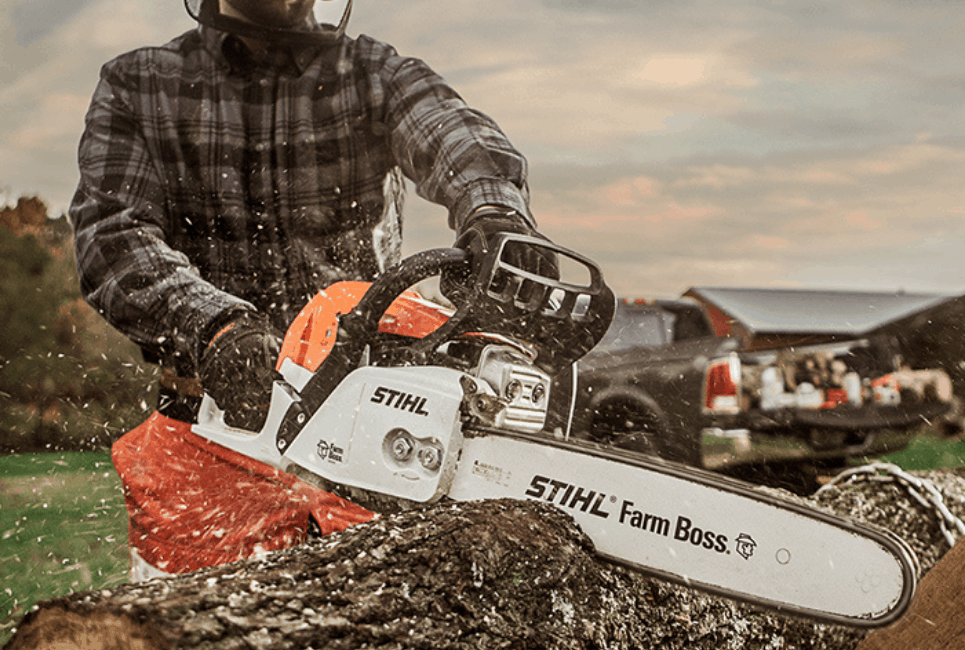 The Stihl name carries a reputation for reliability; something backed up with their latest product. During our testing, we found it to be a solid option for both small and large jobs, with the carburetor heating function proving to be particularly useful when working in cold temperatures.
Along with the heated carb, the automatic oiling system and anti-vibration technology work well. Although these features are commonplace in modern chainsaws, not all designs are created equal. The Stihl MS271 sits right at the top of the mid-sized chainsaw category.
The ergonomics and controls are well thought out, making the operation straightforward, to begin with. Despite its power and cutting prowess, the unit does not feel too heavy and was easy enough to maneuver, something that is particularly important when looking for versatility in a mid-size saw.
Pros of the Stihl MS271
As we have established, the Stihl MS271 is suitable for use around your backyard, on the farm, or even in a commercial capacity. Here, we'll take a closer look at the pros of the MS271 and look deeper into the benefits of getting one.
Supreme Reliability
This is always one of the main selling points for choosing an established brand over a cheaper alternative. With Sthil, you know what you are getting: excellent performance balanced with reliability. With the added benefit of modern features like the lubrication system and carb warmer, this reliability is even greater with newer chainsaw generations. So if you can justify the initial outlay, you're sure to save in the long run.
Clever Design Features
Although you see many modern chainsaws with similar design features, the MS271 takes many of them to the next level. Their patented vibration dampening tech, for example, is considered to be the best in class, and their advanced combustion feature makes it one of the most efficient saws on the market.
Easy to Use
Alongside being super reliable, the MS271 is simple to use. All of the main functions have been compiled into one lever meaning even novice chainsaw users will get to grips with this tool quickly. The combi lever also makes managing the throttle easy with only the required level of fuel being released at any time, preventing issues like engine flooding.
Cons of the Stihl MS271
It's not all positives with the MS271 though, despite the obvious advantages of getting one of these saws, there are some negatives to consider before doing so.
It's Heavy
At 5.6kg, this is a fairly heavy chainsaw given its size. This means it may not be the ideal tool for anyone looking to use theirs for hours and hours on end. If, however, you are a homeowner looking for a chainsaw suited to semi-regular use, this could be a good option for you.
Expensive
Stihl is a premium brand, and, as such, its product is priced accordingly. When looking at buying an MS271, you're looking at one of the premier chainsaws on the market, so expect to pay top dollar. Having said that, you get what you pay for when it comes to power tools.
Are There Any Alternatives?
The Husqvarna 450 is one of their most popular saws. Situated in the same category as the MS271, this is another great offering from one of Stihl's biggest rivals. It features all of the modern technological advances that you would expect, including low vibration tech, an X-Torq engine, and an X-Cut chain. Check out our Husqvarna 450 review and guide for more information.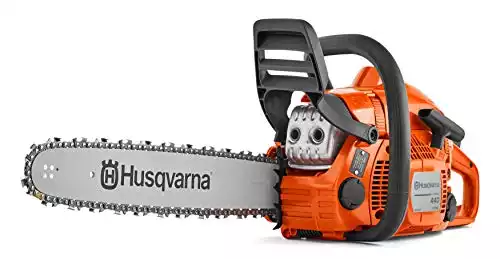 Husqvarna 450R 20" Gas Chainsaw | Amazon
The Husqvarna 450 Rancher is a superior all-round chainsaw with heavy-duty power and impressive performance. Features LowVib® anti-vibration technology for safe, comfortable control. Powered by an X-Torq® engine for reduced fumes and fuel consumption.
Buy at Amazon.com
We earn a commission if you make a purchase, at no additional cost to you.
12/07/2023 04:44 pm GMT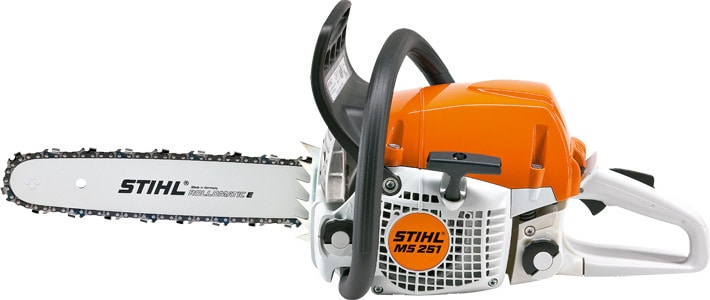 Another of Stihl's premier range of chainsaws is the MS251. A smaller brother to the MS271, this is one of the best domestic chainsaws around. It's a slightly lighter and less powerful version with all the same benefits you get from the MS271. If you like the idea of a Stihl but don't need the full 50cc option, then this is a great alternative. You can read more about the MS251 in our recent review.
Frequently Asked Questions
Question: How Big of a Bar Can You Put on an ms271?
Answer: There are options available direct from Sthil with between 14 and 18-inch bars. However, using aftermarket options, you can attach a cutting bar that reaches up to 0".
Question: What Size Chain do I Need for a Stihl ms271?
Answer: The manufacturers themselves recommend using their Oilomatic saw chains. The length itself will depend on which model you have. The 14, 16, or 18-inch cutting bars all require the relevant length of the chain.
Question: Do you Start a Stihl Chainsaw With the Brake on?
Answer: Yes, you should always start your chainsaw with the chain brake engaged. This prevents the throttle from activating the chain inadvertently, which could lead to an accident.
The Final Word – Is The Stihl MS271 a Good Chainsaw?
In short, yes, this is a very capable chainsaw. The MS271 comes from a long line of quality chainsaws, all of which are suited to various wants and needs. This particular model is best suited as a versatile mid-sized saw, perfect for homeowners looking for occasional use of professionals looking for a chainsaw to provide support for their larger models.
Although this is a great option for most, it is by no means the only one around. Our alternatives suggested earlier are also excellent, all of which come from top manufacturers, so quality is assured. Be sure to check out our thoughts on the Husqvarna 450, Stihl MS251, Stihl MS391 so you can get a clear picture of which may be best suited to you.