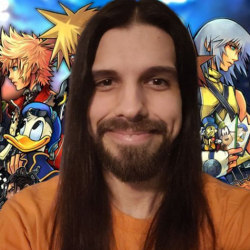 Latest posts by Trevor Abbott
(see all)
Goby Walnut is a lumber company that gives you a variety of woods to choose from, and understanding the species they offer will aid in your final decision. They are one of the best producers of high-quality hardwoods and don't compromise on the thickness of the boards. In this Goby Walnut Tree guide, I'll walk you through the different types of trees they offer and help you develop a deeper appreciation for their unique characteristics.
Their woods include different styles like slabs, hardwood lumber, or even tonewood for crafting instruments. The strength of any tree matters for long-term durability, and aesthetics give you more creative flexibility when impressing others. Hardwoods are particularly useful when you need a structure to maintain extreme durability to weather and other variables like supporting weight with a chair. You must know the differences between each tree so you don't buy in the dark and purchase the wrong wood.
I'm happy guide you through what makes each tree valuable at Goby Walnut and why it's a reliable brand that produces a better board with dependable tree species. A woodworker knowing their trees is like an artist understanding the properties of a canvas or medium before creating. Or, in the case of wood-burning art, it's a canvas literally! Let's take a closer look as we climb through the branches of each tree in their selection!
Bottom Line Up Front
Goby Walnut has a fine selection of woods from various tree species, including the Oregon Black Walnut, Big Leaf Maple, Oregon White Oak, Madrone, Myrtle, Elm, English Walnut, Bastogne Walnut, & Tan Oak.
They are known for their high-quality hardwoods that set a higher standard and give you broader and more durable boards. This is highly figured wood material at Goby Walnut, and each tree has different traits to consider before choosing.
Claro Walnut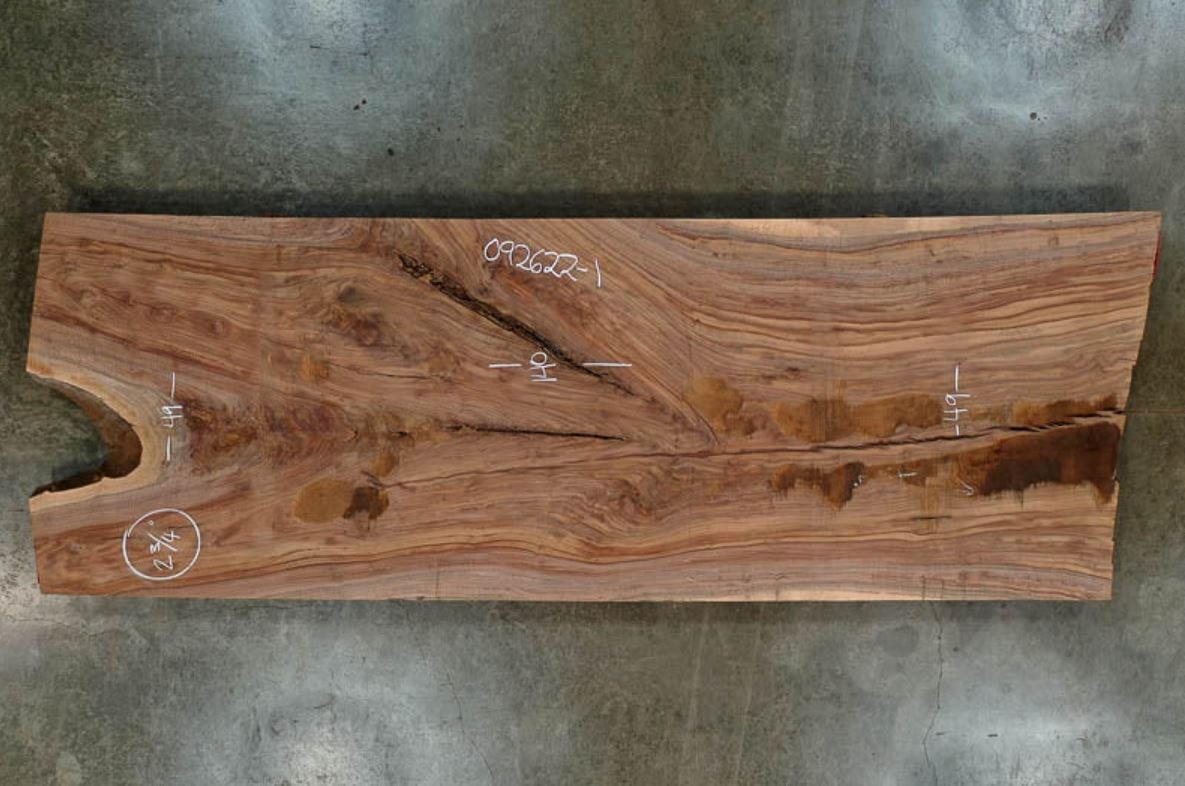 Characteristics
The Claro Walnut tree is a beautiful exotic American tree with intensely rich colors and a robust imposing presence in nature. It is highly workable and has exceptional durability for long-lasting products. This versatile species with flexible characteristics make it a top choice for any level of woodworking. 
The Claro Walnut tree has a straight grain but can sometimes produce grain irregularities. The origin and climate play a role in the final color. Purple, grey, or reddish hues are most commonly found in the market. The wood has a medium harness so that you won't have any problems working well with it. This tree has a natural flare that many choose to keep instead of staining.
Notable Information
The scientific name for the Claro Walnut tree is Juglans Hindsii, and it grows around thirty to sixty feet tall, making it medium-sized. Not the tallest, but quality beats height any day, and this species is highly coveted because of the immense flexibility in the shop. The trunk diameter is three to five feet, and it is relatively easy to cut down, peel, and saw.
The chances of getting irregular grain are low, so there is continuity in easy cutting. The general color is a pale to a darker brown with other subtle hues. It is native to California and Oregon while thriving in the ideal climate. Claro walnut is highly resistant to rot but is susceptible to insect damage. There has been a reduction in the number of available trees, influencing the final price.
Common Products & Uses
Two of the most critical elements to consider when purchasing furniture are the color and the overall stability of the wood. Professional carpenters have viewed it as a preferred species because of its continuity in appearance and durability towards a more reliable product. The straight grain is perfect for furniture and tends to darken over time.
Because of its exceptional workability, it's ideal for more demanding instruments in this area. The wood must be bent easily while creating an aesthetically pleasing finish. Experts agree that walnut is the best wood for gunstocks, and the Claro Walnut is no exception! Claro walnuts should be dried slowly to ensure the grain is resistant to shock when creating stocks.
Big Leaf Maple Tree (Pacific Maple)
Characteristics
When it comes to the Big Leaf Maple, the sapwood is most often harvested with an almost white or off-white creamy appearance. Heartwood is sometimes used but is much less common. This appears as a dark brown with red tints. One of the most distinguishing characteristics of the Big Leaf Maple is the quilted grain patterns that can be highly attractive in woodworking.
You will most commonly observe a fine even straight-grain texture, which means it's suitable for a more manageable project. Waviness is sometimes present, primarily straight. If sapwood is used, it's not durable to rot, but the heartwood is resistant to decay over the long term. It is considered a soft maple tree and conforms to tools well. 
Notable Information
The scientific name for the Big Leaf Maple is Acer macrophyllum, and you can find it along the coastal regions within Pacific North America. The leaves are abnormally big, one of the recognizable traits. They are the largest of any maple tree and span six to twelve inches across!
The Big Leaf maple can get from eighty to one hundred feet tall in the wild, with a trunk diameter of two to three feet. The Acer genus of maples has been known to cause mild skin irritation, so take caution when working with this species. Depending on the grain, it will be moderately expensive in the current lumber market. More beautiful quilted grain patterns will inevitably cost more.
Common Products & Uses
The Big Leaf Maple is an essential species worldwide, generating many uses like creating rope or providing maple syrup. One of the most common uses for this tree is to develop sturdy veneers for furniture. As a hardwood, it works well for various household products and exquisite art. It is used in constructing instruments like piano frames and is also viable for interior paneling.
It's easy to work with and has played a vital role in carpentry as a reliable hardwood. Another use is pulpwood for the increasing demand for paper production. Sturdy boxes, crates, chests, and larger shipping containers can easily be crafted with reliability during transport. Big Leaf Maple is great for smaller items and carving purposes. 
Oregon White Oak Tree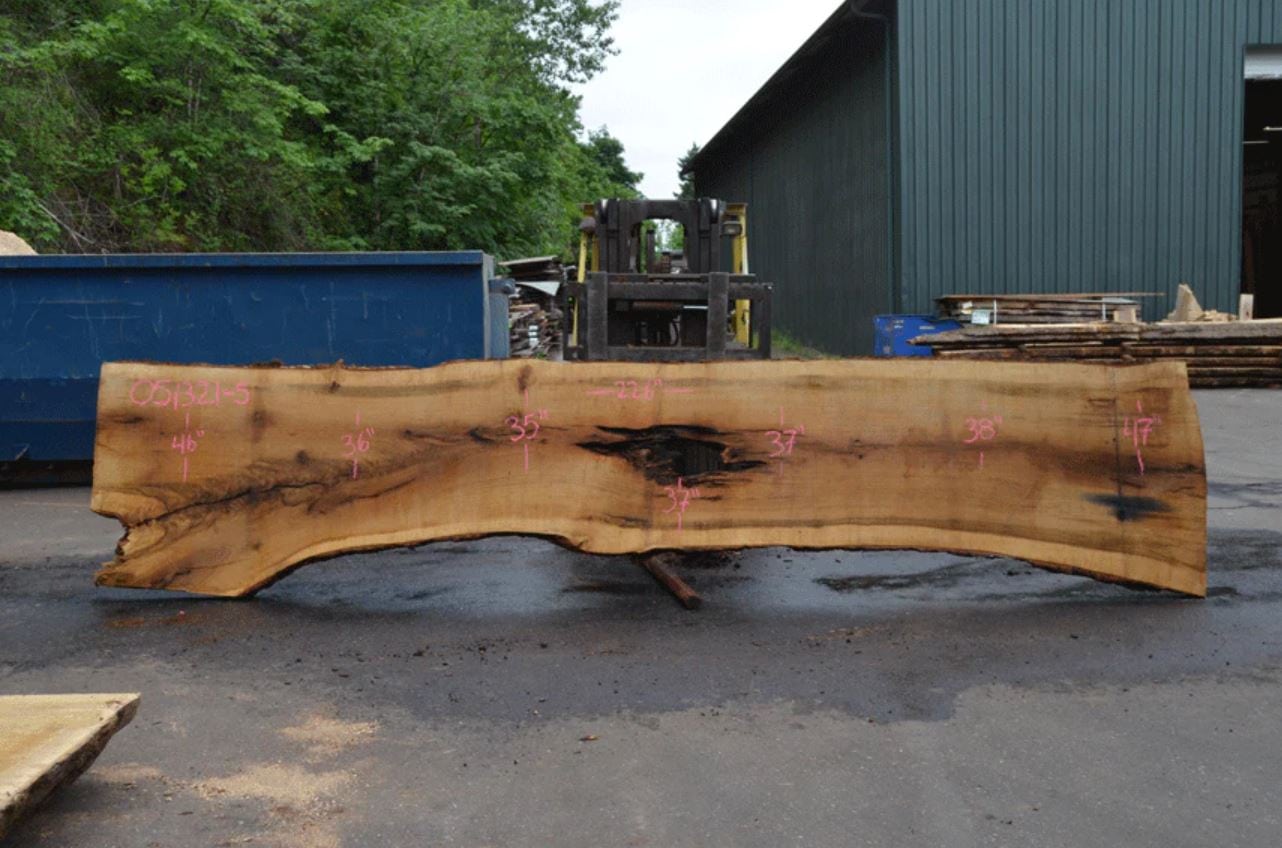 Characteristics
The Oregon White Oak is a prominent member of the beech family on the west coast. One distinct characteristic is that it has some remarkable trunks and branches that span out and cover a wide radius. This tree can be found in many different climates and is highly adaptable. One interesting fact is that it is more resilient to freezing temperatures and ice damage than other western oaks.
It is a hard and heavier wood that portrays some distinctly attractive growth rings that make it stand out. A fascinating characteristic is that the pores are filled with a special membrane allowing Oregon White Oak to be entirely resistant to fluid absorption. It's a tough wood that's worth your investment with high abrasion resistance. 
Notable Information
The Oregon White oak tree is convenient for humans, but they are also crucial for the surrounding habitat in nature. Wildlife also benefits from this tree as food and shelter from harsh weather conditions. Because they are slow growing, it's vital to have conservation awareness and maintain a steady growth pattern. Sprouts can be planted to grow faster, usually implemented for commercial harvesting.
Even if a tree makes it to adulthood, insect threats are still present to deal with when growing. Filbert weevils and other invaders are common pests that can infiltrate trees and kill them slowly but surely, depending on the severity of the infestation. This tree is also susceptible to various pathogens like the pesky deadly hairy mistletoe. White pocket rot and butt rot are also potent threats to a considerable degree.
Common Products & Uses
Generally, the smaller logs of the Oregon White Oak will be used for pulp that creates paper. Some might be used for smaller crafts and items for your home. There is now an interest in this species being utilized with wine or beer barrels, flooring, and intricate furniture crafting. It's also a common species for reliable firewood when the temperatures drop outside.

Oregon White oak wood turns well under the guidance of machines with minimal defects, and that's good for mass production of any wooden product. Transparent staining and dyes are most appropriate if you're looking for a pleasing result for something like a hardwood floor. Fence posts, boxes, crates, and pallets are also crafted using this wood. In the right conditions, after being dried, it is highly rot-resistant.
Madrone Tree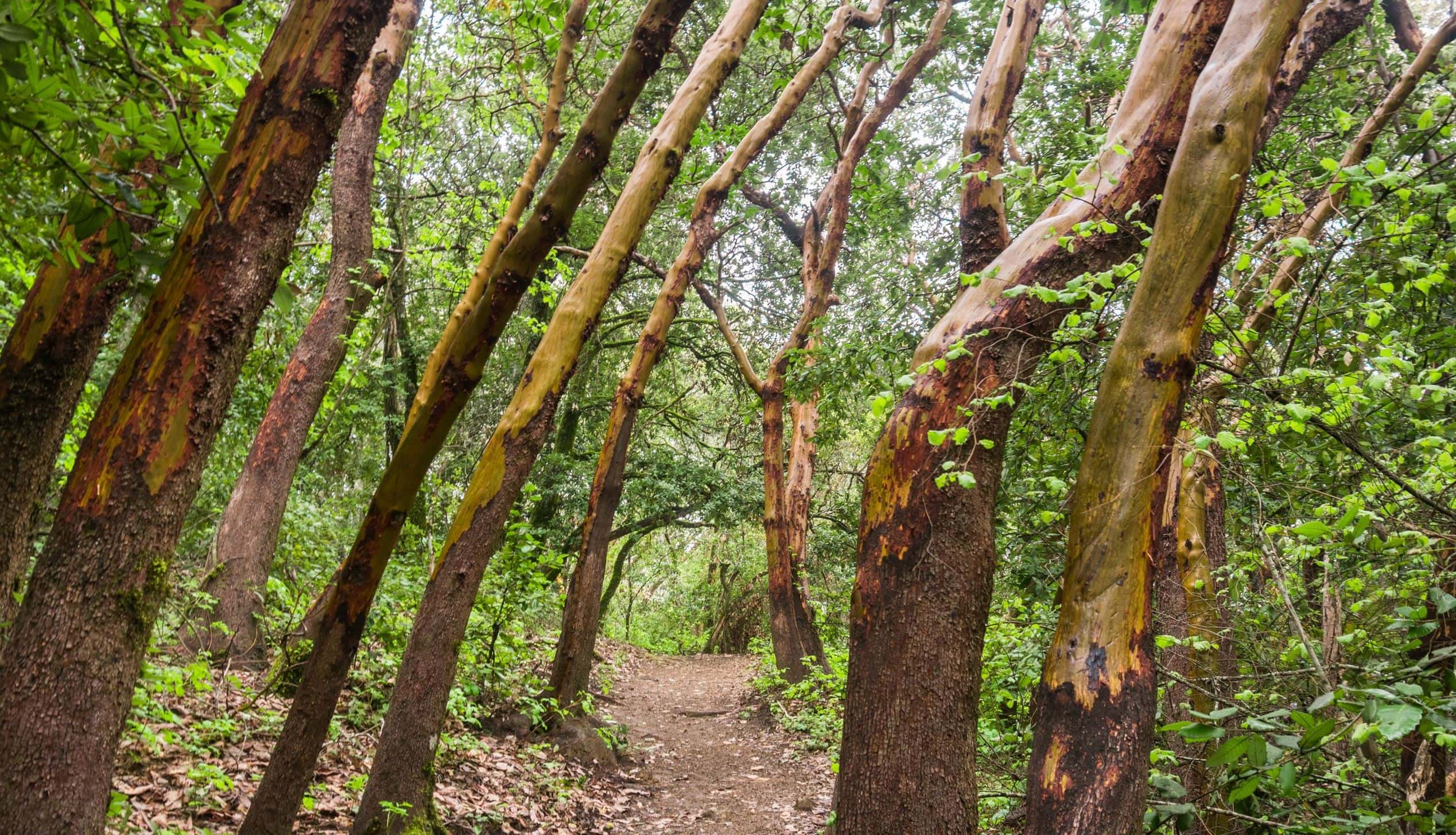 Characteristics
The Madrone is a notably beautiful flowering tree that has some distinct leaves and reddish bark. They are endemic to North America within the Pacific Coast and can also be found in Northern California. It is an evergreen tree called the strawberry tree because of its brilliant red coloration and fruits that look similar to a strawberry. The leaves are glossy and eye-catching, adding to the unusual appearance.
These leaves are oval-shaped and pretty large. It certainly stands out as one of the more magical-looking trees in nature and benefits humans and the environment. It is a phototropic tree where the top constantly searches for sunlight to stimulate continued flourishing. The red bark covers a smooth inner trunk that is ideal for woodworking.
Notable Information
The scientific name for the Madrone is Arbutus menziesii, part of the heath family of trees. This robust hardwood species can live to an impressive 250+ years in the best growing conditions. The exterior bark is relatively thin compared to other species, so it's easy to remove after harvesting. You will notice the Madrone starting to flower in early spring, providing an abundant food source to wildlife.
While they are highly resistant to cold climates, frost can be problematic, which growers have to look for and plan out ahead of time. Because of its natural inclination towards the sun, branches often appear overly twisted and uneven. When competing for sunlight with other trees, it has the potential to grow exceedingly tall and outshine the rest.
Common Products & Uses
There are many products and uses for the Madrone tree, some extending beyond woodworking. For example, the leaves have been proven to have countless medicinal properties. The bark is also used to soothe various ailments like stomach pain and constipation. On the other hand, the wood can be used for an appealing hardwood floor material or sturdy furniture. It can be chopped into logs as an alternative to other types of firewood. Veneers are also popular using this species.
Unlike many berries in nature, the Madrone tree's fruit is edible to humans, so feel free to dig in without any consequences. Interestingly, these same berries can be used to make crafty necklaces when dried. Among different cultures, the Madrone has been seen as spiritually significant and a source of comfort for humans and wildlife.
Myrtle Tree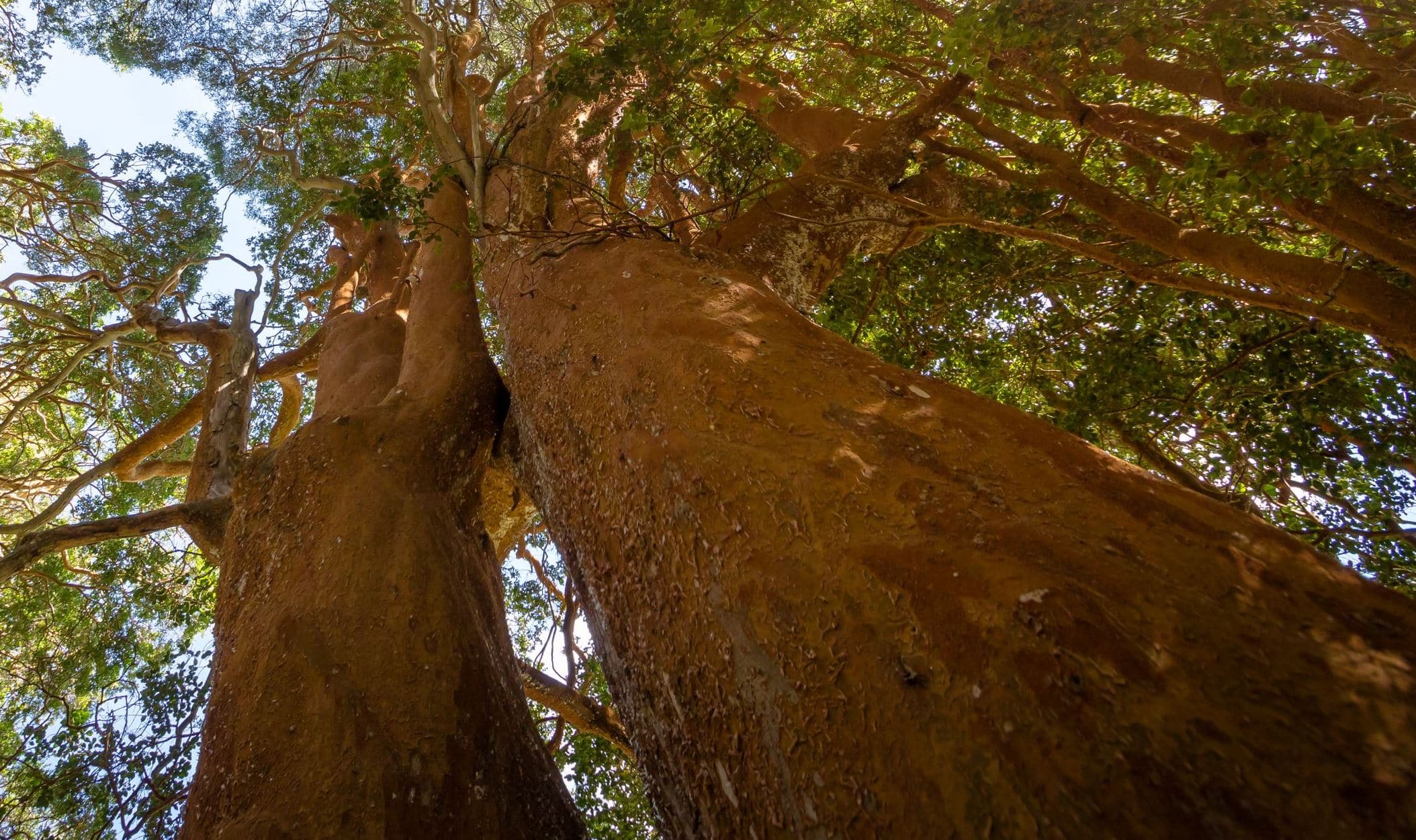 Characteristics
Myrtle wood is a hardwood that can grow 50-80 feet tall and is sturdy under pressure. Not only does it make for a stronger product, but it's often sought after because of its appealing visual quality. It's commonly used for decorative woodworking because of the way it naturally appears. This is a wood with a flexible appearance as if you're looking up into random cloud formations.
It has unique patterns with a naturally mesmerizing quality that can't be ignored for interior decorating. The colors vary from orange-brown to distinctive olive and grey tones. Heartrot is observed with Myrtle wood and can be easily infected with aggressive fungi. Despite this, attaining good-quality Myrtle wood can be a dream with artistic possibilities for any space. The grain can be straight, irregular, or wavy with a smoother texture than other woods.
Notable Information
Myrtle wood is relatively easy to work with in the shop, but there might be some challenges along your journey you should prepare for when considering this species. Tearing can happen if you're cutting through a grain figure, which can be frustrating. Excessive drilling can also potentially create fire through the heat. Sharper, higher-quality tools can help to prevent these possibilities from happening. Even though it's not technically considered an exotic wood, it's the closest thing to it, with unusual patterns you can enjoy all day!

Common Products & Uses
Myrtle has a reliable application for decorative endeavors and will stimulate amazement if you have guests over. The grain variations make it a particular type of wood for artists. One exciting option for Myrtle wood is to consider it for cabinetry. The unique grain patterns make your kitchen look fascinating and earthy more than other types. The only challenge with this would be finding a preservation product to increase the rot resistance for more longevity and value. Fine furniture crafted from Myrtle wood is also magnificent, but it will cost more because it borderlines on exotic lumber. Note these other uses for myrtle wood: 
Musical instruments

gunstocks

Interior Trim

turned objects
Elm Tree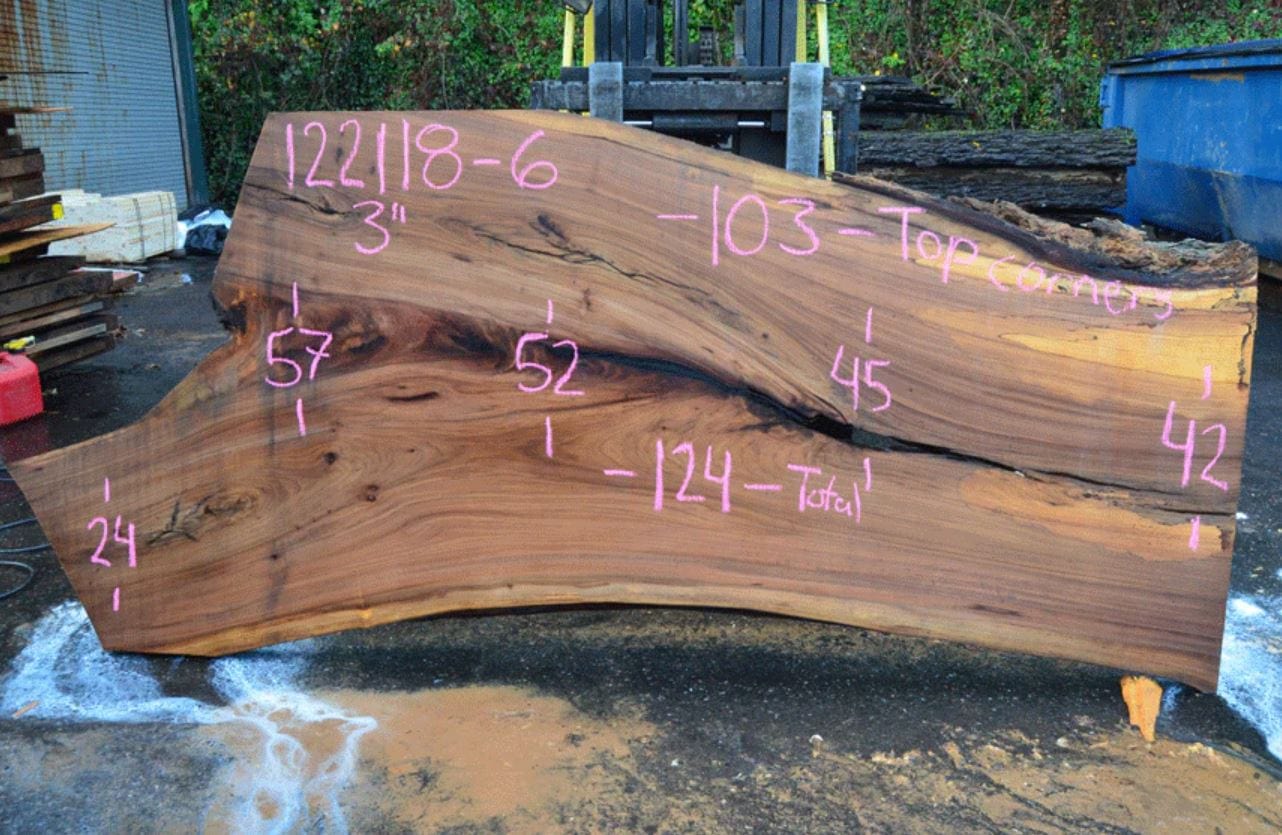 Characteristics
Elm is one of the most valuable trees with abundant oxygen regeneration on our planet. Because of this, they are essential to maintaining wise conservation because cutting down impacts that. However, it's imperative in woodworking and medicine within modern society. It can reach up to forty meters and has a larger trunk that slowly becomes hollow into older age.
The jagged green foliage turns a beautiful yellow in Autumn. The leaves are oval with toothed and veined traits. They can be observed as smooth on the top, but the bottom of each leaf is a hairy texture. The bark has massive grooves and a rough surface, making it hard to climb.

Notable Information
The elm tree is highly resistant to its surrounding environment, making it easier to grow and harvest. However, it is particularly vulnerable to various fungi, which can be bad news. It is a tree native to Western Africa, Europe, and western Asia.
One challenge of growing them is the need for increased space since their trunks are exceedingly wide. It grows best in temperate climates with plenty of moisture to support its larger growth patterns. It's not picky regarding soil quality, but it should be fertilized twice yearly for the best commercial results. Reproduction is through seeds, which seem to grow better near a body of water like a flowing lake.

Common Products & Uses
The Elm tree is fantastic for protecting against the sun with ample shade, but it's also a pleasure to look at, especially in the Fall. Outside these natural benefits, it is also gratifying in woodworking. It has high malleability, making it ideal for crafting wooden floors, home decor, and high-quality furniture. It has also been used for musical instruments and changes from light to a darker shade over time.
Elm is harmonious with structures that must be submerged because it has high water resistance. It is also one of the most common materials to craft a reliable boat. This tree's medicinal properties also reduce inflammation and soothe coughing, pain, and other pharmaceutical products. 
English Walnut Tree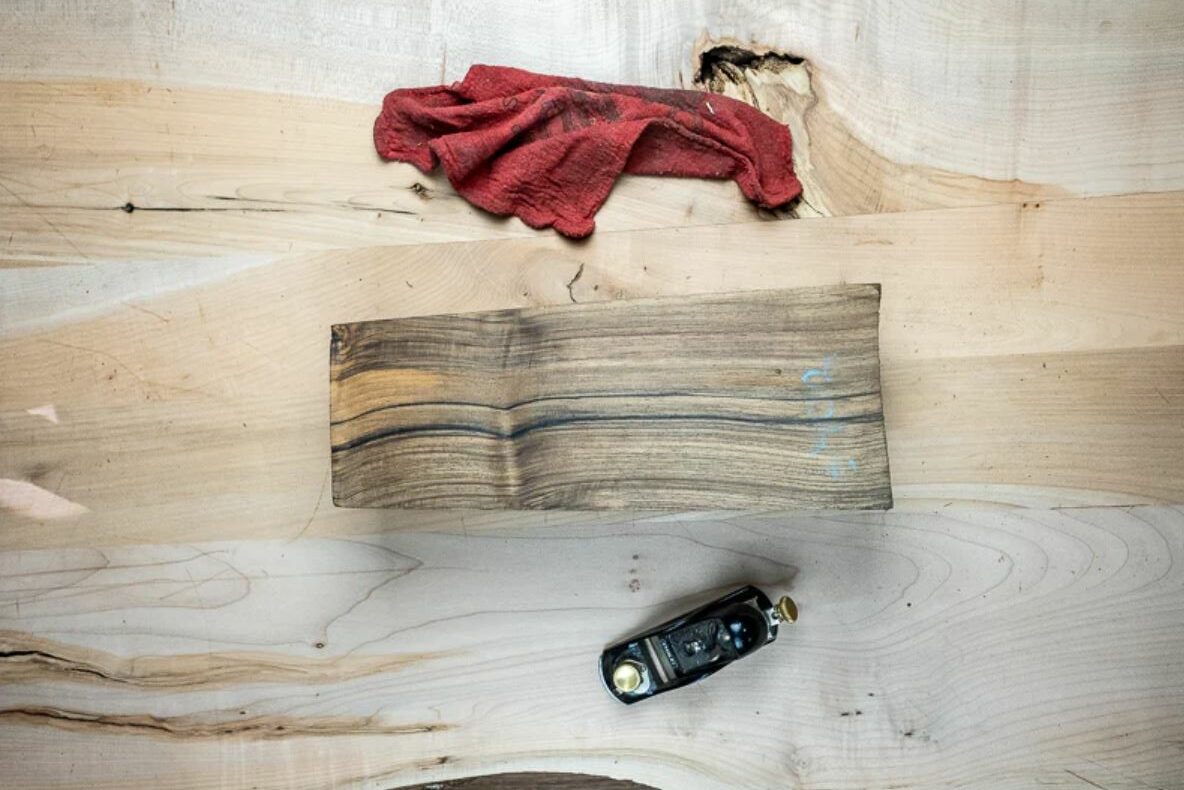 Characteristics
English Walnut trees have darker fine-grained wood that has a variety of uses. They appear to have longer compound leaves with round-tipped leaflets. It produces nuts that are cons. It is highly majestic and breathtaking, with a large crown. It has historically been grown as an effective shade tree that sustains humans and animals. The wood can also be pleasant to use for various products.
The tree produces male and female flowers without pedals in the exact location for self-reproduction. They can live up to 150 years and reach over 60 feet tall. Most commercial growers utilize both nuts and wood when harvesting. The trunk has a nice and smooth grey-silver bark with branches that grow in a typical upward fashion. They grow very fast, at around 36 inches each season.  
Notable Information
The English Walnut tree is native to southeast Europe and southwest Asia, and the scientific name is Juglans regia. It's an imperative commercial crop for many locations such as Oregon & Washington. It appears light brown to darker chocolate with varying streak shades. This species can have uneven grain patterns like curly, burl, or crotch, which might make woodworking challenging sometimes.
However, the wood grain is primarily straight with a medium texture. It is moderately resistant to rot, but watch out for insects because it is vulnerable. Straight cuts with no irregularities will make for a smoother project, and it holds up well when glued, stained, or finished with satisfying results. This is a higher-quality wood that is generally more expensive to obtain. 
Common Products & Uses
Because it's on the pricier side, you'll observe walnut wood being converted into luxurious veneers. However, it can also be crafted to suit a more refined taste with beautiful walnut furniture. Cabinets are also eye-catching when using walnut and produce satisfactory results. For Gary Goby, walnut was his wood of choice when crafting gunstocks because they have adequate shock absorption and increased stability. Where some saw dead trees, he saw the opportunity for innovation in constructing a great product. They are also the most common walnut for consumption. This more expensive wood is used for all types of products, including:
Interior paneling

Artistic Decorative carvings

Art Frames

Veneer

Turned Items

Wooden Objects

Smaller Novelty Items
Bastogne Walnut Tree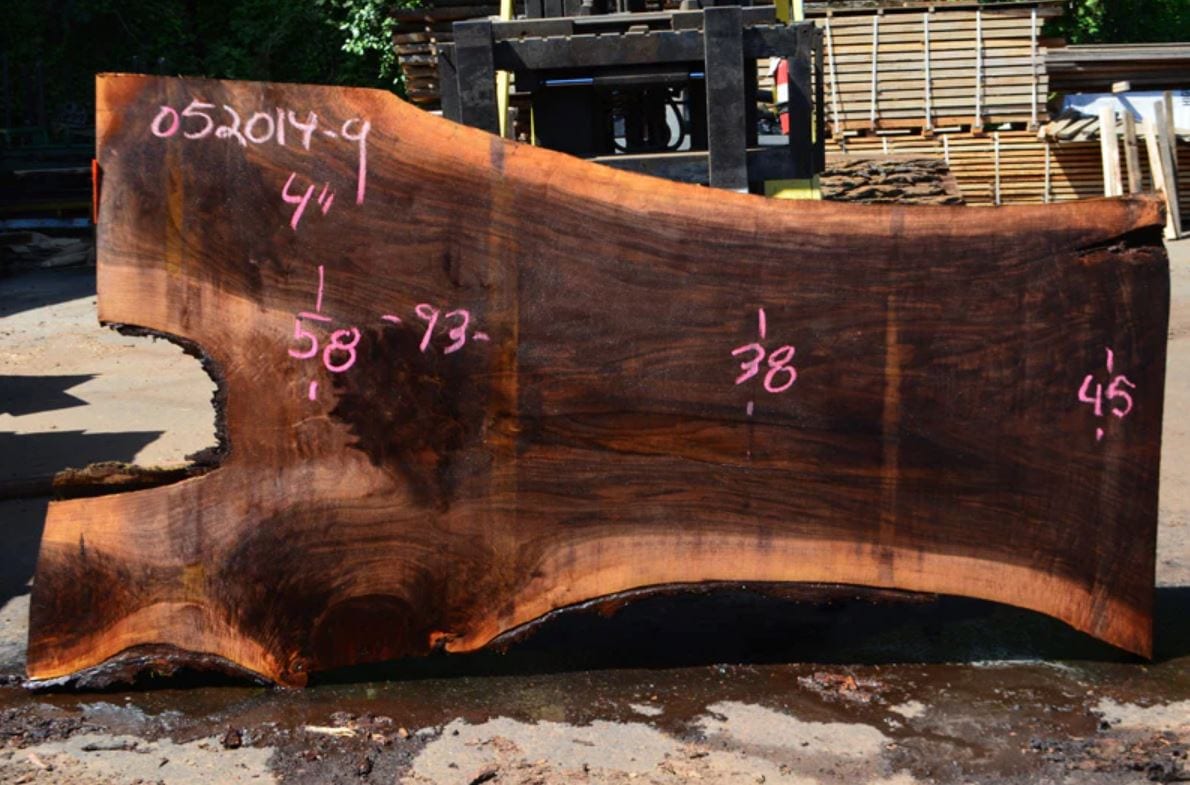 Characteristics
The Bastogne Walnut has a heartwood coloration that can appear to be a golden yellow or potentially reddish-brown. Streaks go through the wood at times and appear to be almost black. Rippled and curly wood can be observed in some cuts, but it's mostly straight with a medium texture. It is a hybrid of claro and English walnut trees.
Walnut trees are well-known for their outstanding aesthetic character when woodworking, and the Bastogne is no exception, taking elements from its hybrid parents and making a new species variation. Its bold characteristics make this wood exciting to work with as opposed to other species. The contrast in grain colors opens the door to new creative endeavors.
Notable Information
An interesting alternative name given to this tree is "Paradox." It has a moderate luster that can be enhanced with various products. Not much data is available on its resistance to rot, but if we go by other trees in the same classification, it has moderate to extreme resistance. Choosing the correct grain is vital if you want things to go well when using machinery in the shop.
Some particles from working with this wood might be irritable to the eyes and lungs if inhaled. Skin reactions have also been observed in sensitive individuals. Because of its beauty and striking appearance, Bastogne walnut tree wood is more expensive but worth the investment to make a project more unique.
Common Products & Uses
Bastogne has the same uses as any other walnut tree, including items like gunstocks, fine furniture, veneer, guitars, knife handles, and many smaller objects. It is currently on the list of threatened species, contributing to the higher price range. It can also be used for more extensive jobs like flooring for an awe-inspiring natural result for any space.
Many people choose hardwood over carpet because of its natural appeal. Walnut sometimes has interlocking grain patterns, which mich be challenging for less skilled workers. They can be completed with diligence, though, and it will make you want to work with Bastogne wood more often. Here are some other things that some woodworkers accomplish with this wood:
Door knobs

Luxury outdoor furniture

Wood-turned items

Handles

Grooved furniture

Oars

Decoratively Carved Coffins
Tanoak Tree
Characteristics
With the Tanoak tree, the sapwood and heartwood are essentially the exact coloration and appearance. This species presents as a reddish brown from lighter to darker shades. It naturally gets darker as the material ages and is suitable for crafting multiple objects. The Tanoak tree is an evergreen part of the beech family and grows up to 200 feet tall. In the wild, you'll find them around the west coast.
The crown size will depend on the growing conditions, with a shorter span around other species and more prominent when it has sufficient space. It is a close relative of the oak tree, producing acorns to feed wildlife, and has spiny caps similar to chestnut shells. The trunk diameter is around four feet when fully grown, and it is persistent in thriving under different conditions.  
Notable Information
The scientific name for the Tanoak tree is Notholithocarpus densiflorus, and you will notice they are also called tanbark trees. It's important to distinguish between the Tanoak and a pure oak tree because they are only a close relative. Would you call an owl an eagle? Certainly not, and it's the same principle with this species. The grain is primarily straight when working in the shop, with a uniform texture that is somewhat coarse.
Unfortunately, it doesn't have rot or insect resistance and is perishable. You can work with either machine or hand tools, but it will have less than desirable structural stability for the long term. Tanoak tree lumber is moderately priced but may need to be ordered online. It's undoubtedly a unique wood that is useful in many industrial contexts, from plywood to baseball bats.
Common Products & Uses
The common uses for this wood include crafting veneers, furniture, railroad ties, and flooring. Tanoak is particularly revered as one of the better woods for manual woodworking. Some professionals describe it as a "noble wood" with excellent handling. In many circles, it is considered more artisanal wood for crafting items such as beer keg handles for breweries. The flooring looks attractive with a lovely grain pattern and coloration with a tint of red sometimes.
It has high abrasion resistance with an incredible hardness that makes it perfect for the wear and tear of daily living. Specific industrial applications like truck flooring are also implemented. Railroad tie crossings are common but sprayed with a preservative to compensate for the non-resistant properties. Additional uses include a viable fuel source along with pulp for producing paper. 
Frequently Asked Questions
Question: Does Goby Walnut have a good selection?
Answer: Yes, they have a large selection of high-quality woods sourced from many types of trees. These are excellent for woodworking and cover multiple needs. There are planks, slabs, tonewoods, and smaller crafted valuable items.
Question: How do I choose the suitable wood for a project?
Answer: First, assessing your durability needs is good because it is essential if you require higher endurance. Woods react differently to weather too, so this should be taken seriously, especially if your project is exposed to water. If you're looking for a particular look, aesthetics come into play. There are dark, rich woods or lighter, uplifting tones and grains. It comes down to understanding your needs while doing extra research before starting a project.
Question: What are the benefits of using tonewoods?
Answer: Tonewoods are especially useful for promoting good tone across various instruments. They are considered more advantageous than other woods because of their inherent tonal properties. Tonal wood produces different outcomes with musical instruments, which is why Luthiers use it to shape and optimize the sound.
Conclusion: Goby Walnut Has Many Durable & Beautiful Species!
Goby Walnut is a company that has all these trees for various products and more. They are treated with care from the ground up until they're ready for your shop. Hardwood is particularly useful with many options to choose. Goby Walnut has evolved to cover multiple crafting areas, giving a greater diversity of tree species to consider for any woodworking project!
They are excellent for furniture, carving, crafting containers, making paper, and many smaller projects. You'll find high-quality wood grown and harvested with consideration and professionalism. The most significant benefit of considering these tree types is that they are cut with accuracy and sturdier results for all wooden structures, small or large. These are some of the best trees on the market for making lumber, slabs, and appealing tonewood!