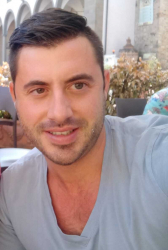 Latest posts by David Borgogni
(see all)
Husqvarna is one of our favorite brands here at the Forestry Pros. They are known for designing and producing quality power tools that can be used in commercial and residential capacities. Today, we will be looking at one of their newest mid-size models in our Husqvarna 445 review and guide.
When it comes to chainsaws, there are various shapes and sizes to get to grips with when looking for the right one. Lightweight models are best suited to smaller jobs around the home, whereas larger, more powerful saws like the 572xp, for example, are ideal for large jobs and professional outfits.
Somewhere in the middle are mid-sized chainsaws that offer a bit more cutting power than the smaller models but still make for great use around the home. The 445 is a prime example of this and one that we'll be focussing on today.
Husqvarna 445 18" Gas Chainsaw | Amazon
The Husqvarna 445 has a starter cord that's easy to pull and an engine that's quick to start. Features LowVib® anti-vibration technology for safe, comfortable control.
Buy at Amazon.com
We earn a commission if you make a purchase, at no additional cost to you.
09/20/2023 11:04 pm GMT
In this article, we'll be outlining the core features of the 445, its pros and cons, which we think this tool is best suited to, and some alternatives that are worth considering. We'll then be answering some frequently asked questions and offering our final thoughts.
But before we get into the details, let's look at a product overview of the Husqvarna 445.
Core Features of the Husqvarna 445 Chainsaw
The 445 comes from Husqvarna's mid-range of chainsaws and provides more power and cutting ability than lighter-weight models. If you're after something slightly easier to use and more maneuverable, then check out the 240; it's a much smaller saw that still offers a good amount of cutting power.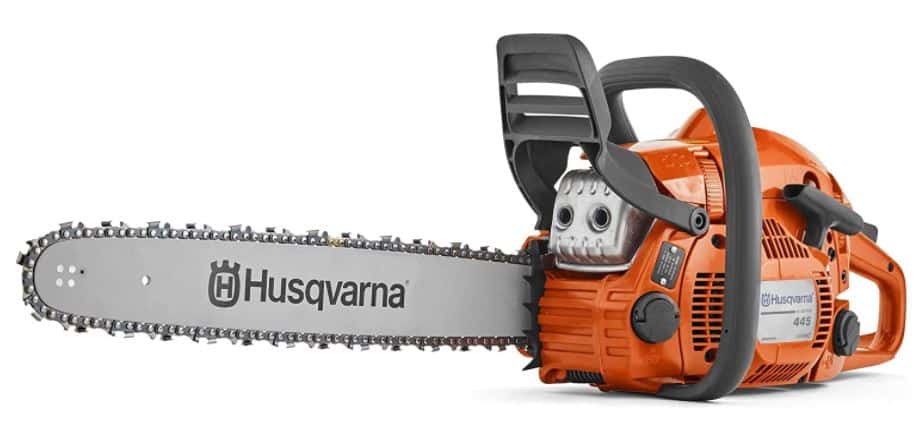 The Husky 445 rancher is a brilliantly well-rounded tool that's been designed with home and landowners in mind from the outset. It's balanced and easy to use while retaining the power of a larger model. It's a gas-powered tool that starts easily no matter the weather and comes packed full of features that make it one of the best chainsaws available at the moment.
In this section, we'll outline some of the best features you can expect to enjoy when using a 445. From its agility to its cutting power and everything in between, the Husqvarna 445 Rancher has a lot to offer.
Air Injection
Husqvarna's Air Injection technology has been included with the 445. This means that larger dust and debris particles that tend to clog the air filter are automatically removed before they reach it.
It's a clever design that most modern Husqvarna products now include. By removing these larger particles, the 445 requires much less filter maintenance than older versions. The air filter is one of the parts of a gas-powered tool that needs some of the most regular maintenance. By filtering out the largest particles, you save time and money on repair costs, and the engine runs smoother and more efficiently for longer.
Side Mounted Chain Tensioner
When working out in the yard or further afield, tuning and tweaking your tools easily helps productivity. On their modern range, Husqvarna has made it so that altering chain tension is done via easy access on the side of the unit. All you need is a flat-head screwdriver, and you can adapt the tension depending on the job at hand. No need to take the casing off to get at it.
X-Torq Engine
All gas-powered engines have to adhere to strict environmental rules these days. Husqvarna's latest engine is highly efficient and features high levels of power while reducing emissions outputs. X-Torq is a tried and tested way of getting the most from their machines, and it is included on the 445.
LowVib
The vibrations caused by the engine can have a damaging effect on the operator if they are exposed to them for too long. They can reduce not only fatigue but also serious physical health problems to the hands and forearms. To combat the effects of these vibrations, Husqvarna has developed what they call 'LowVib' technology. This works by isolating the engine and dampening the vibrations it generates. While this does not completely remove them, it helps users operating the 445 do so for much longer periods.
Smart Start
Another core feature of the 445 is the smart start technology. This feature has been designed to make the chainsaw incredibly easy to get going, with resistance on the pull cord reduced by up to 40%. This is incredibly useful if getting pull-start engines going is not your thing, particularly on a cold morning.
Safety Features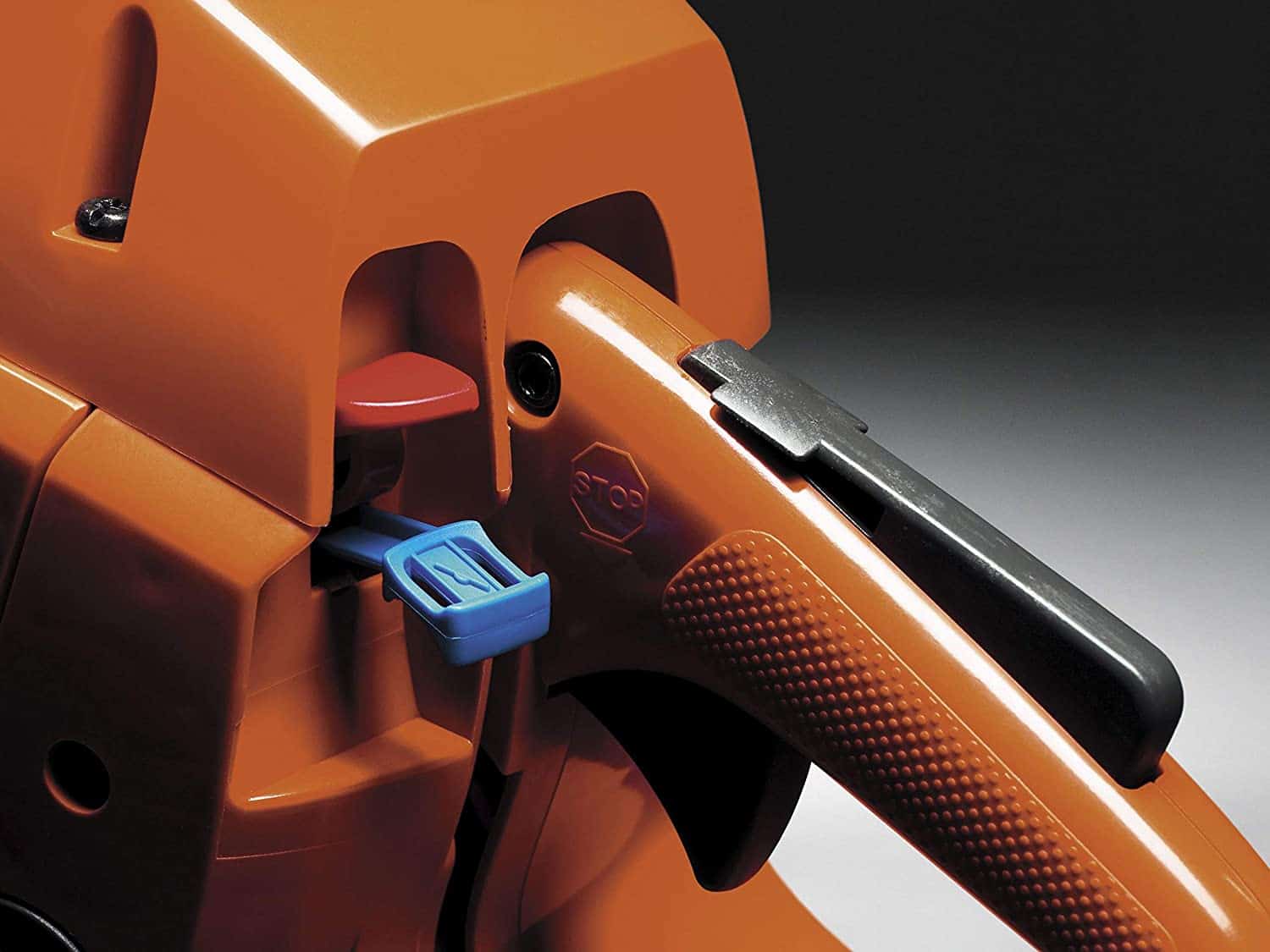 Chainsaws can be very dangerous and should only ever be used under great care and by someone with experience. Thankfully with the 445, Husqvarna has included some of their trademark safety features.
Their inertia-activated brake immediately stops the cutting chain from rotating when a sudden impact is detected. This means that if the tool is dropped or the operator falls, the chain cuts out instantly and dramatically reduces the risk of injury. There is also a 'dead man's switch that requires pressure to be applied at all times to keep the accelerator engaged.
On top of these safety features, you get a chain catcher on the bottom of the saw. This helps catch the chain if it jumps or snaps off, protecting the user's hands and face. There are also front and rear hand guards that protect against any thick foliage or brush irritating your hands and interfering with your grip on the saw. These guards also offer protection from the chain should anything happen to it.
Husqvarna 445 18" Gas Chainsaw | Amazon
The Husqvarna 445 has a starter cord that's easy to pull and an engine that's quick to start. Features LowVib® anti-vibration technology for safe, comfortable control.
Buy at Amazon.com
We earn a commission if you make a purchase, at no additional cost to you.
09/20/2023 11:04 pm GMT
Professional Ergonomics
The 445 comes with several handles that allow you to position the saw while in use. The main and auxiliary handles are solid, with a rubber compound used to ensure maximum grip and comfort. This allows the saw to be used in different ways and even facilitates cutting up into wood easily.
Three-Piece Crankshaft
The crankshaft is made from forged metal that ensures maximum durability for the toughest of jobs and helps to ensure that the 445 is a well-built saw that will keep working for years after purchase.
The Husqvarna 445 Chainsaw can be found on Amazon, but does Amazon offer other high-quality chainsaws? Read here to find out.
How Does The Husqvarna 445 Rancher Perform?
Performance-wise the 445 is a strong contender for the best Husky currently on the market. It possesses that winning combination of power and agility, making it a great choice for many people. Domestic users will find it more than capable of tackling the jobs that need to do around the yard, and professional outfits will benefit from having one of these as a supporting tool to their bigger, more powerful workhorses.
As with most modern Husqvarna models, the features work well. The LowVib tech is well documented as dramatically helping to reduce the effect vibrations have on the user. We found this to be true when testing. Also, for its size, you could notice how smooth the cutting experience was compared with competitor models of a similar size.
The ergonomics stood out too, with the rubber-coated handles offering a fantastic level of grip and gives you confidence that the machine will not slip out of place while in use. The front auxiliary handle is also tilted to allow for an even better experience. This comes into its own when using the unit on its side and cutting horizontally.
In terms of cutting power, the 445 can cut through almost anything you would expect of a mid-sized chainsaw. Most branches and foliage you would come across can be tackled easily, with even the largest trees and the thickest debris becoming no match for the 445 if you know what you're doing. The X-Cut chain works great and is as sharp and reliable as Husqvarna claims it to be, although bear this in mind when you use it and be sure to use all of the necessary safety equipment.
This saw also ships with the great safety features we outlined earlier. For example, the inertia-activated brake on the chain mains potentially disastrous accidents can be avoided. When the chain detects a sudden impact, like if you fell onto something, for example, then the chain is stopped immediately. This is particularly useful if you intend to be working alone, at heights, or in remote locations.
The 445 is also super easy to start. Loads of the older gas-powered saws were tricky to start unless you'd done it a thousand times. The easy-start tech included by Husqvarna has reduced the amount of force needed to use the pull start by 40%. We believe them too. It feels surprisingly easy to get going, and even if it doesn't fire on the first go, the 47cc engine is ready to go by the second or third.
The X-Torq engine is another area that helps the 445 to excel. Its been a feature in Husqvarna power tools for the last few years, and it has been a huge success. Not only is the engine more efficient in that it uses less fuel, but the gas burned releases way less harmful emissions.
Pros of the Husqvarna 445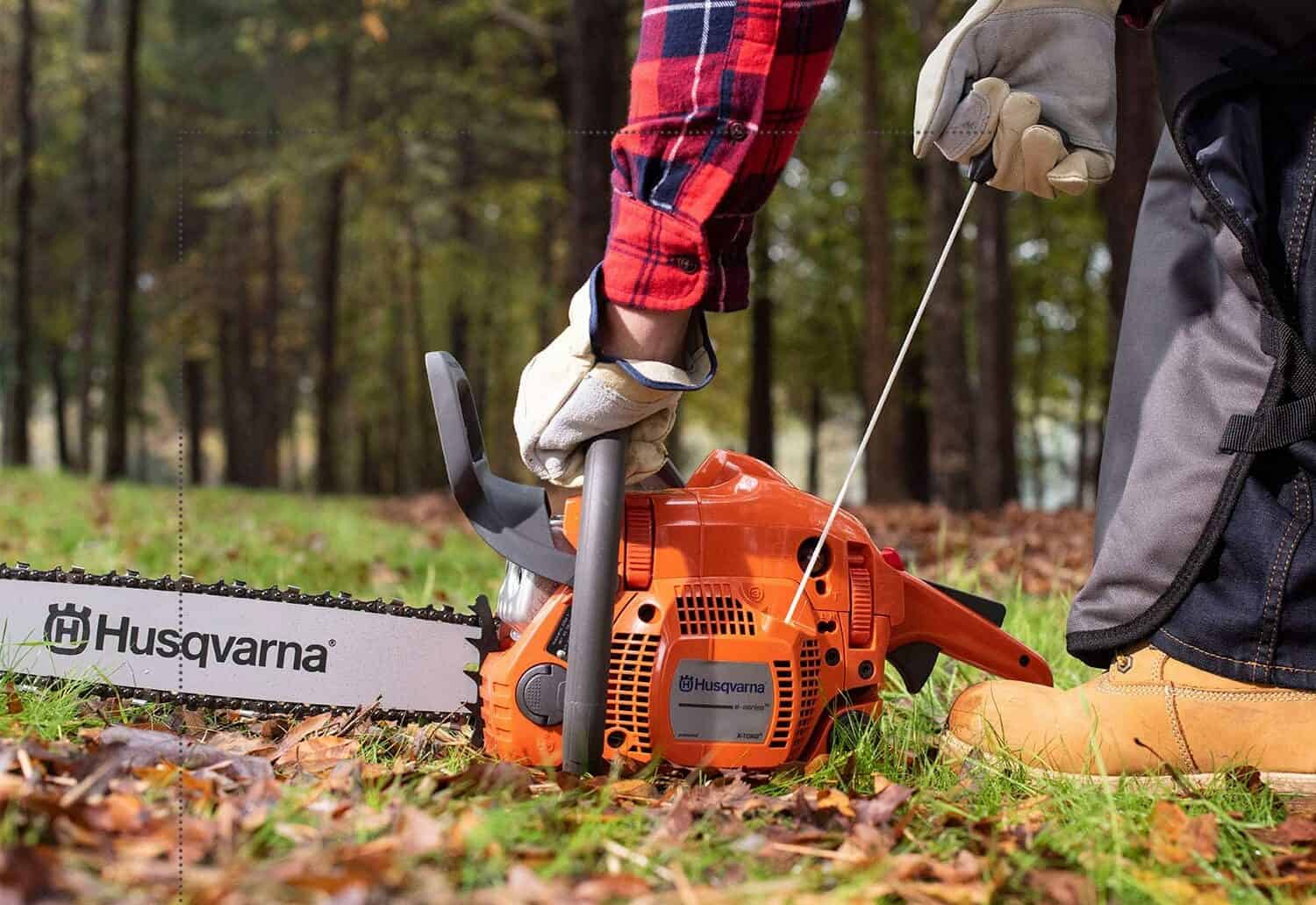 This well-designed chainsaw has plenty of positives points to talk about. Here, we'll take a closer look at each of them and outline how they may influence your buying decision.
Low Vibration (LowVib)
Husqvarna's LowVib technology is included on the 445 and results in a super smooth cut. The front handle's vibration levels were measured at 3.1m/s2, and the rear handle's 4.9m/s2. This is significantly lower than older Husqvarna generations and has been proven to boost performance time and again.
The X-Torq Engine
One of the real stand-out features of any modern Husky is its engine. X-Torq technology is billed as being highly efficient as well as good for the environment. It certainly lives up to that with the capacity to cut through plenty of foliage before needing refueling.
Professional Grade Ergonomics
All of the handles feel solid and make maneuvering the 445 simple despite not being one of the smallest saws around. Cutting up into wood and down is manageable while accessing the fuel and oil reserves easily adds to the ease of use you come to expect from any quality Husqvarna product.
Air Injected Cleaning
Reducing the amount of time you have to spend fixing your tools is always a positive. The 445 uses air-injected cleaning to get rid of large dust particles before they have the chance to clog the air filter. This means you have to empty it less, and there is less chance of it having any issues. As the air filter is often the source of problems on a gas engine, reducing the amount of maintenance needed is a great help. You can also access the air filter easily, even if you're wearing work gloves.
Cons of the Husqvarna 450
Price
The only real point that someone could take issue with here is the price. Husqvarna makes premium products, and as such, their saws come with a premium price tag. But, of course, you get what you pay for, so many argue the higher price tag is justified.
What Are the Best Alternatives?
Husqvarna 20 Inch 450 Rancher II Gas Chainsaw | Amazon
The new lightweight & efficient 450E series chainsaw is an all-round saw, ideal for those looking for a chainsaw that is exceptionally easy to start & maneuver. Featuring X-Torq engine for lower fuel consumption & reduced emission levels.
Buy at Amazon.com
We earn a commission if you make a purchase, at no additional cost to you.
09/20/2023 11:36 pm GMT
The 445's older brother, the 450, is perfect if you need something just a little larger with more power and a larger cutting arm. It comes with a 3.2 horsepower engine and a 20" arm as standard. Much like the 445, it can be used by both homeowners and commercial outfits but offers that bit more cutting power. You can read our in-depth review of the Husqvarna 450 now.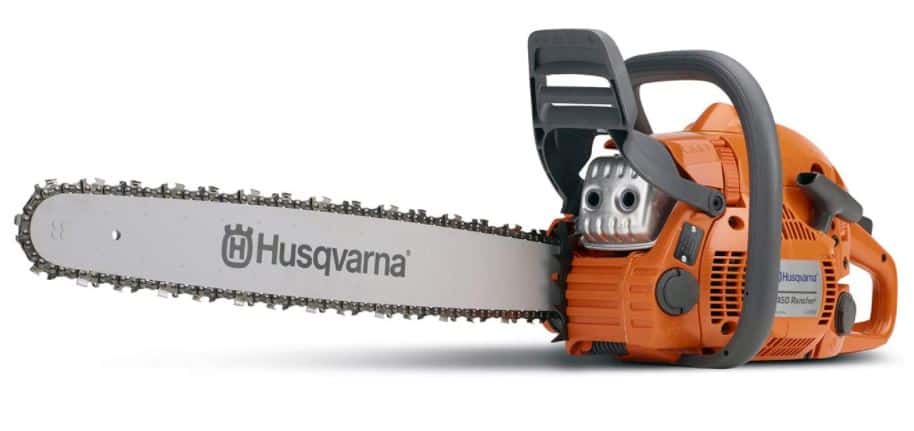 Husqvarna's 240 | Amazon
The Husqvarna 240 Chainsaw is ideal for jobs like pruning, lighter cutting tasks and hobby work. Easy to start and operate, thanks to built-in Husqvarna features like ergonomic design, facilitating technology and a powerful X-Torq engine with low emissions.
Buy at Amazon.com
We earn a commission if you make a purchase, at no additional cost to you.
On the other hand, if you need something a bit smaller and more agile, then the 240 could be the best saw for you. The cutting arm on the 240 is 16," and the unit weighs in at just 10.3lbs making it perfect for lighter use around the yard of any land you need to work on. Not the best choice for professionals, but perfect for domestic use. If you think this could be for you, read our detailed Husqvarna 240 review and guide.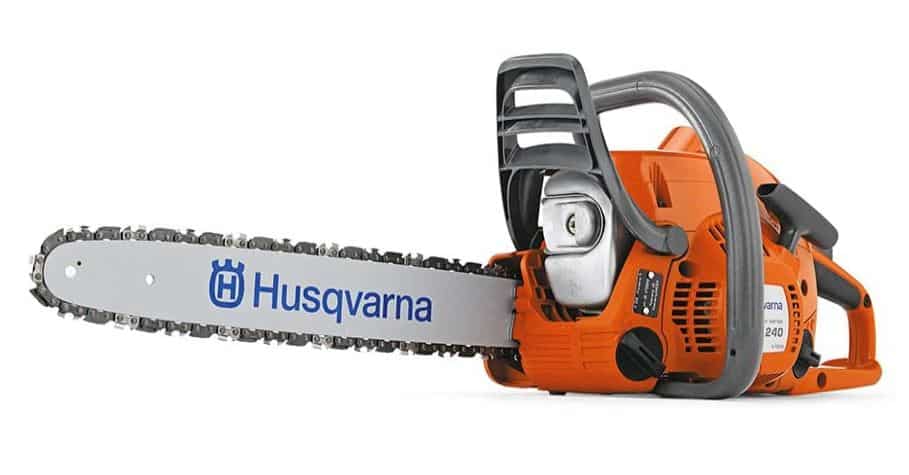 Frequently Asked Questions
Question: Does the 445 come with a chain?
Answer: Yes, the majority of retailers will provide the model with a chain included. You will also find that a tool used for tightening the chain is also included, allowing you to adjust chain tension on the go.
Question: Is this chainsaw suitable for a beginner?
Answer: The Husqvarna 445 is equipped with a host of safety features that guard against any accidents that may occur thanks to inexperience. It also has easy-start technology that is ideal for anyone who hasn't started a 2-stroke engine before.
Question: What does the centrifugal air cleaning system do?
Answer: The centrifugal air cleaning system channels all air heading towards the carburetor and diverts it via the starter first. This aids the air filter cleaning process and prevents large debris from building up.
Final Thoughts on the Husqvarna 445 Chainsaw
Anyone already considering getting one of these will be more than familiar with the merits of owning a Husky. The 445 is an excellent chainsaw that you will not be disappointed with should you go ahead and buy one. It's ideal for such a wide range of tasks that it will be suitable for most people looking for a new chainsaw.
While there are plenty of alternatives on the market, the 445 is a strong candidate for the best mid-sized saw around, especially since it's priced very competitively compared with other top-of-the-range brands.
We would definitely recommend the Husqvarna 445 chainsaw to anyone who may be considering buying one.
Husqvarna 445 18" Gas Chainsaw | Amazon
The Husqvarna 445 has a starter cord that's easy to pull and an engine that's quick to start. Features LowVib® anti-vibration technology for safe, comfortable control.
Buy at Amazon.com
We earn a commission if you make a purchase, at no additional cost to you.
09/20/2023 11:04 pm GMT