Latest posts by Samantha Biggers
(see all)
No matter if you have a small woodlot or just a house in town with trees and shrubs, a chainsaw is a useful tool to have on hand. Of course, there is a lot to think about before purchasing a chainsaw. Amazon offers chainsaws that are suitable for everyone from homeowners and small parcel owners to professional tree crews.
In this post, you will learn what criteria to consider before purchasing your saw, and I will show you the best options available for easy delivery on Amazon.
Bottom Line Up Front: Amazon offers a lot more chainsaw choices than they used to. That being said, there are some major brands such as Stihl that are missing because you have to buy them at a dealer. My choice for the best all-around gas chainsaw available on Amazon is the Husqvarna 120 Mark II. My top pick for the electric best amazon chainsaw is the Makita-UC4051A Chain Saw due to how well it performs in my woodlot and around our farm.
How I Chose My Top Picks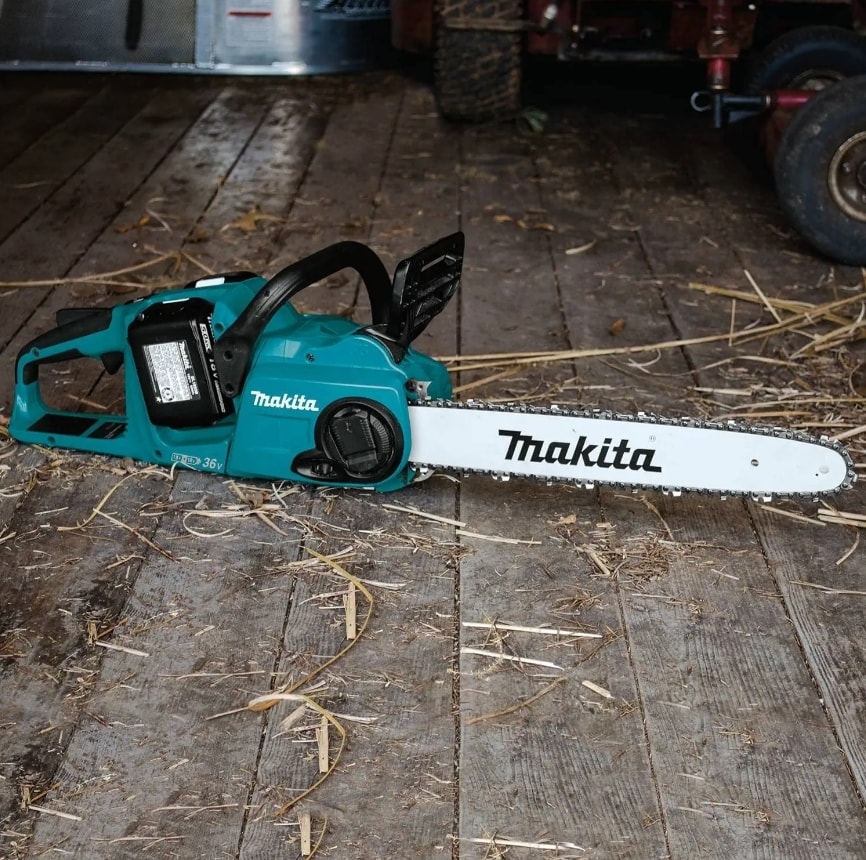 Size
Small to mid-sized chainsaws make up most of the list because they are what is best for most homeowners and people with small to mid-sized forested tracts. Too large of a saw is a waste of money and is actually harder to use.
Brand
I attempted to find well-known brands that I personally know to be of high quality. Low-quality chainsaws often have safety issues. I will never forget the experience my husband had when we were clearing our property to build our house. We bought a cheap gasoline-powered chainsaw designed for homeowners that rarely need a saw.
After a few weeks of use, the handle came off while my husband was using it. Luckily, the chain was not running, and he got out of the way. I am thankful the situation was not worse. That experience taught us a lesson about buying the cheapest saw we could find.
Top Picks
When it comes to picking out a chainsaw, the first thing you need to decide is if gasoline or electric is right for you.
Electric Chainsaws
Pros
Inexpensive because electric motors cost less to produce than gasoline engines.
Quieter
Vibrate less
Weigh a lot less than a gasoline-powered chainsaw
Can be used with a power center and solar panels even if gasoline is not available
No expensive 2-Cycle gas mix to purchase
No emissions
Cons
Limited cutting power
Not available in bar sizes above 18″
Can only be used where there is a power outlet or with the use of batteries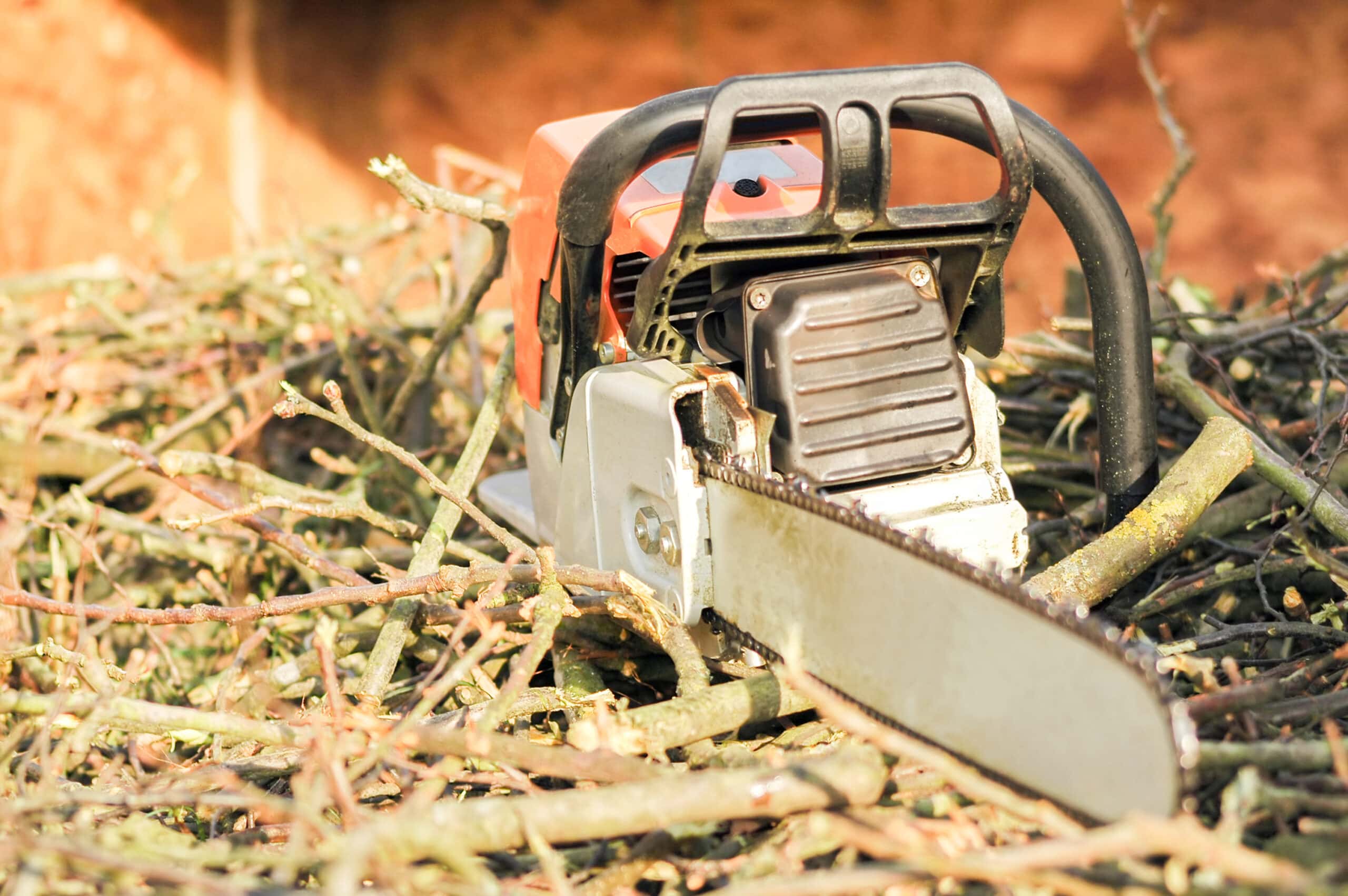 Gasoline Chainsaws
Pros
Reliable
Can be used practically anywhere
Wider range of sizes so you can get a more powerful saw.
Cons
Rely on gasoline and 2 cycle gas mix
Loud
Vibrate a lot
Require more maintenance
Heavier than electric saws
Having a gasoline powered chainsaw and an electric saw has its advantages.
Since electric chainsaws are so affordable, you may find that having a gas powered saw and an electric one is an excellent combination. For example, you could use your more powerful gas chainsaw for felling trees but sometimes use your electric for cutting rounds or limbing.
Buy the Right Size Chainsaw for the Job
Bigger is not always better. In fact, buying a chainsaw that is more saw than you need for your tasks can actually make it take longer because it is more tiring to operate a larger chainsaw. Not only that, larger chainsaws cost significantly more money.
Professionals or even those with a decent sized chunk of land often own several sizes of chainsaw, so they can take on most any task with the right chainsaw for the job. If you are just going to own a single chainsaw, then go for a small to moderately sized chainsaw, even if you see a great deal on a big one.
Remember that even if you buy a chainsaw that has a small bar and chain, you can likely change it out for a longer bar and chain for bigger cutting jobs. In fact, it is a great idea to keep an extra bar and chain on hand for backup in case one gets damaged on a job.
Gasoline Powered Chainsaws

Pros
Rugged construction
Well-known brand with a great reputation
Easy to find replacement parts
24″ bar and chain
Cons
Large and heavy for homeowner and small woodlot use
Higher price point
The Husqvarna 460 Rancher is the biggest saw in my top picks.  For most people this saw is bigger than what they need. However, there are times and places where a saw that boasts a 3.62 HP engine is exactly what you need. The 460 is capable of taking on large trees thanks to the 24″ bar and chain. Cutting is smooth and easy because the Rancher has an automatic oiler, so your bar stays cooler and cuts like a knife through butter.
I really like that Husqvarna includes an anti vibration system on the Rancher. One of the biggest problems with running a large saw for any length of time is the higher levels of vibration on your arms and hands.
The 460 Rancher is not a lightweight saw. It comes in at 13.2 lbs not counting the bar and chain. You can reduce the weight slightly by using a shorter bar and chain when the job doesn't need a huge 24″ bar.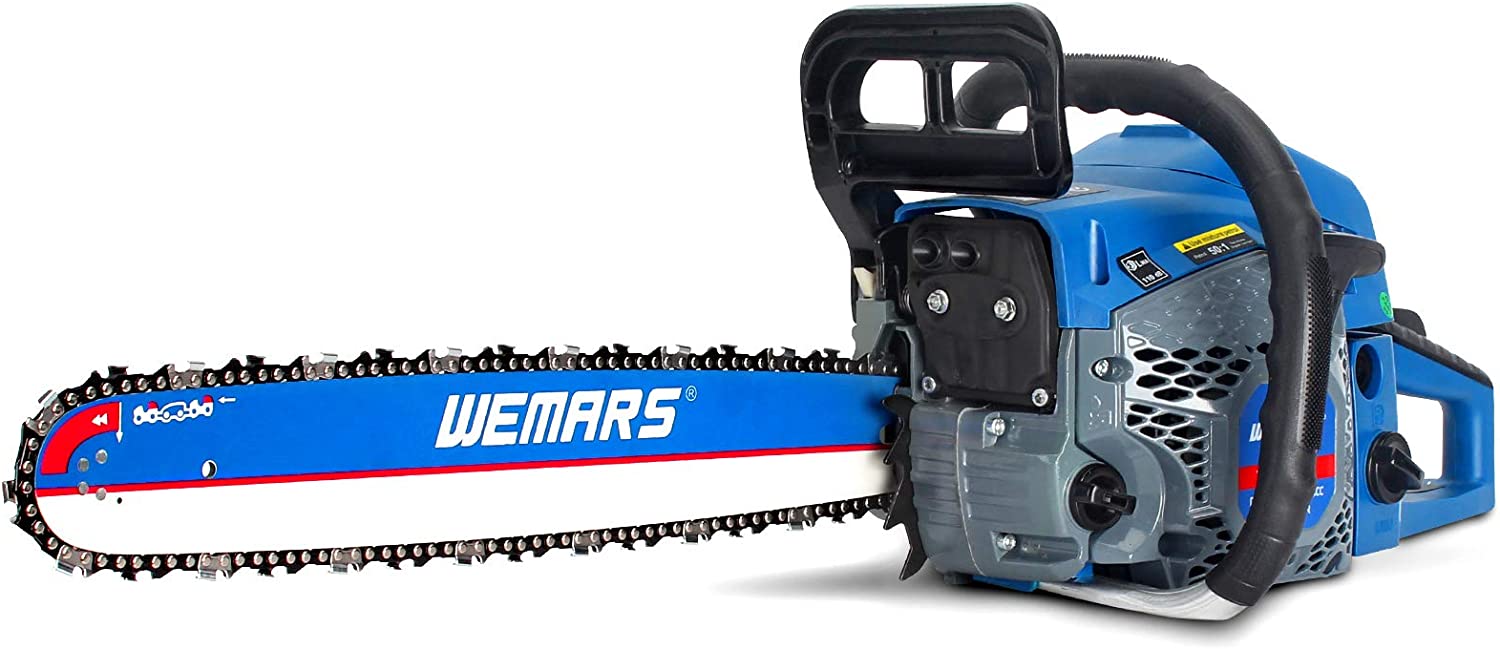 Pros
Affordable
20″ bar and chain
Easy chain adjustments
Cons
WEMARS is a brand that I have just found on Amazon, but it is proving itself in the world of inexpensive gasoline powered chainsaws. The 20″ bar and chain are long enough to take on some larger trees. Unfortunately, this saw is heavy. In fact, at just under 15 lbs, it is comparable in weight to the Husqvarna's 460 Rancher.
This saw is a reasonably priced choice for those that occasionally need a saw and want one that has a lot of power. Using this saw for brief periods of time would not be so bad, but over the course of an entire workday, that 15 lb weight is going to wear you out. I could also see buying this saw to have a larger saw around if you already have a smaller one for more frequent use.
The WEMARS features a quick release air filter, something I highly approve of. It is amazing how easy it is to forget to change your air filter and have a big impact on the performance of your chainsaw.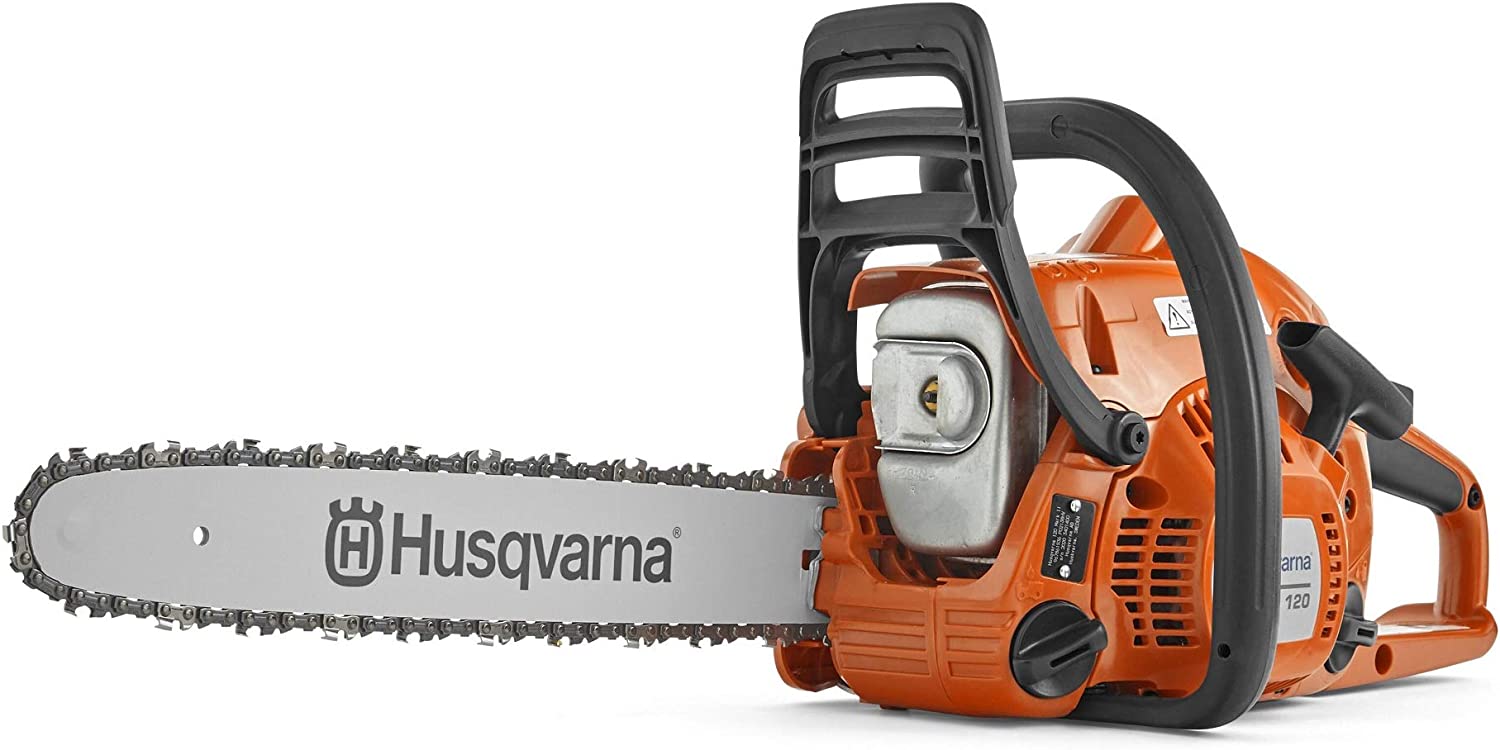 Pros
Rugged and reliable design
Affordable
Great size for homeowners and small landholders
Cons
A bit small for larger trees
The Mark II is a great compact, lightweight chainsaw for small to moderate jobs. The affordable price point makes it a great starter chainsaw for those that are just moving into a home with some land or the weekend warrior trying to clear out a few trees and improve their land.
Don't let the small size of the Mark II fool you.  Husqvarna packs an outstanding 2.1 horsepower into the 10.36 lb power head. The chain and bar add some additional weight, of course, but even so, this saw is light enough for you to run comfortably for an extended period. The 38cc motor features an emission reducing system.
The Mark II is my top pick for a gasoline powered chainsaw available on Amazon. The size, quality, and price point make it a chainsaw you will not regret purchasing. If you are an Amazon Prime member, you can get this great little saw as soon as tomorrow.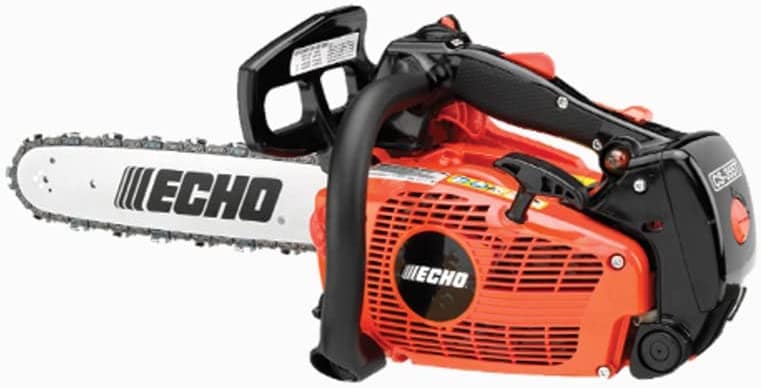 Pros
Lighweight
Well-known high quality brand
16″ bar for light to moderate jobs
Cons
Top handle design may be awkward for those used to traditional chainsaw handles
The Echo CS-355T is Echo's most powerful top handle chainsaw. It is designed to pack a lot of power without weighing a lot. In fact, at just 8.2 lbs, this is the overall most powerful and lightweight saw on my list.
I highly recommend the Echo CS-355T to anyone that is somewhat unsure of what size saw they need. The price point makes the Echo more affordable than some brands like Stihl. While this chainsaw comes with a 16″ bar, you can use a 14″ or 12″ bar to reduce weight and bulk slightly.
A 5 year warranty offers peace of mind to those new to the world of chainsaws or the Echo brand.
This is an excellent saw for limbing and for use trimming standing trees.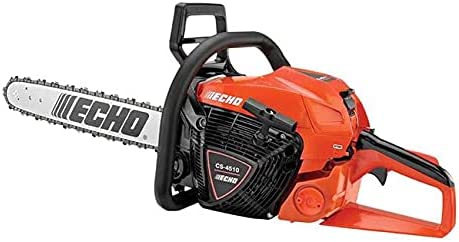 Pros
Well established brand
18″ bar and chain included
Anti-vibration system
Cons
This Echo chainsaw features a traditional handle and an anti vibration system to keep fatigue from slowing you down out on the job. Although it comes with an 18″ bar, you can also choose a 16″ bar and chain if desired. This full size saw packs all the power you need to take down trees from small to large size.
The oiling system is automatic but adjustable so you can be assured smooth cuts without wasting bar oil. I like that the saw has a spring assisted starter, so you don't have to wear yourself out getting your saw started on colder days.
The CS-4510 is a professional quality saw at a great price point.
The dual post chain break is designed to last through years of tough cutting jobs.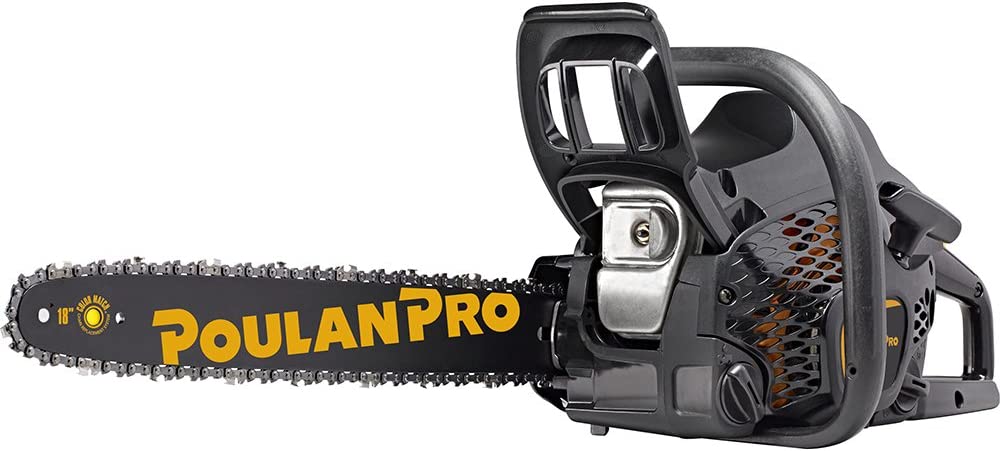 Pros
Powerful saw
Economically priced
OxyPower Technology reduces emissions and fuel consumption
On board Scrench so you always have the tool you need for adjustments
Poulan has been making chainsaws for a long time. This budget priced saw has a lot of power for your dollar. I really love the on board scrench. Anyone that has used a chainsaw much knows how annoying it can be to need to do an adjustment, only to realize the tool you need never made it out to the job with you. It makes me wonder why more saw manufacturers don't have a built-in tool or at least a holder, so you have the option.
The OxyPower system reduces emissions by 70% and saves you 20% in fuel consumption, making this an extremely economical and environmentally friendly gasoline powered chainsaw.
Electric Chainsaw Options
Electric saws come in two varieties. You can choose corded that plugs into a standard electric outlet or extension cord or battery powered.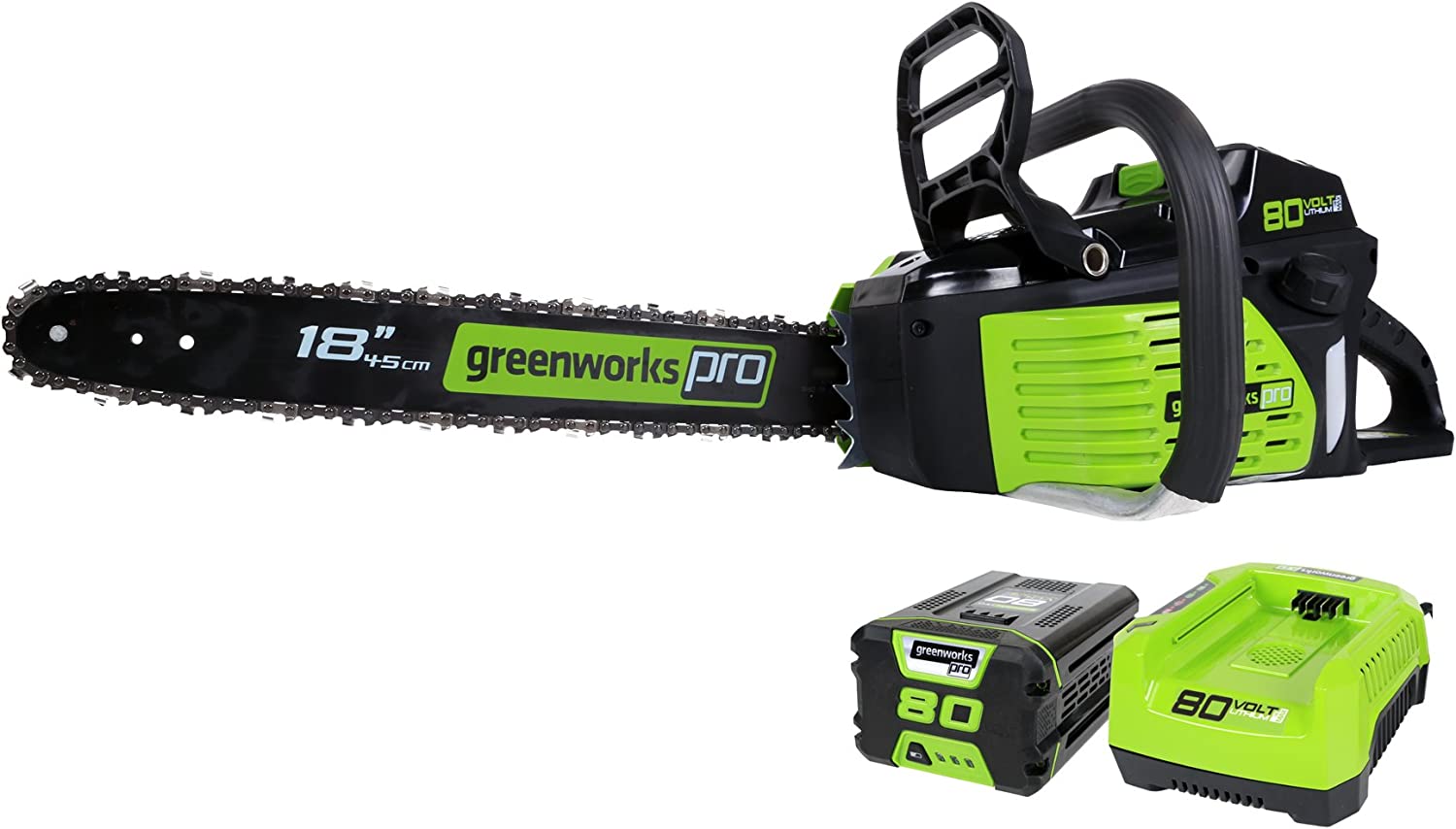 Pros
80v Battery System
2.7 Horsepower
150 cuts on 4″4″ lumber on a single charge
18″ bar and chain
Cons
Battery limits how much you can get done
Costs as much as some gasoline powered chainsaws
The Greenworks Pro 80V is a powerful battery powered chainsaw. That being said, it is important to remember the limitations of batteries when it comes to running a power tool. I like that the Greenworks offers an 18″ bar and chain meaning you can take on some moderately sized trees.
Extra 80V battery packs can be purchased so you can have one or more extras on hand, so you always have a fresh battery and can get more done in a day. In fact, Greenworks sells more than 50 tools that take the same battery packs so if you need other electric tools, you may want to consider buying into their system so you can easily share batteries.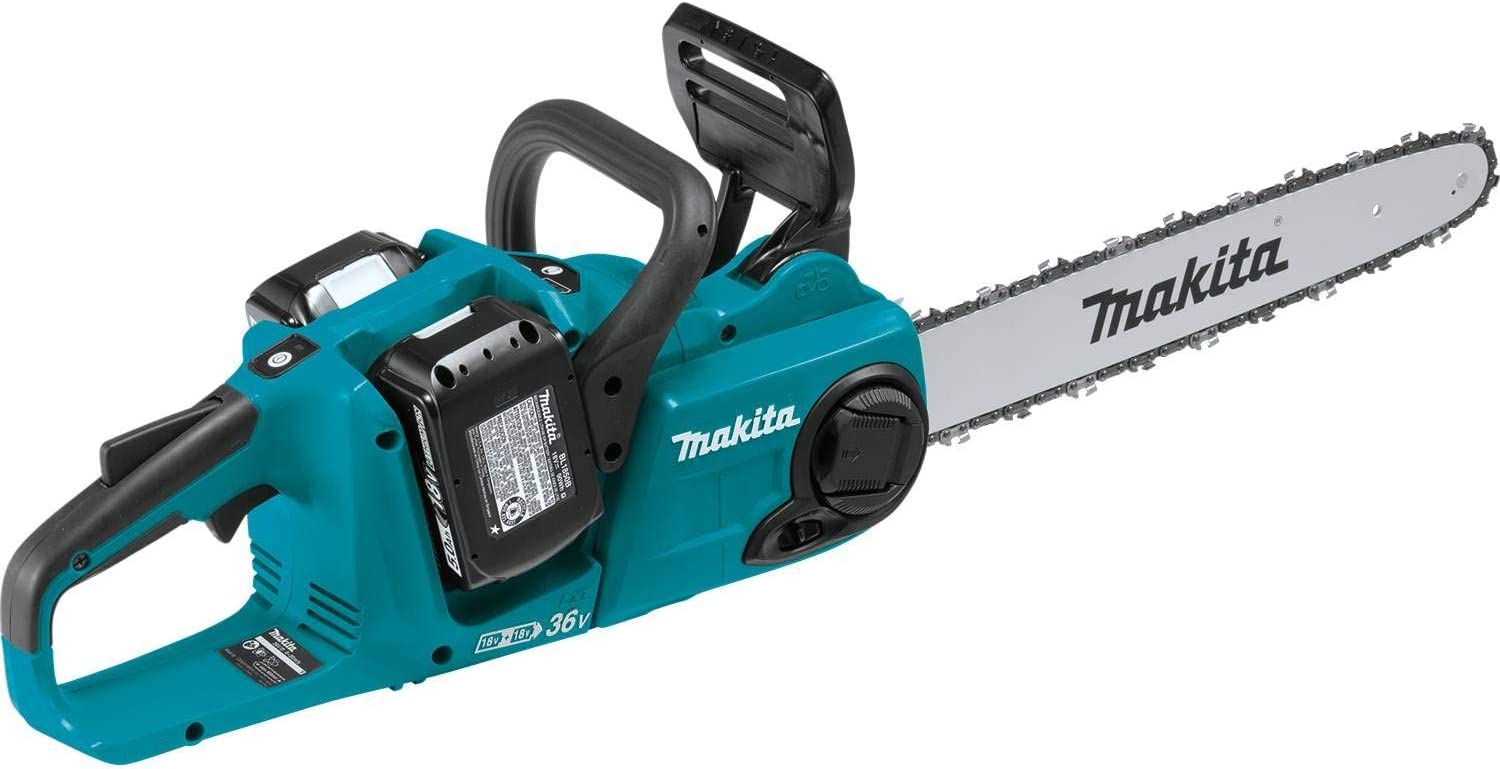 Pros
Outstanding Makita reputation and quality
16″ bar and chain is a great size for small to moderate projects
Comes with two batteries and a charger
Cons
Costs as much as a good gasoline powered chainsaw
Makita is hard to beat when it comes to power tools. This battery powered saw is equivalent to a 32cc gasoline powered saw. Packing 3.5 horsepower into an electric chainsaw is an impressive accomplishment. The variable speed trigger gives the user ultimate control of cuts and helps the battery last longer because you can control the speed.
I like that the Makita does not require any special tools to adjust the chain tension, and the built in LED on/off switch that automatically shuts the saw off if you stop using the saw and forget to do it yourself.

Pros
Dewalt quality
20″ bar and chain
Very powerful battery powered saw
Cons
Most expensive battery-powered electric saw in my top picks
The Dewalt 60V Flexvolt offers outstanding power in a battery power saw. It is amazing that Dewalt managed to create a battery powered saw that delivers power similar to a 50.2 cc gasoline powered chainsaw. Dewalt claims that the Flexvolt actually has 2.43 times the torque of a 50.2 cc saw as well. That is quite an impressive claim to make.
At 4 horsepower, this is a battery powered saw that you can use to tackle some big jobs. The 60V battery pack can be used with other Dewalt battery powered tools.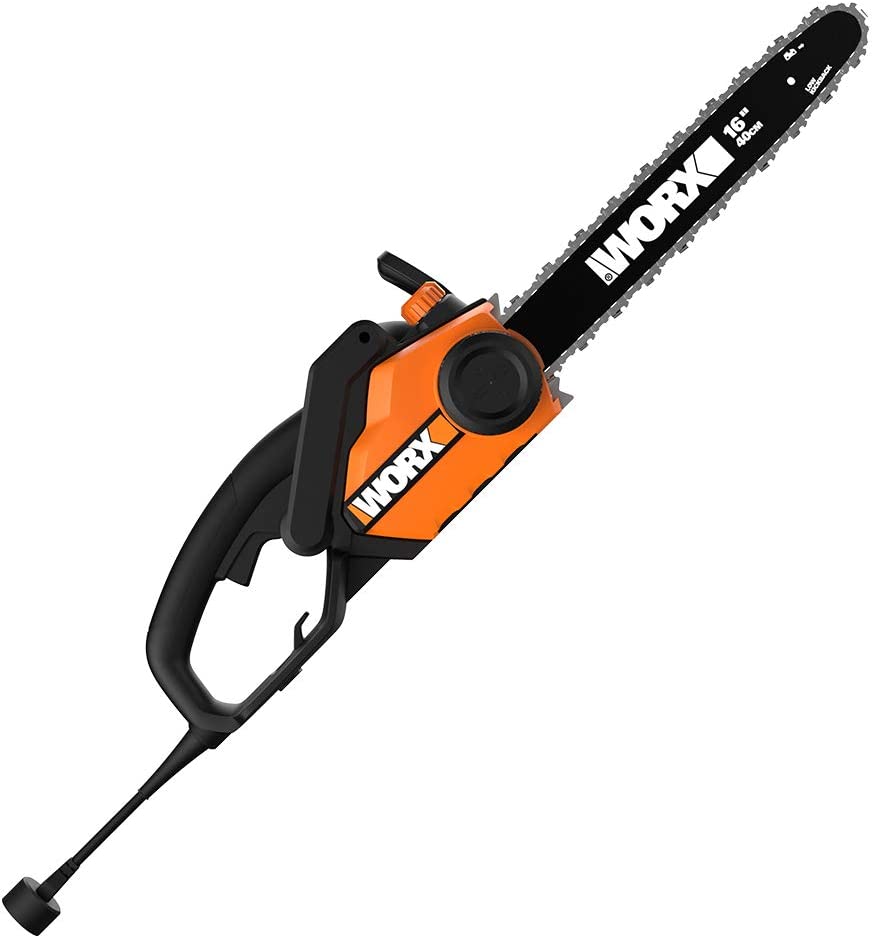 Pros
Fantastic reputation with homeowners
Budget friendly
3.5 Horsepower
11.1 pounds
Cons
Requires an extension cord to use
Worx has established themselves as a leader in homeowner tools over the last few years. They have an excellent reputation for delivering quality products at an affordable cost. The Worx 14.5 amp chainsaw boasts a 16″ bar and chain and a quick stop chain break.
I like the saw has an oil indicator to let you know when you are low without having to open the cap on the reservoir to check.  It can be easy to forget to refill oil on an electric saw because you don't have to stop and refuel it like with a gasoline powered saw.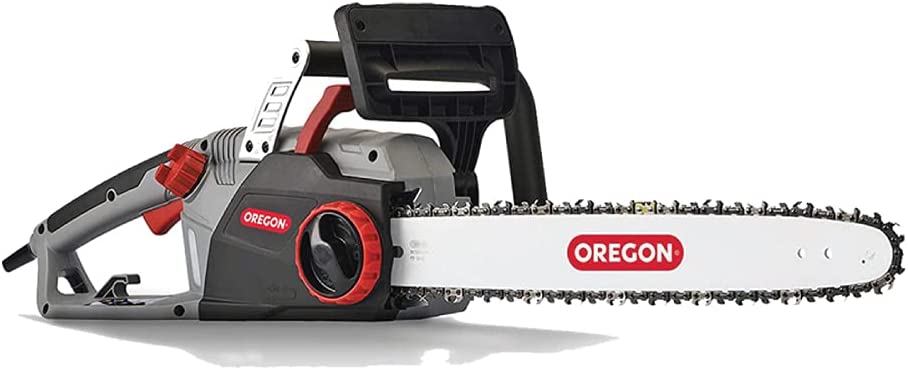 Pros
Electric chainsaw from a well know manufacturer of bar and chains
Affordable
18″ bar and chain
Cons
This Oregon electric chainsaw was my second choice for the best overall electric corded chainsaw when I was shopping for one to use around our farm. The Oregon features a robust 18″ bar and chain and self sharpening system. The automatic chain lubrication ensures that your saw never overheats.
The chain can be tensioned with any extra tools, meaning as long as you have power, you have a saw that literally just needs to have oil added occasionally or if you use it a lot, you will eventually need a new chain or a new bar and chain combo.
This is a solidly built and affordable electric saw for homeowners or those with small woodlots.

Pros
Lightweight
Low vibration
Quite
Easy to use
Superb Quality
Cons
Just the typical problem of having to use an extension cord and avoiding it while working
My husband and I own this chainsaw and use it with a power center all over the farm and woodlot. It is extremely comfortable to use, and it is super quiet. I highly recommend this saw to those that have neighbors close by but want a saw with a lot of power for small and moderate sized cutting jobs.
If we use this saw with a solar power center, we can use it anywhere in our woodlot that the extension cord will reach. Even better, if we are somewhere that we can place solar panels, we can use our saw without depleting our power center.
FAQs
Question: Why are Stihl and some other major brands not sold on Amazon?
Answer: If a major brand is not sold on Amazon, it is because they only sell through authorized dealers. Stihl is a perfect example of a top-of-the-line company that sells only through dealers. While some Husqvarna chainsaws are available online, it is important to point out that these are typically saws that are considered homeowner grade. They are not designed for professional use. To get a professional grade Husqvarna, you have to visit a dealer.
Question: Is it easy to return a chainsaw that is purchased on Amazon?
Answer: In most cases, it is really easy to return a saw directly through Amazon if there are any problems at all within a 30-day return window if the chainsaw is sold through Amazon itself. If you purchase a chainsaw on Amazon via a separate business, make sure to check out the return policy before ordering. After 30 days, you will probably need to contact the manufacturer of your chainsaw with any problems.
Question: Do all gasoline-powered chainsaws need specially mixed gas?
Answer: Most gasoline-powered chainsaws need gas to be mixed with 2 cycle gas mix. The exception is 4-stroke gasoline-powered chainsaws, which are not common. You do not have to buy a gas mix with the same name brand on it as your chainsaw. 2 cycle gas mix is available at practically any hardware or home improvement store.
My Final Take
There are a lot of great chainsaws on Amazon that you can get delivered to your door in practically no time. It is critical that you don't buy a larger saw than you need because you will just wear yourself faster on jobs and waste money. With electric saws, it is not really a big deal if you buy a larger saw, in fact, they are so lightweight that it makes sense to get a really powerful one in a lot of ways.
Electric chainsaws are less expensive in almost all cases, so if you are on a budget, they can be a better option than gasoline.
Gasoline-powered chainsaws are excellent for when you want a lot of power and don't want to by constrained by batteries or power cords. You can use a gasoline chainsaw at any outdoor location, with the only limitation being how much mixed gas you have on hand.
That being said, a gallon of mixed gas is enough to work for a very long time so although the price of gasoline is historically high at the time of writing, operating a gasoline-powered saw is still inexpensive for the amount of work you can accomplish on a gallon.