Latest posts by The Forestry Pros Team
(see all)
The Stihl Farm Boss Chainsaw is one of the bestselling chainsaws in the United States of America. Even though it's an expensive option, let's just say it does the job it was invented to do with minimal disappointments.
It's suitable for a farm with large grounds and mature trees. The main reason for this is it's:
Very powerful

Durable

Saves fuel

Cuts large pieces of wood
The disadvantage is you can only purchase it via a dealer.
This chainsaw is designed and gas-powered for large grounds with mature trees or small farms. It may be the reason it is ranked high on various chainsaw guides. Check out the review below to learn more about it. 
Stihl Farm Boss Review
The Stihl Farm Boss has a highly efficient gas engine that performs 20% better than other chainsaws before you need to refuel. The exhaust emissions while cutting have also been tremendously reduced compared to the previous version. Lower maintenance is required for the filter of the air filtration system because it was improved.
It has an anti-vibration system. This makes it easy as well as comfortable to use the saw. The engine is rated at 50.2 cc. Combined with a 20" Chainsaw bar, the result is a strong cut that goes through large logs with large diameters of 20". It's considered a "homeowner" saw because it is easy to use and does not require any qualifications to operate it.
Price
We don't need to sugarcoat it, this gadget is pricey. All the same, it's an investment that has proved to be worth it to users. When you handle it properly and maintain it properly, it can last for decades. 
You cannot purchase this product anywhere else other than from a dealer. Finding a dealer can only be done by checking the Stihl website. The recommended retail price varies on the year and model.
If you cannot afford this product and you need a cheaper option, then the Remington RM4216 Rebel can also do the job. This alternative product is best suited for a casual laborer.
Features
The 50.2 cc engine is designed to have reduced fuel emissions by 50% compared to other models. This makes it easier to use, more environmentally friendly, and fuel-efficient.
Specifications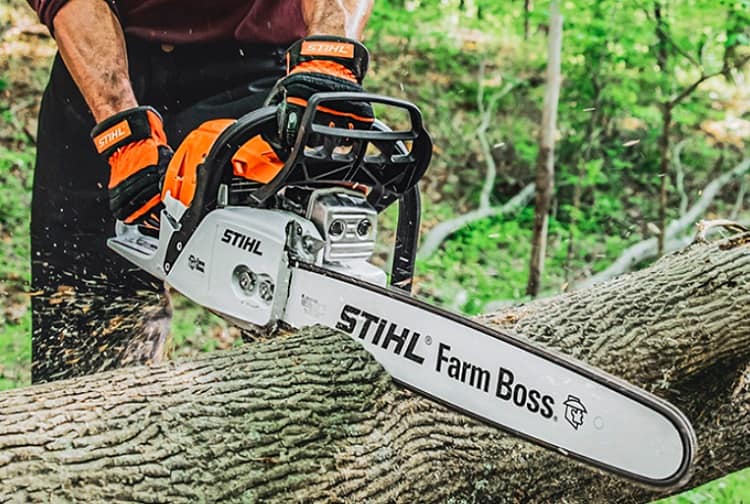 Gas-powered

16" or 20" bar size

Weighs 12.3 lbs.

Low emissions

Battery capacity or fuel tank volume of 16.9 oz.

Has an engine power of 2.6 kW

Has a mechanical safety brake

Settings with summer and winter starter
Note: The weight is not for everyone considering it's at 12.3 lbs. Hold the saw when the fuel tank is full before buying it to decide if you can manage to work with it.
Its capability of cutting through large pieces of wood makes it perfect for any small-scale farmer. Additionally, the low vibration technology has a direct impact on the comfort it provides while using it. It has cool features like the summer and winter settings accomodating for different start-up scenarios. That said, it's a long-lasting chainsaw worth every dime.
Performance
We are yet to find a negative review of this product. Users are simply in love with it! If you can afford it go for it as it's clear few people regret using it.
User Reviews
93% of customers on the Stihl website have positive reviews of this product out of almost 1,000 reviews. The negative reviews are around 35. This means they don't know how to use the saw correctly or are new at using chainsaws.
Despite an overall 5-star rating, most reviewers have pointed out that communicating with some dealers is frustrating. This means users who have the product or want to buy it may need to drive long distances to get to the dealer. 
It is also sad to note that some dealers charge for repairs even when the product is within the warranty period. It's a downside considering you have to drive a distance to buy the product or for servicing and/or replacements of parts.
Is the Stihl Farm Boss Worth Buying?
It is a powerful, fuel-efficient, low vibrating, and environment-friendly chain saw that can cut large diameter logs and manage your farm's tree management issues. If that's what you're looking for go ahead and buy the product. It is a great buy that is worth every cent. It might be the only chain saw you will ever own for decades if you maintain it well.
Stihl 271 Farm Boss Alternatives
Now that you know everything about the Stihl 271 Farm Boss, it's time to look at some alternatives. The following is an insight into the products you can get if you cannot afford or don't like the Stihl 271.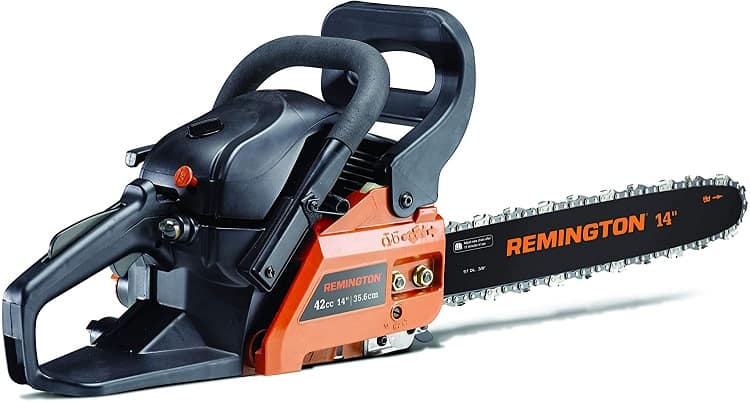 It's one of the best gas-powered chainsaws that is almost as powerful, but less costly than the Stihl 271. It has very manageable vibrations but also has serious cutting capabilities. 
Specs include a 14-inch bar with a 42 cc two-cycle engine. This does not sound like much but its performance is amazing. It's a compact chainsaw that is small in size therefore easy to carry, easy to fit in small spaces, and cuts small logs easily. Take note it takes longer to cut through larger logs.
Its automatic chain oiler and tool-free maintenance access panels are other things we liked about the Remington RM4214. Go for it if you are looking for similar qualities to the Stihl 271 at a more affordable price point.
Pros
Easy to start

Hardly any vibration

Relatively low price

Lightweight and portable

Automatic oiler
Cons
Not the most powerful gas chainsaw at this price point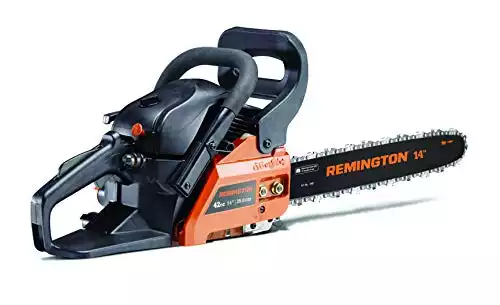 Remington RM4214 | Amazon
Easy to Handle, lighter in weight, without sacrificing power. This polymer chassis is engineered for reliable performance and prolonged use, with minimal user fatigue.
Buy at Amazon
We earn a commission if you make a purchase, at no additional cost to you.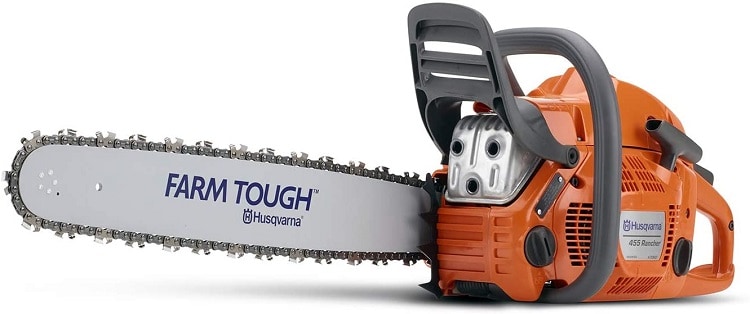 For those willing to part with a little more, this chain saw offers a lot of power. You notice it can work continuously for one hour before refueling. It also makes quick cuts through logs.
The 20-inch bar and chain make it portable for most applications. It has a 55.5 cc 2-cycle engine capable of 9,000 RPM. The calibration is on point considering it doesn't spit out excess sawdust nor does it jump or wander. 
On the downside, it's extremely loud meaning you may need to use earplugs. Additionally, it doesn't start smoothly compared to the Stihl 271 and is substantially heavier. You may also need a new spark plug the moment you buy it.  
Pros
Holds a straight line

Powerful 20-inch saw

Gas efficient

Works for 1 hour on a full tank

Can reach 9,000 RPM
Cons
Best Gas Powered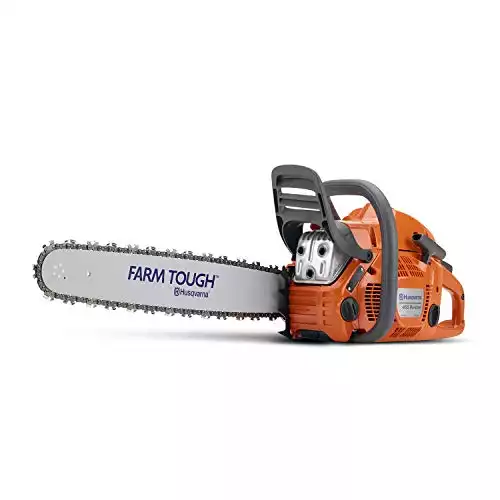 Husqvarna 20 Inch 455 Rancher Gas Chainsaw | Amazon
This gas powered chainsaw is ready to cut trees, whether you need to prune, limb or cut firewood. The ergonomic design of The Husqvarna 20" 455 Rancher gas chainsaw allows the homeowner to handle the power of the saw with ease.
Buy at Amazon
We earn a commission if you make a purchase, at no additional cost to you.
12/07/2023 12:41 pm GMT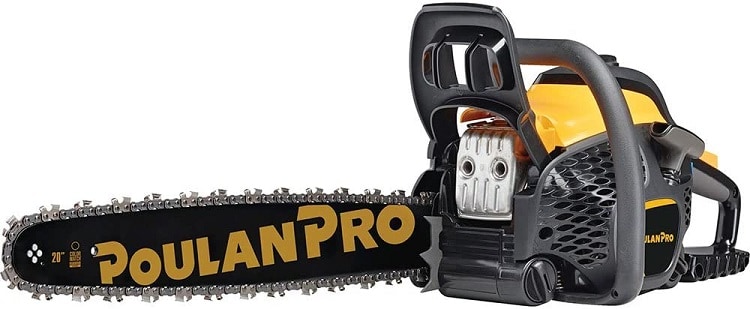 Not all gas-powered chainsaws are affordable. When you compare the cost of each of the above saws, you realize the Poulan Pro 20-inch is the most affordable gas-powered chainsaw. Its blade has superior cutting power thanks to the durable 50 cc engine.
The Poulan Pro 50 cc is third on our list despite being more powerful and longer than our first alternative. Why? For starters, it floods easily. The manual talks of too much priming resulting in most people finding it difficult to start. Also, there is always an excessive amount of oil on the auto-oiler.
If you are cautious and replace the spark plug you get the fastest smooth cuts. Additionally, you rarely get any kickbacks. Lastly, the plastic body is almost as sturdy as a steel-bodied one. 
Continue reading our full Poulan Chainsaw review.
Pros
Good for its size

Easy to start

Simple to maintain

No or minimal kickbacks

Longer and more powerful than others at this price point 
Cons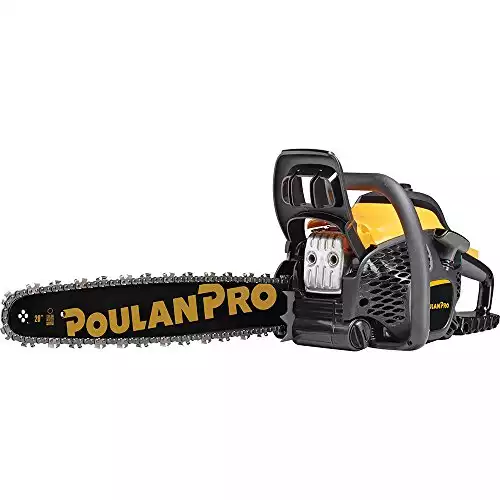 Poulan Pro 20 in. 50cc 2-Cycle Gas Chainsaw | Amazon
With the OxyPower engine technology, you can get that extra power for virtually any task. This technology offers a more powerful engine, but also 70% less emissions and 20% lower fuel consumption.
Buy at Amazon
We earn a commission if you make a purchase, at no additional cost to you.
12/07/2023 10:59 am GMT
Stihl Chainsaw Buying Guide
The first thing you should consider before you buy a Stihl chainsaw is its purpose. Knowing the use of the product helps you determine the best model for your needs. The following is a list of things you need to consider before choosing one.
Type of Work
Every Stihl chainsaw is designed to work on different applications. For example, the best one for pruning and light trimming your garden is an electric chain saw. A gas-powered saw is best for cutting down medium-large size trees or trimming large branches. A cordless electronic chainsaw is the best option for small bushes and yards with restricted or small spaces.
Motor Size
The capacity of the engine is very important when purchasing a chainsaw. This is also known as the motor size. The size of the engine is different for each chainsaw. Cubic centimeters is the unit used to measure motor size. The engine sizes range from 23 cc to 120 cc. For ranch owners, they need to consider going for 30 cc to 45 cc.
As noted above, the sizes of the engine differ depending on the type of chainsaw. The electric version is measured by Amps. Most chainsaws that use batteries have lithium-ion batteries. Usually, these batteries have a life span of about three years.
Tip: To keep your battery healthy, try charging it when it is completely flat.
Weight and Size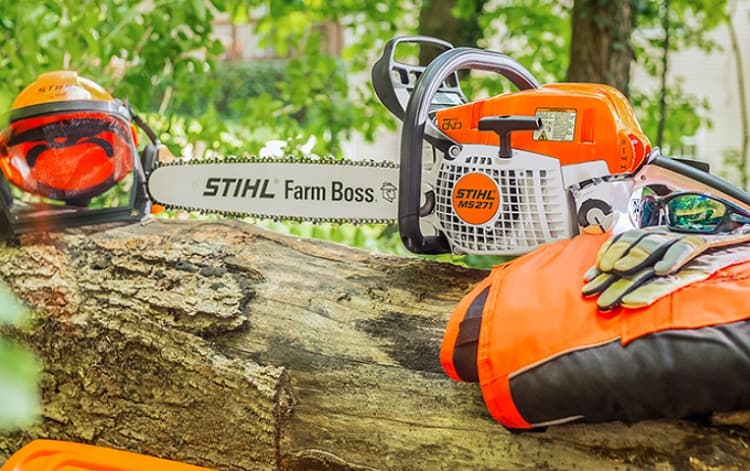 Most people believe that the heavier and bigger the chainsaw the more powerful it is. Not necessarily! The weight and size is an important factor to consider when buying such tools. 
Ideally, ensure you can comfortably carry the saw even with a full tank of gas. Additionally, make sure the size doesn't make using the product awkward or uncomfortable.
Tip: If you are carving wood, go for a lightweight chainsaw. You tire easily if you use a heavy tool for this kind of task. 
Starting Mechanism 
When starting a gas-powered chainsaw, people usually use one hand to hold the saw and the other to start it. Products with a poor starting mechanism will frustrate you before you start working. 
Look for products that have great reviews on their starting mechanism. A good one should start with one pull. Electric versions don't have this problem as they all start with a push of a button. 
There are no procedures for starting an electric chainsaw. You either plug in your chainsaw to an outlet or use your fully charged battery. When you are plugged in, in some models, just place your hand on the throttle and it starts running.
High-quality gas chainsaws start with ease. Manufacturers of these products have understood that gas tools of this kind need to be easily started. That is why some have improved their starting mechanisms to power up the product with a single pull.
Chain Bar/Guide Bar
It is a metal component that is at the exterior of the chainsaw's body. The chain bar or guide improves the efficiency of the chain as it rotates. They work as a guide used by the teeth.
Tension System
The tension system is a crucial part of a chainsaw regardless of the make and model you want. All chainsaws need an option where you can adjust the tension to suit your preferences. 
Tension on the guide bar won't be maintained by the chain all through. Time taken depends on the type of saw you are using but does not exceed 10 – 15 minutes.
How About the Power Source?
The power source of your chainsaw has an impact on performance and application. That said, there are three types of power sources:
Battery 

Cordless/Corded electric

Gas
Gas products are the most powerful. However, they may not be as convenient as their electric counterparts when it comes to powering up the tool. 
Safety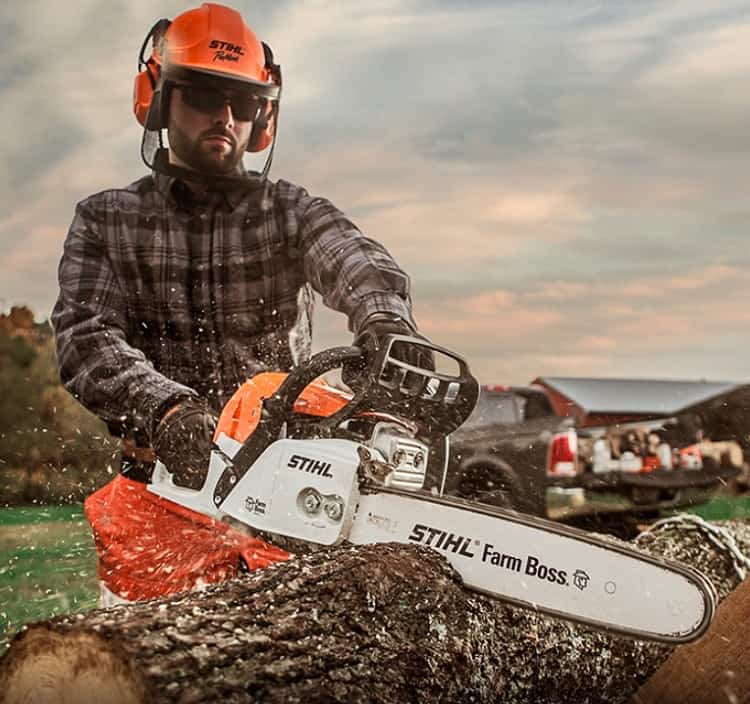 The chain brake is responsible for the safety of the saw. It's an essential part of the saw. Look for a plastic handguard that can be manually engaged with your hand when operating the saw. It works by stopping the chain in case of an emergency. This ensures you prevent damage to the product or avoid injuries. 
Chain stoppers or catchers are also important to look out for. A chainsaw is a great tool, but it's also dangerous. If you are not careful, you risk injuries or even fatalities.  
The stoppers or catchers are metal or plastic guards created to kick-in in case of a broken chain. All chainsaws are designed to have a chain brake, which stops the chain from sudden movements. Stoppers or catchers prevent the chain from rotating.
Kickback
The majority of models have something called a kickback. It occurs when the chain gets stuck. If you are using a chainsaw for the first time, avoid those with a lot of kickbacks. 
Since kickbacks are not easy to prevent, you need to prepare for the same. For instance, you should wear protective clothing when using such tools. Additionally, you should check the chain brake before you start using the tool.
Vibration Reduction 
Vibrations occur when the chainsaw is powered on. Different makes and models have different levels of vibrations. Extreme vibrations cause discomfort to the user. You may also experience some complications such as white finger and vibration syndrome. To avoid this, get a saw with a low vibration rating and a vibration reduction system. 
Brand
There are many chainsaw brands available in the market. Some are popular while others are for people working on a tight budget. Keep in mind the best quality saws are pricey.  
Stihl 271 Farm Boss FAQs
Question: Is the Stihl 271 an Amateur or Pro Chainsaw?
Answer: This is an amateur saw that can be used by pros if they wish to do so. Ideally, it has been designed for landscaping and farming. This means professionals can use it as long as it is not for major logging jobs. 
Question: Why Does my Stihl 271 Stop Running or Stall on Full Throttle?
Answer: Make sure you are using fresh fuel. If you leave the tool unused for a few months, you need to change the old fuel before you start using it. Secondly, in the muffler, there is a spark arrester screen that needs regular cleaning. 
Thirdly, clean or replace the fuel filter in the fuel tank. Lastly, replace or clean the air filter. If all these solutions don't work, take the product to your nearest authorized Stihl service dealer. 
Question: Can I Adjust my Stihl 271 Bar and Chain?
Question: Where is My Stihl Serial Number?
Answer: You find it on the crankcase or housing to the right or left of the muffler. Usually, they are 9 digits long and start with either number 5, 2, or 1. 
Bottom Line
The Stihl 271 is one of the best chainsaws you can get for your farm and landscaping tasks. Not only does it perform well, but it also gives you an unparalleled service duration. 
If you decide you don't like it or can't afford it, there are good options out there. For example, the Poulan Pro 20-inch is a good option for those working on a low budget. The Remington RM4214 is a good and powerful option at a lower price point. You can also check out our buying guide if you want to know what to look for in a chainsaw.