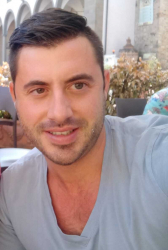 Latest posts by David Borgogni
(see all)
Husqvarna is no stranger to the power tool market. They have been producing high-quality tools for many years now, with their chainsaws and brush cutters being particularly popular. Today we're focussing on one of their premium brush cutters, the 545. This is our Husqvarna brush cutter review.
Getting yourself a good brush cutter can be the difference between keeping your land under control and letting it get away from you. If you have large areas that get overgrown, then a conventional mower may not be enough. This is where a gas-powered brush cutter comes in, letting you tame areas of land in next to no time.
In this article, we'll be outlining its pros and cons, looking in detail at its defining features, suggesting some alternatives for you to have a look at, and answering some frequently asked questions. Then, at the end, we'll be offering our own thoughts on who the Husqvarna brush cutter is suited to.
But first, let's have a look at an overview of the 545.
Key Specifications of the Husqvarna 545
Core Features of the Husqvarna 545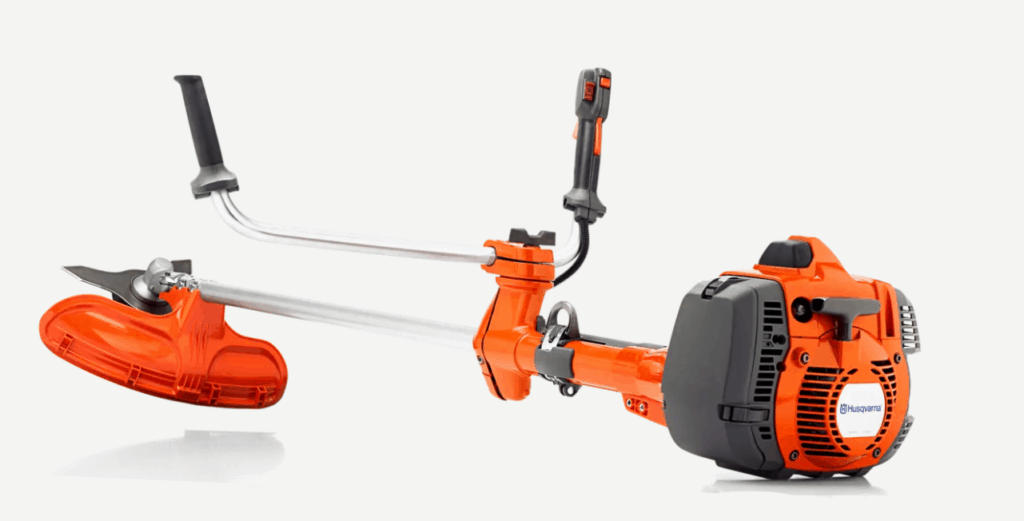 As with all power tools, making sure you get the right one for you is key to productivity. One of the best ways to make sure you've ended up with the right one for you is by looking at its defining features in detail. In this section, we'll be outlining the most important things that the 545 brings to the table so that you can build an understanding of what this brush cutter is all about.
Adjustable Handlebar
Arguably the most important part of any tool is the handles and controls. It's how the user operates it, and having a good setup means work can be completed quickly and easily. On the 545, Husqvarna has considered this with their adjustable handle design. It's ergonomic to allow for maximum comfort and control, while adjustability means it's suitable for a wide range of people, no matter their size or how they like to configure their tools.
X-Torq Engine
Another of the key elements to any gas-powered tool is its engine. The 545 comes with one of Husqvarna's latest innovations, the X-torq engine. Designed to be ultra-efficient, X-torq technology has now found its way into almost all of Husqvarna's latest product lines. It helps engines be far more efficient than they were before while producing much fewer emissions simultaneously. Great for the environment as well as your pocket, thanks to its dramatically improved fuel efficiency.
Adjustable Harness Hook Eyelet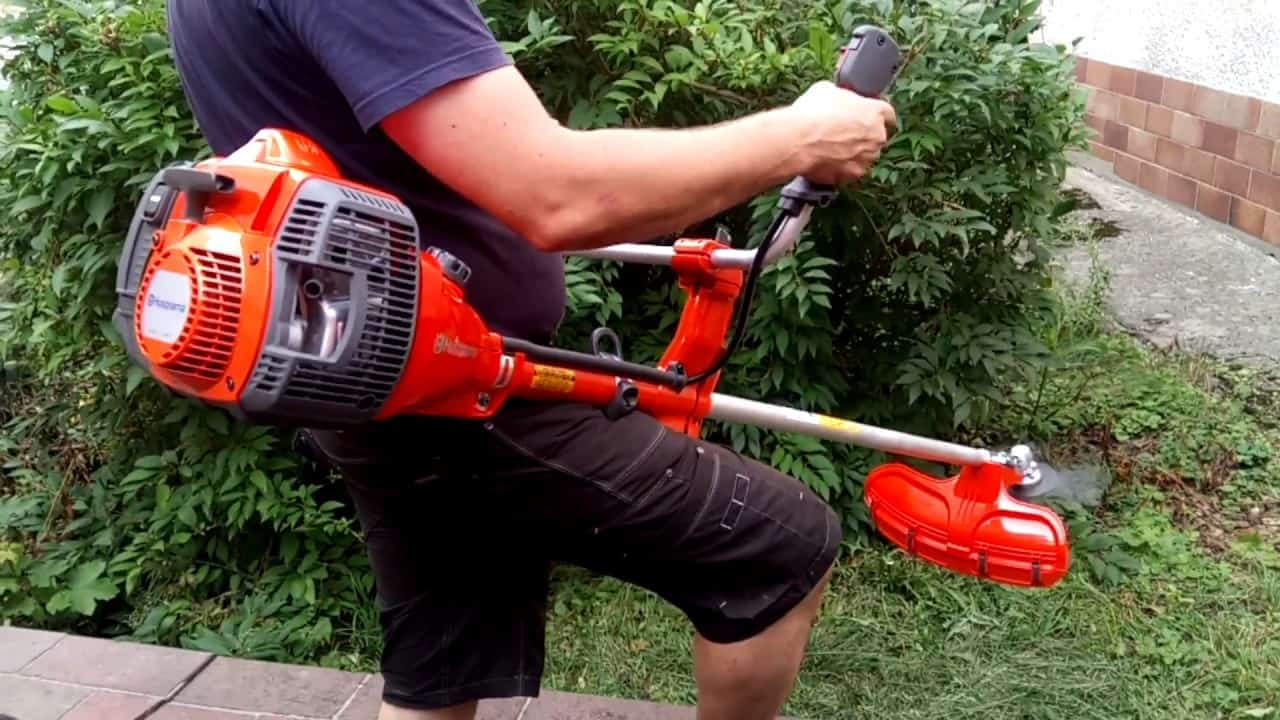 When using a brush cutter, the user must have the unit securely attached to their bodies. This prevents any unnecessary accidents and ensures that your work is precise at all times.
When the load is taken off your arms, you have more flexibility to control the head of the unit – particularly useful when cutting in tight areas. Husqvarna's adjustable harness hook eyelets allow the included harness to be moved according to the operator's needs, allowing them to use the brush cutter optimally.
Trio Balance Harness
Of course, adjustable eyelets are all well and good, but the harness itself provides stability. Husqvarna's trio balance harness comes equipped with a specialist back support, shoulder straps, and a hip belt. These elements combine to distribute the weight of the 545 over a larger surface area, making it much easier to lift and use over extended periods.
Optimized Centre of Gravity
The design of the 545 has been created with a smooth-cutting experience in mind. A large part of this is achieved via the adjustable harness, but another area in which Husqvarna has optimized this is manipulating the center of gravity. They have done this by moving the fuel tank in front of the motor, creating a tool that has a much more balanced feel throughout.
Smart Start
Another of the manufacturer's signature features is a smart start. Both the engine and the starter have been designed so that the unit is incredibly easy to fire up, even if you have little previous experience with gas-powered tools or struggle with starter cords. The cord on this particular model has up to 40% less resistance than previous ones, with the automatic fuel pump also contributes to a truly easy start tool.
Professional Ergonomics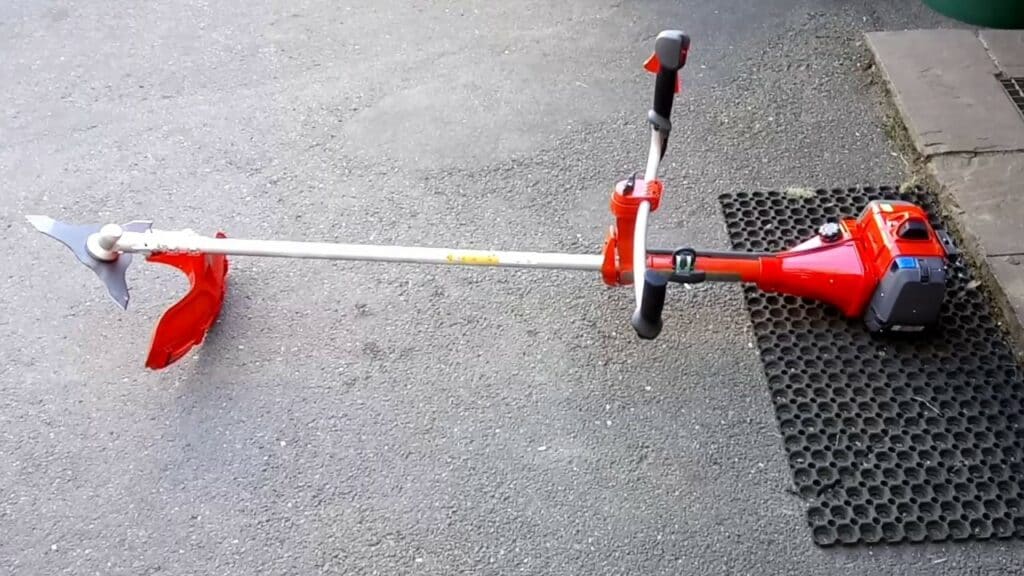 Power tools have to be comfortable when used to allow for long jobs, particularly when used in a commercial setting. With that in mind, Husqvarna has included handles designed to fit perfectly into your hands. What's more is they're made from a synthetic rubber compound for increased grip, comfort, and better posture.
Low Vibration Technology
LowVib is Husqvarna's premium vibration dampening technology. It works by isolating both the engine and handle, leading to a greatly reduced level of vibration passed from the engine to the hands and forearm. As has been well documented over the last number of years, over-exposure to these vibrations can lead to increased fatigue and even serious health issues in the forearms. LowVib has been such a success since its launch that Husqvarna now includes it in all of its premium products.
Tap 'n' Go Feeder
The bump feeder has been designed to allow users to simply bump the head of the unit against something solid to release more lines. This is a much more efficient system than having to stop and manually feed line out, allowing you to carry on working and getting the job done quicker.
How Does the Husqvarna 545 Brush Cutter Perform?
The Husqvarna 545 is the perfect tool for when a traditional string trimmer simply won't do. It's a very powerful machine far from a crossover or hybrid, it's almost in its own class. It handles seriously tall grass and even trees up to a couple of inches thick – ideal if you're thinking of getting one for professional use. When we tested it, we got just over half an acre cleared in no time at all.
When the grass gets what would be too tall for most bush cutters, the 545 keeps going thanks to its 45.7cc 2.8hp engine that helps it tackle almost anything you put in front of it. So trust us when we say the harness is a must!
The unit can look a little intimidating at first for those with less brush-cutting experience, but don't be put off. This is a well-balanced tool with comfortable controls that mean operating it is about as straightforward as it gets. The adjustability of the harness handles and the LowVib tech means almost anyone can use it.
Also, the easy start features work a treat. The fuel pump and easy-pull cord make starting the 545 pretty damn easy. If it doesn't start the first time, then it should second or third go. This again is a great feature whether you're new to these tools or a seasoned vet.
Another area that the 545 noticeably excels in is the inclusion of its versatile guard. A must-have safety feature, the guard protects users and onlookers alike from the business end of the tool. Whereas some models struggle when switching between the cord and bladed heads, the 545's guard provides a great level of protection from either, giving the user the confidence needed to get stuck in when the foliage gets a bit thicker.
Pros of the Husqvarna 545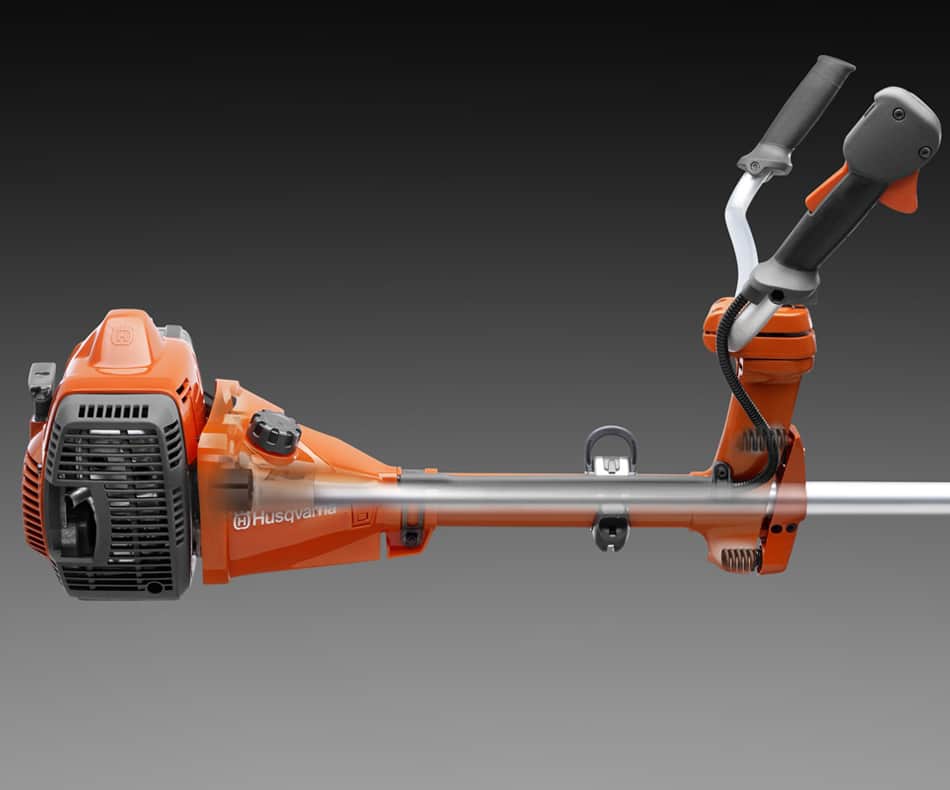 There are plenty of pros associated with picking one of these tools up. As a professional-grade piece of equipment, it comes packed with the latest innovations and features needed to get jobs done quickly and efficiently.
Very Powerful
Make no mistake about it, this is a supremely powerful tool. As we outlined, it comes with a 2.8 horsepower engine that is designed to eat through any brush, foliage, or other debris that you can put in front of it. This is the tool you want when the going gets tough.
Easy to Start
The quick start tech that has been packed into the 545 makes it a dream to get going. This is a real plus for anyone who struggles to get pull-start engines started, especially on those cold mornings. Not having to worry about getting your tools fired up means you're free to concentrate on the task at hand.
Highly Efficient
This tool excels when it comes to efficiency. The optional head attachments make cutting through a range of debris very easy, with the cord-cutter working well on grass and weeds, with the metal-bladed attachment the ideal solution for when you need to be a bit more heavy-handed. Alongside the array of attachment options, we also have the X-torq engine that has been specifically designed with efficiency in mind. This makes the engine more power while consuming less fuel.
Comfortable to Operate
The ergonomically designed handles are easy to hold for long periods thanks to their rubber outer layer, and the fuel tank has been positioned in such a way as to balance the unit while you work. This leads to a machine that is easy to use and allows you to work longer and harder than was possible with previous generations. The harness, too, makes operations easier thanks to how it spreads the weight of the tool evenly across your back.
Adjustability
As well as being super comfortable, the harness is also fully adjustable, meaning almost anyone can use it. Similarly, feature vibration-dampening technology handles are also fully adjustable, meaning no one needs to be put off from using this brush cutter.
Cons of the Husqvarna 545 Brush Cutter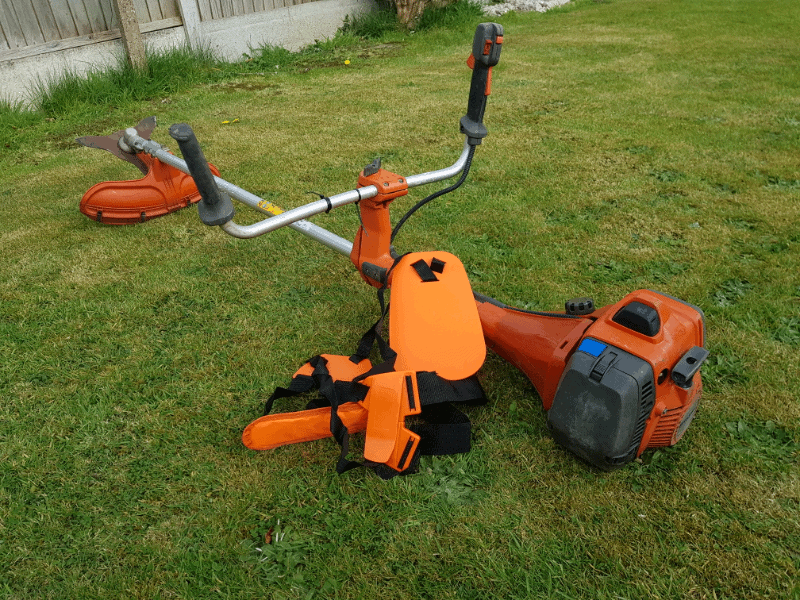 As with any product, there are also some negatives that you'll need to be aware of if you're thinking about purchasing one. Read on to find out where we think the 545 could be improved.
Guard Gets Caught up in Weeds
The only real negative that we noticed while testing was that the head guard tended to get caught up in longer weeds and grass. This wasn't too much of an issue, but it did mean having to stop now and then to free the head up from the debris.
Price
Make no mistake about it, this is a professional piece of kit. As such, it's priced accordingly. This may be enough to put some people off, but for those who opt for one, you will be getting what you pay for.
Are There Any Alternatives?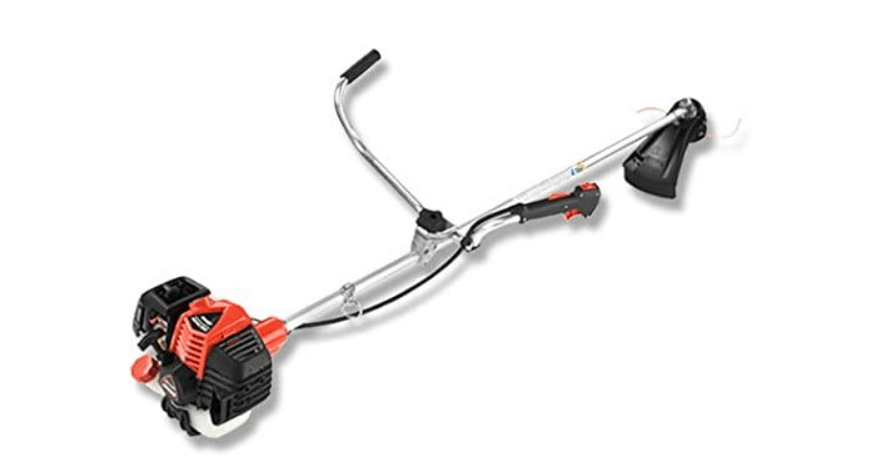 If you're not too bothered about having a top-of-the-line brush cutter and just want one to get a few jobs done around the yard, then the Echo SRM-2620U could be the best choice for you.
Its smaller 26cc engine delivers more than enough power for light to medium work, with its bump feed head working well on all manner of debris from grass to thicker shrub. It's great for domestic work, but if you're after something a little more substantial, then you may need to look elsewhere. Take a look at our full Echo SRM-2620U review and guide for full details.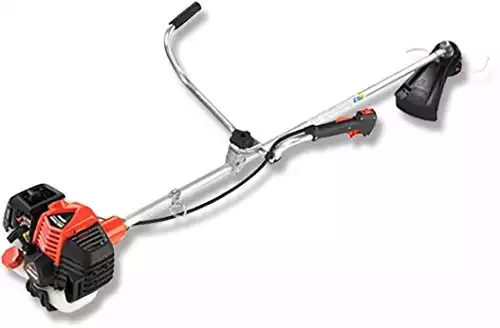 Echo SRM-2620U Brush Cutter | Amazon
Lightweight but mighty. The SRM-2620U brushcutter powers through the overgrown brush with ease while still maintaining user comfort.
Buy at Amazon
We earn a commission if you make a purchase, at no additional cost to you.
12/07/2023 11:08 am GMT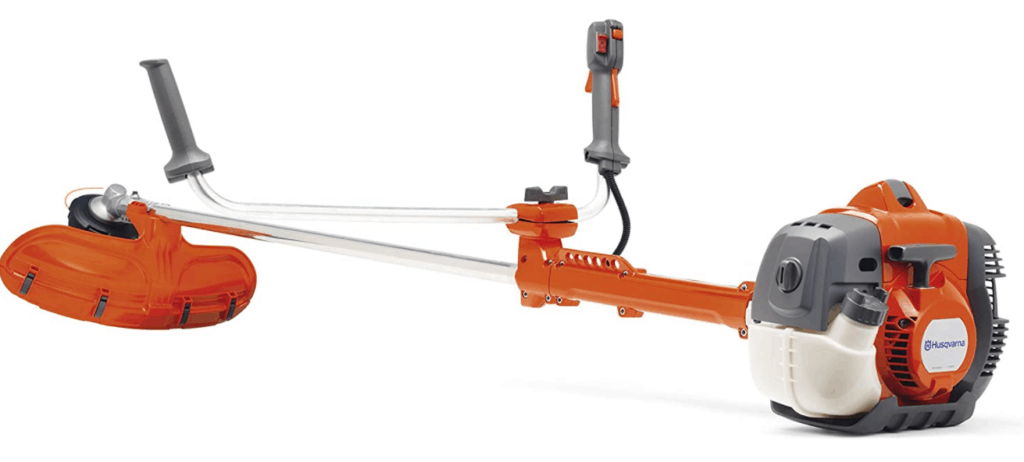 Another Husky makes our list here in the form of the 336FR. Slightly smaller than the 454, the 336FR offers a happy medium between smaller models like the Echo and full-blown professional tools like the 545. It is powered by a 35cc engine, and as a Husqvarna, quality is assured.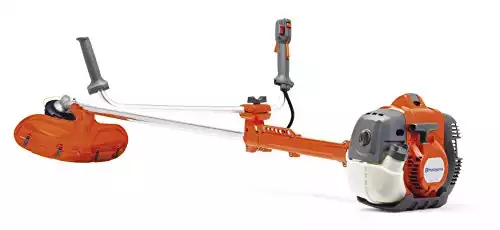 Husqvarna 336FR Handle Pro Brushcutter | Amazon
Husqvarna 336FR comes complete with a trimmer head, grass blade and saw blade. This flexibility makes it an ideal solution for people who require the benefits from both the grass blade and saw blade in one product.
Buy at Amazon
We earn a commission if you make a purchase, at no additional cost to you.
12/07/2023 12:04 pm GMT
Frequently Asked Questions
Question: What is the Husqvarna warranty coverage period?
Answer: The manufacturer's cover is offered by Husqvarna insurers owners for up to 2 years for domestic use and 1 year for professionals. This covers all of the areas you would expect, including manufacturer's defects and part failure.
Question: How do I clean my brush cutter air filter?
Answer: As a general rule of thumb, the air filter should be cleaned after every use. In more extreme situations, it may need to be checked and cleared every time you need to refuel. If you notice a hole has developed in the lining, replace it immediately to prevent any damage to the engine.
• Filter Cleaning Instructions:
• Dismantle the filter cover & remove the air filter
• Wash foam filter in warm soapy water
• Squeeze foam filter dry in a clean cloth
• Apply foam filter oil
• Squeeze foam filter in a clean cloth to remove excess oil
• Reassemble the air filter and replace the cover
Question: How thick can a brush cutter cut?
Answer: This depends on the power of the individual tool and the blade used. As a rule, brush cutters can cut through brush and debris up to 2 inches thick but consult your user manual before trying as you could damage your tool.
The Final Word – Is The Husqvarna 545 The Perfect Brush Cutter For You?
The Husky 545 is about as impressive as brush cutters come, it's powerful, efficient, and easy to use. Whether you're a professional forester or just need something to clear your land, if you pick one of these up, you'll not be disappointed.
That being said, there are other excellent options available if you don't need quite so much power. If this sounds like you, be sure to check our other recommended products out, both the Echo SRM-2620U and the Husqvarna 336FR are great options.