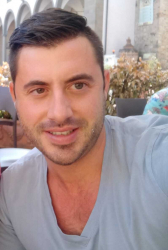 Latest posts by David Borgogni
(see all)
Hudson (or Hud-Son) is one of the big boys when it comes to manufacturing forestry equipment right here in the USA. The company was built on a love of the outdoors and offers quality products across various sectors. In this Hudson Sawmill Model Guide, we're focusing on their sawmill range and going through their offerings to outline which ones you should consider. We trawled through hundreds of reviews and ratings to pull the facts together so that you have all the info you need to buy the right sawmill for you.
Our Top 3 Hud-Son Sawmill Picks
In this section, we review ten of the best Hudson sawmills. We based these on several categories, including value, performance, and customer reviews. All of the info here has been put together to help you make the right decision when looking to buy one.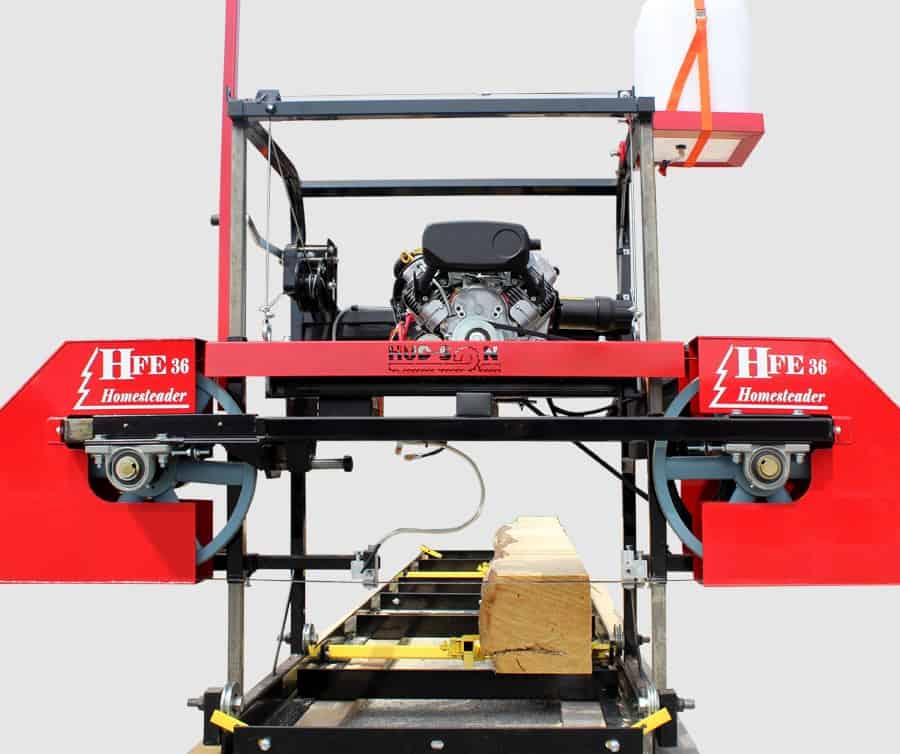 One of the best sawmills on the market today, Hudson's HFE 36 comes from their homesteader range. This range is designed to be portable and easy to use while maintaining high-performance levels.
It comes with a 36-inch diameter and a 16hp engine, making turning larger logs into smaller and more manageable ones a simple task.
The 31-inch throat on the HFE 36 allows users to make mantles, tables, bar tops, and much more with ease. The aforementioned 16hp engine features v-twin technology and electric start to get you up and running in no time.
A Summary of the Main Features Are
16 horsepower engine
36-inch capacity
10-foot max log length
Centrifugal clutch engagement
Modified 4 post frame
3-year limited warranty (for residential use)
Pros
The largest in Hudson's homestead range
Allows for maximum cutting capacity while remaining portable
Powerful 16 horsepower engine
Cons
High price
Reduced warranty for commercial use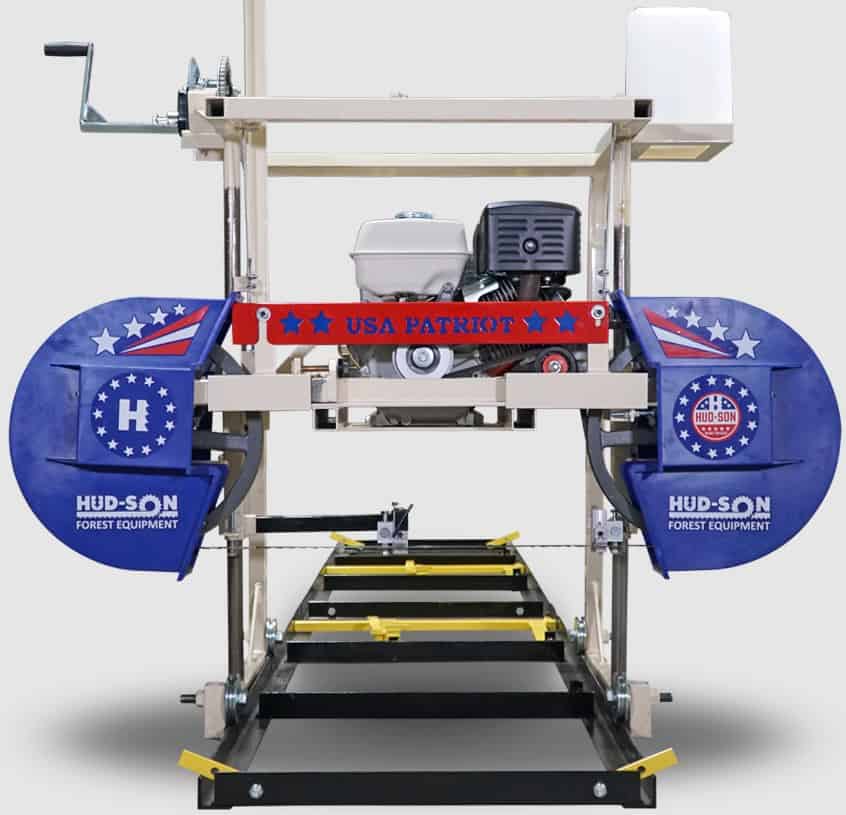 Another great offering from Hudson comes in the form of the Patriot from their Freedom line. This is a more heavy-duty option that sawmills from the homestead line but remain portable so can be used to tackle jobs in remote work locations.
The Patriot raised the bar for both capacity and horsepower for a portable sawmill when it was released. However, reviews say it consistently outperforms competition from the same class and price brackets while providing higher capacity than the hugely popular Hunter & Sawyer models.
A Summary of the Main Features
28" Diameter
24" Between Guides
12′ Steel Track Length (2 sections)
2x Log Dogs with Squaring Posts
16" Band Wheels
Hud-Son Shoe Guide System
13hp Gas Motor
Manual Pull Start
132″ x 1 1/4 All-Purpose Blade
2.5 Gallon Lube Tank System
Dual Measuring System with Quarter Scale and Inches
Pros
Middle of the road pricing
Bigger and more powerful than other models on the Freedom line
13 horsepower engine is plenty powerful
High cutting capacity
Portable
3-year warranty for residential use
Cons
Not as portable as other similar models
Pull start makes getting the gas engine going more difficult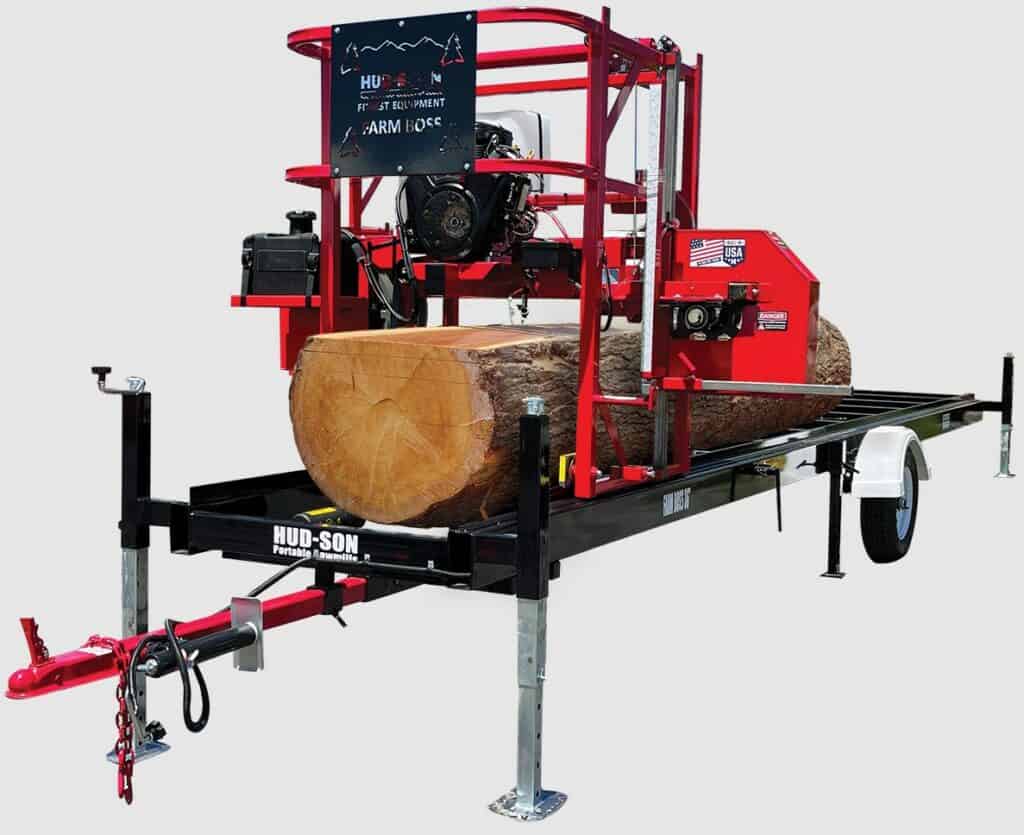 The third Hudson sawmill to make our list comes is the Farm Boss from their professional Oscar series. This is a beast with its heavy-duty trailer and 6 leveling legs but can be set up in only 10 minutes and is mobile.
It also comes equipped with an electric-powered winch that adjusts the height at the touch of a button. This makes the Farm Boss one of the most user-friendly sawmills in Hudson's catalog.
A Summary of the Main Features:
36-inch log capacity
5-gallon blade lubrication
23 horsepower gas engine
Centrifugal clutch engagement
Warranty for both commercial and domestic use
Pros
Powerful engine
High load and cutting capacity
3-year warranty for residential use
More extensive and stronger than both other lines
Cons
As this is for the pros, the price is high
Replacement parts also come at a premium
Best Hud-Son Sawmill Alternatives
If Hudson is not the manufacturer for you, then we've got you covered. Here is a rundown of our favorite Hudson sawmill alternatives – let's take a look.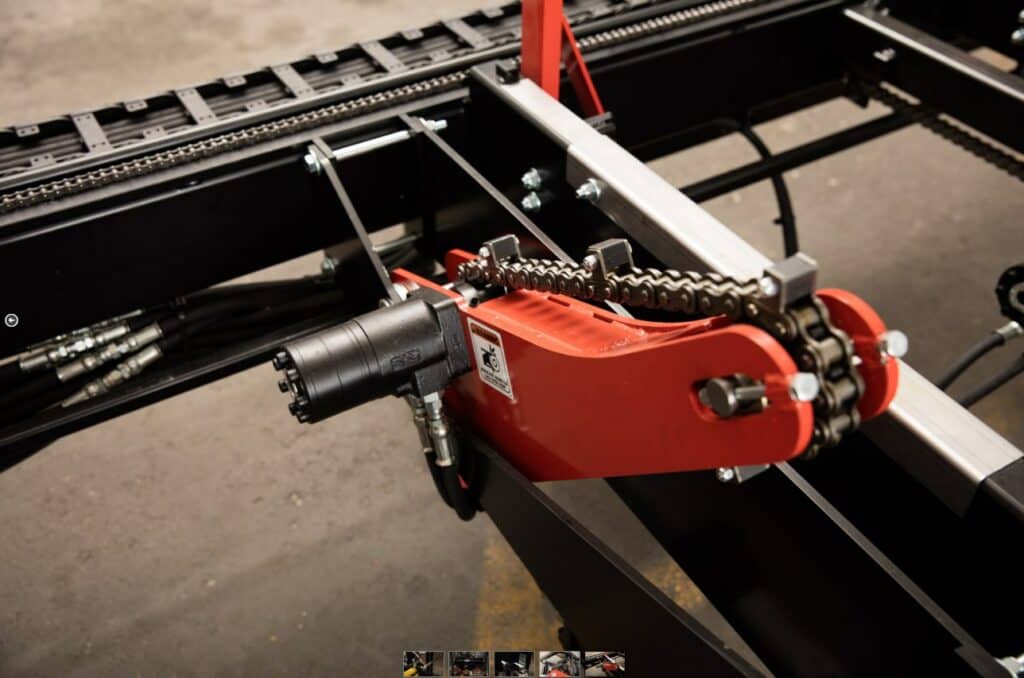 This powerful sawmill offers a similar spec to that of Hud-Son's Farm Boss model. It utilizes a powerful 29 horsepower gas engine with an electric start to power through timber in no time.
Other great features included are the full-time hydraulic control and hydraulic blade feed up and down. The full-time controls mean that hydraulic elements like the log turners and clamps work all of the time. This is in comparison with many 'part-time' models where these functions switch off when the cutting head leaves the machine's rear.
Features
Solid-Welded Steel Cutting Deck
29HP V-Twin Electric-Start Engine
USA Made
Direct Action Hydraulics
Operator-Height Hydraulic Command Post
Full-Time Hydraulic Control
Hydraulic Log Loader
Remote Electric Clutch
Pros
Incredibly powerful
Easy to start
Smooth during operation
Cons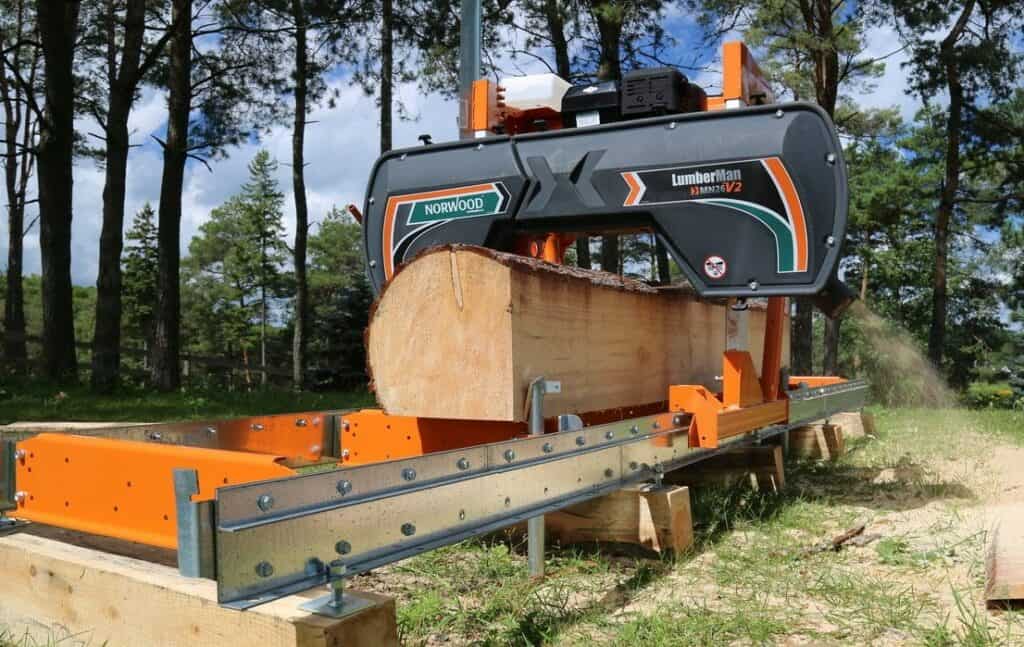 The highly versatile LumberMan MN27 is up to the challenge of tackling the majority of your sawmilling needs. This particular model comes with an array of attachments that you can get from the manufacturer, allowing you to almost create your own machine to suit your specific needs.
It ships with a 13.5 horsepower engine, so it is less powerful than many options in our guide. Don't let this put you off, though. This is a compact and competent machine, although it is better suited to hobbyists rather than industry professionals.
Features
13.5 horsepower engine
Sawdust port
Blade guides
Log dog block & set bar
Pros
Compact for domestic use
Economical to run
Cheap to buy
USA built
Cons
One of the smallest sawmills on our list
Unsuitable for professional use
How to Choose the Best Hudson Sawmill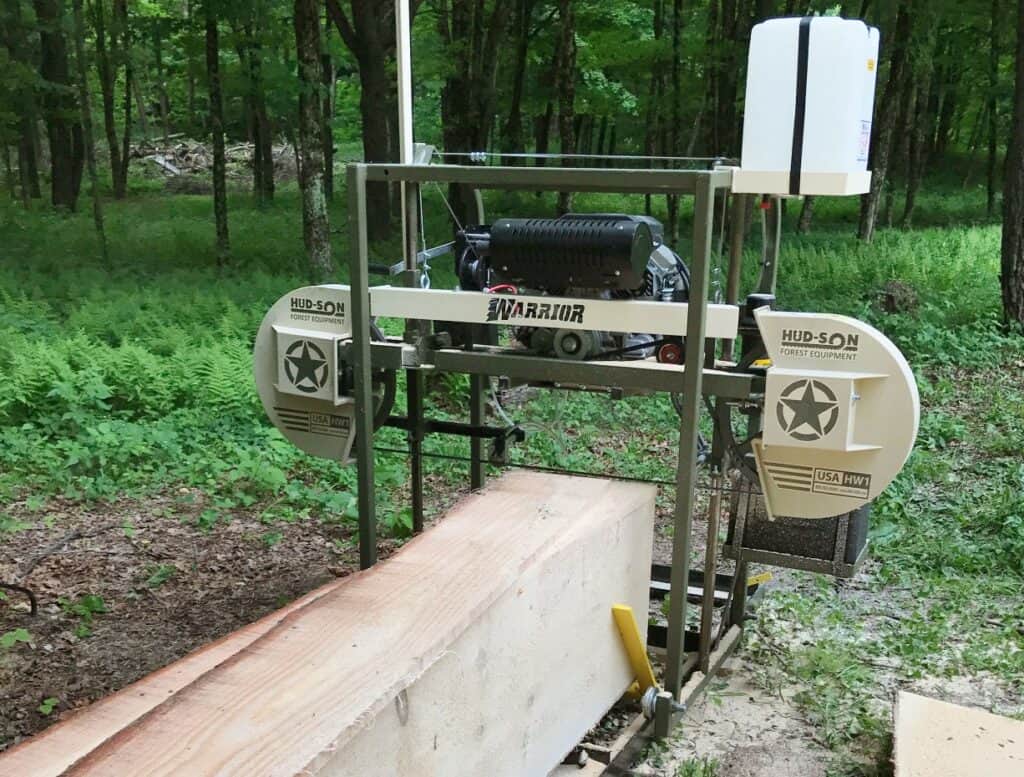 Hud-Son offers a wide range of quality sawmills for foresters and woodworkers to buy. They have multiple lines available with an array of options in each. There is so much choice that often people get a little overwhelmed when choosing which sawmill to go for.
Here is our buying guide to clear up the confusion and help you make an informed choice when selecting your sawmill.
Consider What You'll Be Using the Sawmill For
You'll need to determine the total size of logs you want to cut before you buy a sawmill. You want to avoid purchasing a mill that is too big or too small. If it is not compatible with the logs you need to cut, you will have difficulty producing anything worthwhile. Buying the wrong size only leads to inefficiency as you cut and financial loss overall.
Think About the Size of Your Operation
Another key area to consider is your total production capacity. Are you a domestic hobbyist, or are you a professional outfit? The hobbyists among us will not need mills that can process high numbers of board feet per day. Similarly, any larger organizations or groups may grow frustrated if their chosen mill cannot handle the amount of wood that they need to mill.
Hydraulics
When sawing using your new sawmill, having hydraulic power available can help. It speeds up the process of cutting logs down and ensures there is enough power where it is needed. The downside is that quality hydraulic power comes at a premium and can significantly add to the cost of a new mill. Despite this, many people say the cost is well worth it, thanks to the increased production capacity and minimized manual labor.
Do You Need Any Accessories?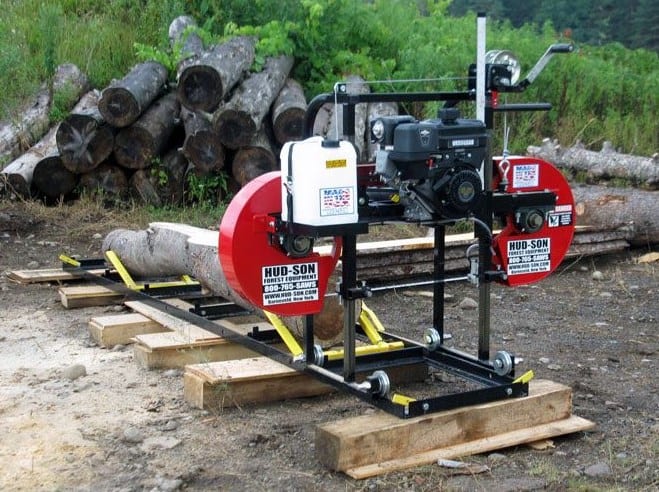 Many of the Hud-Son sawmills come with different accessories, attachments, and functionalities. You must identify which of these may help your sawing by making the process more efficient. Once you know which ones may be suitable, ensure that any price increases are deemed worthwhile.
Maintenance
Keeping your new sawmill properly maintained and working correctly is vitally important. If you're more experienced with mills and comfortable dealing with mechanical issues when they arise, then factor this into your decision-making. If, on the other hand, you need an engineer's help should anything go wrong, then opt for a more simple design. If a mechanical fault happens out in the woods, it may be some time before someone can reach you to fix the issue.
Bear in mind also that all Hud-Son sawmills come with a 3-year limited warranty for domestic use and a 1-year limited warranty for professionals.
Hud-Son Sawmill Frequently Asked Questions
Question: Can I Sharpen My Blade?
Answer: Yes, you can. With the help of a semi-automatic band blade sharpener, you can keep your cutting blade in pristine condition. This enhances bandmill efficiency and reduces overall operating costs.
Question: Why do boards sometimes cut wavy?
Answer: There are several possible reasons for this. Some of the most common include; a dull blade (needs sharpening), the wrong tension, pitch build up on the blade, or the logs are feeding too fast.
Question: What is my CANT out of square?
Answer: There are several possible reasons for the CANT being out of square. Firstly, check you have aligned the log to the squaring post correctly. Do this by rolling a log against the squaring post after your initial cut.
If this is not the issue, check that you are not over clamping logs during cutting. Applying too much pressure is another reason for it being out of square.
Finally, applying too little pressure when clamping logs in place is another reason. If the clamps are too loose, the log can move around, causing it to go out of square.
Question: Where are Hus-Son sawmills produced?
Answer: Hud-Son sawmills are proudly designed and built here in the USA. Barneveld, New York state to be precise. That guarantees quality through their lines with customer service to match. Although they're produced in New York state, dealers are positioned through the states, so having one delivered is simple.
Final Thoughts
No matter which Hud-Son sawmill you decide on, you pretty much can't go wrong. They're built to a good standard with quality materials and have proven to be easy to use, even for forestry novices.
The specific model you should go for totally depends on your needs as an individual or business but if you're having a hard time narrowing it down, we highly recommend the Patriot Freedom sawmill if you're more of a hobbyist and the Oscar Series Farm Boss for those that need a higher capacity.
Don't forget, there are some great alternatives available out there too. The ones we mentioned above are some of our favorites so if you're serious about getting yourself a new sawmill, make sure you check them out.